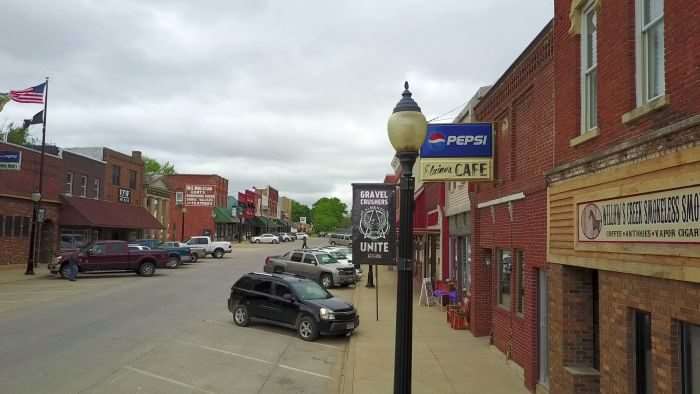 The Almanzo 100 touts itself as the race where it all began; the Granddaddy of all gravel races. If you call yourself a gravel cyclist, you've probably heard of Almanzo 100. Almanzo is a 100 mile gravel road race that starts and ends in the small Minnesota town of Spring Valley. Created in 2007 by then resident of Rochester, Minnesota, Chris Skogen, Almanzo first drew breath as a race from Rochester to Mankato, Minnesota. In 2010, the race shifted to its current location of Spring Valley. It didn't take long before its popularity and numbers grew, to become one of the most famous of gravel races just a few years later. The race has inspired the production of frames and bikes, and even has a tyre named after it, the Challenge Almanzo.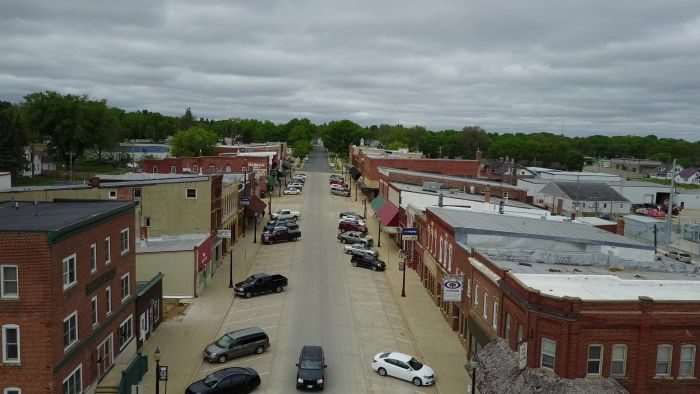 Chris Skogen imparted a unique feel to the race, but it isn't just about the hardcore racers. The event is about self-reliance and personal challenge. If you're the type of cyclist who needs a hug and a juicebox, this isn't the race for you. The Almanzo 100 is a difficult race to finish, but for those seeking more Almanzo, there is the Royal 162 (162 miles). For those riders who cannot get enough, there is the ultimate Almanzo experience, 380 miles of the Alexander. Check out our pre-race Alexander 380 interview of Dylan Morton, one of the 21 riders who signed up.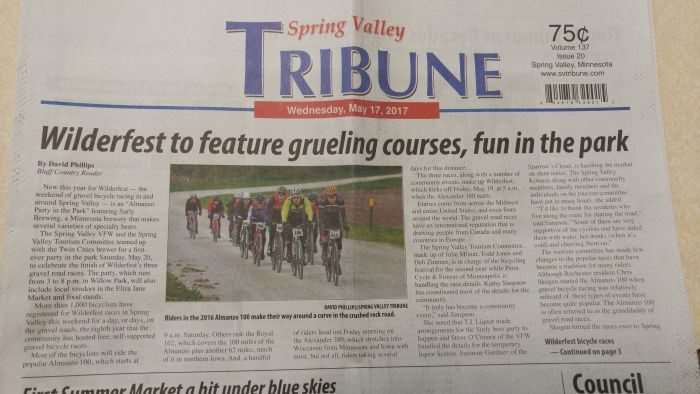 Quoting a 2015 article by Gear Junkie, founder Chris Skogen states "In the years that led up to the first Almanzo I felt like we, as a society, were being inundated with pay-to-play events that were cloudy at best when it came to telling the participant where the money went. I felt like the world needed something different, something that only stood to benefit those that actually participated, and so it was born."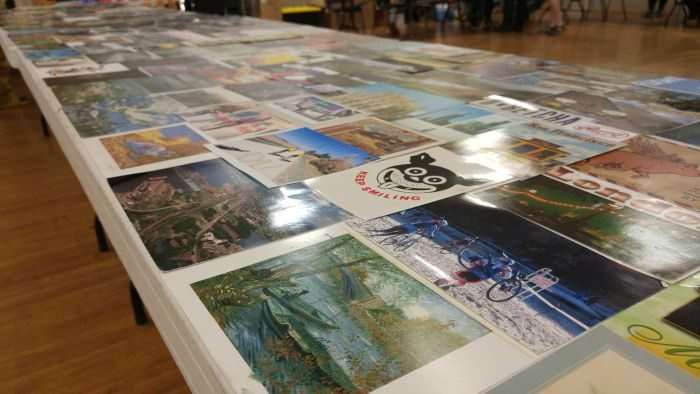 In 2015, Chris Skogen handed off the Almanzo race to the Spring Valley Tourism Committee. Promotion and running of the race may have changed, but one thing that remains unchanged is the race entry fee – it is free for all riders. Traditional postcard entry still remains, although nowadays, riders are welcome to email the organizers and register their intent to ride.
The term "bucket list" is an over-used cliche'. I refuse to use those two words in a conversation. Rather, Almanzo has always been a must-do gravel race. It took me a while to line up my proverbial ducks in a row, but in 2017, I finally made time to ride the Almanzo 100.
JOM's Almanzo 100 Experience
For anybody who follows this website, you are acutely aware I love traveling to near and far away places, to ride, race and enjoy the experience of gravel cycling. Some of my recent travel experiences include Land Run 100 in Oklahoma, and Paris to Ancaster in the Great White North of Ontario, Canada. Sometimes, history has a habit of repeating itself, namely in the form of bad weather forecasts. Keeping in that tradition, the weather forecast in Spring Valley, Minnesota for the 2017 Almanzo read something like:
Thursday, showers early then clearing.
Friday, showers early then clearing.
Saturday (race day), rain early with possible thunderstorms. Conditions may clear in the afternoon. High around 43F.
I mostly ignored this weather forecast, until I landed in Minneapolis at around 1am on the morning of Thursday, May 18. It was dark, gloomy and pouring rain, hardly a nice welcome to Minnesota. Thankfully, I'd gone the extra mile to prepare clothing and equipment for a wet edition of Almanzo 100. I took advantage of Thursday morning's foul weather to assemble my gravel travel bike, my Ritchey Breakaway Ti CX bike, (not the latest build specs in the link), and visit two well known Minneapolis area shops – One on One Bicycle Studio and Angry Catfish. Thanks to former resident, Tim Hayes for the insider tips! Much fun was had chatting to staff and perusing wares inside these shops.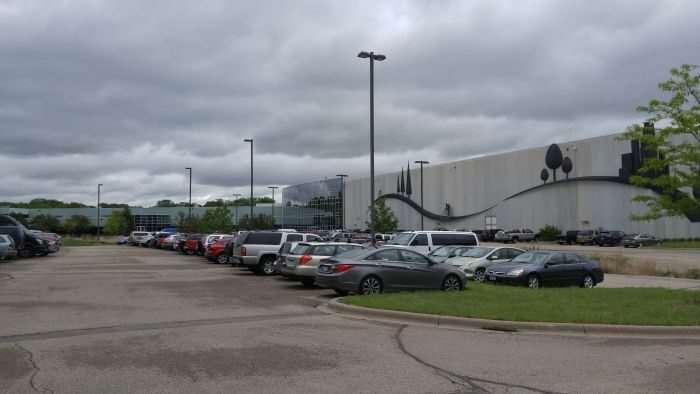 In Bloomington, Minnesota, I made a quick but unplanned visit to Quality Bicycle Products (the biggest distributor of bicycle parts in the USA – dealers only), namely to drop in and visit Todd Schmidt, Foundry Cycles Brand Manager. Todd and I have collaborated in the past with my reviews of Foundry's Chilkoot and Overland gravel bike, on behalf of my friends at Bike Rumor.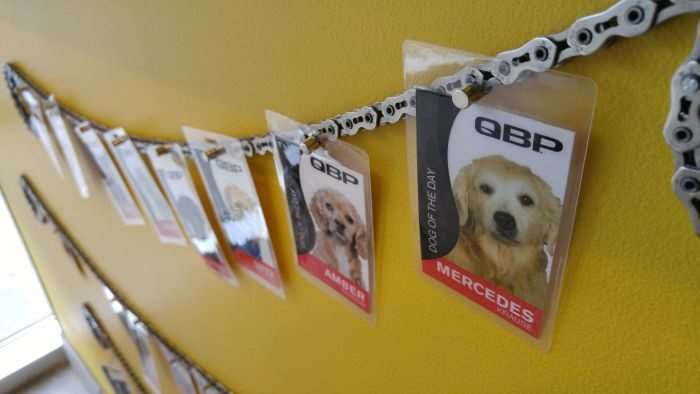 I should have planned ahead, as Todd was busy with meetings and such. Another time! However, I enjoyed a good conversation with the stand-in receptionist, who ordinarily works as the company's massage therapist and yoga instructor. With perks like these, QBP is a seriously good place to work for!
The drive from Bloomington to Spring Valley, Minnesota took about two hours, and during this time, the rain had all but disappeared. Kathy Simpson, chairperson of the Spring Valley tourism committee, welcomed me to town as I entered City Hall. Nowadays, Kathy is the driving force behind Almanzo 100. She volunteers a huge chunk of her time and personal finances, sans remuneration, to bring us the race. Supported by her team of well-organized volunteers, Almanzo is a true gem in the world of gravel racing. Needless to say I was blown away by Kathy's dedication and commitment to this time consuming event.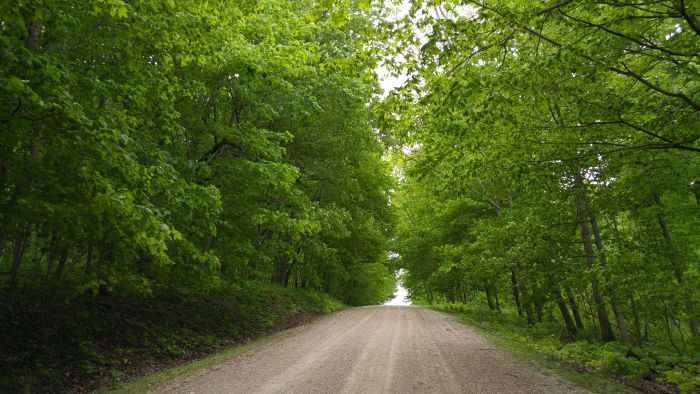 Around 4:30pm and a little procrastination, I kitted up, Florida winter style, in the company of my drone camera for a pre-ride of the first and last 10 miles of the Almanzo 100 course. The hills were plenty and much of the scenery was simply gorgeous. The gravel roads themselves are very reminiscent of what we have in North Central Florida; a hard pack limestone base and smattering of gravel atop, with a good mix of sandy bits thrown in.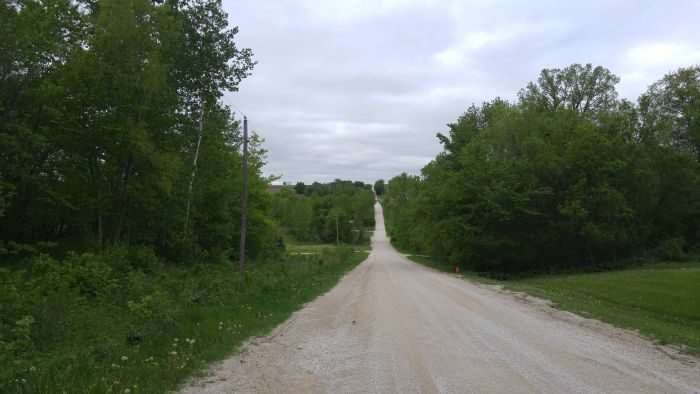 Rainwater drains well from this road surface, and the Spring Valley roads were almost dry as a bone, despite the morning rain. I knew from past experience that a rain soaking on race day could see these roads become "velcro roads", the term we use to describe sticky and moist, dirt and gravel roads that simply rob one's power.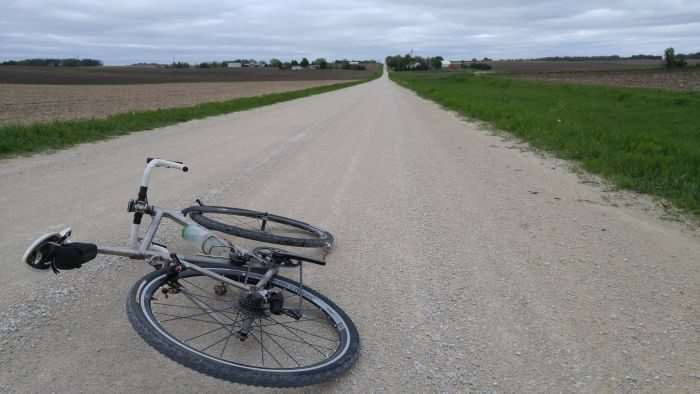 This exploratory ride lead me to perform a late night hotel room tyre swap; cue my Bontrager TLR Flash Charger pump (I so need to post the review of this item) and a pair of Panaracer Gravelking SK's in 700c x 35mm, naturally in brown sidewall. They would be replacing the Panaracer Gravelking Mud tyres, a tyre I felt was unnecessary on this course, even if rain did fall on race day.
Friday Pre-Drive
Waking up Friday morning, I could hear the sound of steady rain falling outside my hotel window. The weather radar map app on my phone confirmed the same. Band after band of incoming green blobs punctuated with angry red and yellow thunderstorms. Ugh. Considering I possessed no "tribal knowledge' of the course, I figured a good way to spend this rainy day was to scout most of the course in the car.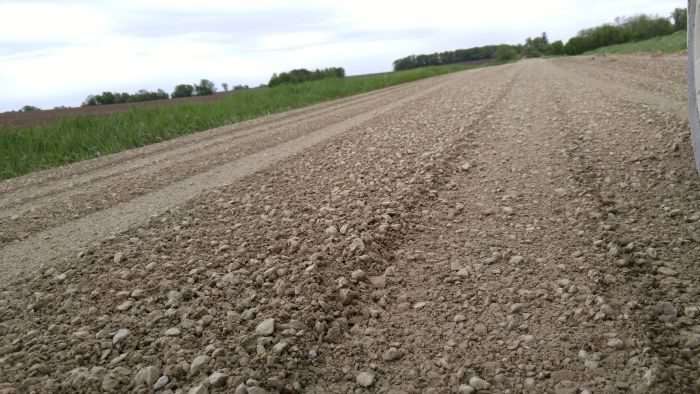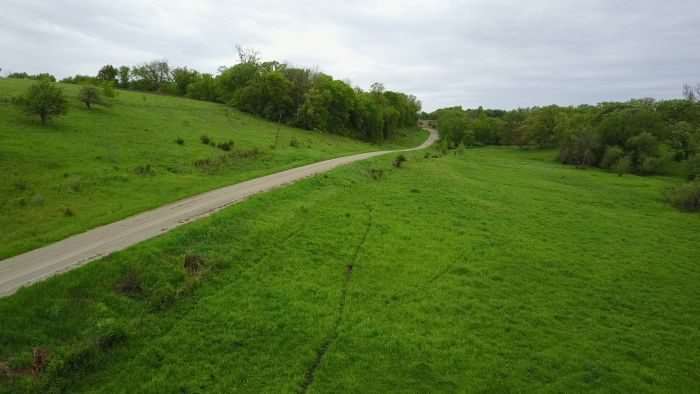 Thursday's pre-ride proved that South Eastern Minnesota is more than just farmland. Beautiful rolling hills, areas of lush, green tree cover and exposed rock faces along some of the road cuttings. Friday's pre-drive was more of the same, but in greater abundance.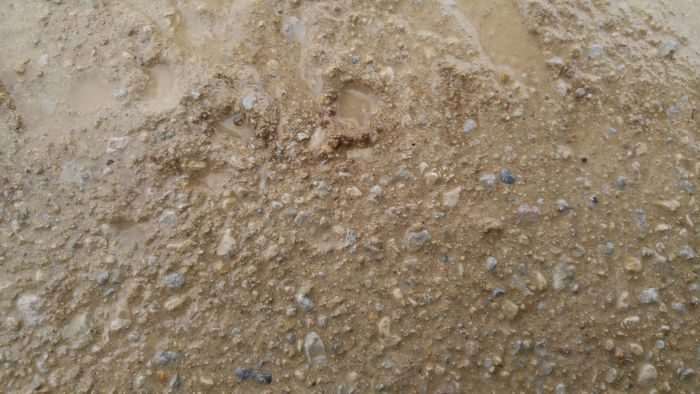 I stopped several times to fly my drone camera, and to poke and prod the moist roads with my fingers… call this my test to determine the nature of the road surface… mostly to reassure myself I had selected the correct tyres for race. So much science.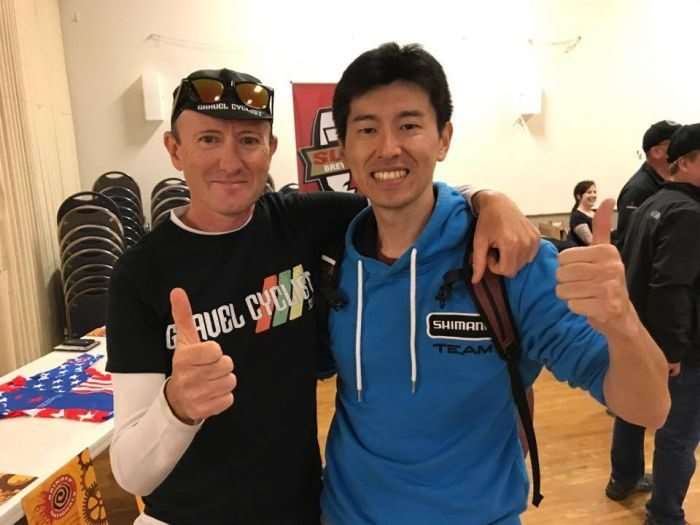 The remainder of my Friday was spent socializing at race packet pickup in the Spring Valley Community Center in downtown Spring Valley, consuming a huge amount of food and drink, the details of which I will spare ye readers, and a visit to Scheels, to purchase a stash of hand and feet warmers.
Saturday Race Day
At first light, rain was falling steadily in Rochester, Minnesota, home base for this visit. During the 25 plus mile drive to Spring Valley, the rainfall became heavier and the mercury seemed to fall as I drove further south. There was no escaping it, this was going to be a wet Almanzo 100, and dressing appropriately for the conditions would be critical. I learned a valuable lesson at Land Run 100 earlier this year, an event I was forced to abandon half way due to symptoms of near hypothermia. Lesson learned, do not underestimate the value of a waterproof shell layer, something I was missing at Land Run.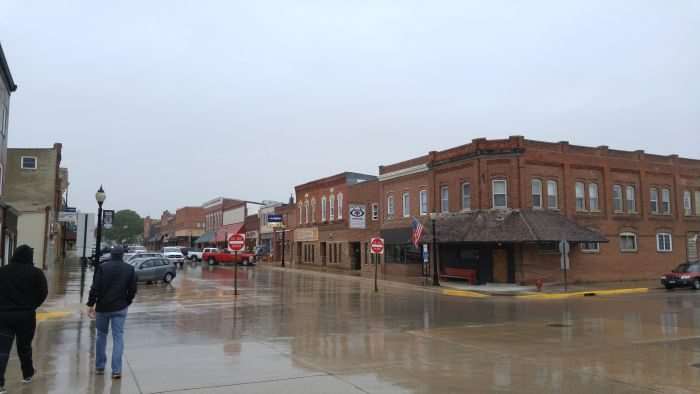 Inside the warmth of my rental car, I donned the following:
Regular bib shorts (left my Castelli Nanoflex bib knickers in the hotel room!)
Knee warmers.
A whole lot of Buckler Skincare chamois cream.
Long sleeve base layer.
Arm warmers.
Seal Skinz gloves circa 2010 or thereabouts with hand warmers placed on the back of my hands… I ignored the warning about using these against directly my skin this one time…
Defeet short wool socks, toe warmers, and Pearl Izumi time trial overshoes (admittedly, these are a bit lightweight).
Gaerne G.Sincro MTB shoes.
Gore Apparel Men's Oxygen Gore-Tex 2.0 Active Jacket – This was a review item supplied to me by Gore.
Sleeveless wind vest adorned with Gravel Cyclist logos as the top layer… have to advertise my website!
Gravel Cyclist cap worn beneath helmet… part of my usual riding attire.
On the bike were two 20oz bottles of water loaded with 2 x Gu tabs per bottle, Fixit Sticks, mini-pump, saddle bag with tube, tyre levers, etc, Go Pro cameras front and rear, and finally, my trusty Garmin 800.
By the time I'd gotten myself ready to roll and tyre pressures set (35psi front / 38psi rear), the American national anthem was being sung at the start line. I waited until those proceedings had finished before I dashed to the line to film the front row of racers, part of my usual routine.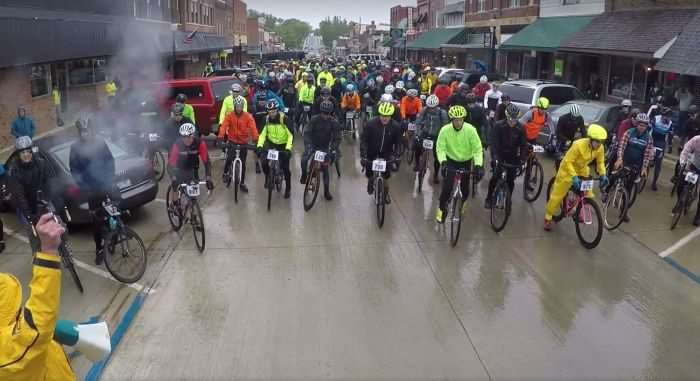 The starter's gun went off a few seconds later, and 333 riders (stats taken from Bike Iowa's race report) began the challenge of the 2017 Almanzo 100!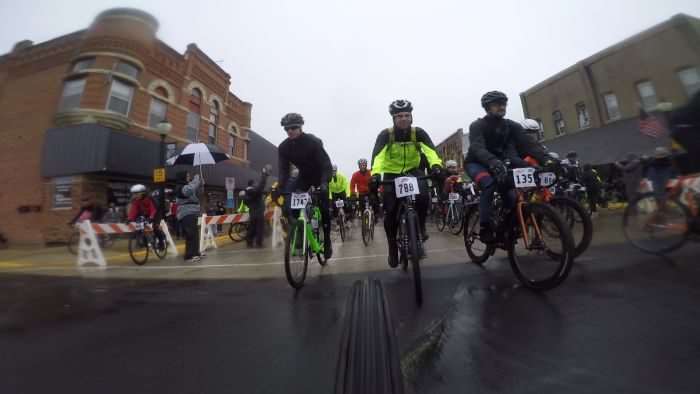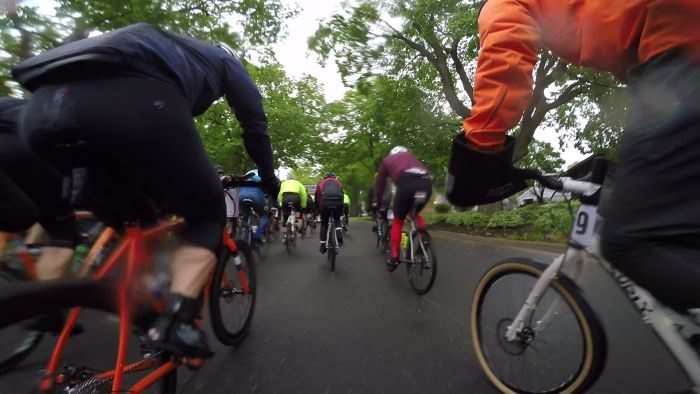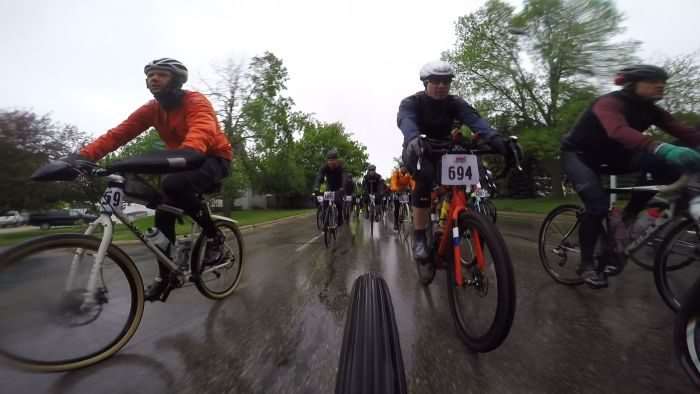 Another 700 or so riders were expected to start, but they decided to stay home and miss the rainy fun. I was positioned very well, and used the opportunity to do some filming in the front group before my inevitable and unceremonious dropping from the front… I know my place and abilities well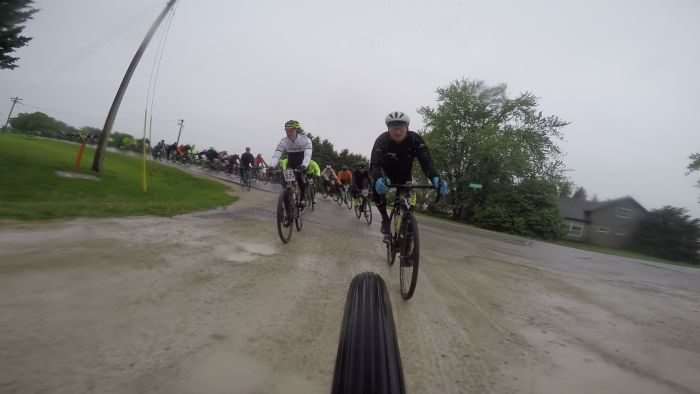 A little out of sorts, I entered the first gravel sector at second wheel, with 331 riders close behind. I quickly took to the right side of the road, which seemed to be the slower side, and got myself out of the way and latched onto the rear of the front group.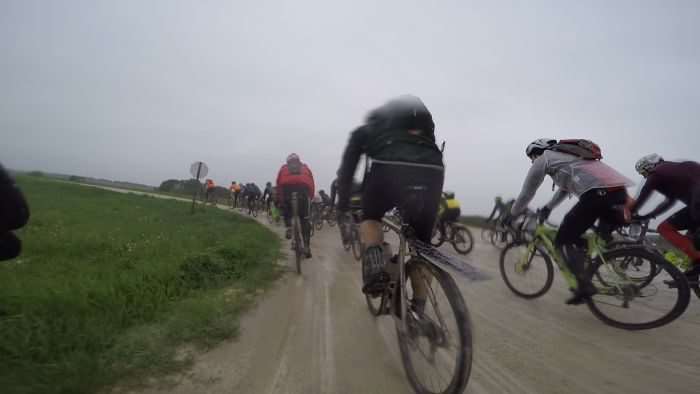 The front group was not killing the pace, but with zero warmup, my legs were not enjoying the pace on the early hills along the course.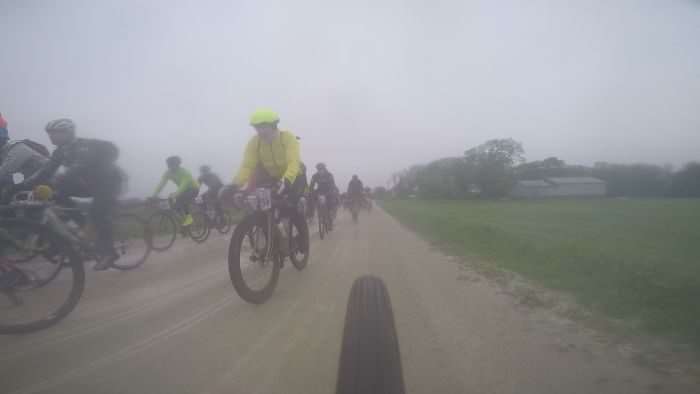 Citing my Florida residence and lack of climbing prowess, I faded slowly out of the front group, to the second group, one that was rolling along at a much more pleasant tempo.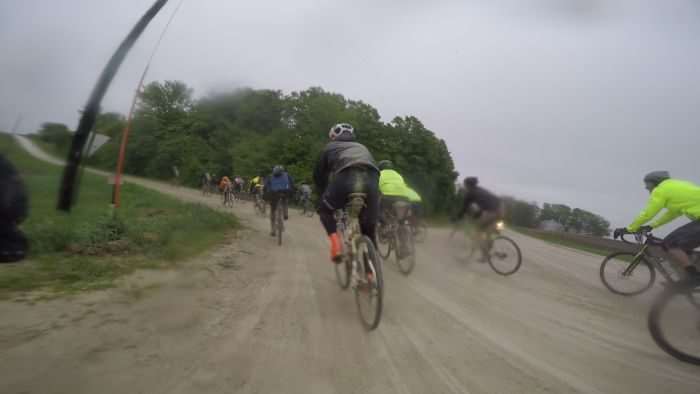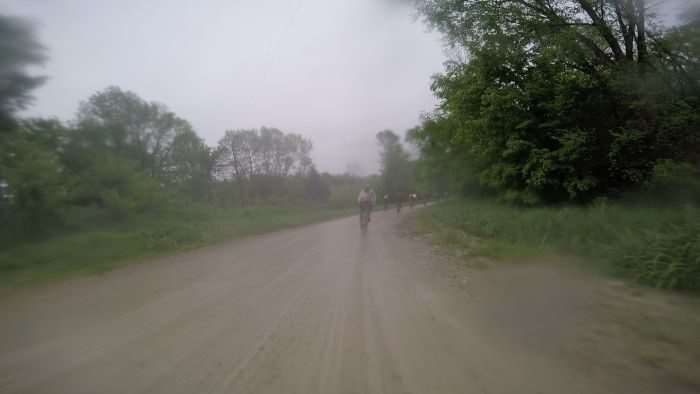 It was windy, mucky and the rain was falling. Sitting a rider's wheel directly behind resulted in wearing and eating a faceful of sludge, unless the rider ahead was kind enough to don fenders on their bicycle (sorry folks, fenders were not fitted to my bicycle).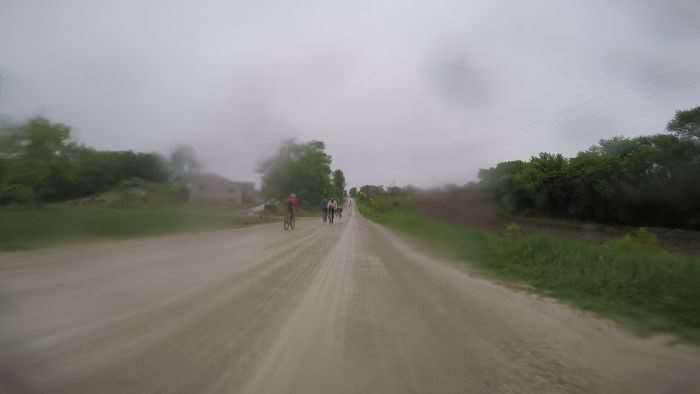 Not sitting a rider's wheel resulted in fighting the wind, unless it was a cross wind, in which case you got a break from the face sludge, provided you were on the correct side of the echelon.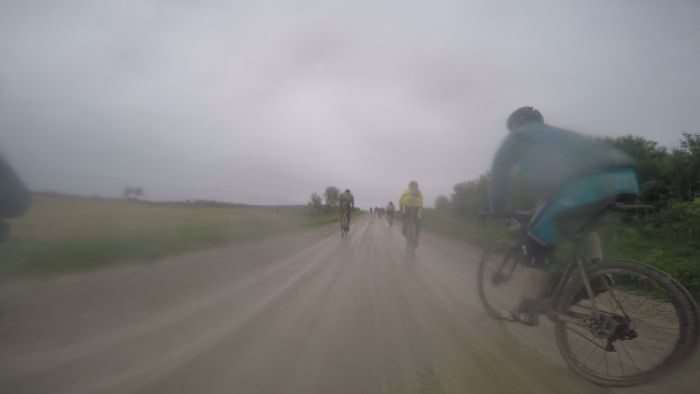 My trusty Garmin navigation device was covered in sludge, but the tyre tracks of the leading riders were easy to spot. My knowledge of tyre patterns is pretty good (a side effect of too many tyre reviews), and I could determine which tyres some of the riders were using. If anyone needs an Australian tyre tracker guy, I'm your man!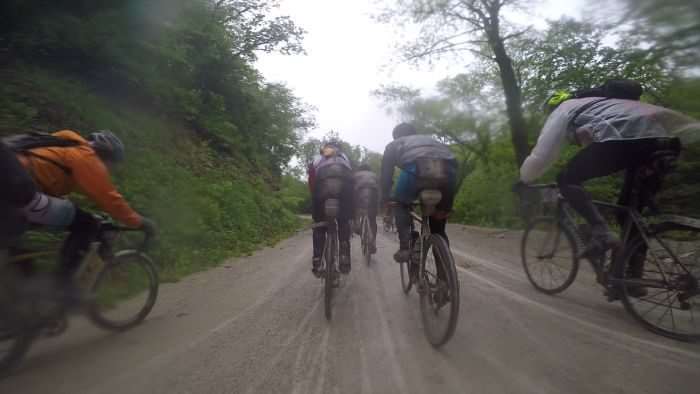 Meanwhile, the second group was splitting under the force of its own momentum, with hills and crosswinds causing the most difficulty. With about 15 miles covered, I finally settled into a group where all of the riders worked well together.
Approximately 10 miles later, my chain, heartily slathered with chain lube before the race, began groaning and crunching. I made the decision to take a quick break, lube the chain, and down some food. Despite the fact I was wearing a decent pair of gloves and hand warmers, my hands were cold, but not to the point of being painfully unusable. Some hand dexterity was lost, and a simple task such as squeezing a gel or a small bottle of chain lube becomes a complex and time consuming process. The hands simply don't want to work! Jenny Youngwerth, second lady on the course, stopped with me to adjust her lights and consume food. We traded notes about our respective Dirty Kanza preparation while this was going on.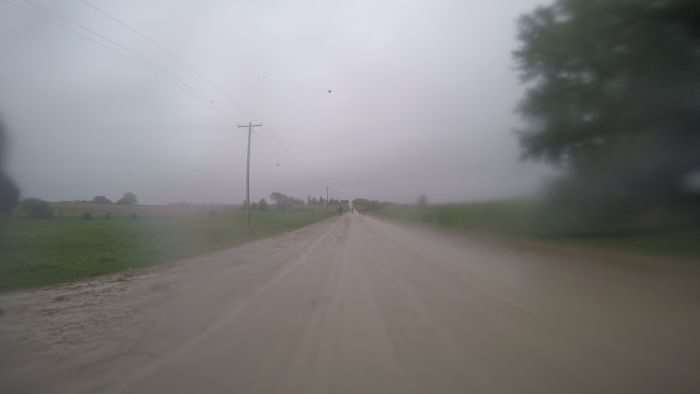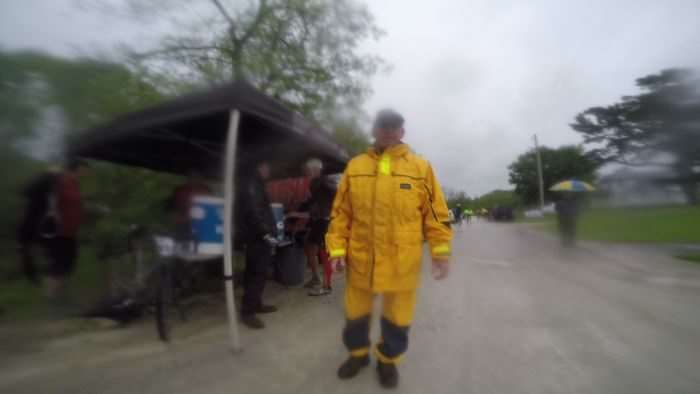 Jenny and I rolled together into the Preston, Minnesota, checkpoint, approximately 40 miles / 62 kilometres into the course. Many thanks to the Penn Cycle crew for the water, encouragement and yet another application of chain lube… did I mention how much I despise a squeaky and crunchy chain!?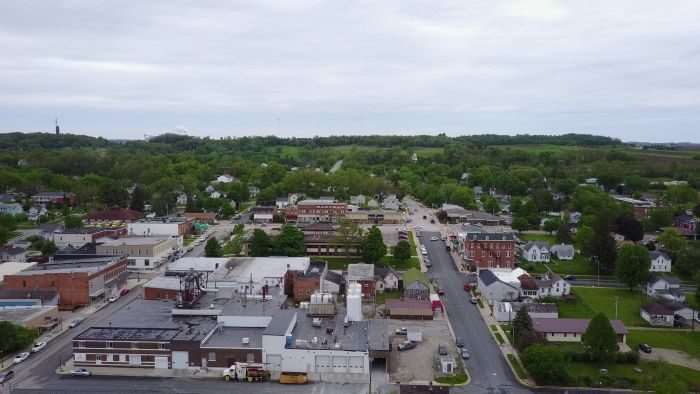 Leaving Preston, I set about alone for the next checkpoint at Forestville State Park, approximately 67 miles / 107 kilometres into the course. My legs were finally warmed up and feeling fabulous. I'd gotten a little chilly in the torso during my stop at the checkpoint, but overall, my clothing selection was perfect. This is definitely going to spoil my review of the Gore Active jacket, but it was performing far beyond my expectations. Had I possessed this jacket at the 2017 Land Run 100, I would have finished the race… moving along.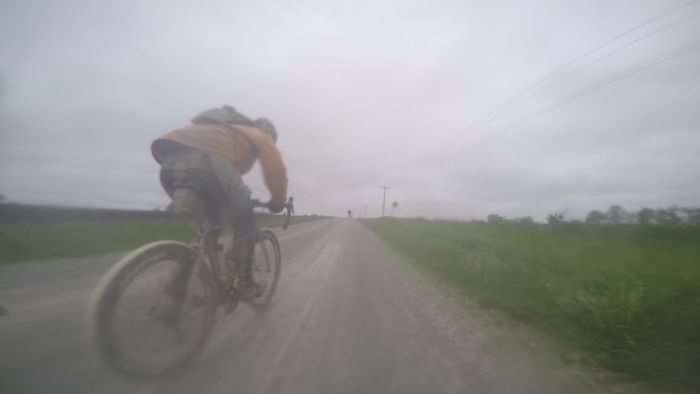 I teamed up with the leading lady on the course, Dee Dee Winfield and a bloke who I believe was a Minneapolis local, who mostly specialized in cyclocross… sorry for forgetting your name! We rode well together, taking turns into the wind and riding a happy tempo over the countless hills of Almanzo 100. Our little trio was about to swell in size, as our pace setting was making gains on several riders ahead. I began feeling a bit hungry and calorie deficient, and made the decision to momentarily "sit up", so I could safely consume more food with the assistance of my not so operable hands. It didn't take long before a sizable gap of about 200 metres opened. I rode fast enough to keep the group reasonably in sight, with the hope I could rejoin them once I had a few more calories available for the burn. Gu blocks and Gu gel, do your thing!
Caffeine and sugar are amazing substances. Within the space of 10 minutes, the food I ingested provided the boost I needed, and I felt A-M-A-Z-I-N-G. This part of the course was flat and direct into a block headwind, just how I like it. I set about catching my former group, at the same time riding fast enough to warm myself up again. I caught and passed them, such was the feeling in my legs… nothing personal Dee Dee and company. These sensations don't happen too often, so I was taking full advantage of this moment in time. Further buoyed by the noticeable decrease in tyre tracks in the gravel roads ahead of me, I concluded that many riders had abandoned the race, and I had a decent chance of placing well overall.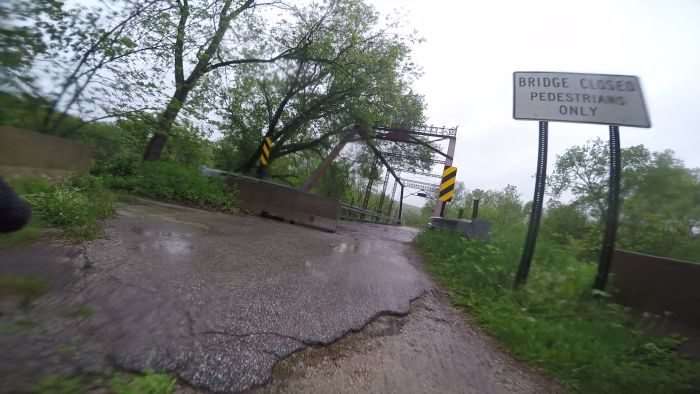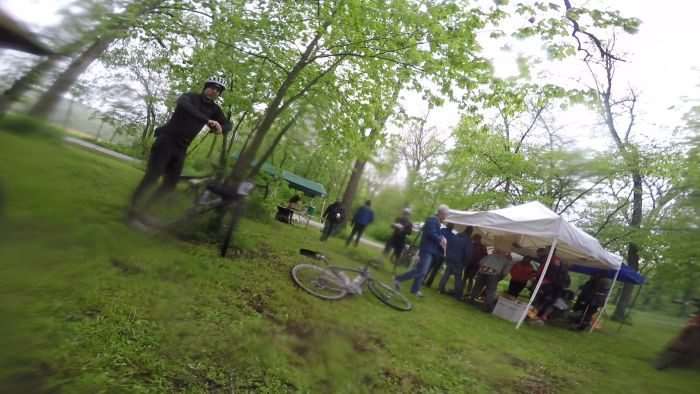 The second checkpoint at Forestville State Park was a welcome sight. Two fires were burning, tents and shelters were erected and beer, a mysterious broth and sugary Coke beverages were available to riders. One of the bad ass riders in a HED wheels kit was warming his arse dangerously close to the fire. I would have taken a photo, but that would have required serious energy that I needed to save for lubricating each link of my chain… again. Once the obligatory chain maintenance was performed, I consumed a Lara bar, a Coke and wasted no time in getting rolling. A huge thank you to all of the volunteers at this checkpoint!
Due to the time I'd spent at the second checkpoint, it was likely I would ride alone the remainder of the race. However, I clung to the hope I could ride just fast enough that nobody from behind would catch me.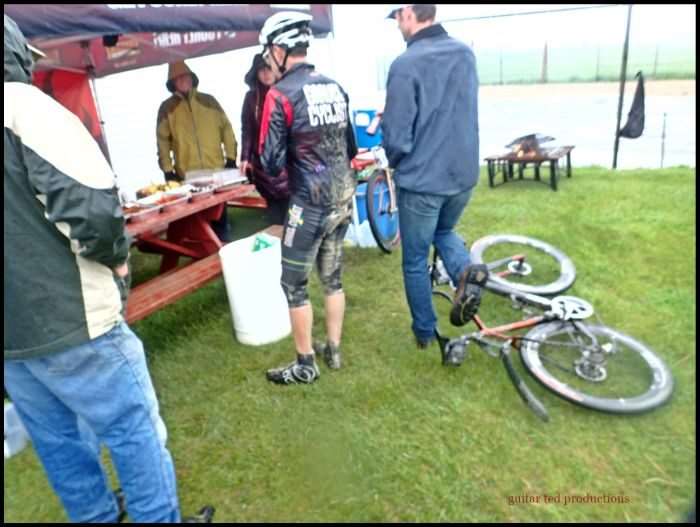 The timewarp between checkpoint #2 and #3 is a bit of a blur. I only remember hills, rain, wind and sludge. Checkpoint #3 at mile 76 / kilometre 121 is located in Cherry Grove, and run by Ben Welnak and Mark Stevenson (aka Guitar Ted) of Riding Gravel. Also in their company was Troy Farrar, promoter of the USECF Gravel Grinder National Championship. These lads had food and hospitality on offer for all of the riders, which was appreciated by all, including this very damp gravel cyclist. This stop was a particular highlight for me, as Ben and Mark are guys who are as passionate about this genre of cycling as I am (Mark is the creator of Trans Iowa). It was great to finally meet them in person, although I would have preferred it happen under less challenging and wet circumstances. Many thanks for the food and a final application of chain lube! Perhaps I'll see you again at Dirty Kanza?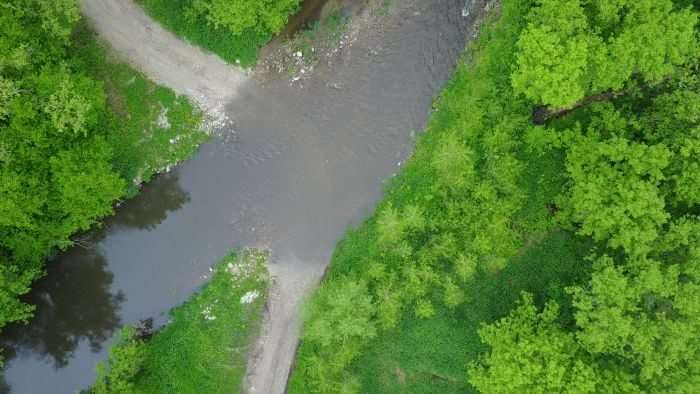 Approximately 29 miles remained to the finish line. I was expecting to suffer on many of the challenging hills that lay ahead, but of more concern to me was the fabled Almanzo water crossing of South Brand Root River, about 81 miles / 130 kilometre into the course. This crossing is expected to swell when the rainfall has been plenty, and there have been past instances where the water level was far above a rider's waist. I'd carefully scoped out the crossing on Friday, and had an idea in my mind of the best spot to cross.
It was in my best interest that nobody was around to witness my careful tip toeing in the water that was a little above my kneecaps. When you're already pretty well soaked, you don't care so much, as long as the bike isn't dunked and one's torso stays dry.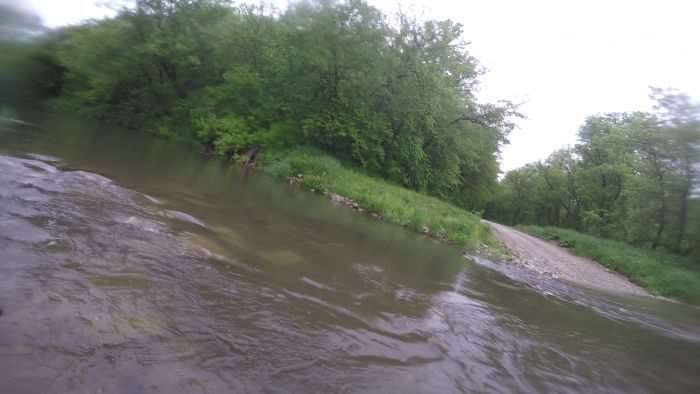 Success! I didn't fall over, I didn't drop my bike and I had a warm and fuzzy feeling that the worst was behind me.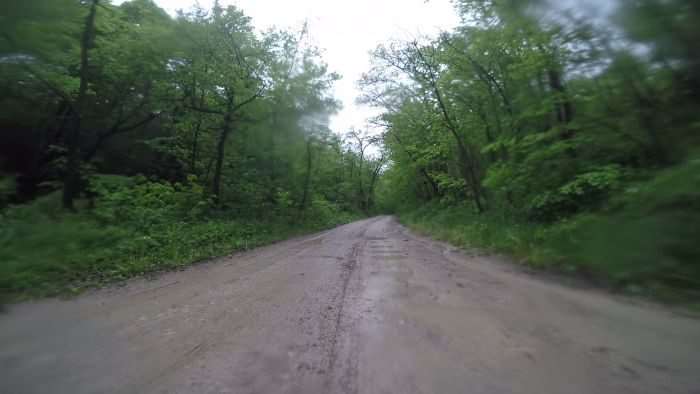 The steep climb of Oriole Road was the next challenge, approximately half a mile long with an average gradient around 10%. The gradient was certainly a lot steeper in the middle of the climb, but my lowest gear of 30 x 32 helped me scale it without too much difficulty, and a minimum of time thrashing my heart.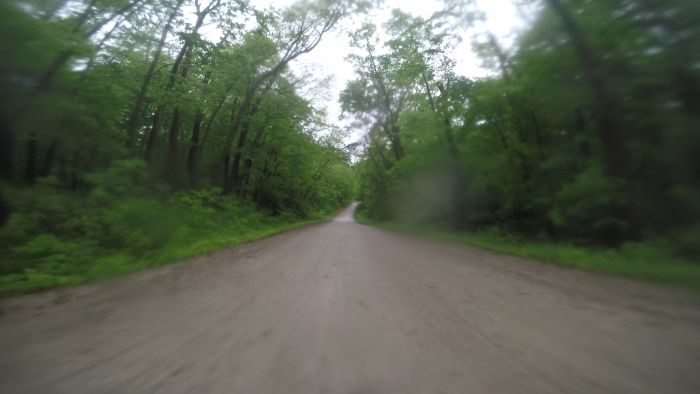 The remainder of the course once again became a blur of time. The rain finally ceased during the final hour of my ride, but the wind and sludge continued to make their presence felt. Every once in a while, I would sneak a peek beneath my arm, just to see if another rider was following close by. I wasn't riding for a top 10 finish, but I'd been riding alone long enough that I would have been perturbed if another rider had caught me, so close to the finish line.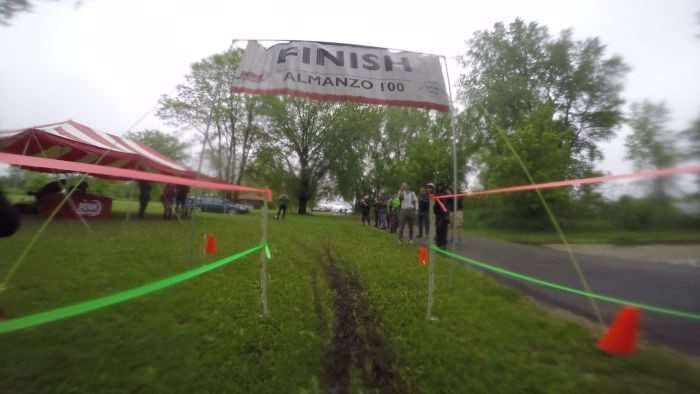 I finished my first Almanzo 100 in 18th place overall, in a time of 7:45:59. I didn't set the world ablaze with my ride, but I was very happy with my result, and must compliment anyone who finished the Almanzo 100 on this day! As for the ladies and gents who chose to challenge the Royal 162 and Alexander 380. I cannot fathom the efforts you put forth considering how bad conditions were. Chapeau!
Strava Data
For those so inclined, you can see my Strava data from the 2017 Almanzo 100 HERE.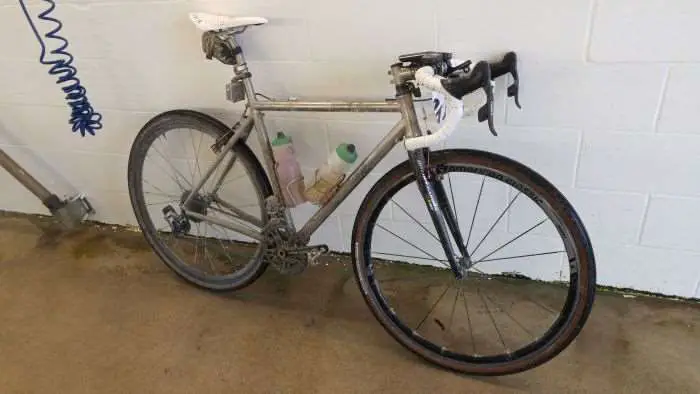 Thank You
To the volunteers, photographers and those who staffed the checkpoints. Riding a bicycle in cold rain and on wet gravel roads is one thing, but to stand around in it without generating body heat, is another. Finally, thank you to Kathy Simpson, the Spring Valley Tourism Committee, the town of Spring Valley and my fellow gravel cyclists!
Race video can be seen HERE.