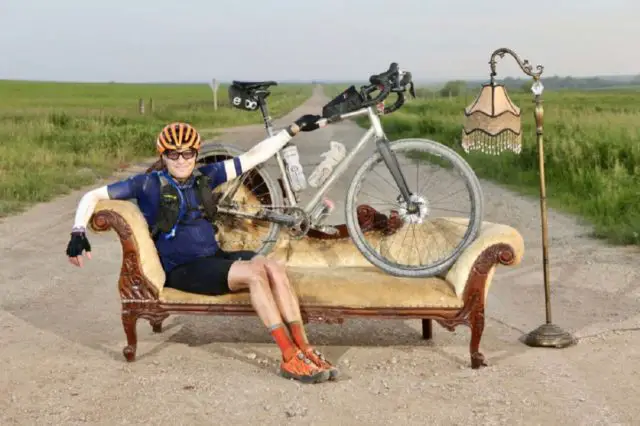 Steven Fritz – I'm your typical cat 4 40+ cyclist with a family and job, and this year I raced the Dirty Kanza 200 for the first time. While I've raced some big events in the past, like Leadville and the Crusher in the Tushar, I'd never raced anything as challenging as the DK200. When I decided to race the DK200, many people (including my cycling buddies) couldn't understand why – it just seemed too extreme to them. Since you're at the GravelCycling.com website, you likely already know why – it's pretty much the biggest gravel race in the world, and I wanted to push myself beyond what I thought I was capable of and see how I'd do.
My main goal for the DK200 was that I simply had to finish, no matter what it took. It's almost a little silly to have a time goal for the DK200- there are so many uncontrollable factors that can throw you off your pace- weather, road conditions, mechanicals, flat tires, etc. Despite that, deep down I really wanted to finish before midnight (18 hours) and join the "Midnight Club."
When I first thought about writing about my DK200 experience, I was naturally going to focus on how the race went for me. However, the more I thought about how it went, the more I realized that this may not make for very interesting reading. While the DK200 was extremely challenging and I was completely ecstatic with my finish time of 15:40, there was nothing particularly exciting that happened during my race (at least not in comparison to many others out there).
And then I thought, this is exactly how I wanted it to go – no drama (including no flat tires, mechanicals, or crashes), put in a huge effort, hope for the best, and have a great day. So, I thought about how that happened. Aside from a little luck and lots of determination, I believe that the quality of my training, solid equipment choices, and good planning made it happen. So, that's what I'm writing about, and hope that it will be useful to those thinking of giving the DK200 a shot.
I also wanted to mention that I had no sponsorship deals or discounts from the businesses I've worked with or from the makers of the equipment I chose for the DK200.
Training
My training for the DK200 began in September, when I started working with coach Kristen Legan (herself a multiple-time podium finisher at DK) from Rambleur Rising. Over the next nine months, I trained for about 40-50 hours per month. As you can imagine, it wasn't easy. There were many days that I doubted my ability to finish the race. There were even a few moments where I thought about whether or not I should even start it. But by March, I was doing eight to nine-hour training rides and gaining confidence.
When I went out for training rides, even short ones, I tried to simulate race conditions as much as possible. So, in addition to riding as much gravel as I could, I also tried to carry the same amount of stuff as I would on race day so I would be accustomed to the feel of the added weight. On a few of the longer rides, I even left a cooler out on my training course so I could practice my aid-station routine. And, since I fully expected to finish the DK200 at night, I also did training rides that started in daylight and finished after dark so I could practice using my lights, swapping eye-wear, etc. Perhaps the most important thing I learned from these long training rides is that you need to be prepared for the inevitable ups and downs of a very long day, to know that they're temporary, and practice during training what you'll do to pull yourself out of the "dark place" when you're in it.
Equipment
There are seemingly endless equipment decisions to make for the DK200. Every year we read about the pros' equipment choices for the DK200. While I enjoy reading about it, I've often felt that the pros' ability is at such a high level that much of what works for them wouldn't be right for me – their cassettes are way too small, their chainrings are way too big, and they'd be on the course for far less time than I would be at the DK200.
My decisions were based on lots of input from Kristen, the million articles I read online, and my past experience. Guiding my decision-making process is my strong belief that for long races, comfort equals speed. Here are some of the key items I chose to help me get to the finish line in Emporia, Kansas, and a little bit about why I chose them.
Bike Frame: Moots Routt 45 (size 56)
I know that proper bike fit is paramount when considering a new bike, so I worked with a bike fitter at Retül to come up with a few frame candidates. Given my history of lower-back pain and tight hamstrings, we knew I should ideally be looking for something with more of an upright geometry to keep me comfortable for a long haul. The Routt 45 has a towering stack height of 612 MM and a relatively normal reach of 381 MM.
The fine folks at Vecchio's Bicicletteria in Boulder hooked me up with a test ride, and I loved it immediately. The Routt 45's ride quality was excellent, the geometry put me in a very comfortable position, and I quickly said to myself – I can definitely ride this bike all day. As an added bonus, the Routt 45 has a 3rd water bottle mount under the downtube.
Before too long, Vecchio's had masterfully built up my bike (which I've nicknamed "the Titanium Falcon"), and Retül dialed in the fit perfectly.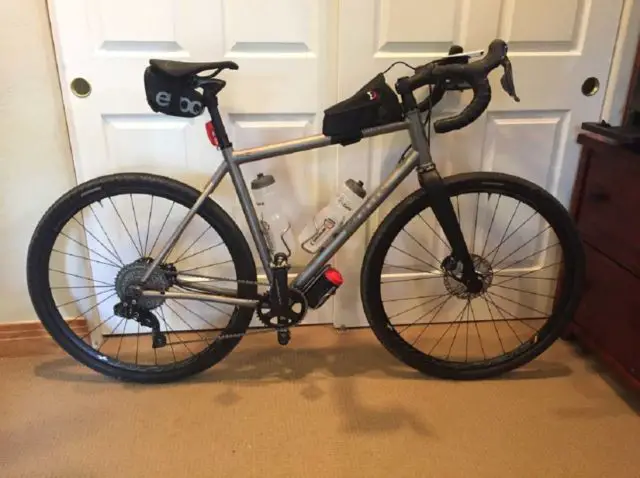 Saddle: Specialized Power Pro Elaston
I've been riding Specialized saddles on my bikes for at least a decade. They've served me well. Working with Retül, I tried out the Power Pro Elaston. It is by far the most comfortable saddle I've ever ridden. Done.
Seatpost: Specialized CG-R
I've been using a CG-R on my cyclocross bike for years. It has a little bit of vertical compliance built-in, which makes things a tiny bit more comfortable over the bumps.
Handlebars and tape: PRO Medium Flare Handlebar, Lizard Skins DSP 3.2 MM Bar Tape (wrapped over Specialized Bar Phat gel pads).
I was really concerned about pain and fatigue in my hands and wrists, particularly since I broke my wrist years ago when I was thrown from a horse. The PRO bars put my hands in a comfortable position, the Lizard Skins tape was the thickest and most squishy I could find, and the Bar Phat under the tape added extra comfort. However, the comfort here was greater than the sum of those three parts – the masters at Vecchio's somehow wrapped the bars in a way that created a "shelf" on the tops of the bars which gave my hands some more surface area to rest on, thus taking a bit more of the sting out of the bumpy gravel.
Wheels: HED Belgium Plus (700c) for disc brakes with DT Swiss 240s hubs
I've been using this HED wheelset for years. They've been bomb-proof. My initial plan was actually to use a new 650b version of this wheelset with 1.9 inch tires. However, that setup left only 1-2 MM of clearance with the frame, so I went with the 700c wheelset, and I'm selling the 650b wheelset.
Tires: Teravail Cannonball, size 42, durable version (set up tubeless)
Wider tires generally enable you to run lower tire-pressure, and lower tire pressure acts like a suspension that will keep you more comfortable. The gravel at the DK200 includes a lot of flint (Native Americans once used it to make arrowheads), which can easily slice through tires. I obviously wanted to avoid flat tires. Thus, I wanted the widest, toughest tires that I could reasonably fit into my frame, yet weren't overly knobby.
The Cannonballs fit the bill and left me with about 3-4mm of clearance with the rear of the Routt 45 frame (which I felt would just barely be enough). During test rides, I ran the pressure as low as 27.5 PSI in the front and 29 in the rear (which felt fine on the dirt but perhaps a bit too squishy on pavement), and on race day I ran a new set at 29 and 30 PSI with Orange Seal Endurance sealant.
Bottle Cages: King Cage Titanium
I've been using these titanium cages for years. If they could handle multiple descents of the Crusher's Col d'Crush without ejecting a bottle, I was confident they would handle anything the DK200 would throw at it. That, and the fact that they were matchy-matchy with the titanium Routt 45, made this a no-brainer.
Shifters/Brakes: Shimano Ultegra Di2 11-speed hydraulic
As I mentioned earlier, I was really concerned about my hands and wrists. Shifting a traditional cabled shifter takes fairly little effort, but when you multiply that effort over the course of 15+ hours of DK200 gravel, it all adds up. Added bonus: the shifter hoods fit really well in my hands.
Crankset: Ultegra right side and Stages for left side Ultegra power meter.
If I could only splurge on one component to get faster, it would be a power meter. It makes training much more efficient and measurable and helps me meter my efforts during a long race. The Stages power meter is accurate, reliable, and relatively inexpensive. It was a no-brainer.
Chainring & Cassette: 38-tooth Absolute Black 1X oval chainring with a Shimano XT 11-46 cassette.
I'd been using a 40-tooth Wolf Tooth elliptical chainring with a 9-44 e-thirteen cassette for years. For the DK200, I didn't think I'd be pedaling much on the descents, so early on I decided on the 38 tooth chainring. Wolf Tooth doesn't make an elliptical chainring in a size 38 that is compatible with the Ultegra cranks, so I went with absolute Black's.
I knew I wouldn't need a cassette with 9 or 10 cogs. My plan was to use an 11-42 cassette. However, on the Monday before the DK200, details of the course were released, including the fact that it had nearly 12,000 feet of climbing (which I believe would be the most climbing in the race's history), and that the hills would generally be shorter yet steeper this year. Plus, I had heard that the course was generally "burlier" this year. My reaction was like the "You're going to need a bigger boat" scene from the movie "Jaws"- I was going to need a bigger cassette. Off with the 11-42, on with the 11-46!
Rear Derailleur: Shimano XT Di2
The XT Di2 rear derailleur has a huge 35-tooth capacity (meaning it can easily handle the 11-46 cassette), a clutch, and it shifts precisely (every time).
Shoes: Pearl Izumi X-Project PROs.
Back when I raced Leadville, I wore super stiff shoes. When I had to hike in them during that race, they tore up my heels. The X-Project PRO shoes are simply super comfy, have two BOA dials, and are designed to handle the occasional hike-a-bike sections (something the DK200 often has).
Gloves: Specialized Dual-Gel
The Dual-Gel gloves have- you guessed it- dual layers of gel padding. See the comfort theme continuing on here?
Computer/GPS: Garmin Edge 1030 (connected to an external battery)
I've been using Garmin bike computers for the last 10 years. I chose the Edge 1030 in large part due to the relatively long battery life of up to 20 hours. Based on my test-rides with the Edge 1030, during which it was paired to the Stages and my iPhone, I felt like it might run out of battery life during the DK200 (for all I knew, I could be looking at a 21-hour race). Therefore, from the DK200 start to the first checkpoint at mile 64, I had the Edge 1030 connected to an external battery. Also, I set the Edge 1030 to beep every 30 minutes to remind me to eat and drink.
Sunglasses/lenses: Oakley Racing Jackets with photochromatic lenses.
I've been using the Racing Jackets for about 9 years. I was about 100% sure I'd be racing through the day and into the night at the DK200. Before getting the photochromatic lenses I practiced swapping out a regular lens for a clear lens during a training ride. It's easy to do when you're sitting on the couch, but during a long training ride, it wasn't pretty. I knew I'd be better off with the photochromatic lenses since it would be one less thing to deal with at the final aid station, and I could use them at fatbike races this winter (the cost-per-use argument helps me explain my bike purchases to my wife).
Bell: Spurcycle Bell
Sometimes during a race with over 1,000 people you need to get another rider's (or perhaps even a motorist's) attention, just to let him/her know you're there. I've found that the bell does so better than my voice while I'm dehydrated and out of breath. Plus, it's kind of fun to use.
Mini-Pump: Silca Tattico (mounted to frame)
As I mentioned earlier, I had to finish this race. Although I carried three CO2 cartridges, I wanted to carry the pump to use in the event that I ran out of CO2.
Hydration system: Camelbak Chase Vest with 50-ounce reservoir, plus two 33-ounce Zefal water bottles.
116 ounces of water seems like a lot, and it is- but definitely not at the DK200, where the heat can be brutal. Of course, the Chase Vest has lots of pockets space for other stuff, but my plan was to put as little as possible in there in order to have less weight on my back.
Inside the Chase Vest, I carried a plastic putty knife (to scrape any mud off the inside of my frame), a Dynaplug repair kit, toilet paper, cash, a tiny bottle of chain lube, spare contact lenses, a tiny bottle of eye drops, a pair of latex gloves, a rubber band, a bottle of Hotshot, Tums tablets, Tyenol, and two zip ties.
Other bags/storage: Relevate Designs Mag-Tank, Evoc Saddle Bag Tour, and Specialized KEG.
I carried a lot of stuff. This year's course only had two aid stations (rather than the usual three), and about 88 miles between two aid stations. A lot can go wrong in 88 miles, and I wanted to be prepared for just about anything.
I used the Mag-Tank to store almost all of the food I'd carry, which included Lara Bars, GU Roctane gels, Vafels (plant-based waffles), and Clif Bloks (the salted watermelon flavor, since it has double sodium), plus the external battery for the Edge 1030.
The Saddle Bag Tour carries a lot of stuff. For my DK200, it contained: 2 tubes, 2 CO2 cartridges, 1 CO2 inflator head, a tire-lever, a multi-tool (which includes a chain-tool), a GU Roctane gel, spare Dynaplug repair plugs, and spare contact lenses.
I tried to put the heaviest stuff and the stuff I was least likely to use in the KEG that I mounted under the Routt 45's downtube. This would lower the center of gravity a bit on the bike. Inside the KEG I had a third tube, a third CO2 cartridge, a tire-boot, a patch kit, a cleat bolt, about five inches of spare chain, a spare derailleur hanger, a valve core, and Wolf Tooth Pack Pliers (which contained 2 sets of master chain links, and also serves as a valve core remover and tire lever).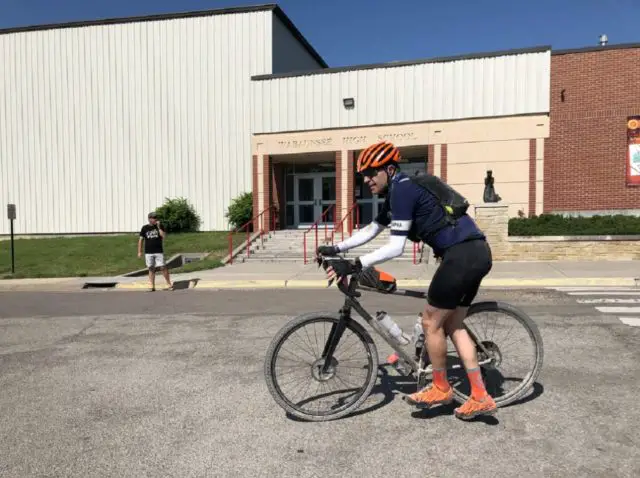 The Race-Day Plan
Kristen and I discussed the race-day plan at length. In general, my plan for the DK200 was to ride fairly conservatively for the first 100 miles, and then if I was feeling up for it putting the hammer down for the second 100 miles. More specifically, we created a worksheet that covered how long it should take to reach the aid stations and finish line, calculated the average speeds needed to reach each point in time, and how much food and water I'd need to take in along the way.
To finish before midnight (18 hours), I'd have to average 11.2 MPH. Figuring in about an hour for stops at aid stations and possibly fixing flats/mechanicals, that average became 11.9 MPH. We also figured that, like many people, I'd start out a little too fast and gradually slow down a bit over the course of the day. So, I set up the Edge 1030 to display average speed and would try to maintain at least 12 MPH. At the same time, I didn't want to overdo it and blow up, so I also set up the Edge 1030 to display my power zone and heart rate.
One thing I knew from past experience is that heat management is key for me (in 2017 the temperature at the Crusher in the Tushar hit triple digits). So, my plan was to use one of my two water bottles for plain water (ideally, with plenty of ice) that I could either drink or pour over myself to cool off. An added benefit of the plain water is that if I started getting a stomach ache, the plain water could help settle it down. Another element of the heat management plan was having ice socks at the aid stations.
At the aid stations, I had everything I'd need to resupply my food and drinks, spare clothes if needed, extra tubes and CO2 cartridges, etc. I also had a crew at the aid stations that would wash my bike (or at least the drivetrain), since a dirty/muddy drivetrain is at best unpleasant, and at worst can lead to your rear derailleur being ripped away from your frame.
A few notes from Race Day
The start line of the DK200 is an amazing scene. Over a thousand racers were there, ready to tackle what would be (for most of them) the most difficult thing they'd ever done. Although I was nervous about the DK200 in the months, weeks, and days leading up to it, when I arrived at the start line I wasn't nervous at all- all the training had been done, my equipment was dialed in, I had a plan, and I just had to execute it.
You already know from reading above that I had a great day, but if you'd like to see the Strava link for the details, here it is: https://www.strava.com/activities/2416059043
And if you'd like to geek out a bit (like I do), here's the TrainingPeaks link:
http://tpks.ws/I36YUHYXCM2JSONISVDB6XPP2Q
And if you want to really geek out a bit (like I do), here's the Di2stats.com link:
http://di2stats.com/rides/view/52309
Here are a few things I noted during the race:
Within minutes after the start, we had left the town of Emporia and were on the gravel roads.
And, within minutes of hitting the gravel, I began seeing people on the side of the road fixing flat tires. Thankfully, I didn't have a single flat tire the whole day. One of my theories about flat tires at the DK200 is that many of them happen when riders aren't picking the best line to avoid objects that can cause flat tires. Of course, that's understandable when you're in a huge pack and don't have much choice of what line you're going to take, or you're so tired that you can't see straight. The gravel roads at the DK200 often had two tracks that were worn-in from cars (often with a grassy section down the middle), and I did my very best to stay in those tracks (and not cross over the grassy section) since they seemed to have less of the sharp rocks that could slice through tires.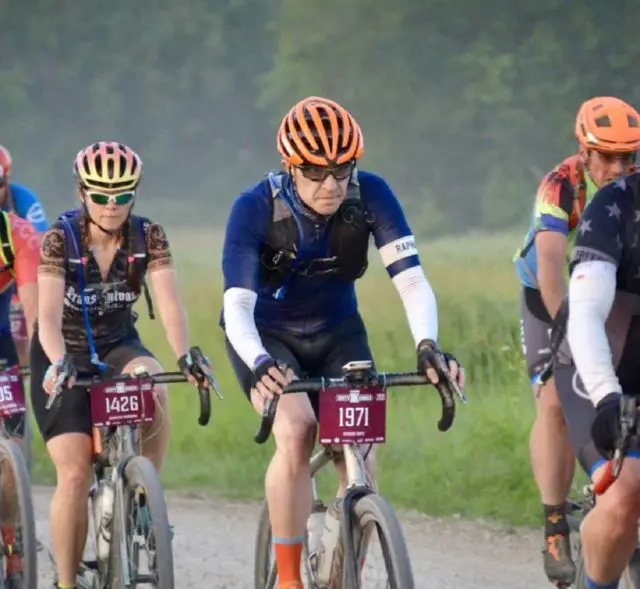 With the exception of one item, all of my equipment performed flawlessly. The Routt 45 was perfect, and I'm really appreciative of how well Vecchio's set it up for me.
Shimano Di2 was definitely a benefit over cabled shifting, as I shifted 3,292 times during the race. My hands hurt more than any part of my body, and I can't imagine how much worse they would have felt with cabled shifters, or without all the extra padding on my handlebars.
The XT 11-46 cassette paired with the 38-tooth chainring was perfect for me. I ended up using that 46 cog 10.3% of the race, and never spun out (in fact, I only used the 11 cog 0.2% of the race.
Given that I could have been out on the course for up to the cutoff time of 21 hours, connecting an external battery to the Edge 1030 for the first leg of the race made sense. Since I finished much sooner than expected, the Edge 1030's battery life ended up not being an issue as it had 48% left when I returned to Emporia. However, the Edge 1030 was the one piece of equipment that did not perform as expected. While I had the DK200 course downloaded to the device, it did not navigate the course (an issue that other racers seemed to have as well). Therefore, I was forced to keep an eye on the map screen at every turn, and/or rely on other riders for guidance. In fairness to Garmin, I should note that in post-DK200 rides the Edge 1030 has navigated courses without issue, and I'd very likely use it again for a big race.
It became intensely hot during the race, and heat management was key. I saw several people on the side of the course sitting or lying down in the rare shady spots, trying to cool off. Others were sitting in the water crossings. Carrying extra water that I could pour over myself while out on the course, and stuffing the ice socks down the back of my jersey at the aid stations, definitely helped me stay cooler.
One mistake I made was at the first aid station (mile 64), where I somehow didn't take my drink mix with me to use when I refilled my Camelback reservoir and water bottle at the water oasis (mile 121) on the way to the second aid station (mile 151). Fortunately, I was able to improvise and take in extra calories and sodium by eating the extra food that I had with me (particularly the Clif Bloks with double sodium).
Lastly, I could not have completed the DK200 without the incredible support of my family (my wife was there for me at the aid stations and finish line, and I had a photo of my kids taped to my handlebars) or Kristen, who was there to greet me at the finish line as well (despite having raced the DKXL earlier on).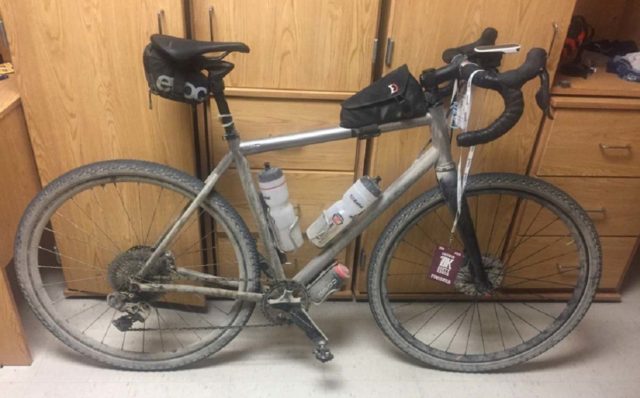 Many thanks to Steven Fritz for his insightful contribution!
---
If you have a contribution you'd like to share with Gravel Cyclist, please contact us at this link.