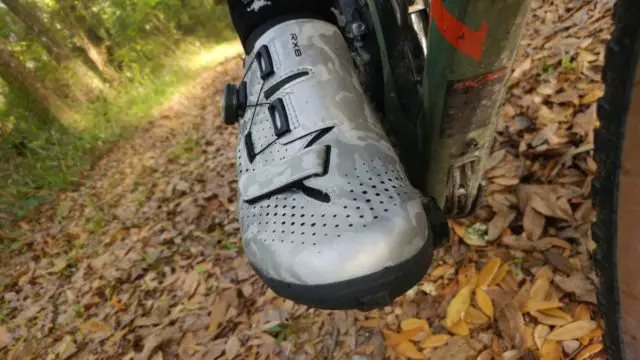 "Serving as a signal of Shimano's deep commitment to the gravel riding community, the RX8 is a truly high performance, lightweight gravel racing shoe. Available in both men's and women's versions, the RX8 marries the top performance features of Shimano's premium mountain bike and road racing footwear in a shoe that balances pedaling performance and off-the-bike capability. The result is a lightweight, stiff, walkable shoe that is ideal for gravel racers, gran fondo riders, and weekend warriors." – Shimano
Shimano has indeed committed to gravel, going so far as to develop these shoes and complete groupsets. Be sure to check our reviews of the Women's RX8 Gravel Shoe, Shimano GRX Mechanical and Shimano GRX Di2.
Shimano RX8 Gravel Shoe Review
"The RX8 features a super-stiff and efficient full-length carbon outsole with a Shimano stiffness rating of 10 (out of 11). A precise fit is gained from a heel stabilizer, while minimal TPU lugs, micro toe armor, and an anti-slip pad create walkability and protection that is race-tuned for gravel. The cleat-pedal interface features a wider contact point that is optimized to fit with new XTR PD-M9100 pedals while stiff TPU lugs increase pedaling efficiency compared to rubber lugs. All of this comes in a lightweight package at 265g (size 42), significantly lighter than Shimano's premium S-PHYRE XC9 mountain bike racing shoes."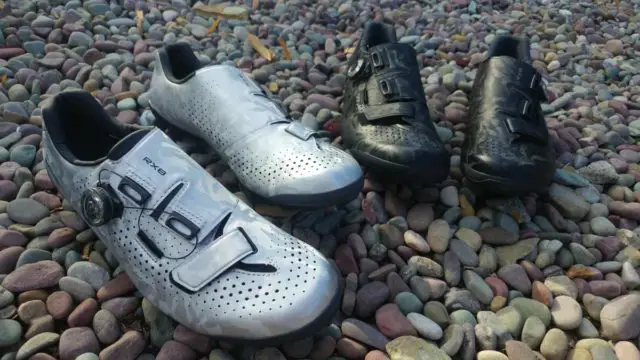 The Men's RX8 shoe is offered in European sizes 38 to 50 and Wide sizes 38 to 48 in two colours, Black and Silver. Both colours are a nice departure from the usual boring sea of black / silver shoes. There are no half sizes offered at this time, so if in doubt, size up. In my case, size 43.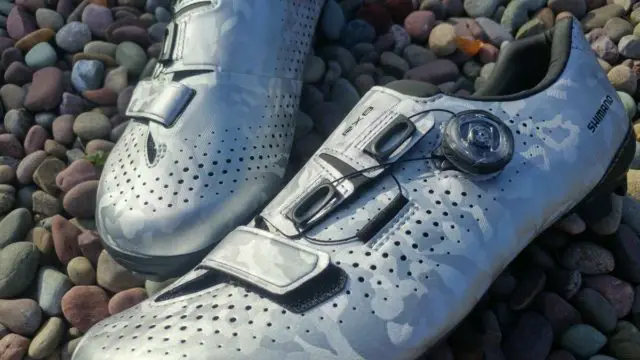 Heaps of Tech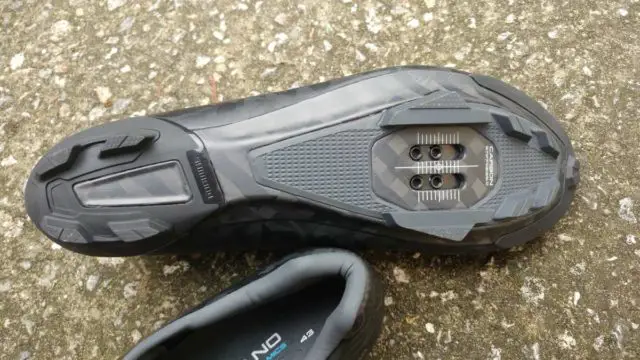 Super stiff and lightweight carbon composite sole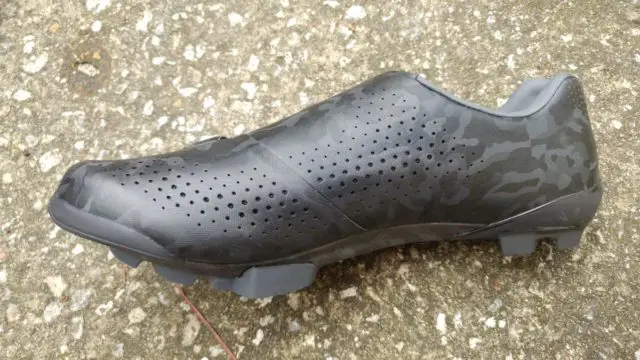 System engineered with SPD pedals for maximum pedaling efficiency and stability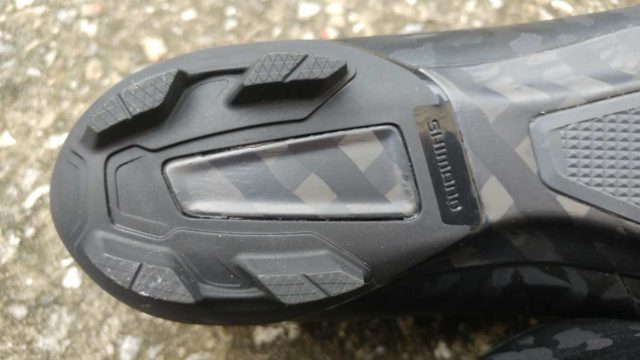 Lightweight, abrasion-resistant TPU lugs for the best balance of pedaling performance and off the bike capability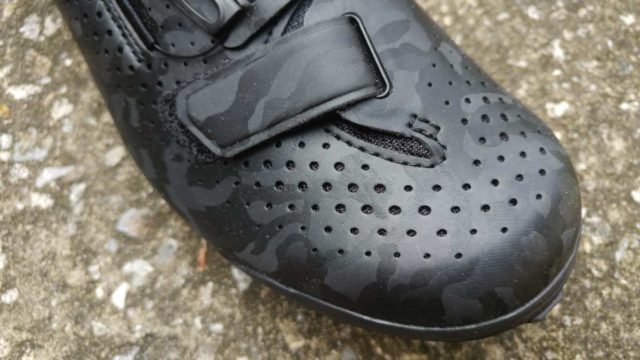 Surround upper pattern provides the perfect balance of holding power and absolute all-day comfort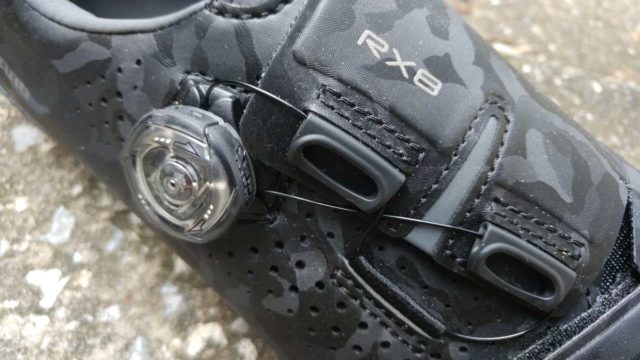 Boa® IP1 with dual micro-adjustment function
A small minority of gravel cyclists find BOA dials to displeasing but my experience has been positive. I particularly enjoy their ease of use for adjusting shoe tension whilst riding. Conversely, I've broken one BOA string caused by excessive stooping for photography, a foot position that places a lot of strain on the tensioning strings. Note to self, release a little tension on BOA dials when taking photos in the field!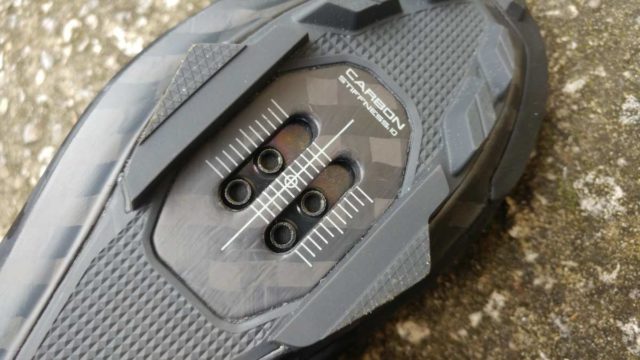 Being an SPD compatible shoe, the RX8's sole features a two-hole cleat connection with two possible mounting points and plenty of fore and aft adjustment. The TPU lugs aid for those times when you're forced to hoof it off the bike, normal activity for the more adventurous gravel cyclists.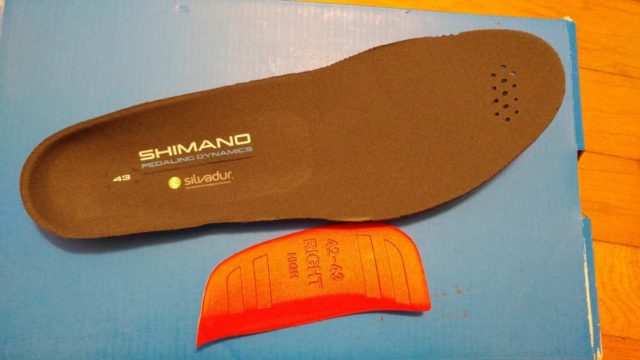 Above, the insoles that are packaged with the Shimano RX8 shoe. Typically, I substitute stock insoles for those by Specialized (I have high arches requiring the Green insole), but this shoe ships with a nice insole and optional support for high arches. More on that further down this article.
Weighing Them Up
Shimano claims a weight of 265 grams for a size 42 RX8 shoe. To test this claim, onto the gram scales they go!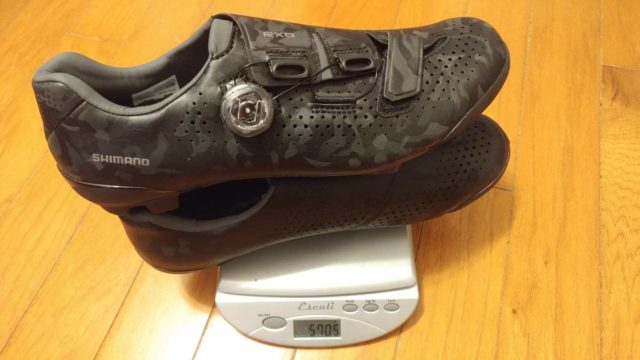 Pictured above, the size 43 review shoes (I am fortunate to have a black and silver pair for review) weigh 570 grams for the pair, making approximately 285 grams for each shoe which includes insoles and two wedges per shoe. Shimano is spot on with their estimated weights.
Wearing & Riding the Shimano RX8 Gravel Shoes
According to Shimano, the RX8's have a stiffness rating of 10 (out of 11) on their scale. I'm here to tell you that super-stiff soles are not where it's at for the road less traveled cycling. Finding the perfect balance of stiffness with just enough flex for comfort is ideal.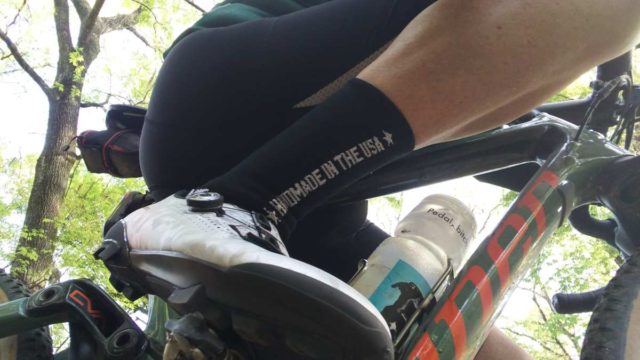 Tyre pressure makes the biggest difference to a rider's overall factor for comfort on a bicycle (be sure to check our recommended tyre pressure chart), but the pneumatic suspension effect is negated by shoes that are simply far too stiff, which could potentially create hot spots. Shoes intended for MTB / gravel cycling need to be comfortable for walking, especially for those times you visit the coffee shop or convenience store.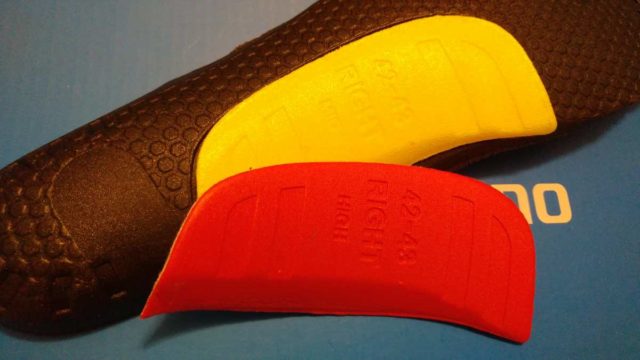 Shimano's insoles with little wedges to support we high arch folks was greatly appreciated. I stacked the red and yellow wedges beneath each foot which provided plenty of support but without compromising the shoe's fit by jamming the top of my foot hard against the top of the shoe. The RX8 is the first shoe I've seen that provided high arch support with an insole, kudos to Shimano!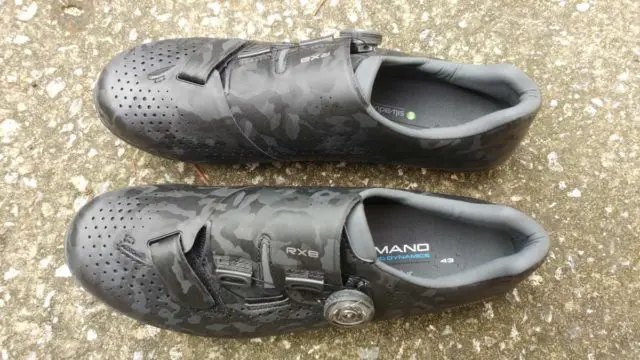 All of my walkability tests have proven Shimano has gotten their stiffness and flex numbers just about right. I don't know if I'd rate these shoes a 10 on a stiffness scale of 11, which to me sounds absolutely horrendous, but stiff enough there is no discernable flex during pedaling, and just enough give to go on walk-a-bout off the bike.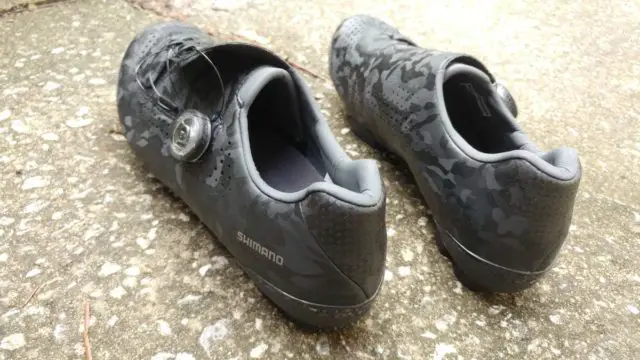 The Shimano RX8's rank well for browsing the aisles of the grocery store and driving a three-pedal vehicle, aka one with a manual transmission, aka a dying art form, aka vehicle manufacturers are getting rid of stick shift and that really sucks. #savethemanuals – I'm pretty lazy post-ride, so you may catch sight of me making a grocery store snack run in full cycling kit with shoes. There's zero shame around here 🙂
Shimano's sizing is accurate, which can often be a hit-and-miss affair, particularly if you're buying online. As a reference point, I wear size 43 Northwave and size 42.5 Sidi. An advantage over my Italian-made shoes is the not so pointy toebox of the RX8's. They have plenty of wiggle room but without the shoe being a sloppy fit, and without resorting to a w-i-d-e shoe… not that I have wide feet.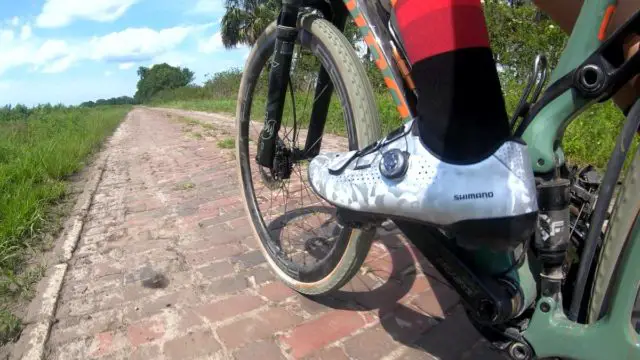 BOA dial shoes are the business with their ease and speed of adjustment versus laced shoes. Laced shoes have made a comeback but I've never been a fan. I initially thought the RX8's would fare better with a second BOA dial for each shoe, but time has proven Shimano's BOA string retention pattern paired with a strap, to be plenty solid.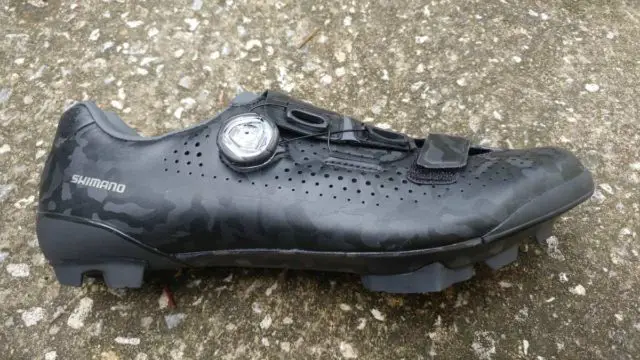 Shoe fit and feel is very subjective, but overall, Shimano's RX8's were comfortable with no annoying material or sharp edges inside the shoe to bother me. Not a slipper-like fit, but a good feeling of security. As a nice bonus, both shoe colours break free of the typical boring black and silver with some artsy patterning. These colours are pretty neutral in that they compliment most colours of socks, which is pretty important to some riders. I say, look good, feel good, ride good… ride well if attempting to be grammatically correct.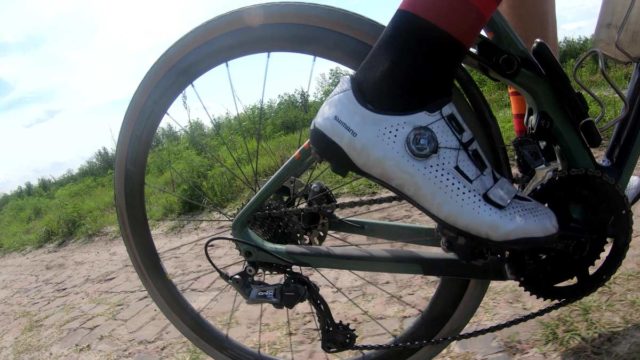 I never did have the opportunity to mud and sludge test the RX8's, but Adrienne did, our Midwest gravel correspondent, who kindly reviewed the Women's version. She thrashed the absolute eff out her sample pair, and they're still kicking around! My Men's / Bloke's pair of RX8's has survived nicely and due to its surface finish, cleans up well. They still appear very new, I promise you, I rode them beyond a parking lot!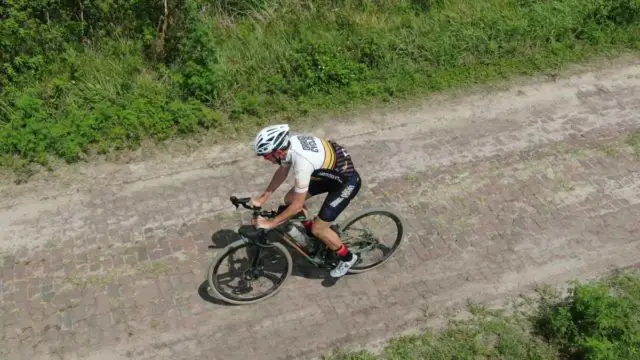 The Shimano RX8 shoes are well priced at MSRP $US 250. In a nutshell, I like them a lot, and I'm pretty certain you will too. They look good, are quite light and I expect will last a very long time. Nice one Shimano!
You can buy the RX8's from Amazon – Men's Version – Women's Version.