From Shimano: "The RX8 features a super-stiff and efficient full-length carbon outsole with a Shimano stiffness rating of 10 (out of 11). A precise fit is gained from a heel stabilizer, while minimal TPU lugs, micro toe armor, and an anti-slip pad create walkability and protection that is race-tuned for gravel. The cleat-pedal interface features a wider contact point that is optimized to fit with new XTR PD-M9100 pedals while stiff TPU lugs increase pedaling efficiency compared to rubber lugs. All of this comes in a lightweight package at 265g (size 42)…The RX8 is available in Silver or Black and the RX8W women-specific version is available in Navy Blue. Wide options are available in the black colorway exclusively. It is best matched with the Shimano SPD M9100 or M8100 pedals. The RX8 will be available for $250 MSRP in August 2019."
So obviously August 2019 has come and gone, the Shimano RX8 has been on the market for a handful of months, giving a decent number of people the opportunity to wear-test it. JOM and I have, however, over the years, had more than one conversation about the relative dearth of reviews about gravel things, and cycling products in general, by women. Now, Shimano happens to have made a "women's specific" version of the RX8, but HOLD UP WAIT DUDES DON'T CLOSE THIS BROWSER WINDOW YET. Just because I happen to be writing about the women's model on my woman feet does not mean that this won't be applicable to your masculine feet. Just that it will be funnier and more good-looking.
Some context: I have a strange pair of feet that are pretty darn narrow at the heel but require a wide toebox. I pretty reliably wear a size 40 EU in cycling shoes. Previously I have torn to shreds a pair of Giro entry-level MTB shoes, followed by the Northwave Extreme XCs. The Northwaves fit my feet well and were solid all-around, but I had a lot of problems with getting them to snug down, especially after a year of abuse. I have previously worn Shimano road and triathlon shoes, so I may have been a little pre-biased, at least when it came to confidence-that-they-would-fit. I set them up with Crank Brothers cleats on Candy pedals. They were taken on an initial paved trail cruise, but the real test came on 70 miles of Stillwater Oklahoma red dirt.
Here are some nice pretty pictures of the shoes out-of-the-box taken by a certain somebody with more photography skills than me. They are pictured resting gently atop the rug that I frequently collapse upon after long grueling rides until someone brings me a pickle or a cup of coffee.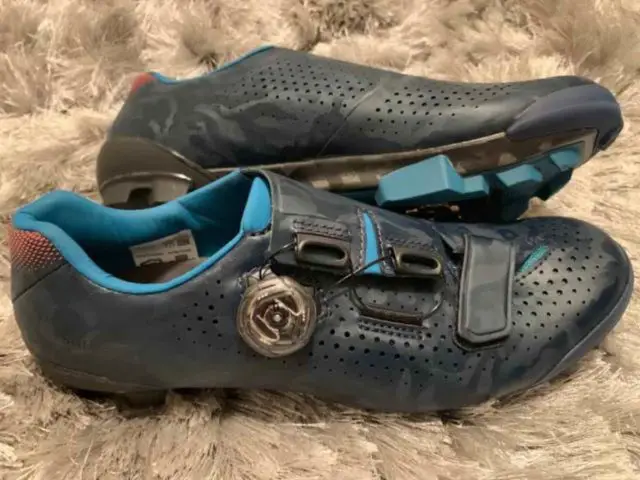 As you can see, I have gone with the navy blue camo-like colorway. It is sleek like leopard.  If you're a man this option does not exist for you.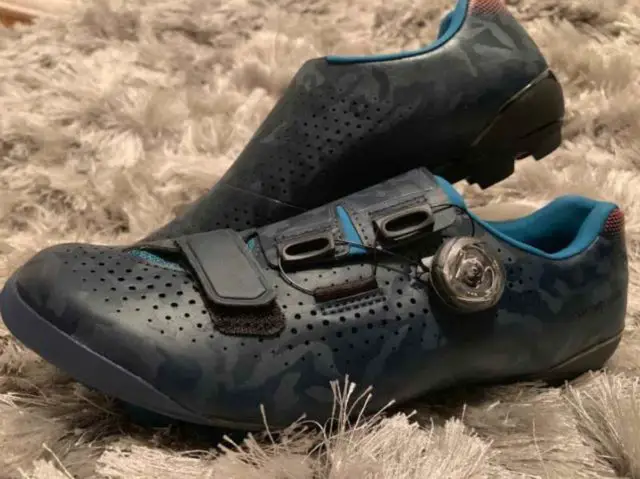 However, dudes can opt for silver if you like to stand out (JOM has this version, his dude RX8 shoe review is coming later). Or, if you have a narrower heel (typically the major diff in "women's-specific last"), just wear the women's version. After you go through our secret initiation process. We ride at dawn.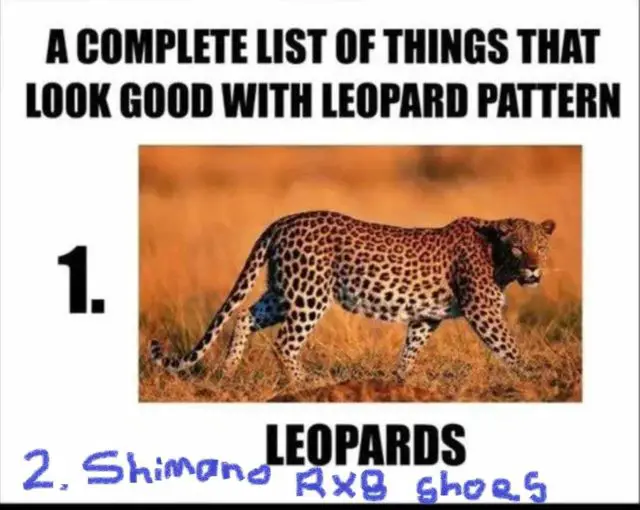 The size 40 fit was spot-on for me (comparison: I'm size 40 in Giro, 40.5 Northwave, 41 Lake winter boots, 8.5 American-size most women's running shoes.)
Impressions
[This is the important part that you actually want to read]
1. They're the stiffest non-paved-road shoes I've ever worn.
Shimano gives them a stiffness rating of 10 out of 11. What's an 11? A block of concrete?
Anyway, I appreciated that 10. There is a notable power transfer difference compared to my previous shoes. The heel stabilizer also probably helps with this, as my foot stays nice a secure throughout my entire pedal shoe. I've become accustomed to various degrees of foot-sliding-around within my shoe over the past few years, to the point of needing to curl my toes up to keep my feet in place. No more.
2. Walking in them was fine. I wouldn't want to do it forever, but particularly with how stiff the full-length carbon outsole is, they were surprisingly easy to walk short distances in. They did gunk up with mud during my Stillwater hike-a-bike test, but no worse than any other pair of off-road shoes I've worn. When you walk through the peanut butter stuff, they end up with more mud than shoe. But it does shed easily from the lugs after a few solid whacks on your nearest hard surface.
Also, the red dirt matches the blue nicely.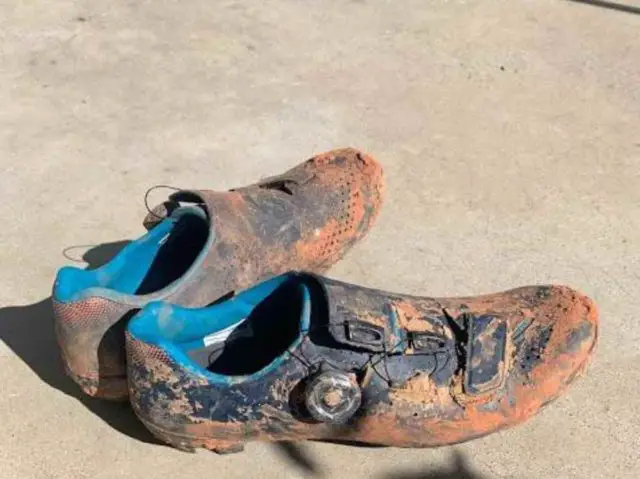 3. The Boa tightening system – there's a single Boa lacing system, which successfully snugs the whole middle and upper down, aided by a separate forefoot strap. It tightens all the way down on the first try, and it's still easy to release.
No more stopping ten minutes into a ride to re-adjust the Boa.
No more being stuck in your shoes permanently because you've informed your significant other that he has to take them off your feet because your brain has stopped talking to the rest of your body and you're stuck on the floor, and this is the only way you're ever getting up to take a shower, and what do you mean you can't figure out how to get them off my feet. You have to pull up on the one doohickey and then push down on the Boa and turn it in the opposite direction… oh fine I'm getting up.*
*Wait, this doesn't happen to you?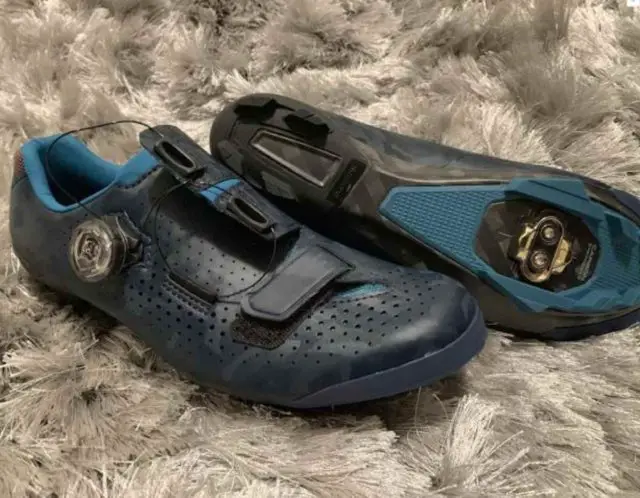 4. They fit like a glove. Like you could forget they are there. They fit like my track spikes from college, except cycling in those probably wouldn't go so well.
5. The insole is fine. It's a standard insole. I have weird arches and use Superfeet insoles, which also fit well in these shoes, but I put some miles on the included ones for completeness' sake. No hot spots or anything to complain about. They dry out in a normal amount of time.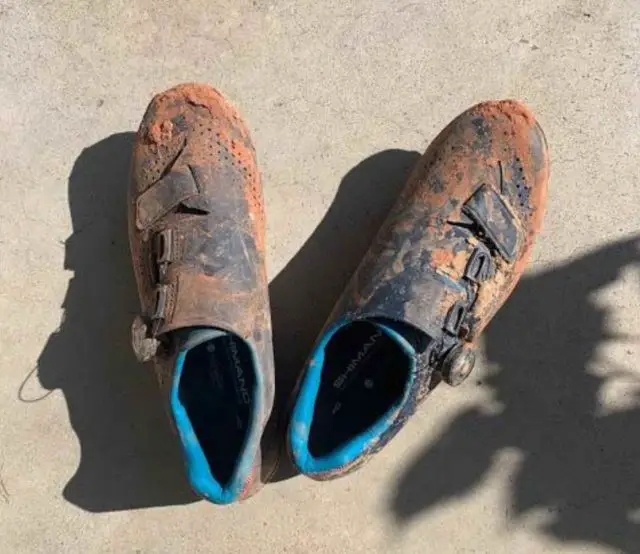 Cons: The only issue I've had is with the tongue of the shoe. You just have to be careful that the tongue inside is totally flat before you tighten them. The outside corner likes to roll up, I don't notice it when I initially put them on, and then I realize 10 minutes in that something's digging into my foot. It's an easy fix called paying-attention-when-you-put-on-your-shoes which I'm now incorporating into my life.
Retail price on the Shimano RX8 gravel shoe, women's and dude version is approximately $US 250.00.
Buy the Shimano RX8 shoe below: