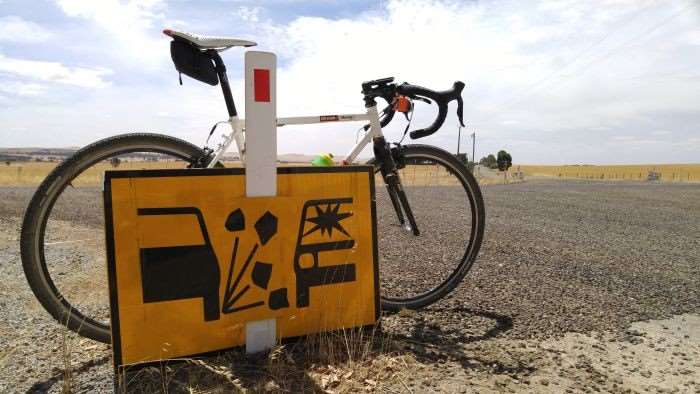 As the allure of gravel cycling continues to grow, so does the availability of new products relevant to the genre. Maxxis have been in the tire (tyre) business for many years, and are well known for tyre products ranging from bicycles to automobiles. One of their entries into the bicycle tyre market is the 40mm wide Maxxis Rambler, a tyre we first took receipt of during late November of 2015.
The Rambler falls under the Maxxis Gravel / Adventure range, and is marketed as a gravel and dirt road racing tyre. Featuring a gravel-specific tread pattern, long-life dual tread compound, tubeless ready construction and EXO sidewall protection on the high end 120TPI (threads per inch) model, the Rambler is a tyre that sounds perfect for just about any gravel road one may encounter.
Available in two models:
60TPI version with Maxxis Silkshield puncture protection technology, and a manufacturer's claimed weight of 435 grams. Per Maxxis, "SilkShield offers protection from bead to bead and provides an additional level of protection for sidewalls in addition to under the tread."
120TPI version with Maxxis EXO sidewall protection technology, and a manufacturer's claimed weight of 390 grams.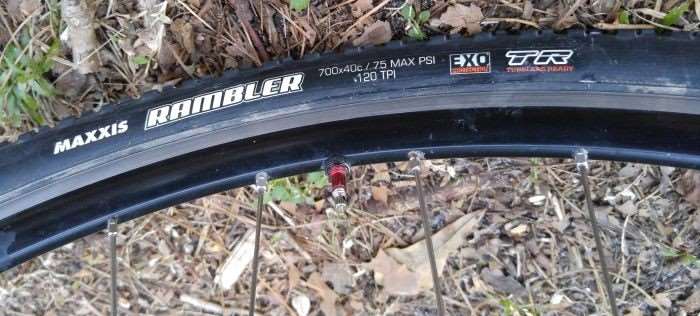 Do the marketing claims of Maxxis hold water? To answer this question and others, read on…
Weight
The 120TPI sample tyres sent by Maxxis weigh 380 and 381 grams respectively, a saving of nine and ten grams over the manufacturer's claimed weight. Rotating weight savings are among the best you can make.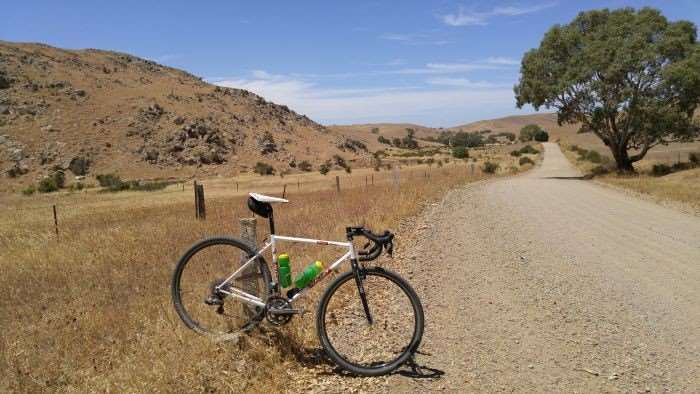 Mounting the Maxxis Rambler
I've read of other reviewers having difficulties mounting this tyre, and getting it to seat and hold air. I cannot comment about their tyre mounting method, but my experience with the Maxxis Rambler has been quite the opposite. A compressor is required, but by following the steps my good friend Dr. Pain and I recommend, we had success every single time.
We recommend installing two layers of tubeless tape on the rim of your choice. Some wheelsets, such as those made by American Classic, come with base tape installed. We have found their base tape to be more than adequate out of the box, not requiring additional layers of tape.
Be sure the tyre is properly seated around the valve area. If the tyre is a little stubbon to situate itself properly, remove the valve core nut, push the valve core up towards the top of the tyre and pull back down again. This should seat the core within the confines of the tyre casing. Don't forget to re-install the valve core nut and tighten appropriately.
Always dry mount the tyre first sans sealant, to ensure it will seat and hold air. If a tyre proves tricky to inflate, remove the valve core and try again. If this doesn't work, apply something like Sleek Beeswax & Mink Oil Furniture Polish to the sidewall. This product is far better than soap and water, and will help seat even the most stubborn of tyres. This product can be purchased from your local furniture store or online.
Once the dry mount test has been passed, install your favourite sealant and inflate.
We mounted and rode the Ramblers on three different wheelsets – American Classic Hurricane tubeless, Stans Alpha 340 rims laced to Shimano Dura-Ace 7700 series hubs and the American Classic Race 29'er wheeset (ridden in this configuration last weekend by Gravel Cyclist's own, Pfaff Daddy).
Regardless of wheelset choice, the Ramblers held air nicely with no signs of sidewall leaks.
Is the Maxxis Rambler really 40mm Wide?
Mounted on the following wheels and rims, at 40psi they measure:
Stans Alpha 340 rim, 39.3mm – 39.5mm (see photo below).
American Classic Hurricane wheelset, 40.1mm.
American Classic Race 29'er MTB wheelset, 41mm.
Important note: American Classic does not recommend mounting tyres with carbon beads onto their rims.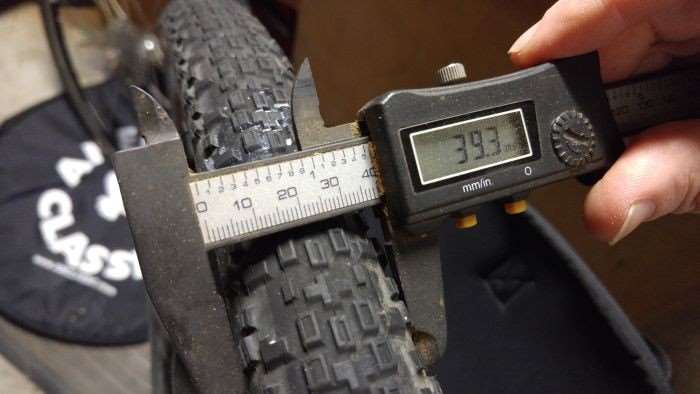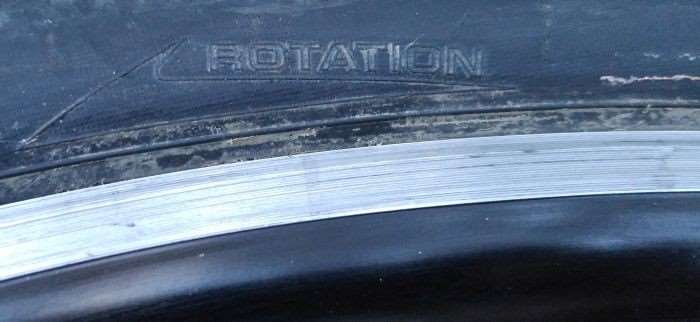 Important to Note – The Ramblers are directionally mounted, so take note of the sidewall marker. With that said, I purposely ran the rear Rambler backwards for a short period and didn't notice much of a difference. However, Maxxis may not recommend this, so pay attention!
Sealant used with the Maxxis Rambler sample tyres has been Orange Seal's Endurance Formula (link to Gravel Cyclist review).
Riding the Ramblers
This pair of sample Ramblers has led an interesting life. My testing has gone far beyond the regular norms associated with rolling around roads in the Midwest of the United States. For the month of December 2015, they spent their lives crushing dirt and gravel roads in North Central Florida. For January of 2016, they accompanied me to Australia, and traversed the varied surfaces of the gravel roads in South Australia.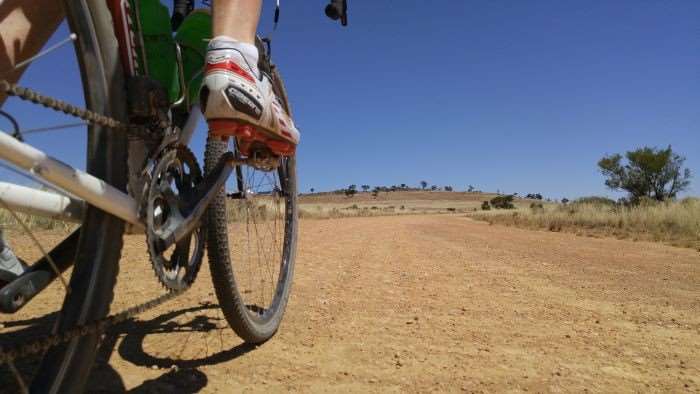 In both hemispheres, my Ramblers were inflated to 38psi front, and 40psi rear. My Gravel Cyclist teammate Pfaff Daddy, inflated his Ramblers to 30psi at last weekend's Honey Bee Stinger 100K event in Georgia and loved how they rode. He informs me he'll be testing them soon at 28psi.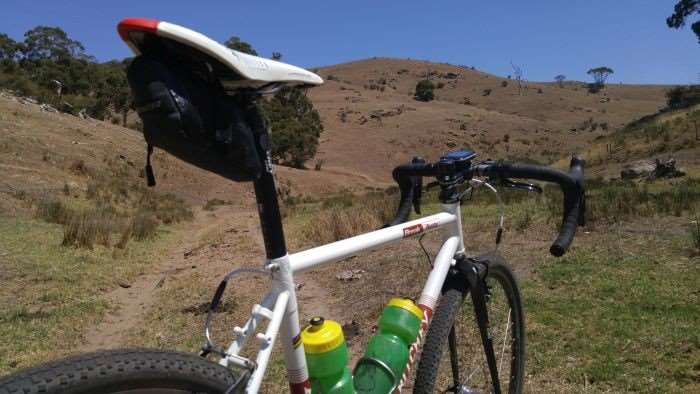 While I prefer a firmer ride on my Ramblers versus that of my esteemed teammate Pfaff Daddy, the Maxxis Ramblers have proven to be a fast and lightweight tyre, with plenty of grip in all situations and surfaces, barring only the loosest of gravel while cornering. Like any tyre while cornering on the loose stuff, one needs to exercise caution to not lose traction from either wheel.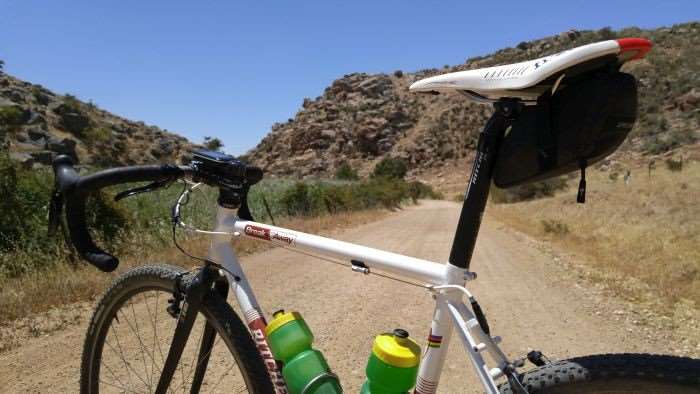 I rode the Ramblers up long steep grades, down gnarly roads littered with rocks and smaller pea sized gravel, and everything in-between. While the Ramblers appear fragile, their supple casing has proven rock solid with nary a cut or slice anywhere in either tyre casing. They are also long wearing. As seen below, the rear tyre is barely showing any wear after many miles and kilometres of solid use – I have not rotated them.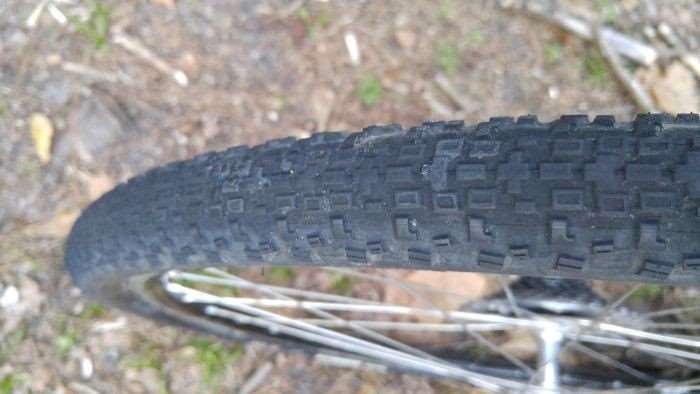 Additionally, they roll nicely on paved / bitumen roads. I've clocked myself at 78 km/hr / 49 m/hr descending some paved roads on the Ramblers, so the shallow knobs are not a handicap. More importantly, there is barely a noise to be heard from them, except on the smoothest /newest of pavement. Howling on pavement means resistance, and that is never good for anyone.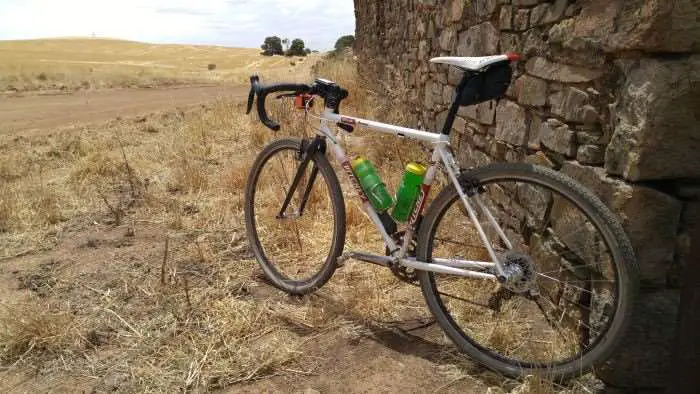 Summary
The Maxxis Rambler is my 40mm gravel tire (tyre) of choice. They are tubeless ready – yes, real tubeless! – no messing around, easy to mount, fast rolling and confidence inspiring on corners.
Priced at an MSRP of $US 64.00 each for the 120TPI version, they can be had cheaper if you look around.
Highly recommended by the Gravel Cyclist crew!