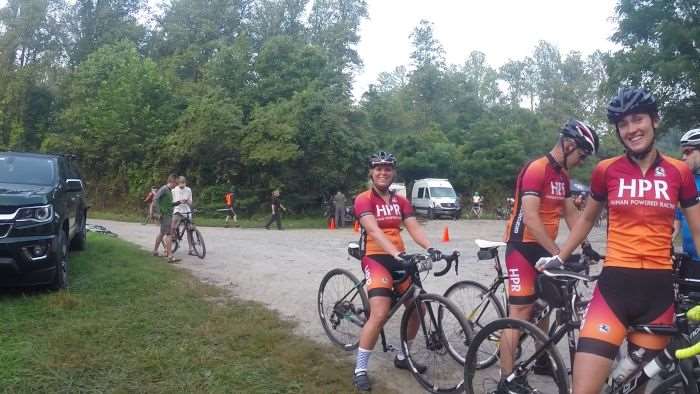 Pisgah Monster Cross, a 70 mile gravel race starting and ending near Brevard, North Carolina, has been a tradition among the Gravel Cyclist crew since JOM appeared at the 2012 edition. This race has it all – gravel, gorgeous scenery, tough climbing, tricky descending and a 20+ mile section of pavement along the Blue Ridge Parkway.
Depending on the year, odd or even, the race runs clockwise for odd years and anti-clockwise for even. Thus, 2016 was run in the anti-clockwise direction, which also happens to be the tougher of the two directions to run the course… plenty of climbing on tap.
To Go or Not to Go, That is the Question
Yours truly, JOM, recently knocked out the Gravel Worlds race in Lincoln, Nebraska, accompanied by Gravel Cyclist teammates Mr and Mrs K-Dogg. Since that race, I've enjoyed a short break from travel and racing, but still kept my wheels rolling. Despite being somewhat rested, my impetus to make the trip to the 2016 edition of Pisgah Monster Cross was a tad low. However, almost everyone on the Gravel Cyclist squad had signed up for this year's race, so that alone was good reason to attend.
But I still wasn't convinced.
Then came the mildly incessant prodding from my teammate / sidekick who travels with me to many remote gravel rides and races, K-Dogg. However, I'm not a stellar climber and Pisgah Monster Cross features quite a bit of extended climbing… K-Dogg on the other hand, goes uphill pretty well.
Still not convinced.
Even the supportive and encouraging nature of the lady in my life, with her suggestion I simply enjoy the time away with the lads, and make a fun time of it.
Almost convinced…
So, after a little more procrastination, I finally decided to attend the race, and hastily packed for the trip.
Race Day
Because of the last minute nature of my decision to ride 2016 Pisgah Monster Cross, I grabbed the first bike that was setup for some gravel racing in the mountains of North Carolina – the Parlee Chebacco I reviewed a little while ago. Readers will have to wait a little bit longer before I start logging review miles on the sweet 2016 Litespeed T5G gravel rig with Ultegra Di2 hydraulic brakes I have laying in wait… watch this space…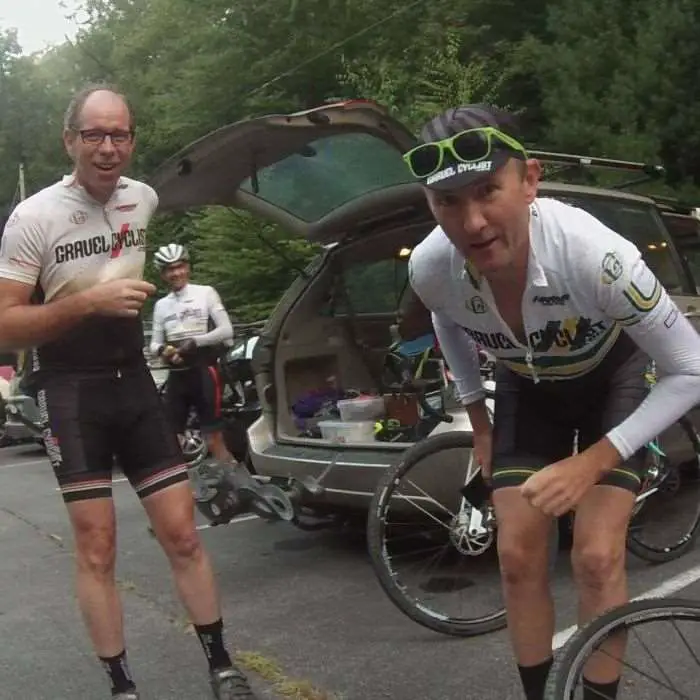 The five person Gravel Cyclist crew arrived at the race venue around 7:15am, and casually made preparations for the race. I was surprised and pleased to see a strong contingent of Florida riders from Jacksonville had made the trip.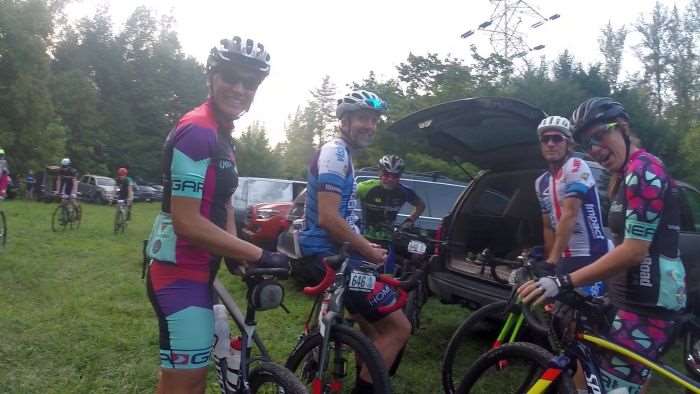 Shawn Burke and Travis Gibbon of VeloBrew Racing, and ladies Jen Vogel and Jennie Rogers of DelaFina Racing. This was the first time any of the ladies from DelaFina Racing had climbed or descended gravel, and Pisgah Monster Cross ain't exactly an easy race… kudos!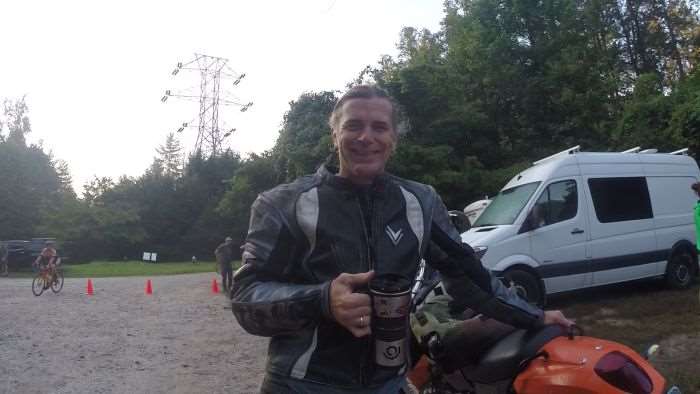 It didn't take long before 10 minutes to start time rolled around, and for something different, Dr. Pain, a first-timer to Pisgah Monster Cross, decided to start from the back of the field. K-Dogg and I milked our usual "media" credentials and filmed other racers including the front row of the field, before sliding in undeservedly at the front.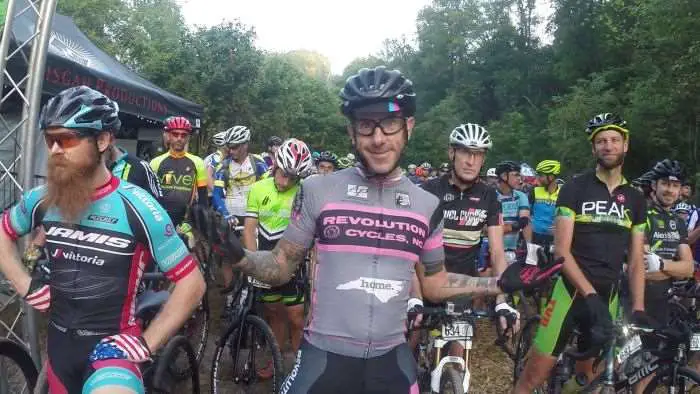 Mrs K-Dogg and Pfaff Daddy, also first timers to Pisgah Monster Cross, were somewhere in the throng of almost 200 riders – this race is capped and always sells out. The gravel cycling in this part of the world is pretty amazing!!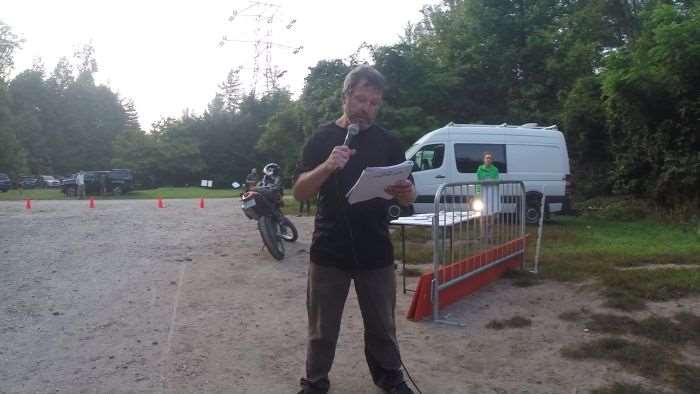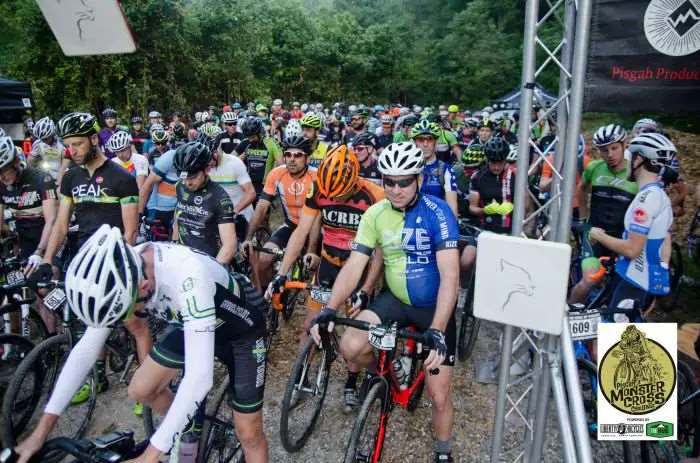 Race promoter Eric Wever politely reminded to keep it fun and be kind to motorists on the Blue Ridge Parkway – always good advice – and a few minutes later, released the horde! But first, a controlled neutral rollout until the right hand turn to the first gravel climb.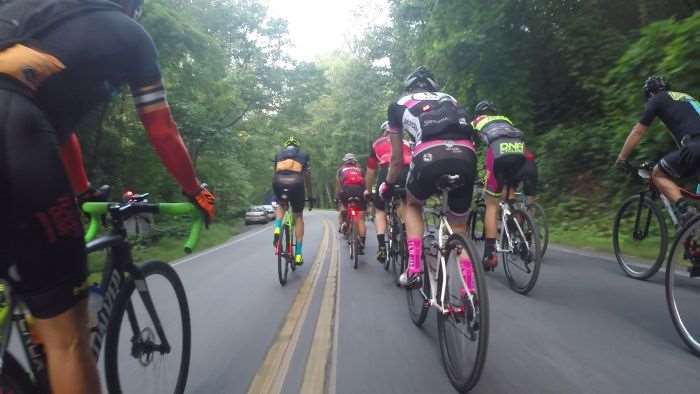 Unlike the clockwise direction of the course, the anti-clockwise direction features a short neutral section, leaving little time for warming up. I always figure I'll warm up during the race. As we rolled along the pavement leading to the right hander in a relatively calm manner, I noticed teammate K-Dogg sneaking up the left side of the field, planting himself right near the front… this definitely made for some good race footage. I on the other hand was in the swarm, about 20 riders from the front… a good spot for me.
The group rolled onto the gravel of Avery Creek Road and the race officially began. Thankfully, I gathered a little tribal knowledge of the first mile of the gravel climb before race start, and knew to position myself on the left or right side of the road. The middle was no-man's land. The gravel surface resembled the aftermath of a B-52 carpet bombing, potholes and ruts everywhere.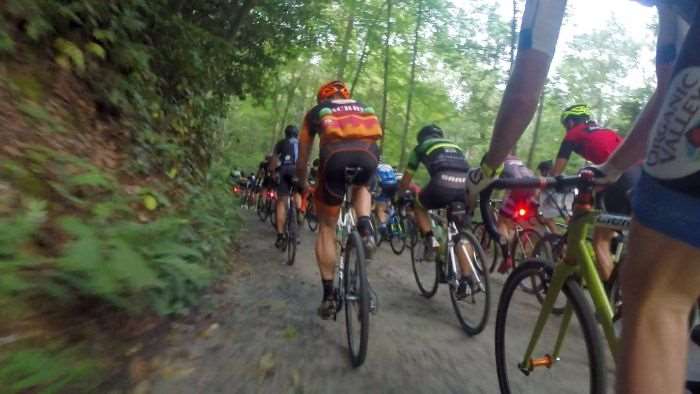 During the chaos, I reminded myself of a few things. Don't look at the heart rate monitor – relax – breathe deep – look at the riders ahead – ride by feel – and *try* to hang onto the rear of the front group for as long as reasonably possible, but without going into the red.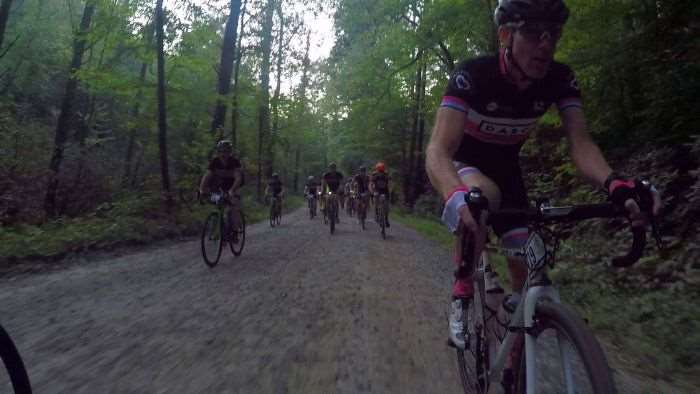 Approximately half way up the first serious gravel climb, I became unhinged. Pisgah Monster Cross is a decently long race, so I settled into my climbing rhythm. Behind, the field was completely torn asunder. I guessed there were at least 40 riders now ahead of me. Also ahead on the next gravel switchback were teammates Pfaff Daddy and K-Dogg. Their appearance served as motivation for me to up my climbing tempo beyond my comfort zone, and join them…
Was this a wise move?
This effort would put me into the red zone early, something I did at the 2012 edition of this race and paid for dearly.
Aaaah eff it. I always start conservatively and my legs felt A-M-A-Z-I-N-G – as amazing as a bloke of my age and lack of ability can feel 🙂 – I threw caution to the wind, upped my tempo, ignored the pounding of my heart in my chest and closed the gap to my teammates.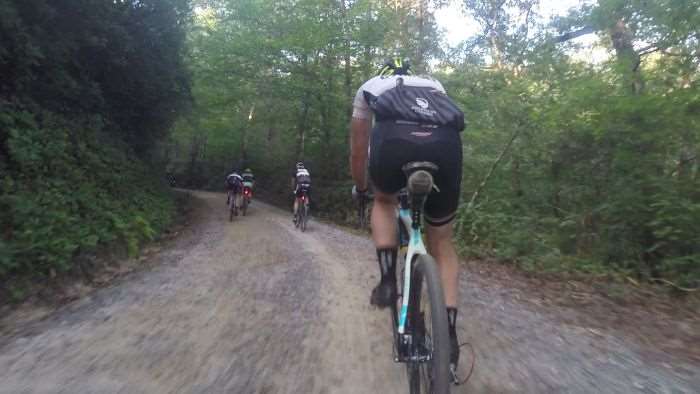 I offered up a friendly wave as I slowly rode past Pfaff Daddy, and an "Oi!" to K-Dogg as I crawled along beside him. He was surprised to see me there, usually I'm well dropped by his 61yo arse.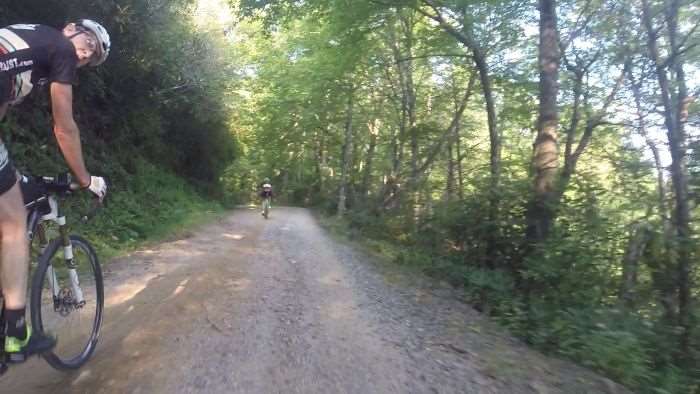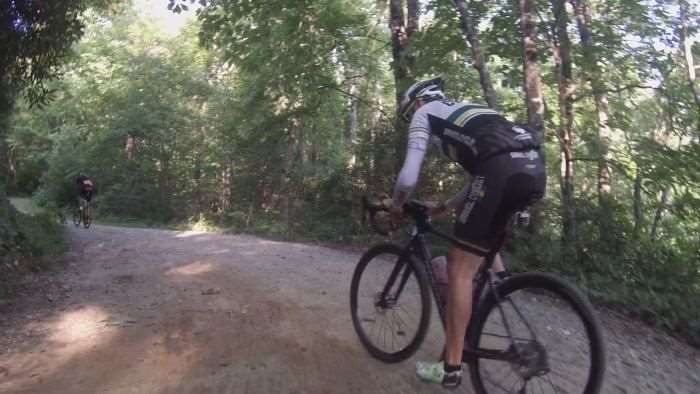 We crested the top of the Avery Creek Road climb together, but it didn't take long before I gapped K-Dogg on the descent to US276. K-Dogg is a great climber, but descender, not so much.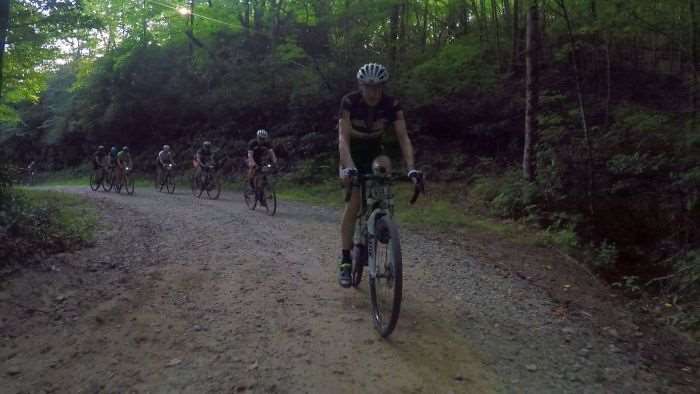 Think panicked chicken and you get the drift. I was thankful he was aboard his "Eldorado" Monster CX bike… the lad feels much safer with it's comfy shock to take the edge off the nasty gravel descents so prevalent at Pisgah Monster Cross.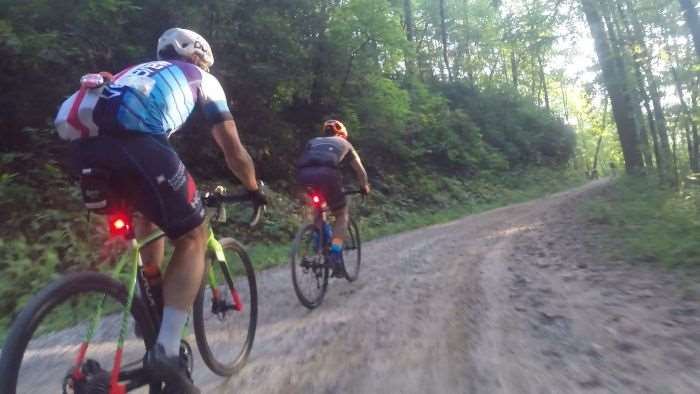 My next goal was to create as much of a gap on my teammate on every descent, in the hope I would have a large enough buffer on the Blue Ridge Parkway, to hold K-Dogg's wheel when he ultimately caught me. There were no if's and but's about it… K-Dogg would catch me, it was just a matter of when?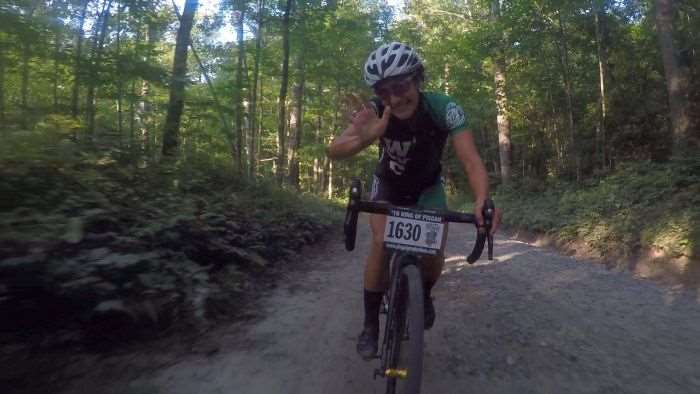 There was still plenty of gravel climbing and descending before the Parkway was reached. If you haven't ridden the gravel in this neck of the woods, these descents really require caution and good bike handling. I rode past Nina Otter, one of the fast women's riders at the race, as she picked herself up from the deck after losing the bike on one of the many treacherous descents. Thankfully Nina was OK, and went on to finish strongly in her category… you can't keep a good woman down.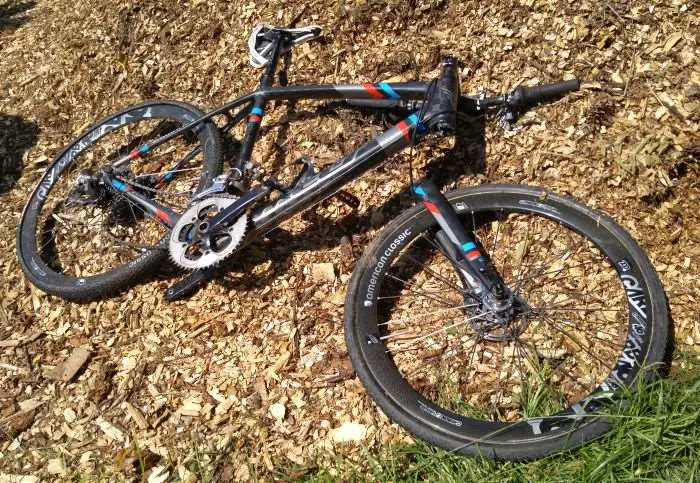 Tyre punctures were another huge factor on the gravel descents. I lost count of the riders I saw fixing flats, or in the case of one bloke, formerly in the lead pack, walking his bike back to the first aid station after three punctures!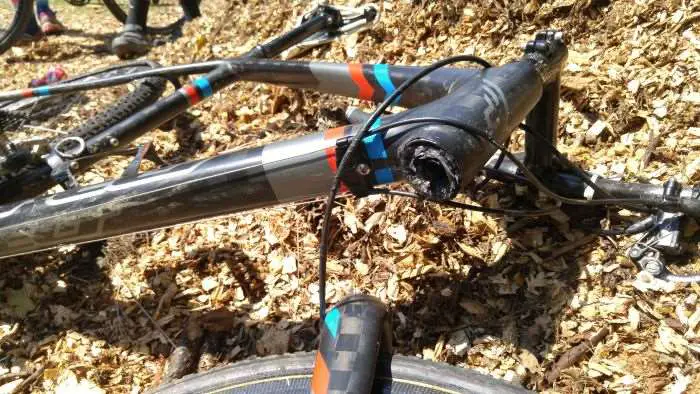 On the final gravel climb that leads to the Blue Ridge Parkway, I spoke briefly with (as he dropped me) an 18 year old fellow expatriate from the Down Under region… almost… but across the Tasman Sea – New Zealand. I didn't catch his name, but he was new to the US of A, having landed only three weeks earlier. The lad was attending college and having a blast riding what I believe was his first gravel race in the US of A. Unfortunately, I didn't get the chance to interview him post race. But either way, nice riding lad, especially after your mechanical issues.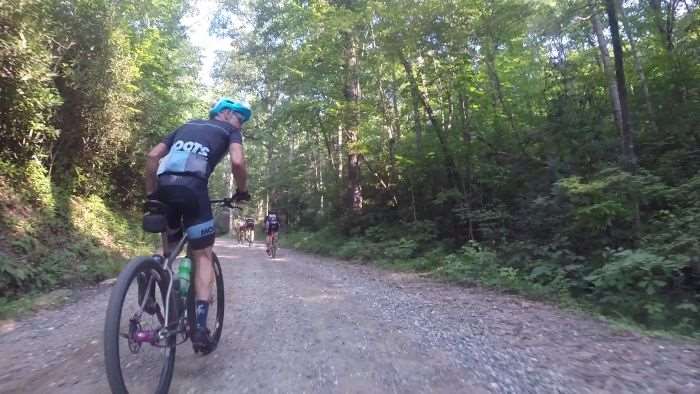 The Blue Ridge Parkway
The Parkway comes at around 26 miles / 42.5 kilometres into the Pisgah Monster Cross race. The Parkway is paved and the climbing begins immediately, all the way to the summit of Mount Pisgah. This is a tough sector of the route, climbing from about 1000 metres / 3,000 feet up to 1,450 metres / 4,750 feet in the space of 13 kilometres / eight miles. Good news if you love climbing but not so if you're better known as a flat-land / rolling hills type rider. Along the way, grades average anywhere from 8% to 13%… fun times. Let's just say my rear derailleur was alternating back and forth between my 34 x 28T gear and 34 x 32T gear… as for those single speed blokes, they were up and down out of the saddle, grinding along and mostly dropping me.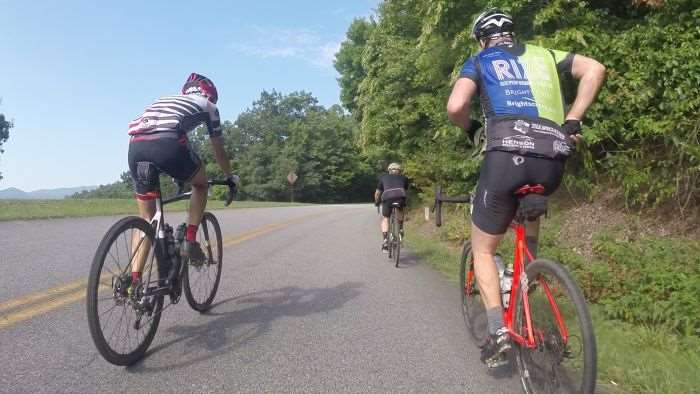 I connected with Brad Reed, a nice bloke from Charlotte, North Carolina who was riding the same age group as yours truly. He was riding a nice tempo which suited mine, and we worked well together on the climbs and anytime there was a descent. The descents along the Parkway are pretty shallow and require a lot of pedaling if you're interested in maintaining any semblance of speed.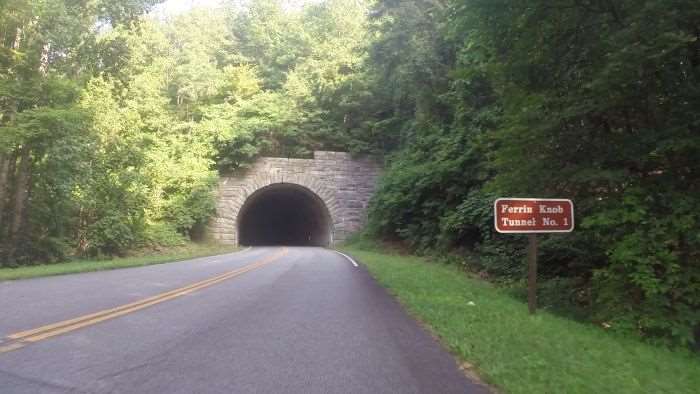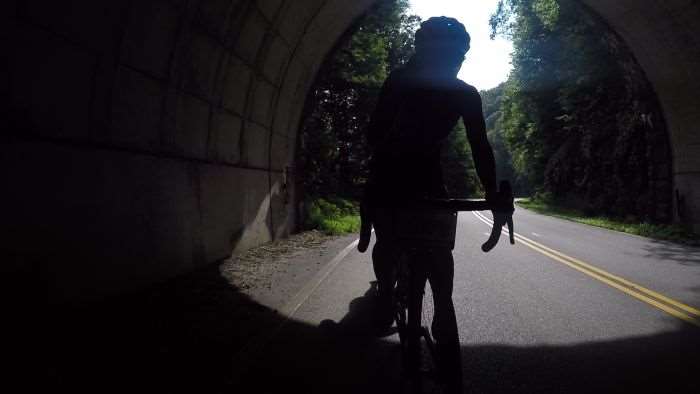 The sound of my heavy breathing was soon disturbed by an "Oi!" from behind. I hadn't seen him for an hour, but K-Dogg was riding his favourite terrain, and had finally caught me. My delusions of grandeur were now out the window. Earlier, I thought I may be the first Gravel Cyclist team member to cross the finish line, whee!!! But no, K-Dogg and his superior climbing abilities had snuffed my dream. All I could do now was try and hold his wheel.
K-Dogg rolled up on me.
Then, he dropped me.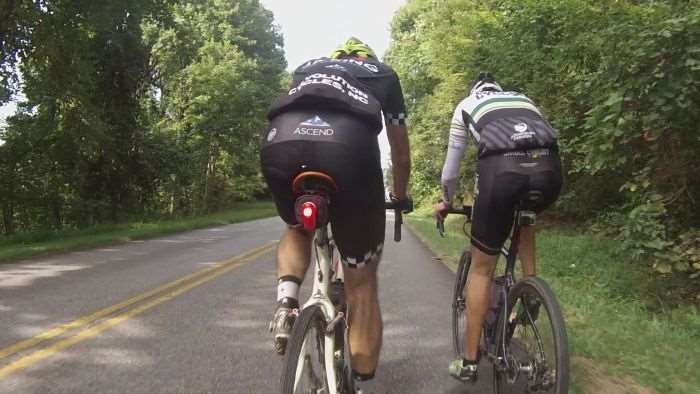 Some other riders joined our company, including Nina Otter who had crashed earlier. Nina and everyone else dropped me.
Alas, I was on my own, chugging out my tempo. I was definitely paying the price for a fast start over the first 25 miles.
Taking a quick peak at the heart rate screen on my Garmin 800, it didn't reveal good news. 175 – 180 bpm – I can hold this for a long time but at some point the legs give out… and they were well on their way to giving out.
Finally, after crawling along and through all of the tunnels on the way, I made it to the Mount Pisgah summit and a quick stop at the aid station. The crew were very helpful and quickly refilled my gigundo Zefal Magnum 33oz water bottles, which were coming in very handy… more water is better when the heat index is climbing. Coca Cola was also in abundance at this aid station, and I made sure to down five Dixie cups worth of the sugary, caffeine goodness… then, time to roll again!
Mount Pisgah to Devil's Courthouse
I don't remember much about this part of the Parkway, other than there was a nice bit of descending followed by a lot of climbing… and some more climbing. Brad and I continued working together before he finally cracked and rolled off my wheel. He cited his heavy wheels as the main area of fault, but I can't help think it was the cursed never-ending gradients of the Blue Ridge Parkway.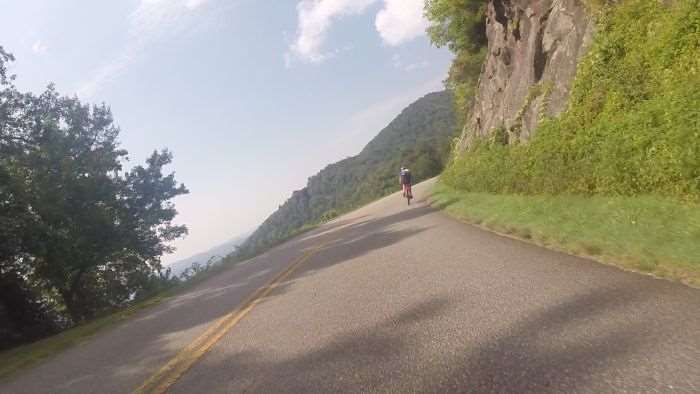 Somewhere along the climb to the highest point of the route, Brian Conroy came rolling along. I've ridden with Brian at various North Carolina gravel events in the past – and he was riding a marvelous and agreeable tempo – that would ultimately take us to the long, fast and paved descent of 215. While we made pretty good time, I was certain that I was riding slower than my 2012 appearance at Pisgah Monster Cross, especially along the Parkway.
The 215 Descent
This is a very fast descent with long sweeper corners and good visibility up the road, especially at its lower slopes in the treeline. Brian and I took turns hammering down the descent, spinning our miniscule gears out (46 x 11 in my case) and tucking to gain additional speed on the straighter roads of the descents. My Garmin misreported my maximum speed at somewhere around 67mph / 107km/hr. Reality says maximum speed was around 47mph / 75 km/hr, still pretty quick. We made quick time of the descent, catching and passing at least two or three riders on the way down… did I mention I love descending?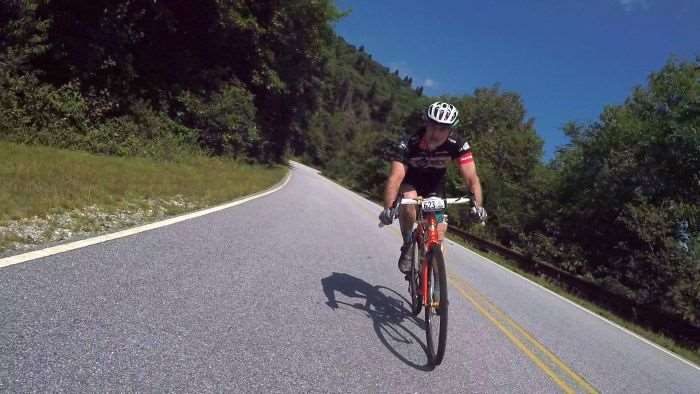 Indian Creek Road and Home
After some fun riding, the left turn onto Indian Creek Road marked the final gravel sectors, along with two short but steep climbs. Brian and I dropped quickly at the final aid station to refill… sadly, I had arrived too late to get another hit of Coca Cola, so I would be knocking out the final 20 kilometres / 12 miles without a much needed caffeine boost.
Brian was kind enough to wait, but gapped me immediately as soon as we resumed, and the gravel climbing began. I was really in the hurt bin and paying for my fast start. The second to last climb, simply known as Indian Creek Road Climb, had a few steep sections, but was reasonably manageable with my tired legs.
The final gravel climb, known as Government Road Climb was a total bastard. There were several 15% grades along this pitch, much of it over very loose gravel requiring a rider to carefully pick their line to avoid spinning out the rear wheel and losing traction. No way was I riding out of the saddle.
I was turning squares on that 34 x 32 gear.
What was I thinking? My Monster CX bike had the perfect gearing for this part of the course, but because I was too lazy to refill the tubeless tyres with Orange Seal Endurance Formula (shameless sponsor plug there…), I left it home. D'oh!
I crawled up that mofo of a hill, sometimes seeing 4km/hr / 2.5 mph. I stopped briefly at the top to douse my eyeballs with water and remove the sweat, before beginning the gravel descent.
Remember earlier how I stated you need to ride cautiously down these North Carolina gravel roads? Without doubt, this was the sketchiest descent on the Pisgah Monster Cross menu. Heavily rutted in the corners, pot holed in the middle and very steep, this road had me sliding along precariously, cursing any time my wheels skipped in free flight across the gravel. F–k, f–k, f–k!!!
Don't crash, the finish isn't far way.
More bumping, more cursing. F–k, $hit, bollocks!!!
The paved pleasantness of 276 could't come fast enough. My back, arms and other unmentionables were hurting from the pounding of this descent. So glad to be back onto pavement with just over five miles to race. Yes!
Taking a peek under my arm, I spotted the flashing headlamp of another racer. What?! I didn't come this far to be passed in the final five miles, no matter what category they were riding in…
I went into time trial mode – well, as best as one can time trial when they are completely knackered. On the positive, much of the final riding to the finish was downhillish. I kept looking ahead, focusing only on my breathing and holding my tempo. I would only allow a look under my arm every three minutes.
Yes! The blinking light had disappeared and I was safely around a corner and out of sight.
I kept pressing on, knowing that nobody was going to catch me now.
No! With just over a mile of 276 pavement remaining, the same or another blinking light was now pursuing me, but in the company of a rider clad in a green jersey. I knew that jersey – it was Mark Johnson, aka Care Bear out of Cumming, Georgia. Mark is one of these flyweight climber blokes and the Pisgah Monster Cross race is the perfect race for a bloke like that.
I upped my tempo again for about a minute, but Blinkie light dude and Mark were gaining on me fast. Bollocks.
This is when I dug into my former roadie box of tricks and decided to sit up and wait for them to catch me.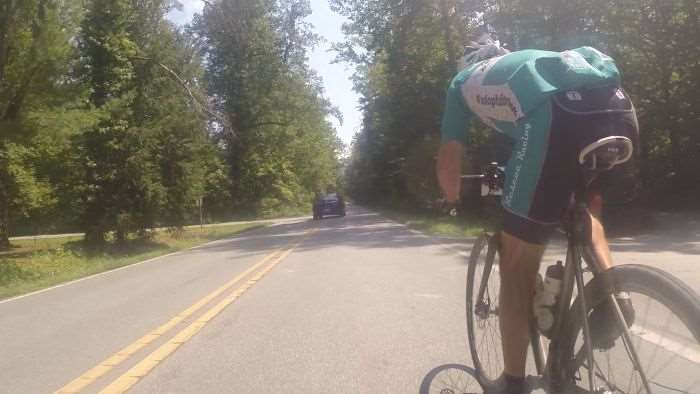 Blinkie light dude and Mark came past fast… Mark immediately looked at me to pull a turn on the front which wasn't happening. Rather, I went to the back of the train and avoided any and all work at the front. We were riding for 200th place or something like that, but I hadn't suffered this much to lose a spot, even if Mark and I are in different age categories… and, the fact I'd never hear the end of losing a spot to Mark from the Art of Stone Gardening crew out of Dahlonega, Georgia…

One hundred metres to go before the final turn to the finish line, I accelerated hard, seated – which if you know anything about cycling – isn't really an attack because I was in the saddle 🙂 My non-attack put me ahead of Mark and Blinkie light dude going into the last obstacle of the race, the Pisgah Monster Cross cyclocross barriers… I gingerly dismounted and carefully lifted my legs – which were pretty close to cramping – and finished just ahead of Mark and Blinkie light dude.
Yes! A hollow victory for sure, but glad that Mark pushed me all the way to the end… and nice riding by Mark and Blinkie light dude!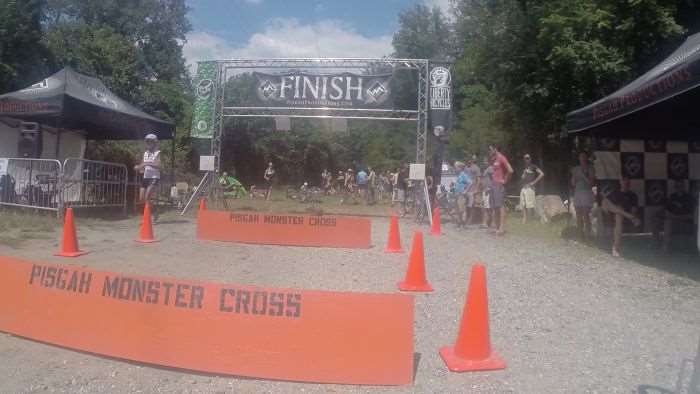 Aftermath and Results
2012 I knocked this course out in 5:08:39. In 2016, 5:13:42… ugh. Five minutes and three seconds slower four years later. I've aged a little since then (like fine wine?) but the Blue Ridge Parkway and final gravel climb were my undoing. However, I still had a blast and loved every moment of the race, and chatting to my fellow Gravel Cyclists along the course…
For 2018 when the course is run in the same direction, I'll have to reevaluate my strategy…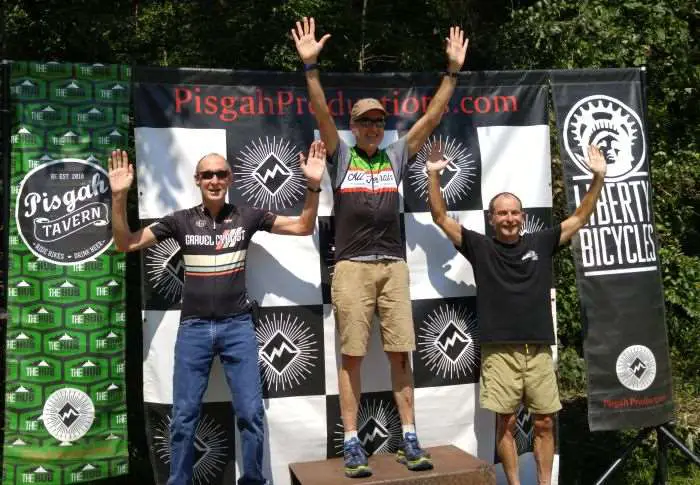 K-Dogg took second in the 60+ Men's division – YES!!! – 15 minutes and 23 minutes ahead of yours truly.
Mrs K-Dogg took fourth in the Women's 40 – 49 category! I was pretty stoked about this result, as this was her first time ever climbing and descending serious gravel.
Dr. Pain went off course and added at least five miles to his race… but he had a lot fun.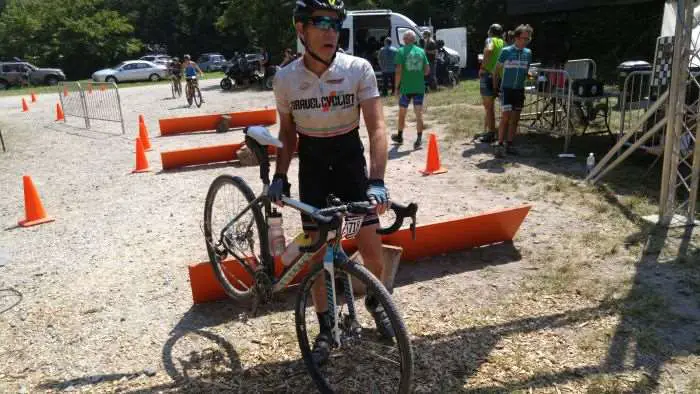 Finally, Pfaff Daddy aka Scott had a rough day. He rode strong but a knackered derailleur cage saw his chances of doing well go down the drain. The chain would completely derail off the bottom pulley wheel and then jam up the drivetrain. Despite these hassles, he managed to finish the race and avoid riding home with the sag wagon. We expect he has a new derailleur on order…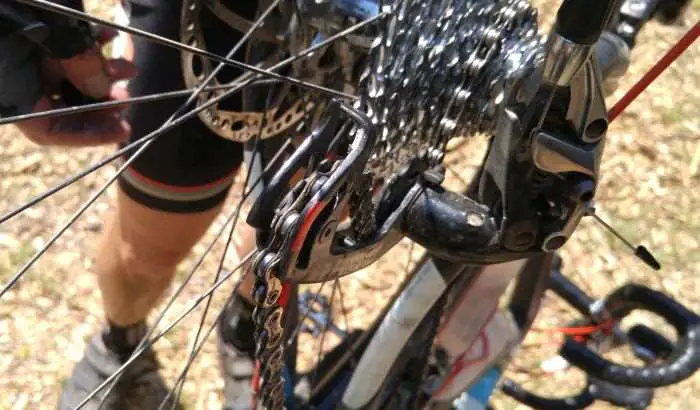 Equipment
For those interested in what bike I used at this race, you can check it out in more detail HERE. Details will vary between my Dirty Kanza setup (in the link) and Pisgah Monster Cross.
Gearing used was 46 / 34 chainrings with a Shimano Ultegra 11-speed 11-32 cassette. Wheels were American Classic Argent Disc fitted with Panaracer Gravelking SK 700c x 35mm tyres, filled with Orange Seal Endurance Formula sealant. Hoping to post a review of these tyres soon…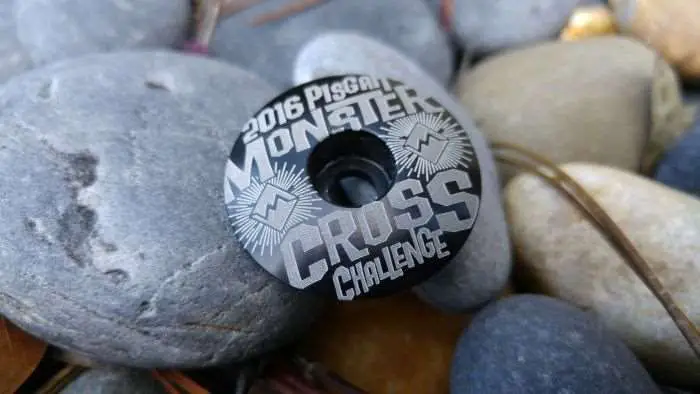 Strava Data
You can check out my Strava Data from the 2016 Pisgah Monster Cross HERE. I suffered, averaging 168bpm for the race, and maxing out at 184bpm. Ouch.
Thanks for reading, Pisgah Monster Cross race video and more race reports coming soon!