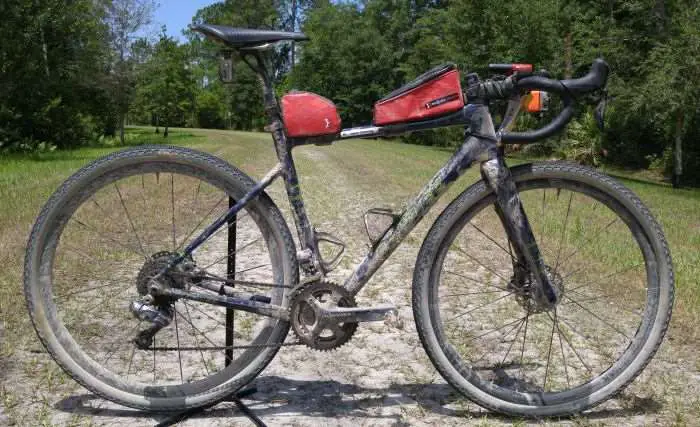 Earlier this year, we video previewed the Parlee Chebacco, a do-it-all bike hailing from Beverly, Massachusetts. This article isn't a review of the bike – that is coming soon in video format – rather, this is an article about the bike and configuration – mud and all – that JOM of the Gravel Cyclist crew ran at the recent 2016 Dirty Kanza 200 – arguably one of the world's toughest gravel events.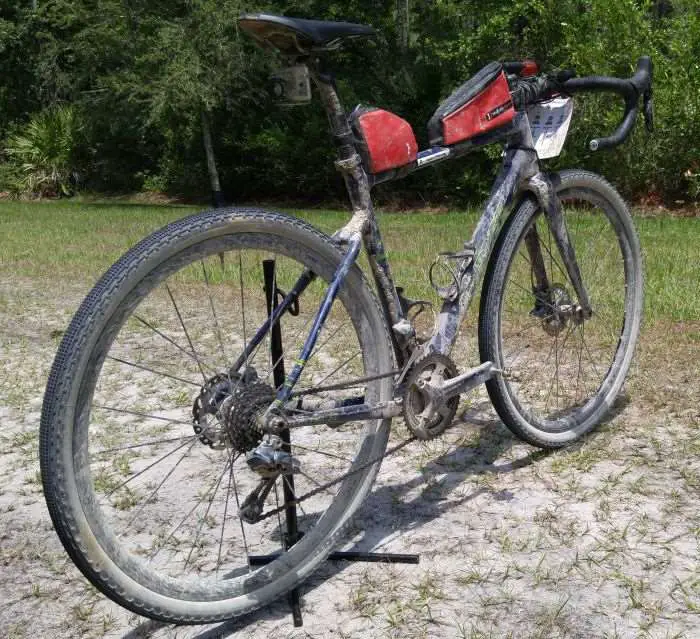 The Chebacco's frame is a compact design with a top tube slope of nine degrees, and tubing constructed from Parlee's High Modulus XD blend of carbon fibre.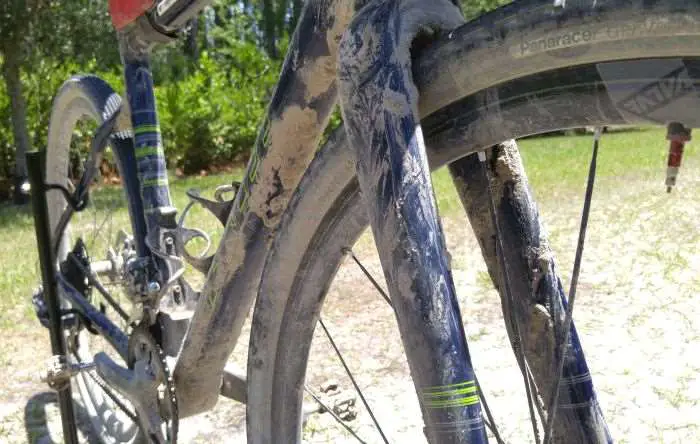 Likewise, the fork is constructed from the same material as the frame, and features a tapered steerer tube, integrated crown race and 15mm thru axle.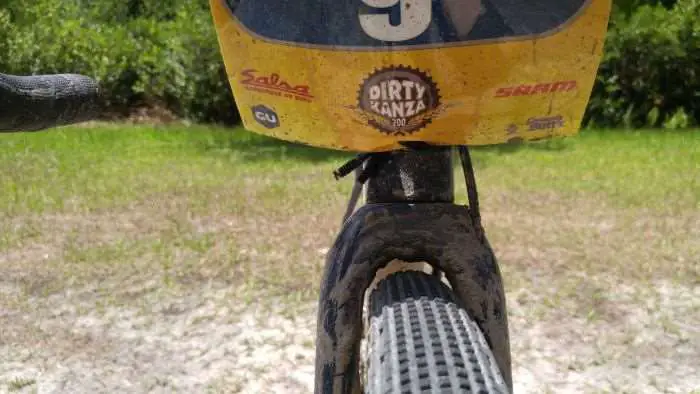 With Panaracer's 700c x 40mm Gravel King tyres fitted (which measure about 42.5mm when mounted to American Classic's Argent disc brake wheelset), clearances are tight. Like so many other riders at the 2016 Dirty Kanza 200, the bike completely packed up with mud rendering it unrideable at about five miles in – to avoid breaking a derailleur, JOM had to dismount, walk through the mud, clear the bike and get going again. Better to be patient than ruin one's day five miles into a 206 mile gravel race!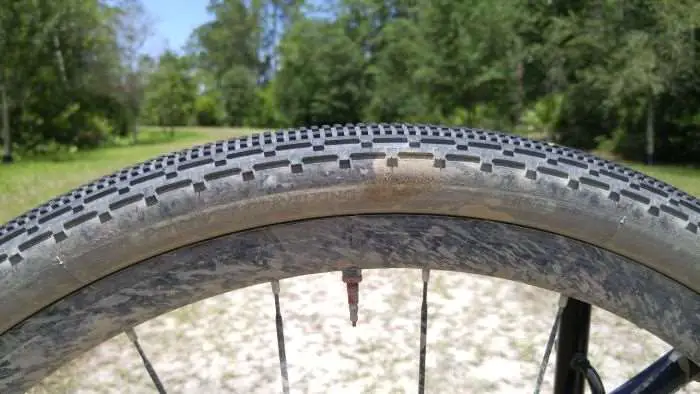 Beneath the sludge is the Panaracer Gravel King, filled with Orange Seal's Endurance formula sealant.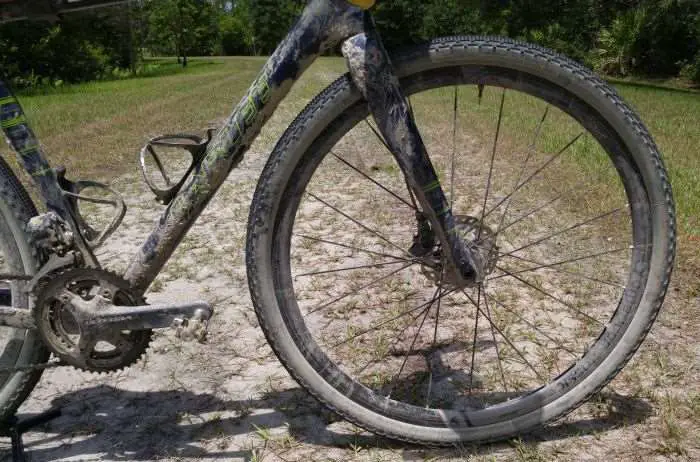 For Dirty Kanza 200, JOM's Chebacco was fitted with American Classic's Argent Disc Brake wheelset. These wheels are under review, but they are markedly lighter than the Mavic Pro Allroad wheelset that the Chebacco typically comes equipped with. They were all-day rock solid.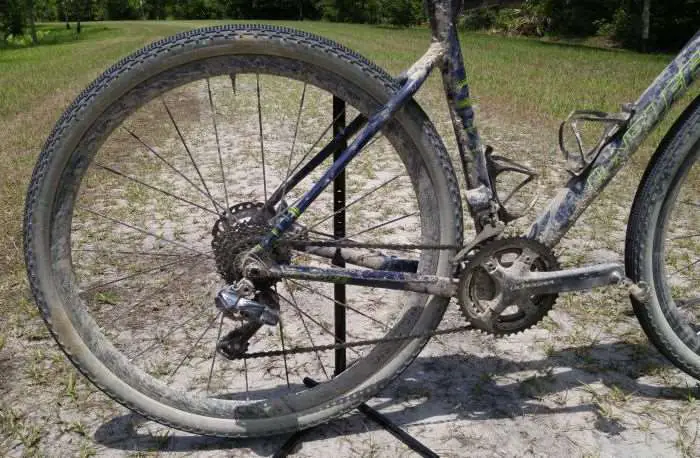 The Argent wheels feature 24 bladed spokes front and rear in a two cross pattern, and utilize the Shimano centre lock standard for mounting disc brake rotors – the wheels are supplied with adapters for 6-bolt rotor use.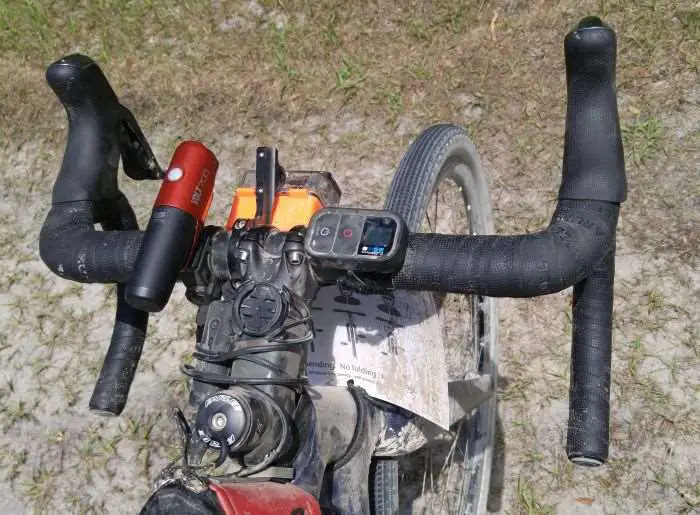 The cockpit of JOM's bike is a very busy affair. He began the race with two GoPro camera remotes for the on-board cameras, but substituted the front camera remote for a Cateye Volt 700 light when he passed through Checkpoint #3 in Madison, Kansas.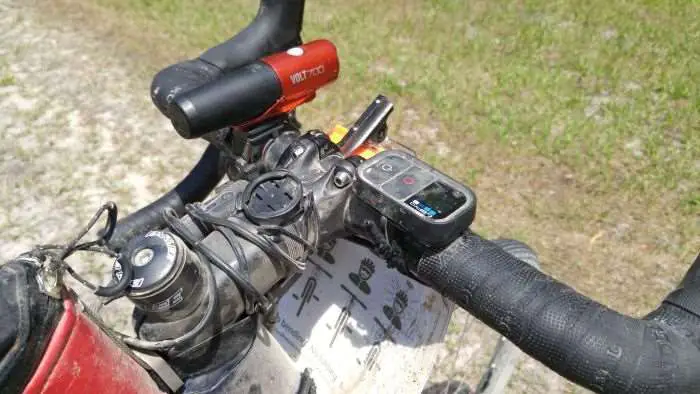 The beefy carbon fibre Parlee stem is rock solid, atop which JOM's Garmin 800 usually resides.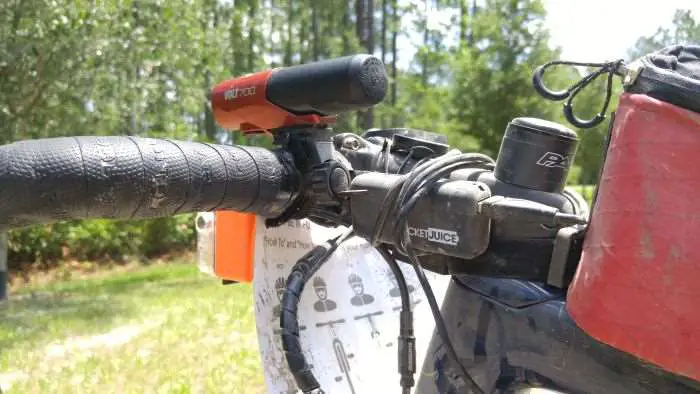 An external battery with velcro added to help it remain fixed to the stem, ensured JOM's Garmin 800 remains alive and well for his arduous 15 1/2 journey at Dirty Kanza.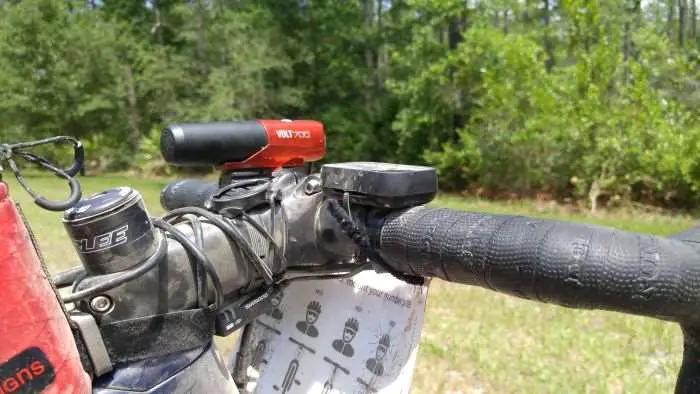 Shimano's Di2 Junction A box resides beneath the Parlee stem, with a USB cable lashed around the stem and external battery to add a further measure of security for the extra battery powering the Garmin 800. A total of eight batteries are on JOM's bike!
Shimano Di2 internal battery for shifting (1).
2 x GoPro Remotes (2).
2 x GoPro Cameras (2).
1 x Garmin 800 + external battery (2)
1 x Cateye Volt 700 (1).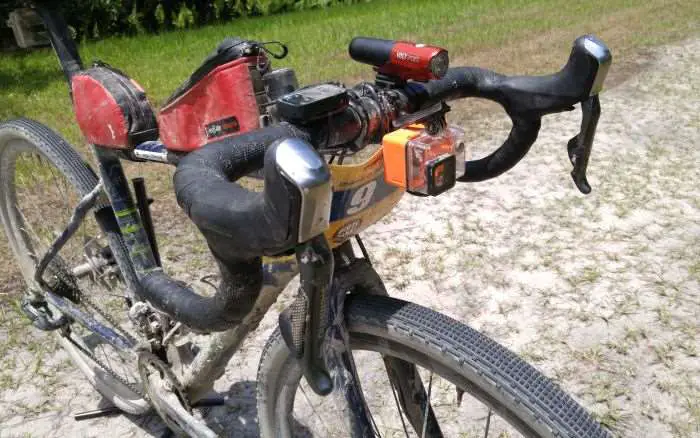 Shimano's Di2 ST-R785 shift / hydraulic brake levers perform the braking and shifting duties on the Parlee Chebacco. The front facing GoPro camera features a Brunton "All Day Battery", slung off the handlebars with a modified knock-off K-Edge clamp tailored to fit Parlee's 35mm carbon fibre handlebars. K-Edge's clamp is unvailable in a 35mm size.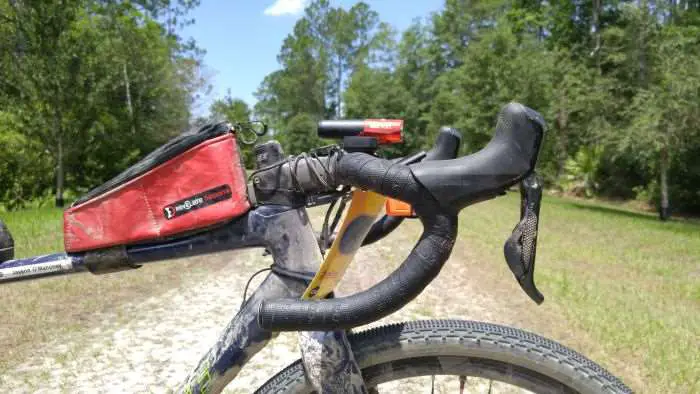 Parlee's handlebars combined with Arundel's handlebar tape provide a very comfortable ride.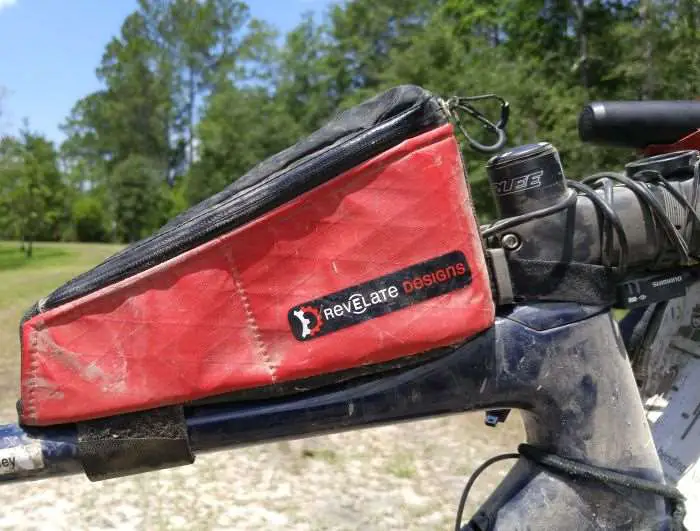 Racing / riding big miles requires additional storage space, and the Revelate Designs "Gas Tank" bag helps in this area. We'll be providing a review of this bag soon.
The Parlee branded 31.8mm carbon fibre seatpost keeps JOM's saddle and Go-Pro camera with K-Edge mount securely in place. Because JOM uses a rear'facing GoPro camera with a regular or extended battery, a saddle bag cannot be used. Shimano's Di2 battery resides inside the seatpost.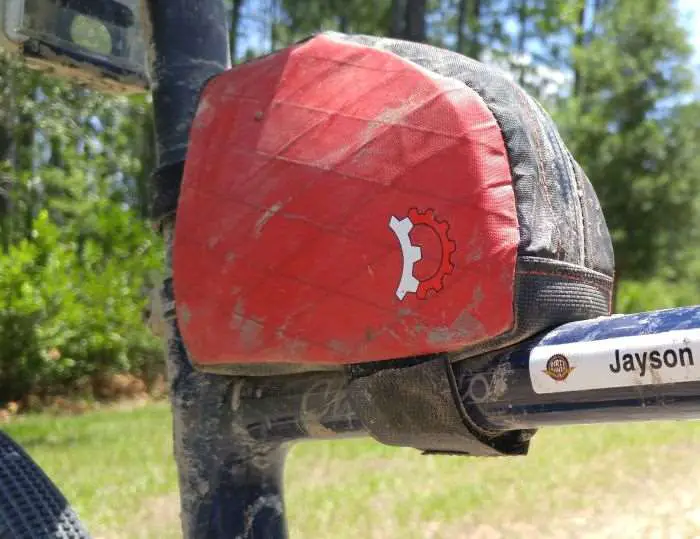 The Revelate Designs "Jerry Can" bag solves JOM's dilemma, and securely holds all of his spares such as tubes, Co2's, multi-tool, etc. This is another product we'll be posting a review of shortly.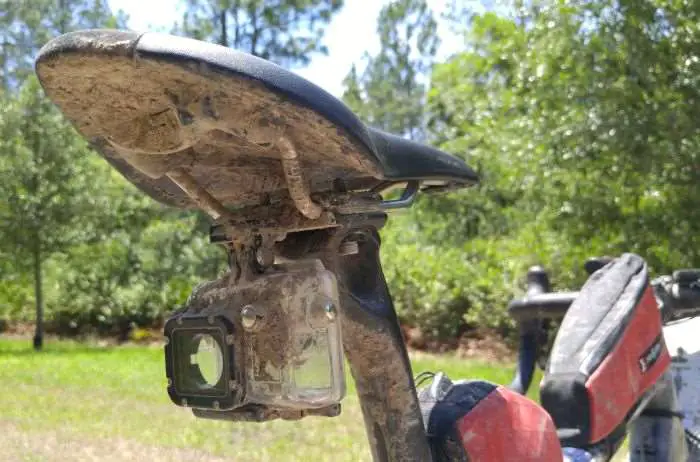 This area of the bike got hammered with mud. JOM's fingers act as windscreen wipers for the GoPro's camera case.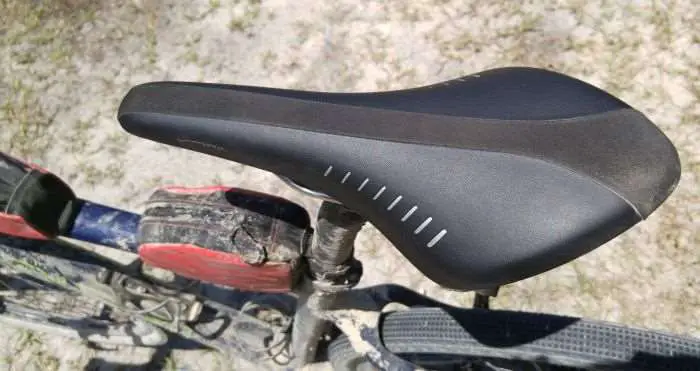 The Fizik Arione is the only saddle JOM will use. If it ain't broke, don't fix it.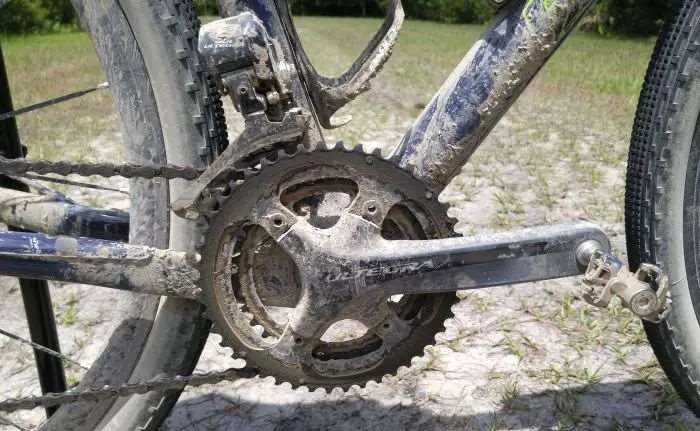 In stock form, Shimano's Ultegra compact crankset leaves the factory fitted with 50 / 34 chainrings. JOM turns a higher cadence and prefers 46 / 34 chainrings for gravel riding and racing. Unfortunately, the Shimano 46 tooth ring isn't nicely sculpted to perfectly match the crank arms, but it gets the job done. Shimano's universal BCD is superb – one crank for 53 / 39, 52 / 36 and 50 / 34 chainrings. Shifting duties are handled by Shimano's well-proven Ultegra Di2 wired electronic gear shifting system. It is pretty much all JOM will use in gravel races now, such is the system's reliability, particularly in adverse conditions.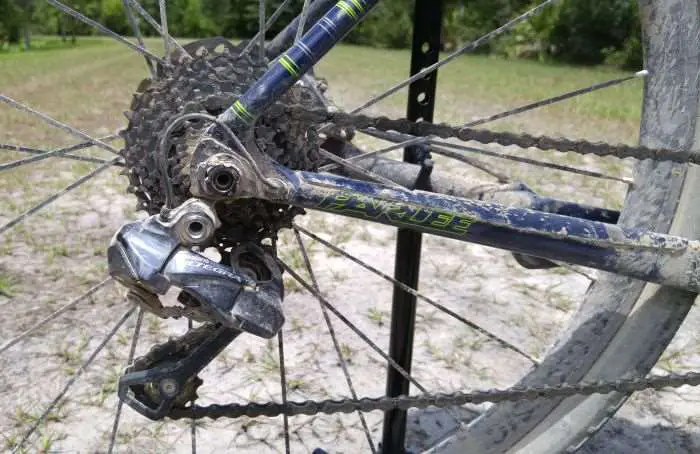 Continuing the theme of smaller gears, JOM prefers a mid-cage Ultegra Di2 derailleur which easily handles an 11-32 cassette. Parlee do a superb job of routing all cables internally. The chainstay and part of the downtube are fitted with an Effetto Mariposa Shelter kit – an Italian made frame protection system – think thick and clear stick-on. We are currently reviewing this product for BikeRumor.com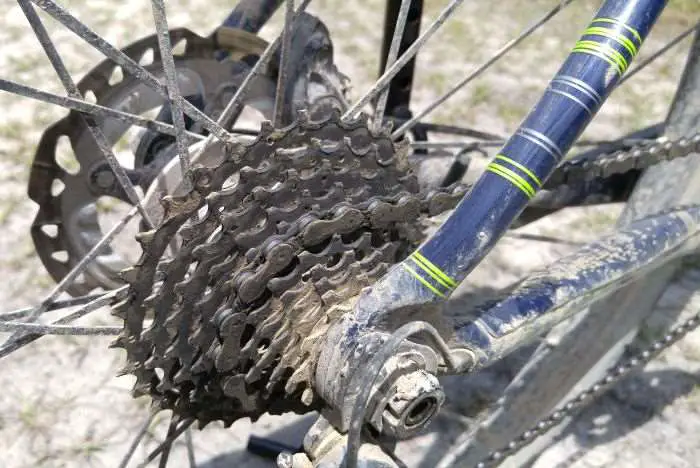 This is how your 11-32 cassette looks after a long day at the Dirty Kanza 200. 142mm x 12mm thru axle keeps the rear wheel securely installed in the bike.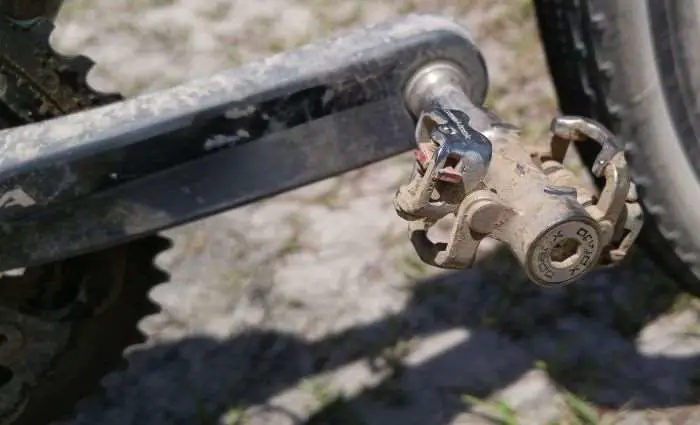 JOM relies on Xpedo's excellent M-Force 8 full titanium pedals for gravel racing. Check out his review HERE.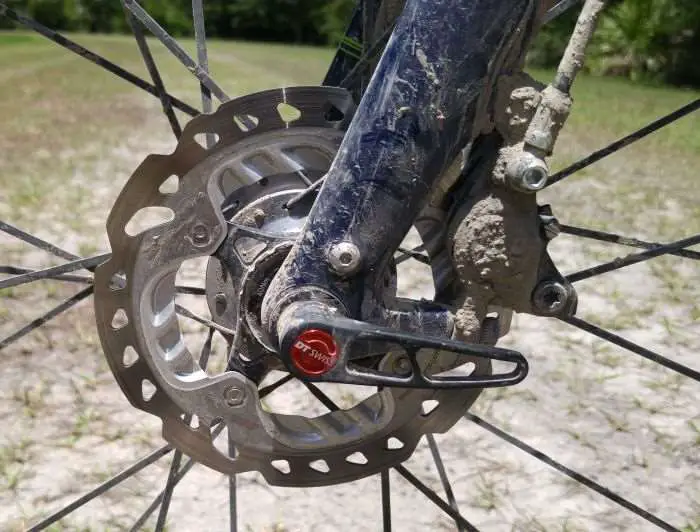 Shimano's excellent Icetech rotors come in 140mm on the Parlee Chebacco. We'd prefer 160mm rotors, but thus far, they have performed exceptionally well. JOM hammered the brakes and Parlee in adverse weather conditions during the 2016 Bootlegger 100 in Lenoir, North Carolina. However, we are keen to know if swapping the R685 calipers for some XTR units corrects the vague "hyperspace" feeling between brake lever actuation and when the pads make contact with the rotors. Users of the Di2 hydraulic brake / shift levers know exactly what I'm talking about… watch this space…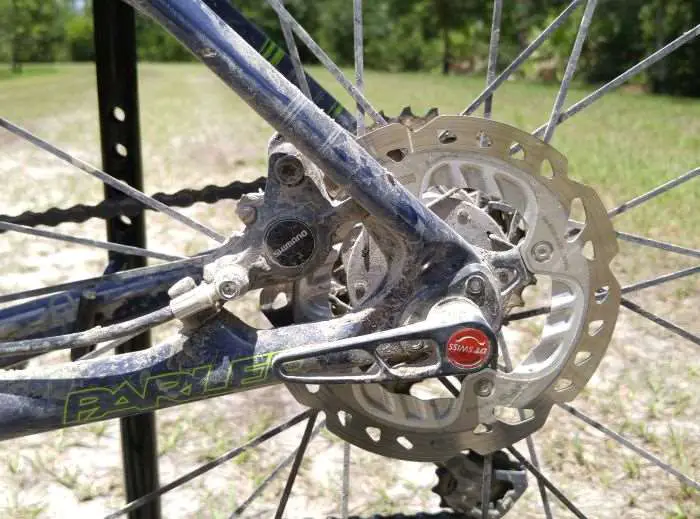 The DT Swiss thru axles are easy to use and adjust. One of the best on the market. Parlee currently eschews the flat mount standard on the Chebacco, but this bike does not suffer from the harmonic vibration issue that JOM has heard / felt on some disc brake bikes over the years.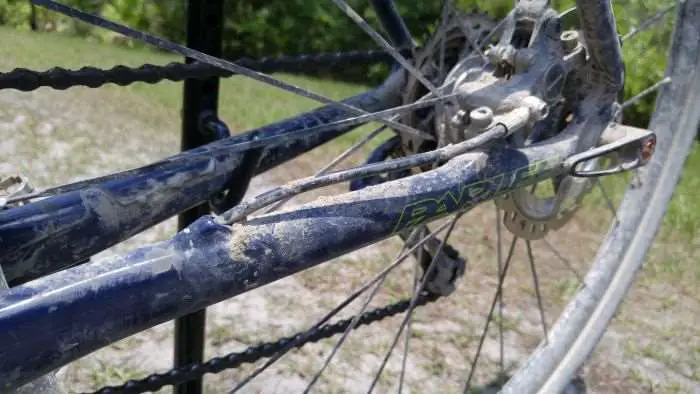 The Parlee Chebacco is a clean bike – barring the mud, cables are routed internally for a very clean look.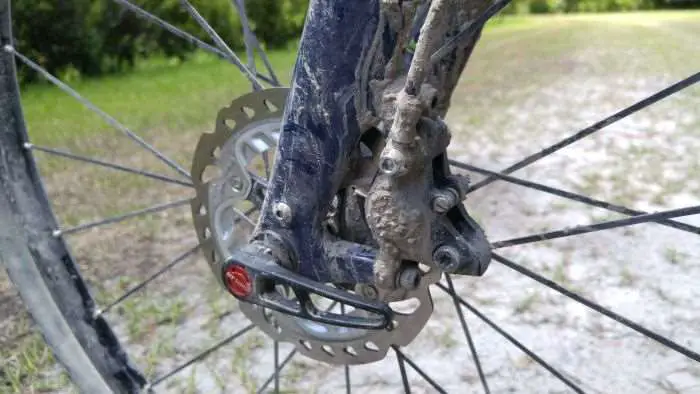 The front brake cable is routed internally through the fork.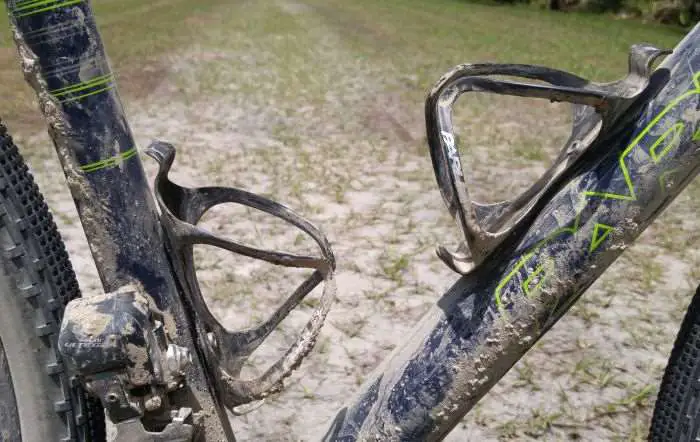 Parlee's carbon fibre bottle cages actually work – no ejected bottles!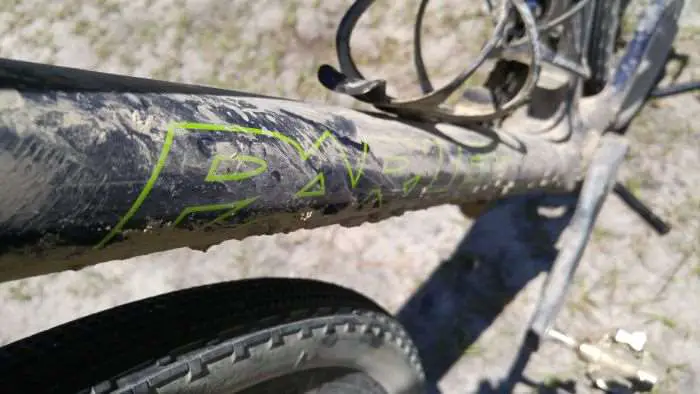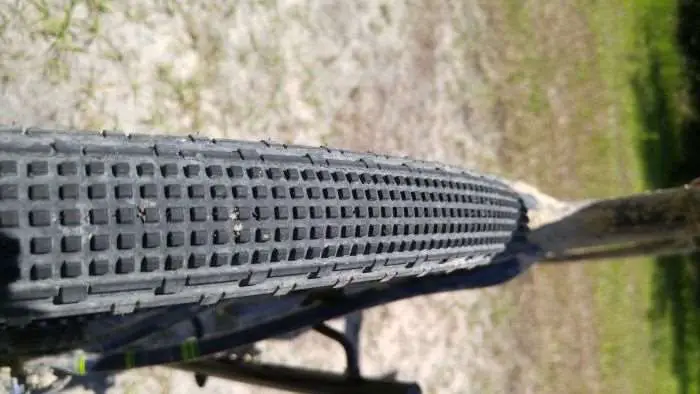 Panaracer's Gravel King in 40mm is a big 40… but the ride is sublime and it rolls fast. Yet another product we will be posting a review for soon… if it matters, JOM had no punctures at the 2016 Dirty Kanza 200.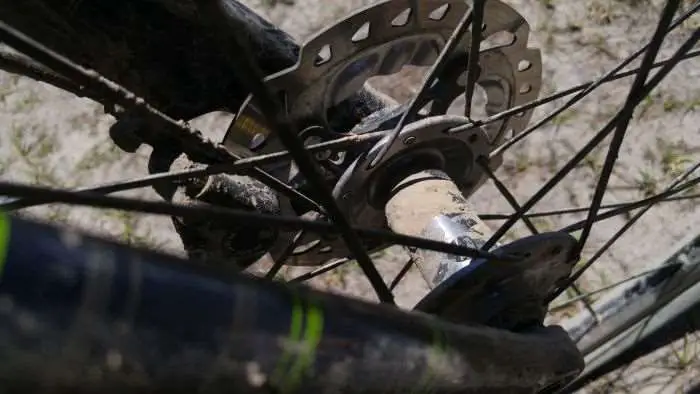 Beneath the mud at the centre of the American Classic Argent wheelset is the company's venerable disc brake hubset. These hubs can be easily converted from thru axle to regular quick release, with multiple cassette body options.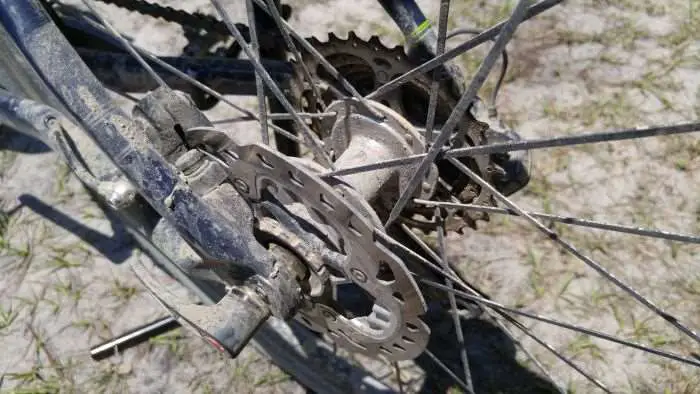 Even if you were to break one of these stout American Classic spokes, they are the regular J-bend type. In a jam, a regular round replacement spoke can be sourced from your local bike shop.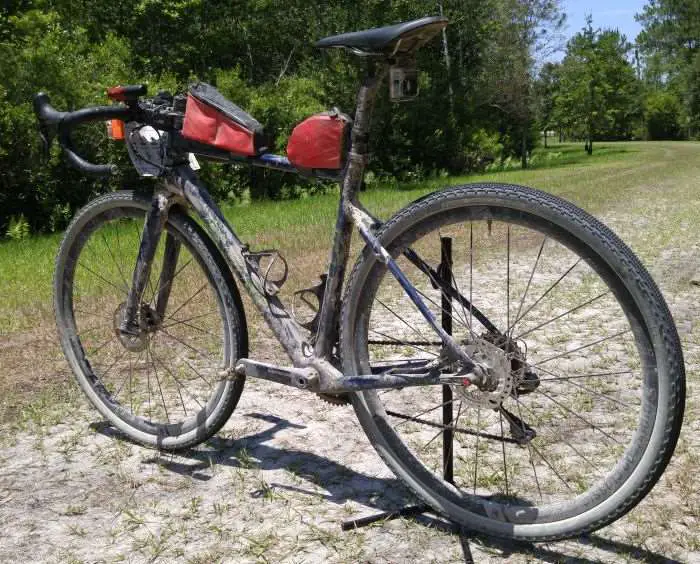 Despite being covered in mud from the 2016 Dirty Kanza 200, the Parlee Chebacco is a tidy looking bike.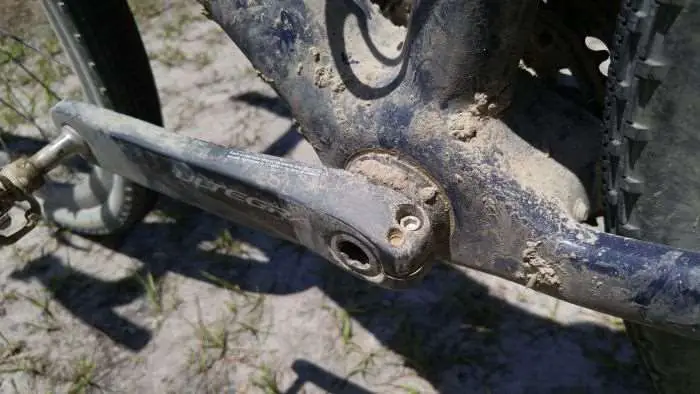 Beneath the crud lay a Parlee branded BB30 compatible bottom bracket.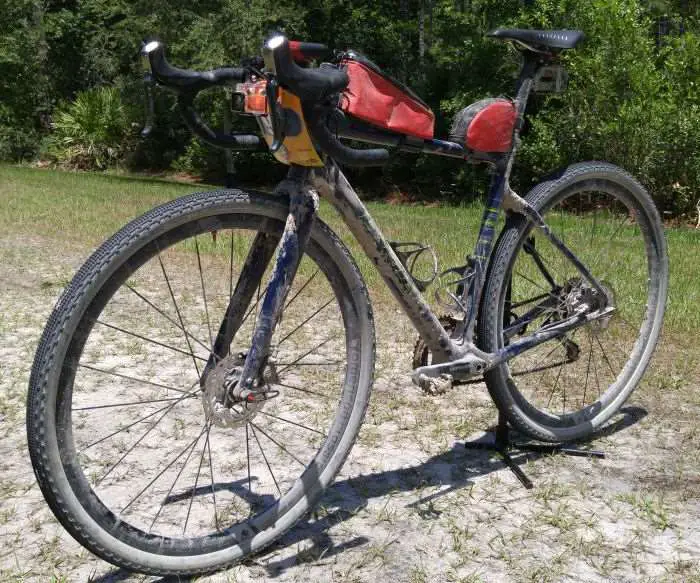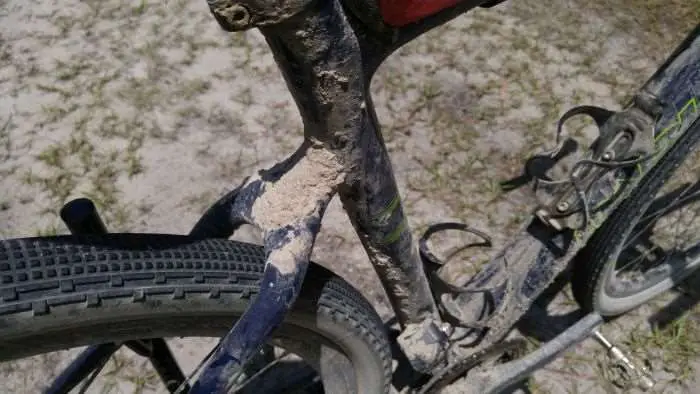 A week after the race, and we still haven't washed the bike… wondering if this Kansas mud will be easy to remove?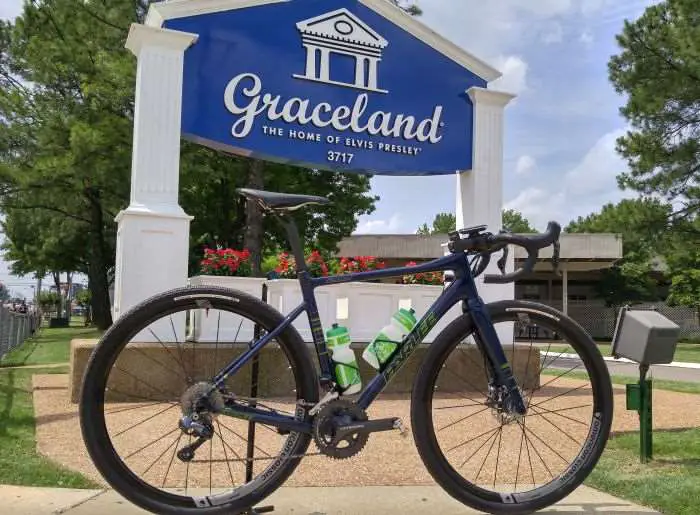 How the Parlee Chebacco looks when it isn't encrusted in Kansas mud.
Frame: Parlee Chebacco, size Medium (54.5cm top tube) finished in Alaskan Railway Blue with 142mm x 12mm thru axle.
Fork: Parlee Cycles, tapered 1 1/8″ to 1 1/4″ with 15mm thru axle.
Headset: Parlee 1 1/8″ to 1 1/4″.
Stem: Parlee carbon with titanium bolts, 110mm, 35mm handlebar clamp.
Handlebar: Parlee carbon, 40cm centre to centre (JOM likes narrow bars).
Handlebar Tape: Arundel Synth. Gecko tape in black.
Front brake: Shimano RS685 hydraulic.
Rear brake: Shimano RS685 hydraulic.
Shift / Brake Shift levers: Shimano R785 Di2.
Front derailleur: Shimano Ultegra Di2 11-speed.
Rear derailleur: Shimano Ultegra Di2 11-speed, mid-cage.
Cassette: Shimano Ultega 11-32 11-speed.
Chain: Shimano Ultegra 11-speed.
Crankset: Shimano Ultegra, 172.5mm with 46 / 34 chainrings.
Bottom bracket: Parlee PF30.
Pedals: Xpedo MForce-8 titanium.
Wheelset: American Classic Argent Disc Brake with American Classic valve cores (the bike ships with Mavic's Pro Allroad disc brake wheelset).
Front tyre: Panaracer Gravel King 700c x 40mm, 40psi, filled with Orange Seal Endurance formula.
Rear tyre: Panaracer Gravel King 700c x 40mm, 40psi, filled with Orange Seal Endurance formula.
Saddle: Fizik Arione.
Seatpost: Parlee carbon, 31.6mm.
Bottle cages: Parlee carbon.
Computer: Not fitted at time of photo, Garmin 800.