If you're unfamiliar with Hawk Racing, the company was founded by Sven Folmer, a former professional triathlete about seven years ago (the timeframe may need correction).  Hawk Racing is headquartered in Bradenton, Florida, not far from the current home of Gravel Cyclist.
I became aware of Hawk Racing's line of bottom brackets, after researching solutions to bearing and seal drag, associated with external bearing bottom brackets and cranksets.  I had tried  "low drag" seals, as well as ceramic bearings, both with limited success.  For those not in the know, many ceramic bearings are low on the ABEC scale for bearing roundness.  Additionally, ceramic bearings are next to useless, unless paired with ceramic retainers and races.  However, a full ceramic bearing drives up the cost to ridiculous levels, making such a bearing an unlikely proposition for most cyclists.
Currently, I own two Hawk Racing bottom brackets.  The first is a regular Shimano 68mm English thread compatible unit, with lovely gold cups, purchased about four years ago.  That bottom bracket is gracing a Shimano Dura-Ace 7900 series crankset.  The most recent purchase, and the subject of this review, was acquired in July of 2013.
Hawk Racing Stainless Steel Bottom Bracket
This bottom bracket is installed on my Lynskey Monster Cross bicycle.  A bottom bracket is a part I expect to install, and almost set and forget.  Barring water intrusion into one's frame, a bottom bracket should be maintenance free.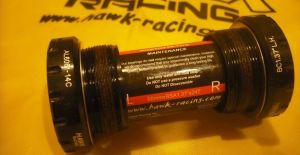 At time of purchase, I specified the stainless steel bearing set with the CX seals, because this bottom bracket would be subject to some hard conditions.
Since installation, the bottom bracket has been raced at Savage CX (twice), Pisgah Monster Cross, Hilly Billy Roubaix, Iron Cross, Piggy's Revenge, Southern Cross, The Heartbreaker Cycling Invitational, and the Gentlemen's CX Race.  In between those events, the bike and bottom bracket have been ridden in good weather, bad weather, and terrible weather in the states and territories of PA, VA, WV, FL, GA, NC, SC, MD and D.C.
12 months of Ownership
This video, taken approximately 12 months after purchase, speaks for itself.  Stainless steel bearing set and CX seals.
14 Months of Testing
The bottom bracket has been performing near flawlessly all of this time.  When I say near flawlessly, I had one minor issue.  During the Savage CX race in August, my bike was submerged in standing water a couple of times.  Ordinarily, I am quite diligent about removing any water that may have gotten into the frame, as well as giving the bottom bracket an inspection.  Unfortunately, I had little time to overhaul the bike, and it sat around for a few weeks.
Upon later inspection, a small amount of water was found inside the frame.  However, the bearings showed no signs of rust, or rusty water.  Considering these are stainless steel bearings, this wasn't a surprise.  The drive side bearing was perfect.  The non-drive felt a little rough.  I suspect some dirt and grit had gotten into the bearings, which was causing a rough feeling sensation.
Note: I did not consult Hawk Racing with my remedy – always call them if you have questions.  I removed the cup seal, followed by the bearing seal itself.  I applied a suitable amount of Dumonde Tech Liquid Grease directly to the bearings.  Everything was reassembled, and the bike taken for a four hour ride.  Upon inspection post ride, the non drive bearing felt near perfect.
A Phone Call to Hawk Racing
In hindsight, I should have called Hawk Racing first, but regardless, I was interested to hear their thoughts on my bearing issue.  Josh, one of the staff at Hawk Racing, took my call, and insisted I return the bottom bracket for inspection.
Shortly after receipt, I spoke with Sven Folmer himself.  Sven's analysis of the issue was pretty spot on with mine.  Grit had worked into the bearing, causing the rough sensation.  Adding grease, dependent on the viscosity, can sometimes make the issue worse; grease is a great attractant to dirt and grime.
After 14 months of hard use, the drive side bearing was perfect.  The non drive side bearing was near perfect.  But, that wasn't good enough for Sven.  Despite the fact my bottom bracket was out of warranty, Sven replaced it, no questions asked.  Suffice to say, I was very impressed by Hawk Racing's customer service, and after sales support of their product.  I must also give thanks to Josh, who took my phone calls, and expedited shipping on the replacement bottom bracket in time for my next race.
Highly Recommended

I don't have a formal review rating system, but if you're looking for a replacement bottom bracket for your bicycle that is:
Low Drag
Long Lasting
Affordable
Supported by a company with superb customer service.
Call Hawk Racing today and place an order.  They make bottom brackets for many different standards including BB30, 68mm English, 70mm Italian, BB30 Pressfit, etc.  You won't be disappointed.
Note: We at GravelCyclist.com are not being bribed, or paid for this review.  The bottom bracket in these photos and videos weren't freebies, JOM paid for them from his own pocket.