Frankenbike?
CHECK OUT THE LATEST REBUILD OF THIS BIKE – NEW SPECS.
Is it a cyclocross bike?  Is it a mountain bike?  Is it a hybrid bicycle?
No to all the above.  A monster cross bike is not something you'll find in the showroom of your local bicycle shop.  Nor is it something you can order online.  The Monstercrosser Facebook page definition is as follows – "that sweet middle ground between a cyclocross bike and a 29'er that makes it the best all around bike one can build".
Note the key word in that quote – BUILD.  For this type of bicycle, every part and component needs to be specified, whilst considering issues such as compatibility between components.  In essence, a complete custom bicycle.
Why build a Monster Cross Bike?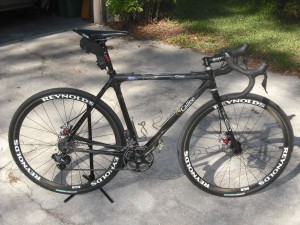 Enter, the 2013 Hilly Billy Roubaix UltraCX race.  As part of my race preparation weeks before the event, I meticulously built and tested my machine for that race, namely a custom-built Calfee Cross bike.  The frame technology may be older (but proven), but everything on the bike was state of the art at the time.  Not pictured in the image here, was the Hope V-Twin mechanical-hydraulic brake system I used at the race.  Shimano's Di2 shifting and Reynolds tubeless carbon disc brake wheels completed the package.
This was no ordinary cyclocross bike.
If you visit my race video here, around time marker 3:54, you'll see the issue I had with a front wheel puncture.  Incidentally, I separated my shoulder in the crash, but still finished the race!  However, there was more to my 2013 race than a crash.  In my mind, this wasn't the optimal build for a challenging race of this nature.  The rim bed of the Reynolds wheels were too narrow, and the Michelin Jet cross tyres weren't wide enough for me to feel safe on this course.
I needed wider everything, from rim beds to tyres.  Rather than the accepted norm of 40mm "wide" cross tyres, I needed wider options.  If I was going to insist on wider tyres, I needed a frame that could provide adequate tyre clearance.  In a nutshell, I needed a bike that helped with my own shortcomings in technical terrain, but remained lightweight, nimble and responsive, without being bogged down by heavy suspension.
 Solution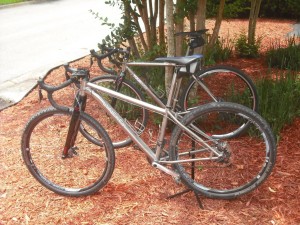 Various manufacturers are pumping out "gravel bikes" these days, but none of them fit the bill.  Every one of these bikes fell short in one area; they didn't have the tyre clearance I was looking for.  Forty two millimetres of tyre clearance is fine for most dirt, limerock and gravel roads.  For knarly descents with fist size chunks of rock, clearance for tyres fifty millimetres in size, or two inches if you prefer, is preferred.
My solution?
Take a titanium 29'er hardtail mountain bike frame, build it with road drop bars, and configure an aggressive position to help cheat the wind.
Click to enlarge images below.
Frame: Lynskey Ridgeline 29'er.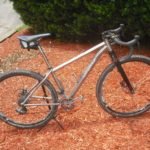 Fork: Niner carbon 29'er, thru axle.
Headset: Chris King.
Seatpost: Lynskey Ti, 27.2mm x 400mm, zero setback.
Saddle: Fizik Arione Titanium rail.
Wheelset: American Classic Race 29'er.
Tyres: Schwalbe Furious Fred 2.0″ or Specialized Renegade 1.8″.
Handlebars: Kestrel Carbon EMS SL, 42cm.
Stem: Syntace Flatforce, 66mm.
Shifters: Shimano Ultegra Di2 3-port, climbing and sprint shifters.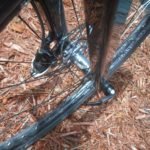 Derailleurs: Shimano Ultegra Di2 10 speed.
Battery: Shimano Di2 internal (seatpost).
Crankset: Shimano XTR, 172.5mm, 42 / 28 chainrings.
Bottom Bracket: Hawk Racing, Stainless Bearings.
Pedals: Shimano XTR.
Cassette: SRAM PG1070, 11-32.
Brakes: TRP Spyre Mechanical.
Brake Rotors: TRP Spyre 160mm front, Hope floating 160mm rear.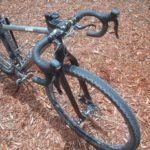 Additional Brake Levers: TRP Carbon Cross Top.
Bottle Cages: King Cage Titanium
Titanium bolts just about everywhere.
CHECK OUT THE 2015 REBUILD OF THIS BIKE – NEW SPECS.
What is the optimal setup for racing Ultra CX, gravel grinders and dirt roads?  I believe there is no optimal setup for every course, but two bikes; a purpose built Cyclocross bike AND a Monster cross bike, would be the perfect tools.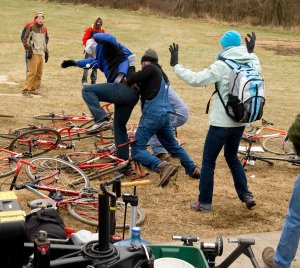 In reality, there is no winning formula for a machine designed for gravel racing. Rider ability, and the machine they are comfortable on is what counts.  This genre of racing features all sorts of machines. Cyclocross bikes, monster cross bikes, frankenbikes, mountain bikes, single speeders, etc.
Check out the Gravel Cyclist Calendar.  Stay informed about the gravel rides and races that are springing up everywhere.
Remember, CX bikes can be utilized for more than three months out of the year! 🙂
And, don't forget to LIKE the Gravel Cyclist Facebook Page!