2016 Dirty Kanza 200
To quote Frank Sinatra, I did it my way…
It was a sleepless night. Waking at 4am for a bike race that begins at 6am isn't conducive to regular sleep patterns, nor is downing breakfast at 4:30am. As my eyes drearily averted themselves from my bowl of oatmeal, it was apparent I wasn't the only one whose mind and body was in a zombie-like state. The breakfast area of my accommodations was filled with gravel cyclists just like me, their sweet and blissful sleep broken by the rude awakening of an alarm clock, or the storm that rolled through Emporia, Kansas at around 3am.
What?! A storm? But the weather forecast was for sun, sun and a bit of wind… no rain… there can't be any rain. There was rain galore in 2015 and it made a mess of things. We don't want the rain!
An errant and angry storm had rolled over Emporia and doused the area for about an hour. The paved roads outside my accommodations glistened in the dim street lighting, while exposed soil was soft under foot. I'd brought a second bike to 2016 Dirty Kanza for just this eventuality. However, it was 4:30am on race day, and the mental anguish of swapping everything over to my Plan B Monster CX bike was a no go.
Run what you brung, ride what you got.
My body cooperated with this less than pleasant early rising and sparing you the details, a bit of healthy weight loss occurred

  A purge of the body and mind of negative thoughts is a must-do before 200 miles of gravel cycling can commence. Also feeling the nerves was Jason, aka "The Couch", who I referenced in Part Two of my 2016 Dirty Kanza experience. Jason would be providing support to teammates Lee, Craig and I; driving the truck to each checkpoint in a timely manner was an issue in itself, but as a cyclist, Jason empathized with our anxiety.
Kitted up, my posse from the Art of Stone Gardening team and teammates Mr and Mrs K-Dogg rolled the short distance from our accommodations to the start line for the 2016 Dirty Kanza.
If you've ever met K-Dogg and I, you'll quickly learn we aren't very shy. We provide a unique documentary experience of life inside a gravel race from our point of view cameras, and cite this reason to film the front row of the race… after which we conveniently slip into the front row to start. Now, if we pulled this stunt in a road race, there would be mass whin(g)ing, complaining and negative vibes. Gravel cyclists are so much nicer. We love the gravel.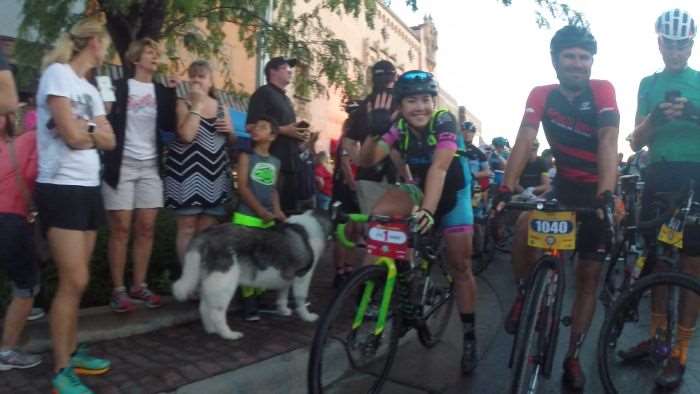 In the front row were riders like last year's lady winner, Amanda Nauman, men's winner Yuri Hauswald, former USA CX champion Tim Johnson, retired Canadian pro and wife of Tim, Lyne Bessette, and recently retired professional, Ted King, formerly of Cannondale-Garmin. I slipped into the far left of the front row in the company of these superstars.
Race Start
The race was counted down from two minutes to go time, and promptly began at 6am. The miles out of Emporia were under neutral, lead out by a squad of locals aboard high-zoot four wheelers complete with canopies.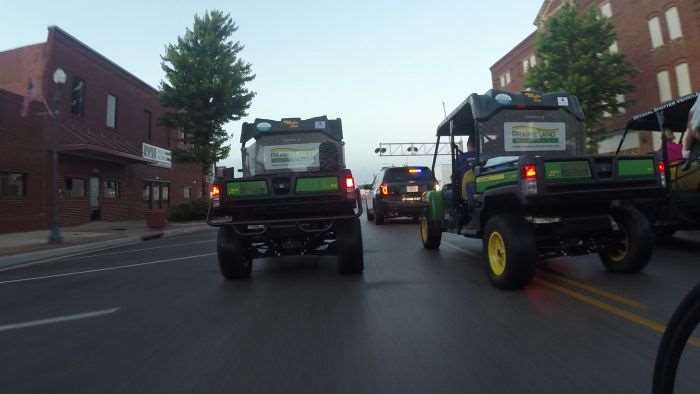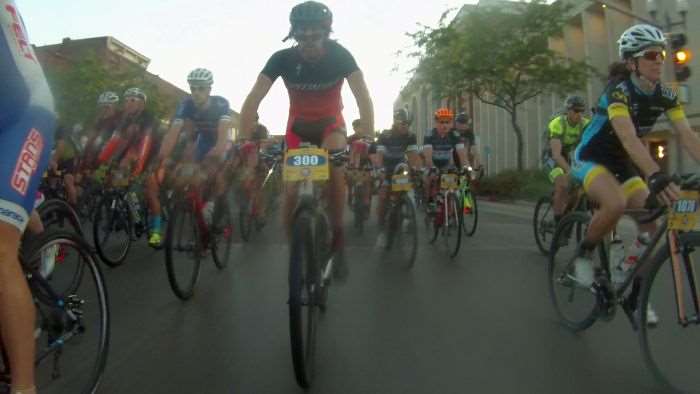 I really had no business being in the front, so I respectfully drifted back a few rows to a spot I hoped would ultimately form the tail of the front group once the hammer went down.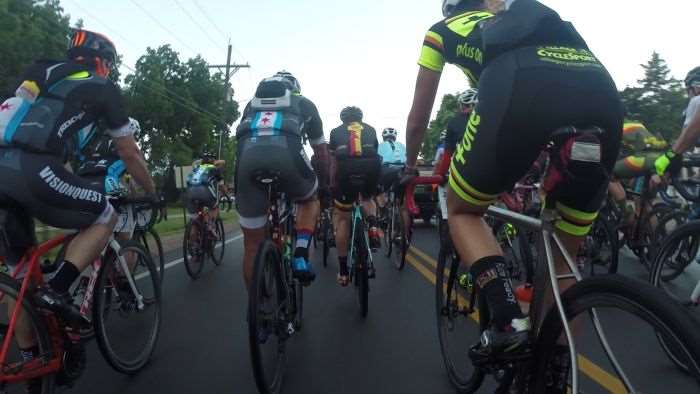 Safely ensconced in the front group, the right turn to gravel sector #1 fast approached, signifying the start of approximately 204 miles of gravel racing.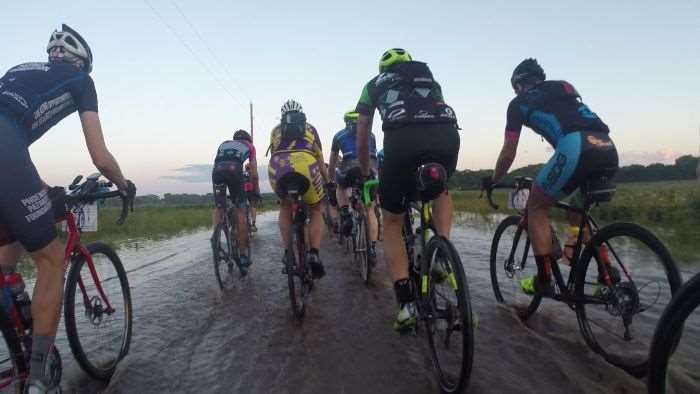 And then the brakes went on. Crash? Nope… rather, a submerged gravel road, soaked by the 3am rains. So much for 2016 Dirty Kanza being a dry edition!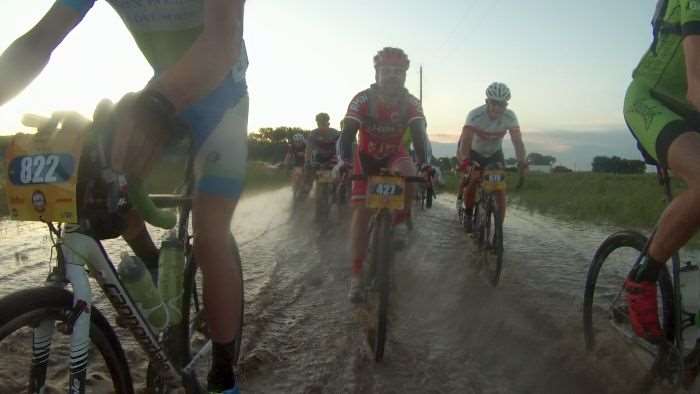 As our wheels gently parted the water like a yacht on an afternoon cruise, the leaders of the pack bumped the pace hard once they cleared the water. Hopefully that would be the last of the submerged roads? I sought the protection of the tail end of the front group; with over 200 miles to ride, I had no plans of going into the red and I wanted a clear view of the gravel immediately ahead of my wheel.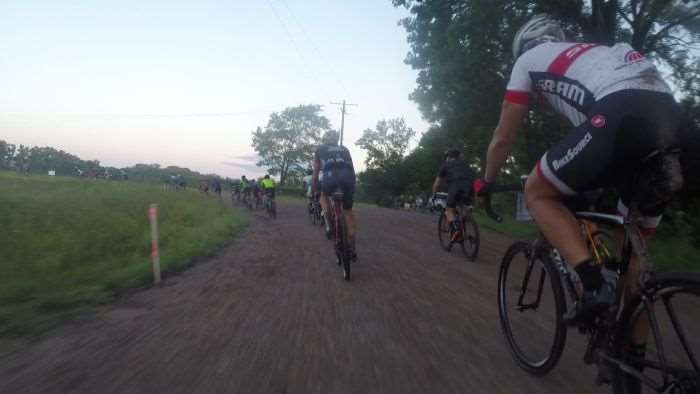 61yo teammate K-Dogg was tucked in safely behind me. We'd planned to stick together for the entire race, in the hope K-Dogg could win the 60+ age category.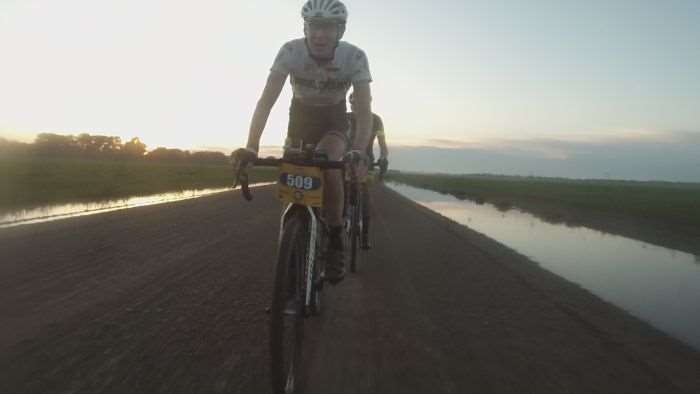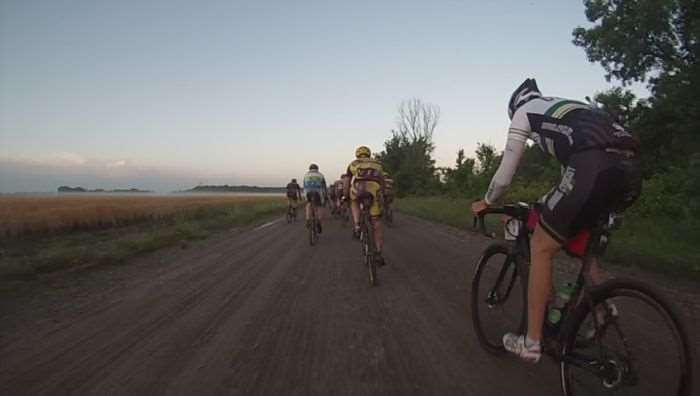 Derailleurgeddon
Shortly after turning on to Road 145, the air was filled with the snap, crackle and pop sound of broken derailleurs and hangers, cries of "damnit", "fookin 'ell" and the scraping noise of mud clogging up bikes.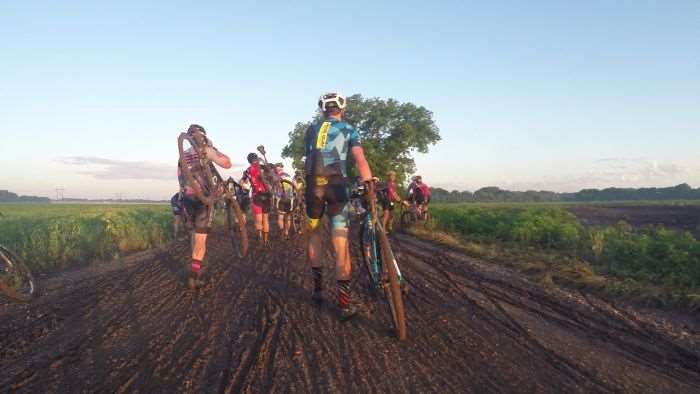 Five miles into the 2016 Dirty Kanza and the proverbial $hit had hit the fan! Pandemonium!
My gravel specific tyres quickly became balloon mud tyres, growing in width and depth until they completely packed up the front and rear of my bike. Joining the mud were small particles of gravel, adding to my dilemma. If I tried to ride the bike in this condition I would join the growing list of riders whose 2016 Dirty Kanza just ended. When wheels and bikes become packed with mud, the drivetrain cannot move freely and the first thing to break is the derailleur or derailleur hanger.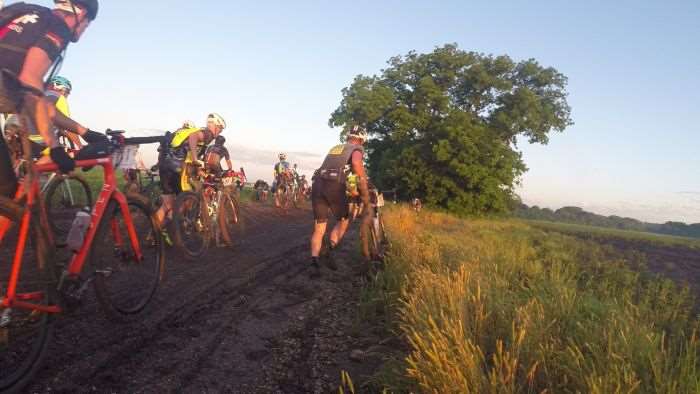 So, I took to the right side of the road, picked up my bike and began walking. Teammate K-Dogg did a bit of walking, but having a Monster CX rig with plenty of clearance and Teravail's Cannonball 700c x 38mm tyres, he was able to remount quickly and keep riding.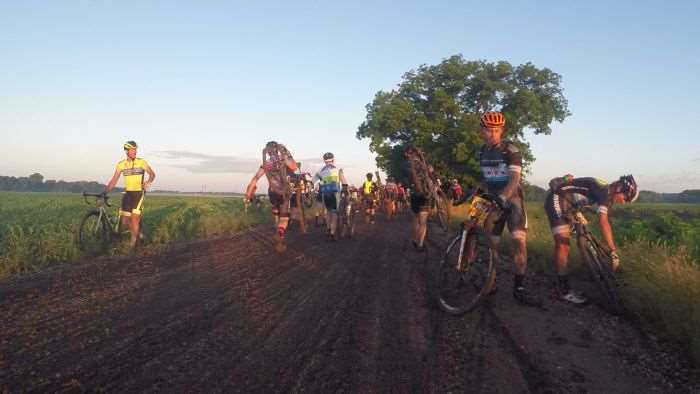 I walked for about half a mile, trying not to think about the massive loss of time. However, it was a long race, and I had no plans of DNF'ing. Once the mud sector had been safely traversed, I declogged the bike, applied a generous amount of Dumonde Tech chain lube and remounted. Incidentally, my shoes had become mud clogs, requiring a copious amount of bashing onto the pedals to clear them. Fun times!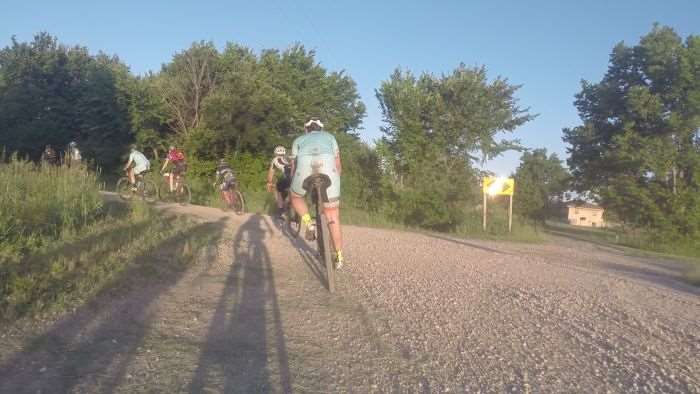 The Hills
This area of Kansas is called the Flint Hills for a reason. Almost devoid of trees, the wide open and rolling prairies are beautiful in their own right. Flat ground is rare and there is plenty of wind.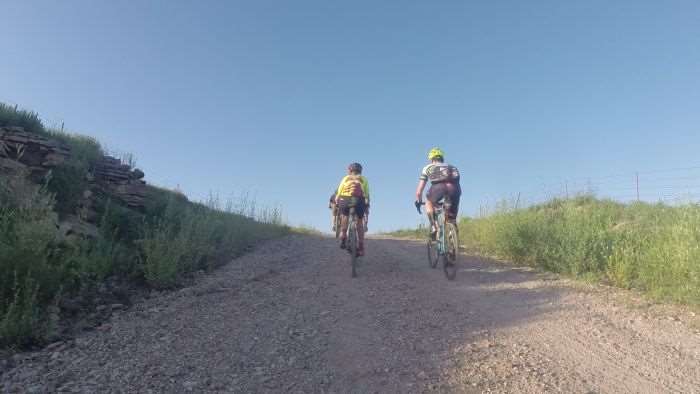 However, the wind was favorable, pushing us along anytime the road turned directly south… la la la, try not to think about the headwind that would begin as we turned north, half way through a 200 mile gravel race…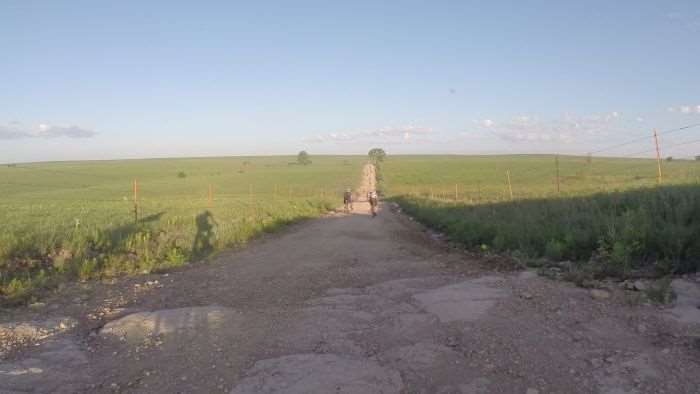 There were plenty of rocks and gravel. There is a reason why this area of Kansas is grassland and was never farmed. Those same rocks and flints strewn along the gravel roads would be the source of much angst for many riders, puncturing tyres and generally wreaking havoc.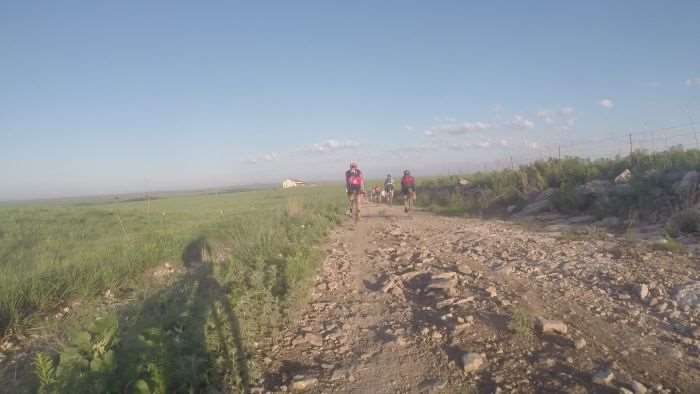 I paid homage to the gravel gods, navigating every passing descent with great care, tapping out my own tempo and ignoring those speedier riders who drifted past. Quoting Frank Sinatra at the top of the page, I heeded Frank's quote and the advice of long time friend, bad arse gravel rider and past Dirty Kanza 200 finisher, Brian Rogers; "You are only racing your mind and body."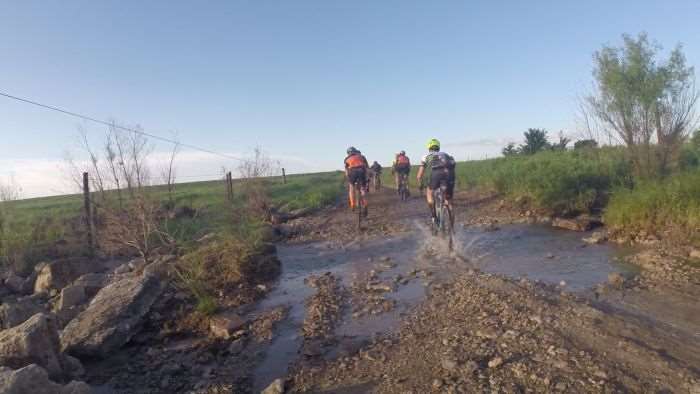 Everywhere you looked were riders, ahead and behind. It was a wondrous sight. A rare occasion when cyclists far outnumbered the cattle seen by the sides of these desolate gravel roads.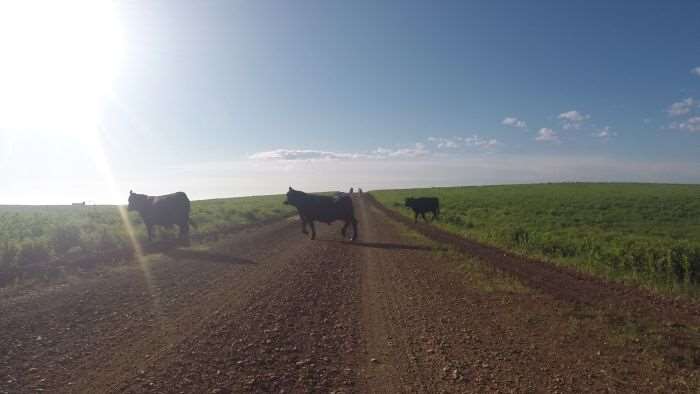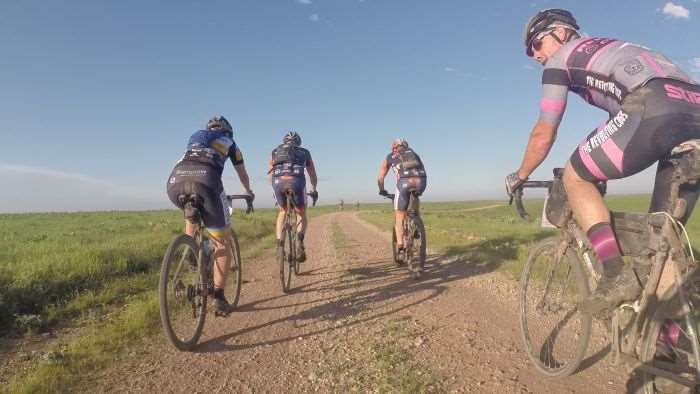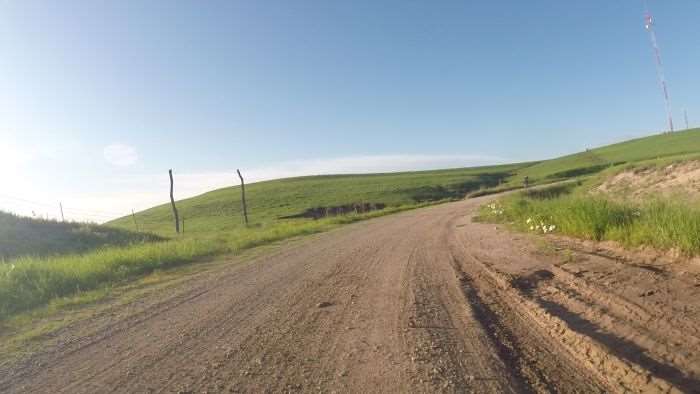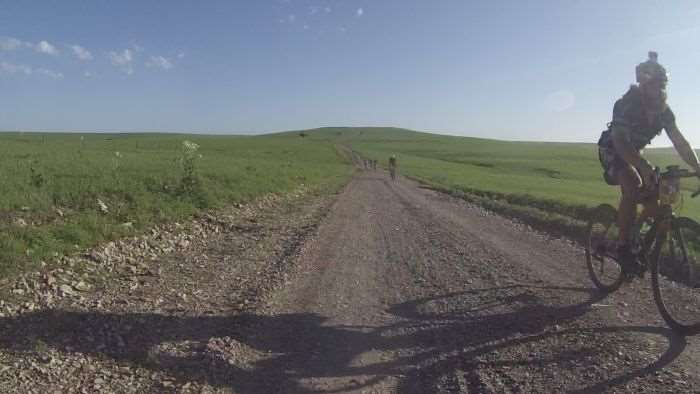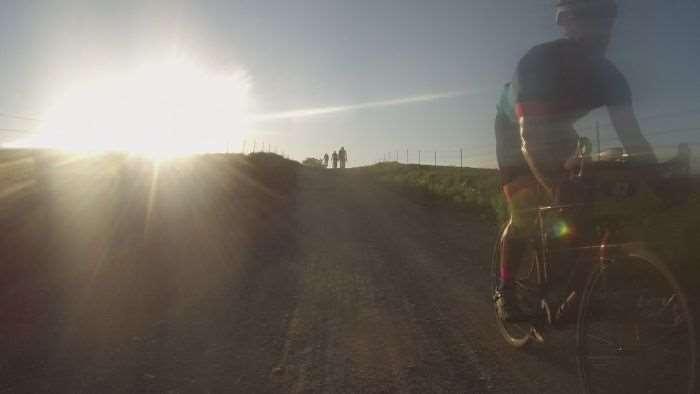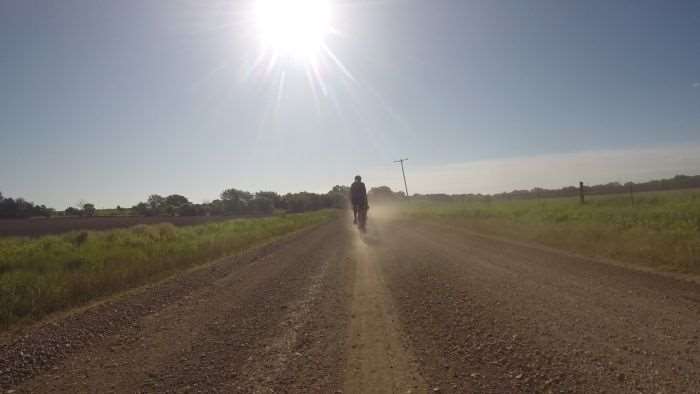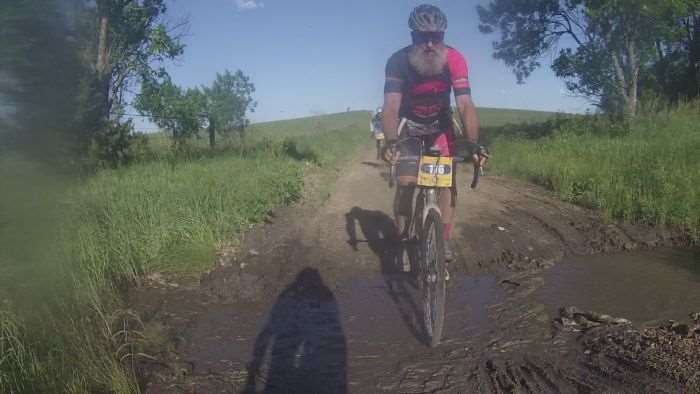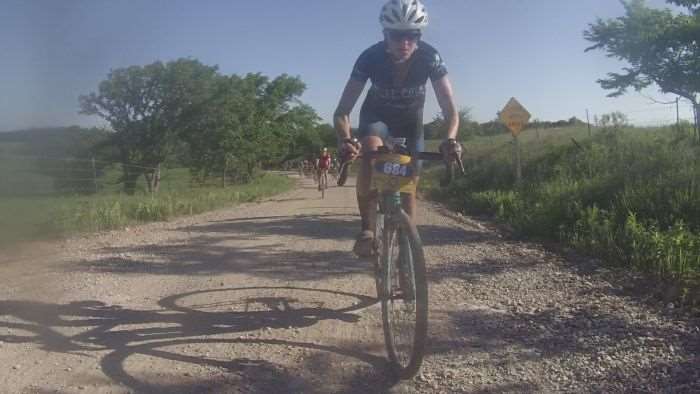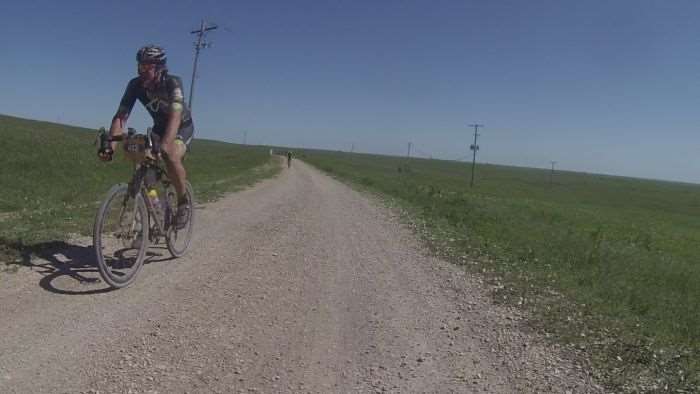 Somewhere not far from the first checkpoint of the day at Madison, Kansas. a gentle descent led to the first serious water crossing.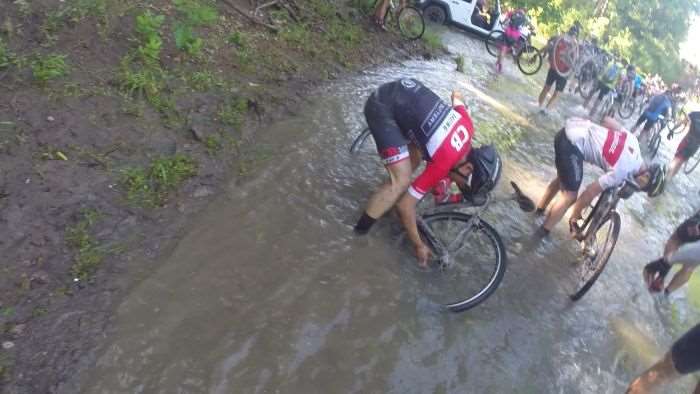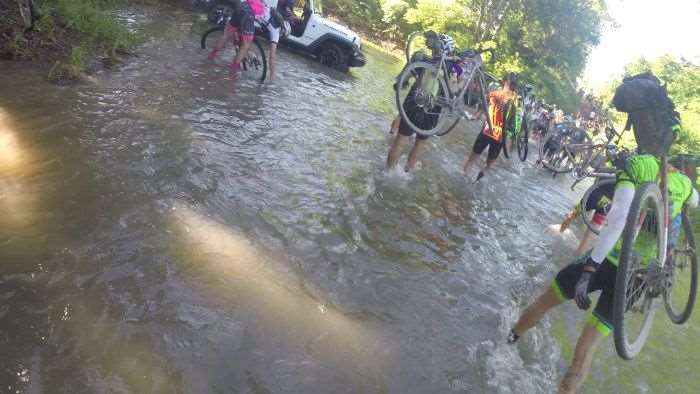 Soggy feet aside, the water cooled everyone down.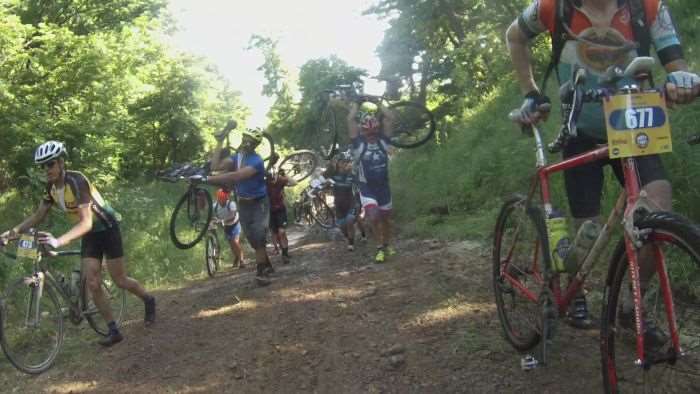 Checkpoint #1 – Madison
Almost 50 miles into the course, I rolled in the Madison High School with a time of 3:15:43 as I crossed the timing mat.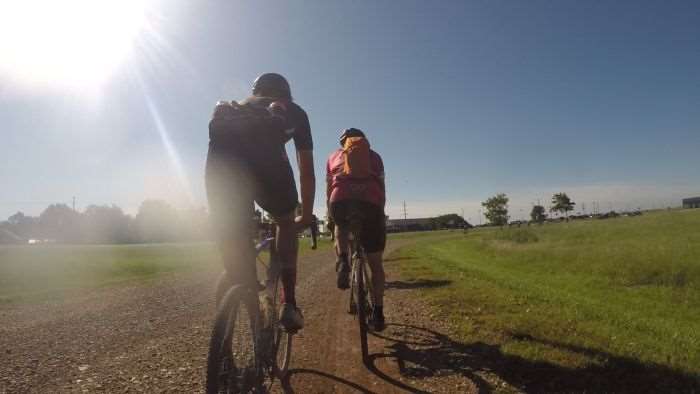 Jason aka "The Couch", my support crew, was conveniently parked nearby. I exited the bike, which he promptly placed onto the repair stand for servicing. As he did his best to clean the bike and chain, I loaded fresh bottles into the cages, ate a little food and downed some fluids. It didn't take long before I was ready to roll.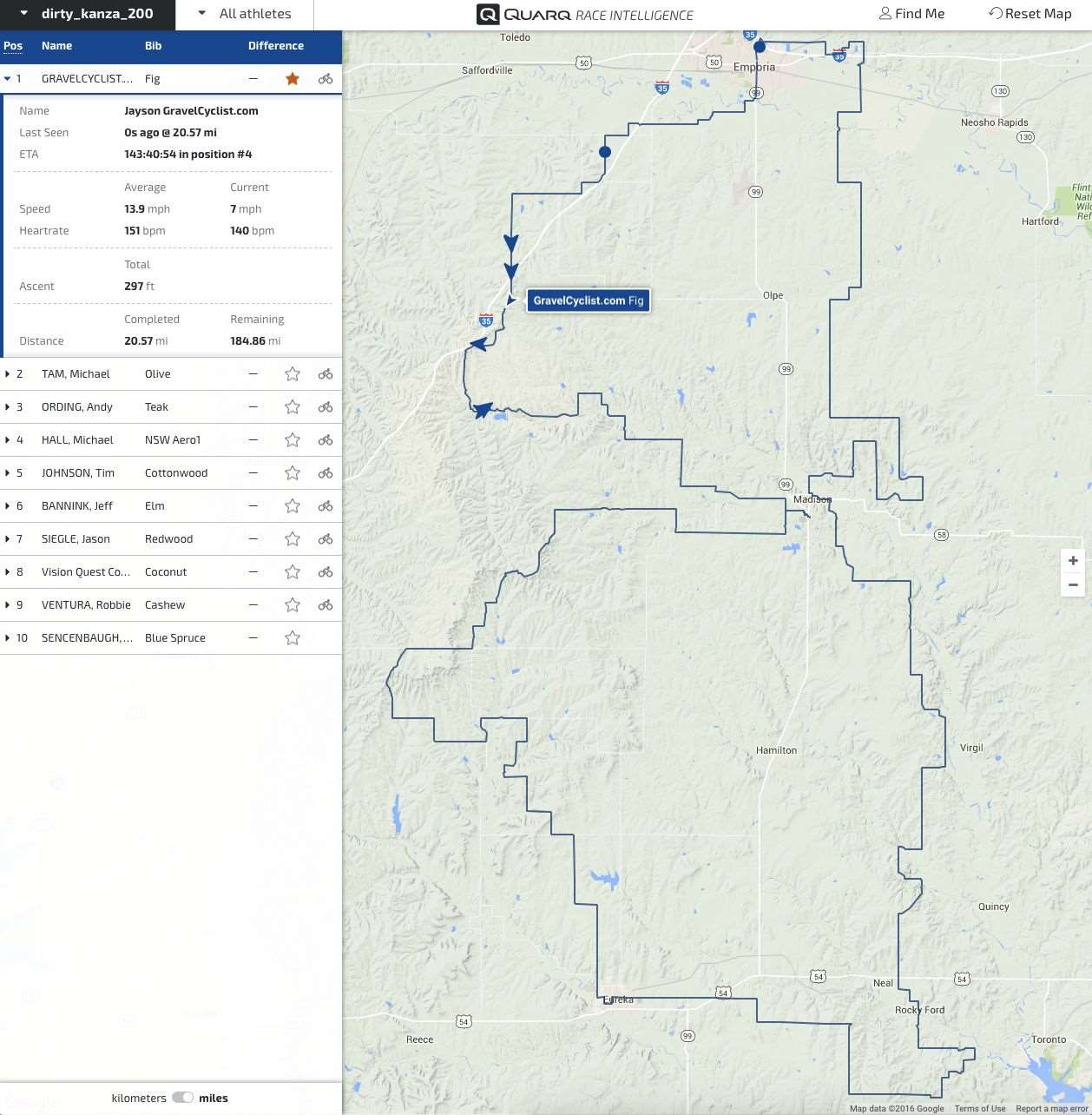 All this time, the good folks at SRAM / Quarq had been GPS tracking my progress along the course with heart rate data, courtesy of the company's yet-to-be-released Qollector gadget / Quarq Race Intelligence. Said data was uploaded live to QuarqRace.com. Also being tracked were stud athletes such as Tim Johnson and Robbie Ventura.
Onward to Checkpoint #2
The route to Checkpoint #2 in Eureka, Kansas was mostly west and south, and the tailwind helped push me along. There were still plenty of riders to be seen ahead and behind, but noticeable gaps were forming between riders or groups of riders.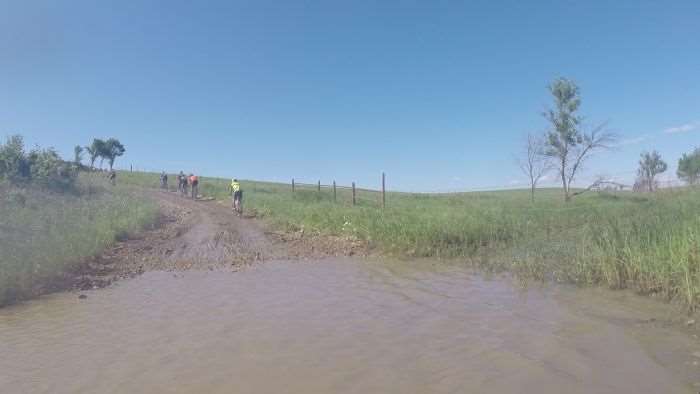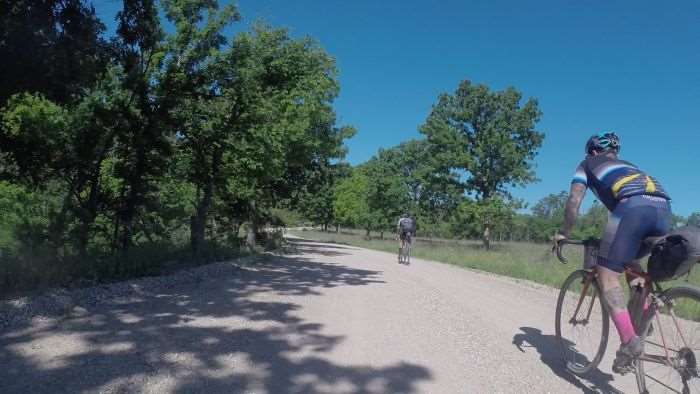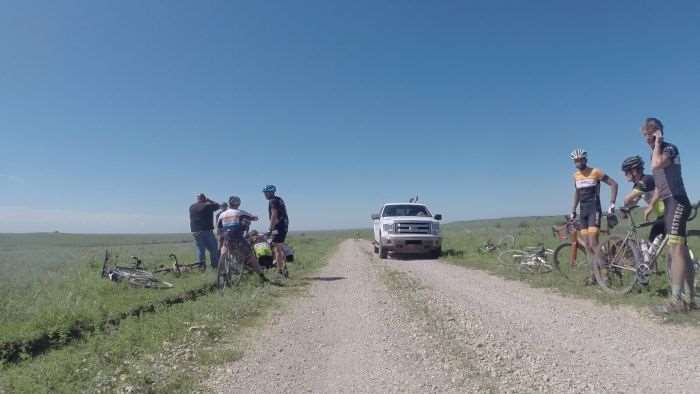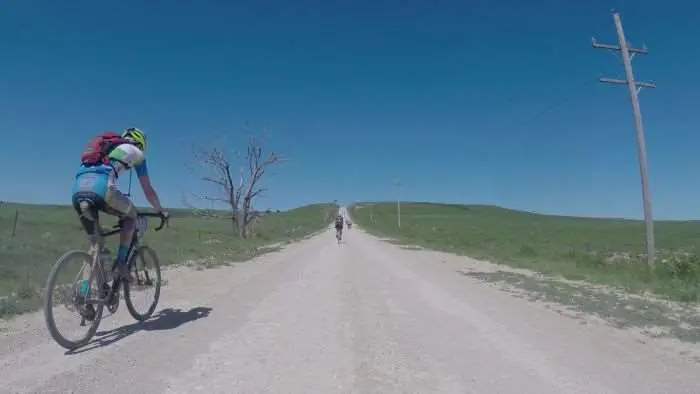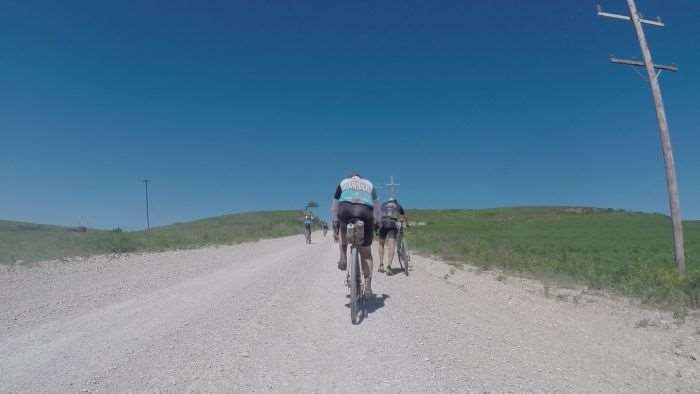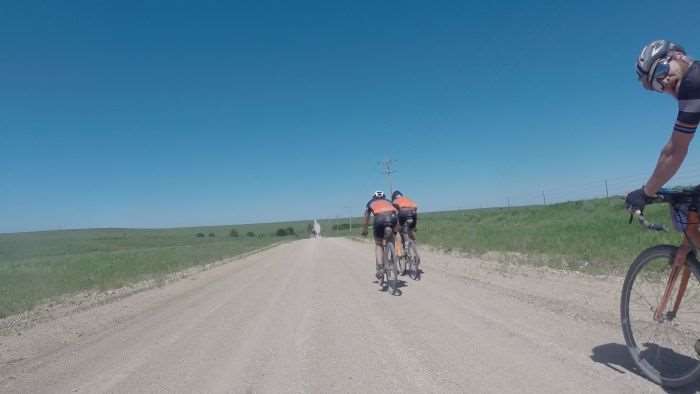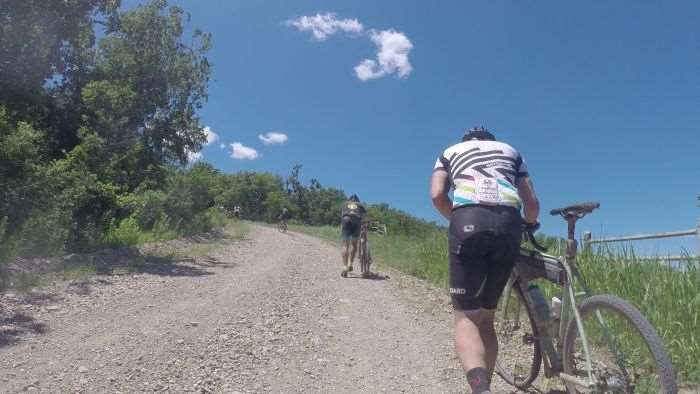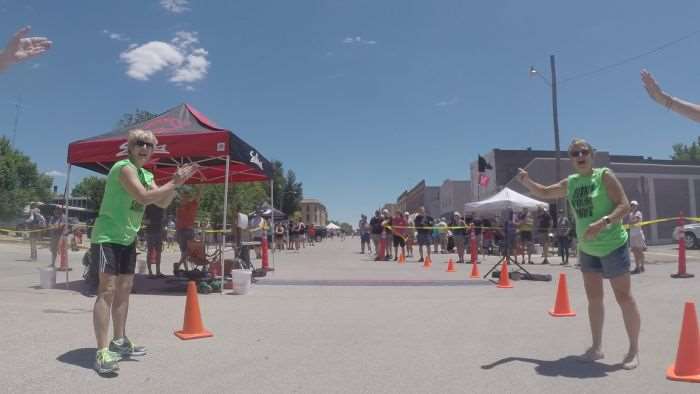 At 1:07pm, I crossed the timing mat for Checkpoint #2 and rode into Eureka, Kansas. I made my way to my support crew of Jason, and was greeted by Craig and Lee of the Art of Stone Gardening team. They had made it into Eureka some seven minutes earlier, and like me, they were using this stop as an opportunity to relax, down plenty of food, hydrate and recover a little before the longest leg of the Dirty Kanza 200 began.
The Journey to Checkpoint #3 and a return to Madison, Kansas
Leaving Eureka, the route continued east and a little further south. For a while longer, I enjoyed the tailwind that pushed me along. However, the wind showed itself a little at around mile # 125 / kilometre 200 as I made my way west. At mile # 128 / kilometre 205, the headwind made its presence felt as the northward journey began.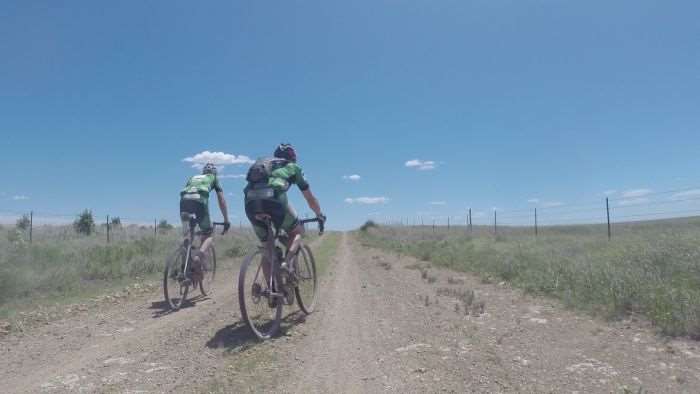 For a short while, I rode with Craig of the Art of Stone Gardening team. His teammate Lee, was riding the Singlespeed category and experienced a tyre issue, not long after leaving Eureka. Thankfully, his sealant did its job, and he roared past soon after, motivated by the possibility he may be in contention for a top five position in that category.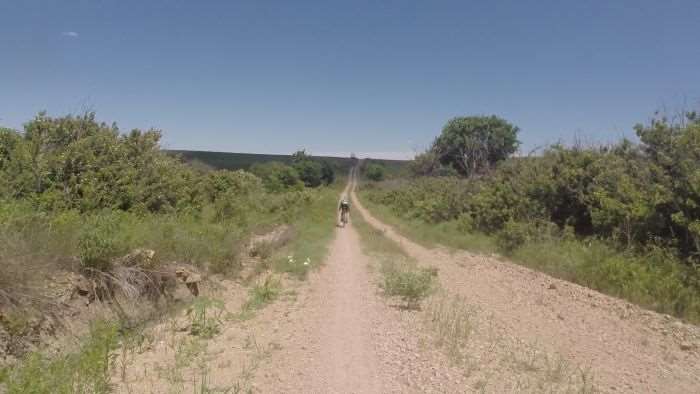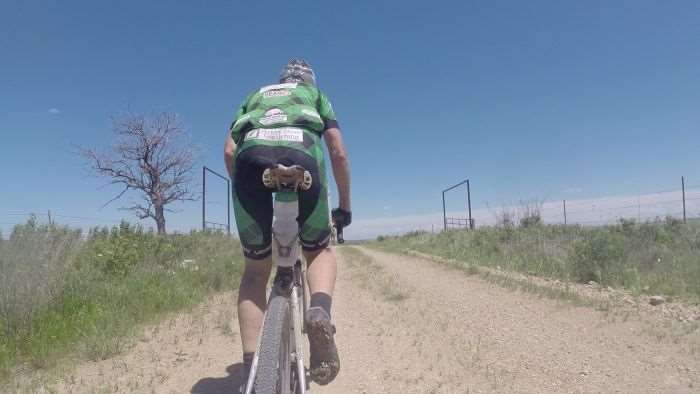 I'd been riding steadily all day, holding a heart rate at around 143bpm. The benefit of following my own pace and not that of others was beginning to pay off. I began to pass riders who were feeling the heat and the wind. I felt for those riders who had taken to the side of the road, collapsed in a heap beside their bike taking a moment to recover.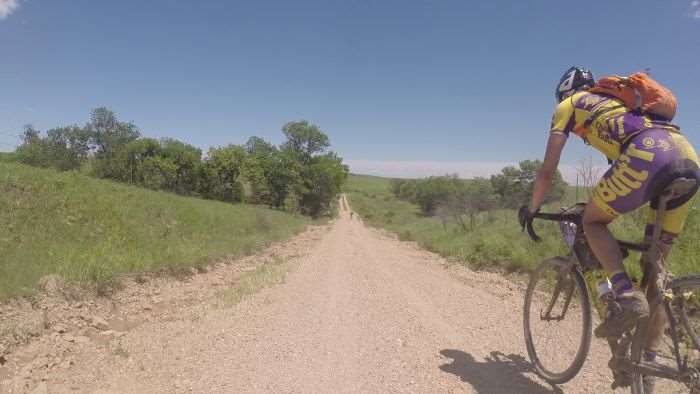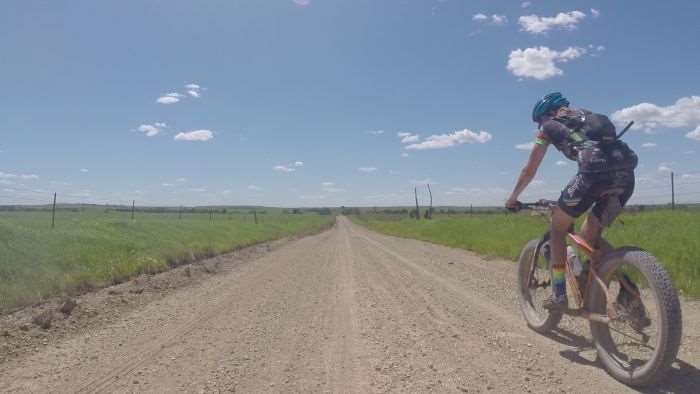 All day I had ridden with two bottles of water on the bike containing Gu's hydration mix, and a Platypus bottle in my rear pocket for additional hydration. Checkpoint #1 to #2 tested my fluid reserves, but this longest of journeys would push me to the edge. Consequently, I did my best to conserve fluid in the hope I would not run dry before reaching Madison, Kansas for the second time.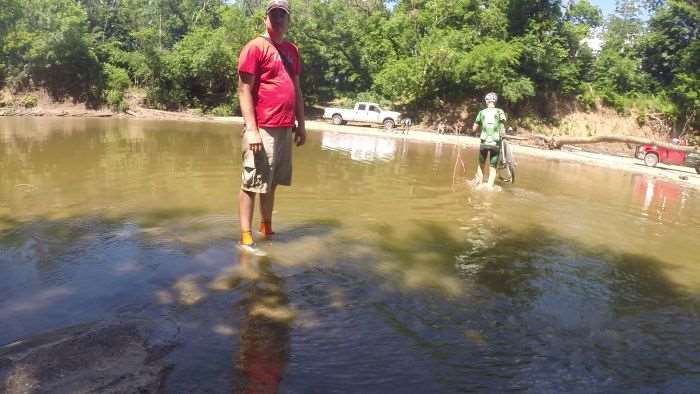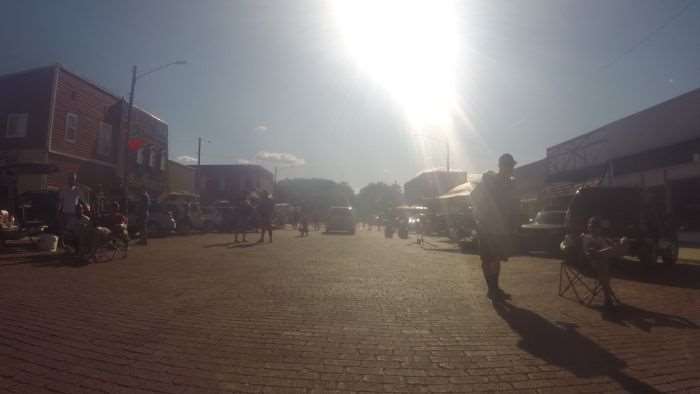 I rolled across the timing mat in Madison at 5:58pm, completely out of fluids. Bordering on dehydration, the sight of Jason with my next set of bottles and a cooler loaded with cold drinks was a welcome sight. Jason doused me in ice water and set about tending to my bike. Without doubt, he was the primary reason I was able to keep riding during the longest and hardest effort of my life as a cyclist. His support and motivation kept my mind focused on the finish line.
None of the rice cakes I had prepared before the race were appetizing, so I forced myself to down a ProBar, followed by two Mountain Dew Kickstarts and 600ml Coke. This is hardly the nutrition of champions, but caffeine and sugar sometimes go a long way to boosting a rider's spirits. In my case, it was the 44 miles / 71 kilometres remaining to the finish in Emporia, Kansas! Also helping were the words of Mike Spilker, technical ambassador for SRAM. He informed me I was one of the few tracked riders (see my point earlier about the Quarq Qollector), still riding, so I had to finish!
Emporia Bound
With newfound motivation and a huge amount of sugar and caffeine coursing through my veins, I began the fourth and final leg of the 206 mile journey to Emporia. I felt almost amazing, and was hoping I may just beat the sundown into town?
Alas, the headwind was too strong and the finish too far away for that to be a possibility. Regardless, I kept pressing on, glancing down often at my Garmin navigation device which was displaying less than 37 miles / 60 kilometres to ride. I was going to finish Dirty Kanza 200 on my first attempt.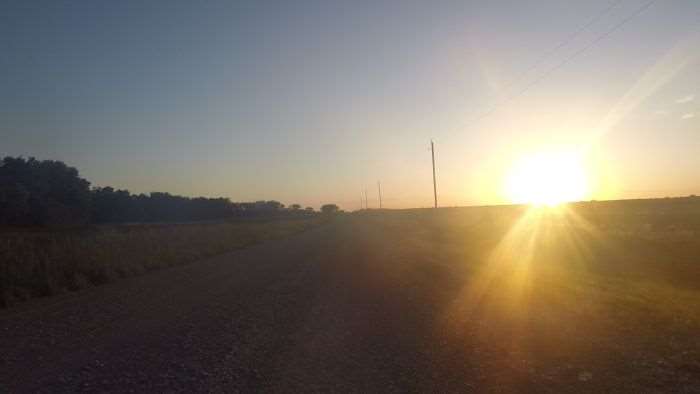 Approximately 23 miles to go, I safely traversed the last "B" road, a rocky and less than smooth affair. On that road, I prayed to the gravel gods to keep me safe from puncturing a tyre.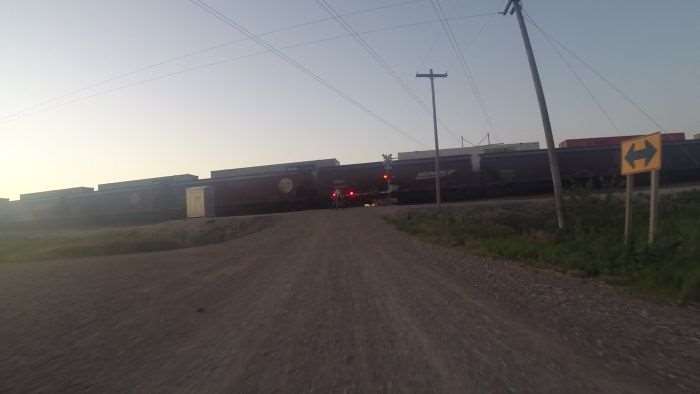 With nine miles / 14 kilometres to go, I experienced a moment from the legendary Paris Roubaix race in France – cue 2006, Peter Van Petegem, Vladimir Gusev, Tom Boonen and a railway crossing with the gates down. Peter and Vladimir crossed the barriers that were down, eventually leading to their disqualification and Tom Boonen taking second that year. I had no such opportunity to cross, nor would I recommend doing so.
At the railway crossing on the outskirts of Emporia, Kansas was not one train, but two trains. One train was at a standstill on a side track, while the active train slowly rumbled along.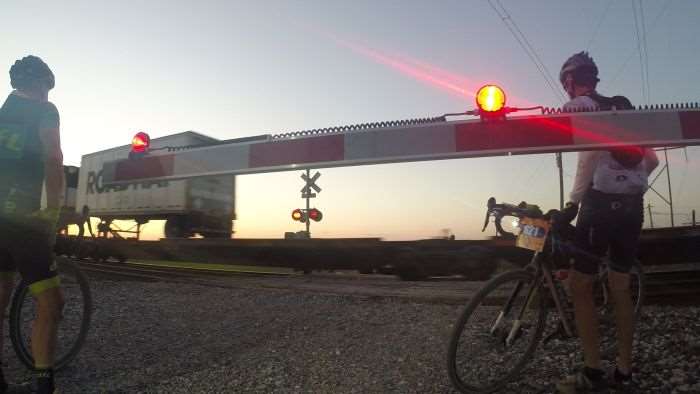 Several minutes passed before the moving train cleared the crossing, and more minutes as the stationary train got rolling. In all, about 10 minutes were squandered sitting by the roadside. On the positive, it makes for a great story!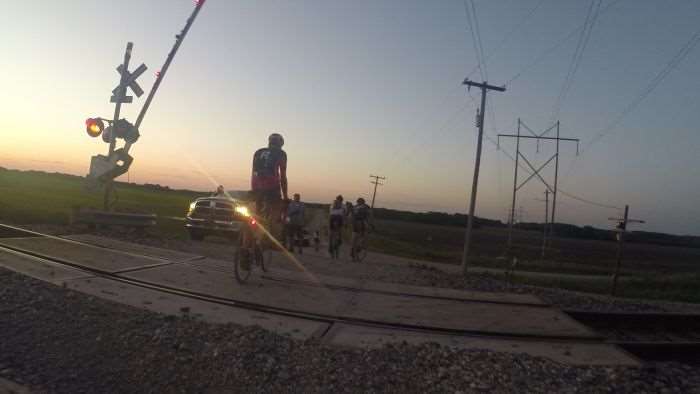 I was joined by several other riders who'd caught me at the crossing. Considering I'd ridden alone most of the day, I was content with rolling into Emporia by myself. I made the decision to let those riders go, savor the remaining miles into town, and cross the finish line solo.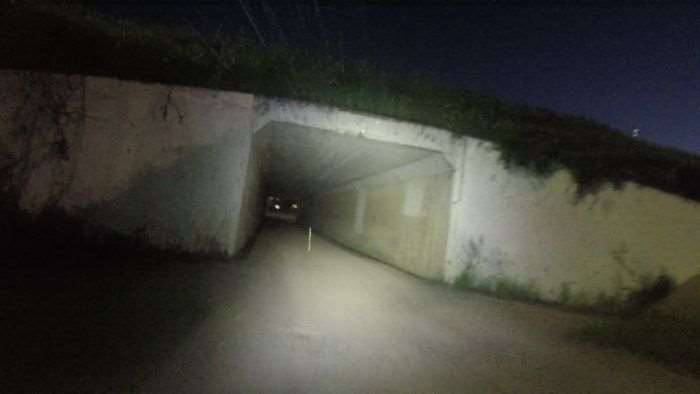 It wasn't long before the campus of the Emporia State University rolled into view, and the tunnel signifying the entrance to its outskirts. I ascended the final hill of the course, before taking the right hand turn into the University campus.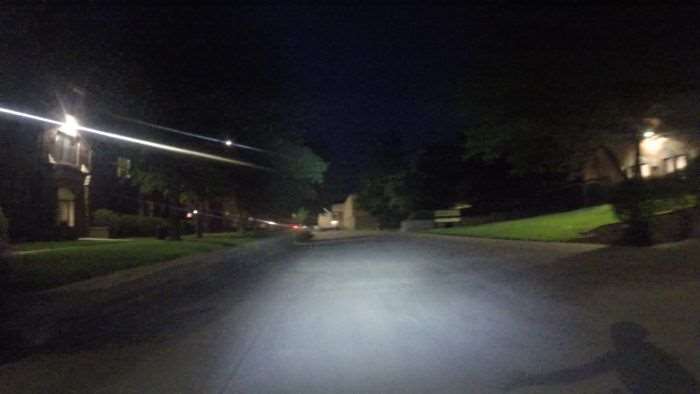 The moment I'd been striving for all day finally came into view. Downtown Emporia and the welcome to the finish line!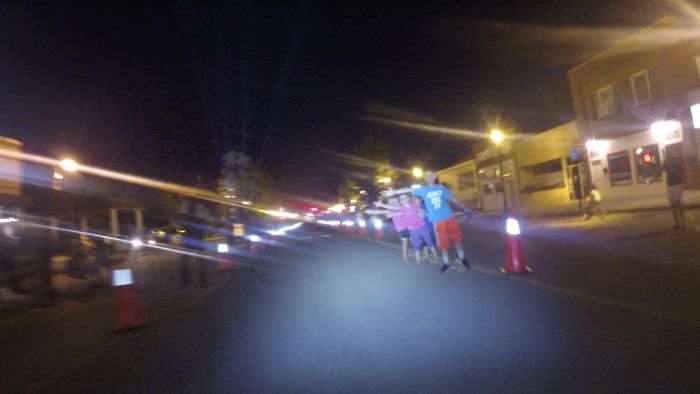 The Emporia locals were out in force to welcome riders into town and recognize their accomplishment. It was an amazing experience rolling through the centre of town, high fiving adults and children alike as the final kilometre rolled beneath my gravel tyres.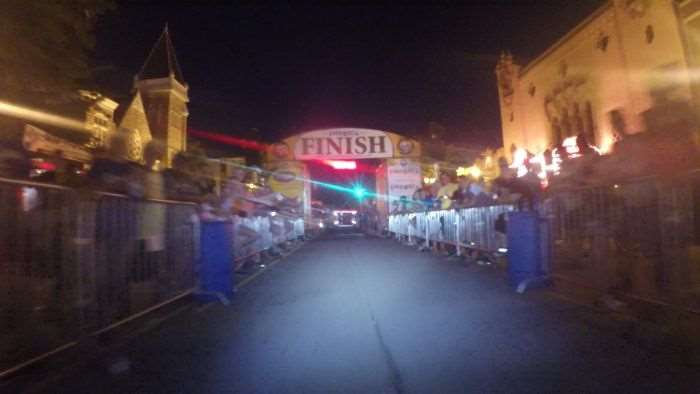 I crossed the finish line in 15:35, good enough for 22nd in the Men's 45+ category, 136th of 559 finishers and 131st of 505 blokes to complete the 2016 Dirty Kanza. No tyre punctures and no mechanical issues. I was stoked!
Promoters Jim Cummins and LeLan Dains sweetened the deal by shaking my hand, and the hands of every finisher.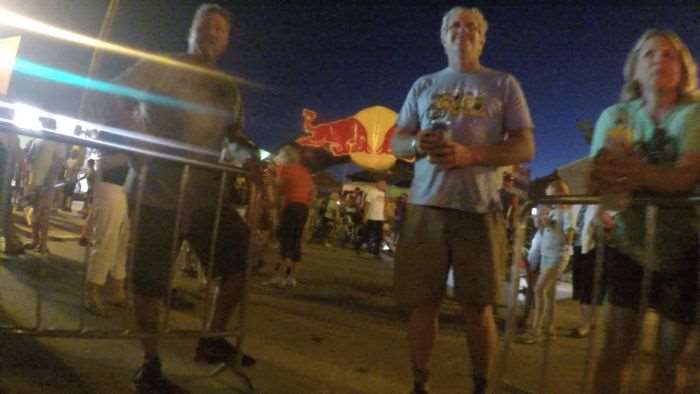 Jason was at the finish to greet me with a Fosters beer. I may be Australian, but typically we eschew this less than average beverage. But, considering the magnitude of the occasion and the humor behind Jason's gesture, I downed that Fosters in record time. Thanks again Jason for all of your support!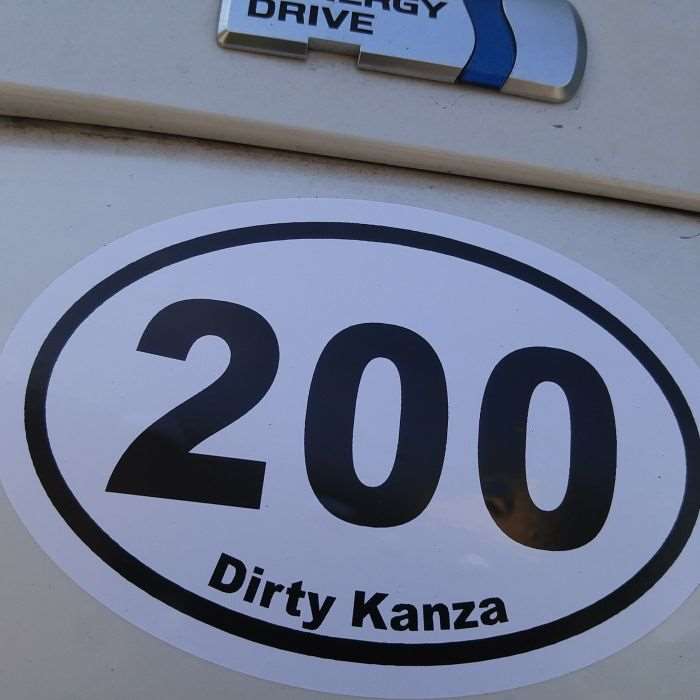 What an experience. It is hard to convey in words how amazing this race truly is. Without doubt, it was the hardest and longest effort I've made on a bicycle. The support of the community of Emporia and the surrounding communities is astounding, particularly in the manner that everyone gets behind each and every rider. Being cheered in during the final miles by people standing in their front yards, where else does this happen?
Dirty Kanza truly is the world's premiere gravel race. All being well, I plan to return for 2017. Emporia, Jim, LeLan, volunteers and my fellow gravel cyclists, thank you!
Also, a huge thank you to sponsors of the Gravel Cyclist race team – American Classic Wheels, Orange Seal Sealant, Gu Energy and Hawk Racing. Thank you also to SRAM / Quarq for the opportunity to participate in the Qollector tracking experience.
What I consumed during the 2016 Dirty Kanza 200:
5 x ProBars (all I could stomach).
A lot of Gu gels – 1.5 flasks worth.
2 x 600ml Cokes.
4 x Mountain Dew Kickstarts.
8 x bottles with Gu hydration mix.
4 x bottles of water.
6 x Gu Roctane electrolyte pills.
4 x Gu chews.
4 x Ibuprofen.
Sometimes you have to improvise!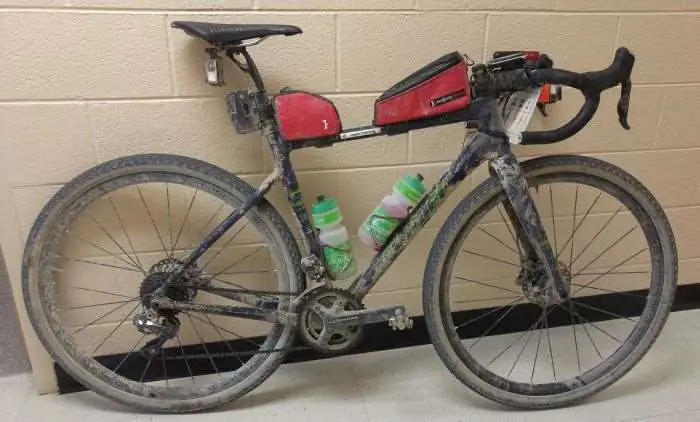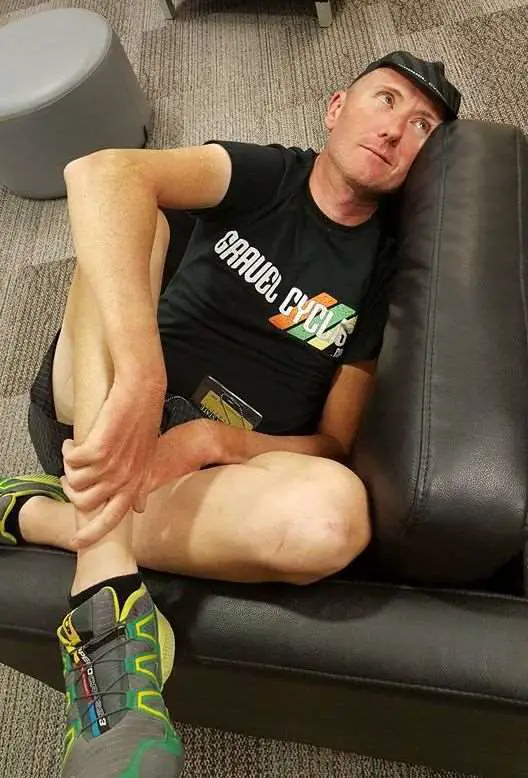 Strava Data
For those so inclined, JOM's Strava data from the 2016 Dirty Kanza 200.
Coming soon…
The Gravel Cyclist Dirty Kanza race video, a featured bike article about my steed for the race (review to follow), and plenty of interviews from Empora!