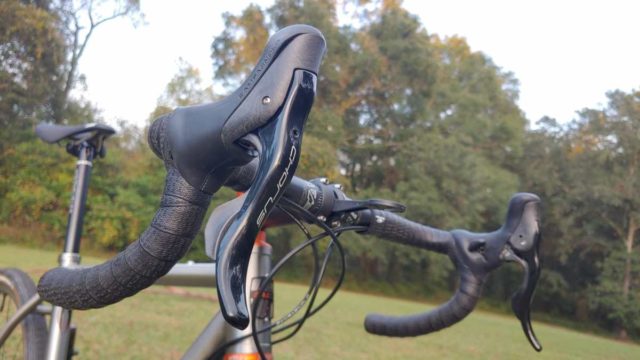 Campagnolo is an Italian manufacturer of bicycle components with headquarters in Vicenza, Italy. Founded by Tullio Campagnolo, the company began in 1933 in a Vicenza workshop. The founder was a racing cyclist in Italy in the 1920s who conceived several ideas while racing, such as the quick-release mechanism for bicycle wheels, derailleurs, and the rod gear for gear changing. Campagnolo has been awarded more than 135 patents for innovations in cycling technology.
Campagnolo was the first to bring a 12-speed drivetrain to market in 2018, mechanical variants of Super Record and Record. The 12-speed technology trickled down in 2019 to Super Record EPS (electronic), and the focus of this review, Campagnolo Chorus.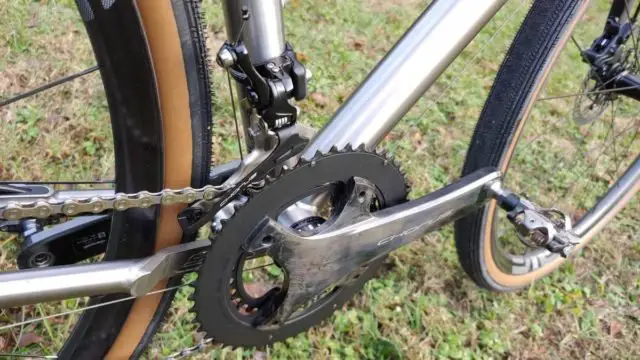 "The new Chorus DB (disc brake) groupset is launched on the market to expand the range of innovative technological solutions already provided by 12-speed groupsets. The new Chorus DB 12-speed groupset is available with the specific 48/32 and 11-34 combinations, suitable for those who spend hours and hours on the saddle on mixed terrain, while maintaining the racing performance guaranteed by every Campagnolo groupset. As per tradition, the use of different materials and consequent little additional weight, together with a rear derailleur redesigned to house larger cassettes are the main elements that make this new Chorus 12-speed different from the Super Record 12-speed and Record 12-speed groupsets." – Campagnolo.com
Campagnolo Chorus 2 x 12-Speed Review Video
In this video, JOM of the Gravel Cyclist covers the Campy Chorus 2 x 12-Speed groupset and relays his findings after an extensive test period, over all manner of road surfaces including, pavement, dirt, gravel, sand, and more. The groupset was fitted to the beautiful Sage Titanium Barlow Gravel Bike, and ridden in USA States such as Florida, Georgia, Maryland, Virginia, and Washington D.C.
Further Tech
Chorus Ergopower Disc Brake Controls
"The fantastic ergonomics that over the years have become a sort of calling card for Campagnolo have been even further improved with the latest introduction of Super Record and Record 12-speed transmissions. Not just ergonomic but also customizable, the new standard is embodied in the design of the Chorus levers. Apart from the brake lever, constructed in aluminum but with a coating that enhances its finish and feel, Chorus Ergopower are almost identical to those on the Super Record and Record controls. The new design of the brake lever hoods, brake lever and bigger gear levers, together with the Ergopower control "reach" that can be adjusted to suit hands of different sizes, make these new components unique and versatile."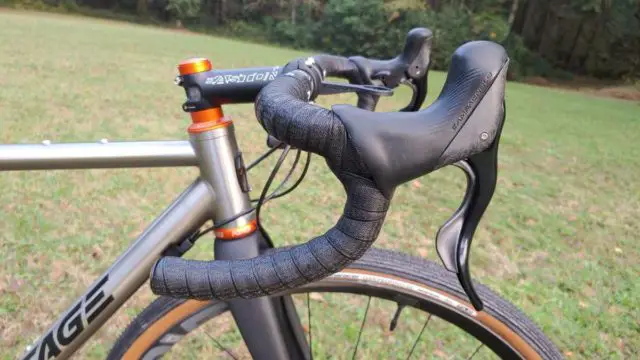 Reach Adjustment
ULI (Upshifting Lever Integration) Technology
Vari-Cushion Technology
One lever One action
Waterproof – IP 67
Chorus Rear Derailleur
"The new Chorus rear derailleur benefits from the same technology and design of top-end Campagnolo products, incorporating the sophistication and performances of the 12-speed Super Record and Record. With just a few changes in the materials used for its construction, like the external plate and derailleur cage in aluminum, the Chorus version produces exactly the same performance as the two more expensive groupsets with the addition of just a few extra grams. Chorus brings with it the same technology as the next level up, like the new optimized trajectory on bigger cassettes and fantastic 3D EMBRACE technology."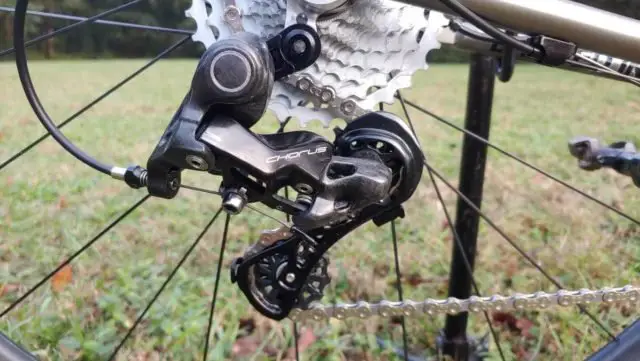 "The latest evolution in Embrace technology not only keeps the rear derailleur vertically aligned in the perfect position for each sprocket, it now makes the upper pulley wheel advance perfectly in the direction the bike is advancing. 3D EMBRACE technology and 12-teeth pulley wheels makes this rear derailleur suitable for all cassettes as the distance stays optimum on each individual sprocket, regardless of the cassette selected."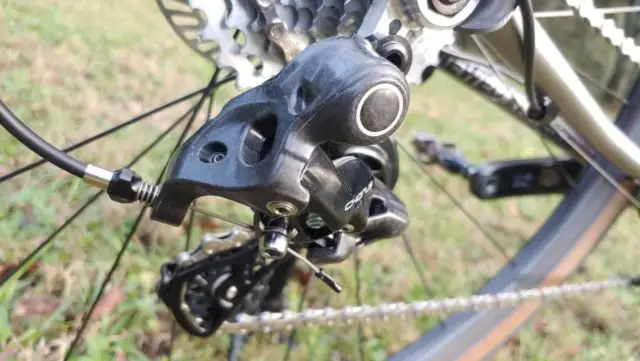 3D Embrace Technology
Optimized trajectory
12-tooth pulley wheels
Optimized return spring
Chorus Front Derailleur
"The precise, extremely fluid movement of the front derailleur is achieved in part thanks to the new cables and their housing and in part because of the design and construction of the 2×12-speed front derailleur. The new Chorus derailleur incorporates the same design that separates the upper from the lower semi-rod, eliminating the free stroke for more immediate, responsive upshifting. Design of the 2×12 speed front derailleur and its trajectory angle mean wide tires measuring up to 32 mm can be used, while the new design of the cage and dedicated positions for each gear position ensure extremely precise and fluid derailleur performance."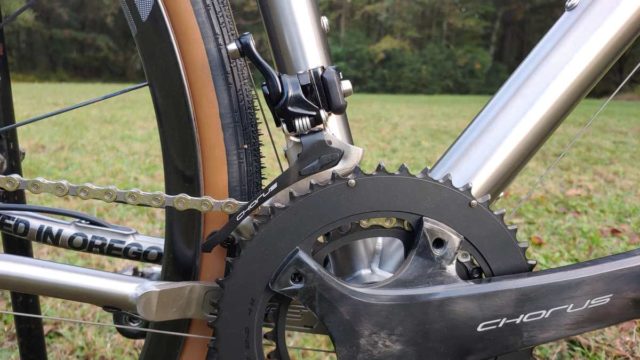 Upper semi-rod not connected to the lower one
Cage designed to improve maximum cross-chaining situations
Ideal for wider tires
Design optimized for inner cage
Chorus Crankset 2 x 12 Speed
"The new Chorus crankset is a true concentrate of technology and versatility. Technically advanced thanks to unidirectional construction technology in carbon fiber, it is produced directly molded without any surface coating and has an Ultra-Torque steel axle like the Record crankset. It is versatile thanks to its new ring of 123 mm bolts that, while giving it an extreme-performance structure, also ensures a wider variety of use segments. Available with 165, 170, 172.5 and 175 mm cranks, the new smaller ring of bolts on the Chorus crankset makes it compatible with 52/36, 50/34 chainrings and with the brand new 48/32 crowns."
The Q Factor remains the same (145.5)
Unidirectional carbon fiber cranks, steel axle and aluminum chainrings
Symmetrical teeth on the internal chainring
Optimized design for any chainring combination
X.P.S.S.™ Extreme Performance Shifting System
Ultra-Torque™
MPS™ Micro Precision Shifting System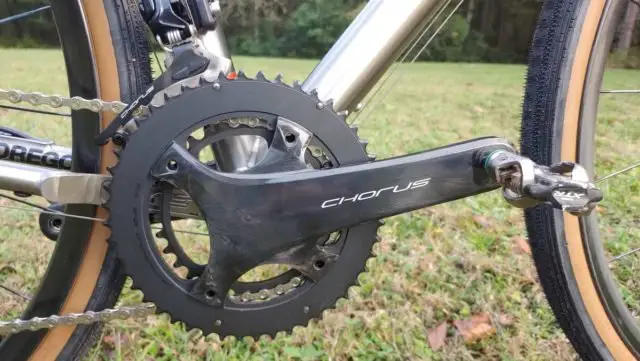 Chorus 12 Speed Cassette
"The new Chorus groupset is fully compatible with the cassettes launched with the Super Record and Record 2×12-speed groupsets (11-29 and 11-32) and it introduces a new cassette specification (11-34) only compatible with our Chorus 12s drivetrain. The new 11-34 cassette in fact offers cyclists even more versatility and greater choice and autonomy in terms of available gears."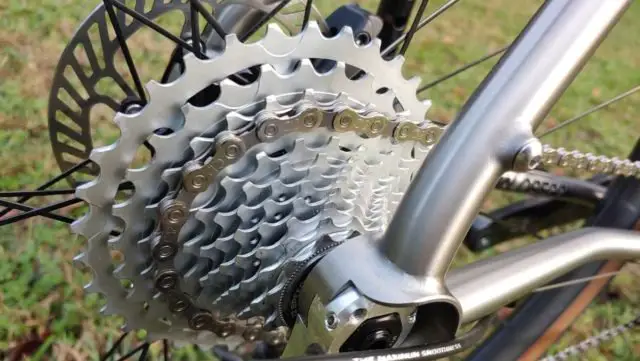 Chorus 12 Speed Chain
"In order to guarantee impeccable, reliable performance even with bigger cassettes, precision shifting by front and rear derailleurs has seen design of a 12-speed chain entailing huge research and development efforts to make it as reliable and long-lasting as an 11-speed chain, despite being narrower than the latter. The new 12-speed Chorus groupset benefits from a new Chorus 12 chain that ensures the same reliability and the same performance levels as that of the Super Record category, its 110 links weighing only 241 grams."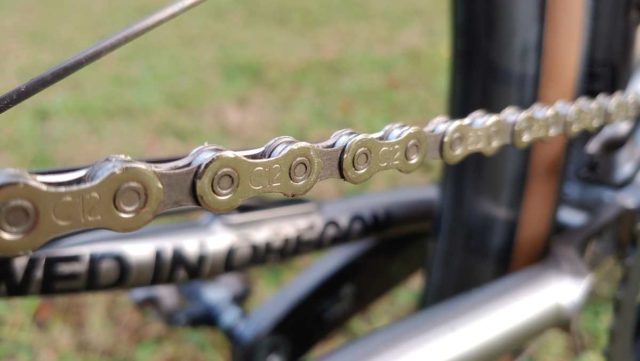 Ultra-link connecting system
Constant, extremely high performance levels over time
5.15 mm wide
Pins aligned with the external links
Campagnolo Disc Brake Caliper
"The flat-mount Campagnolo brake calipers ensure powerful, modular braking in any situation owing to pistons measuring 22 millimetres in diameter. The pad return is now optimised to ensure that there is no friction when the brake lever is released. A special metal plate positioned between the pad and the caliper piston, cushions the vibrations during braking."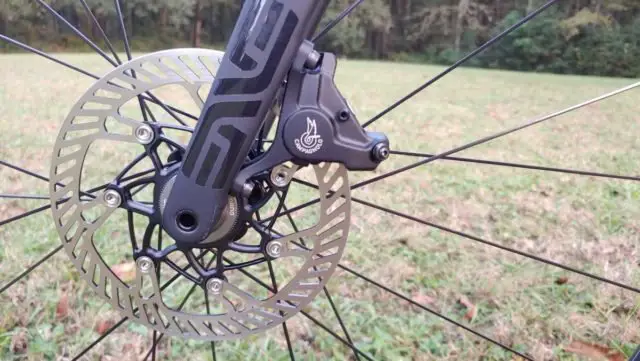 "The different Campagnolo brake calipers were designed to be mounted together with the disc chosen by the rider and to always guarantee the highest level of performance. It is indeed possible to choose the brake caliper with a disc measuring either 140 mm (limited to cyclists weighing no more than 82 kg) or 160 mm in diameter."
Standard Flat Mount
22 mm pistons in phenolic resin
Piston-calliper connector
Interchangeable spare parts
Wear indicator
Campagnolo Brake Rotors
"A high-performance disc-brake groupset must be twinned with rotors of equally high performance. When developing professional disc rotors and brake pads, the key is not only to deliver extreme performance but also to ensure safety, reliability and maximum heat resistance. The AFS-compatible Campagnolo rotors, with safely rounded outer edges, dissipate heat securely and evenly. In addition, they guarantee performance in hot environments that could compromise the functionality of competitors' products."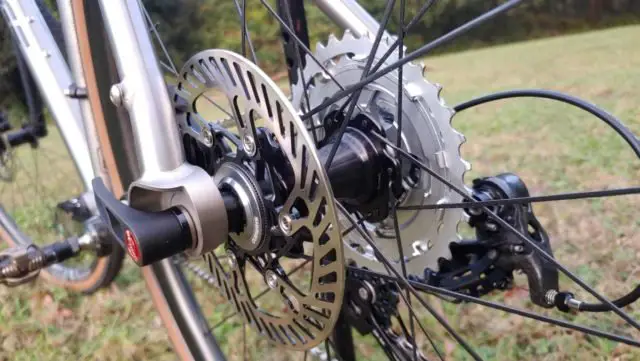 Compatible with CL / AFS hubs
Rounded external edge
Two dimensions available: 140 mm (99 g) and 160 mm (120 g)
High heat resistance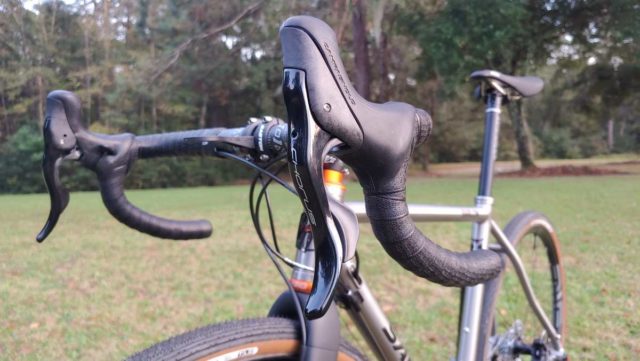 Support Gravel Cyclist:
Buy Me a Coffee – https://www.buymeacoffee.com/gravelcyclist
OR
Patreon – https://www.patreon.com/gravelcyclist
Links of Interest:
Don't forget to Like the Gravel Cyclist Facebook page, follow G.C. on Instagram, and subscribe to our Youtube Channel. We are also on Twitter!