It's time for everyone's favorite part. I will list my equipment and the changes I am considering, and everyone will let me know what solution is absolutely the best and why what I am considering is wrong. I'm not solidly wed to any plan at the moment and I get overwhelmed easily by lots of choices, so my bike will likely remain as-is for a few more weeks.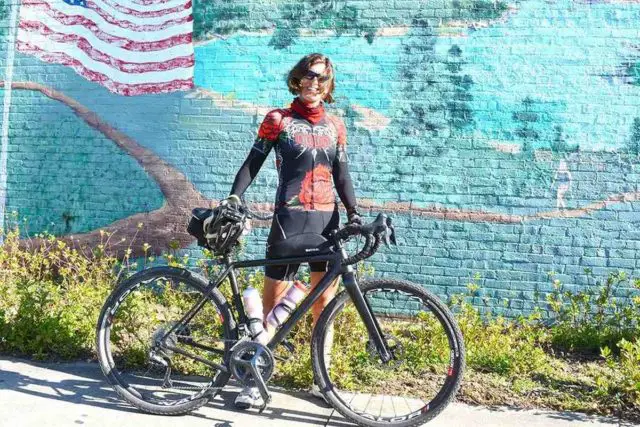 BUT… before I go on to my equipment… a public service announcement. I just rode in the Mudcrutch Gravel Team Time Trial (put on by the Gravel Cyclist and sponsored by Fit for Life… I understand a video is coming soon) and our team made a total rookie mistake. We had downloaded the course to our Garmins last week when JOM posted them, but not one of us bothered to particularly study the map… nor did we happen to look at it just prior to the race… nor did we spend some of the half-hour prior to the race riding the first couple miles.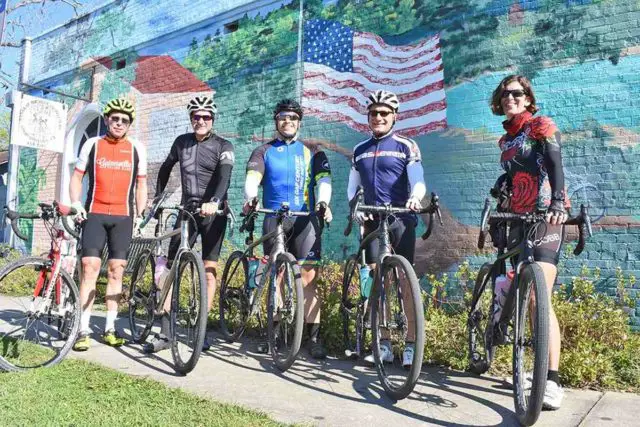 We easily lost five minutes when we went off course within the first mile, rode off course for a half-mile or so, then backtracked to where we originally went off course, then went off course again, then backtracked again. Seriously, this should have never happened. Literally, a two-minute review of the course prior to the race would have saved us some time and frustration. I've raced enough to know that the course is the rider's responsibility (even when it's marked) and that one should have a good handle on the course before crossing the start line. Lesson learned, on to the equipment.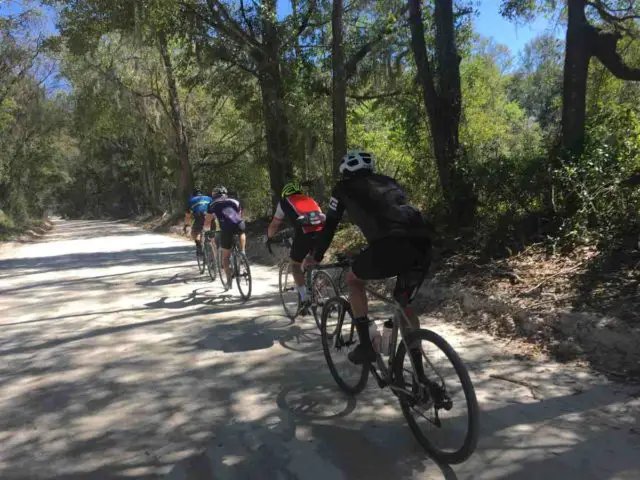 The Bike
OPEN U.P., size Small with Ultegra Di2, 50/34 chainrings on the crankset, 11-32 cassette, 650b Stans Valor wheels, Panaracer Gravelking SK 1.9" tires, Redshift ShockStop Suspension Stem, Lizard Skins 3.2mm bar tape, three aluminum bottle cages, Terry Liberator Pro saddle. This set up does quite well on the sometimes sandy and sometimes flat roads of Florida.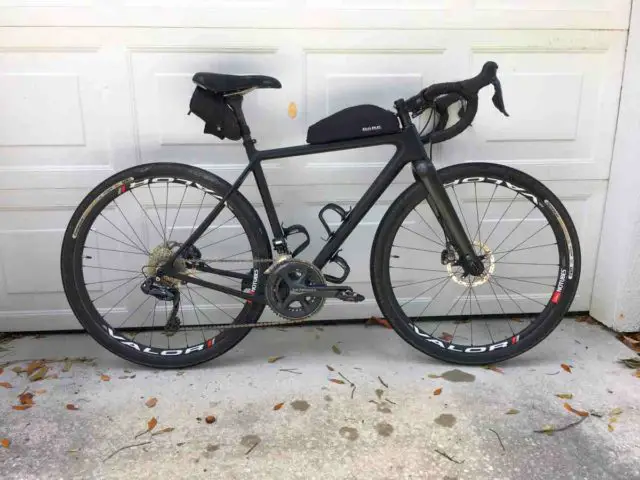 The Saddle Bag
Bontrager. It used to be on my road bike. My road buddies called it "the suitcase." It got moved to the gravel bike and I now carry a tiny saddle bag on the road bike that fits two toothpicks and a paperclip. This bag contains a Crank Brothers Y12 toolset, a miniature chain tool, a core remover and a couple of spare cores, Moosetreks tire levers which double as a quick link tool, a quick link, a spare tube, patches, a Dynaplug, a CO2 cartridge and inflator, a knife, some tweezers, and spare contacts, solution and a mirror.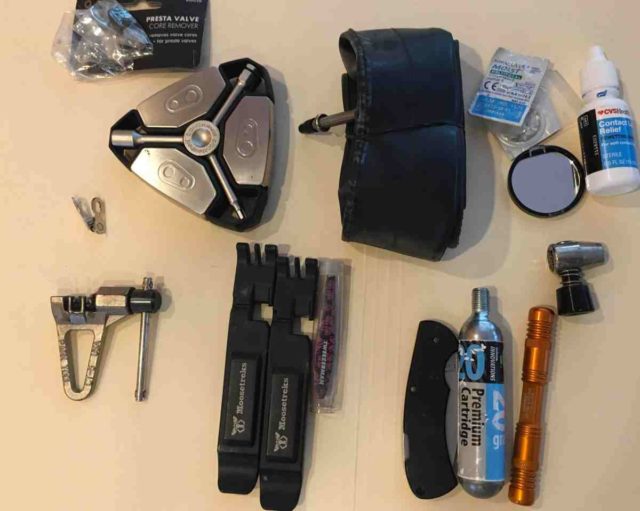 The saddle bag contents are pretty set. I need to order a few tire boots and another quick link, as well as the Tubolito spare tubes. Any suggestions here as to what I am forgetting will be welcome.
The Clothing
Shorts: Cobb (now JCob). For a variety of personal girl-part related reasons, I prefer to ride with just a chamois, no pad. Shorts instead of bibs 'cause peeing should not require full nakedness.

Jersey: My favorite jerseys from a fit standpoint are Cycology Clothing. They fit skin-tight without binding and have sleeves that come down to the mid-upper arm. I have no idea why most women's jerseys have stupid little cap sleeves. Clothing designers, it's annoying, quit it.

Bra: I don't have a particular bra preference except it should lift and separate. Mono-boob is not a good look.

Favorite socks: Smart wool.

Shoes: My old Shimano spin class shoes.
The Tech
The Hydration / Nutrition
Two 24-ounce bottles, and one 1.5L Camelbak Chase vest, large Dark Speed Works top tube bag, jersey pockets.
In general, all of this works fine (except the iPhone). I probably could ride with everything as is and make it the whole way. But, of course, the point is to make it the whole way with the least number of mechanical issues possible in as fast as I can complete it.
Upgrades to Consider
The number one, or maybe just the most expensive, upgrade is wheels. Interestingly enough, the Stans Valor 650b wheels weigh only 83 gm more than the ENVE G23. Yeah, no $hit. However, they only take 47mm tires which are heavy and the spare tubes are heavy. The same tires in 38 mm are 240 gm less. Changing to the Tubolito tubes from standard tubes saves another 200 gm for two tubes. Right there, that's almost a pound. Additionally, another set of wheels gives me a lot of options for commuting and road conditions.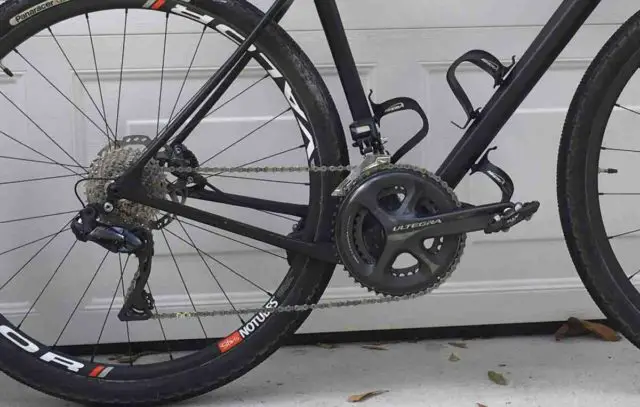 The next change is to convert the big chainring from a 50 to a 46. According to the Google machine, this conversion is possible with some special chainring bolts (note from JOM: For Ultegra 6800 series crank, the crank caps / bolts are linked here – For Ultegra 8000 series crank, follow this link. Both options work with 34T chainrings). This will be checked with the LBS before any parts are ordered. This also saves some weight, but I think having a tighter range of gears will be beneficial.
Note from JOM, check these links for 1x third-party chainring options and 2x third-party chainring options.
I have a pair of Arundel carbon bottle cages on my TT bike. Those will make the trip to Kanza instead of the aluminum ones. Not only are they lighter, but they do a great job holding bottles in the roughest conditions. Why do I not have these on all my bikes, you ask? Well, they do cost $75 each, so for now, one pair is enough. I am not sure if I will leave the cage beneath the down tube – maybe for extra water if it's super hot or to store extra gear if someone convinces me that that's a better place to store gear than a saddle bag or in the Camelbak.
I am still searching for the best saddle. If you have a recommendation that is out of the ordinary, please feel free to suggest it. If it has the name Specialized, Bontrager, ISM, Selle Italia, Terry, or Brooks, don't bother, I've probably tried it. I need something super cushy for my sit bones, but a huge cut out for my lady parts … with a super narrow nose because my hips are narrow and my legs are close together. The Terry works okay in that it's cushy enough and has a narrow nose (cutout leaves much to be desired), but it's also pretty heavy. This, however, is one place where I don't mind the weight if it's comfortable enough. DK200 is a long way.
For the most part, I won't worry too much about clothing. It's really hot and humid in Florida, so I'm good with the heat. The main purchase here will be shoes. I have wide and cranky feet. Normally, I don't get hot spots, but the ten-year-old spin shoes ain't gonna cut it. I have Lake road shoes and love them. The twin BOA system means I can loosen the toe box after my feet start to swell. And of course, they need to be comfortable to walk/run in … not that I am planning on doing that, haha.
The one new tech item I am considering is a power meter. I train on my road and TT bikes with power and, given that I am using TrainerRoad, having power makes it a little easier to follow the workouts. At the same time, I enjoy the idea of riding gravel without worrying about meeting some number. I wear a heart rate monitor, but primarily so I can record the workout stress later. I'm still pondering this one.
Aside from that, I really need to get a new phone. The iPhone 6s is an older phone with known battery problems, but aside from the battery (which has already been replaced once), it just irritates me to spend money on something that functions perfectly well for my purposes. And I'd rather spend that money on wheels…
As to nutrition, that is a topic for another day. Please feel free to give me your best advice on my gear while I still have time to change it… Caroline