After our adventure on the Camino del Cid in 2018 (link to Part 1 – Part 2), we moved back to Spain this year. But the way of el Cid has more to offer. To visit all the Knight's historic sites, there are several Circular Routes that offer some gravel adventures. 
Gallocanta Circular Route
We start in the medieval city of Daroca to get to the lagoon of Gallocanta. This short yet challenging circular route starts in Daroca, where El Cid is known to have camped for several days in1090. It was here that he signed a treaty with the Catalonian Count Berenguer Ramón II, shortly after defeating him at El Maestrazgo. El Cantar de mío Cid also refers to Daroca, claiming that the city paid tribute to El Cid, whose men had subjugated the entire area.
This possibility has led to the creation of a delightful circular route of great historical and ecological value; the perfect choice for a weekend excursion. The objective of the journey is to visit Gallocanta lagoon and its surroundings, which is why this circular route is an extended circular route. This way, cyclists will be able to cycle its entire perimeter and to ride close to the fresh water lagoon of Zaida. The route ends in Daroca after having run along the pass of Used, where cyclists will enjoy the descent. Gallocanta Lagoon is currently a magnificent series of lagoons, whose shores are dotted with small villages. It is one of Western Europe's largest saltwater lagoons and it boasts a wealth of flora and fauna. Thousands of cranes and other migratory birds visit this ecosystem each winter. They stop here on their long flight from northern Europe to Africa. This rich and fertile land is sheltered by mountain ranges with two major natural passes leading to the Valley of Jiloca and Molina de Aragón.
Montalban Circular Route
The route continues through small villages such as Plou, whose abandoned cattle shelters almost give it the appearance of a ghost town, and La Hoz de la Vieja, which offers breathtaking panoramic views. Montalbán, lying some 15 km away, marks the halfway stage of this route and is a town of historic and artistic value. The visitor's eye is immediately drawn to its narrow streets, magnificent views, the ruined castle and the Church of Montalbán, an imposing construction built in the Gothic-Mudejar style and seat of the Order of the Sword of Saint James.
Montalbán is located inside the Río Martín Culture Park, whose valley, according to El Cantar, is a tribute to El Cid. It is unclear which towns the poet referred to; possibly those situated beyond Montalbán. It is now time to return to Calamocha, passing through Martín del Río, where the source of this river is located, as well as other towns scattered around the natural landscapes of the Fonfría Mountain Range and the gypsum hills of Barrachina and Cutanda. We urge history lovers and those eager to explore sites that have gone down in history to take a 2.5 km detour from the route just after the town of Barrachina to visit Cutanda. Today it looks just like any other town, but in 1120 it was the site of the battle between Alphonse I of Aragon, the Warrior King, and the Almoravid general Ibn Yussuf, who fell in defeat. This victory of the Aragonese troops led to the eventual surrender of the Almoravid fortresses in the valleys of Jalón and Jiloca.
Maestrazgo Circular Route
El Maestrazgo is one of the most spectacular and challenging areas for bicycle tourists on The Way of El Cid. This vast mountainous territory stretches out across the provinces of Teruel and Castellón. It remained in the hands of the Moors until the 12th century. The monarchs of Aragon conquered these lands with the aid of the Knights Templar, who received them as their reward. As a result, they fell under the jurisdiction of the Grand Master of this order; hence their name, Maestrazgo. The route makes its way along winding roads that are particularly attractive for bicycle tourists, as they will encounter many surprises and will have to make a great effort. The route, which twists and turns along spectacular passes lined by sheer faces, is set against a backdrop of upland landscapes and narrow valleys, as for example the valley of the river Mijares. The scenery is dotted with dense juniper forests nestling between open grasslands.
Morella Circular Route
This is a short but demanding stage. There are steep slopes, which will force cyclists to ride more slowly. However, this allows enjoying the amazing views. The mountain landscape is made of grasslands, meadows and scrubland dotted with pine and kermes oak tree groves. Only the flattest and accessible areas are cultivated. You will see many drystone walls and terraces, which are a reminder that there was a time when terrace farming was used for cultivation purposes.
This route reveals some of the most fascinating towns of El Maestrazgo, which can be accessed via quiet roads. They will surely cause delight even to the most demanding cyclists. The breathtakingly steep and mountainous landscape seems to have been carved out of stone. The area has very salient features, which are indicative of its long history. Morella is the deferred compensation for effort; conquering its spectacular medieval fortress, will require making a final effort, which is worth the climb.
After 950 kilometers with over 13,000 meters of altitude, we arrive in Valencia after 11 days and finally enjoy the Spanish way of life as the end of our adventure.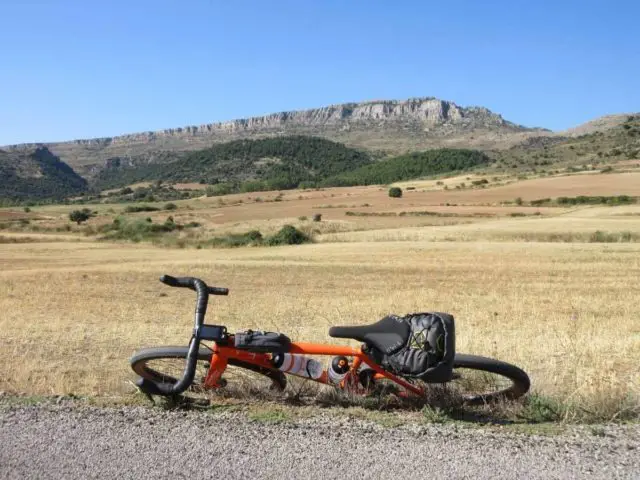 Photo Gallery
You can find more information and routes on the Camino del Cid website.
Thank you to Timo for his excellent contribution!