"The boom in cycling in Europe has led to the emergence of new types of bicycles and ways of doing bicycle tourism.  One of these is the development of gravel bikes, similar to cyclocross bikes but designed for trips over long distances on rural tracks and roads."
"The Camino del Cid route, which crosses Spain from the northwest to the southeast, from the centre of Castile to the Mediterranean, is an ideal route for gravel cycling. For gravel cyclists who increasingly come to Spain to follow the Camino del Cid, we have planned a specific route for gravel, based on existing MTB and cycling tourism routes, but avoiding the most difficult or uncomfortable MTB sections."

"The result is a gravel route 1,500km long, whose tracks can be downloaded from the official Camino del Cid route website. It's a well-balanced route that mostly follows trails, tracks, and secondary roads with very little traffic."
"It's an invitation to discover an unknown Spain, of tiny villages and vast spaces, where contact with nature and tranquillity is guaranteed."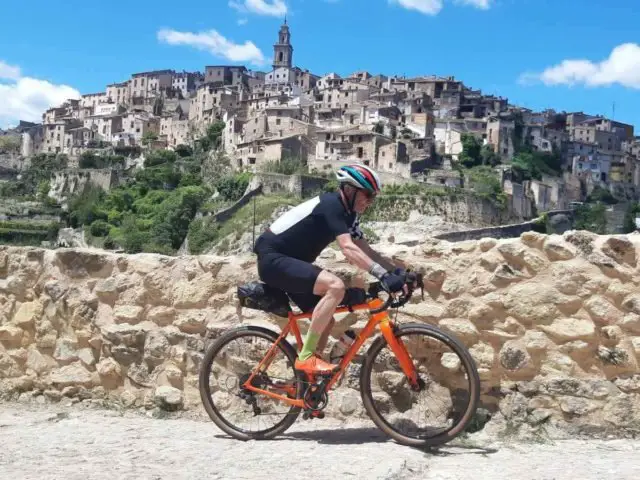 Types of Surfaces You'll Find
Asphalt: The sections along roads; generally secondary roads with little traffic although when there is no alternative they follows sections of main roads, town streets (when going through a village or town), cycle lanes, and tarmacked rural roads and tracks.
Non-Asphalt Rural Roads and Tracks: The surfaces are usually good although they may sometimes include stony sections.
Natural tracks and Green Ways: Non-Asphalt tracks belonging to those two categories.
Trails: Narrow non-asphalt routes, generally narrower than two metres and with an irregular surface.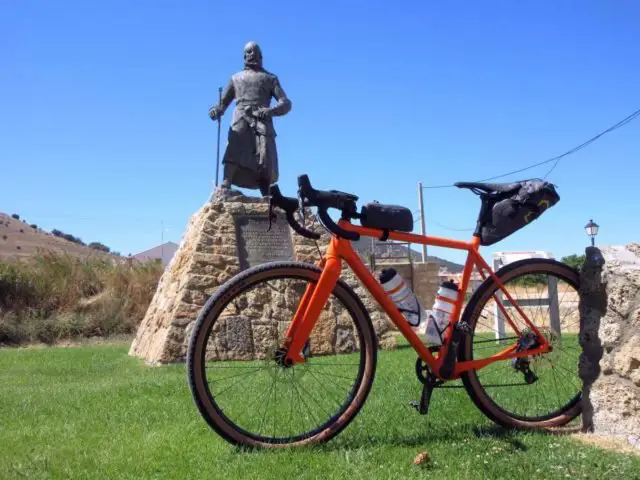 Gravel Routes & Tracks in the Way of El Cid
The Way of El Cid includes several possibilities for gravel bikes:
Main route from Vivar del Cid (Burgos) to Orihuela (Alicante). It goes through the provinces of Burgos, Soria, Guadalajara, Zaragoza, Teruel, Castellón, Valencia and Alicante. It has a total length of 1,374km, of which 56% is on asphalt, 36% on untarmacked rural roads and tracks, 7% on natural tracks and Green Ways and 1% on trails. It includes the routes of The Exile, The Borderlands, The Three Taifas, Conquest of Valencia and Defending the South.
Álvar Fáñez Route in the Province of Guadalajara. It is 71km long, of which 42.5% is on asphalt, 57% on untarmacked rural roads and tracks and 0.5km on trails.
Gallocanta Ring (circular route in the Provinces of Zaragoza and Teruel): 54km long, of which 61% is on asphalt and 39% on untarmacked rural roads and tracks.
Be sure to look over past contributions by Timo Rokitta of his Camino del Cid rides:
The Camino del Cid Consortium is a Spanish non-profit public agency supported by 8 Spanish Provincial Councils.
Find out more information at the Camino del Cid website.