If you missed this undertaking that began on September 8th, 2019, Jonas Deichmann is attempting to break a world record; riding 18,000km from the Arctic to Cape Town. He is accompanied by the photographer and long-distance driver Philipp Hympendahl. There will be many mixed-surface roads along the way. You can read more about Jonas' adventure at this link.
Additionally, you can view photos and diary entries from earlier:
The Diary
Day 58:
First proper tailwind since Sahara. I set off before sunrise into a crosswind and experience constant up and down undulating hills. Still making good progress and after 100 km the road turns southwest. The wind now blows at full force from behind and I average 35km/h despite the constant hills. This is fun, hard to remember when I had such favorable conditions. I ride all day with just a 20 minute lunch stop for a quick omelette. I start dreaming about 350km but in the evening there is a long climb of almost 40km. I just make it into Mbeya (Tanzania) when it gets dark after 290 km with 2,600 meters of climbing. I am now 100 km from Zambia – 11 countries done, three to go.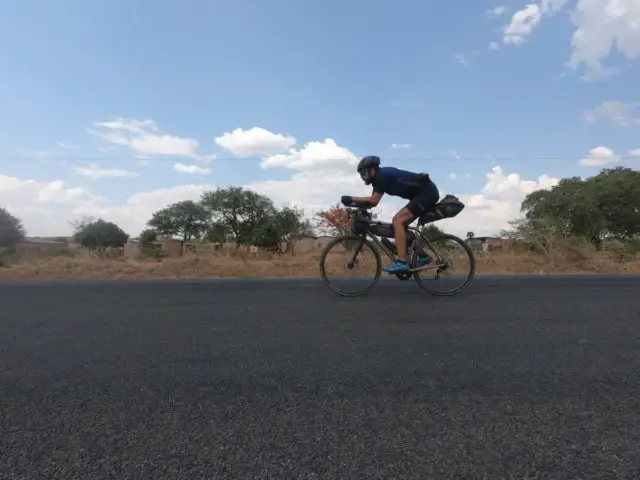 Day 59:
I set off before sunrise and the road to the border immediately turns bad with big potholes and cuts in the pavement. I climb a few long hills until I reach the border. The Tanzanian side goes smoothly but lose over an hour entering Zambia. After the border the road becomes worse, constantly changing between pavement with meter wide potholes, gravel sections and road construction. I ride slowly and reach the village I had planned to stop at after sunset. There is one guesthouse on the main road and a cockroach is sits on my bed. There is also no water and a problem with the electricity. Two houses along there is a restaurant where I join the guests, who are eating with torches (flashlights) or by the light of their phones. But all around, an adventurous day, good memories will come of it.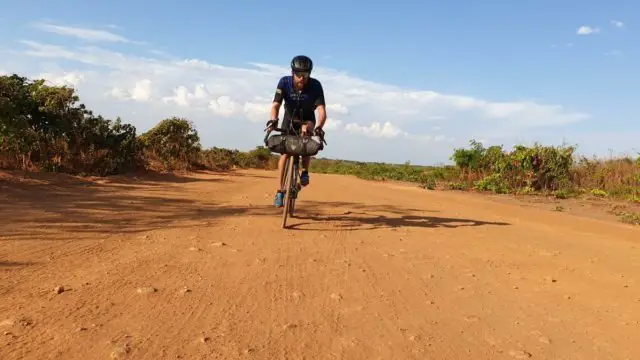 Day 60:
I set off on the gravel road which were in pretty bad shape. After 100 km of riding the bad gravel becomes bad tarmac, but I did manage to pick up speed. The landscape is boring and featureless with bush about the place as far as the eye can see. There always seem to be simple huts along the route but proper villages are far apart. At noon I reach the first village and stop for lunch which takes longer than planned. I push hard all afternoon to reach the town of Mpika, the first place that has a guesthouse. Unfortunately, it also has a nightclub and party goes all night. I wake up at night feeling ill again from food poisoning. The challenges of Africa.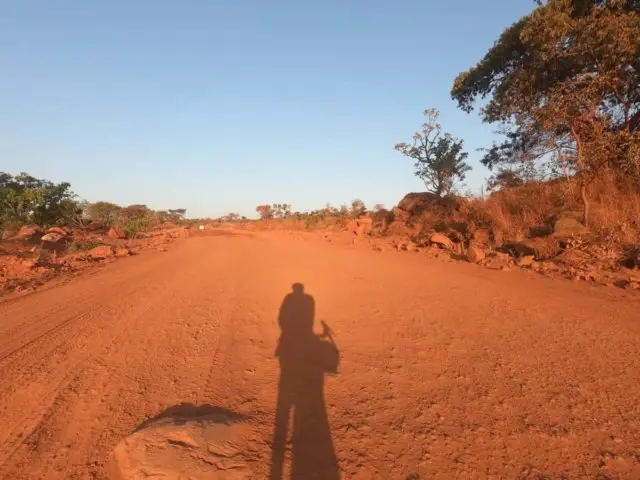 Day 61:
I barely slept and feel miserable when I set off at sunrise. The road is becoming better now and there are just a few hills so I pick up speed despite my condition. People are very friendly and everyone greets me. I struggle to find food and mostly eat dry biscuits all day which I get down with water. I reach Serenje some 50 minutes before sunset but decide to stay. It's 100 km of riding to the next sizeable village and I am still suffering from food poisoning.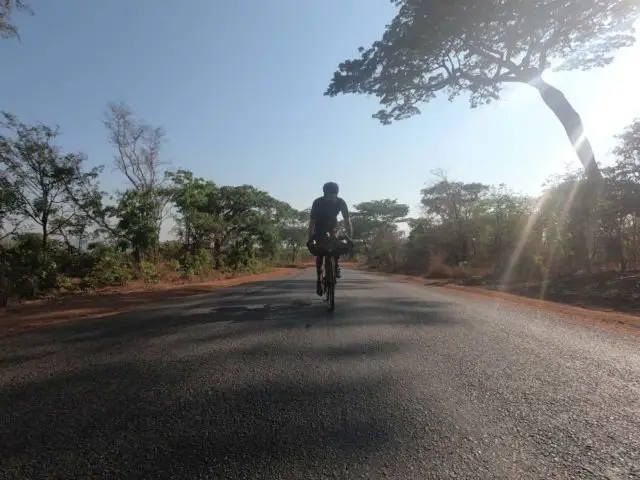 Day 62:
I begin riding in the dark to make up for yesterday. I am feeling slightly better but still unwell. The first 120 kms I ride without stopping once. I also skip lunch and instead get some chapati (flatbread) at a gas station. The pavement now is perfect though truck traffic is increasing. I push hard all afternoon and manage 312 km, a new record.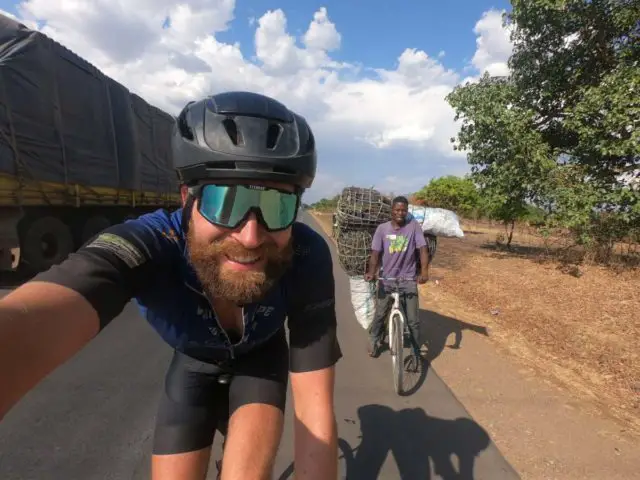 Day 63:
Super tough day with crosswinds, heat and bad roads. I set off at 5am and cross Zambia's capital Lusaka which went surprisingly smooth after struggling in most African capital cities thus far. Shortly afterwards the road became very bad with plenty of road constructions I have to push my bike on two occasions due to deep sand. I took two 10 minute breaks all day skipped lunch and managed 300km. Approaching Botswana and some exciting wildlife.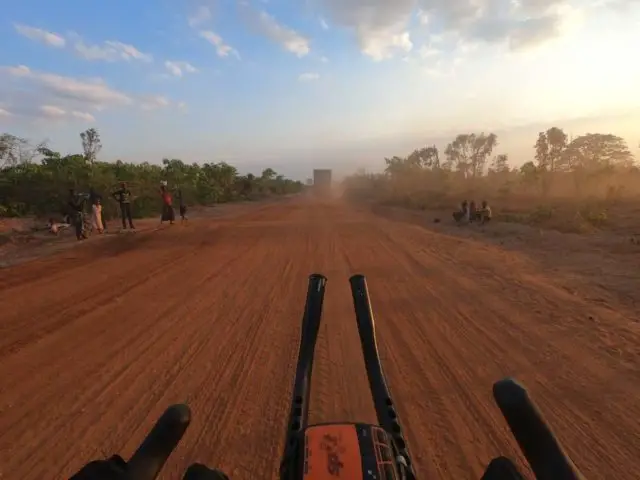 Day 64:
An epic day on the bike. I set off in the dark to make a push to the border. I make good progress in the morning but at noon a big thunderstorm rolls in and forces me to a quick break in an otherwise planned non-stop ride all day.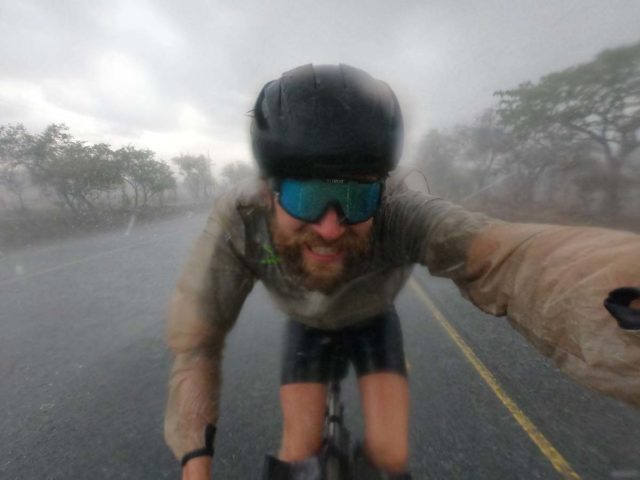 In the evening I follow the mighty Sambezi river with Giraffes, Zebras and Puma next to the road. Managed 335 km but arrived at the border when it was already closed. Staying in Zambia and will cross into Botswana at 6am tomorrow. Will be riding right through lion country all day…luckily I am very lean after food poisoning so the big cats wont be interested.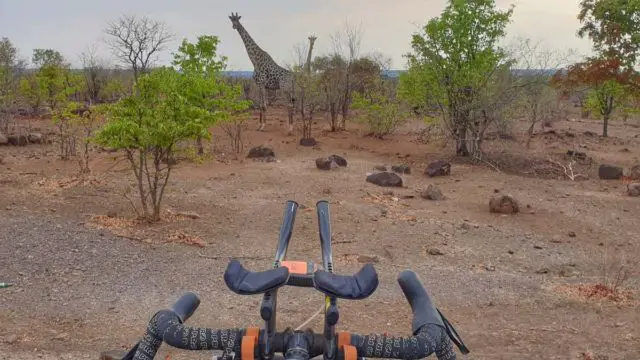 Day 65:
I crossed into Botswana yesterday and entered wild animal country. Lots of elephants crossing the road and coming very close. Yesterday, I miscalculated a little and rode after nightfall. Camping was impossible after the heavy rain, and making a fire to keep wildlife away was also impossible. Finally I found a police checkpoint and they let me sleep inside. A lion had just come into their camp and eaten one of their dogs… so I was happy to be inside. Now I am in Francistown and out of wild animal country. Approaching South Africa.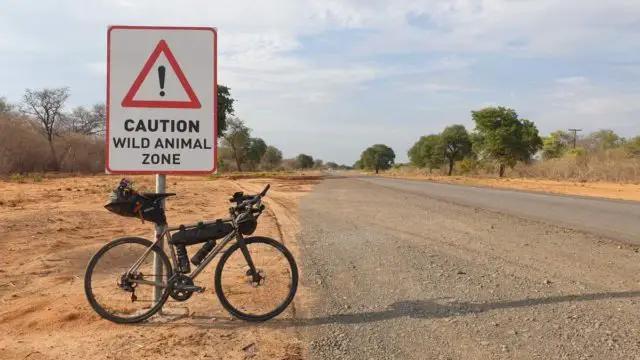 Photos Days 58 to 65
For more information, video and a live-tracker, visit www.jonasdeichmann.com