If you missed this undertaking that began on September 8th, 2019, Jonas Deichmann is attempting to break a world record; riding 18,000km from the Arctic to Cape Town. He is accompanied by the photographer and long-distance driver Philipp Hympendahl. There will be many mixed-surface roads along the way. You can read more about Jonas' adventure at this link.
Additionally, you can view photos and diary entries from earlier:
The Diary
Day 50:
After a nice breakfast I headed to the border and quickly passed through Ethiopian immigration. On the Kenyan side, the officers are having a long breakfast and open with a 40 minute delay. When I am finally cross I find that Kenya is much more developed. Roads are good and there are more choices at the shops. After 40 km of riding my cameraman Pasi and his driver Solomon meet me. They had set off from Nairobi the day before and will film my ride through Kenya, but off course without supporting me in any way.
This is the wild and sparsely populated north of Kenya. Big distances between villages but there are always a few cattle herders around. This part of Kenya had been very dangerous a few years ago but now there are police checkpoints everywhere. In the evening there is a 30 km climb onto a plateau and not knowing it I ride far into the darkness. There are eyes in the dark and noises of wild animals around, a great experience climbing beneath the African sky. In the outskirts of Marsabit I am stopped at a police checkpoint. They ask me if I carry a gun for protection, apparently there are hyenas and elephants around.
Day 51:
I set off into heavy rain. It's rainy season in Kenya and rain usually falls in the morning and evening. The landscape changes with big mountains in the distance and the savanah landscape between. I face strong crosswinds all day but push hard to make it for a meeting in Isiolo. I have been in touch with Dimitry Kieffer for over a year and we had planned to meet when our paths cross. He is completing a human powered circumnavigation of the globe and currently cycling to South Africa from where he will head to Brazil. He plans to reach Alaska in five years, the place where he started his journey in 2005. I arrive late at 8 pm in the hotel where he already waits and we have a great dinner together. We travel at so different speed but share the same passion for adventure and a proper challenge.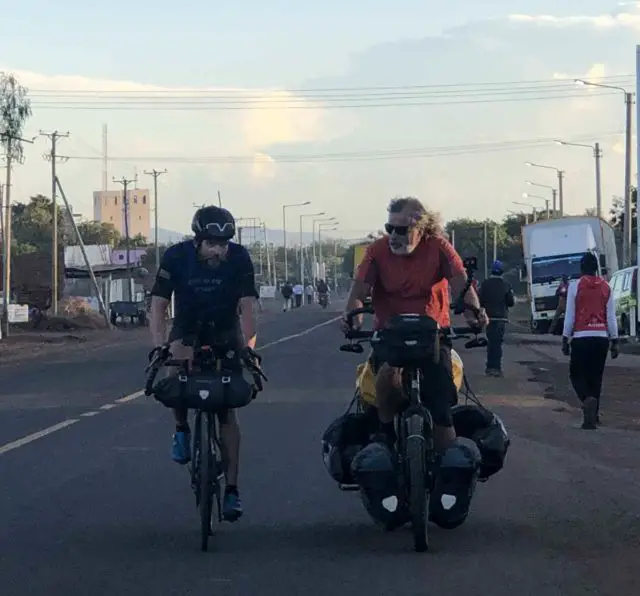 Day 52:
I set off with Dimitry but after two km I rid away. The road climbs for 30km up the beautiful slopes of Mount Kenya. At noon I reach Nanyuki and share a quick lunch with Adele who works as a pilot there. We met last year when I was riding in Canada and she then hosted me when I passed her place during Panamerica Solo. Such a small world and I hope that next time I have more time than during a record ride. After lunch I pass a big sign announcing the equator. Its motivating as from now on the days will become longer which makes my riding easier. I push further towards the outskirts of Nairobi. Just 10 km before the hotel a tropical thunderstorm comes with hail and strong winds that make me struggle to keep the bike straight. Freezing cold, I arrive at the hotel.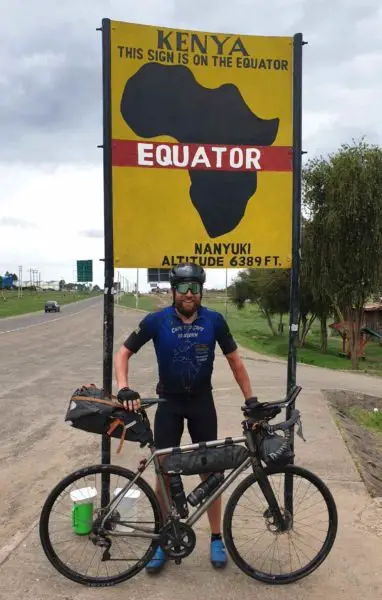 Day 53:
I set off at sunrise on the big eight lane highway. After 15 km cars are barely moving and I zig zag through the traffic jam. At least Nairobi isn't a dangerous city to cross since cars are moving at walking speed. On the other side of town I reach a bike shop for a complete checkup of Esposa. It is the only decent bike shop between Cairo and Capetown and I had planned the visit with the owner David for a few weeks. It takes two hours but a good investment. When I continue two local cyclists join me and its interesting to see that there is a small but growing cycling community in Nairobi. They ride for 60 km with me and then I continue alone through beautiful hills until I reach the border town Namanga at sunset. Kenya has been awesome and made for fast riding after my previous Africa challenges.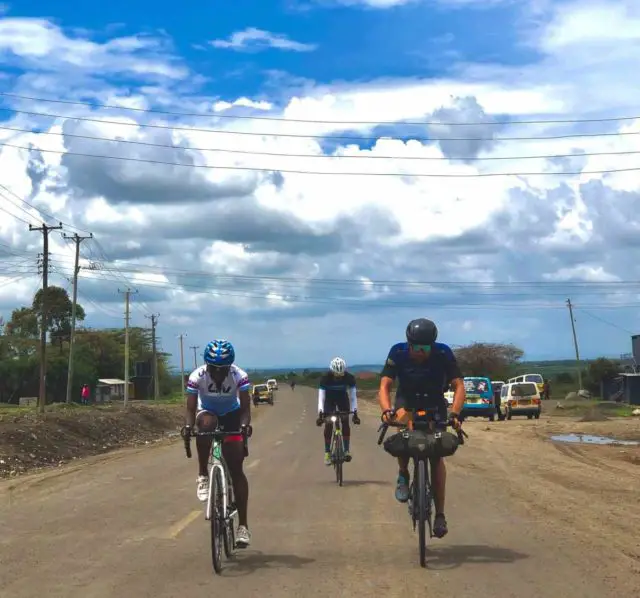 Day 54:
I say goodbye to my cameraman Pasi and his driver Solomon and head alone across the border at sunrise. A fast and well organized crossing by African standards. The road is smooth and I progress fast through amazing scenery. Africa's highest mountains are around and mighty Kilimanjaro in the distance. I push all day with only two five minute stops as there is a long stretch through a National Park in the evening and I don't want to risk getting into the dark (lions and other nightlife around). Villages are far apart here and the people are super friendly. The children all wave and shout Muzungu (white man). I make it through the park with the last daylight and find a hotel in the small town of Babati. 263 km despite hills and headwind, less than 5,000 km to ride before I reach Capetown.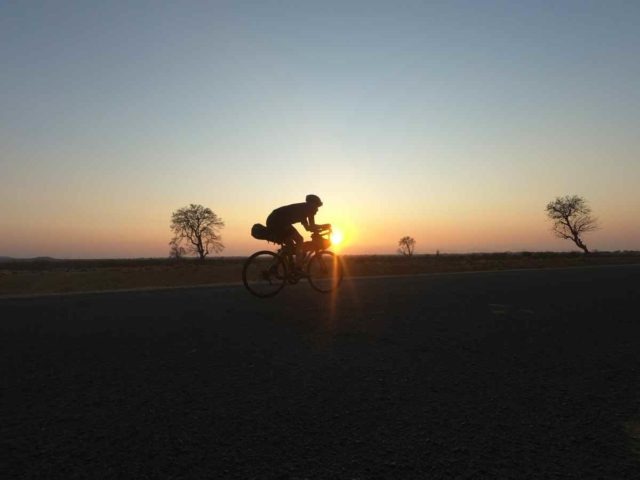 Day 55:
The wind has picked up and comes strongly from the side. I climb out of town and overtake a United Nations convoy that is struggling with the incline. I meet the trucks a few times more as they are faster in the flat but I am faster on the many ascents. Slow progress under the conditions but I focus in getting the hours in. After climbing all day it flattened out in the evening and the landscape changes. There are huge rocks lying around everywhere and the villages build between. I call it a night 30 km away from a crossing where I will turn towards Mbeya. In the village people warn me about 400 km of gravel that lay ahead but I cannot get any reliable Information.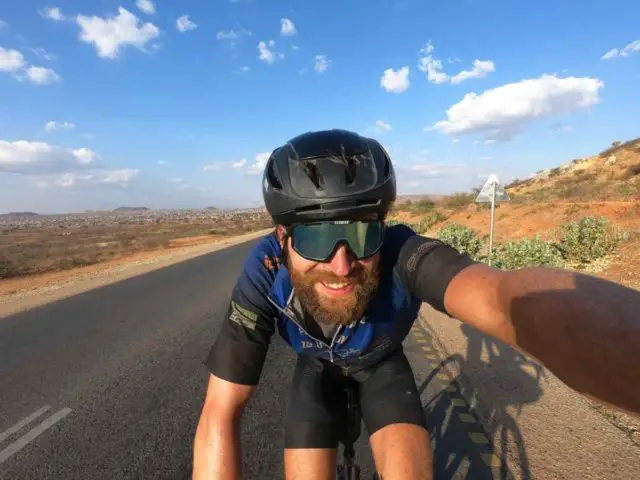 Day 56:
I reach the border crossing into Tanzania shortly after sunrise. There are more people around who confirm 400 km of gravel and the alternative route is a 230km detour. In Europe I would have taken the gravel but with the next bike shop some 3,000 km away I opt for the safer choice. I will need to push hard to regain the time. As I now west, I face a tough headwind and ride all day averaging 17 to 18 km/hr. At noon the wind becomes so strong that the dust is blown everywhere and riding becomes even more difficult. I reach the capital of Dodoma in the late afternoon and am surprised how pleasant it is. Few cars, good roads and not the chaos I expected. I ride for another 30 km and find a hotel at sunset. A bad day for the record but brighter days are coming as I am approaching high-speed Zambia with flat roads and a prevailing tailwind.
Day 57:
Amazing day on the bike! I set off before sunrise and ride through huge baobab forests. A strong crosswind and constant hills make the effort hard but I push on. At noon there comes a long climb. The road goes up in endless curves while monkeys cross the road. Its hot and dry now much more pleasant than the rainy season in Kenya. I ride all day, stopping only 20 minutes for lunch and manage 270 km.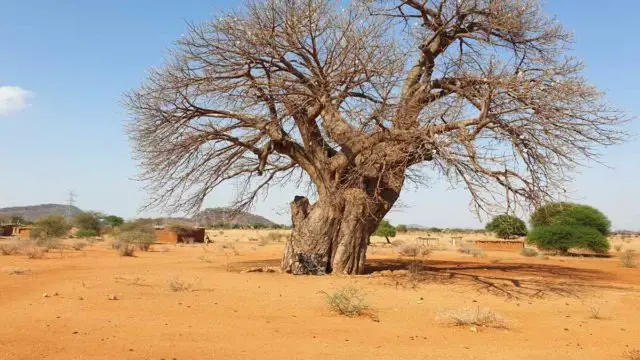 Photos Days 50 to 57
For more information, video and a live-tracker, visit www.jonasdeichmann.com