If you missed this undertaking that began on September 8th, 2019, Jonas Deichmann is attempting to break a world record; riding 18,000km from the Arctic to Cape Town. He is accompanied by the photographer and long-distance driver Philipp Hympendahl. There will be many mixed-surface roads along the way. You can read more about Jonas' adventure at this link.
Additionally, you can view photos and diary entries from earlier:
The Diary
Day 38
I cycle out of Khartoum at sunrise. It's nice to see the busy streets after so much time in the desert. I feel very strong again after the food in Khartoum. The road goes along the Blue Nile through farmland with fruits, drinks and restaurants next to the road. Its also much cooler than the days before. I just stop for a quick lunch and otherwise ride all day. After 275 km I find a village and look for a hotel. Its 4 km oft the main road but on a terrible dirty road. When I get into the hotel there is only one room with around 50 occupied beds. Luckily there is a second hotel but the guy with the key is gone. Half an hour later I get into my room. Better than many of my last nights but no water.
Day 39
The way out of the village turns out to be challenging. The road is deep mud and I have to push. Takes me one hour for 4 km until I take up speed. Landscape is now changing with small hills and villages of goat herders that live in small round huts. In the afternoon I turn onto a smaller road towards the Ethiopian border. The road is in terrible conditions and I zig zag between the potholes. It slows me down and I reach Dhoka at night. Unfortunately my information about a hotel was wrong and I sleep inside a restaurant. It was a hot night and the locals kept me away with their talking all night long.
Day 40
I set off at sunrise. The road becomes even worse and I average around18 km/hr. I reach the border at noon and have a long bureaucratic process ahead of me. After almost three hours I finally cross and immediately find a different world. There are people everywhere and the kids are shooting after me. Everyone is friendly but after 20 km a group of children throw their flip flops at me; a sign of definite hostility. I have been warned by cyclists who passed through Ethiopia to be aware of rock throwing children and youngster who will attempt to pull you off the bike. The next couple of days could be interesting. After only 120 km traveled I stop at a hotel. I have an hour of sunlight but are entering an area of potential hostility.
Day 41
I wake up with food poisoning and feel miserable. When I get on the bike I notice that my crank is loosening. One of the bearings is destroyed and I need to change the bottom bracket. Luckily, I carry a spare and find a car mechanic to help. They were unfamiliar with this but have basic tools, helped along by my instructions. I grew worried when they hammer on the bottom bracket, but it seemed to work out in the end. At 9am I am finally on the bike ascending the first climb. There are military, police and private military everywhere, so I am happy I didn't ride at night. I climb almost the entire day ascending some 2,200 meters. In the evening I feel a bit better but still sick but happy to find a hotel.
Day 42
Feeling a little better, I head off at sunrise. The road goes constantly up and down through beautiful mountain landscape. Now there are children everywhere and they run after me, aggressively pressing me for money. Some throw rocks at me and others try to hit me with sticks or block my way. They are fast runners too, making an escape on the climbs difficult. Despite the warnings I had received, I never imagined it to be this bad. In the afternoon a group of children three big rocks from above the road at me but miss. With a direct hit, these sizeable rocks will put you into the hospital. It is strange to me that the adults are very nice and only children and a few youngsters are aggressive. I manage to get through the day without any major injuries and find a hotel at sunset. Other travelers told me to expect this behavior all the way to Kenya. Not looking forward to the next few days.
Day 43
I wake up feeling ill again but get on the bike at sunrise. I immediately start a long climb to peaks at to 2,600 meters. People encountered on this day are nice and greet me with kindness, including the children. My illness has me feeling completely out of energy and climbing very slow. Finding food suitable to eat on the bike has been difficult, such that I've been in a calorie deficit since Egypt. The climbing continues in the afternoon but now with constant attacks and thrown rocks by the children. When I reach the small town of Felege Birhan, there are children coming from all sides screaming for money. I stop to buy water but the shop owner asks for five times its value whilst some kids are attempting to open my bags. I leave this shop and stop 100 meters further down the road, but with the same result. Enough is enough and I leave the village thirsty. I ride into the dark and almost collide with a donkey that was crossing the road. Luckily, I find hotel and they have Spaghetti on the menu!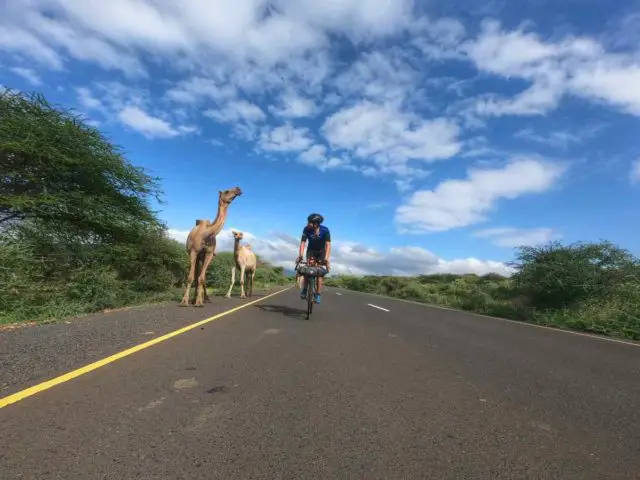 Day 44
The King Stage. I am finally over the food poisoning and feel strong again. After 20 flat kilometers of flat riding, the road descends for 22 km into the Blue Nile Gorge. At the bottom there are monkeys playing around and a spectacular view into the canyon. Of course, the road equally climbs skyward on other side up one of Africa's toughest climbs. The pavement is horrible and the ascent is steep but the views of the canyon are spectacular. After two hours of climbing I reach the top at 2,700 meters and stop for spaghetti. In the afternoon the road goes constantly up and down through a beautiful high plateau. People are super friendly and wave at me with only two occasions of thrown stones. With the final minutes of daylight I enter a village and find a cheap hotel for the night. Three Euro but no running water.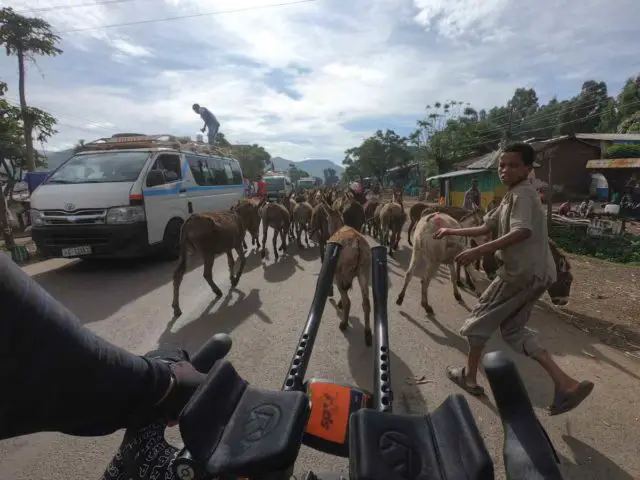 Day 45
I leave at sunrise and ride along a high plateau in the morning mist. Out of nowhere a big stone comes flying towards me, thrown from behind a fence. I narrowly avoid being hit and almost crash in the process. After that incident, nothing but friendly people all day. At noon I descend into Ethiopia's capital city, Addis Abbaba and cross the city in an endless traffic jam. Across the other side of the city, the road is completely broken for almost 100 km and has 30 km of road works. It is very slow going and I am happy my bike survives. In the evening the landscape changes. For so long I have been riding constantly in the mountains but now, an African savanna landscape opens. Faster days ahead.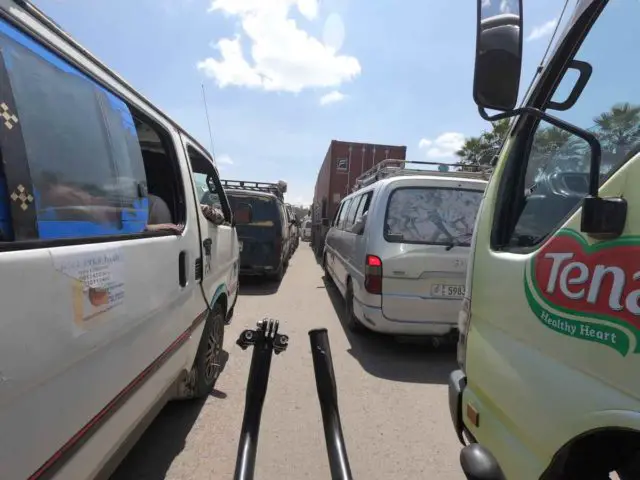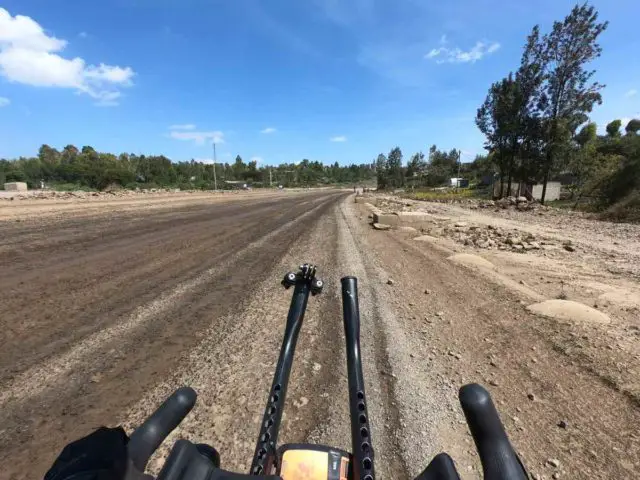 Day 46
I set off at sunrise and reach the town of Ziway after an hour. There are demonstrations everywhere and no one can explain why. I make my way through but in the outskirts of the city the road is blocked by car tyres and stones. There is smoke and a mob of a few hundred people comes running towards me. I turn around a retreat to a nearby hotel. I spend the entire day in the hotel, everything in the city has shut down. There are road barricades and mobs armed with sticks and stones are running through the street. Apparently a political activist from the region has been detained by the police which caused demonstrations in entire region. At night the action is still ongoing and I am happy to be in the hotel behind closed gates. The mob has turned violent and eager to destroy things while the army from Addis Abbaba has arrived trying to resolve the situation. There is no alternative route and I have 400 km of riding left in this region. No idea what tomorrow brings and if I can ride?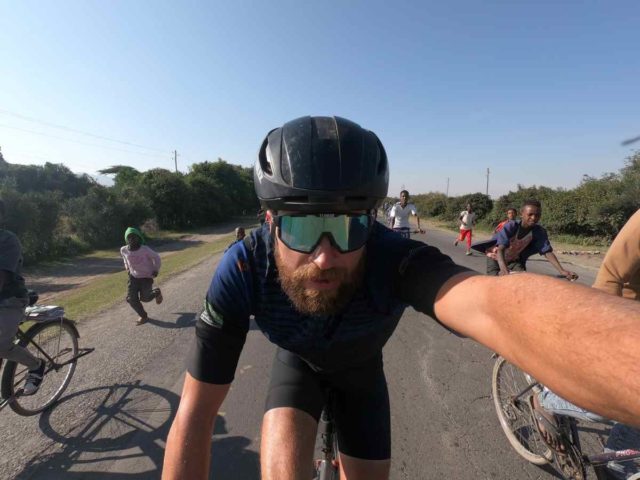 Day 47
When I wake up, the situation is a lot calmer. The hotel owner hints that this is a good time to leave. After 50 km of riding I reach Shashamane and the entire city is blocked. Burning truck tyres, barriers made of rocks and trees, heavy military presence and mobs running around with sticks. All shops and restaurants are closed and I struggle to find a safe place. In the center of town, a mob gets aggressive and their attention quickly shifts towards me. Luckily, some locals that form a circle around me and bring me to a gated restaurant who let me inside. After an hour there is an opportunity to leave and I ride out as quickly as possible. 30 km later I encounter a 70 km long section of gravel, part of some road construction. After 200 km I find a hotel at nightfall. Happy to be be safe, but once again missing my daily mileage target. Looking forward to Kenya and easier conditions.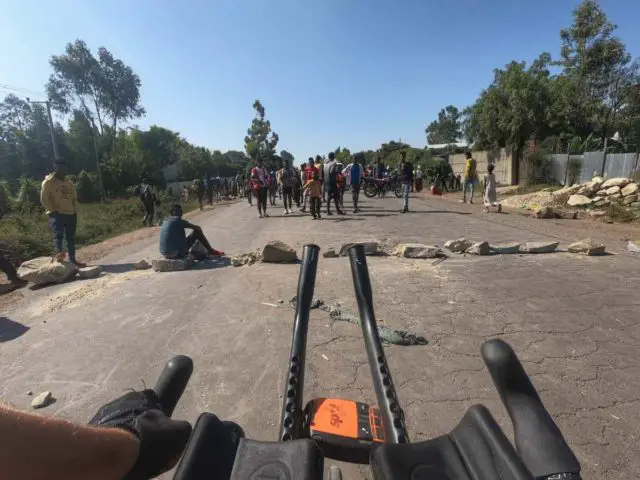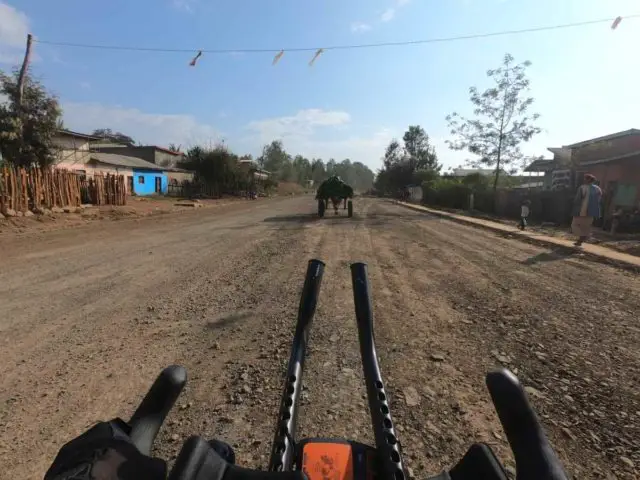 Day 48
I leave before sunrise and encounter a very bad gravel road. I climb for almost 50 km, mostly in road construction at a very slow pace. Landscape is changing again and I enter rain forest and huge banana plantations. In the afternoon the road turns into smooth tarmac and undulating hills. There are less people to be seen here but all are very friendly. I keep riding into the dark until I find a small hotel. Tomorrow, I should cross into Kenya.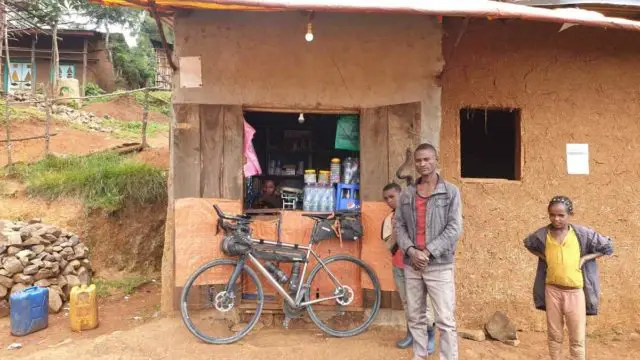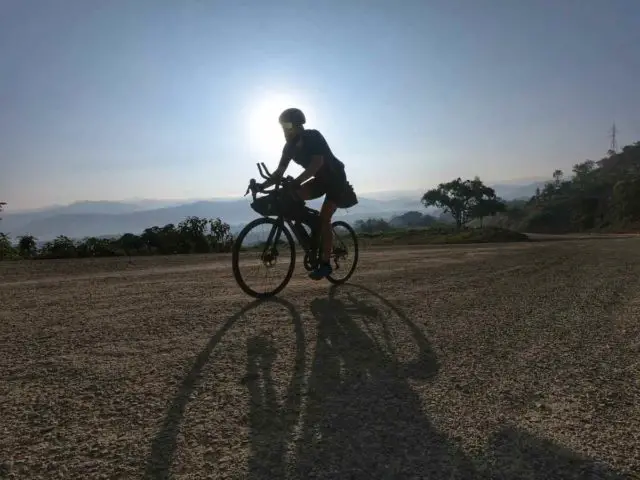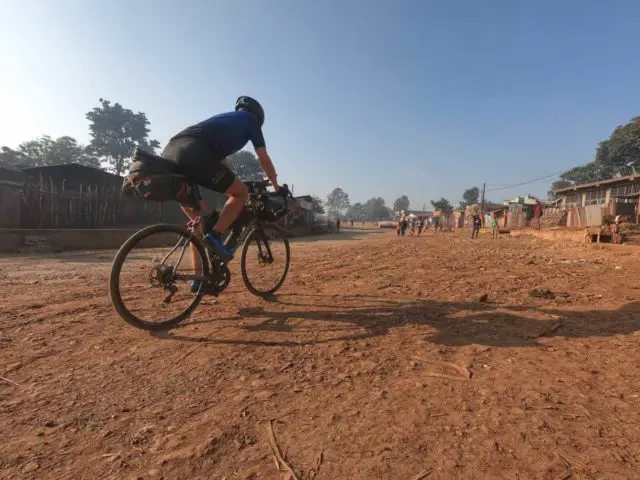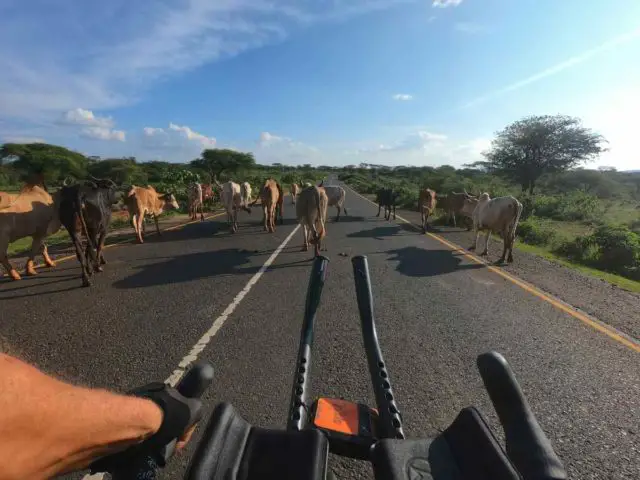 Day 49
When I set off I cannot find food anywhere. After an hour I arrive at a crossing where I purchase bread and some tea for a late breakfast. I am in the sparsely populated south portion of Ethiopia with big distances between next town. There are military and private people with machine guns everywhere. Next stop is the border region and city of Moyale, one that has seen violent tribal conflicts over the years. I make good progress in the morning until the road turns east into a strong headwind. I reach Moyale at sunset and want to head across to the Kenyan side of the City. I charge my plan since several locals warn me that there was a gunfight on the Kenyan side and decide to cross in the morning.
Photos Days 38 to 49
For more information, video and a live-tracker, visit www.jonasdeichmann.com