The five weeks I (JOM) have spent in my home town of Adelaide, South Australia, have simply flown by.  While the first half of the trip seemed to cruise along at a nice steady pace, once the Tour Down Under was in town, everything was full on with something happening every day and night.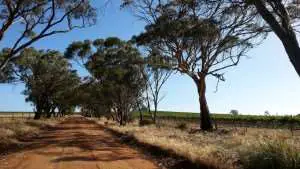 Overall, this has been my best trip home to date.  I will dearly miss my family, friends and the City of Adelaide when I depart Wednesday morning, Adelaide Daylight Savings Time (currently 15 1/2 hours ahead of USA Eastern Standard Time).
Accomplishments
Met with family, old friends, rekindled friendships with long lost friends, and made new friends and social connections.
Rode some incredible dirt and gravel roads that as a former Adelaide resident I knew nothing about.  Sometimes in life, you take things for granted.  It took me to leave Adelaide, South Australia, and return as a tourist to discover what an amazing place it is.  I'm certain at some point in the future, I will return permanently; there really is no place like home.
Spectated at the first UCI World Tour race for 2015, the Tour Down Under.  The gravel roads I sometimes took to each of my viewing spots along the course was part of the fun!
Enjoyed some interesting weather.  The month of January 2015, saw some extreme differences on both ends of the temperature spectrum.  Early January and the state of South Australia was reaching near record high temperatures (44 degrees Celcius the day I visited Port Pirie, South Australia).  During this early part of January, areas of the Adelaide Hills experienced some of the worst bushfires in many decades.  I'm thankful for the amazing work the Country Fire Service did in fighting these blazes, and saving the homes and properties of so many residents.  The early to mid part of January saw colder than usual temperatures, including several days of patchy, and sometimes heavy rainfall.  Ordinarily I wouldn't mind, but when you've left all of your wet weather gear in the US of A because you were expecting summer weather… well… better bring it along next time.
What's to Come?
I still have a lot of photos and video to produce and share about my time in South Australia.  Hope to assemble all of that shortly after my return to the US of A.
Sign Off Time
I have an early flight to catch, with a lot of luggage along for the ride, and a VERY long journey ahead.  In the meantime, I hope all of my readers get out and ride!
Bye for now… Jayson (JOM) aka Gravel Cyclist.