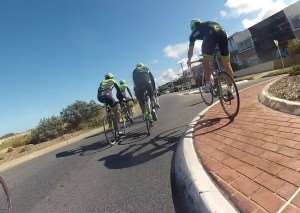 Day five of riding with professional road cyclists.  Likely the last day, because I'm knackered, the Tour Down Under starts Sunday, and I'm going to do a gravel ride early Sunday or Monday.
January 16, I did a relaxing training ride with Cannondale-Garmin along the beaches of Adelaide.  Any Adelaide cyclist will know this route.  Down Anzac Highway, Glenelg, Henley Beach, etc.  The Garmin lads cut the ride short at a cafe in Henley Beach Square before turning for home.
The Cannondale-Garmin team features:
Nathan Haas
Lasse

Hansen

Jack

Bauer

Alex Howes
Moreno

Moser

Davide

Villella
After splitting from Cannondale-Garmin, I ran into BMC Racing who were headed for yet another beach run.  Pretty unfortunate really :), and the weather was perfect.
The video is about three and a half minutes in length.  Please enjoy in High Definition, courtesy of YouTube.