Day four of riding with professional road cyclists, and the wheelsucking continues.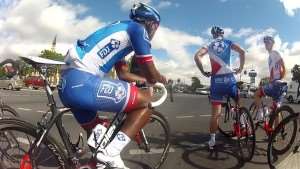 January 15, I did a tough training ride with Francais de Jeux into the hills of Adelaide.  Part of our route rolled through areas of Adelaide that were recently ravaged by bushfire.  The scene was almost surreal.  One minute, riding through beautiful green, rolling terrain, the next into a blackened and charred forest.  Huge thank you to the South Australian Country Fire Service and team of volunteers, local and interstate.
The FDJ team features Jérémy Roy, Arnold Jeannesson, Olivier Le Gac, Lorrenzo Manzin, Cédric Pineau, Sébastien Chavanel and Jussi Veikkanen.
After a tough spell with FDJ, I ran into a couple of mates (Craig from Buck!tbelts), and finally, Team Lampre Merida, who were returning from some of the areas I had just ridden.  An absolutely fantastic day on the road bike.
The video is about four and a half minutes in length.  Please enjoy in High Definition, courtesy of YouTube.