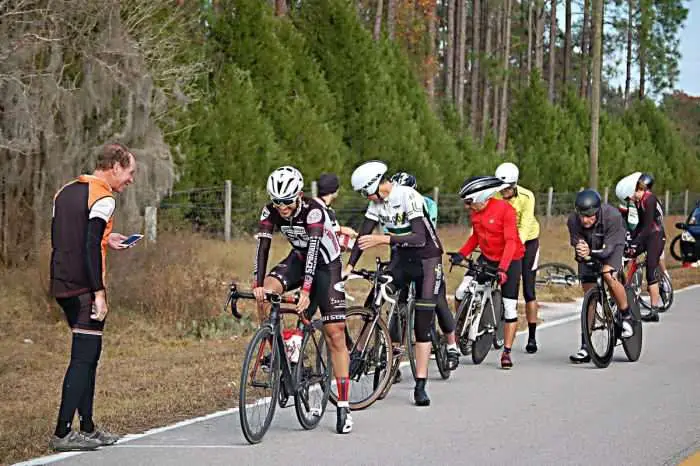 With winter upon much of the US of A, the "season" of gravel racing is at a bit of a standstill until things begin ramping up again in January of 2017 – at least in some locales. For the Gravel Cyclist crew, we live in Gainesville, Florida and are still experiencing fantastic weather, despite losing the advantage of daylight savings time. Imagine high temperatures in the mid 70's Fahrenheit with almost no humidity – a break from the horrors of a Gainesville summer – this is virtually gravel cycling paradise right now.
Now is the time for the crew and I to go exploring. Last weekend during the Thanksgiving Day holiday I did just that, following with more exploration on the Sunday after Thanksgiving… I should probably write an article about that ride eh.
For something a little different, mostly at the prompting of one or two individuals within the Gainesville cycling community, I organized a one-time running of the Gainesville Time Trial Funfest on Saturday, December 3rd, 2016. Once a regular series in Gainesville under the name Gainesville Time Trial Challenge, the rebirthed event featured old favorite categories such as Merckx (road bike with non-aero wheels) and Aero TT (full on TT bike and aero gear) and two new categories – Super Merckx (retro road bikes with downtube friction shifting and toestrap pedals – Eddy Merckx would be proud!) and Gravel Bike (gravel or cyclocross bike fitted with gravel tyres, but aero gear is allowed).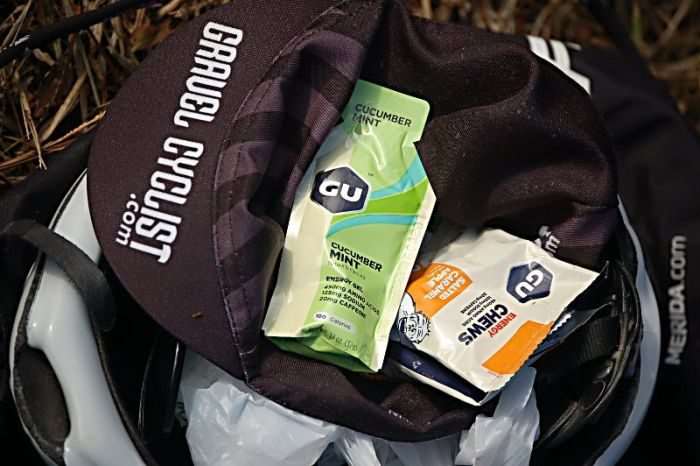 Gravel Bike? Who the heck would want to time trial on a gravel bike on pavement running true gravel tyres?!
Answer – Me, and maybe one other member of the Gravel Cyclist crew.
But why?
Because someone had to do it, even if it involves overcoming the resistance of low pressure, wide gravel tyres on a paved road…
And thus the scene was set.
Eighteen riders showed up to the start near the small town of Brooker, Florida, to contest the 9.4 mile / 14.8 kilometre funfest time trial on a paved road almost devoid of vehicular traffic. Seven in the Merckx category, one in the Super Merckx category, one in the Gravel Bike category (yours truly) and seven in the Aero TT category.
K-Dogg and Pfaff Daddy were slated to ride in the Gravel Bike category (K-Dogg will deny it), but due to a no show of the designated timing person and K-Dogg doing a ride with Mrs K-Dogg before she departed for a trip, Pfaff Daddy volunteered to run the timing. This guaranteed a "win" for me in the category, but what a hollow victory eh… one bloke in the category.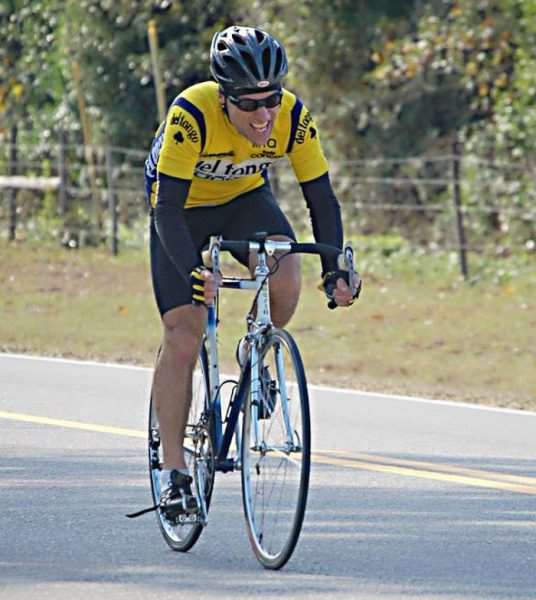 Steve L, the only entrant in the Super Merckx category kicked things off, followed by the lads and ladies on road bikes in the Merckx category, up next. Each rider was launched at 30 second intervals, guaranteeing a nice rabbit to chase unless you were the first person to start – poor Steve L.
Next up was yours truly on my Ritchey Breakaway gravel travel bike, shod with Panaracer's Gravelking SK tubeless tyres, and followed right behind by riders in the Aero TT group. My goals for the time trial – have a good time, ride hard, and try not to finish dead last…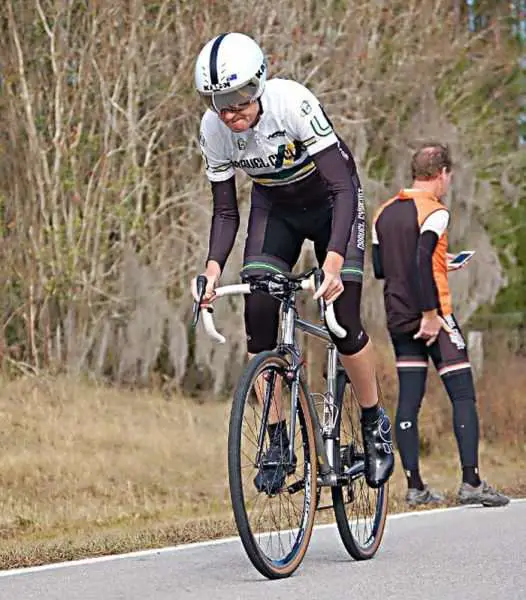 Three, Two, One counted Pfaffy Daddy, and I was off. Because aerodynamic tricks are allowed in the Gravel Bike category, I rocked my Kask Bambino time trial helmet, shoe covers and a pair of Vision mini TT bars bolted to my bike's drop bars. There are a few riders in the Midwest USA and possibly elsewhere using aerobars on gravel – not really my bag – but for a fun time trial, I figured why not.
169, 173, 177, read my heart rate as it climbed towards max on the screen of my Garmin 800. Normally I don't watch heart rate activities – I am one of these "old school" riders who rides by feel – but having ridden this course many times on a full-on time trial bike, I knew what I was capable of and kept an eye on the ticker and speed.
Speed was not great. The Panaracer Gravelking SK is a fantastic gravel tyre (see our review here) and reasonably quick on paved roads, but its little knobs could be heard howling on the pavement as I struggled to hold 22 miles an hour  / 35 kilometres an hour into the headwind on the outbound leg. However, the mini TT bars proved to be useful. With a frontal profile about as aerodynamic as a brick, the microscopic aerobars provided a placebo effect and an extra hand position versus only riding on the drops. There may be more to these little bars than I first thought…
The turnaround at 4.5 miles / 7.4 kilometres couldn't come fast enough. I was riding reasonably well and nobody from the Aero TT category had caught me, yet. Alright! I'd made ground on a couple of fellows in the Merckx category, but more importantly, I had a good tailwind to push me home.
Roll, roll, roll your gears gently down the road, merrily, merrily, merrily, merrily, suffering is such a dream… whee!
Speed holding at 24mph / 38 kilometres an hour, nice. Solid gain of four km's an hour with the supporting wind.
Slight downhill (yep, even in Florida), speed bumps up to 29mph / 47 kilometres an hour. Bugger, I am totally being ripped off here. Heart rate is 180 and pounding away, legs are feeling the burn, but the low pressure and rolling resistance of my tyres on pavement are really killing my speed. Panaracer, I know the GK's were never meant for road time trialling, not dissing the product!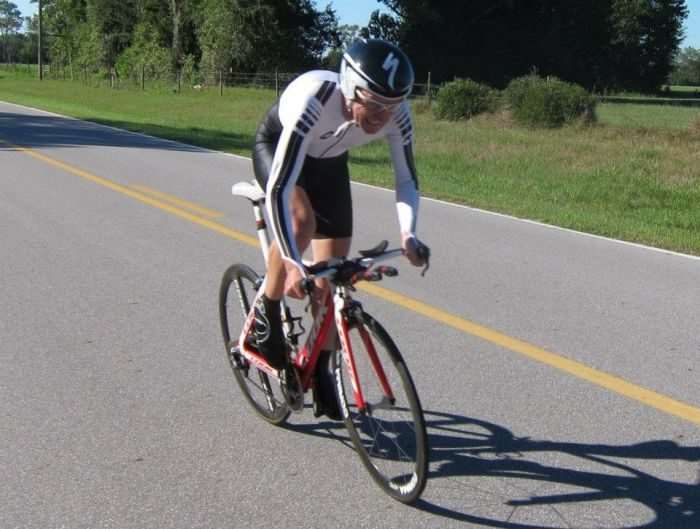 Now comes the uphill, speed drops to 20mph / 32 kilometres an hour. My road bike or TT bike would be really handy right about now.
Sneak a look under my shoulder… Ruh Roh! Bloke on time trial bike approaching… and the Aussie coloured stripes of my Gravel Cyclist kit are like a target in his sights. Pedal harder, pedal harder, just three kilometres / two miles to go!
One kilometre later, legs really burning, heart rate at 182 beats per minute. Sneak peak… bollocks, bloke on TT bike is closing…
Four hundred metres later and the rumble of hollow carbon deep section wheels on fast road tyres sounded off to my left. Caught and passed! Hey, didn't you see my big gravel tyres?! Time trial bikes are painful to ride fast, but make the business of riding fast a much better proposition. Bye bye Shannon I thought to myself, nice effort!
One kilometre to go… use the slight downhill to keep the speed going into the last 800 metres, which is mostly all uphill. Glance down at the Garmin 800… just under 24 minutes elapsed… no way am I going to reach that finish line in 24 minutes and 30 seconds. Bollocks.
Speed dropping, really feeling the shallow grade. Heart rate at 185 beats per minute, close to max.
400 metres until the finish line. Blow everything out of the tank! Come on man!
Legs are on fire, aaargh. Mouth is completely open, teeth exposed for all to see… not pretty.
24:50, 24:51, 24:52… come on JOM, you can do 25:00.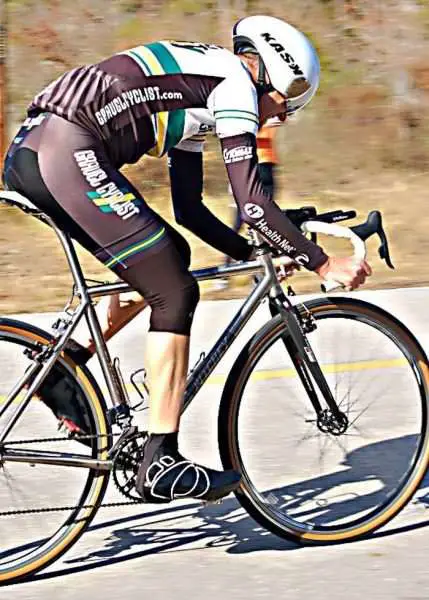 Yes! Line crossed in 25 minutes flat… err, now the nauseating feeling of a hard effort falls over my body. The come down. Breathe man, breathe, effort done.
So, how did it go?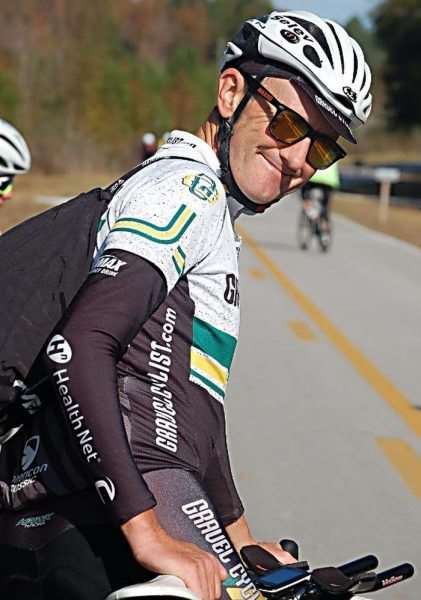 My Strava data best sums it up – I've been avoiding any hard intervals or hard riding for that matter of late, but I was pretty happy with my effort. Now, if only I could maintain this sort of effort at an event like Dirty Kanza 200. Err… probably not going to happen.
Thank you to Pfaff Daddy aka Scott and Benjamin T for timing, Ryan S for managing the turnaround and Cathy of Bester Photos for shooting photos of the pain.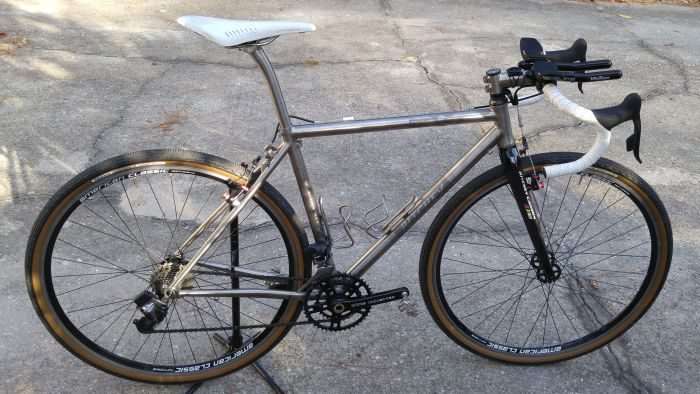 What's next? If another time trial does happen during the gravel "off season", it may be of the dirty kind. Teammate K-Dogg has come up with a devious idea for a time trial designed for the average Gravel Cyclist… think riding as fast as you can over a favorite sector of lengthy, crappy, dirt and gravel with the clock running, and you get the picture. More to come on that later in a future posting…
Thanks for reading!