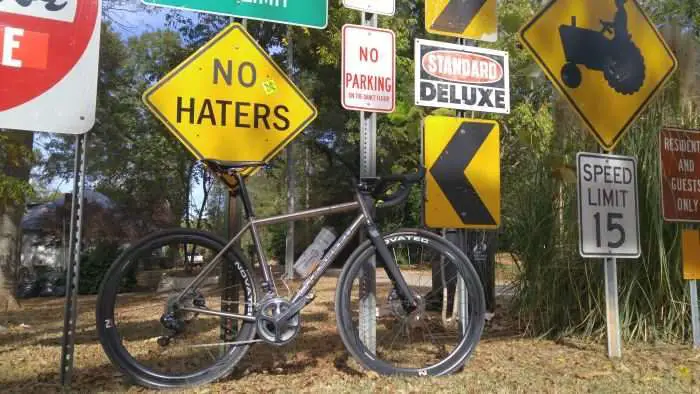 The Standard Deluxe Dirt Road Century is a brand new event for 2016. In fact, it is the first gravel event we are aware of in Alabama. Anyone care to correct me if I have that wrong?
The best way to describe the venue that hosts the race is to directly quote from the Standard Deluxe website – "The population of Waverly is not much over 100, and the whole town isn't even three square miles. It's about 15 minutes northwest of Auburn and about 15 minutes east of Lake Martin. If you open up Google Maps and input "Waverly, AL," there is a lone red dot, just one business on the main drag of Patrick Street – It's called Standard Deluxe."
Hosted in conjunction with:
Standard Deluxe – Design Studio, Professional Silkscreen Print Shop and Onsite Gallery/Retail Store.
Red Clay Brewery – Hosts of the Pre-Party and Packet Pickup.
Good People Brewing Company – Supplier of after-race brews.
The Standard Deluxe Dirt Road Century is the brainchild of Colt Fetters and Mark (sorry, didn't catch your surname), two lads who have lived in the area a while and ridden a ton of the local dirt and gravel roads. They are passionate about gravel cycling and racing at a grass roots level, and worked hard to assemble this event with the help of friends and volunteers from the local community.

The Gravel Cyclist crew has driven through Alabama on a few occasions, but none of us have ridden or raced in the state. With this fun and new event slated for Sunday, November 6, 2016 , we had to attend! Making the trip on this occasion was yours truly (JOM), K-Dogg, Dr. Pain and guest riding with Gravel Cyclist – Lambert – aka the Belgian Diesel. Lambert has ridden and raced with us many times in the past, either during our former cycling lives as road racers (most of us quit that some time ago), or beating each other up on the network of dirt, gravel, sand and limerock roads near our USA hometown of Gainesville, Florida.
Saturday
Departing from Gainesville at the reasonable hour of 9am, we made the 330 mile journey to Waverly, Alabama in good time. Our guest rider Lambert offered up his new and fab Chevrolet dual-cab pickup truck for the journey.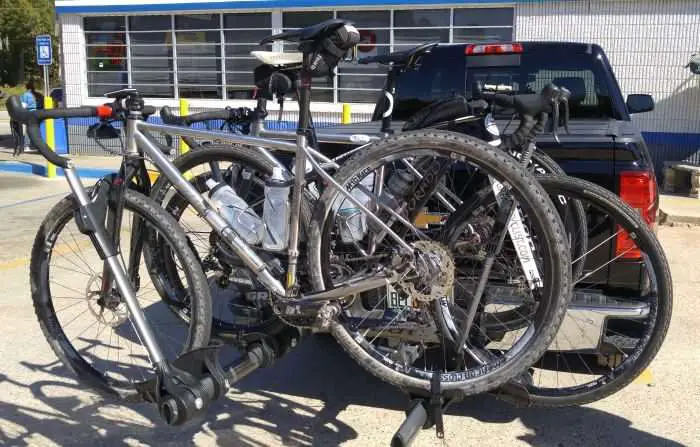 If you've never been inside such a vehicle, they are very nice for transporting four blokes, four bikes, a bit of luggage and tools in great comfort. With the gasoline / petrol bill split four ways, it worked out to a pretty cheap ride. Thanks Lambert!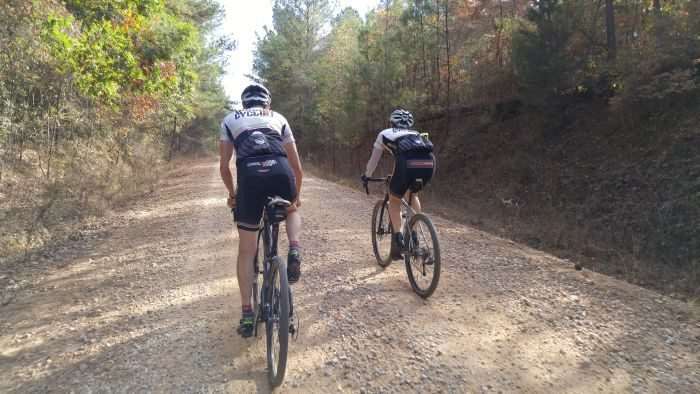 Saturday marked the final day of daylight savings time in the US of A, so we took advantage of increased daylight and knocked out a 24 kilometre / 15 mile pre-ride of the beginning and end of the Standard Deluxe course.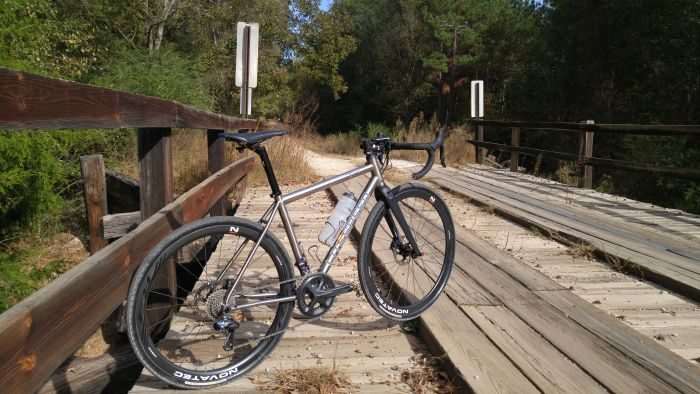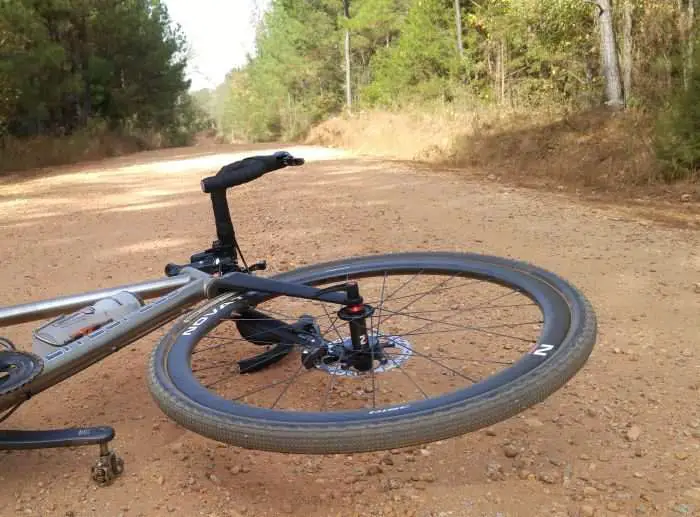 We quickly learned Alabama isn't flat, and the gravel is very real. Not pea-sized gravel, but more like chunky rocks in the trickier spots. Tyre punctures could be an issue for some come race day. There is also the dust… fine red dust.
Post-ride, we checked into our hotel for the night in nearby Opelika, Alabama, cleaned up and headed out for some much needed food. We chose a small, local Italian restaurant in downtown Opelika, conveniently located to the nearby Red Clay Brewing Company, hosts of race packet pickup. Much food was consumed, including a visit to the ice cream shop next door. Why have one gigundo scoop when you can have two? Pre-race fuel, right?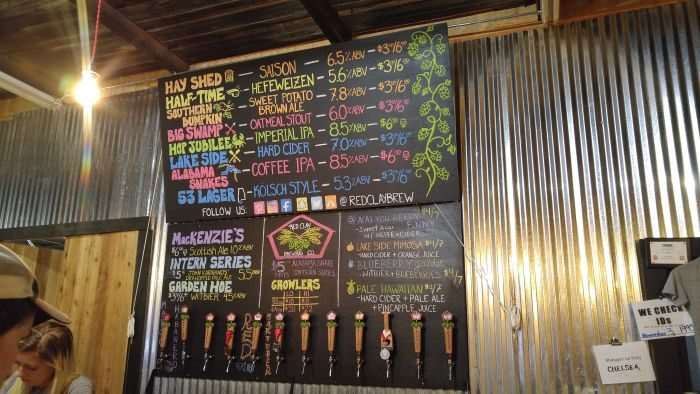 Stuffed with food, the crew waddled across the railway tracks that pass through downtown and into the Red Clay Brewing Company. Race organizers Colt and Mark were running the Standard Deluxe event with the help of USA Cycling. By that I mean, I assume their race insurance coverage was held with USA Cycling. Nobody needed to purchase a USA Cycling one-day license to race, and only the standard USA Cycling waiver needed to be signed for participation in the Standard Deluxe Dirt Road Century. I quit road racing almost five years ago; signing that waiver was a surreal experience.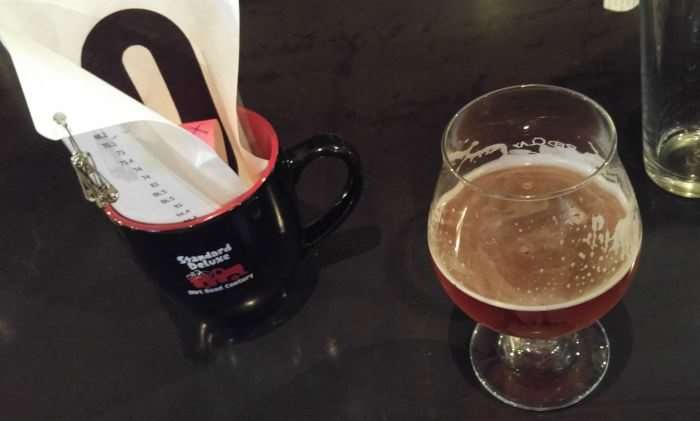 Each entry to the event included two beers at the Red Clay Brewing Company. Thus, the Belgian Diesel and I took it upon ourselves to down at least one. K-Dogg and Dr. Pain skipped the brews – but have no fear, those unclaimed beers didn't go to waste. We kindly distributed our beer tickets to patrons inside the brewery, departed the premises and called it a night.
Sunday – Race Day
Two bonus hours of sleep! Alabama is in the Central Time Zone, one hour behind my regular East Coast Time Zone, and we gained another hour when our clocks turned back, signifying the end of Daylight Savings Time for 2016… quite a sad event really. Those bonus hours of sleep were greatly appreciated. After the obligatory morning routines of breakfast and unmentionables, the crew piled into Lambert's truck and drove to Waverly, Alabama for the start.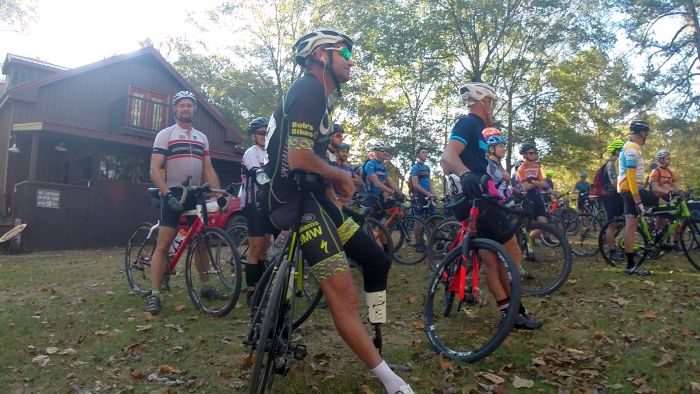 According to the start roster, 24 men and six women signed up for the full monty 100 miler event. While these numbers were small, we hope interest in the inaugural Standard Deluxe Dirt Century continues to grow! On the start list were several names we recognized from rides and races in the past – or their reputation preceded them:
Hardwick Gregg, a former 55+ Masters Cyclocross National Champion.
John Schwab, Leadville 100 finisher with a sub 8:40 time on a geared Fatbike!
Brian Rogers, long time friend of the Gravel Cyclist crew and all-around badass cyclist.
Nic Patterson, 2015 winner of the Spaghetti 100 – Dirt Epic.
At around 8:10am, the race kicked off. Once past the controlled neutral, it didn't take long before the pace lifted and riders began stretching the group out. The pace wasn't ballistic hard, but it was hard enough to put several riders into difficulty. Predictably, tyre punctures were a problem, ending the chances for several riders early.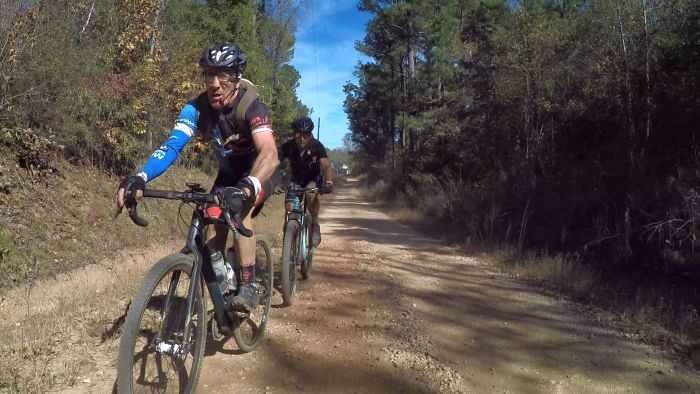 In the company of teammate Dr. Pain, we took turns leading the group hard and fast during the first 20 miles down the numerous gravel descents that littered the course. Just a shame there always a corresponding uphill to follow.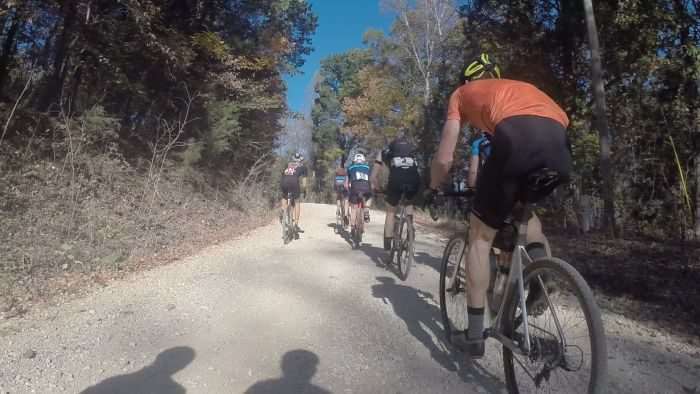 But we weren't alone in setting the pace. Nic Patterson, wearing a nondescript orange jersey was very prominent at the front, and Gregg Hardwick was watching everything.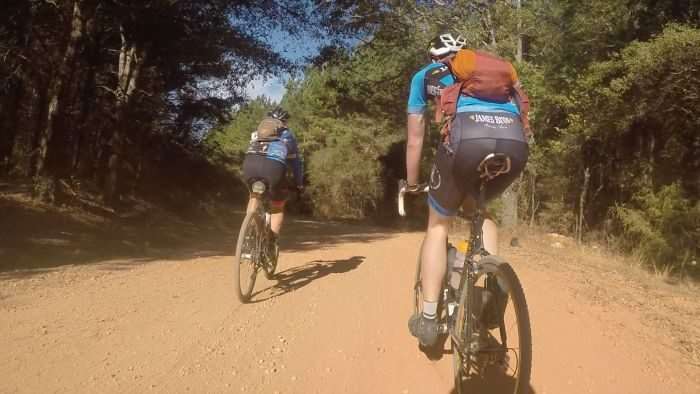 The young lads on the James Brothers Racing Team were making their presence felt, most notably with Sam Gwin and his teammate who donned a red Camelbak. These lads were local and possessed tribal knowledge of the course.
Truce?
Approximately 20 miles into the race, the pace slowed. Formerly disorganized and chaotic, the group assembled into a two abreast paceline, casually taking in food and conversation. Marvelous! I was quite content with this new development and secretly hoped the pace would remain toned down – I've been a busy lad of late and my insane travel schedule was finally catching up with me – uber tiredness. Don't forget, every good cyclist has an equally good set of excuses for a sub-par performance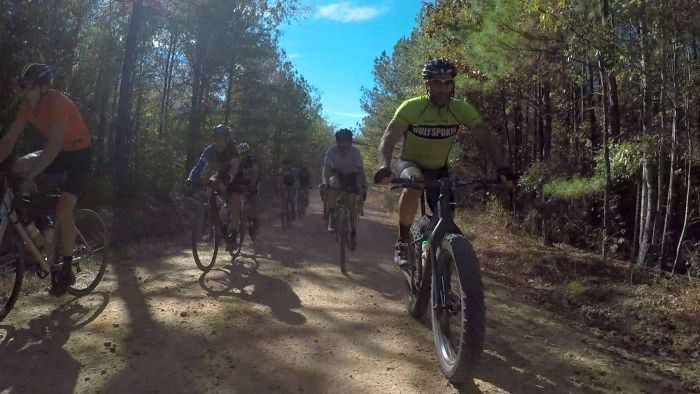 The unwritten truce wouldn't last long. John Schwab, now off the hook from riding with his girlfriend at a more relaxed pace, and Brian Rogers, riding what he called a "tourist pace", rode from behind to catch the group. John was astride a single speed Fatbike, fitted with a 34 x 17 gear if my memory proves correct.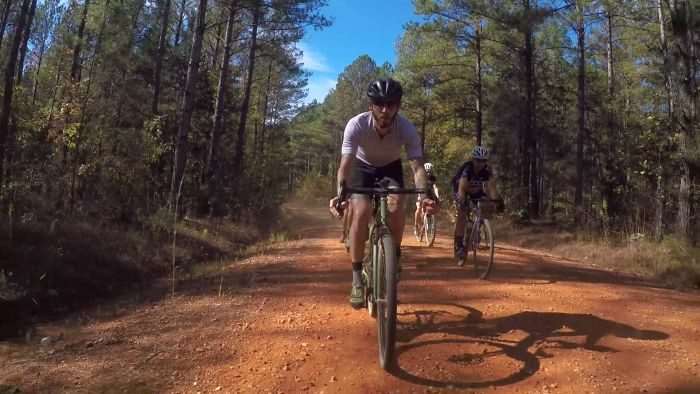 Brian was riding his lovely Black Cat bicycle – but it didn't matter what either of these fellows were riding. They promptly went to the front and upped the pace.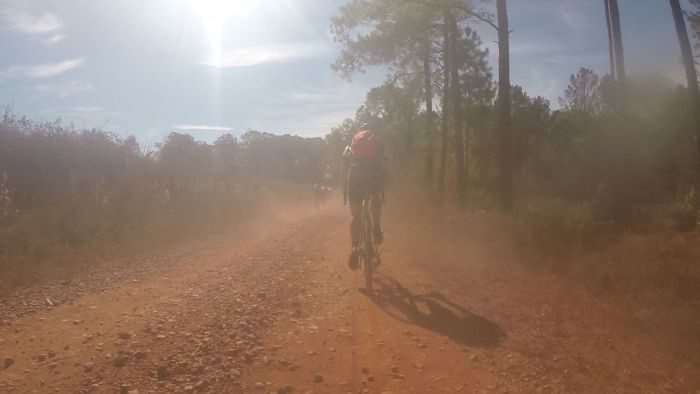 Between mile 25 and the first aid station stop of the day is a blur. I stuck my nose towards the front once or twice, but mostly hid in the dusty draft while Brian, John, Nic, Dr. Pain and others toiled away at the front, stretching the group out.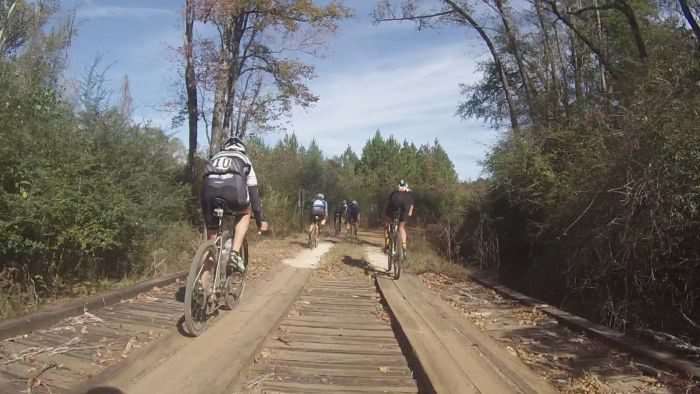 My clever teammates Lambert and K-Dogg were hanging around comfortably at the back. The reinvigorated pace and rough gravel roads of Alabama continued to whittle the group down – about 12 riders remained in the front group.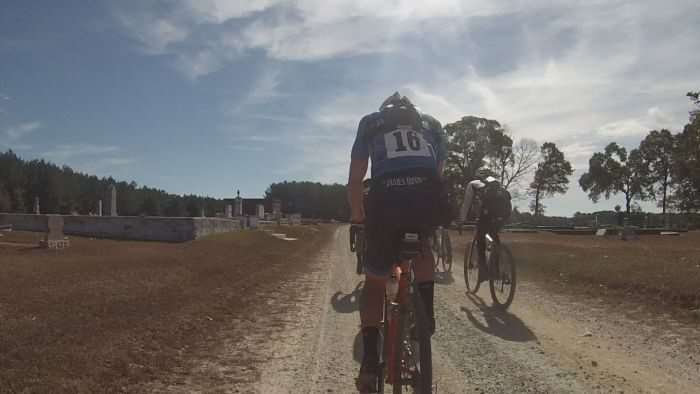 The much reduced group rolled through a cemetery – seriously – and into the first rest stop at around Mile 47. This is where a gravel cycling event is markedly different from your average road-going event. Everyone stopped, nobody kept rolling. Everyone refueled. We chatted for a few minutes before casually starting off again.
The Final 45
The pace lifted once more and I was immediately in trouble. I was now clinging to the back and routinely performing the "fat man fade" – where one moves towards the front of the group on a hill, only to drift slowly to the rear as the hill begins to bite. Ideally you slot onto the rear of the group as the hill is crested. This tactic was working well, but I knew it wouldn't be long before a seriously steep grade would see me permanently off the back.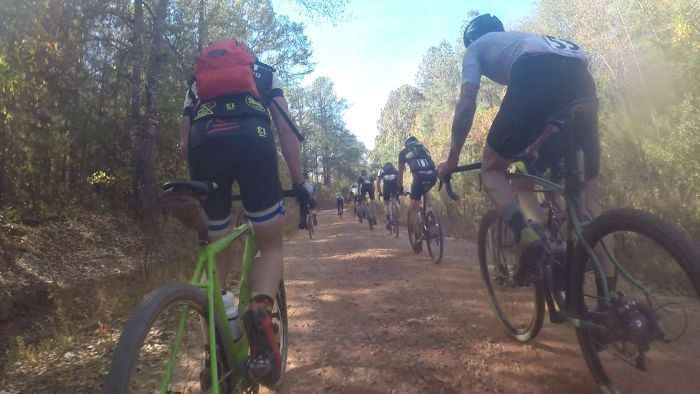 Teammate Dr. Pain had experienced a tyre problem just before the rest stop. His front tyre inexplicably lost about 10 – 15lbs of pressure, yet there was no puncture. We learned post-race his rear tyre was punctured by a nail, but the sealant had done its job – thank you Orange Seal Endurance Formula! I was hoping his front tyre issue would slow him down some. Nope!
But salvation came when a horribly washboarded dirt and gravel road jarred loose one of the straps holding my plastic Garmin mount to the stem. My Garmin 800 began to flop sideways and I took this "mechanical issue" as an excuse to take a brief 10 second reprieve. I stopped and fixed the problem. Losing my only source of navigation wasn't an option, nor was seeing several hundred dollars worth of Garmin computer jettisoned from my bike.
Nic Patterson had punctured a tyre right about the time I stopped, while #52, Doug Schroeder of Pensacola, was dangling close to the rear of the group just 30 seconds ahead. There was no way I was rejoining the group unless they held another truce, and thus I began tapping out my own tempo, albeit a little slower than that of the group.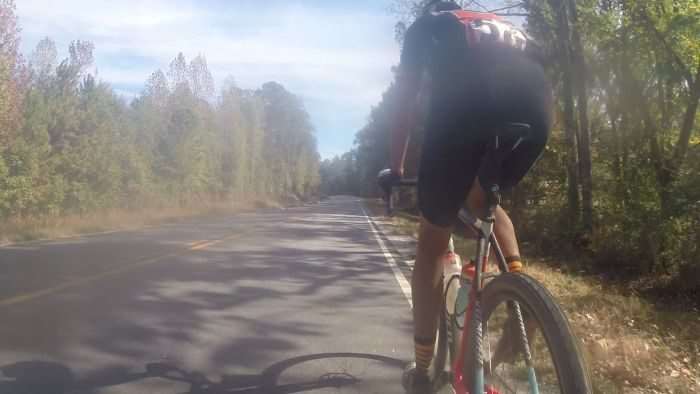 Doug eventually did pop off the rear, but he was welcome company. We rode well together, swapping turns along the route as we made our way towards the second rest stop. The temperatures of the day were quite mild, but warm enough that dehydration would be a problem for some riders. I was happy in my choice of two large Zefal Magnum bottles filled with Gu's Roctane drink mix and water.
Approximately 74 miles into the course, Doug and I rolled into rest stop #2 to reunite with Hardwick Gregg, Brian Rogers and Nathan Spence. Sam Gwin, John Schwab and teammates Lambert, K-Dogg and Dr. Pain had already passed through; barring mechanical issues, they were not going to be caught.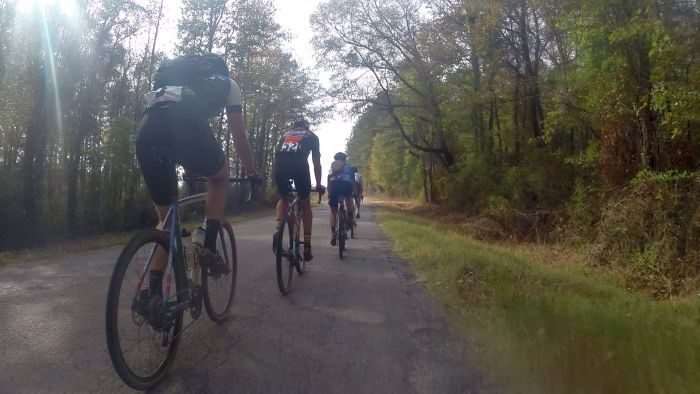 Our newly formed group of five set off with approximately 30 miles / 48 kilometres still to ride. Mostly, we were in survival mode. There was no interest in attacking each other, but riding steadily enough so stragglers behind wouldn't catch us. At least 12 miles / 19 kilometres of smooth pavement rolled beneath our wheels before the next lengthy sector of dirt and gravel on Chambers County 173. This sector was one of the roughest along the course and really hurt the cohesiveness of our group.
Surprisingly, I was feeling quite good. Doug and Hardwick seemed to be riding well, but Brian and Nathan were feeling their earlier efforts. Nathan dropped somewhere along the sector while Brian trailed just 100 metres behind once were rode back onto pavement. I slowed our trio so Brian could rejoin. We were riding for sixth place, and nobody was too interested in mixing it up.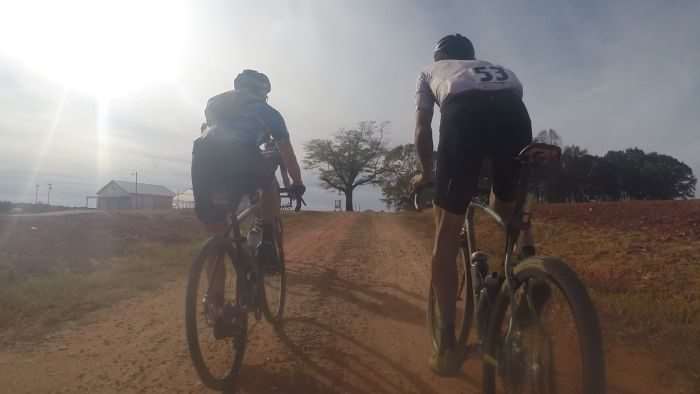 With about 10 miles remaining, Hardwick lifted the tempo on one of the hills which put Brian off the back. Perhaps I read it wrong but I sensed Hardwick was hoping to drop us and ride in solo? I rode defensively from that point on, keeping an eye on him whenever it was my turn on the front. The miles continued to tick down – sometimes Doug and I would lose Hardwick on a descent but he'd quickly rejoin our small group – ditto when Hardwick went sideways on a tricky section of sand. On the second to last bridge crossing, I put in a semi-serious attack just to see who would respond. No worries from Doug and Hardwick wasn't far behind. We were going to finish this race together, but sans attacks.
Doug, Hardwick and I crossed the finish line, about 24 minutes behind the winner, Sam Gwin – a local to the area and member of the James Brothers Cycling Team. My little trio wrapped up positions six to eight, while my teammates took second (Lambert), third (K-Dogg) and fourth (Dr. Pain)! I should mention the average age of these three dudes is about 58 years of age…
Awards and Summary
The ride finished where it began, at the Standard Deluxe property. Food, music, beer and socialization was in full swing when our trio arrived. The 60 mile riders had been in for a while, while those on the 100 mile route continued to trickle in. Each rider told of a similar story – hard and rolling terrain, much tougher than they expected.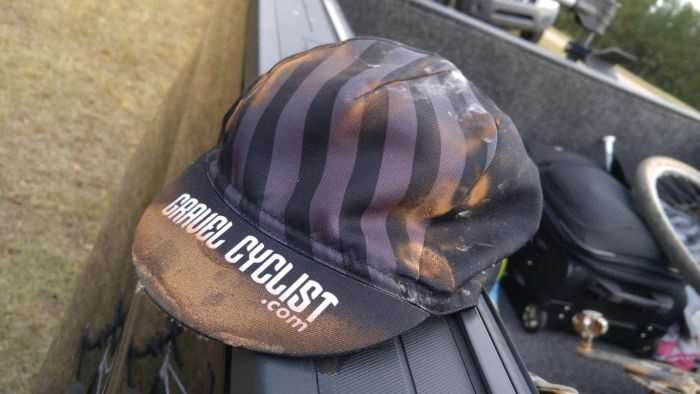 Dry and dusty – the red clay dirt of Alabama penetrated just about everything. Rough gravel – very chunky in places and a real problem for some riders. Nic Patterson scored himself three tyre punctures! But the camaraderie among the riders was exceptional – competitive during the event – but stories were swapped back and forth afterwards.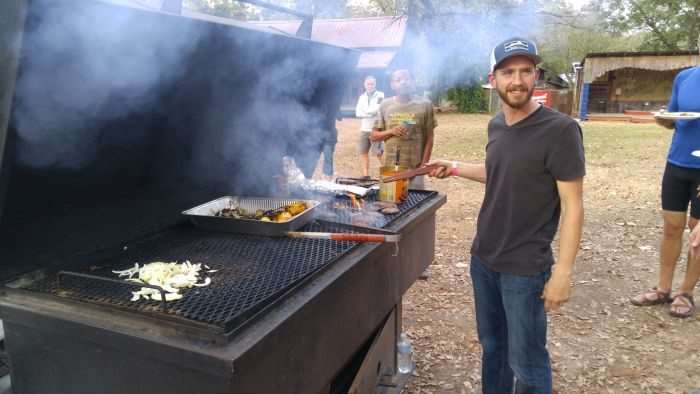 It wasn't my best day on a gravel bike, but I was happy with my ride. Organizers Colt and Matt are onto a winner with the Standard Deluxe Dirt Road Century! A tough, challenging and scenic course with virtually no traffic, beer at packet pickup (thank you Red Clay Brewing Company), and again afterwards at post-race hangout (thank you Good People Brewing Company!) with food and friendly promoters.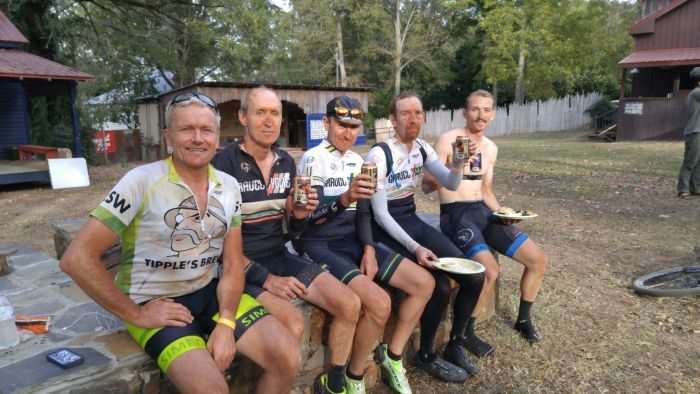 If you're in the South Eastern United States or even a little further away, the Standard Deluxe Dirt Road Century is a must do for 2017. I'll share the 2017 on the Gravel Cyclist website calendar as soon as it is known.
Strava
I don't upload too much to Strava, but you can see my data from the Standard Deluxe Dirt Road Century HERE.
Coming soon, the event video!
Thanks for reading!