Land Run 100 2016 – by Bob Cummings
We learned plenty of lessons during the 2015 edition of Land Run 100 – the "year of mud".
Of all the cycling disciplines, a gravel "team" is possibly the trickiest and most difficult to coordinate. There are so many variables and factors that come into play during the average gravel race – it can be a very fluid (pun intended) game at times.
With plenty of experience in Pro 1/2 road racing, and many years and thousands of gravel miles beneath my tires, I have taken advantage of a unique situation – to assemble a team in this fast growing and increasingly competitive genre of bicycle racing. Most people believe I am a road cyclist turned to the ways of gravel – but nothing could be further from the truth.
I grew up in Western Kansas and began riding gravel roads on my Big Wheel at the tender age of five. I would burn through at least one Big Wheel a year, literally wearing the plastic front wheel all the way through, as I tore up and down every country road I could find. I loved gravel roads and found myself at one with them from this early age. Big Wheels turned to bicycles and bicycles turned to motorcycles. At age 10, the summer routine on my Suzuki trail 90 involved fueling up in the morning, and riding back and river roads looking for things I had never seen. My mother would see me around lunchtime to refuel myself and the motorcycle, heading out again after lunch and returning when the sun was setting.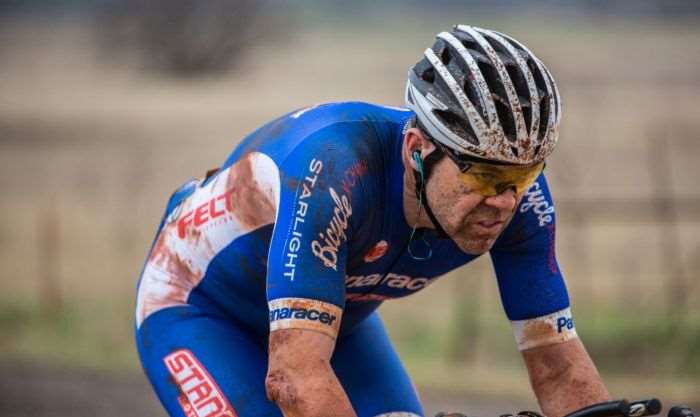 This next part of my story will save for another day, but when I got back onto a bicycle again in 2007, my weight was at 330lbs. I turned to the gravel, and raced for the first time as an adult at the Big Ring Gravel Race Series in Wichita, Kansas. Despite having a passion for the competition of road racing, all of my winter training was on the gravel of the Flint Hills. Living in the country east of Wichita certainly has its advantages! My limited success on the road is attributed to gravel – some of the best training comes from the unrelenting resistance of the gravel – it truly builds power.
The Plan
The "plan" for this year's edition of Land Run 100 was formulated at the 2015 Gravel Worlds. We did our best with our four man gravel team, but the race threw us plenty of curve balls. Nathaniel and Rob both had stomach issues, while Rob suffered the bonus issue of leg cramps. Later in the race, 17 year old Austin and I would also feel the effects of leg cramps. However, I was so impressed with Austin's ability to dig deep and suffer – there were times when I felt my own performance falter, but having him there for company kept me going, inspiring us both to push hard and ultimately take 3rd and 4th place.
As a native to Oklahoma, Austin had a special place in his heart for Land Run 100 – it also helped that he won the inaugural edition of the race. With this and his performance from 2015 in mind, the team decided we would work for Austin to take the number one spot at the 2016 Land Run 100.
Behind the Scenes
Fast forward to Land Run 2016. I took all of the team's experiences from 2015, good and bad, and with the aid of our sponsors, assembled a rider and race package that I thought would help us realize our goals for 2016:
New bikes from Felt.
The best gravel tires on the market from Panaracer.
Stan's brand new Avion carbon gravel race wheelset.
Unbelievable support from the Bicycle X-Change Shops in Wichita, Kansas.
Our incredibly comfortable and aero Ultimate Road Race Suit from Starlight Custom Cycling Apparel.
BRL Sports, providing us the ultimate race fuel.
Superb coaching from Grant Harrison of Source Endurance.
Chamois Butt'r to protect our back sides in the most harsh cycling conditions known to man and woman alike!
Seven riders at Land Run 100 ready to tackle the race – ladies Robin Farina and Karen Pritchard – and men Austin Morris, Evan Fast, Rob Bell, Nathan Wadsworth and yours truly, Bob Cummings.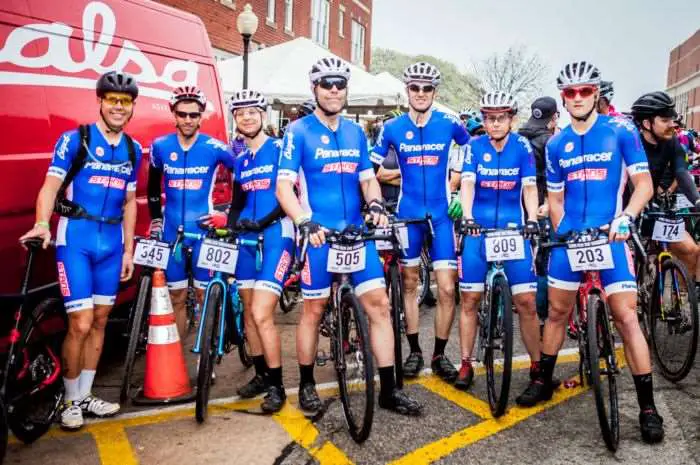 Having the best of everything, the onus of responsibility comes down to our team and our abilities combined with the right strategy to shoot for the top step. The other key element that makes this wheel go round is the support of our incredible crew! From spouses, friends and family members, these are the true heroes behind the scenes. It would be impossible to do what we do without them. They work so hard for us and we take the glory. The glory goes to them. Thank you!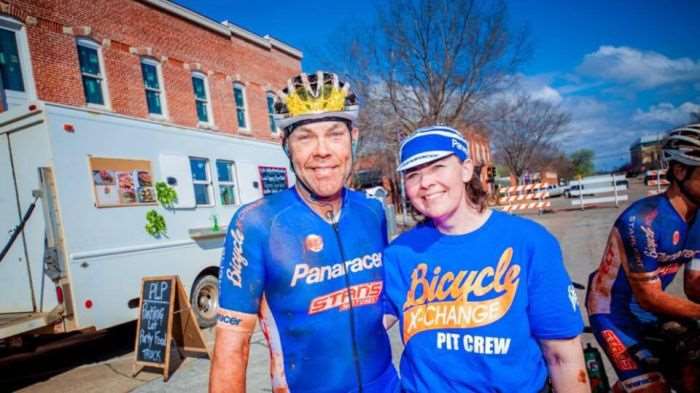 Goals and Plans
The week leading up to Land Run 100 was a taxing affair. I spent many late nights preparing bikes and gear in addition to fitting in my training. Rain had fallen early in the week and threatened to fall again before and during the race. However, after spending so much time in the off season preparing for every eventuality, I remained calm, and didn't care one way or the other about what mother nature would throw at us. There would be no repeats of our 2015 experiences at Land Run 100 or Dirty Kanza 200 – even if conditions were muddy, the run training instilled in me by coach Grant Harrison gave me a new confidence that had already come into play at the Old Man Winter Rally race in Boulder, Colorado. I was ready for anything!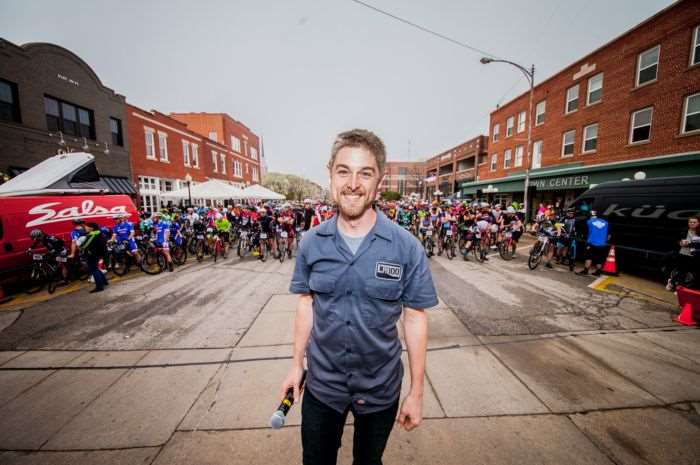 Arriving into Stillwater, Oklahoma on Friday afternoon, we were welcomed by a feeling of excitement. Bobby Wintle, promoter and race director of the Land Run 100 instills his passion and desire for the event into everyone in attendance. Impressive is how the community comes together to support this event – you can feel the electricity in the air!
After exchanging pleasantries with folks in attendance, I met the rest of the Panaracer / Stan's No Tubes p/b Bicycle X-Change gravel team to roll out for a short one hour spin; shake out the legs and make any last minute bike adjustments. Post ride, we took some team photos and headed to dinner to fuel up, relax and discuss our "plan" for the race. Before I could turn in for the night, I tasked myself with swapping my Panaracer Gravelking 700c x 35mm tires to the narrower 32mm wide variant. This sounds illogical, but I wanted as much mud clearance as possible for race day.
Noble goals for some teams include helping everyone to the finish line. That's what is great about gravel. It doesn't matter if your goal is to win or simply finish the race – everyone has a goal and each person works hard at their respective level to accomplish that goal. I am always impressed by those who finish the race in last place in the dark, versus the rider who finished first. In so many ways, that last place finisher likely pushed themselves harder than anyone else out there. It's not the size of the dog in the fight, it's the size of the fight in the dog!
Race Day
Morning arrived quickly; no matter how much time you give yourself, you always seem to run short of time! Rain had fallen overnight but nobody was sure how much has fallen, or if the road conditions had been affected in any way.
We'd have to wait until the heat of battle to find out…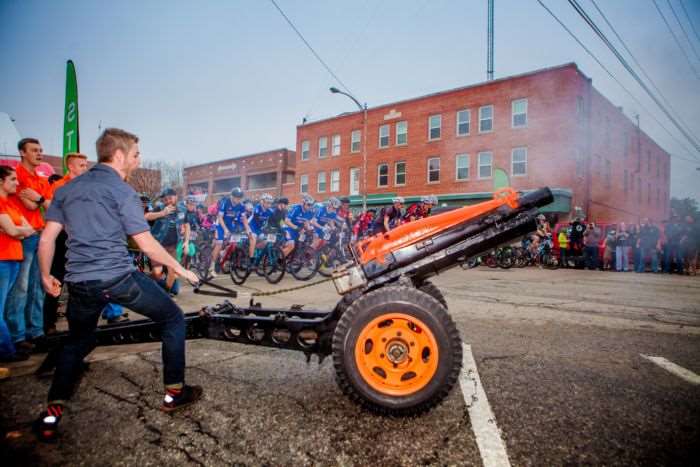 The team rolled to the line with a little time to spare, made a last minute check of the bikes and mentally relaxed for the task that lay ahead. With the firing of the cannon, we were off! A controlled neutral roll out ensued as we headed towards the first of many gravel roads. The cease fire was lifted as our tires crossed onto the gravel, signifying game on!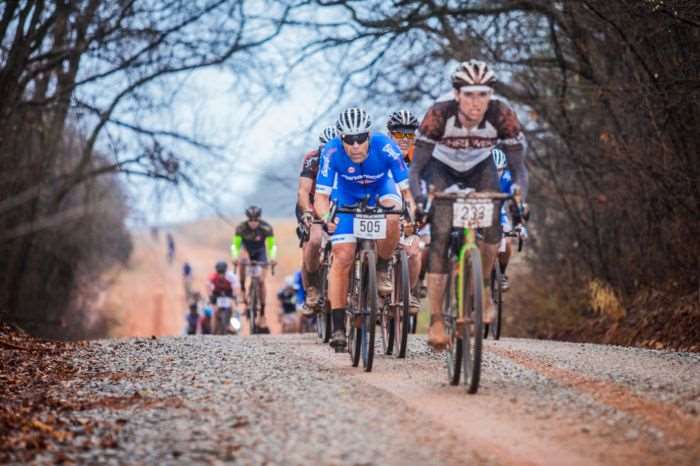 The group was flying along at 20+ mph – a solo rider pushed hard and opened up a small gap. I was unconcerned as the pace of the pack would keep anything within easy reach. I was sitting at 2nd or 3rd wheel, when teammate Rob Bell attacked on the left side of the group to bridge across to the solo rider. Rob has a ton of road racing experience – when we first started out racing, we raced together – and like gravel, we're teammates on the road as well. What I saw as a suicide attempt from a solo rider, Rob saw as an opportunity and his move turned out to be the first nail hammered.
This breakaway forced the other teams in the race to put riders on the front to chase, knowing that Rob and another strong rider was a very dangerous situation that should be given no quarter. Surprisingly, the breakaway duo was holding a gap, if not stretching it a little. The chase took considerable effort from the other teams and solo riders to pull back, while the rest of the Panaracer / Stan's NoTubes team sat comfortably in the draft. After several miles, the gap slimmed down and group of six to eight riders broke off the front and consumed the break.
Four of our five person male gravel team made it into the lead group. First goal of the race accomplished! Break the huge pack down to a smaller group and maintain our advantage of superior numbers in the resulting group. The next strongest team in the race fielded three Category One riders, but only managed to bridge one rider across.
The pace remained fast and aggressive, the situation made tense by the treacherous road conditions. It had rained more than we thought, turning the gravel roads into a greasy mess; the situation was rapidly was becoming an "every man for himself" scenario. Austin was experiencing gear change issues, catching muddy spray as he dealt with those issues while trying to hide from the wind. At this early point in the race, it was paramount to save energy. I was uncertain what was going on with Austin. He fell behind on a couple occasions, forcing me to drop back in order to pace him back into the group. I began thinking the team would need to adjust its priorities, and shift to an alternative race plan.
At dinner the night before the race, we agreed we would wait for no one from the team if they had major issues, but by the same token, we would allow nothing to get up the road without one of us making the move. I moved alongside Rob and expressed my concern about Austin, but reminded him we had to stay near the front of the race. We decided then to switch from race plan "A" – team podium sweep, to plan "C" – get anyone from the team onto the top step. Plan "B" was for Austin to win the race.
Then came more mud!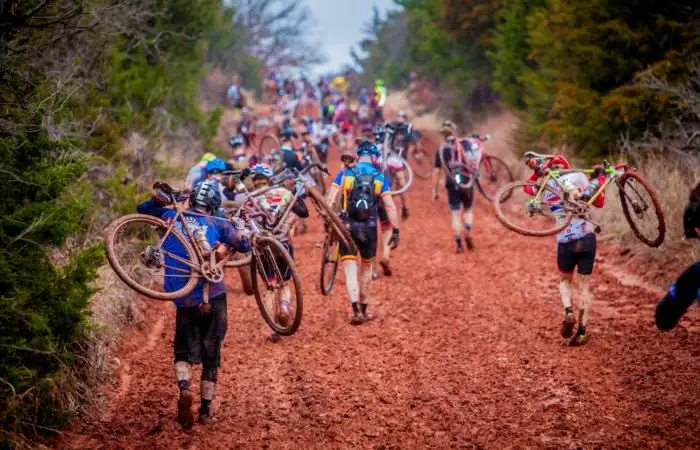 Not the slippery, rideable stuff, but the thick peanut butter stuff that consumes one's bike and legs like an evil monster. Like everyone else around us, our bikes were incapable of dealing with this thick mud. However, it was early in the race, and patience and experience would prevail.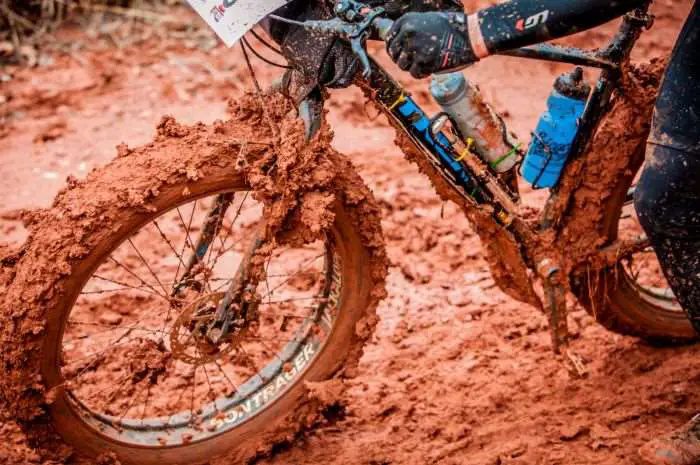 We dismounted and began our "jog". There were many racers that rode past us, only to come to a crunching halt with complete compaction of mud on their wheels, or snapped derailleur in the worst case scenario.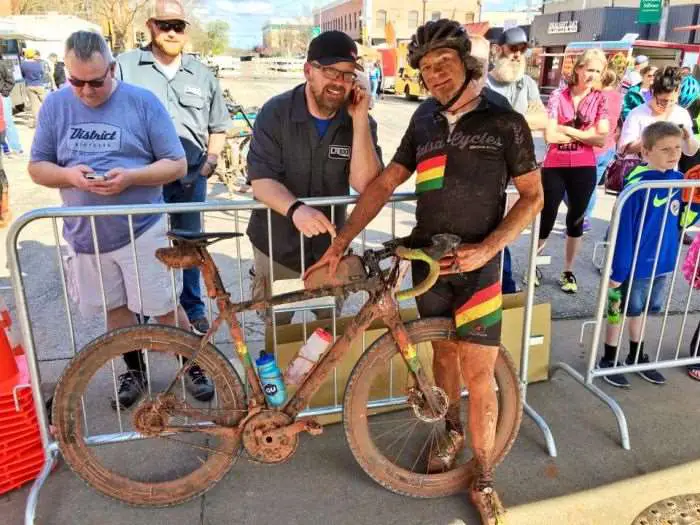 Legendary ultra-endurance cyclist, Jay Petervary (6-time Iditarod race competitor, four-time Divide Tour finisher and record holder in both), rode past us only to snap his derailleur and fall over some 20 feet ahead of us. I must give huge kudos to Jay.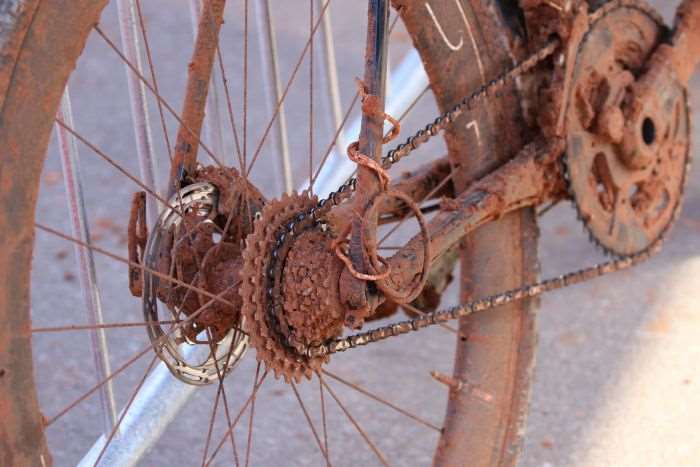 We didn't expect to see him the rest of the day, but he tweaked his bike in record time. Without doubt, the fastest single speed conversion in the field, in the most abhorrent conditions in history – and worked his way back into the race!
It was about this time that Austin came flying by on foot, blowing past Rob, Evan and I like we were sitting still. Austin was on a mission and was not going to be denied this day. He outran all of us and set out to reel in anyone ahead. I cracked a huge smile, plan "A" was back on!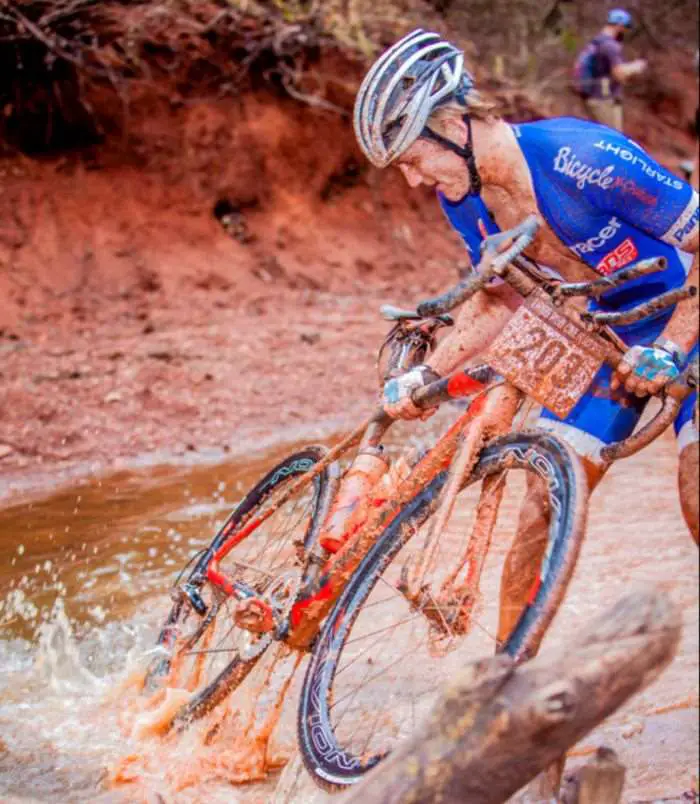 I exited the mud and linked up with Austin as he cleared his bike. I serviced my bike and told Austin that Rob and Evan were just around the corner, and we should roll out as a group. Meanwhile, a solo rider had taken some major risks in the mud and had established a gap. Our first mission was to catch him while protecting Austin.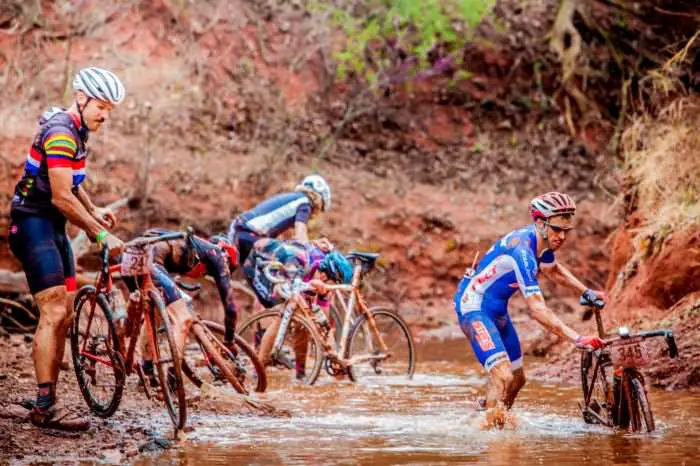 We were cruising along at a solid pace but noticed that Rob was having trouble. I was unsure what was going on, but Rob said to roll ahead without him. Several more sections of mud lay before the first checkpoint, but we knew we were chasing a solo rider, and the many miles of rideable roads on the course would work to our favor.
Our slower pace allowed a couple of riders to rejoin our group. We had dropped Matt Ankeny with team Tulsa Tough early in the mud, one of the many riders who experienced bike issues. However, he was clearly riding well, and immediately went to the front to drop the hammer. After a couple of accelerations, Matt opened a gap on the rest of the guys in our group, but I hung onto his wheel. He was unaware of the status of the race, but wanted to catch the lead rider. I knew it was Rick Mosley ahead, a strong rider from Kansas City. However, I am certain Matt believed the solo rider was one of my teammates. I sat his wheel as any good teammate would, and watched as his pace slowed, allowing the rest of the team to rejoin us. Sure enough, Austin, Evan and to my surprise, Rob got back on.
Having the advantage in the numbers game, Evan and I returned to work at the front, to pull solo rider Rick back to the group. About seven to eight miles from the 50 mile checkpoint, a muddy hike-a-bike section appeared. Little did we know this is where the next key strategic move would take place.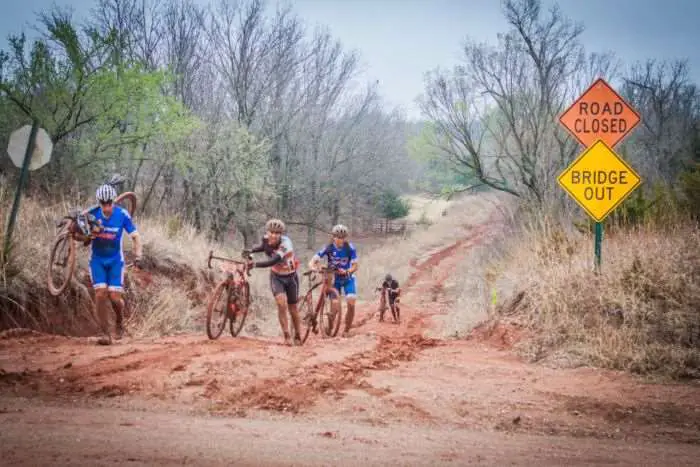 Matt from team Tulsa Tough and my three teammates, dismounted our bikes and shuffled along in the mud. I spoke under my breath to Austin and said "go". Without a moment's hesitation, he took off in a jog as the rest of us continued walking. After his gap grew to a few hundred meters, I said to Evan, "double time". Evan pulled away from our group and eventually caught Austin at the top of a muddy and unrideable hill, just in time to remount and continue riding. Without doubt, this was an unorthodox "attack", but now we had two team riders off the front, forcing Matt to chase.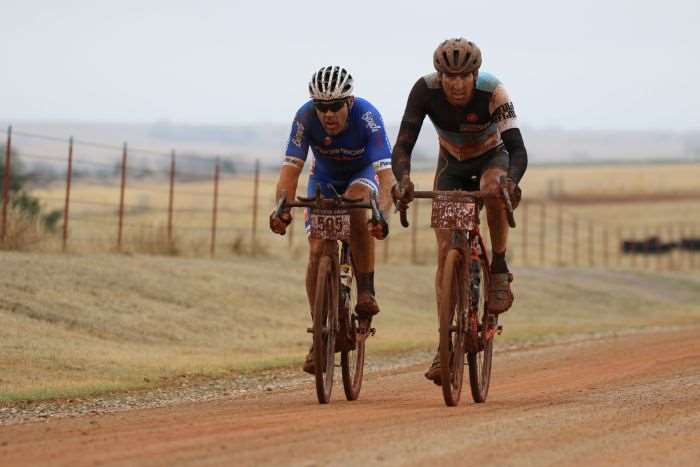 Rolling into the checkpoint, I was relieved that teammates Austin and Evan were nowhere to be seen. They were riding in attack mode and wasted no time; their expediency was helped by our crew who serviced them with precision. With our teammates up the road, and learning at the checkpoint that solo rider Rick was out of the race due to a broken derailleur, it was our race to lose. Consequently, I was in no hurry to leave the checkpoint. As a gesture of goodwill, our crew also attended to the needs of Matt.
Timing is Everything
The nearby train signal began blaring just ahead of us, followed by the lowering of the barriers. Typically, this would instill a sense of panic, but in light of our current situation, it meant the time gap for Austin and Evan would only continue to grow. Another rider, Jay, rejoined with us as we waited around for the train to pass. Once again, our crew extended a friendly hand to him.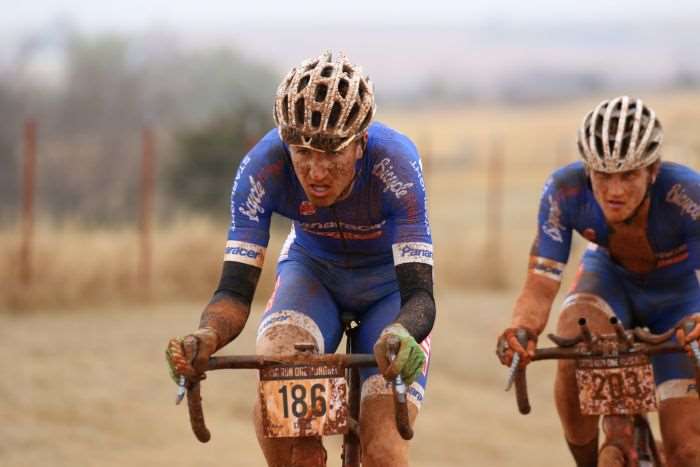 Eventually, the train signal barriers raised signifying game on. Without delay, Jay and Matt immediately set about riding hard to pull back my teammates, Austin and Evan. With the miles leading out of town being paved, I thought it a good time to launch an attack from the back. I figured it would be a risky move, but if they caught me, Rob launch a counter-attack from the safety of their draft.
This is when things became painful. After a short stint on the pavement, I turned south into the wind and the hilliest part of the course. I held a nice gap when I made the turn, and thought I could cruise to the finish. I dialed down my pace a little, hoping that Rob would potentially bridge across to join me. After a mile had passed, I looked behind to see a rider closing fast – but it wasn't Rob, it was Matt! He was riding very well and the chase to stay away was on.
This was a long, hilly section of course which didn't favor me. However, this is where my coach's training sprung to the front of my mind, reminding me to ride in time trial mode at threshold power. The hills were killing me but I kept pushing with everything I had. The gap back to Matt held constant at around a minute for what like seemed an eternity. Looking at my computer, I focused only on my GPS map and not my data, because data did not matter at this point. What mattered was staying solo. If I got caught, it would completely compromise our potential podium sweep.
I glanced at the miles clicking off on my GPS screen, the miles to next turn indicator reading like a countdown to a rocket launch – 8, 7, 6, 5, 4, 3… as finally, the gap back to Matt began to widen. I ascended a steep and curvy climb up and over an overpass, and headed west into a crosswind and downhill. There was still at least 20 miles of racing to go, but the worst was now behind me. 
Around mile 80, I rolled past a construction crew who kindly informed me of the time gap to my teammates. "They're less than a mile up the road", said one of the workers. Wow! The opportunity to finish not only with three riders on the podium, but crossing the line together, would be a dream result. However, the race isn't over until the finish line is crossed. Considering the bad luck that former teammate Nathaniel experienced at last year's event in sight of the finish line, I thought it best to keep pushing on, rather than thinking about victory scenarios.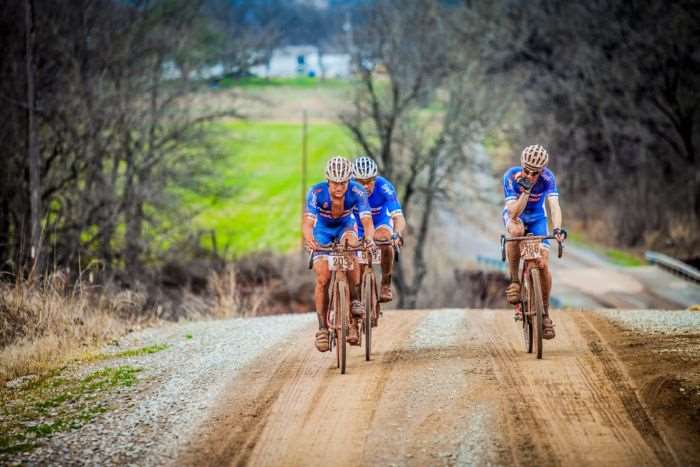 I finally caught my teammates Austin and Evan, no thanks to the effort of riding hard to stay away from Matt Ankeny. We stopped briefly to lube Austin's chain, which had been screaming for lube for some time. Evan was feeling the effort with cramps beginning to set in, but it looked as if we would hold everyone behind at bay.
I could tell Austin was getting itchy and excited for the finish. I told him to relax, enjoy the rest of the ride together and savor the moment as we finished together. Austin would be a deserved winner and confirmed what I already knew. He is a force to be reckoned with!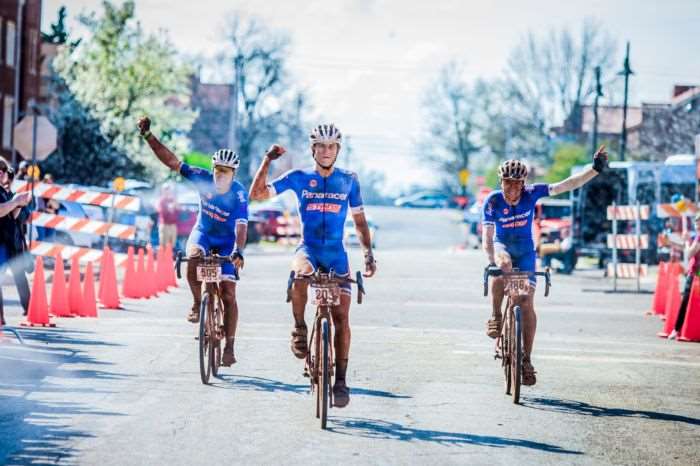 Turning the final corner was an unbelievable feeling. Seeing everyone as they anxiously awaited the first finishers was a beautiful sight, but it felt strange rolling into a sea of cameras like a Rock Star.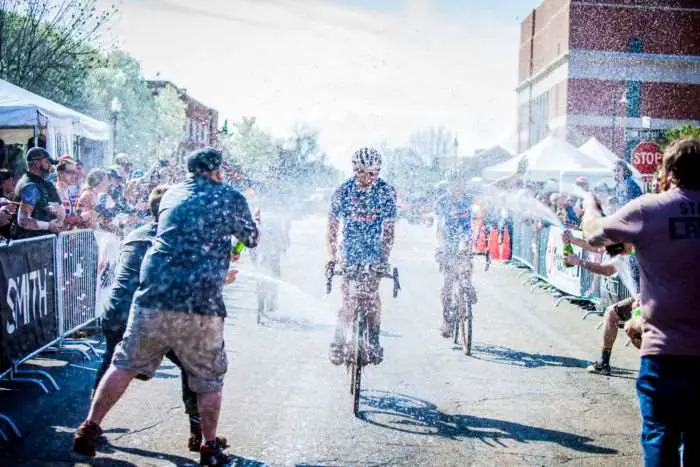 I am just an average working guy and have never experienced this kind of attention. But more importantly, I was happy for Austin who rightly so, was overjoyed with the outcome.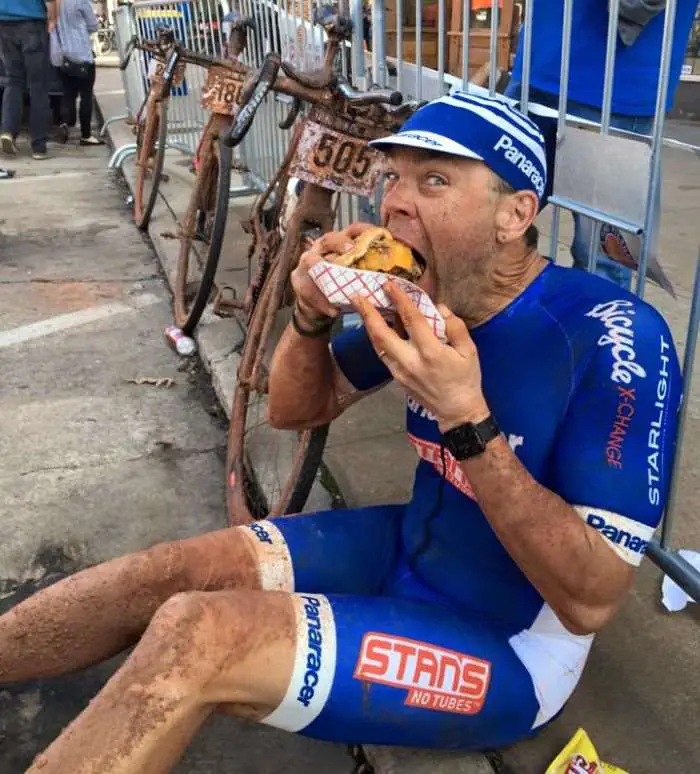 After the buzz has dissipated a little, all I could think of was a giant cheeseburger! Thanks to my thoughtful wife Becky, she came to my rescue with an oversized three pound monstrosity of a cheeseburger. I consumed it in minutes, and spent the next moments reflecting on what had taken place.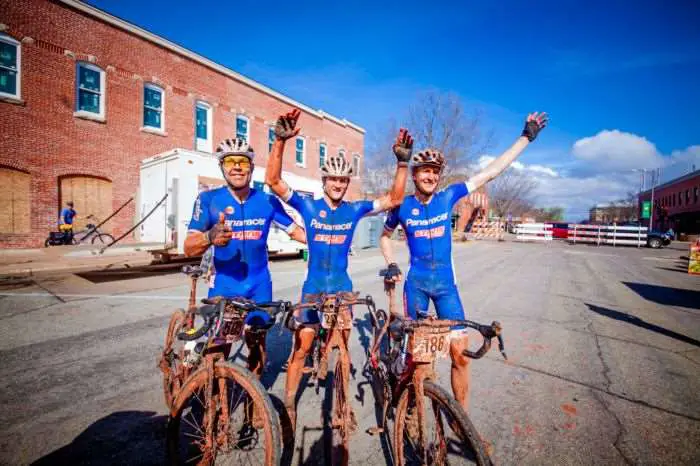 I could not have been more proud of the team's effort at Land Run 100 for 2016. We raced as a team, and those that did not reach the overall podium had just as much to do with it as the ones standing on it.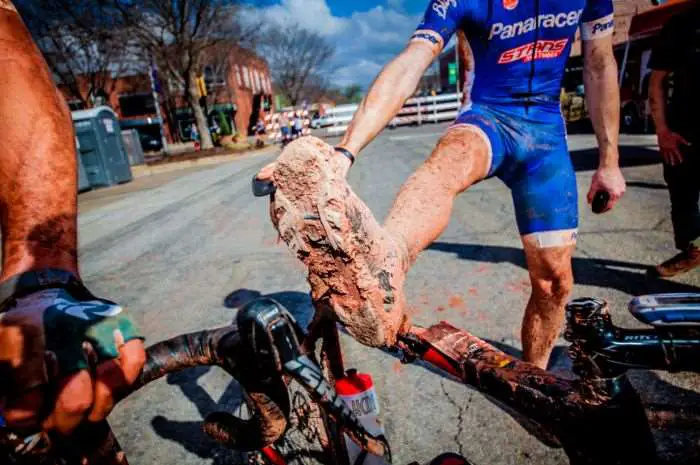 Thanks Austin, Evan, Rob, and Nathan. I could not ask for better teammates – or better friends. I look forward to seeing what the rest of this season brings us!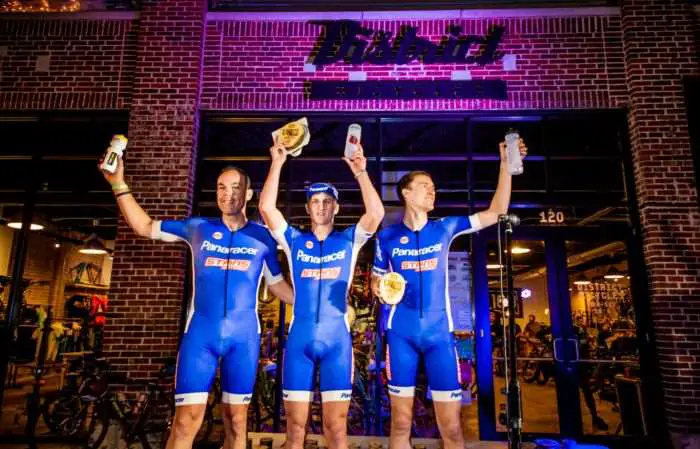 But Land Run 100 wasn't just about the men's Panaracer / Stan's NoTubes team.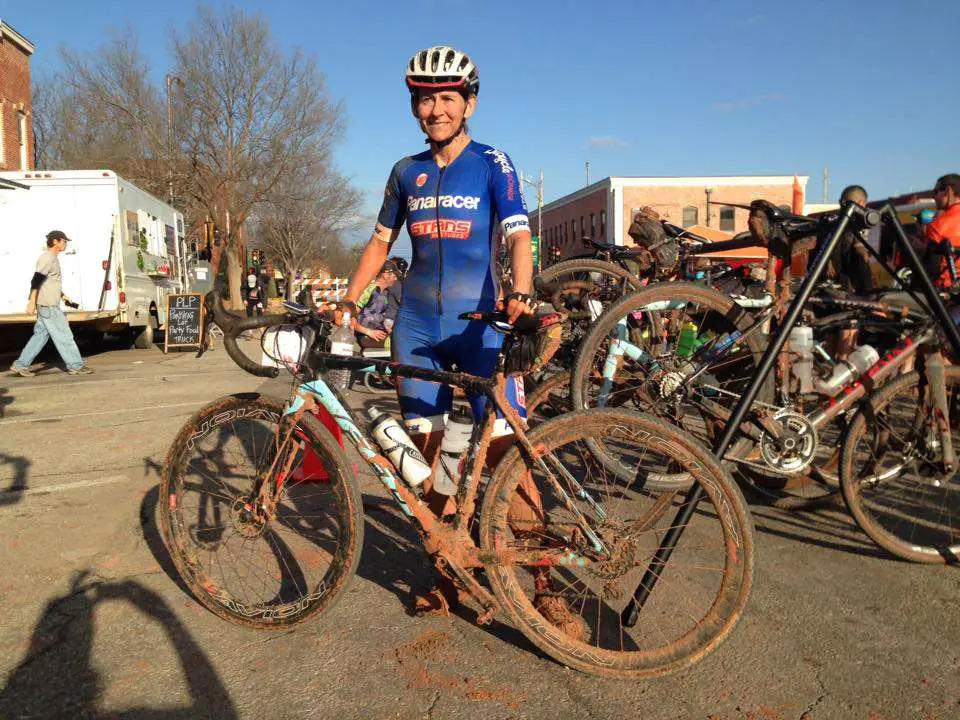 Karen Pritchard finished second overall in the women's category!, while Robin Farina was leading the race when a rock jammed her drivetrain, breaking her derailleur and ending her day. What could have been. Regardless, I'm certain we'll be hearing more about these ladies at future events.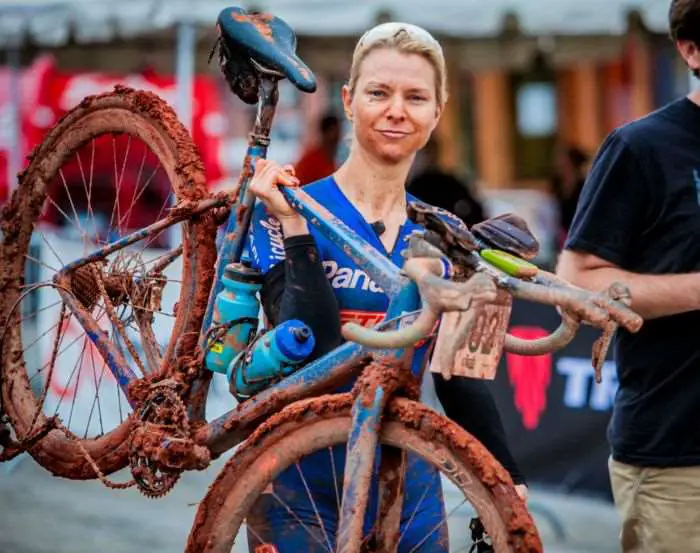 For those who are wondering, Jay Petervary finished in 4th place. Amazing!
Report by Bob Cummings of the Panaracer / Stan's No Tubes p/b Bicycle X-Change gravel team – Editing by JOM of Gravel Cyclist.
Photos in this article by 241 Photography.
Also check out Source Endurance's article from the race.