About the Dirty Kanza 200
From the event website – Dirty Kanza Promotions was founded in 2006 by Jim Cummins, with the assistance of fellow cycling enthusiast Joel Dyke. At that time, gravel grinding was just beginning to catch the interest of the endurance cycling community. However, Jim had grown up in the Flint Hills of east central Kansas and had been riding gravel for decades. Inspired by some of the early gravel grinder events… and convinced the Flint Hills had the best gravel to be found anywhere in the world, Jim and Joel decided to create Dirty Kanza 200.
Initially, these two gravel aficionados had no idea the extent to which this whole gravel grinding thing would grow, nor did they give it any real thought. That wasn't what motivated them. They both simply felt their lives had been enriched through cycling. And Dirty Kanza 200 was their attempt to give back to the cycling community.
Since then, the popularity of gravel grinding has exploded and is now the fastest growing genre in the cycling industry. The popularity of DK200 has grown too, from 34 participants in 2006, to an anticipated 1,500 riders in 2015. And while that growth has brought with it a few changes to our format and the way we have to manage certain aspects of the event, one thing has remained constant… Dirty Kanza 200 is a grass-roots event, organized and managed by folks who are passionate about cycling, and done so for the primary purpose of providing life-enriching cycling experiences for our event participants.
Dirty Kanza 200 is held in Emporia, Kansas.
Bob Cumming's Race Report
So here I sit at my desk, reflecting back on the crazy weekend that was the Dirty Kanza 200, The Premiere Endurance Gravel Road Race. It's Wednesday, my body still hurts and I still feel groggy from three straight days of four to five hours of sleep. My teammates have all headed home and I have a garage and house full of dirty, muddy gear to sort through and clean up.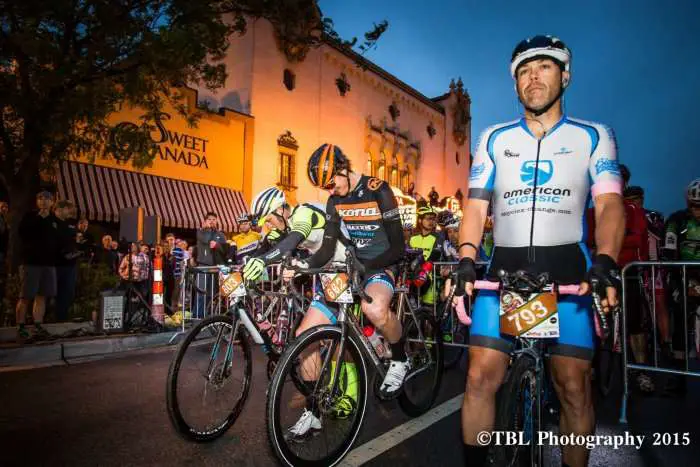 We had high aspirations for the race and I believe we had the team and strategy in place to achieve our goals. I had raced and ridden over 5,000 gravel miles leading to the race and tested in every condition imaginable. I'd headed out to the flint hills every weekend running up to the event, and logged around 200 miles along with my training during the week. I rode in the dry, wet, and everything in between to make sure I could steer my team in the right direction with set up for the race. The flint hills gravel roads hold up to rain better that any roads around. That is unless the course goes off the grid, and loses gravel in favor of dirt.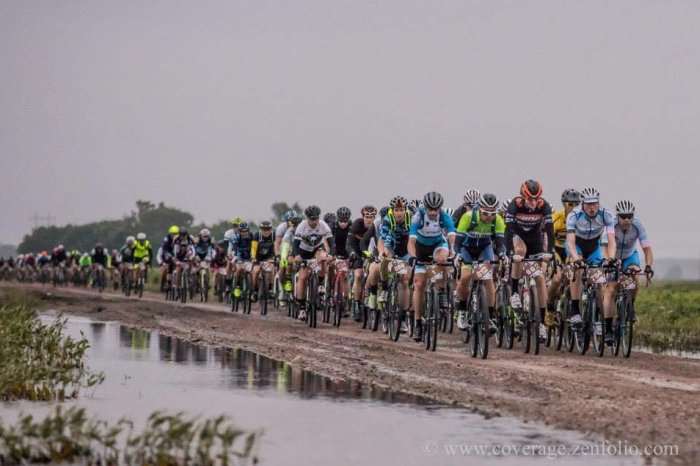 The race started out fast and furious just as I expected; tensions were high. I positioned the team at the front of the peloton to avoid any potential crashes which inevitably happen. I was feeling great and this was going to be a race to remember. It was a race up till about mile 12. Then we encountered the mud.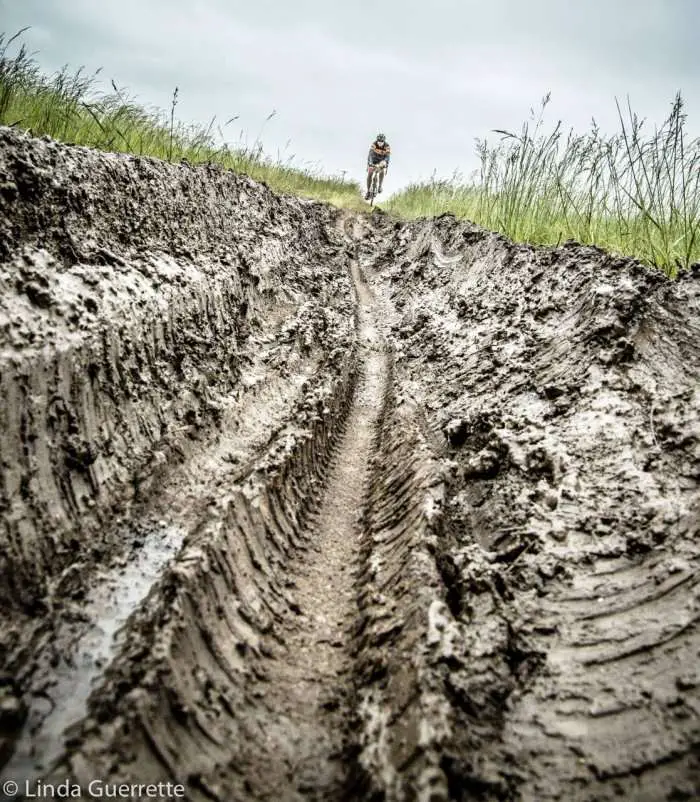 I know most all of the roads that were on the 2015 course and have ridden most of them. The only roads I was unfamiliar with were the ones that led us straight into the mud around mile 12. That is when the wheels came off. Literally. It became another drag your bike through the mud fest, reminding us of Land Run 100 earlier this spring. This is not fun or epic. It's just, well, you decide.
I had hoped the mud would equalize the roads for everyone, as in most everyone could ride it or no one could ride it. Our bikes have less mud clearance than other racers around us, and we found ourselves walking and clearing mud more than most of our competition. Consequently, we started losing lots of time. We were riding conservatively, hoping not to break our bikes before the race even started.
As it turns out, just what I expected to happen, happened. People were breaking down left and right. We came into the first checkpoint way behind, but our bikes were in good shape. The problem was the amount of time lost left us with an overwhelming deficit to make up. We departed the first checkpoint only to run into another long mud section almost immediately. That pretty much sealed our fate. So, we adjusted our plan and cruised towards the finish.
Congrats to Yuri Hauswald on the overall win!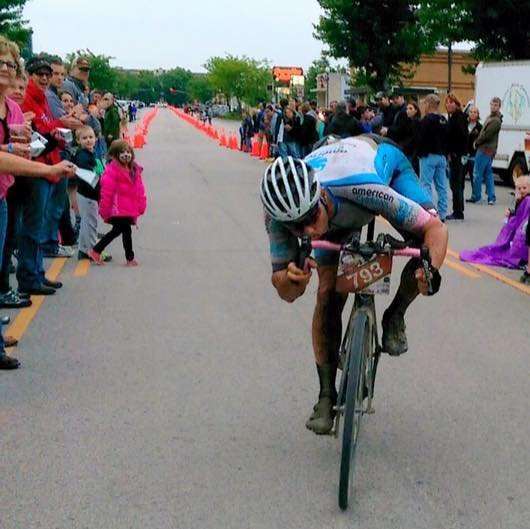 The one bright spot of the race was our tires. We used the Panaracer 32mm Gravel King, which might seem a bit narrow for the Dirty Kanza 200, but they performed beautifully. I had zero tire issues and out of 14 team tires on the ground, there was only one that needed attention. That's pretty amazing! Watching so many people on the side of the road fixing flats made me really appreciate what we had on our bikes.
In the end, I finished up 3rd in my age group, while Nathaniel Beams took 5th in his. Austin Morris rode strong to take the win in the 100 mile half pint ride!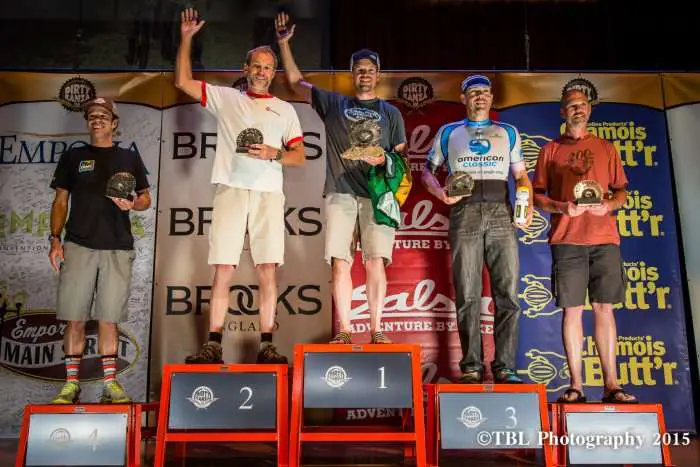 Overall I am very proud of how everyone on the team put their head down and made the best of the bad conditions. In future, I hope to be able to race my bike in an athletic competition and not have to walk through endless mud. I hope the trend of promoters choosing to route courses through potentially unrideable muddy roads stops. I cant imagine flying in from California or another part of the country or world, only to ride 12 miles before experiencing a race ending mechanical, and going home disappointed. None of this is appealing to anyone, considering the time and expenses invested.
Am I disappointed? Yes.
Will I be back? Absolutely!