About the Event
The Land Run 100 is an annual gravel grinder race that takes place in Stillwater, Oklahoma. It is a "solo, self supported, non-stop, 100-mile-long bicycling endurance challenge on the gravel and dirt roads surrounding the site of the Oklahoma Land Run of 1889".
The Land Run is organized on by Bobby Wintle of District Bicycles in Stillwater, Oklahoma, and has exploded in popularity, selling out its 500 rider limit in rapid fashion.
From Bob Cummngs; "Part of the event's following is due to Bobby's amazing enthusiasm and love for people and cycling. Notice I listed people first. You will not find a more caring and passionate person than Bobby. His energy is infectious."

Bob Cumming's Race Report
The American Classic Elite Gravel Team p/b Bicycle X-Change had three riders contesting the event. Bob Cummings (me) was the 2014 winner, with teammate Austin Morris winning the inaugural event. Nathaniel Beams was the third rider on the team, all of us were well prepared for the challenge ahead.
Heavy rain fell on Friday afternoon for approximately four hours, less than optimal for an event starting the following morning. All of us knew at that moment the course would be a complete mud fest.
On the start line, our three person team took front row. The gravel crowd is different; many afford respect and courtesy to each other, particularly when two of our three person squad were former winners of the event. Our team controlled the "neutral" section of the race, making sure to maintain a safe distance from the lead vehicle.

Let the Gravel Begin!
Upon entering the first gravel road, game on as they say. A strong team of Oklahoma road racers not on the registration list appeared, and lit things up immediately. The pace was akin to a Pro 1-2 road race. That changed quickly in a few miles as we distanced ourselves from the town of Stillwater, where the gravel ended, and the red clay/mud began. Carnage ensued.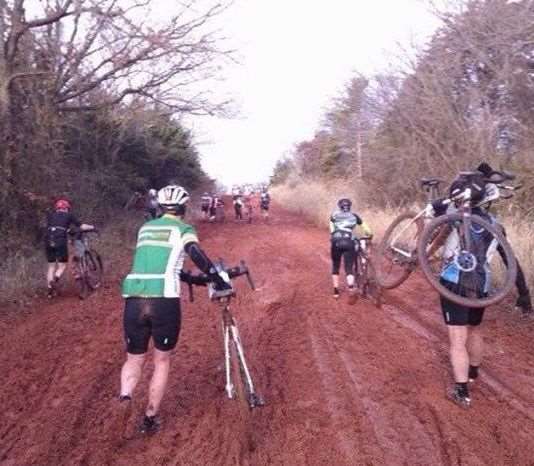 First victim was one of the Oklahoma road racers.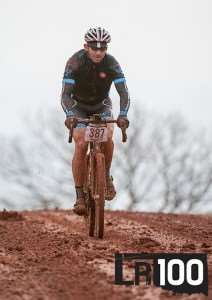 He was out of the saddle when his derailleur snapped, wrapped around his cassette, and ejected his rear wheel from the frame. He crashed and unfortunately, took me with him. Thankfully my bike and I weren't hurt.

The team's plan was to stay together and play it conservative in the mud. Other racers riding different bike setups would gain time in the mud, and to play it safe, we walked where necessary. It took approximately 4 hours to cover 30 miles! I believe we walked somewhere close to 10 miles through this sticky mess of mud.
Playing Catchup
After 30 miles had passed, some of the roads were more rideable. We started moving forward and playing catch up. At the 50 mile point, our pit crew informed us the race leaders were approximately 30 minutes ahead.
We lost teammate Austin in the mud due to foot cramps, but Nathaniel and I were in good condition and our bikes were working well. We rolled a fast tempo and worked together to see who we could catch. The roads dried fast and while there were a few muddy and soft sections, everything was rideable.
We caught and passed almost everyone ahead, barring the leading trio. Reading tire tracks is a nice skill to have! We caught a glimpse of the three riders up the road; I instructed Nathaniel to sit on my wheel while I did a hard turn to make the catch, leaving him fresher for the battle for the finish assuming we caught them.
Our duo pulled to within 200 meters of the lead three riders with approximately 7 miles of the finish. I began ramping up my speed hard, in the hopes of making a counterattack. As the speed was building and the catch almost made, Nathaniel began yelling frantically from behind. "Flat! Flat! Flat!" Nathaniel's front wheel had a bad sidwall cut. I jumped off my bike and hurriedly inflated it with Co2. With a quick fix made, we began rolling, only to stop immediately. The tire was going soft again.

I'd used a lot of my energy chasing and Nathaniel was much fresher. I made a quick decision to swap front wheels and send him on his way, leaving me to deal with the leaking tire. Nathaniel took off in a flash. Unfortunately, he was so focused on speed, that he missed the next turn and went off course. I wasn't far behind and when I didn't see him after I made the turn, I knew something had gone wrong.
Regardless, I was on course, pressed on and hoped for best. Nathaniel eventually caught and rode past me, but it was too late. There was no chance of him catching the leaders. He went on to finish 4th overall and 2nd in his age group. The Orange Seal tire sealant did an amazing job, and got me to the finish. Unfortunately, I gave up a couple more positions before the finish line to take 7th. This day was quite an adventure.
Lessons Learned and Thanks
You can learn a lot in racing when faced with adversity and tough conditions. Our 3rd team member, Austin, fought through the pain to finish in 19th, riding solo. Impressive stuff! I could not be more proud of the team and thankful for our sponsors.
Without the support of our sponsors, we'd be unable to do what we do.
Thank you to American Classic, Bicycle X-Change Shops, Felt Bicycles, BRL Sports, Starlight Custom Cycling Apparel, Orange Seal Cycling Products, and Chamois Butt'r. I would also like to give a huge shout out to our pit crew Becky Cummings and Dave Morrow. These guys did an awesome job taking care of us at the check point.
Gravel Cyclist would like to thank Bob Cummings for providing us with his race report.