To get a little background into what Gravel Worlds is all about, you would be wise to read my article, "Road to 2018 Gravel Worlds".
What follows begins as a relaxing and uneventful flight or two on Thursday, August 16, 2018, from Gainesville, Florida to Omaha, Nebraska, with a stopover in Charlotte, North Carolina. As the American Airlines Canadair (Bombardier) Regional Jet 900 aircraft descended gracefully to Terra Firma and Omaha's Eppley Airfield, I assessed my cerebral to-do list.
Collect the luggage which includes the race bike.
Collect the rental car and hope the Econobox I rented would fit the bike box. I did bring along a Sea Sucker Talon rack (review coming!), in the event I would need to transport the bike on the roof.
Figure out where I would assemble the bike, preferably shaded.
Hope the shake-down ride I planned out of Crescent, Iowa, just north of the airport, wasn't too taxing, or on dodgy roads.
Here's what happened after touchdown:
Luggage was collected without damage, including the bike. I did score a freebie luggage trolley, win!
The rental car was undersized. No manner of seat folding or cursing would see the bike box fit inside the car or the boot (trunk). I forked over extra money for an upgrade to a current model Subaru Forester, which I should have rented in the first place. This is a seriously sweet bike toting rig.
I found a sweet shaded spot for bike assembly, close to the stadium and within sight of Omaha's downtown.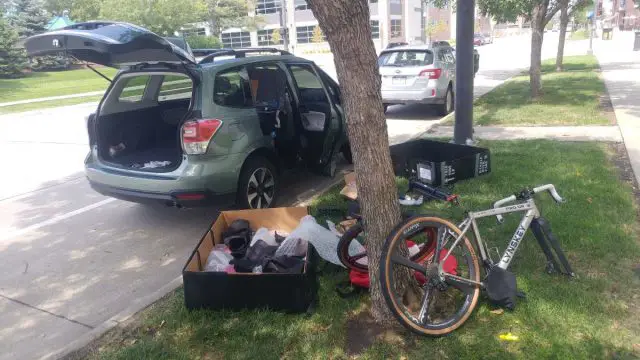 The shakedown ride out of Crescent, Iowa went like a dream, despite the continual harassment from my friend Dr. Pain and his incessant text messages. Admittedly, I did ask him to send one or two, in order to test the phone connection functionality of the Garmin 1030, yet another gadget I am reviewing. Post ride, I visited the Crescent, Iowa branch of Casey's General Store, my absolute favorite convenience store in the Midwest. For those who haven't visited a Casey's, the $5 for two slices of pizza and 32-ounce / one litre soda represents a smoking deal!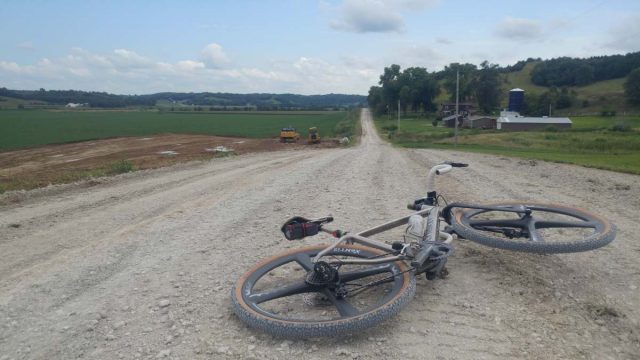 SchillingBridge Cork and Tap House in the Fallbrook area of Lincoln, Nebraska plays host to Gravel Worlds. On Thursday evening around 6pm, it played host to a meet and greet for attendees of Gravel Worlds. Naturally, I attended for socializing and a beer, and mostly to meet Corey and Craig, the lads behind Gravel Worlds and the Pirate Cycling League – arguably the best cycling league around. Hosting my stay in Lincoln were former Gainesvilleites, Bobby and his wife, Becky.
Bobby, not shy about accepting a challenge, bought a gravel bike not long before he departed for Lincoln almost two years earlier. Since then, he's ridden one or two gravel events, including the Pirate Cycling League's Tour of the Dirt Roads. But the full-monty 150-mile Gravel Worlds is a much bigger challenge, both in length and the never-ending hills. Bobby thought it a good idea to make Gravel Worlds his first legit gravel event… which is quite insane.
Friday came about all too quickly, and I rolled out of bed late for a wee bit of course reconnaissance at around 10am. The first thing I noted, the early miles of the 2018 course looked to be hillier than the course from 2016, my first time at Gravel Worlds.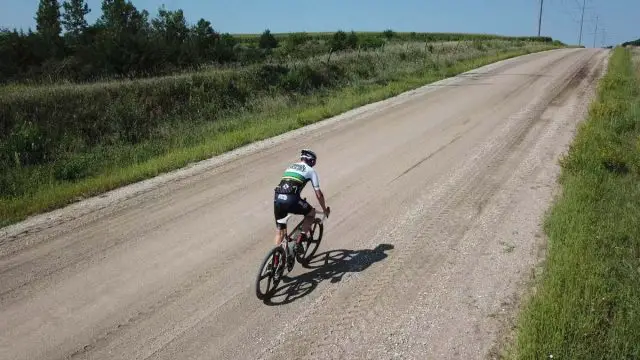 As the photos above and below show (thank you handy drone camera), Nebraska isn't flat. I don't recall where I heard it, but someone over the weekend remarked there were 87 hills along the full 150-mile course. As a reminder, I spend a lot of my year in Florida, and even though there are some decent hills where I live, they don't hold the remotest flicker of a candle to the hills of Lincoln, Nebraska. With zero hill training, what could possibly go wrong?!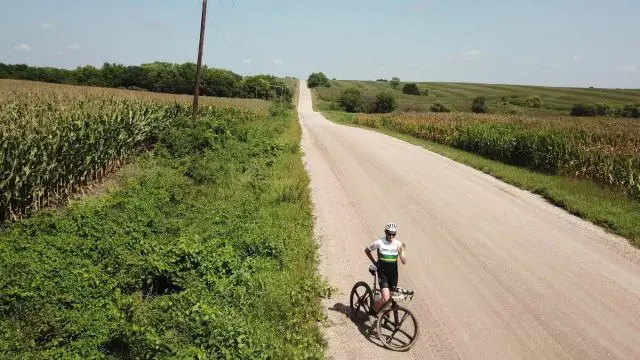 The gravel roads were in primo condition although one had to be mindful of the deep sections of gravel that proliferated some parts of the course. I was super confident in my wheel and tyre choice for this race, namely the Xentis Kappa2 650b 4-spoke carbon wheelset (review coming) and WTB Resolute 650b x 42mm tyres. Both items were rolling fast and handled the loose stuff with ease. Incidentally, this would be my first ever race aboard 650b wheels.
Below, trendsetters I spotted during my short pre-ride of the course: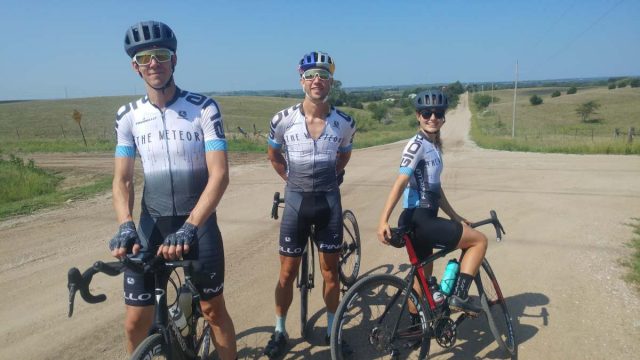 Above, left to right – An Englishman whose name I forget (sorry mate!), Colin Strickland (the 2017 Gravel Worlds Champ!) and Amity Gregg (Top 5 in the Women's 29 and under field at the 2018 Dirty Kanza 200).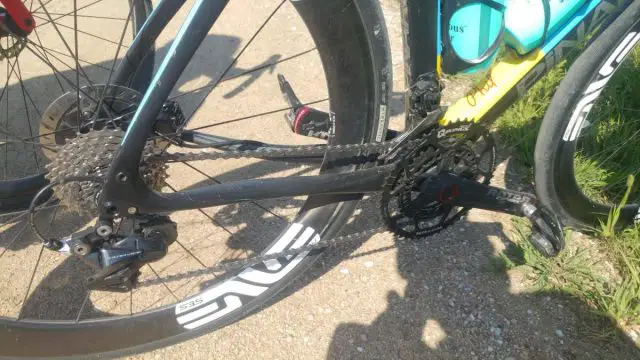 Of interest was Colin's equipment choices for the race, 700c x 32mm Teravail Rampart tyres, deep section Enve wheels, aero bars and a 50/34 (Rotor Q-Rings) double chainring crankset with a tight cassette. No matter your opinion of aero bars on gravel, they do provide speed. I would consider using them, but all of the cameras and associated bollocks take up too much room.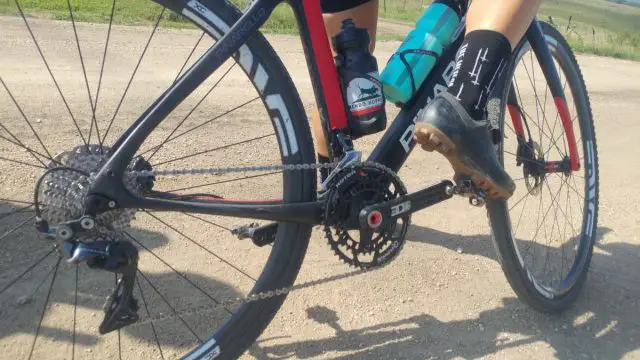 Above is Amity's bike, also fitted with a 2x / double chainring crankset, but this time ovalized 46/36 Q-Rings and a tight cassette. These stud and studette bikes are further proof that 2x / double chainrings are far from dead – remember, choices are good, so don't be dissing us double chainring holdouts 🙂
Post-ride, I drove my rental car and I to the towns of Valparaiso and Malcolm, fixtures along the average Gravel Worlds route. Why I hear you ask? What good is a race report and related video unless you have drone footage of the towns from above, right?
Later in the day, I visited Cycle Works in Lincoln, the host shop for Gravel Worlds and the related expo. 'Twas basically an excuse for me to collect my race packet and socialize.
During the evening, I enjoyed dinner with my hosts, Bobby and Becky, and completed my bike setup for the race.
Install the GoPro cameras and related remotes.
Curse the fact you left the mount for the rear camera back in Gainesville, Florida. Sorry people, no rear camera footage this time around 🙁
Remind yourself this is a good time to have a packing list, instead of winging it every time.
Load up the saddle bag. Remember, when you fly, Co2 cartridges are forbidden on the plane. So, if you forgot to buy them at Cycle Works earlier in the day, you borrow some from your host. Thanks Bobby!
Stuff your top tube food bag to the gills. Inside was a quantity of Gu Roctane hydration mix, four Larabars and a small container of Dumondetech lube. A squeaky chain greatly displeases me.
Cogitate about whether to ride with a hydration pack, aka a vintage Camelbak Razor.
Saturday = Race Day
Wake up at 3:45am for a 6:00am race start. Attempt a MacGyver zip tie solution to hold your rear-facing camera in place on the seatpost. By 4:00am, the MacGyver solution was a fail.
Mix and consume Coffee-meal, aka my combination of oatmeal with black coffee… not for everyone.
Visit the facilities a couple of times, I'll spare you the details.
Reassure Bobby that pre-race anxiety is totally normal. I said this mostly to reassure myself.
Fill the hydration pack.
Load the car and drive to Fallbrook and the start of the race.
Leave the hydration pack in the car. Totally illogical.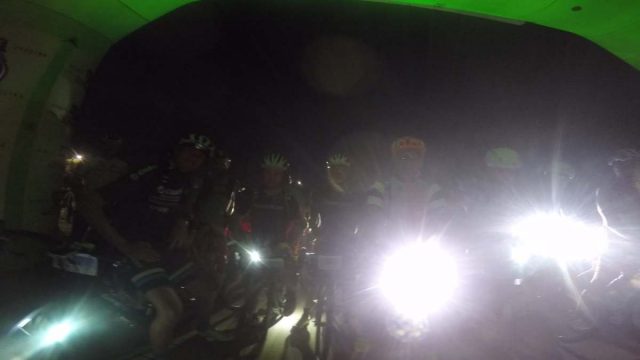 Pictured above is the start / finish line, a location I hoped I would pass through later in the day. Located in the front row or two are the bad arse riders of the race, whereas I was there simply to film the start and early miles, before accepting my fate of mid-pack or further back.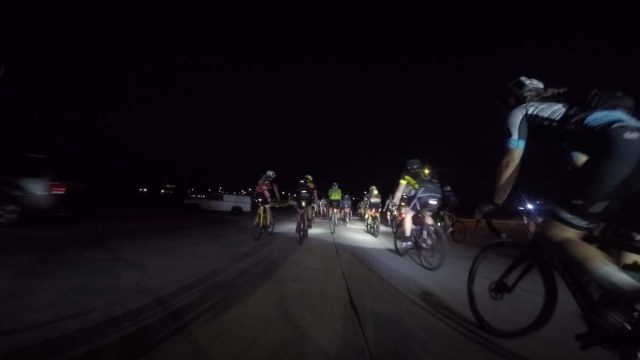 Right around 6:00am Central USA time, the race began and rolled at a neutral pace towards the first sector of gravel, which signified the official start of the madness. This neutral pace wasn't the kind of neutral pace I enjoy (as in 25+mph), as I prefer something more mellow, but the experienced riders in front of and around me did ride safely and predictably.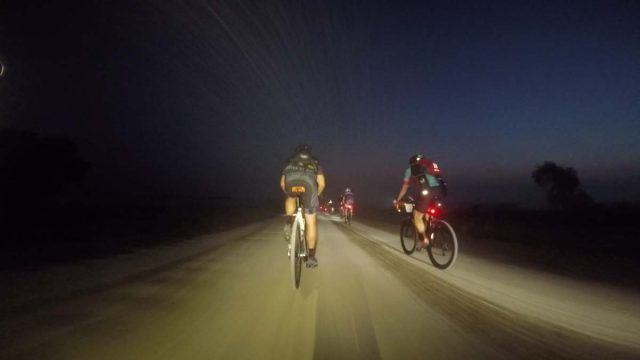 Above, the first 100 metres of Gravel Worlds gravel. It didn't take long before the front bunch was gone, and everyone was left floundering, either alone or in small groups.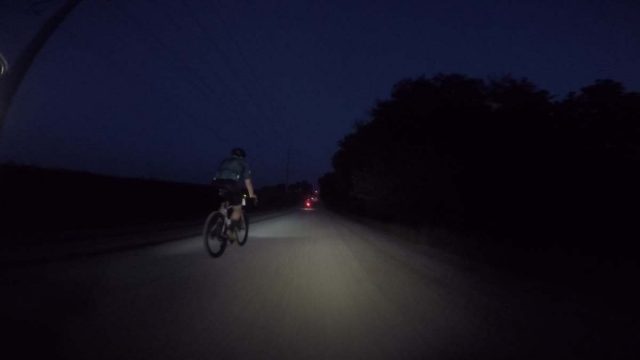 If the photo above isn't evidence enough, I was riding the early miles at my own tempo. That means, I was riding alone. Everyone who rolled past was riding too fast for my liking at this early juncture, which was most dissatisfying. My mind was willing but the legs had pressed the snooze button… they were dozy and unhappy about being awake this early. Compounding my first-world problems, I didn't have the company of my teammate and fellow slow-starter, K-Dogg. Alas, it was a long day and there could be opportunities to make up time.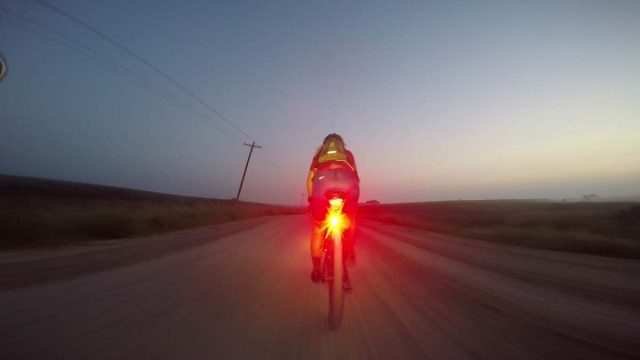 I did enjoy the company of Kristy Mohn for a while, who happens to be one of the owners of the Dirty Kanza Promotions company. We traded turns on and off for several miles, but it didn't take long before she despatched me on a hill somewhere along the course. Did I mention Lincoln, Nebraska isn't flat?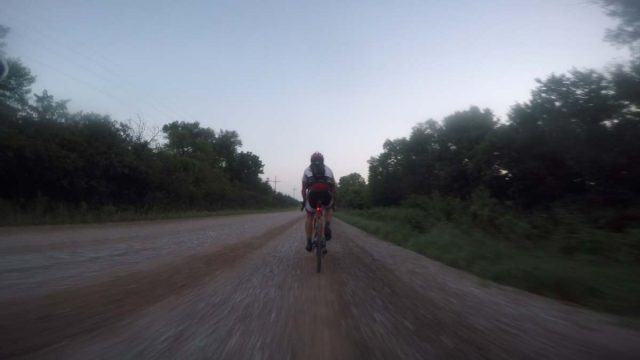 It was warm and relatively humid for this part of the world. Drip, drip, drip went the perspiration from the bill of my cap worn beneath my helmet. I'm used to sweating up a mess in humid North Central Florida, but I wasn't expecting to be this moist so early into the race. The predicted high temperature was 88 degrees Fahrenheit, or about 31 degrees Celcius if you prefer the metric system of measurement.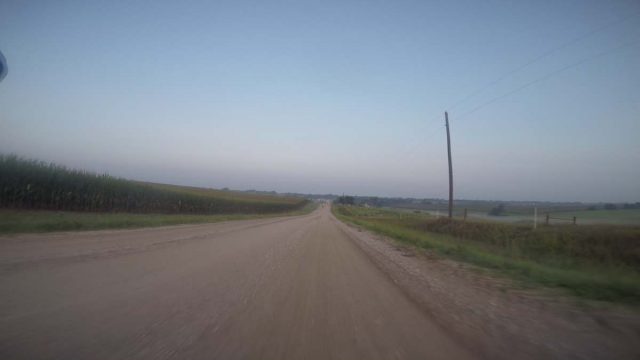 Gravity is my friend, but only when descending. Riding a 150-mile / 240 kilometre gravel race is about metering one's effort in doses, and mentally breaking up the race into small manageable chunks. My Garmin may have read "200-something kilometres until the finish", but I think about the distance between now and the next point of interest. It works for me.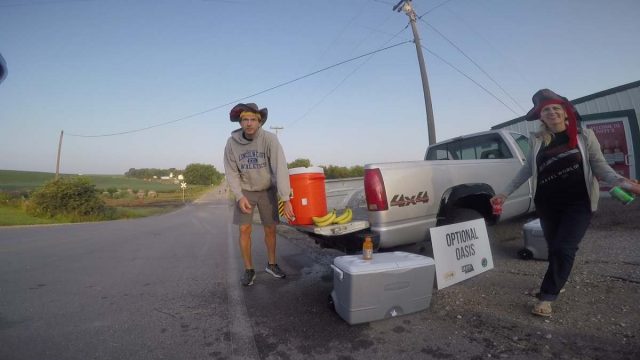 I'm going to admit it right now. I've been spoiled by drop bags. If you're unfamiliar with the term, one's drop bag should be distinctive in design, making it easy to find and filled with goodies prepared lovingly by one's self for transportation to a designated point along the course. Not dissing Gravel Worlds, this race doesn't cater to drop bags. Rather, the promoters have designed the course to pass through multiple towns, providing opportunities to refill one's bottles and buy supplies, and plenty of opportunities to refill at the two official checkpoints. Alternatively, there are many Oases (apparently this is the correct plural of Oasis) along the course with Gatorade, Coke, water and sundry food items.
I came upon the optional oasis of Touhy, Nebraska some 25 miles / 40kms into the course. I'd already burned through almost a litre bottle of my Gu hydration mix and made the decision to stop and refill. This is where my first mistake occurred. Rather than calmly refilling with water and adding Gu hydration mix from a resealable bag, I hurriedly accepted a Gatorade refill, which has a proven history of knackering my stomach. This issue did cross my mind at the time, but I shrugged and said to myself, "no worries, you'll be just fine"… such is the power of positive thought… or not.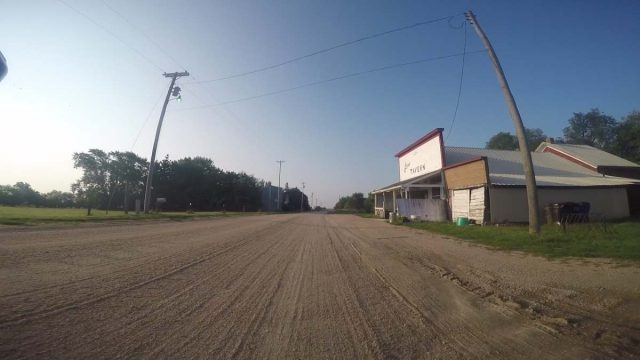 Above, the Loma Tavern in Loma, Nebraska. It wasn't open for business this early in the morning, but there was a pair of "trail angels" camped out in Loma, offering Coke, water, Gatorade and snacks. Thank you! Naturally, I imbibed in another refill of Gatorade…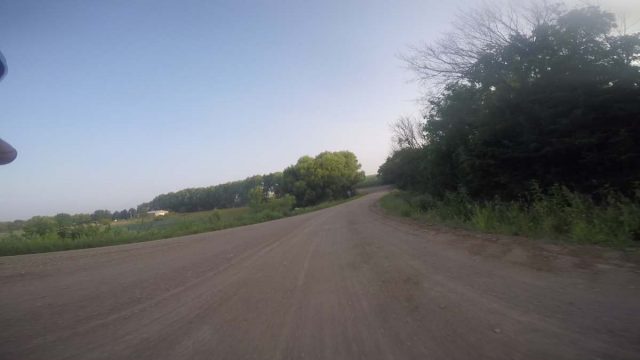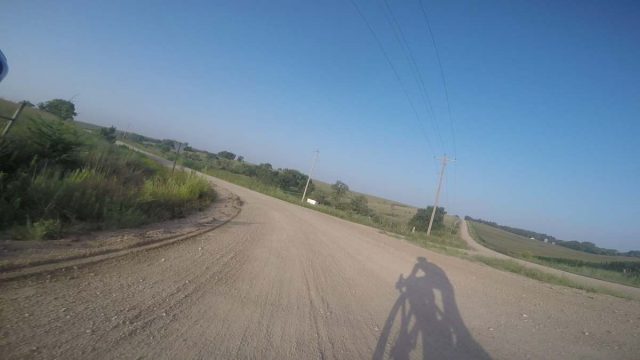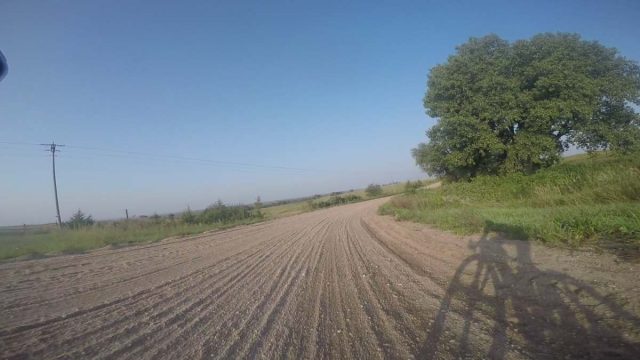 The image above reflects on the varied course conditions of the 2018 Gravel Worlds. My wide WTB Resolute 42mm tyres (measuring about 45mm on the Xentis Kappa2 650b wheelset) rolled effortlessly through this corner filled with deep gravel.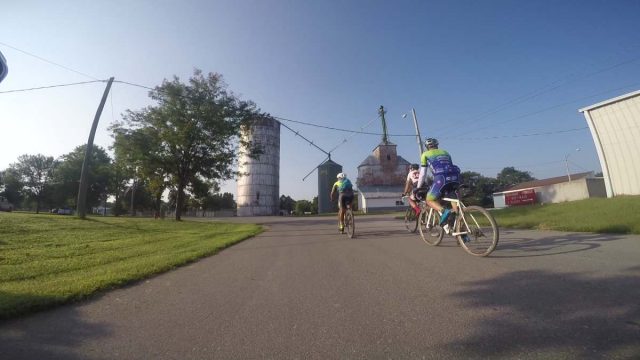 A little later, I rode into the town of Valparaiso, about 68km / 42 miles into the course. This was a rare moment when I had companions for conversation and some shared drafting.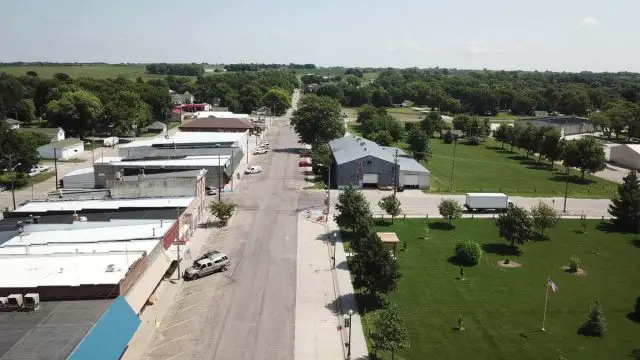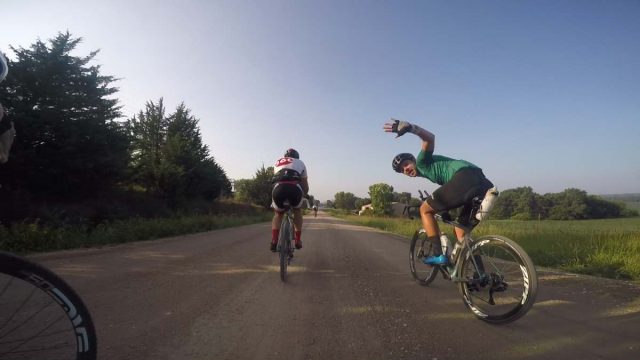 I rolled through Valparaiso without stopping, preferring to hide among the wheels of Nicholas Legan (the author of Gravel Cycling), Colin Little (one of my Midwest mates – we finished the 2017 Dirty Kanza 200 together) and a bloke wearing a kit emblazoned with a 360 logo. Colin was on a tear, and Nick who lives in Colorado, dropped me a few hills down the road from Valparaiso.
Funnily enough, I seemed to be keeping tempo with them as they hovered in the distance, but only because I made use of downhill momentum (these Xentis wheels are fast!) and pedaling my 46 x 11 big gear. Living in Florida much of the year, you're always pedaling. There's not a lot of proper descents on which to recover, so when you're pretty dodgy at scaling hills / bergs / mountains like me, you use every opportunity to make up some time. That be the downhill, sans recovery. No wonder I'm always knackered!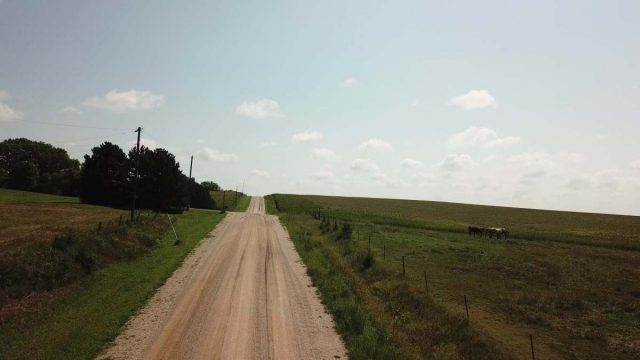 Above is hill #43, or maybe it's #8. Whatever the number was, this is the sort of view you had for much of the day. Hopefully, you enjoy riding hills. And they say the Midwest is flat… 😯 😆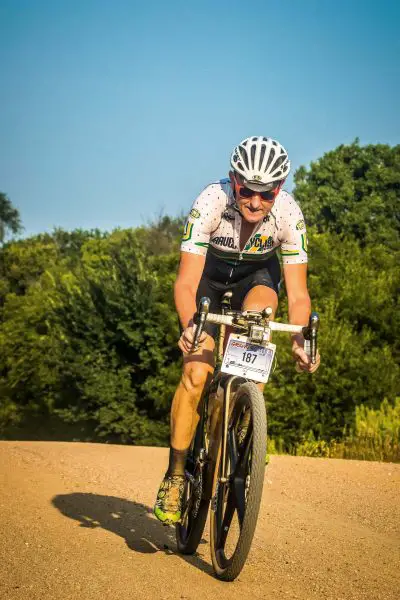 I don't know on which hill the above image was taken, but as you can see, I'm riding alone, but looking focused. Namely, I was focusing on the next hill that lay ahead. Many thanks to McColgan Photography for standing out on the course and snapping images of everyone. Do me a personal favor. If you see a sweet photo of yourself for purchase, don't be that person and swipe it for free with the watermark plastered all over it. Buy a photo, support the photographers of gravel, they do amazing work.
P.S. To those who have asked, I don't wear gloves… except when its cold. Not for everyone.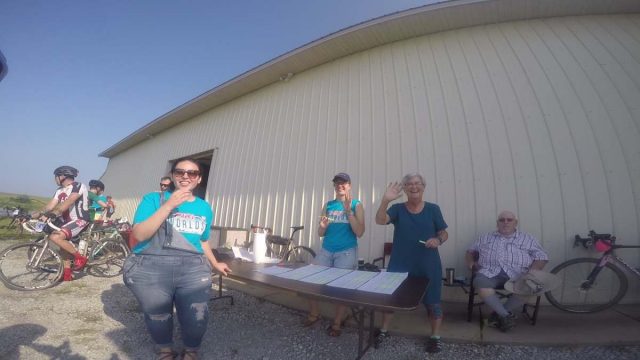 Fifty-eight miles / 92kms into the course, I rolled into Otto Pond and Mandatory Checkpoint One. Hi! to the volunteers checking off the riders, and another Hi! to the folks inside the massive shed with hydration and food goodies. I continued down the path of Gatorade fail at this location, but did imbibe in two ghastly shots of pickle juice. This stuff works, but bloody hell, it's an acquired taste…
Moving along… as I relaxed a moment or two to reflect on the fact I was over one third through the 2018 Gravel Worlds course, I spotted the original bard of Gravel Cycling (aka Jim Phillips) behind the big shed. He was having his own moment of reflection, namely, watering the grass. That point aside, he read a line from his poem of choice, kindly inviting me into the frame. You can see the results of Jim's latest masterpiece linked further down this article.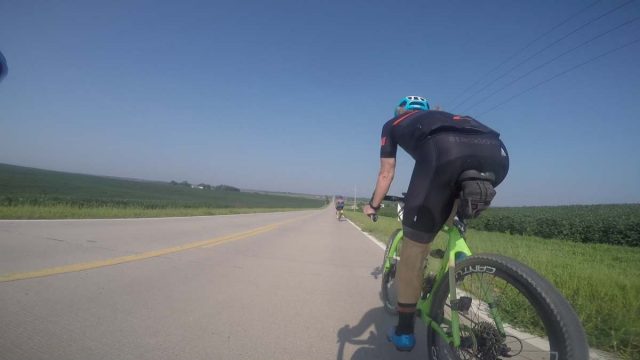 No time to dilly dally. An express train of riders was departing Checkpoint One and I was the last to board.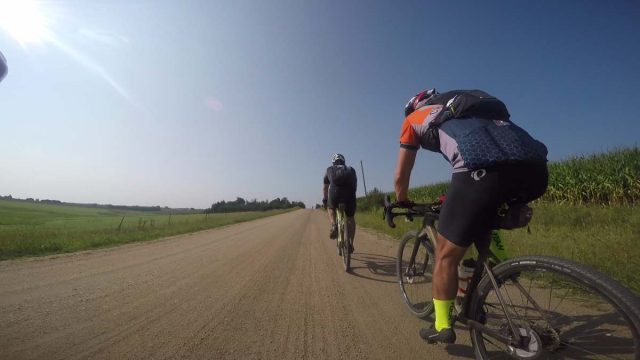 For the first time in almost 60 miles, I had company, that for at least four or five miles, rode together, before the inevitable difference in pace would split and fuse the group over and over again, as we ascended hills #35 to #39 (estimations). One bloke in our group was riding a Canyon Grail, my first sighting of the bike at a race. You either love or hate this bike, but you should probably click on this link about the bike, so I earn about .00001c from you viewing the embedded video.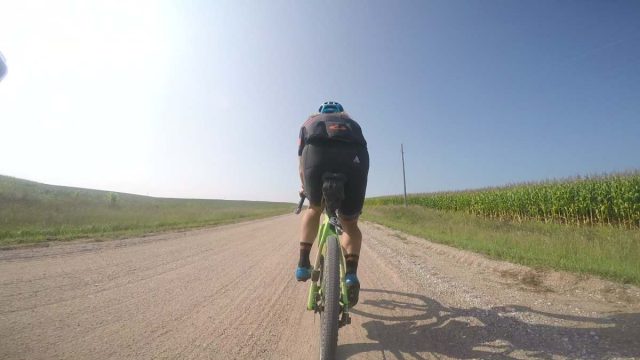 I ended up riding on and off with Jim Phillips and The Cyclist Lawyer, Megan Hottman.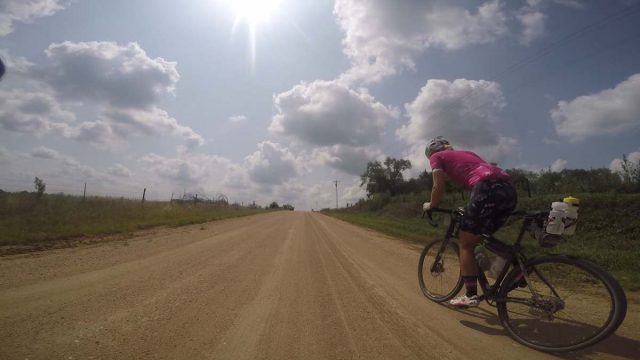 If you haven't met Megan, you should know she's a super strong, bad-arse all-round cyclist, who on this day was rolling a Cannondale Slate Force CX1, but converted to single speed. The bike perfectly matched her kit with its purple hubs, cranks, and so on. Jim, Megan and I yo-yo'ed back and forth for many miles until another Oasis rolled into sight.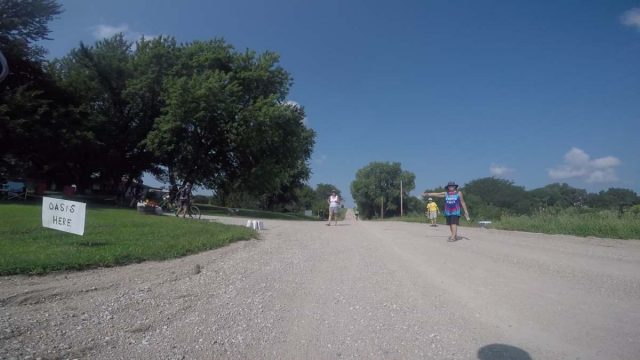 At the Oasis pictured above, located at the approximate half-way point of the race, Jim and I turned left to hide in the shade to down more caffeine-laced sugar. Megan pressed on.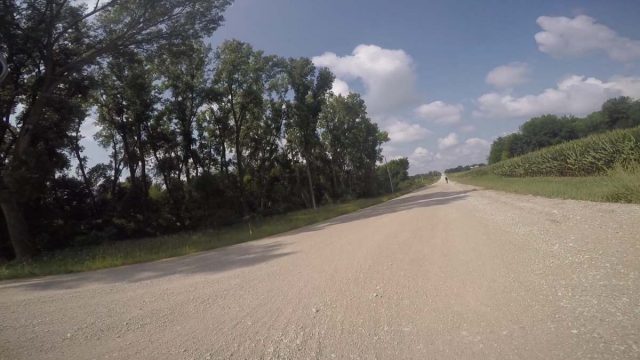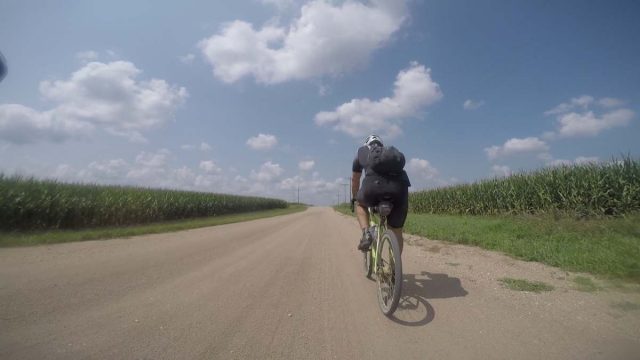 Above, cornfields on either side of the road. This was a common sight for much of the race.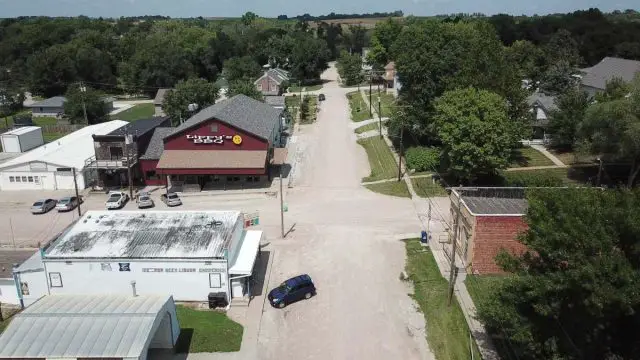 According to Wikipedia, the town of Malcolm is a village with a population of about 382 according to a 2010 census. The village was named for Malcolm Showers, the original owner of the town site. Three businesses are of interest; Lippy's BBQ, the Malcolm General Store and the US Post Office. Also, the main road through town, Lincoln Street, has never been paved. Malcolm is about 85 miles / 136kms into the course and a spot where I planned to rehydrate yet again.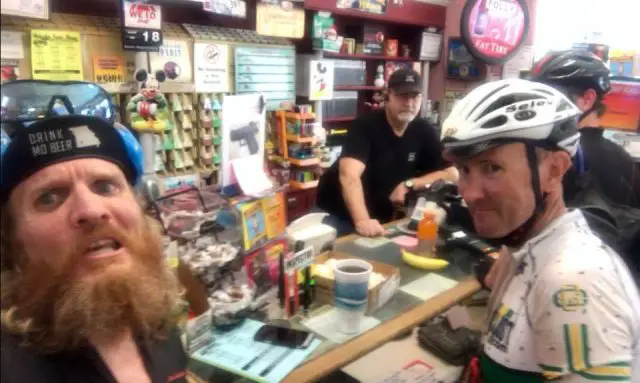 Jim Phillips and I rolled into town together, entered Malcolm General Store, grabbed some supplies, and took our place in the queue for the cash register. This is when Jim took an opportunity to continue with another line of his poem. You should probably click the video link below, to see Jim's work in all its glory…
Note, if the embedded video below doesn't play for you – blame Facebook – then, copy this URL into your browser – www.facebook.com/onyourback/videos/10156691126669777
Below is a scene from outside the Malcolm General Store. Water was downed, sugary drinks were mixed, all of which was contributing to the foulness that was likely brewing inside my stomach / digestive system.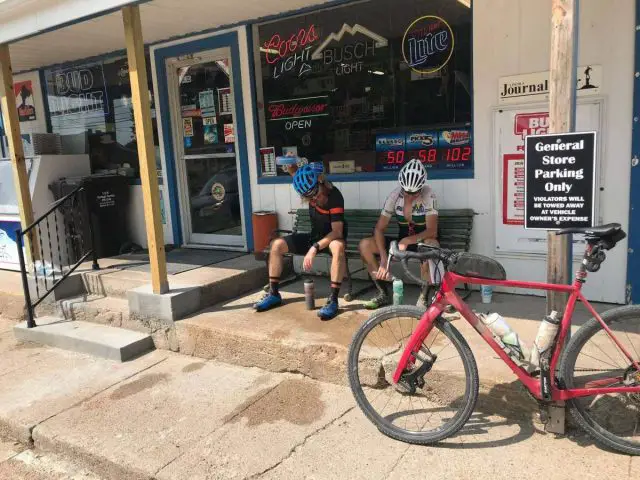 Lingering out of camera shot was Megan Hottman and Guðberg Björnsson, the Chief Designer at Lauf. You may have seen his handiwork on some well-known bikes and suspension forks… Guðberg was also feeling a bit dodgy. Remember, he lives in Iceland. The highest temperature recorded in Iceland was 30.5 Celcius / 86.9 Fahrenheit, at the Eastern fjords in 1939. Guðberg wasn't around in 1939, and the temperature in Lincoln and surrounds on August 19, 2018 was officially recorded at 89 degrees Fahrenheit.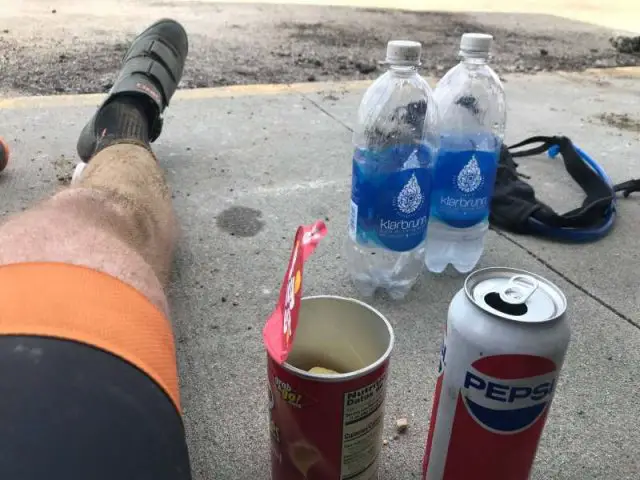 Above is a photo of the sort of crap Guðberg was consuming. Anything goes when you're feeling like arse.
My training leading into Gravel Worlds hadn't gone to plan, but I had enough base miles in my legs from years of riding that I was confident I could finish. And thus I left Malcolm with Jim for company, and chugged on towards landmark, the "World's Largest Covered Wagon".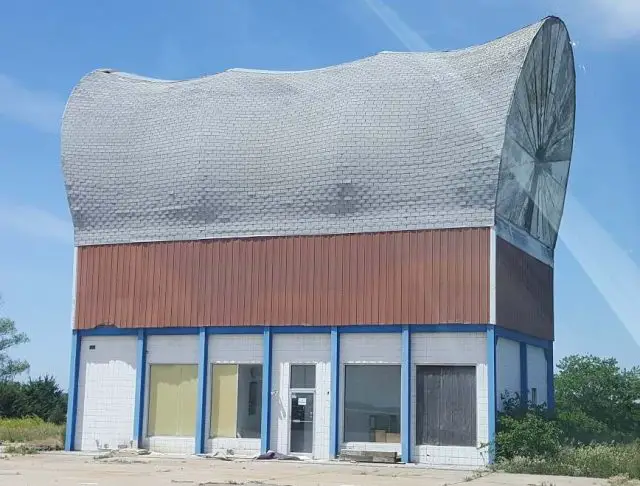 The photo above is an accurate depiction of the wagon. If it was in business, it was no longer in business when I rolled past. Now, not to diss anybody here, but when I last checked, doesn't a wagon have wheels?! Also, this wagon is a bit underwhelming…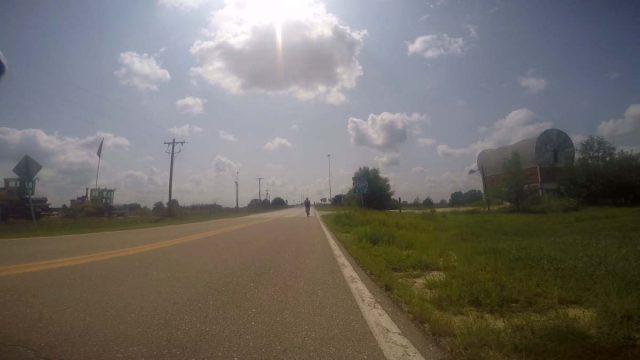 Above, my view of the "World's Largest Covered Wagon". I was more interested in the next chance to grab water, located about a quarter of a mile away and just over the bridge spanning Interstate 80.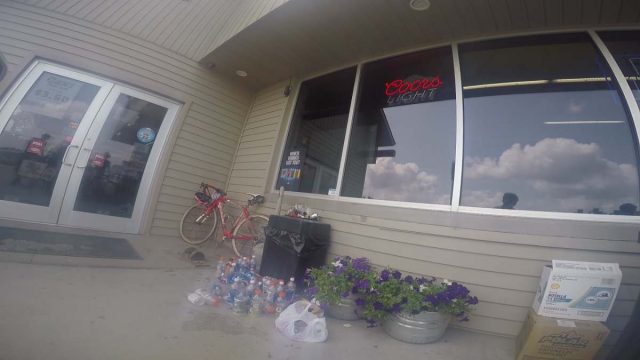 In the photo above, exactly 101 miles / 161.6kms into the course, you may notice the pile of Gatorade and water bottles overflowing the bin / trash can outside yet another convenience store. Seems this was a popular stopping point for riders at the 2018 Gravel Worlds! You may also be thinking… "JOM, didn't you stop about 15 miles earlier to rehydrate?" "Ever heard of toting around a Camelbak?" Hydration wasn't really my issue, rather feeling like arse was, and the desire to take a break from the saddle. At this time, I wasn't racing, rather, rolling along in quasi-tourist mode looking to finish in a semi-reasonable time.
It was here that I bid Jim farewell for good, leaving him to his own hydration and nutrition dilemma.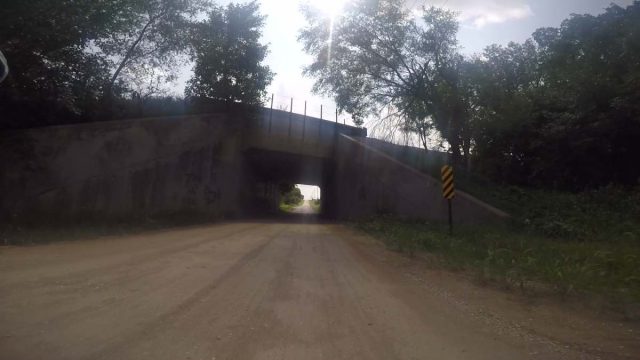 You'll forgive me if I don't include photos of the next landmark along the route, the Denton Wall. Brain fade, aided by zero tree cover, meant I didn't run my front camera as much as I had hoped in the final 50ish miles. Regardless, the Denton Wall wasn't steep as the name implies, and I scaled it sans difficulty.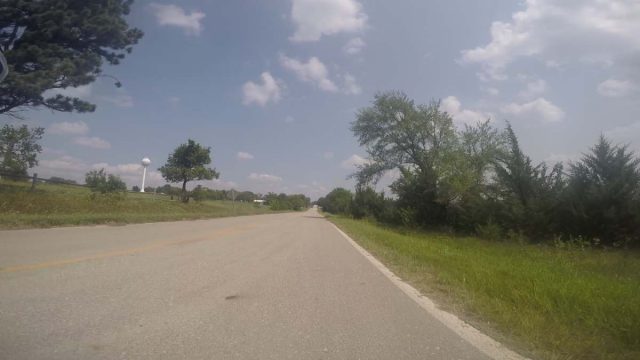 The town of Denton, population about 190 according to a 2010 census.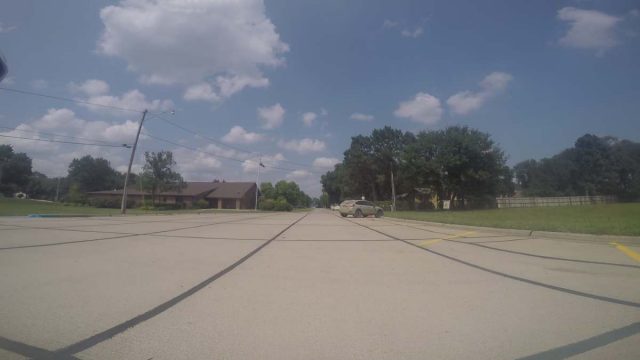 Denton, Nebraska, some 120 miles / 192kms into the course does have a convenience store / petrol / gas station, but the second mandatory checkpoint of the day was just eight miles away. I kept rolling.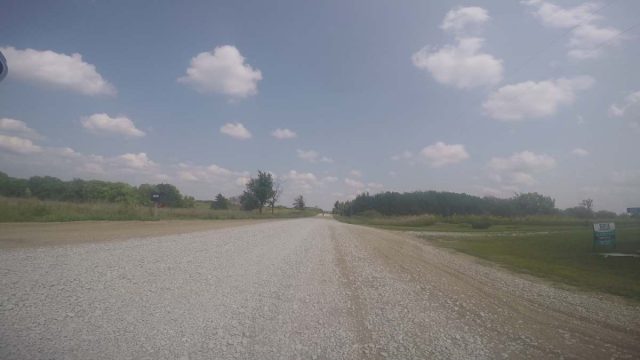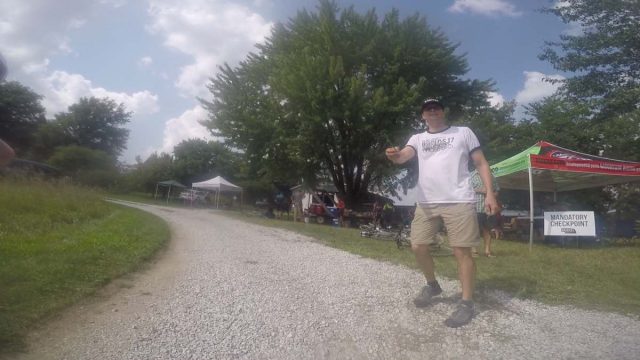 Above, the view of my arrival at Checkpoint Two, 128 miles / 205kms into the course. The friendly volunteers welcomed me, directing me to water, solid food and other hydration goodies. I chugged a huge shot of pickle juice, water and a Coke. I even managed to consume two Larabars that were hanging about in one of my rear jersey pockets! My legs, back and everything else really wanted a break. So, I broke one of my rules and took a seat for a few moments in a well-shaded lawn chair.
On the positive, it had been 28 miles since my last stop and despite feeling like arse, I'd ridden at a relatively decent clip. I wasn't going to break any average speed records, but I was going to finish the effin race! 🙂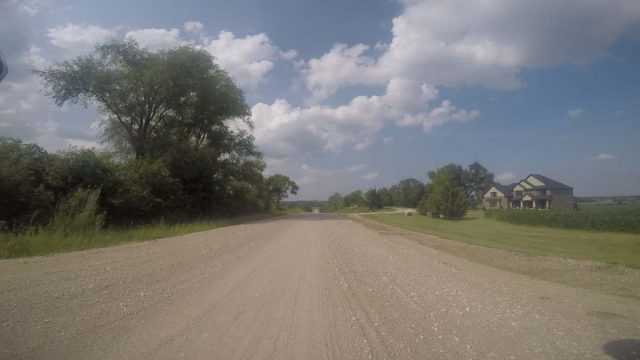 Just twenty-two miles left to ride, and hills #70 and #71 were somewhere behind me. The temperatures on race day may have been toasty, but the wind had never been a factor all day, one I am thankful for.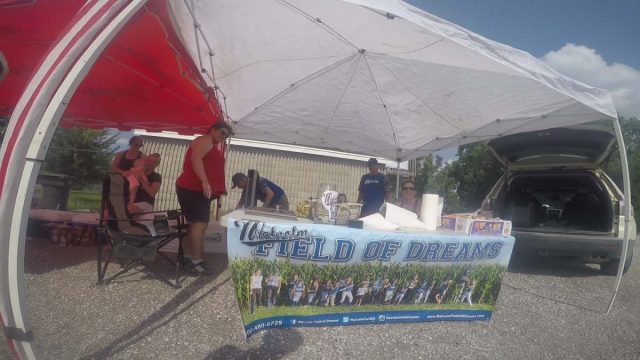 Ten miles later, I made a quick stop to make a donation to the Malcolm baseball team, who were fundraising to build a new diamond in an adjacent field. To the others who bought supplies or donated, nicely done!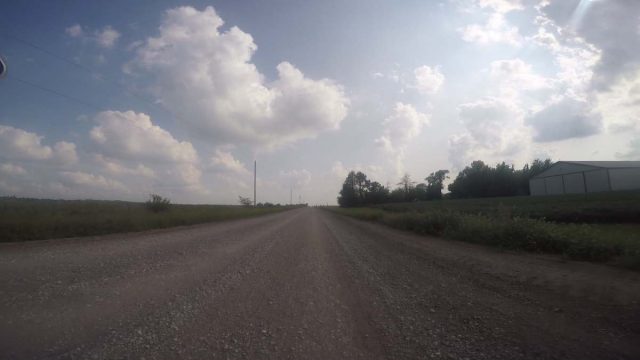 Above, the view with about five miles left to ride. The course flattened out for a while, in a day accented by endless hills and heat.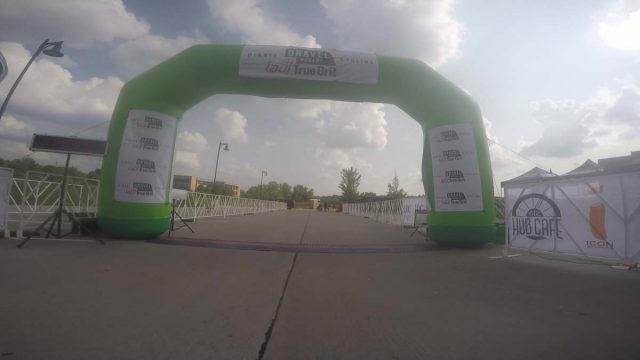 It wasn't pretty, but I finished the 2018 Gravel Worlds in a total time of 11:04:56. Considering my nutrition and hydration plan went completely out the window, and my constitution feeling like total arse the last half of the race, I was happy. Hats off to everyone else who finished the 2018 edition of Gravel Worlds, it was hard going, no matter your finish time.
Post-race, I had plans to photograph some bikes, interview some riders and socialize. Apologies to anyone at the post-race festivities, my personality was somewhere on the course. Sadly, my stomach was in a state of distress, made worse by the beer I consumed not long after finishing (but thanks anyway for the beer, Ben!). I barfed most of the beer in the field behind the porta-potties, a rather undignified way to end the day. Straying from my hydration / nutrition plan didn't go so well.
Moving on…
Many thanks to:
Corey Godfrey and Craig Schmidt, the duo who organizes and promotes Gravel Worlds every year.
Their massive team of volunteers including those at the Checkpoints.
Anyone affiliated with the on-course Oases and trail angels.
My bike. You may be an inanimate object but you were solid all day. Thank you Lynskey Performance, Xentis Wheels, WTB tyres and Orange Seal Endurance Formula sealant!
Champion System clothing – My kit did a lot better in the heat and hills of Nebraska than I did. Thank you for the support.
My fellow Gravel Cyclists. Whilst I rode much of the day alone, I did appreciate the on-course camaraderie and conversations.
Bobby and Becky for hosting me! Incidentally, Bobby finished his first Gravel Worlds! Well done mate!
The burning question, would I attempt Gravel Worlds again? If you'd asked me this question post-race 2018, no effin way. A week and a bit later, let's say a return could be on the cards.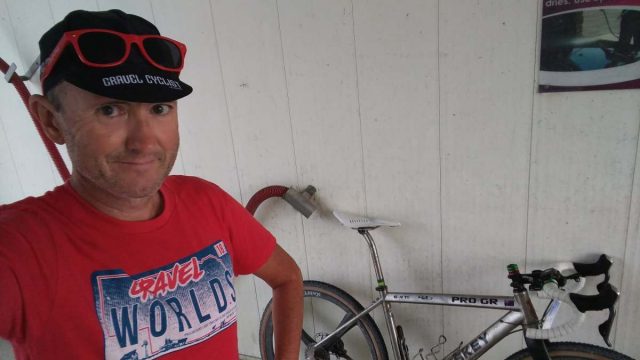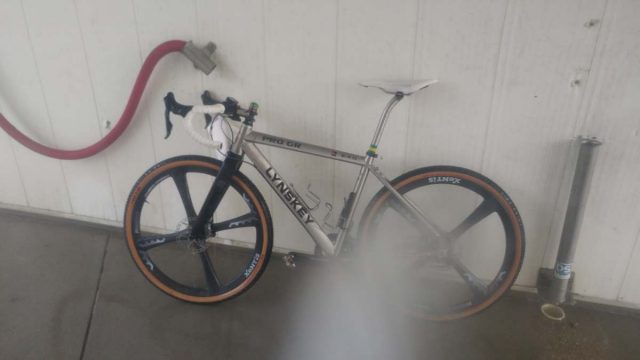 What's next? The 2018 Gravel Worlds race video (with drone footage)… from the perspective of my mid-pack performance. Watch this space!
Thanks for reading.
JOM