About the Race

The 12th running of Iron Cross was the 6th race of the American Ultra Cross Series, held in the Michaux State Forest in Pennsylvania.  The 12th and possibly last edition of the race took place on October 6, 2014.  The mac daddy event is advertised as a 70+ mile Ultra CX race.  The course features everything; gravel, pavement, single track, rocks, boulders, dirt and hike-a-bike sections (my least favorite thing).
I attended this race in 2013, and by attended, I mean I finished it.  No record setting times, rather a race I wanted to check off my list.  Roll forward to 2014, and by some miracle of consistency (it hasn't been my results), I find myself sitting in the Top 10 for Masters 40+ in the UltraCX series.  Because my friend (he's really a jerk) Andrew Stackhouse decided to move with his wife to Cleveland, OH, the Three Peaks USA race in North Carolina was canceled, which meant I should attend Iron Cross.
Race Preparation
It could have been better.  When I departed my home in Gainesville, Florida, I had a feeling there was something I'd left behind.  Turns out there were two things I'd left behind, which I figured out on race eve, around 5pm.
Forgot my Co2 inflator.  The irony is I had plenty of Co2 cartridges, but no inflator.  Brilliant.  Any area bike shops were now closed, and Wally World didn't carry inflators.  So, I hoped that someone at the race may have one laying around.
Forgot my regular racing kit.  Did a load of washing last Wednesday, the kit was still hanging on the drying rack when I left the house.  Thankfully I had another Gainesville, Florida team kit with me, even if it wasn't my own team… I'm such an ambassador for Gainesville, Florida cycling 🙂
Race Morning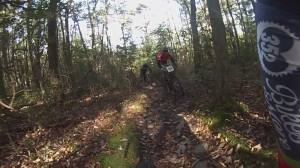 I made the drive from Waynesboro, PA to the race start, with plenty of time to unload the bike, visit the facilities, sign in and socialize.  I was trying to avoid agonizing about the sections of the race course known as Lippincote and Wig Wam… la la la, they don't exist, la la la, and the fact my legs felt pretty crap during my abbreviated race warm up.  I blame the hammered legs on my recent participation in the National Bike League's Mileage Challenge… where I killed myself for five months and ended up 4th nationally.  Never again.  Moving along… at least the weather was near fantastic!  A little cool at the start, but sunny skies, high temperatures in the high 50's Fahrenheit, perfect for a race of this magnitude.
Before race start, I met the race organizer, Mike Kuhn, and gave him kudos for such a well organized event.  The relocation of the start allowing for additional parking was a nice touch.   The sections of course I scouted the day before were well marked, and negated any worries about going off course, etc.  Additionally, he loaned me a mini-pump for the race.  Mike, you're a top bloke!
Race Time

Race start position is staggered by where you *think* you'll finish, in terms of total finishing time.  Four hours, four and half hours, etc.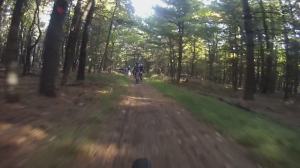 The lead riders in the four hour group are called to the start, and coincidentally, most of the field rolls (over 120 riders in 40+!) to the front.  Bike racers tell fibs.
I don't belong in the front group, but I wanted a good start, so I plopped myself a couple of rows behind the leaders.  What a liar.
9am rolls around, and the race starts.  After a momentary log jam, I found myself near the tail of the leading riders.  Because the terrain on this part of the course was flat or downhill, I was able to pass many riders, and overall, pleased with my start.  But that would quickly change on the slight climb along the powerlines trail.  With legs that felt pretty bad, any climbing today was going to be a rough proposition.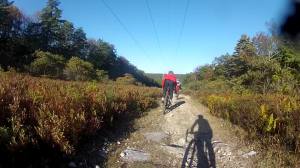 The Powerlines descent had plenty of rocks and loose soil around the place, but I'd pre-ridden it the day before, so no worries there.  However, I'm certain some riders punctured, or had difficulties on this section.
The Road to Lippincote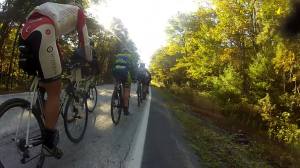 It begins with a fast paved descent, that leads to a paved climb, and then a long gravel road featuring many ups and downs.  While I made buku time on the paved descent, I went from group to group backwards, along many of the following climbs, due to continued $hite legs.  I'm not much of a climber anyway.
Not far from Lippincote itself, I spotted a fellow racer by the side of the road, being attended to by first aid and course officials.  Whatever happened wasn't good, and I wish him a speedy recovery.  Nobody wants to crash and injure themselves.
The Evil of Lippincote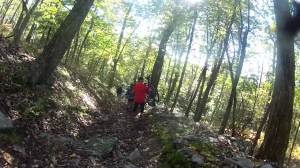 Lippincote isn't something you can train for, unless you live in an area that features a trail strewn with rocks, boulders and other bollocks.  Some of the local PA residents have uber tribal knowledge.
I pre-rode / walked the trail on Saturday, but there was peace and serenity then.  Race day, its chaos.  Imagine over 300 cyclists, all trying to get through this trail as fast as possible.  There are people *trying* to ride the trail in its entirety, while others pick and choose the sections they ride.  I fall into the latter category.
My primary goal of Lippincote was survive it without destroying my bike, twisting an ankle while hoofin', or crashing and royally f'n myself up.  While I was stumbling around the worst of the trail's downhill section, the women's leader, Selene Yeager, hauled arse past me, and made it look easy.  As she passed, I yelled "I've been chicked already!"  Hopefully she got a laugh out of that.
Eventually, I made it through Lippincote unscathed, although I did curse a lot.  I came up with a new nickname for the trail, but unfortunately, its rather rude, and not something I can share here on the blog.
The Wig Wam "Run Up" and Powerlines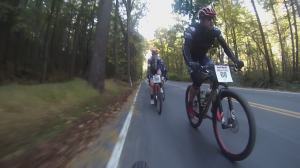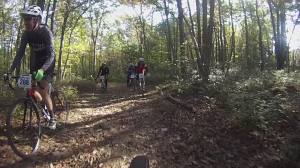 After Lippincote, the riders enjoyed a long paved descent, followed by lots of climbing on gravel roads.  There is plenty of tasty scenery to admire along the way, if you're in GFM (Gran Fondo Mode).
Along the way, I was briefly part of the Rare Disease Cycling Team Express Train.  Stephanie Swan and Ruth Sherman were in there, sitting pretty, as their group cruised along at a rapid tempo.  Pretty certain they were working hard to catch Selene Yeager, who was leading the women's race.
All of this was a respite before the course reached the powerline trails, one of which includes an impossibly steep ascent to further powerline trails.  This ascent I speak of is known as Wig Wam.
Wig Wam isn't a run up, its a hike up.  Its unrideable, so get that idea out of your head.  Based on local topographic maps, I believe the average gradient of this heinous climb is in around 48%, for about .1 of a mile.
Ordinarily, hiking up this beast wouldn't be so bad, but when you're lugging a cyclocross bike over your shoulder, its a different proposition.  I have a purpose built Monster CX bike for these types of events.  Unfortunately, because frame clearance is non existent for throwing this bike over one's shoulder, it has to be pushed, shoved and dragged up Wig Wam.  Its a fantastic core workout, and is marvelous for your back!
Enjoy the mini-gallery of Wig Wam, taken from JOM's Go-Pro video captures.
During the misery of Wig Wam, a crew of lads was firing air horns, and giving encouragement to the riders… or was it heckling?  Either way, I told them to get a job, like throwing me a rope and towing my arse up.  I also gave my residing in Florida excuse, which I always milk.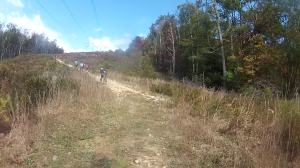 Following Wig Wam and a jacked heart rate, there was the powerlines ascent.  Not as steep as Wig Wam, but more hike-a-bike action for those so inclined.  I tried riding the first 10 metres… epic fail.
Almost Half Way Through
The race loops back to the start / finish line and parking lot, where your self provided hydration and food supplies await.  Because your vehicle is also here, it is a real temptation to quit the race, if you're feeling a bit rough.  I was feeling less than sublime, but there was no bloody way I was going to quit this race, after traveling so far.  Rather, I chowed down on my food stash, conveniently stored in the trunk (boot) of my vehicle.  A gentleman (sometimes) prefer to eat from the car, versus eating from a food bag, camouflaged by countless other food bags.
Onward to Larry's Tavern
Between Checkpoint Two  (CP2) and Larry's Tavern, lay a lot of terrain featuring gravel, paved roads and single track.  There is one beautiful gravel descent, that follows almost immediately after CP2.   This descent, and the paved descent that leads to the long single track section, are among my favorites on the course.  I'm good at descending, in fact, I love it.  It makes all the suffering of the climbing misery worthwhile.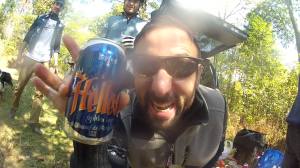 The long paved section (does it have a name?), is beautiful.  The leaves were changing, and I had a little time to admire the fall colors.  Barring the odd log over the single track, this section was relatively easy.  Eventually, this fun ends, and the partially rock ascent, and mega steep trail ascent close to Larry's tavern begins.  Just when you thought you wouldn't be walking any longer, you're clipped out and hoofin' it.
Thankfully, this steep section levels out briefly, before ramping up again to Larry's Tavern itself.  As a matter of pride, I rode up to the tavern.  The lads and ladies at the tavern are uber encouraging, and there was pickle juice and beer waiting.  Giddy up.  Thanks to Dan Rapp and other volunteers for the kind words, and providing the two beers I downed.  Beer has awesome hydration properties, and is known to numb pain.
The Home Stretch
Approximately 30 kilometres (18 miles) remain towards the end.  My goals weren't lofty today.  Finish, but fast enough to beat last year's time.
I made a flying stop at the Checkpoint just after Larry's Tavern, for a Coke hit – that's Coca Cola trendsetters, not the powdery stuff.  Coca Cola + Gatorade is a winning formula when I'm knackered.
At this stage of the race, I was close to cracking.  Hydration and food intake had been good, but as mentioned earlier, my legs were empty.  Thankfully I had some low gears on my rig, so I could stay seated and spin a good cadence, and avoid blowing my legs completely.
There was a LOT of climbing along the home stretch.  In fact, it seemed never ending.  I saw a few riders here and there, usually as they chugged past me on the climbs.  I'd catch and pass them again on the following descent, only to be dropped again on the next climb.  Cat and mousing all day.
Then there was that last climb to the finish.  What an utter bastard.
The Finish
Smashed is the only way I could describe how I felt when I crossed the line at Iron Cross XII.  On the positive, four minutes faster than my 2013 appearance, and up the 40+ finish ladder by 15 places.  Small victories.
Would I try this race again?  Yes, but only if I were well rested.  This isn't a race you can bluff.  With the difficult hike-a-bike sections, this is the most difficult Ultra CX race I've done… harder than 3 Peaks USA.
Race Video
Is coming soon, with front and rear camera footage… keep an eye here on the blog, or the Gravel Cyclist Facebook page for updates.
Thanks for reading!