Iron Cross 2014 is tomorrow, October 5, 2014.  I took the opportunity today to pre-ride the Lippincote trail, and Powerlines start loop.
The gravel sections of the course look to be in really nice shape.  Friday's rain seemed to have helped pack everything down nicely.
However, the rains are not going to help me with the Lippincote trail.  It's pretty much as I remember it last year.
Lippincote Trail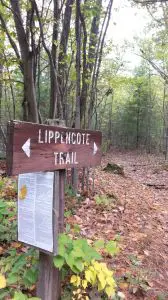 With my limited skills (remember, I reside in Florida), on rocky surfaces, I fully expect to walk / shuffle at least 30% of this trail.  There is a very rocky downhill section, that is unrideable by someone of my skillset.  Even with nobody else around, I didn't exactly rocket through this section of the course.  A full suspension fat bike would be the perfect machine for me!
Powerlines Start Loop
There is nothing too much to worry about here, although punctures may be an issue on the descent.  The descent is littered with sharp rocks, so riders aboard narrow CX tires will need to exercise caution.
Wig Wam Run-Up
You think I previewed this today?  Yeah right.  I'll deal with the mega suffering up this stupid steep hiking trail on race day.  I'm sure nothing has changed from 2013.
Race Objectives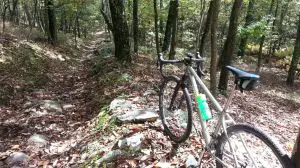 Don't die.
Don't blow up early.
Don't crash.
Make like the Iron Sheik, suplex the race, put it in the camel clutch, make it humble (highly unlikely).
Finish faster than last year.
Smile and enjoy the scenery (if in Gran Fondo mode).
If you see me at the race tomorrow, say Hi!  I'll be aboard a drop bar Lynskey Monster Cross rig.
More reconnaissance photos
[alpine-phototile-for-flickr src="set" uid="[email protected]″ sid="72157647965415118″ imgl="flickr" style="gallery" row="6″ grwidth="800″ grheight="600″ size="240″ num="6″ shadow="1″ highlight="1″ curve="1″ align="center" max="100″]