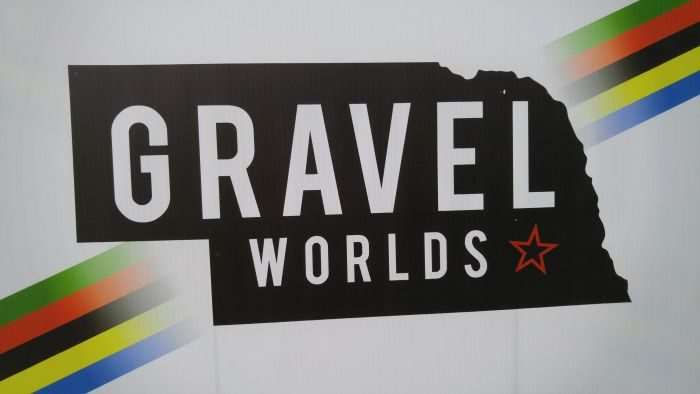 Gravel Worlds – a light-hearted homage to the real deal on the pro road racing circuit but on gravel roads in Nebraska. With race categories such as cargo bike world champion, you would expect attendees don't take this race too seriously. I'd hazard a guess that 90% of attendees don't give a crap and just want to finish, but the allure of that sweet Gravel Worlds jersey with its rainbow stripes is strong to some…
With our goals adjusted to a more realistic nature, we set off for Lincoln, Nebraska from our hometown of Gainesville, Florida on Thursday, August 18. All three of us would be reppin' the fine Ritchey Breakaway CX bike / gravel travel bike.
The flights went perfectly and we ambled into the lovely town of Lincoln at a reasonably decent hour. Thank you Southwest Airlines for being so courteous, friendly and kind to us and our bikes! It was quite apparent from the air that Nebraska was far from flat… motorists, get off Interstate 80 sometime and you'll see what I mean. The crew was pretty knackered from our long day of travel, but I had enough petrol in the tank to assemble a good portion of my bike. Inflating the Panaracer Gravelking SK 700c x 35mm tyres (under review) and leaving them to stand overnight was a task I wanted to accomplish before hitting the sack. The Bontrager TLR Flash pump (another item under review) was extremely handy for inflation duties and packed nicely into my regular suitcase.
We woke to pre-ride day aka Friday and set about assembling our bikes. It didn't take long before I was ready to roll; I had time to do a nice little roll-around downtown Lincoln and the old railway station complete with steam locomotive on display.
I'm a bit of a railway nut, in case you missed that in earlier postings on Gravel Cyclist.
The Dogg duo was close to finished with their bike assembly after my return to the hotel, but a little help was needed with brake tweaking. For those who are interested, all three of our bikes are shod with Avid's awesome Shorty Ultimate cantilever brake. Love these brakes!
A little course reconnaissance aka "tribal knowledge" was in order, and I designed a route from our hotel to the start line and first 10 or so miles of the course. Meeting us at ride start was the Panaracer gravel team of Bob Cummings and teammates Nathan Wadsworth and Rob Bell. Unknown to me, Ribfest was happening on this day and over the weekend, and part of my route to the course cut through the Ribfest venue. On the way out, I must thank the security dudes, they were pretty cool about us rolling through. On the return leg though, an overly zealous security lady was quite rude and gave us the heave-ho – a less than pleasant welcome to Lincoln. Ugh. Moving on… 🙂
The other thing learned is gravel in Nebraska is quite sandy and loose in spots, very similar to the conditions of my USA hometown of Gainesville, Florida.
Thus, I had no concerns about the course, aside from the endless hills…
Certainly a high end shop, it wasn't your typical surgery like studio store with zero character and zero vibe. Thanks for the packet pickup brews! Shortly after, the Gravel Cyclist crew headed out for an early dinner – around 4pmish – early bird special? – and chilled out in the hotel room as the predicted rainstorm of the day doused Lincoln and surrounding districts.
4am wake-up!, Dirty Kanza 200 all over again. Race start was scheduled for 6am and some lighting would be required for at least the first half an hour… unless you are the type of bloke who relies on the lumens of others?
We chowed down our breakfast and loaded the bikes, creatively, into the back of the rental SUV. The bikes were tweaked to perfection and there was no way we were removing wheels to squeeze into the vehicle.
Bang on 6am central time, a pickup truck from the organizer's crew led the massed field under "neutral" and towards the first sector of gravel. Taking my spot on the front row of the start line – as in abusing my "media" credentials in the name of good film making – I hung around in the top 25 or so riders as we sped towards the first of many sectors of gravel.
The pace was hardly neutral – think 30+ mph at times, but everyone was friendly and there was no nasty pushing and shoving like I've seen at so many road races in the distant past.
The turn onto gravel sector #1 and North 27th Street saw the pace lifted immediately. At the front of the field, the Panaracer gravel team lined it out, splitting the field into pieces.
Wearing clear lens glasses for good reason, my eyes were shielded from the blunderbuss-like expulsion of small pieces of gravel from the tyres of those around me, as it bounced off frames, skin, helmets and shoes. Yesterday's late afternoon rain had dampened the gravel surface causing it to soften, sucking the power from everyone's legs. Velcro gravel! If conditions were like this the entire course, this would be a very tough day.
K-Dogg and I vowed to stick together at Gravel Worlds – we made the same vow at 2016 Dirty Kanza 200 but the mud at mile four saw that plan fall apart when my bike packed up with mud. Thankfully, there was no mud packing along the soft roads of Gravel Worlds, and we gleefully, sort of, stuck together on the tail end of bunch #2. Behind could be seen the distant shine of LED headlights, dropped by the tough pace of the leading groups.
Soon, we were dropped – or rather, we "sat up", mostly at my prompting. "K-Dogg, this friggin pace is way too high. We need to sit up now and latch onto one of the other groups behind us". Being former road racers (but nice guys), we know a thing or two about energy conservation and riding smart 🙂
It didn't take long before we joined up with a group containing a mix of single speeders, fat bikes and regular gravel bikes. Gravel racing has it all!
Unfortunately, some of the dudes in the group were railing it hard on the climbs but would take it easy on the downhills. I much prefer steady on the climbs, as in don't drop my arse, then ride solid tempo on the downhills. No coasting, always pedaling!
Thus, the Dogg paced me nicely on the climbs as we yo-yo'd back and forth near the same bunch of guys, over and over until we reached Checkpoint #1 at Schmidty's Aunt and Uncles.
Checkpoint #1 was a breeze; volunteers kindly refilled our water bottles, we marked ourselves as present on the rider checklist and collected a coloured pipe cleaner indicating we'd made the stop. Another breeze was the weather… a kind southerly wind pushed us along.
I tried not to think about the inevitable headwind that awaited. On the positive, temperatures were extremely pleasant. At ride start, a low of about 62 degrees F with a max around 73 degrees F and cloudy skies. Almost perfect weather for a long day of bike racing!
If you check my Strava workout elevation profile below, you'll see Nebraska and the Gravel Worlds course ain't flat! There is a certain beauty to this landscape of rolling hills, vistas and fields packed with corn and soy beans, but the Dogg and I didn't have time to admire the scenery.
However, we were making excellent progress and on target for a sub 10 hour finish. That was one of my goals for the day, along with finishing Top 25 in my age category. The Dogg has loftier goals than I but was bummed about the lack of a 60+ category… maybe in 2017…
Just west of the town of Roca signified a right turn into the tough headwind several of us had been fearing. It wasn't the worst I'd felt by any measure, but getting in with a good group and working together was a better proposition than going it alone. K-Dogg and I didn't need to exchange words… we dragged ourselves to the group a few metres ahead and latched onto the back for the first of much headwind and gravel.
Many are content to sit on the front for far too long, killing themselves into a tough wind, only to be dropped off the back as the next rider in line ups the pace. Thinking I may need to write an article for the website about how to paceline and echelon effectively on gravel… working together well is much more efficient than bursts of speed, then slowing down again… or possibly dropping yourself.
That said, the pace in our group was steady and we made very good progress towards Checkpoint #2 – Reinkordt Farm. I'd been hurting on the climbs until about 60 miles into the race, but K-Dogg's pacing kept me just out of the red zone and feeling great. Now, I was feeling A-M-A-Z-I-N-G!
Approximately five miles from Checkpoint #2, the leading woman in the 50+ category, Karen Pritchard of the Panaracer gravel team, along with good friend Don Buttram of the Kuat Racks / #racklove team and others caught us. If memory serves me well, I believe K-Dogg announced at this time he was feeling the pinch and suggested we back off the pace a little. We let the Pritchard / Buttram group go, and ambled into the checkpoint a few minutes in arrears.
My own teammate K-Dogg still wasn't feeling great and I thought mometarily about leaving him behind with thoughts of a good finish for myself. I even made a dash for the car keys in his Camelbak rear pocket but thought better of it. Like Evan in the previous paragraph, I kept to the Gravel Cyclist plan to ride and finish Gravel Worlds as a two-man team… and in case you're wondering, Mrs K-Dogg insisted we race without worrying about her. That's just how she is.
Mile 92.9 signified the next "Oasis" along the route, of which there were six. Three mandatory checkpoints and three optional Oasis'. I totally should have stopped for the farm ice cream at The Branched Oak Farm, but I was "in the zone" and my mind was elsewhere. Total rookie mistake!!! Barring K-Dogg and one other bloke, the entire group turned into the Oasis. D'oh!
Regardless, I was still feeling great and soon reeled in Mr Don Buttram, who had caught and passed us earlier. Around this time, K-Dogg announced he was feeling a bit rougher than before, meaning we had to let Don and our other companion go.
K-Dogg's front derailleur had been working flawlessly until now. At the crest of yet another tough hill, it decided enough was enough and quit functioning properly. The derailleur would no longer throw the chain onto the big chainring… the derailleur was willing but the chain was not. Possessing zero Phillips head screwdrivers to monkey around with limit screws and the like, the Dogg thought it wise to forcibly throw the chain onto the big ring, and utilize a low gear of 50 x 34 for hill climbing from that point on.
Shortly after departing, we rode onto North 112th Street. This was the dirt road whose name had been tossed around like bad news before ride start during the promoter's announcement. Fearing the worst and a repeat of the "derailleurgeddon" of Dirty Kanza 200, we cautiously entered the sector.
Road Closed signs – to cars – greeted us. Overnight rain had fallen upon this road, but it wasn't the nasty quagmire we expected. There were two short sections of mud that we hike-a-biked (mostly to dirty up our shoes), with the remainder being perfectly rideable. Whew!
I didn't monitor what K-Dogg ate at the final Checkpoint, but whatever it was, he was riding markedly stronger than before. Happily glued to my wheel but just a little off the back anytime the climbs got difficult in their gradient, I was pleased to see him make an almost recovery to the bloke I know so well. If it weren't for that 50 x 34 gear he was stuck on, things would be different.
Fellow competitors told us the hills were lesser during the final 25 miles of the race. They were sort of right, but that Strava elevation profile doesn't lie! Up and down, up and down, so it goes.
As we rolled along North 1st Street, I barked to K-Dogg, "just one mile of gravel remaining and we are done!" My neck had been straining every time I looked over my shoulder to check on the status of K-Dogg over the final 60 or so miles, but this time, I made doubly sure he was behind me. We have a ritual of sorts among the Gravel Cyclist crew.
Town signs are fair game for sprinting, and the Lincoln town sign was no exception. Would the Dogg try and take sprint line honours after I'd helped him home? Not effin likely! The lad stuck to my wheel and breathed a sigh of relief knowing the finish line of the 2016 Gravel Worlds was just a mile or two around the corner.
We didn't set any records but we crossed the line together, relieved to be done. 13th in Masters for the Dogg and 45th for yours truly in Open Men.
I don't know all of the ins-and-outs of her ride, but I understand she rode with a couple of lads wearing black kits for most of the day. She rolled along in her typical style, taking SECOND in the Master's Women Category! Nice one Mrs K-Dogg!!!
5 x Larabars of assorted flavour.
2 x 33oz bottles of water with Gu's Roctane formula. Those same bottles were refilled at every Checkpoint. Approximatley 6 x 33oz of water in all.
1 x Gu flask of Roctane gel.
4 x Individual Gu gels of assorted flavour.
4 x Cans of soda – two at Checkpoint #2 and two at Checkpoint #3.
2 x Celebratory beers at the finish 🙂
To the promoters, event volunteers and our fellow gravel cyclists for making this a tough but awesome day at Gravel Worlds and the gravel roads of Lincoln, Nebraska. I'd like to return in 2017 and go just a bit faster 🙂
Thanks for reading! Race video coming soon!