Dr. Pain Heads Home – June 25, 2016
Dr. Pain hails from the Buckeye State (Ohio), but lives in Florida. On a recent vacation trip home to visit family, he discovered (on the excellent Gravel Cyclist event calendar) that there was a gravel event nearby his home town of Delaware, Ohio. Nearby meaning 90 minutes by car. That is definitely closer than from Florida, so what better way to spend a vacation day than riding a gravel grinder?
The Funk Bottoms Gravel (FBG) is a 100km or 200km gravel event near the town of Lakeview, Ohio, which is near, well, not really any place. Wooster is sort of nearby, as is Loudenville, and I guess you could say Cleveland is sort of close. The Mohican State Park is nearby, and is the site of a well known MTB race, as well as some excellent hiking, and canoeing. This was the 6th year of the FBG and as recounted by the organizers, it is growing like many of the gravel events around the country. I believe FBG started with three friends who were determined to do the "Gravel Worlds" (JOM, Mr and Mrs K-Dogg are headed there this  year) and needed some excellent training routes. Thus, FBG was born. I didn't do a head count, but I estimate there were about 40 riders in attendance.
I remember riding on paved roads to Mohican State Park as a teenager in what we considered epic 120 mile, "hilly" training rides. I don't recall seeing a single gravel road on those rides many years ago. I wonder how many of us who cut our teeth riding pavement have had the same experience? Gravel roads unseen, unnoticed, ignored, and forgotten, until we began to ride them specifically. It happened to me in Florida, eight to ten years ago, when we first started to ride the limerock, dirt, gravel and sand roads of our area. There are way more of those roads than we initially thought.
FBG started at 8am at a difficult to see roadside park near Lakeview. So difficult to see that several of us drove right past it, startled to hear "You have arrived at your destination" from the GPS, only to see open road. Only when I drove past it, did a U-turn a mile later, and approached it from the other direction, did I see 30 cars with bike racks, registration tent etc. I now think this was symbolic of the whole event. The roads and course itself were hidden from view of regular travelers. Why not the roadside park and start of the event? Hidden gems.
I parked next to a group of young chaps from Columbus, Ohio. Friendly gents, ready for an adventure. These guys (apologies for forgetting names) had the best attitudes. They were out for an adventure. No fancy kit, good solid bikes, fun attitude. The best bit of kit they has was what I have come to think of as the "chuckwagon". One bike was outfitted with a rear rack and a trunk bag. The bag was filled to the top with some concoction of pretzels, nuts, raisins, M&M's or other fuel. Brilliant. I envisioned the top of the bag open for the whole ride, and riders just swooping past for a handful of grub. The Columbus Chuckwagon Guys. They probably had the most fun of any one there.
There were all sorts of bikes from road bikes with 28mm tires to full on mountain bikes. I rode the Dr. Pain Express, custom-built Quiring Monster Cross with 1.8" Specialized Renegades, on American Classic 29'er Race wheels. Shimano Di2, hydraulic brakes, big tires, fancy kit and food stuffed in my pockets, I was probably the antithesis for the "Columbus Chuckwagon Guys" but we were all there for the same thing and in the same spirit… to have fun.
I had no idea what to expect in terms of terrain, road surface, etc. No tribal knowledge at all. I decided to be safe. It turns out that the gravel roads which must have comprised 75% or more of the route, were quite rideable on a road bike. I definitely had an advantage on the high speed descents (recorded 48 mph on one), but suffered like a pig on the ascents. Sadly, that's nothing new for the good Dr. Pain, who also suffers like a pig uphill on his fancy carbon uber-light road bike.
We rolled out nearly on time with a 2-mile neutral start.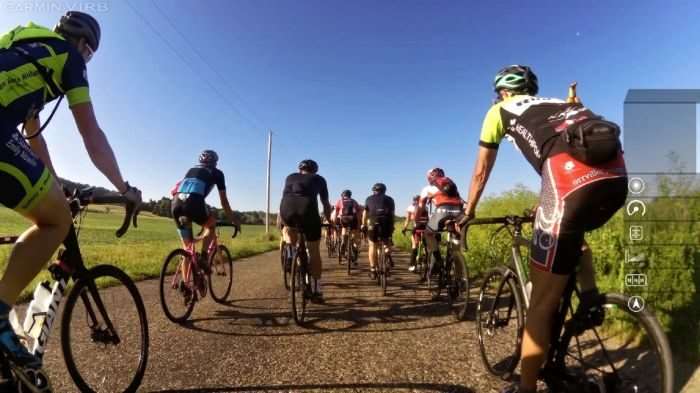 The non-neutral portion began with an immediate uphill that must have been in double-digit grade.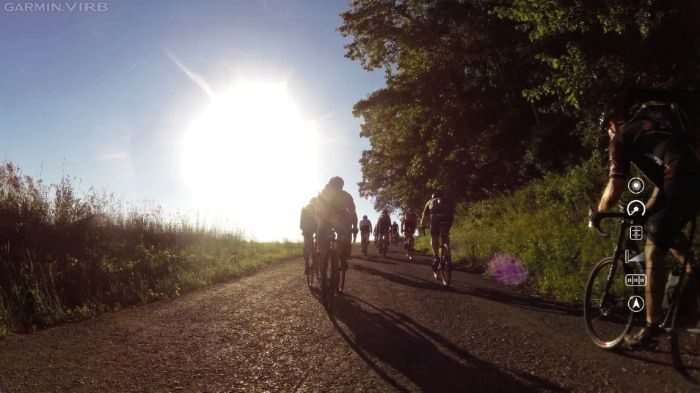 I was totally caught off guard, and began an immediate exit out the back of the front group.  It was a very rude beginning to the event!  I managed to make contact at various times with smaller groups and individual riders, but the front runners were long gone. At mile two. Not a good sign. So, as is often the case, I began my personal Gran Fondo… just a little earlier than I expected.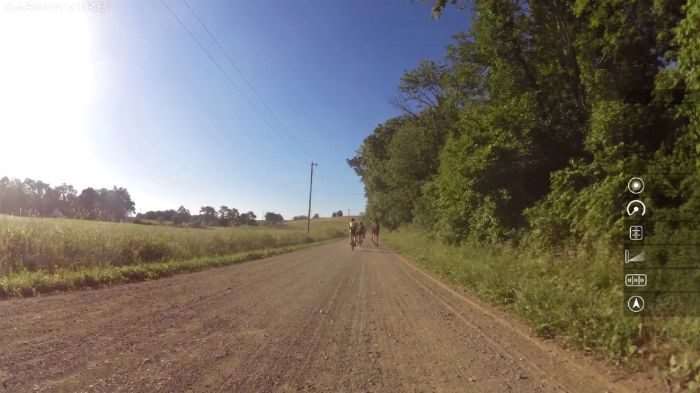 Maybe because I was now riding at my own pace, I was able to thoroughly appreciate some of the most gorgeous countryside, country dwellings, and fine gravel roads of my home state.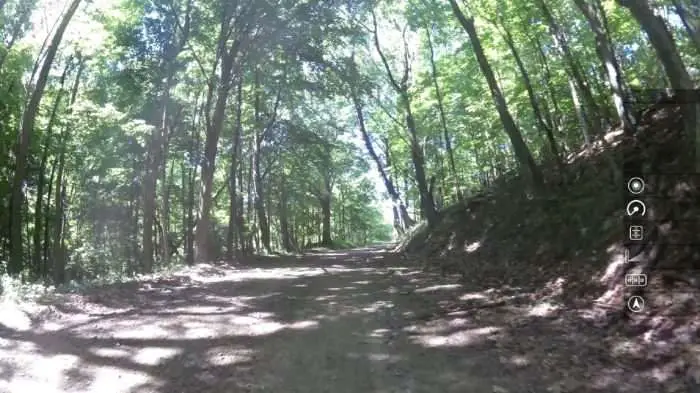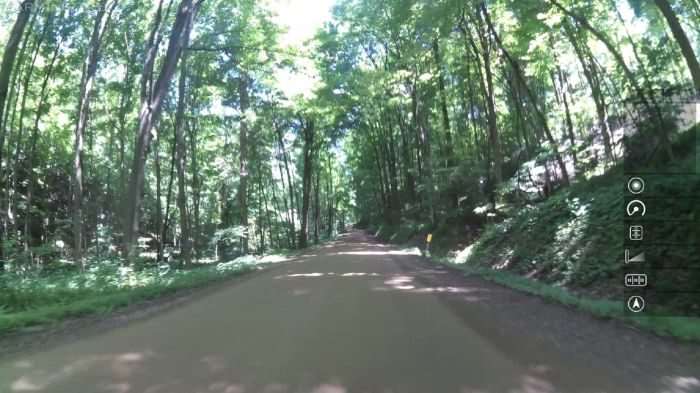 This course was fantastic.  It was also wicked hard.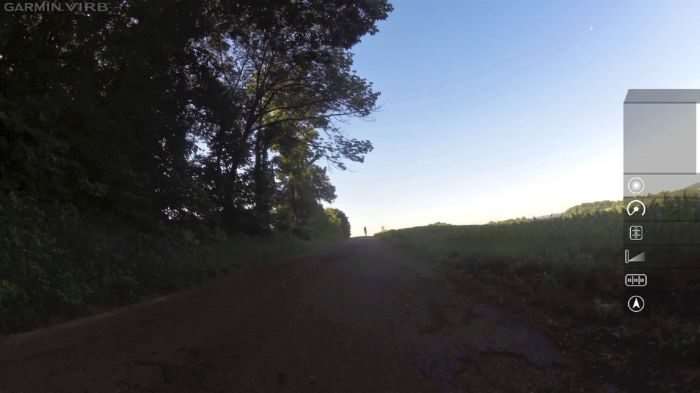 Maybe the locals didn't find it as hard as this flatlander, but the incessant short climbs, some of which were approached 15 – 20% grade sucked the life out of my legs by the end.

BTW, they calculate kilometers differently in Ohio because I had 65 miles, not 100 kilometers.
As the day wore on, some of the riders in front of me wore out. Several folks were seen pushing their bikes up some of the later hills, while one fast-looking chap was having a nice rest in the grass, two miles from the finish. When asked if he was alright, he replied, he just needed "to get his legs sorted out" to get to the finish. I understood. My FBG Gran Fondo consisted of yo-yoing with several folks, some of whom yo'd ahead, and some of whom yo'd behind by the finish. I have no idea where I finished. Not first by a long shot, not last by a long shot. I didn't crash, didn't get hurt, nothing broke, I finished, I didn't finish last. Mission accomplished!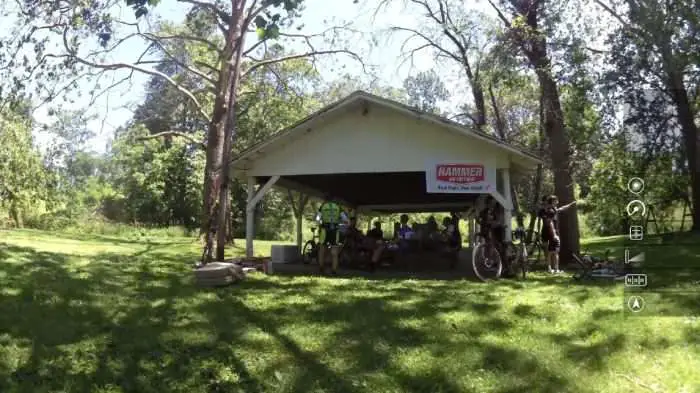 In order to get back to family, I told the lovely registration assistants, that I was only doing the 100km version of FBG. This thankfully saved me the embarrassment of a midnight finish, or a 9-11 call that might have occurred had I actually attempted to do the 200km event. Besides, it was hot, humid, and I was tired… and there was my car! I have much admiration for the few (five?) riders who were attempting the 200km ride. I don't know how many actually did it, but I see from the FBG website that at least two finished it. Chapeau!
I highly recommend the FBG event. Lovely gravel roads, great people, great countryside. It was a challenge, it was fun, it was well organized. What more could you want? So I am hoping that exactly the right amount of attendance is achieved. I don't know what that is, but part of me wants to keep the FBG as a hidden gem in the Buckeye State.
There may be some video footage coming soon… I'll be enlisting JOM's help for the editing.