Dirty Kanza 2016 round Three…
Before I begin the story of Round #3, let me provide a little history of my Dirty Kanza experience(s), with a recap of Rounds #1 and #2.
Dirty Kanza 200 2014 Round #1
My first Dirty Kanza 200 was in 2014. I was mostly a road racer who used our fantastic Kansas gravel roads as the perfect training component to help build power and endurance over the winter months. My very first bicycle race took place in the fall of 2007 and was a local gravel race called the Big Ring. I'd always enjoyed the local fall gravel races and made several appearances at the vaunted Flint Hills Death Ride, an event that is no longer held, but was promoted by Dirty Kanza promoter, Jim Cummins. I won the final installment of the Death Ride in 2010, beating out Dirty Kanza 200 veteran and winner Mike Marchand – having absolutely no idea who he was until we met again at the Wicked Wilson 100 in 2014.
Several friends and acquaintances suggested I try Dirty Kanza 200. Because my focus was on road racing, the event usually coincided with Tulsa Tough, one of the better known criterium races in the USA. At the time, I'd ridden plenty of miles preparing for the spring road season, but an invitation to the sold out Dirty Kanza 200 was sent in my direction. After conferring with my road teammates about the invitation, they all supported my decision to give the race a shot – road teammate Rob Bell and I took first and second place in the Land Run 100 that spring, and it brought much positive attention to the team. That made the decision a no-brainer, but with only a month to prepare for the race, it would be tough.
Up to this point, 115 or so miles on the road was my longest ride to date. I began DK200 training by riding several back to back 100 mile gravel weekends, with my longest ride at 120 miles. I didn't know what to expect from myself, but I would give it everything I had. The 2014 DK200 began with the strongest field in its history. I was competing as a solo rider, but hoped to stay with the front of the race for as long as possible, before putting my head down and pushing to the finish, ideally with a good result.
The first attack came at mile 70. I was caught out, sitting too far back in the field to make the move. However, missing the attack saved me, as sticking with the lead group of six to eight riders up and over Texaco Hill would have burned some serious matches. I stuck to my tempo and began picking off riders one at a time; meanwhile, attacks and flats blew the lead group apart, landing me in 4th position after the 100 mile checkpoint. I caught and passed the 3rd placed rider a few miles up the road and was in disbelief to be this well positioned at this point of the race. Ahead I could see 2nd placed rider, Barry Wicks, but the leader Brian Jensen was gone.
I turned myself inside out trying to keep Barry in sight, but couldn't help but notice another rider trailing approximately two minutes in arrears. I pushed hard to increase the gap, then backed off a little thinking I had broken the spirit of the following rider. But every time I relented, they would claw their way back! I had no idea who was chasing, but he kept me close to my limits for 85 – 90 miles. This is where the heartbreak and sometimes cruel nature of Dirty Kanza took a piece out of me.
The 2014 course was the same as the 2013 course; I had loaded the course map into my Garmin and pre-ridden the entire route three times. Late into the race coming into Americus, my Garmin give me the cue to turn right. Something did not seem right. With my stalker hot on my trail, I had to make a decision and go with it. I followed the Garmin turn cue and proceeded to ramp back up to speed. Then, the dreaded OFF COURSE! error appeared on the Garmin's screen. I was confused and frantically began studying the map – the purple line was one block further east! In spite of my course knowledge and instincts, I allowed a satellite /navigation glitch derail me. I was several blocks down the wrong road and looked back just in time to see my pursuer blow past the road I just turned on. I made a left turn to the next road and stopped to see who had been chasing me the entire second half of the race. It was Jonathan Schottler. He looked at me as he passed and said "you know you're off course, right?" I knew the answer to this question and dropped my head dejectedly.
I headed back to the point I left the course in order to stay within the rules of the event. It had taken everything to hold off Jonathan. With just 10 miles remaining and only flat roads and headwinds between there and Emporia, my shot to take 3rd place was dashed. Giving up several minutes of course correction had sealed my fate. Those final miles into Emporia were long and lonely. I wasn't racing for time, only position, and I no longer felt the need to keep suffering. Occasionally I would glance behind, making sure nobody would catch me. On the positive, I knew I would still make the overall podium, but for 2014, podiums only went three deep versus five. Thus, my burning quest to conquer the Dirty Kanza podium began! Incidentally, 2014 also marked the fastest DK200 on record.
Dirty Kanza 200 2015 Round #2
I made the 2015 Dirty Kanza 200 one of my target goals of my 2015 cycling season. During the off-season, I decided to put my experience of road racing to use and assemble a small team for this campaign. Gravel racing is similar to road racing but with its own unique challenges; I enlisted one of my former road teammates, Nat Beams, and experienced former pro racer Scottie Weiss to join me in the challenge. Scottie is also a partner of Starlight Custom Cycling Apparel, the team's kit sponsor.
I sourced a super fast new bike from Felt, the F1PR, which was an endurance road bike that had excellent tire clearance and gave plenty of room for the then new Panaracer Gravelking 700c x 32mm tire. I tested this setup in the Flint Hills over thousands of miles and it was the fastest thing going on gravel bar none. I ventured onto the 2014 DK200 course for further testing, and rode the bike in every condition including during and after heavy rain. All this time the bike performed flawlessly. Little did I know that the organizers and Mother Nature had a little surprise in store waiting for us 12 miles in 🙂  Suffice to say, my strategy and set up for the event fell into disarray and losing Scottie at the first checkpoint didn't help. You can read my full 2015 Dirty Kanza 200 report
HERE
.
However, I still felt the desire, burn and motivation to push the envelope further and try and achieve my goal of reaching the elusive overall podium.
Dirty Kanza 200 2016 Round #3
I went back to the drawing board for 2016 and decided I needed a versatile bike package that would excel in every condition. Low and behold the brand new for 2016 Felt F1x arrived, boasting the most tire clearance of any current CX race bike. This bike was also the most compliant race bike with many special features that perfectly suited it to our gravel needs. I wanted a carbon clincher wheel for the team and tested several options. In the end the Stan's NoTubes new gravel specific Avion wheelset came out on tops! The Avion was not simply another carbon clincher road wheel labeled as "gravel", but a wheel tuned specifically for the special conditions of gravel.
The F1x frame and Avion wheelset rolling on Panaracer's brand new Gravelking 700c x 35mm and 40mm tire selections, along with the already available 700c x 32mm model, provided the perfect set up for any course condition. We proved our new bikes well by 
sweeping the podium
at the muddy 2016 Land Run 100. I continued racing and testing all spring to ensure we were set up perfectly for the upcoming Dirty Kanza 200.
We entered the 2016 Dirty Kanza 200 as a five-man team – Austin Morris, Evan Fast, Scottie Weiss, Nathan Wadsworth and myself – with Karen Pritchard as our women's contender. Leading up to the event, everyone had scored killer results – Austin won 
Land Run 100
, Evan and Nathan swept our local gravel series, Scottie finished 4th overall at Belgian Waffle Ride in California and Nathan placing 2nd at the OGRE (Ozark Gravel Road Epic). Rob Bell (our 6th member not present at Dirty Kanza 200) finished 2nd at the largest gravel race in the world, Barry Roubaix. Hoping to peak for Dirty Kanza 200, I played the supporting role in these races.
Typically, Dirty Kanza 200 runs the same course two years in a row, but with some local conflicts, the course was altered and we would be riding a new and relatively unknown course. So much for course knowledge! When the course was publicized on the Monday before the event, I perused the map and was happy that I was familiar with many of the roads. I decided to scout the first and fourth legs as I figured these would be the two most important legs come race day.
I arrived in Emporia to find the highway heading out of town that lead to the course was closed, and the course itself completely flooded. The Kansas Department of Transport had the road blocked, but had no idea if the water would dissipate before race day? I had to take a flood detour exit on the Kansas turnpike to arrive close to the course, and then drive backwards to meet up with the course. Oh Boy! I cannot imagine what kind of stress race promoter Jim Cummins must have been going through.
The first five to six miles of the course were under water. Imagine roads heading into a lake and you get the mental picture. I turned around and scouted the remainder of the outbound first leg and found the rest of the roads to be bone dry. What was race day going to be like? Who knew…? When I reached Madison, I got onto the 4th leg and drove it into Emporia, to dead end into badly flooded roads several miles from the finish. Despite the issues, I was confident the promoters would organize a re-route if it was needed. I headed home and reported my scouting mission to the team and began preparing for a mostly dry race.
We left the house on Friday morning and scouted the checkpoints on the way to Emporia. We drove several miles of the start and finish and the roads were bone dry, even those that were completely under water just days before. We tended to all of the pre-race activities and prepared ourselves for race day's 6am start. Everything was looking perfect for the race. One of my teammate's bikes was experiencing shifting problems, and it took until midnight to address the issue. This is par for the course for every Dirty Kanza I had ridden so far; four hours of sleep the night before has been the norm!
I set my alarm for 4am and finally crashed out, hoping to make the most of my four hours of sleep. At 3am, my slumber was disturbed by thunder and pouring rain pounding our hotel room! I chuckled to myself thinking, oh boy, here we go again… classic Kansas weather for a classic Dirty Kanza. When the alarm went off at 4am, Scottie jumped out of his bed like a Jack in the Box, ready to go. I'd been looking forward to the heat and wind forecasted during the week, but had no idea what to expect when we left the room after the early morning storm. We gathered our stuff and headed out. The parking lot was laden with pools of water so clearly it rained a lot. With the ground already saturated, I was mentally prepared for the worst.
Race Day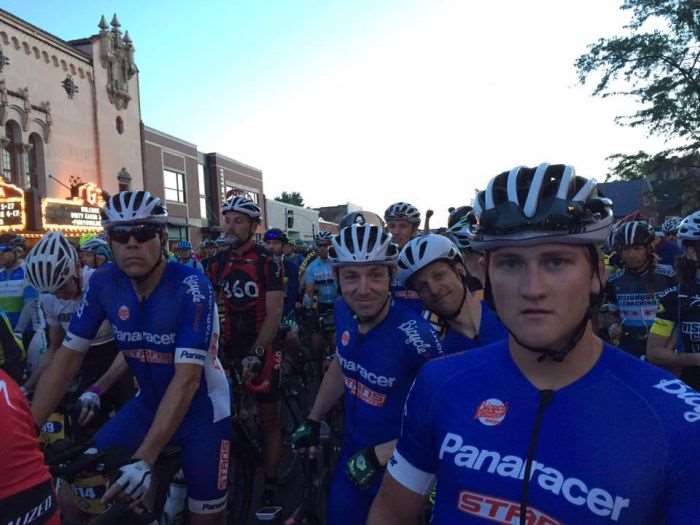 We made our way over to the start and checked over our equipment one last time. The all star call up list was lengthy but I could only focus on the road and race ahead. The countdown to race start reached 6am and we were off! It was a little surreal, with the loud buzzing sounds of four or five Gators (small 4 x 4 vehicles) leading the field through town. The pace remained neutral and the pack was calm, although you could cut the tension with a knife. I always worry about getting caught in an early crash so as soon as the Gators cleared out of the way, I made the charge to ride onto the gravel first.
The wind was blowing from the north and we were headed west, so I positioned myself in the left gutter and kept a fast enough pace to hold my position. The gravel beneath my tires was damp but solid. But as I looked ahead, the road was completely under water for approximately 50 yards. There was hesitation in the field about how to to approach this first hurdle, without even a mile of gravel ridden.
I made the quick decision that being first was best and sprinted into the water not knowing its depth, but hoped for the best. At three to five inches, the water was reasonably shallow, but riding it at 20+ mph guaranteed I was soaked in seconds. Not an ideal way to start a 200 plus mile gravel race!
The water was the least of our worries. The following road was loaded with pea gravel. It was just tacky enough that the mixture of dirt, sand and gravel sticking to our tires created a storm of flying gravel! Imagine the sound of gravel smacking into carbon bicycle frames and helmets and you get the picture. The raucous was loud and only trumped by the screaming and hollering of riders all around as they were pelted by gravel, akin to being shot from a blunderbuss. The flying gravel filled ears, mouths, eyes, helmets and derailleurs, ripped from their hangers as the gravel particles wedged themselves between chain and jockey wheels. I'm uncertain of the exact number, but I understand broken bikes ended the day of at least 75 riders in that one short section of gravel.
I continued to push to stay in the front, knowing at this point that preservation of my bike was more important that preservation of energy. Entering the wide main gravel road heading west, the first early obstacle of Dirty Kanza seemed to be have been cleared. I looked around for my teammates but only saw Scottie and Evan. Later I learned that Nathan was a derailleur casualty and Austin had been involved in an early crash.
The group turned south to the first hill of the 200 mile course, approximately 10 miles in. Typically I ascend a hill towards the front and drift slowly to the back. But, knowing the much feared minimum maintenance road that caused so much carnage in 2015 was just around the corner, I led the charge, held my position and was first onto this "B" road. With the overnight rains, I feared the worst. Looking as far ahead as I could possibly see, the 2015 mud road from hell was bone dry! The road had also been graded since Monday and all of the ruts and large exposed rocks had been laid to rest. I breathed a deep sigh of relief and for the first time in the race, and relaxed a little. The lead group of approximately 30 riders was moving along nicely, so I allowed myself to slide back into a comfortable position and prepare for the attacks that would likely begin in about 10 miles, when the real hills of Dirty Kanza begin.
Scottie's plan was to stay with the front of the group and cover the climber's attacks, while Evan and I would do our best to conserve energy and avoid spiking our efforts. At a low water crossing near the base of the next climb, a near crash was averted, but in my haste to take evasive action, I struck a large rock hard with my rear wheel. The rim bottomed out, causing concern that I may have flatted the tire. I rode gingerly for a minute or so, bouncing on my saddle to determine if the inevitable feel of low tire pressure was imminent. Thankfully, the tire felt solid.
During this chaos, Evan and I were gapped a little, but we worked together to rejoin the group. Riders were falling by the wayside left and right as we made our way forward. I was confident our steady pace would reel them in as we made our way up to the cattle pens. Despite the very rough terrain in this area, I had faith our wheel and tire package would endure the punishing downhills sans fear of flatting. We closed to about 30 seconds behind the pack, but a dry chain and mis-shift saw my chain climb off the 11 tooth sprocket and into the gap between the cassette and frame. Thinking quickly, I stopped pedaling and unclipped both feet to avoid snapping the chain. I rectified the issue quickly by grabbing the top of the chain and rolling the wheel backwards, unwedging it in the process. I was quickly back onto the bike but we were chasing again.  Not more than a minute later, Evan yelled from behind with a bike problem.
I had a tough decision to make. Evan's bike had a derailleur issue. At first, I assumed it was a minor problem, so I coasted for a minute, hoping he'd fix the issue and rejoin me in the chase. Ahead, the pack continued to roll away. Evan was crouched at the rear of his bike with no sign he'd be riding anytime soon. If I waited for Evan and he was out of the race with a mechanical issue, I would be in for a long solo chase. Or, if I stuck to the team plan of staying with the front of the race, I would have to leave him.
You know what happened next. I rode across the gap and rejoined the group, all the while lamenting the loss of Evan. I apprised teammate Scottie of the situation, and headed to the front to set the pace. My pace was mostly was to deter hard riding and give Even a chance to chase back. Sadly, he never did rejoin.
Three team riders down, two remaining in the front group. This was the scenario as we approached Checkpoint #1 in Madison, Kansas. The course was relatively flat for the few remaining miles into Madison, but potential chaos could unleash in the mad dash to get service from their support crews at the same time. I thought it best to chance riding away from the field and reach Madison first.
The group was enjoying a brief moment of casual riding, taking up the width of the entire road. Riders were casually chatting and downing fluids, so I got sneaky and rode up the right side gutter of the road. Neil Shirley, the current
Gravel Worlds
champion, spotted what I was up to and shouted, "Bob Cummings, you are a stud!" Quite a flattering comment coming from Neil. I laughed, replied to Neil and said, "you're the real stud", then punched the pedals hard and and flew the coop. In the drops, I blasted hard for about 30 seconds and snuck a look beneath my arm to see if the pack had reacted. Nothing. Perfect! I dialed back the effort a little, stayed low and tried to ride as fast as possible using as little energy as I could. By the time I reached the out and back road leading to Checkpoint #1, I had opened an almost two minute gap.
Dirty Kanza wouldn't be the race it is unless another obstacle appeared on the course.  At the T-intersection of the out and back sector to Madison was a sizable stretch of mud. Crap! This mud could prove to be another pack shredder when riders made the charge out of the checkpoint. My plan to stop, soft pedal out of the checkpoint and wait for the group to catch me was now afoul. Now, I had to race in and out of the checkpoint as quickly as possible, and traverse the muddy road section before being caught by those riders potentially faster in those conditions.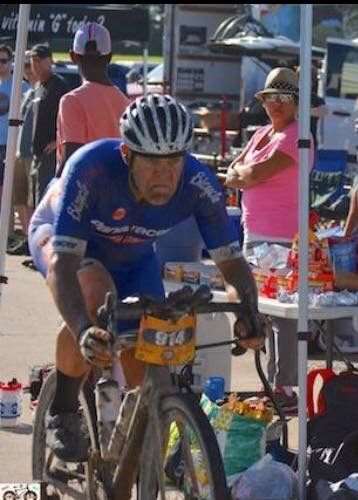 I made my stop in record time and sprinted out, passing the lead group as they rode inbound to the checkpoint. I hastily made my way back towards the T-intersection, riding almost head-on towards other riders making their way into the checkpoint. Making the left turn, the mud I feared was a quagmire that could quickly clog a bike to a stop. I slammed on my brakes, shouldered my bike and ran 50 yards until reaching a grass section in the middle that was rideable.
The front group was close behind. The chasers nearest spotted me riding and chose to ride the mud, closing the gap to me before grinding to a halt as I continued bobbing and weaving my way through. Another rider rolled beside me which forced me into a bad line, clogging my bike in the mud. I kept it cool, cleared the mud and rode through many puddles, which had an almost cleansing effect. Thankfully, I was still in good shape with only a small and spread out group of riders ahead.
Teammate Austin, involved in an earlier crash, caught me after chasing non-stop since the start. He was hurting but present! I told him to sit on as I made my way forward, picking up other guys along the way to form a secondary chase group of about six riders. Unfortunately, we'd lost Scottie, who had snapped a derailleur approximately a mile before Checkpoint #1.
Leading the race was a group of about eight riders. We were steadily closing, and would make the catch if we all worked together. Austin contributed by taking short pulls, but his lengthy chase had really hurt his legs and he slowly drifted off the back of our chase group. I could feel his frustration. Chasing hard and making the catch, only to be be ridden off the wheels when the chase group really upped the speed; less than enjoyable. I was now the sole representative of the team in the front group with just 60 miles of the race covered. The chasing and lead groups merged, only to be shredded when the next tough section of climbs began. When the elite riders hit the gas, there was nothing I could do. They just rode away. However, I stuck to my tempo, and caught riders who were dropped as the result of attacks in the front group, or those who had flatted, running too many risks on the descents. I moved up from around 12th place on the course to 5th place by the time the second checkpoint in Eureka, Kansas was reached.
Checkpoint #2
I arrived at Checkpoint #2 and passed Michael Sencenbaugh just as he was leaving. Still to make my stop, I sat up and waited, and told him if he would ride a little slower, I could catch him and help share the workload. The 100 mile return trip was mostly into a headwind. He was happy to hear this news and agreed to soft pedal. I made my stop and closed the gap to Michael. We began working together, hoping to make inroads to those ahead on the course.
The Dirty Kanza 200 is a long race and tough on everything, batteries included. Michael's Garmin battery was running low, but he did have a backup battery at hand. I took on the duties of navigator, while Michael turned off his Garmin, forcing it to rapidly charge. We continued sharing the workload but I think he got the better part of the deal, as I am a much better draft than him

Regardless, he was great to work with and despite our differences in physical size and riding style, he rode a good pace for me on the hills and I returned the favor with long pulls on the flatter roads.
We rode for many miles without seeing anyone. Behind, someone was making a hard solo chase towards us. Michael and I chatted, trying to figure out who the mystery rider was, and whether to wait for them or keep riding. We decided to up our pace a little and soldier on. A little later, we finally caught sight of a rider ahead. Michael and I knew there were four riders ahead of us and we were holding 5th and 6th place respectably.
We decided to slowly reel in the rider ahead, mostly to ascertain how they were riding and what kind of threat they might be when we caught him. As we drew closer, we recognized it was Neil Shirley, one of the coolest guys in gravel! Ordinarily we would have attacked, but as it was Neil, we slowed, pulled beside him and said for him to jump onto the back for a tow. He looked up at me and simply said, "I'm done" with a forced smile. I returned the smile and pushed forward. Michael and I now were both now on the virtual Top 5 podium.
Meanwhile, the chasing rider I mentioned earlier was still there, hunting us like the Terminator. Could this rider really be clawing us back, riding solo against us into a headwind? Michael and I turned up the pace a little more, increasing the gap slightly on the hills, while the chasing rider would close the gap again on the flatter roads. Who was this guy?!
In hindsight, expending a lot of energy for 30 – 40 miles proved to be my one mistake in the 2016 Dirty Kanza 200 – running from the Terminator. He eventually did catch us, and began contributing to the workload right away. This rider was friend and not foe. If we had waited for him, the workload would have been divided into thirds versus halves. Mike Easter, you are a Stud!
At this moment my downward spiral began. Unknown at the time, Michael and I were laying in 2nd and 3rd place on the course!, chasing the phantoms of Brian Jensen and Rick Mosley who had imploded and were no longer in the race. Such is life, hope to live and learn. I physically began falling apart and lost my ability to further contribute to our group. I was forced to let them roll away, akin to a life raft safely floating towards a tropical island as I remained on the sinking ship. On the positive, I was holding 4th place overall as I rolled into Checkpoint #3 and Madison, Kansas for the second time.
Damage Control
At Checkpoint #3, I stopped for longer than usual for some much needed recovery time. I stuffed dill pickle chips into my face by the handful and chased them down with a liter of Coke. Definitely not the most ideal food at this point, but it's what sounded good and the calories would help with the final push into Emporia – along with a grueling headwind. On paper, the last leg of the race looks short, but in reality it is still quite long and cannot be taken lightly. It was vital to carry enough fluids to make it home to the finish.
My two liter Camelbak was loaded with electrolytes and two 25oz Camelbak bottles filled with the wonderful TriFuel product. The steep hills found early in the final leg of the race almost did me in, not helped by the 10-15lbs of supplies I was carrying. For some of these hills, it was all I could do to ride them while remaining clipped in, such was their steepness. I had never walked these hills in the past and that wasn't about to begin today! I managed to stay upright and survived this tough section of course, riding into a much-welcomed area of crosswind with more forgiving roller type hills.
I received a text message from my crew indicating I held a 15 minute lead over the next rider when I departed the final checkpoint. In my mind, I hoped everyone behind was hurting as much as me so I could nurse my advantage all the way into Emporia. I was still holding 4th place with one foot on the virtual podium. Out of nowhere, a rider came flying past. Who could it be? My old nemesis, Jonathan Schottler… I found the energy to jump and grab his wheel. It was apparent he was riding much stronger than me, and I would be no match for him on the final climb on the edge of the Emporia State University campus… assuming I made it into town with him. I just wanted to finish the Dirty Kanza and Jonathan's appearance on the scene was somewhat of a life raft.
We turned back into the raging headwind and Jonathan was killing it! I was dying a slow death just sitting on his wheel. I hollered at him, "if you're riding hard to get rid of me, you have me crying uncle!" The position on the podium was his and I was only along for the ride. He relaxed the pace a little as I enjoyed a brief respite from the wind on his wheel. A little further behind our duo was another duo of riders, likely as cracked as I was, at least according to Jonathan when he blew right past them on his way to catching me. For the moment I was still holding onto the final step of the virtual podium.
Leg cramps began a few miles later and I was forced to let Jonathan ride away. "Thanks for the tow Jonathan", I yelled. Thinking I had a reasonable gap over the duo behind, I lulled myself into a false sense of security. I quickly became a sitting duck. Just a few miles from the finish in Emporia, those two guys caught me. I sat their wheels, doing my best to hold on. This was the fight for the final podium spot! However, the rider on the front was pulling hard like it was the first five miles of the race, and not the last five.
On a short and flat pavement section, I was ridden off the back of this group; somewhat depressing. The podium was gone and there was nothing physically or strategically I could do about it. To add insult to injury, Ashton Lambie, a rider local to nearby Lawrence, Kansas, caught and passed me about a mile from the finish. "Hi Bob!" he said, as he rolled on by. I replied, dropped my chin to my chest, tucked my tail between my legs and limped on towards the finish.
I had mixed emotions as I rolled towards the finish line. In one way I was supremely disappointed to have dropped out of contention for the overall podium. But, how could I be so selfish? Many riders missed the opportunity to even ride Dirty Kanza this year because it sold out in record time, while others dream of simply finishing this event.
My mood quickly brightened as I rode onto Commercial Street in Emporia and the final straightaway to hundreds of people watching and cheering riders into the finish. I slowed down and high fived as many kids and friendly outreached hands as I could. Once again, the people of Emporia and outlying communities reminded me of what is really important. Love. And that's what I felt from everyone and I thank all of you for that.
I'd like to thank my wife, friends, co-workers, training partners, sponsors and all of the crew at Bicycle X-Change in Wichita, Kansas for their amazing support. It can get pretty rough out there when you push your limits and I definitely pushed mine at the 2016 Dirty Kanza 200. But the support of all of these people kept me moving forward, even if I was creeping a little towards the end. Thank you, I love you all!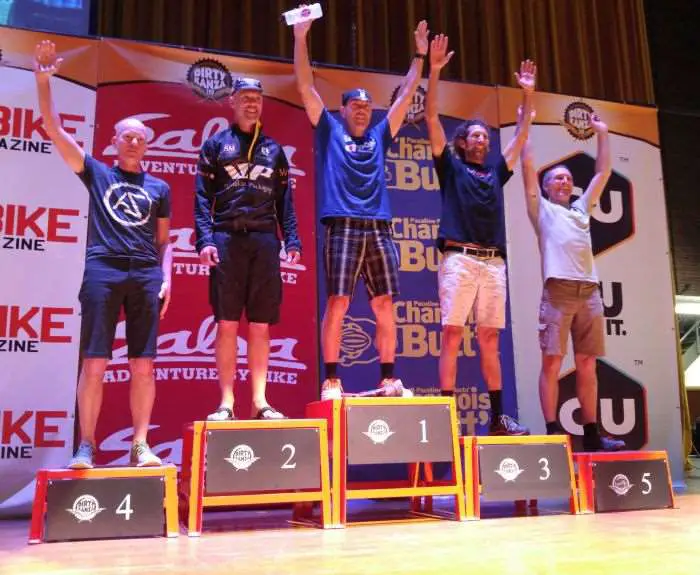 Turns out I had won my age group (45 – 49)!
2017 Dirty Kanza Round #4?