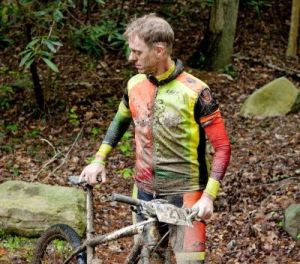 Umstead Gravel Grinder 100 Race Report
Courtesy of our newest correspondent, Mr Roger Sutton of Ocala, Florida.
Read more about the race HERE.  Organized by Triangle Off-Road Cyclists.

Summer to Forget
I don't recommend surgery but, I'm damn glad that I had my ruptured disk repaired this past June.  I was a mess all spring.  Hobbling around all day with sciatic nerve pain and then trying to crawl onto a bike and train in the evening.  Races sucked, training sucked, everything, well, everything sucked.  Then I got it fixed.  A simple outpatient surgery followed by 6 weeks of doing exactly nothing (a little walking on the treadmill).  Want a donut?  Too heavy, someone better bring it to me and stick in in my donut hole.  That was June and July.
Then, the news you don't really want to hear.  There's a problem, this does not look like its healing properly.  Get yourself down to the hospital so we can open things up and mess around in there again.  OK.  You're the experts.  And, there goes August.
September was pain free and, with little fanfare, a much awaited return to riding.  It was so good that I even snuck out on a gravel ride with JOM, K-Dogg, Mrs K-Dogg and Dr Pain.  It was my first ride with the Gainesville limerock crew; it was rainy and the roads were terrible.  It was such a bad day that it was chronicled (HERE) on these very pages by JOM himself.  So, all was well and progressing till I crashed on my MTB.  Idiot.  Yup, there goes 2 more weeks and I was lucky to get off that easy.
Now, finally, with a month of steady riding in my legs, a little test of the legs at the Horsefarm 100 last weekend and a new gravel bike, I'm ready to pin a number on again!!!!
First race back is also my first gravel race.  The inaugural Umstead Gravel Grinder 100 Mile (there's also a 50 mile for the crybabys that trained all summer).  A nice trip to visit my friend Steve and to ride the UGG100 in Raleigh, North Carolina was put on the schedule.
The Course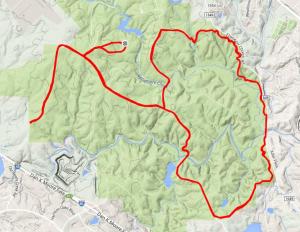 The course was entirely within Umstead State Park in Raleigh, NC.  A 100% gravel and Jeep trail route of 14.2 miles was created with about 1,200 ft of climbing per loop.  The 100 mile would do the loop 7 times.  The 50 mile race would do the loop 4 times.  Hey!  That's not 50 miles, it's 56.8!!! Sorry….  Most of the climbs are less than 3 minutes long but several had steep pitches as high as a 20% grade.  So, it's a beautiful park and a great course with a solid 8,000+ feet of climbing.  As long as it doesn't rain, everything should be fantastic and it hasn't rained in 2 weeks.
Race Day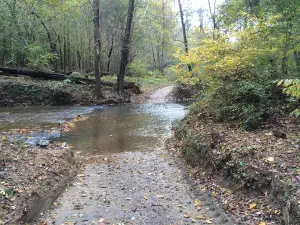 Don't obsess over the forecast… Ok, I can't stop from looking at the radar screen.  Things started to look grim the evening before the race.  Temperatures dropped, the wind started blowing and soon the sound of rain was heard.
Me: "How do the roads at Umstead hold up to rain?"
Steve: "Like shit".
Uh oh.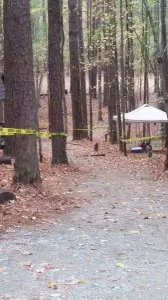 We arrived at the park a few minutes before the start since, as we all know, warmups are overrated in 100 mile events.  I jumped out and threw a leg over the bike.  I'm ready to go, just tell me which way.  Some quick instructions by the Race Director and we were pointed towards an immediate downhill over some railroad tie style stairs that went down and then back up the other side of the little valley.  That's the start?  Yup, and you get to do it every lap.  100 milers go first and 50 milers will follow a couple minutes later… GO!!!
Surprise number one was instant and very disturbing.  I had Zero rear brakes.  Something was wrong and my "no warmup" had the unfortunate side effect of finding out after the race had started.  Surviving 100 miles with hundreds of muddy, twisting descents and only a front brake seemed unlikely.  And, my doctor says I am still not allowed to crash.  The pressure is on.
Drafting is your friend on a Gravel Ride
I thought this was true and was prepared to patiently ride friendly wheels deep into the 100 miles.  As it turns out, drafting behind CX bikes on a muddy road sucks (dirt has been leaking out of my eyeballs for a full day already).  I tried to settle in but after only 5 miles a few riders went off the front.  They looked serious so I bridged across.  A couple others followed and we were officially a break of 5 lonely riders with 95 miles left.
Here come the 50 milers!
At the start of each lap there was an out-and-back spur that allowed you to see anyone within 10 minutes of you.  As we rolled around and started lap 2, I could see the front of the 50 mile group charging towards us.  I did not want to get behind even more riders with my brake problem, so I went to the front and took a 5 mile long pull.  One rider was shed from our group and the 50 milers were temporarily kept at bay.  But, on the backside of the loop the two leading 50 milers caught us and roared past.  As they started to fade in the distance I thought, "those look like good wheels to be on".  I attacked my little group of 100 milers and bridged across.  Of course, once I got there, they sat up.  Must have been roadies… match wasted for nothing.  The others made it across and we continued as a 6-some.
Sneak Attack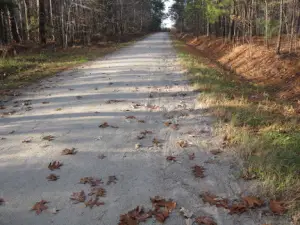 A 100 miler snuck off the front as we crested a climb near the end of the 2nd lap.  I thought he was riding ahead to fill a water bottle at the start finish area.  The 50 mile guys didn't care cause he wasn't in their race.  He also wasn't in my 50+ category of the 100.  Everyone ignored him… I shouldn't have.  Comfortable with the knowledge that the pair of 50 milers in my group would be fighting it out on lap 3 to get away from all the chasers, I stuck with the "good wheels".  Of course it backfired, lap 3 was slower than lap 2 and the sneak attack artist was gone.  As we came through, I was told he had 5 minutes on us and was looking strong.
Let the Time Trial and Suffering Begin
My group was riding too slow.   So when they all dawdled through the start finish area, I hit the gas on the climb out to the road.  There it is.  I've gone solo with 60 miles remaining (JOM style).  I should never have let someone get 5 minutes on me.
Setting Goals:  Win the 50 mile (sort of)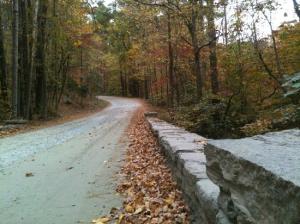 Lap 4 is the final lap for the 50 milers and the leaders are 30 seconds back when I see them on the spur.  I need incentive to ride hard and close on the 100 mile leader.  OK, how about we try to hold off the 50 milers this lap and "win" the 50 mile race.  Fun, fun, fun.  I rode hard and got into a good rhythm.  Every now and then, I'd look back and pretty soon I no longer saw the 50 milers.  By the end of the 4th lap I had cut the deficit to the leader down to 3 minutes and the 50 mile guys were not in sight.  Now we're getting somewhere.  The 5th lap was more of the same.  Good rhythm and just ride smooth and steady.  The 5th lap  (miles 57 – 71) is the fastest lap split of the race for me and at the end I'm only 30 seconds down on the leader.  But, the word I'm getting is that he's fading.
Hammer to the Finish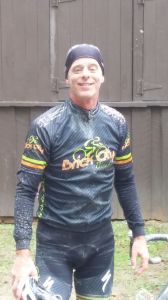 I roll hard into lap 6, because after 30 miles of chasing, I can finally see the rider that drifted so casually off the front of our group at the end of lap 2.  At the end of the spur, we acknowledge each other and the catch is imminent.  It's a horrible thing to be out front for so long and then see that someone is going to catch you.  I felt bad for him and wanted to pat him on the back and tell him how hard he had been to reel in, but I'm a bike racer not a therapist.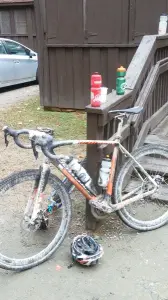 When I went by, I went by hard.  I'm talking 500 watts for 60 seconds kind of hard.  The kind of hard that makes your eyeballs pop out of your head.  Then I backed off and went time trialing again.  I don't know exactly what happened but a witness told me after the race that at the end of the spur he was already over a minute back.  Apparently he started riding in circles talking about being cooked.  It seems that two more laps of hills did not appeal to him.  While still solidly in second overall and leading the Open group, he rode down to the start finish and tapped out.  Multiple lap courses are tough.  The car is always just a bit too close, especially on a cold rainy day.  DNF or not, the dude was tough and made my life miserable for a few hours.  It takes some balls to try and go solo from 75 miles out.
Of course, I didn't know he had dropped out and rode lap 6 thinking he was lurking back there a couple of minutes, regrouping and plotting a counterattack.  I rode hard but kept something in the tank for any required rebuttal.  When I finished the lap, I was told I had a rather cushy 30 minute lead.  That made lap 7 MUCH less stressful.  Cruise mode went into effect.  I still had no rear brakes so I was extra careful on the last lap to keep upright.
The Finish
It was a tough course simply because the hills were steep and relentless.  The roads were sticky and soft from the rain and sapped energy at a higher than normal rate.  The cold and the wind added to the misery especially for a very cold-adverse Florida boy.  The numbers tell the tale of the carnage that happened behind me.  38 out of 50 starters finished to 50 mile and only 10 out of 20 starters finished the 100 mile.  The race was sold out at the state park permit limit of 100, so 30 riders simply looked out the window Saturday morning and said, screw it.
Final Standings and lap times (for the data minded)…
Top 5 Overall in the 100 Mile
| | | | | |
| --- | --- | --- | --- | --- |
| 1. | Roger Sutton | Open Male 50+ 100-Miler | 6:40:31 | |
| 2. | Lee Duncan | Open Male 0-49 100-Miler | 7:07:21 | +26:50 |
| 3. | Jeff Dennison | Open Male 50+ 100-Miler | 7:26:31 | +46:00 |
| 4. | Tom Blake | Open Male 0-49 100-Miler | 7:44:59 | +1:04:28 |
| 5. | Todd Thornton | Open Male 50+ 100-Miler | 7:48:52 | +1:08:21 |
Lap Splits
57:08
56:01
58:39
57:10
55:25
57:11
58:57