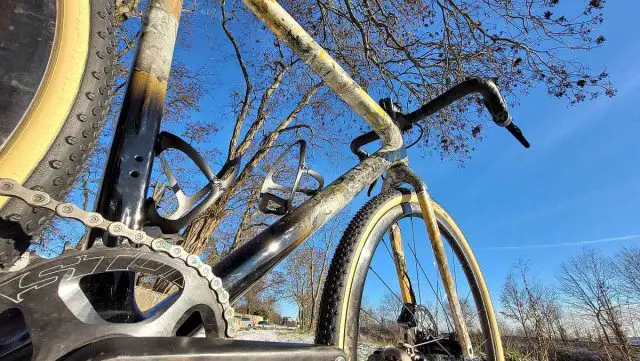 As I was a child I was ill, but every year was an improvement in my health, and a holiday of several weeks on the Catalan Costa Brava. The sun, the sea and the fresh air reminded me I was alive, and I always came out feeling a lot better. I learned much about that area of the coast of Catalonia, and looked forward to the time I was able to spend there year round.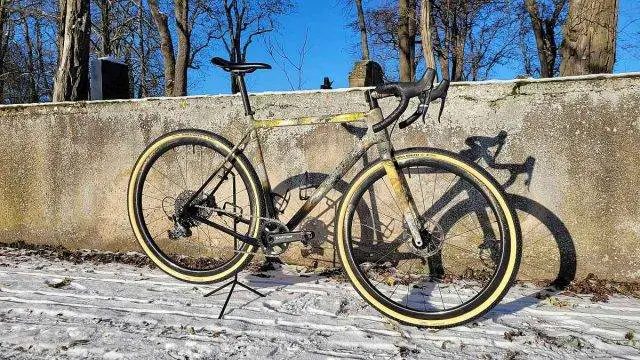 Today, in my second life; in my first I was a motorcyclist, I rediscovered the Costa Brava on a gravel bike. I regularly take part in cycling events and this is how it came to be. I was at the starting line of "THE TRAKA 200" in Girona at the beginning of May of 2022. I noted a special gravel bike with which "Diederick Deelen" took 4th place riding the 360-kilometer route.
He built himself an OPEN WI.DE. with many well thought out parts. Behind the coveted OPEN frames are company founders Andy Kessler, former CEO of BMC, and Gerard Vroomen, co-founder of the Cervélo brand (see Gravel Cyclist's interview with Gerard Vroomen here). A decade has passed since the manufacturer Open Cycle opened its doors for business. The drive to start Open was to get back to basics, away from big business. As they say so beautifully themselves, their top priority is to build bikes that they would ride themselves.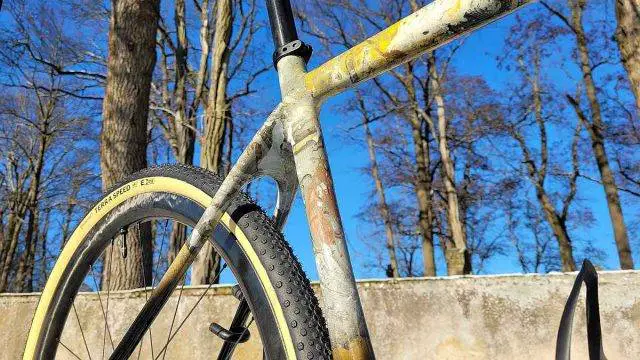 Going back to the OPEN WI.DE. from Diederick. I was impressed by the finish of the gravel bike. It reflects the landscape of the Costa Brava with its different tones of brown, grey and green – a real eye-catcher. I started researching and came across the painter Sergio Escribano (Scolor) from Malgrat de Mar.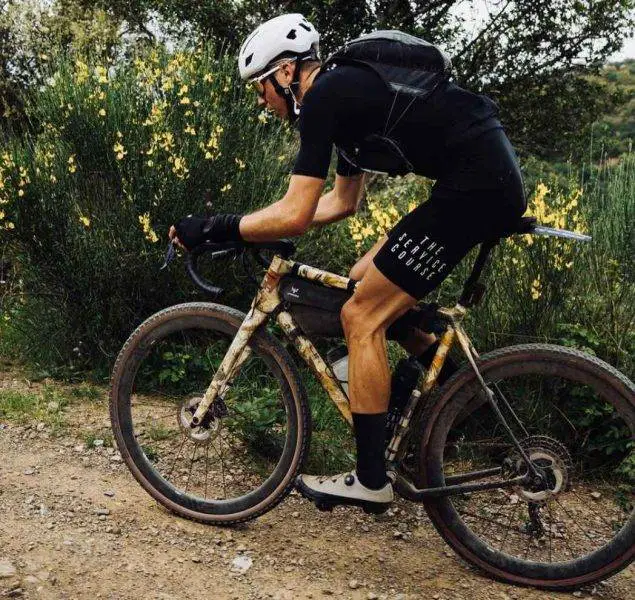 Above, the Open WI.DE of Diederick Deelen, from his Instagram account
I visited Sergio during my summer vacation on the Costa Brava coast, and he immediately agreed to produce a similar paint job one a bike owned by me. My OPEN U.P.P.E.R. frame that I have in my collection, built as a road bike, would be the donor for this project. My OPEN U.P.P.E.R. and I have already completed the "Ronde van Flanderen", "Liege-Bastogne-Liege" and the "Bimbach 400" cycling marathons with 8,000 meters of climbing. In its road-going form, my U.P.P.E.R. weighed only 6.4 kilograms. Thus, I had the idea of ​​building an ultra-light gravel bike for hard and hilly gravel cycling events.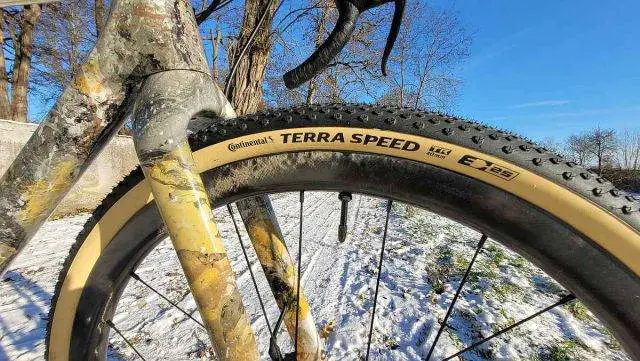 During my next autumn holiday on the Costa Brava, Sergio painted my frame within a week, and on the day of my departure from Catalonia, I was proud to take the frame home. The construction of this gravel bike should consider the following points: be as light as possible for the mountains, but also reliable to finish long gravel events.
I had good experiences in the past with the mechanical SRAM Force 11-speed drivetrain, With a 38T chainring and an 11/42 cassette, it should also be suitable for long climbs. An Easton SL90 crank completes the drivetrain, and at around 350 grams it is one of the lightest cranks on the market. I wasn't interested in going super light for the sake of it, a broken seatpost was a result of gram savings that didn't work out. Thankfully, I listened to the recommendations of Andy Kessler, OPEN's CEO.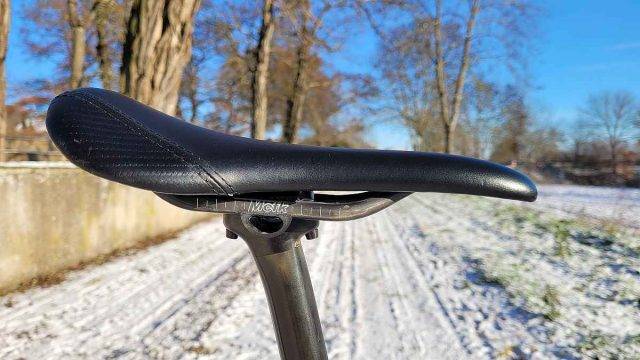 The handlebars, stem, seat post and saddle are manufactured by MCFK, a small carbon producer from Leipzig, Germany. These parts are very light and yet stable enough to withstand the increased strains off-road. I also rely on MCFK parts for the carbon rims. With the UD matte finish, this results a certain raw appearance I was looking for. As for hubs, I trust in the noble parts from Tune in the Black Forest. There are lighter hubs, but the robustness and reliability of the King/Kong hubs speak for themselves. Many mountain bikers also put their trust in these hubs.
The first impressions of riding the OPEN U.P.P.E.R. are impressive. I've never ridden a gravel bike with a feeling of such acceleration, but one that's also stable, like nothing and nobody can throw it off track. The pleasantly agile, well-balanced handling puts you in a good state of mind, and strikes a balance between smooth running and agility. Light weight aside, the bike is comfortable to ride, and the frame possesses vibration damping in the right areas, along with damping from my selection of cockpit parts, seatpost, etc. Completing the wheel package is the Continental Terra Speed tyre (see Gravel Cyclist's review here).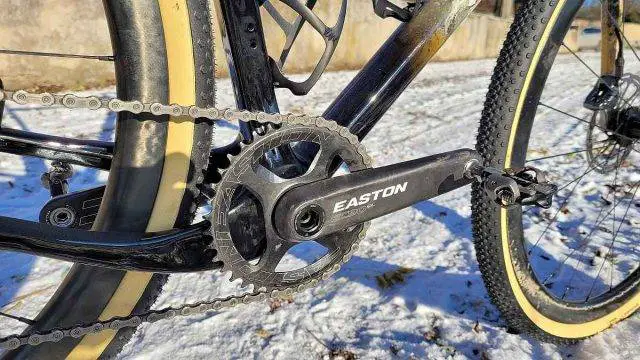 Now it's time to train, train and train again for the challenges of the 2023 season. In addition to "THE TRAKA 360" in Girona, the U.P.P.E.R. will also be used at the MM Gravel Grinder and the "Graveltour de Mont Blanc".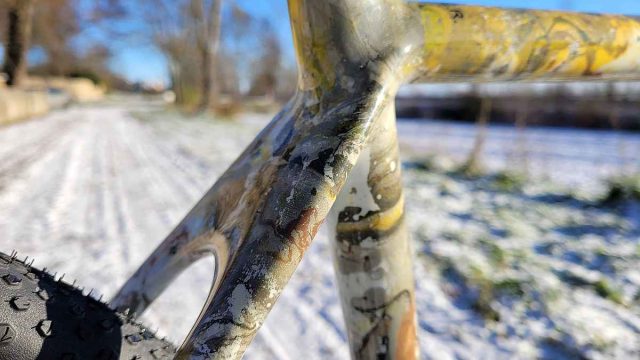 Specifications:
Frameset: OPEN U.P.P.E.R. Scolor Edition "Costa Brava"

Front brake: SRAM Force 

Rear brake: SRAM Force

Brake/shift levers: SRAM Force 

Front derailleur: none

Rear derailleur: SRAM Force 

Cassette: SRAM 11/42

Chain: SRAM

Crankset: Easton EC 90 SL Carbon, 172,5mm

Chainring: Easton 1 x 38T 

Rotors: SRAM, 160/140mm

Bottom bracket: SRAM 

Wheelset: MCFK Carbon Wheels 35mm, spokes Sapim CX-Ray  

Hubs: Tune King/Kong 

Tyres: Continental Terra Speed 700 x 40mm 

Sealant: Stan′s NoTubes Tire Sealant 3 oz front, 3 oz rear

Pedals: Shimano XTR

Bar Tape: Supacaz black

Handlebars: MCFK 420mm Carbon

Stem: MCFK 90mm Carbon

Saddle: MCFK Carbon 

Seatpost: MCFK 27,2mm Carbon

Bottle cages: Tune Carbon

Cycling computer: Garmin Edge 830

Weight: 7.0 kg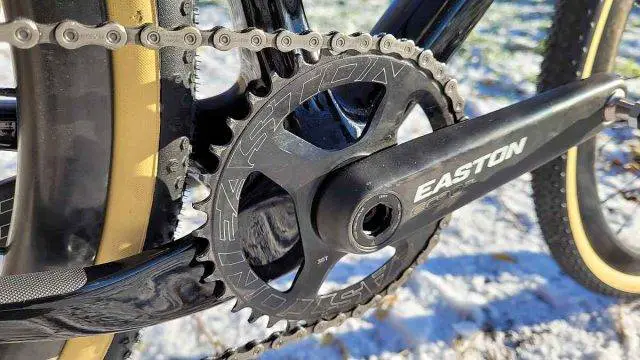 Useful Links