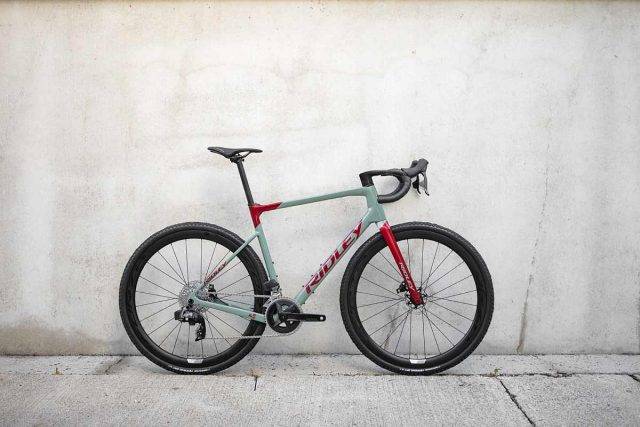 "Road plus, gravel light… whatever you call it, Ridley's newest bike does the job. This bike is carefully designed for riders searching for that one bike that can do it all. Meet the Grifn: the allroad bike that's fast and capable on all kinds of surfaces: from smooth tarmac all the way to dirt roads."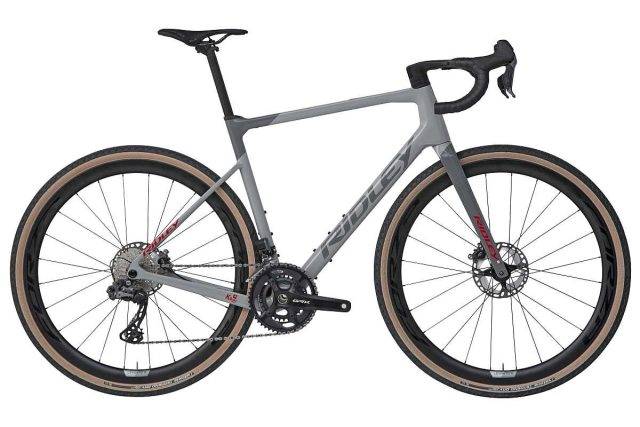 "The Grifn is made for riding hard and long while making memories and discovering new roads. It's made to go the extra mile. Ridley combined the speed of a thoroughbred road bike with the comfort of a gravel bike in creating the Grifn."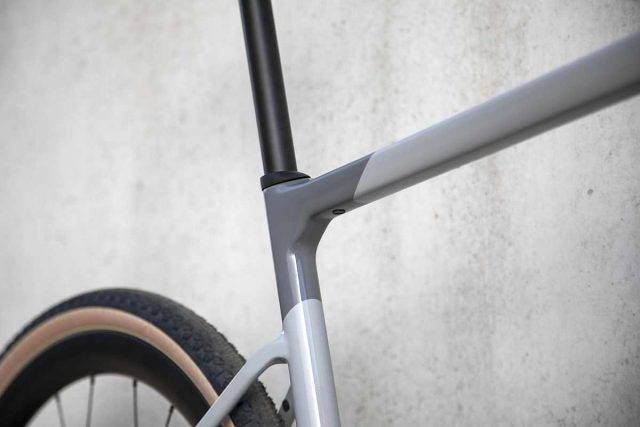 "In 2015 Ridley released their first allroad bike, the X-trail, which was designed to be used as a road bike or gravel bike. This bike was renamed Kanzo Speed in 2019. With the ongoing trend of more capable road bikes, Ridley decided to give their allroad bike a proper update. Moreover, alongside the performance-oriented Kanzo Fast and explore-minded Kanzo Adventure, the Grifn is a great addition to Ridley's range of gravel bikes."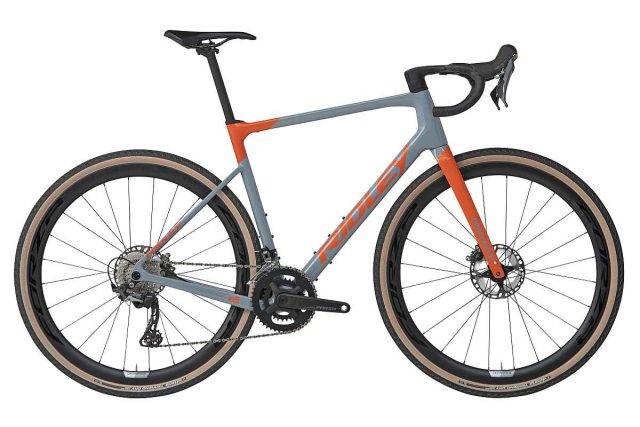 "With a 990 gram frame (unpainted, in size medium), the Grifn is a fast and comfortable road bike ready to hit the offroad with its maximum tire clearance of 38mm. There's even the possibility to go to 40mm tires if you run a 1x drivetrain, or add fenders and dynamo powered lights enabling the Grifn for any use: it's suitable for road riding and gravel grinding as well as commuting and long distance riding."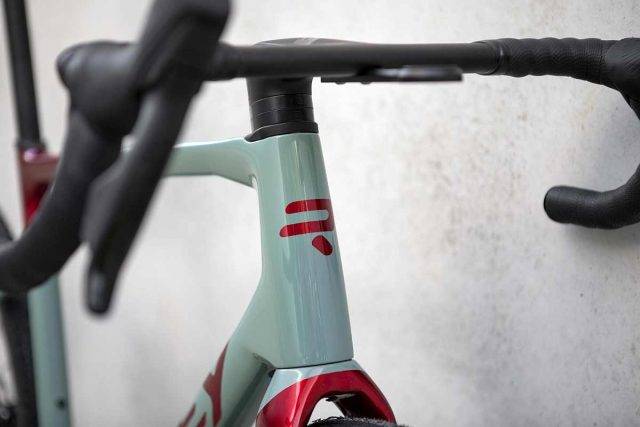 "The surface won't be limiting the rider anymore. The Grifn is the perfect match for riders who don't want to have to choose between road and gravel. Whether you're in search of a gravel bike for exploring backcountry roads and enjoying the most scenic and car-free roads or want to occasionally take your road bike off the beaten path to break the habit, the Grifn is the right bike for it. With the Grifn, Ridley is breaking with the N+1 rule of bike ownership."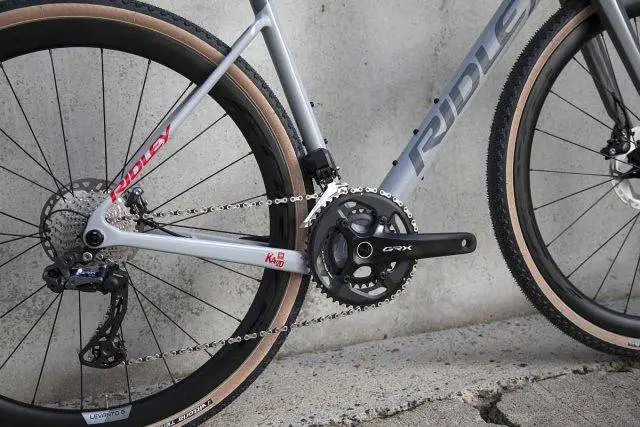 "The name Grifn refers to the mythical beast griffin, a fabled animal with the body of a lion and the head and wings of an eagle. This hybrid creature symbolizes the ruling over two realms: the earth and the sky. Because of the bike's versatility, Ridley's Grifn is also capable of ruling over two realms: road and gravel. As a Grifn rider you'll reign both tarmac and dirt roads."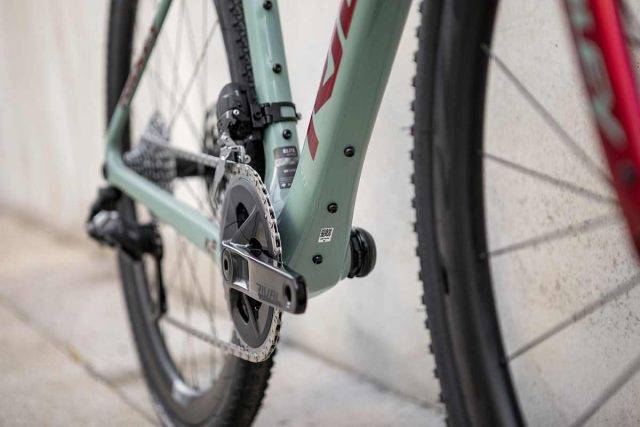 "Seeing that you can go any direction with the Grifn, this bike can be built as both road bike and gravel bike. It's completely customizable to fit the rider's wishes. This way the Grifn is perfect for road and gravel riding, commuting and long distance adventures."
Geometry
"With a completely new bike design comes new shapes and a new geometry. The geometry of the Grifn is adapted to both road and gravel riding and was designed using Ridley's KOG philosophy (Kanzo Optimized Geometry). This means that the geometry is fine-tuned to obtain the handling that is the best fit to the type of riding the bike is designed for. This is reflected in some key numbers in the geometry, like the head tube angle and the bottom bracket drop."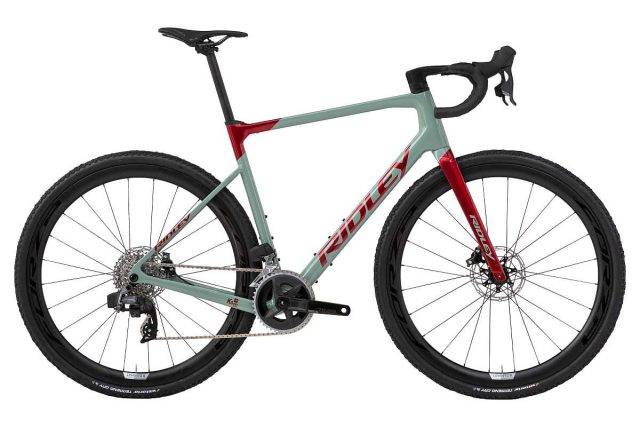 :The head tube angle of 72° is in between the Fenix SLiC road bike (73.5°) and the Kanzo Fast performance gravel bike (71.5°). The bottom bracket drop of 73mm is lower than on a road bike, but not as low as on the Kanzo Adventure gravel bike. Moreover, the chainstays of the Grifn are shorter than those of the Kanzo Speed and both the head tube angle and seat tube angle of the Grifn are steeper than on the Kanzo Speed.: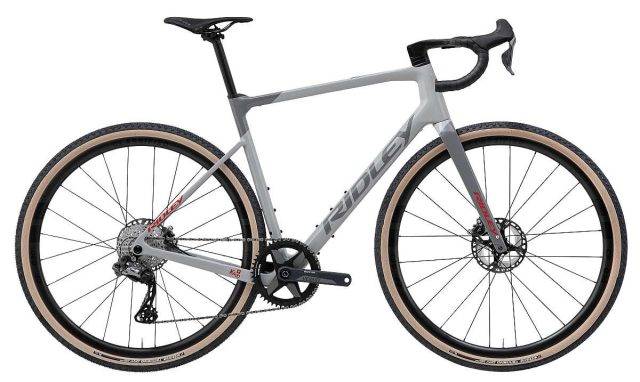 "Ridley's R&D department made sure the bike is reactive and nimble while providing enough stability and control for offroad riding. The 420mm chainstays play a crucial role in this part of the ride feel. The result is a fast, reactive yet stable and well-balanced allroad bike. The Grifn is a road focused gravel bike that is comfortable enough for long days on rough roads, but still aggressive enough to line up for a Gran Fondo. It's the perfect companion for endurance riding."
The Grifn is available in 5 sizes (XS, S, M, L, XL).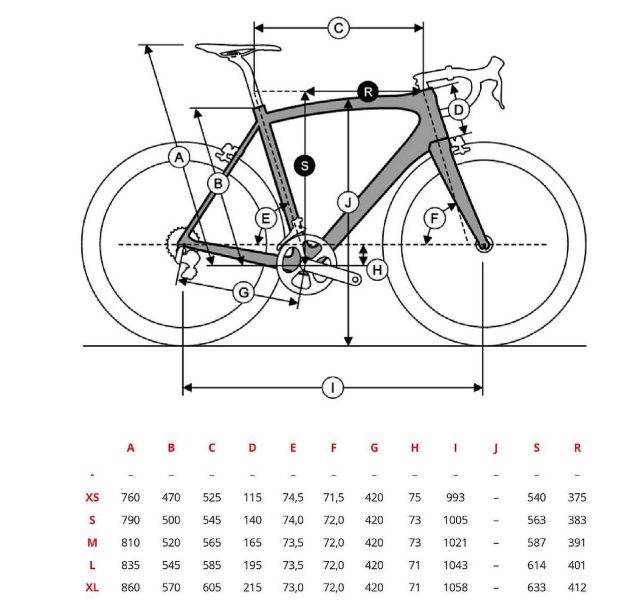 Weight
"Although Ridley didn't focus on absolute racing performance when designing the Grifn, its weight is still competitive. The weight of an unpainted frame in size medium is 990 grams. A Grifn with a Shimano GRX Di2 specification weighs 8,5 kilograms in size medium."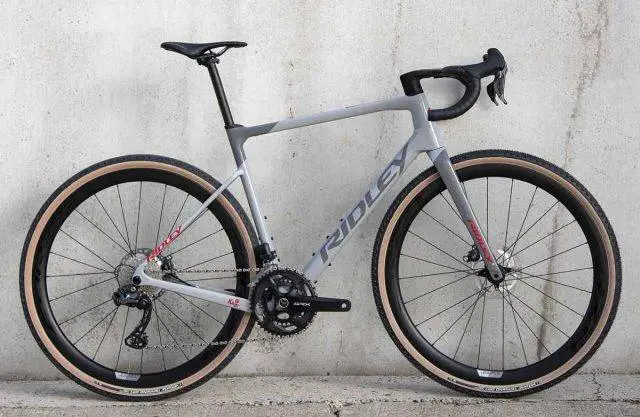 Drivetrain Options
"The versatility of the Grifn is not only limited to the choice of tire width and thread pattern. The bike can be run with your choice of drivetrain from road inspired to gravel ready, from 1x to 2x drivetrain or with the innovative Classified Powershift." To see more about Classified Powershift, check out this project build involving the system. Further drivetrains and stock builds are available on Ridley's website.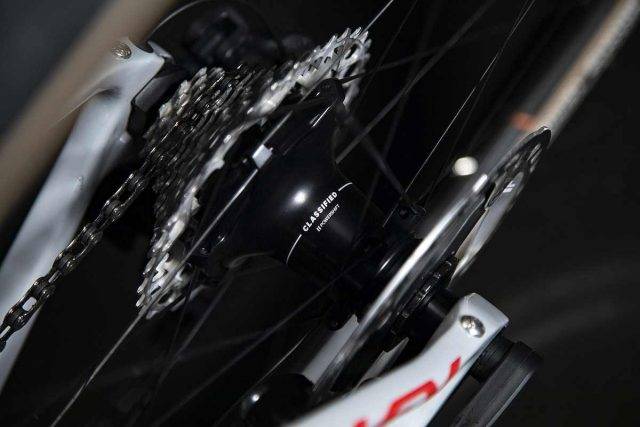 Removeable Front Derailleur Clamp
"The Grifn features a removable clamp-on style front derailleur hanger. This means that riders that choose to run a 1x or Classified drivetrain will get the sleekest look possible."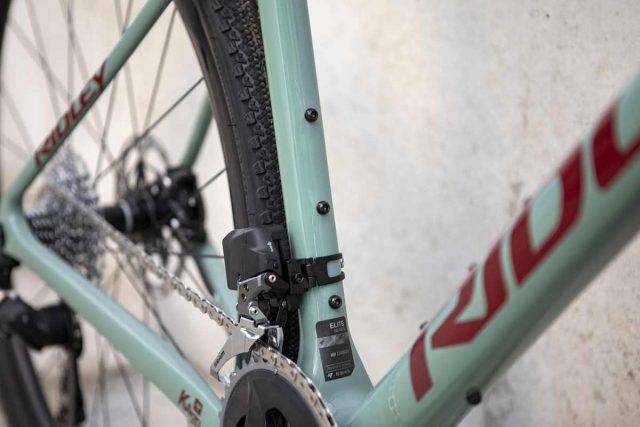 Universal Derailleur Hanger (UDN)
"The Grifn is equipped with a Universal Derailleur Hanger (UDH). While UDH is very common on mountain bikes, it has only seen little acceptance in the road and gravel bike market. With today's drivetrains, there are no technical reasons not to use UDH. Ridley chose to use this hanger interface and bring all the benefits that are already very common for mountain bikers to the drop bar market."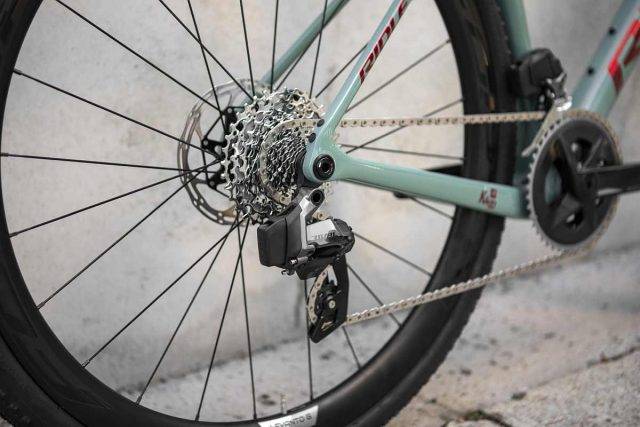 Tyre Clearance
"The Grifn is designed to handle a very wide variety of surfaces. The bike is equipped with enough space to fit wide tires, enabling the possibility to ride both tarmac and dirt roads with the Grifn. With a maximum tire clearance of 40mm (when using a 1x drivetrain), the Grifn is definitely ready to hit the offroad. The maximum tire clearance with a 2x drivetrain is slightly smaller with 38mm. When using fenders on the Grifn, you can still go up to 32mm rubbers."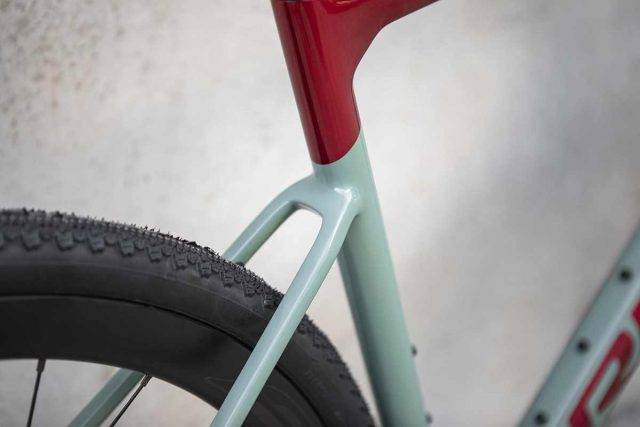 Mounting Points
"The Grifn is equipped with a multitude of mounting points to optimize your bike set-up, allowing you to take extra gear on adventurous long days in the saddle or even multi-day rides. You will find three mounting points on the seat tube, three on the down tube and three under the down tube. This ensures that you can determine the perfect positions for your bottle cages or toolkit when using bags for instance."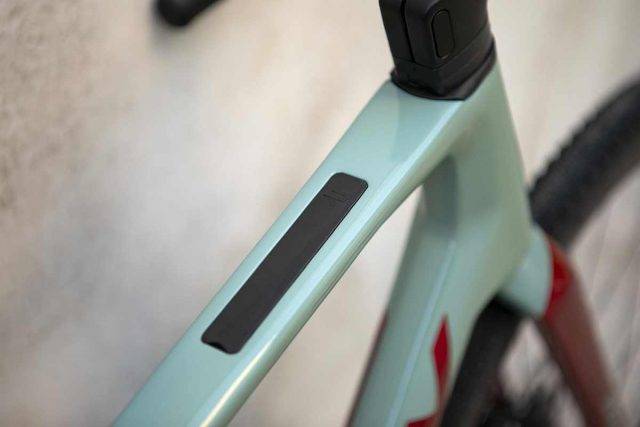 "The straight top tube is equipped with two mounting points, making it very easy to attach a top tube bag for extra luggage space, a toolkit or other accessories. The flat top shape of the top tube provides a stable platform for top tube bags. When you don't want to make use of the two mounting points on the top tube, they can be hidden with a flush fitting cover."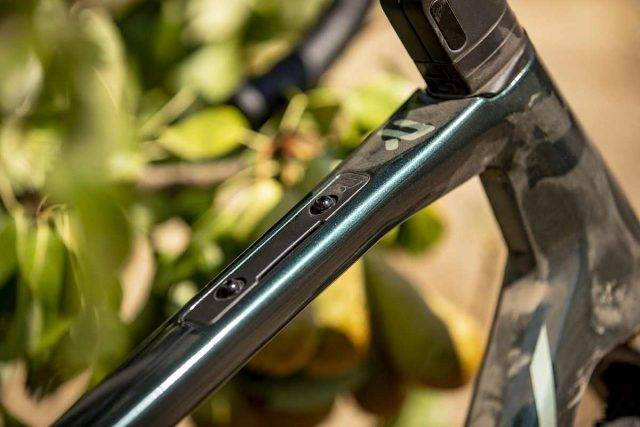 Cockpit
"Ridley used the F-steerer technology for the Grifn, making shifting and braking cables invisible by hiding them in the frame through the stem. This technology is used because of its aero advantage when the Grifn is used as a road bike. When the Grifn is used as a gravel bike, the F-steerer technology enables the rider to attach handlebar bags more easily. It also avoids potential frame damage from cable rub and prevents the cables from catching on bushes or getting snagged in case of a crash."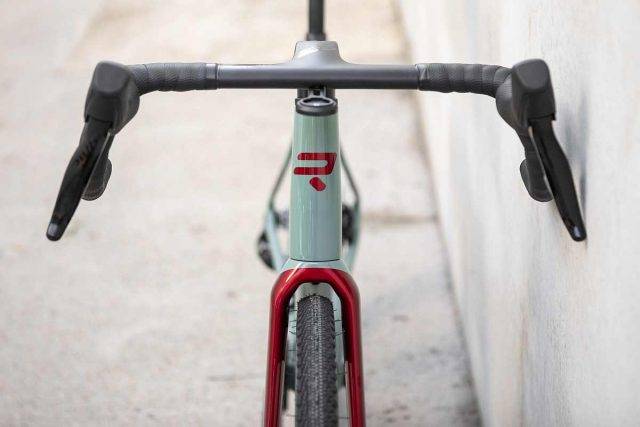 "The Grifn features the new Cirrus Pro Flared cockpit. This cockpit has a slightly shorter reach (70mm) and a more shallow drop (120mm) in combination with a 16° flare. It offers a more comfortable position and more control on all terrains. This cockpit comes in four different stem/width sizes: 90/380, 100/400, 110/400 and 120/420."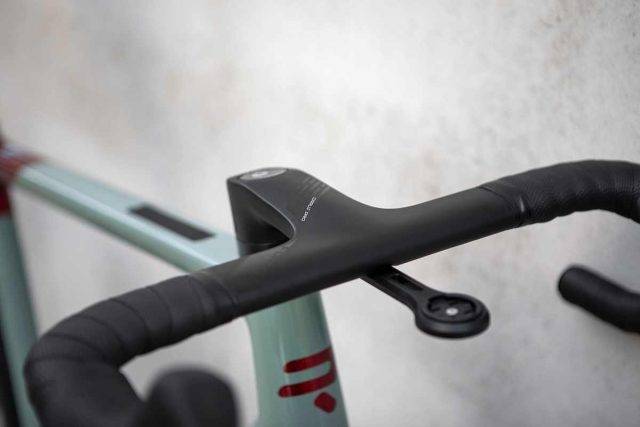 Dynamo Light Ready
"The Grifn has several extra features, which makes this bike extra useful for long(er) distance riders and commuters. For instance, the Grifn can be used with a hub dynamo. The dynamo cables run internally through the fork leg and frame. This is a great option for the more adventurous riders wanting to ride day and night without the need to stop. The dynamo can be used for lights or charging electronical devices. When not making use of this feature, everything can be nicely hidden with rubber covers."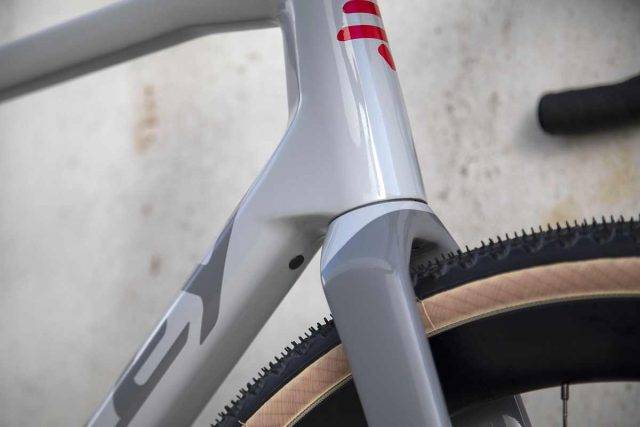 Fender Ready
"Another extra feature is the option to use fenders. The Grifn is equipped with mounts on the frame and fork to easily attach fenders, making riding in wet and dirty circumstances a lot more comfortable. The max tire width when using fenders is 32mm. Ridley will also offer a matching fender set for the Grifn."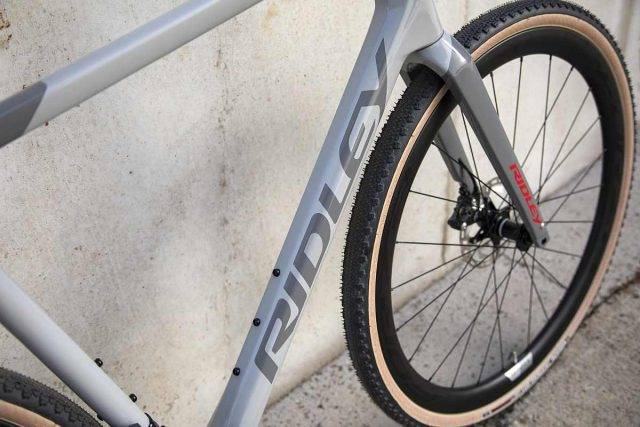 Customized Grifn
"The Grifn is fully customizable with Ridley's online configurator. The configurator can be used to build your dream bike. Customize the Grifn completely to your liking: choose your favorite colors and design and pick the group set, components, wheels, tires, saddle and accessories. The Grifn is available both a complete bike and as a frame fork set."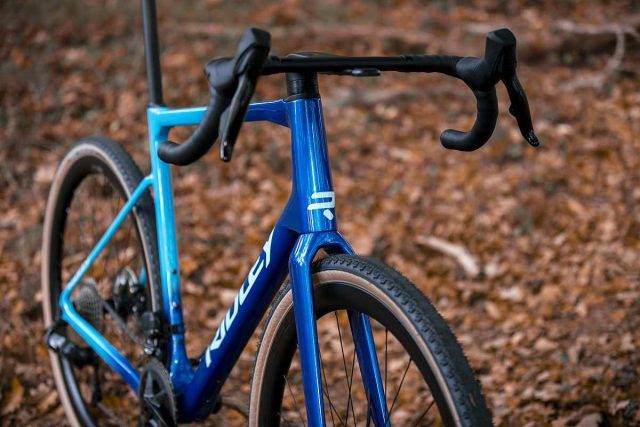 "All its features, its geometry and the possibility to ride both a 1x and a 2x drivetrain, make the Grifn an extremely versatile bike giving you endless possibilities of use. In essence, Ridley is breaking the N+1 rule of bike ownership with the Grifn."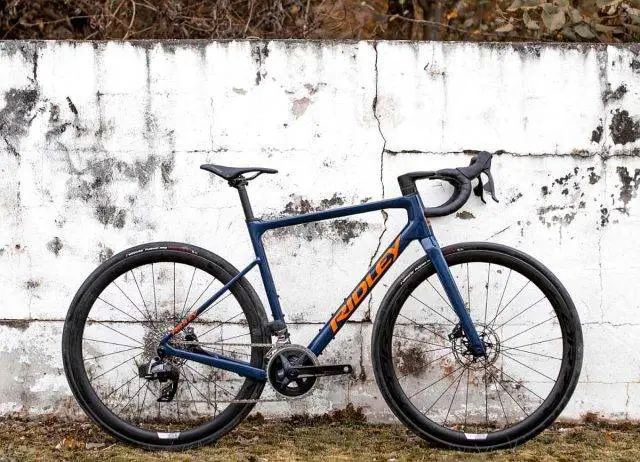 General Specifications
Frame

Headset –

11/8"/1½" – IS242/28.6 | IS52/40Kanzo Adventure

Bottom bracket –

PF BB86

Axle –

12/142 thru axle

Seat post –

27.2mm, round

Disc brakes –

Flat mount, max 160mm rotor

Weight –

990 grams (size medium)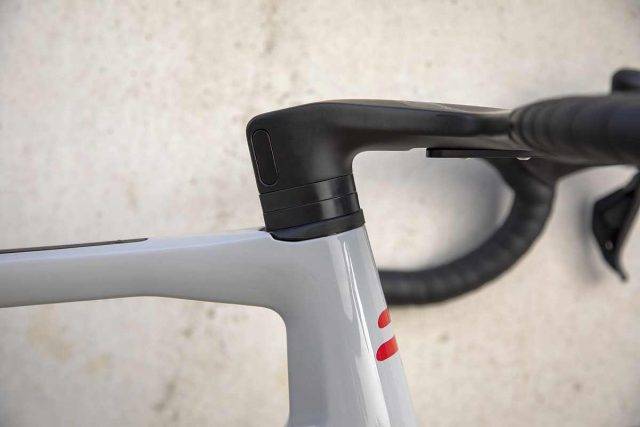 Fork
Axle to crown length – 390mm

Fork rake –

47mm

Fork crown –

Integrated crown race

Fork steerer –

D-shaped steerer

Axle –

12×100 thru axle

Weight –

445 grams
Additional Photos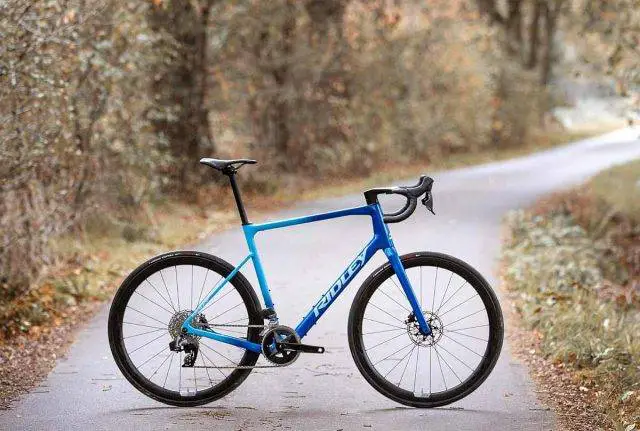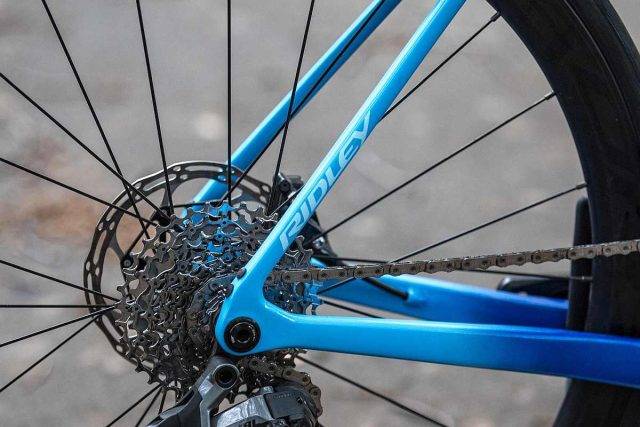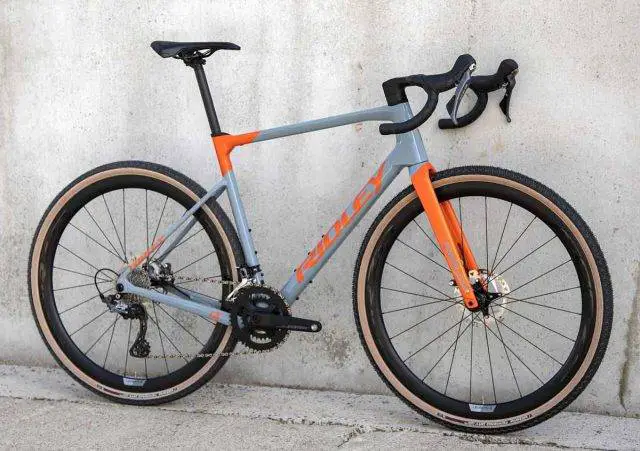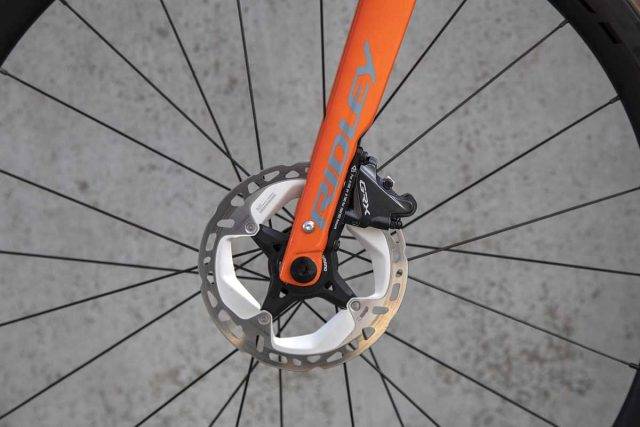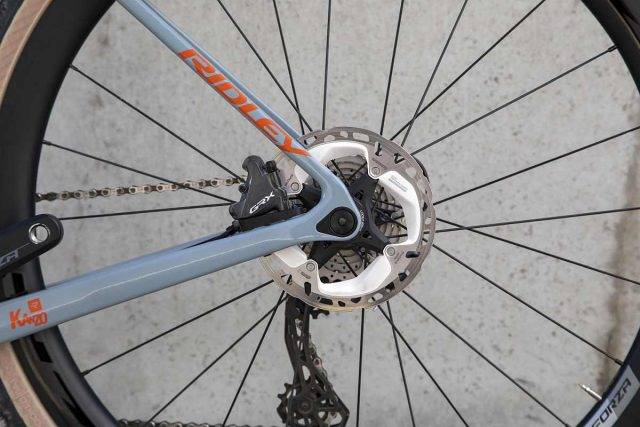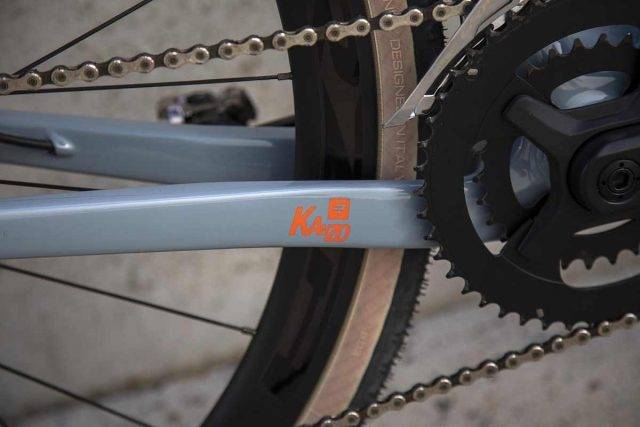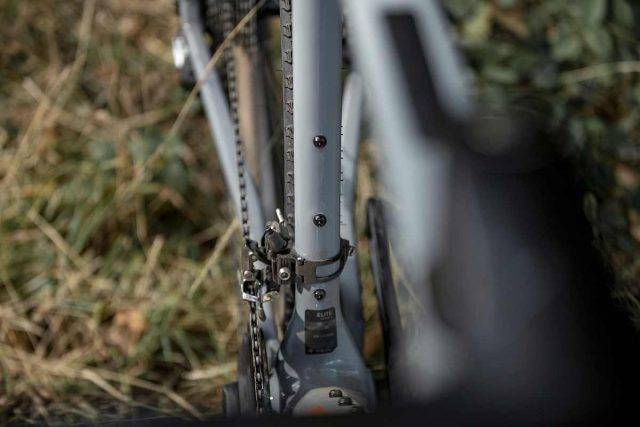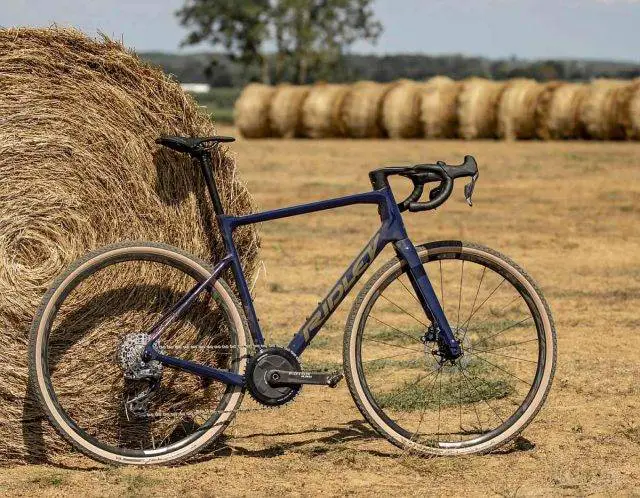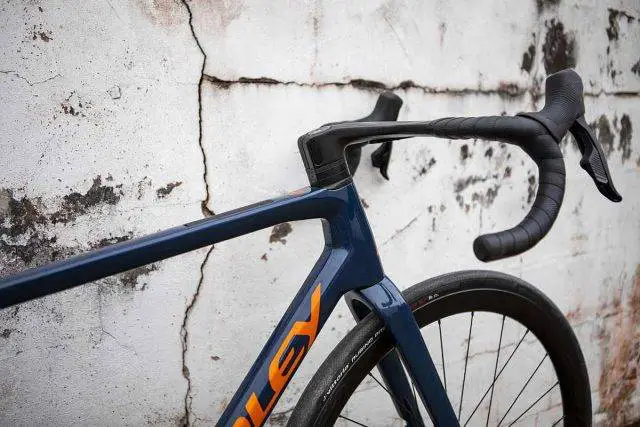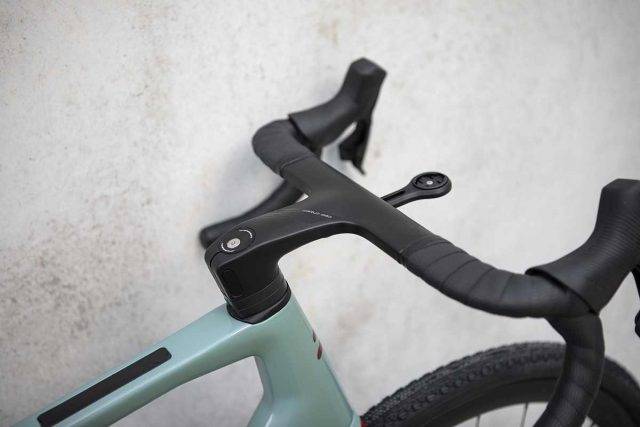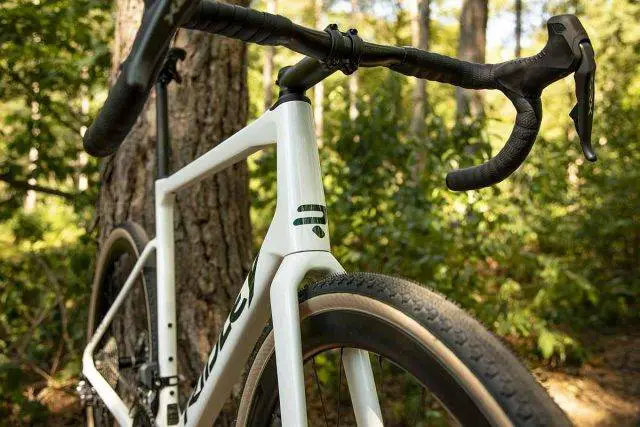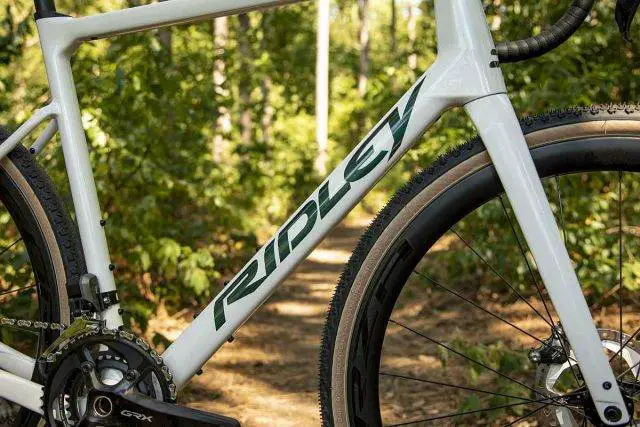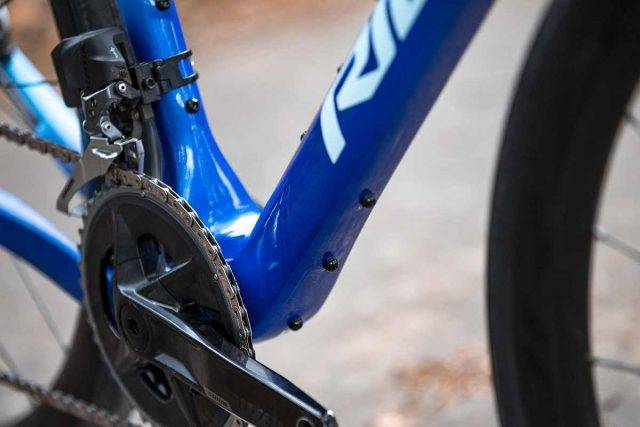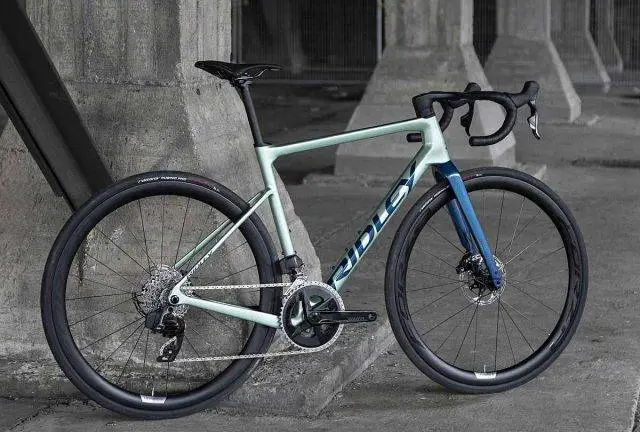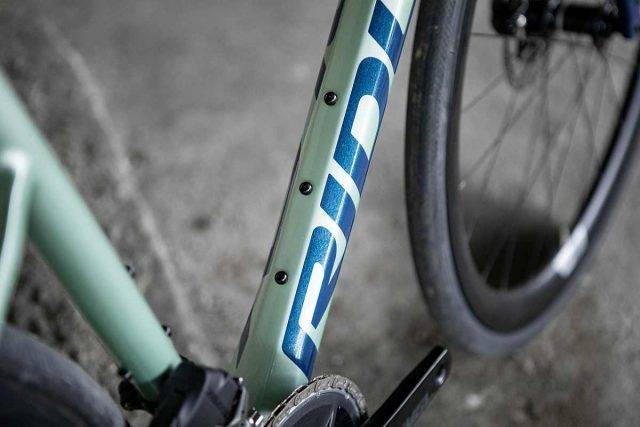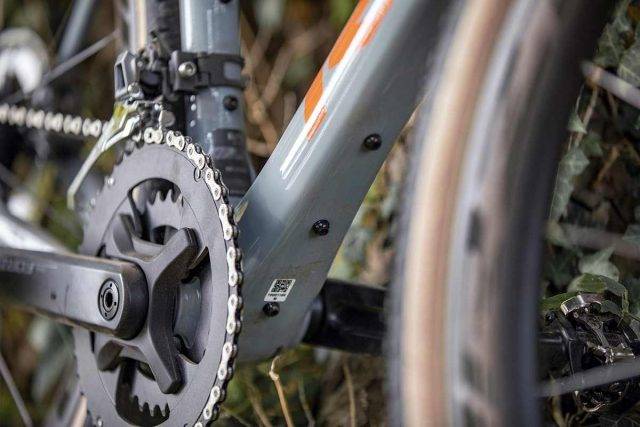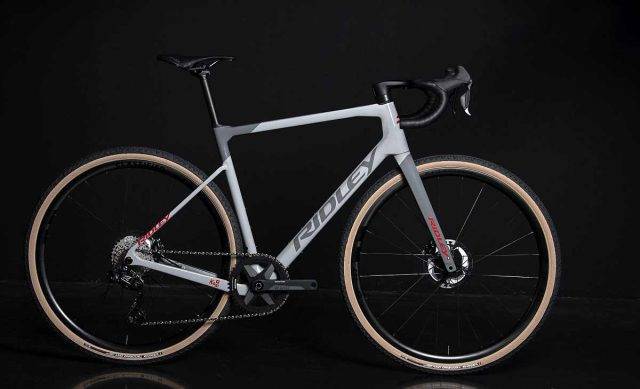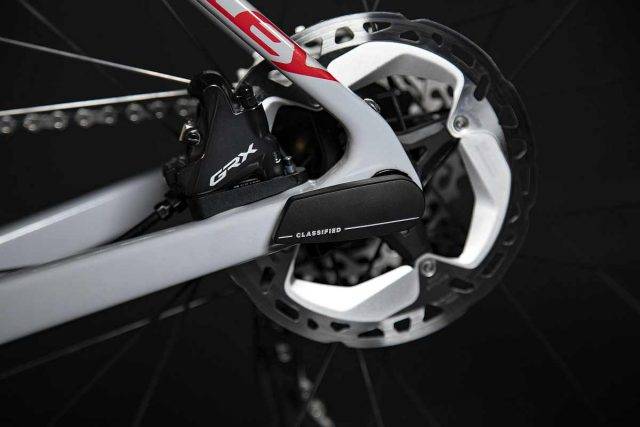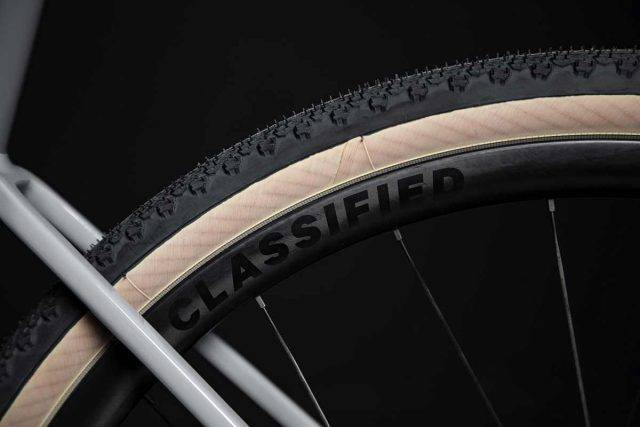 We hope to acquire a review bike in the near future, watch this space!
Ridley Reviews / Features
Learn more at Ridley's Website.