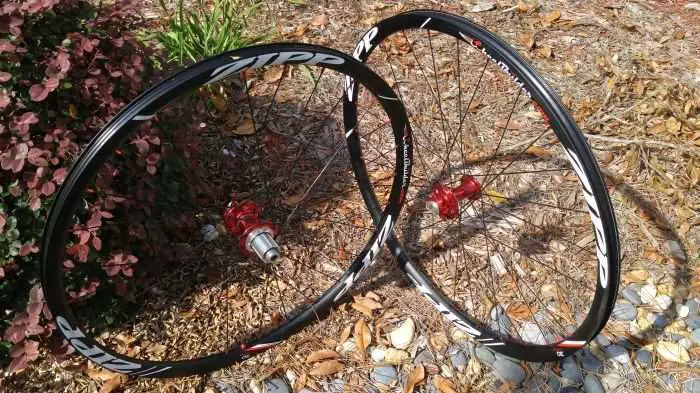 "Our goal is to provide extremely high quality products and services through careful quality control and parts selection. Every wheel, whether hand built by us or factory purchased goes through a rigorous measurement, inspection, and adjustment process. These procedures ensure that each wheel meets our exacting standards for radial and lateral runout, as well as maximum spoke tension and most importantly, tension uniformity. While this process consumes a considerable amount of time, we feel it is the only way to guarantee that your wheels are reliable and perform to their potential." – Wheelbuilder.com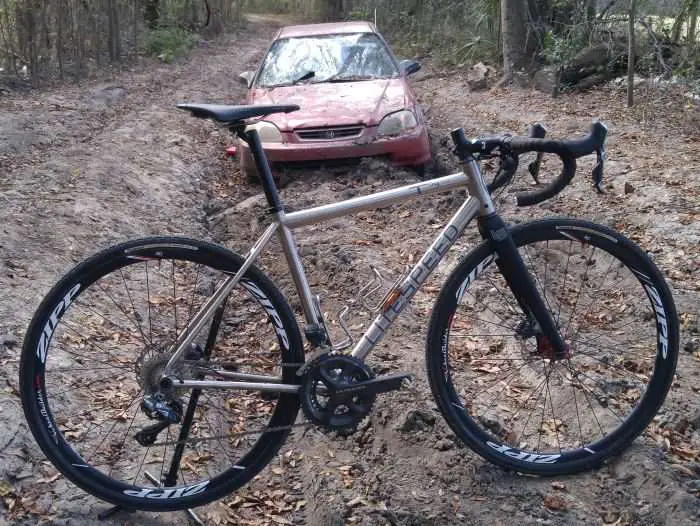 Wheelbuilder.com is one of the premier, custom, wheelbuilding companies in the United States. Custom wheels aren't for everyone, but for those ciclistas who appreciate top notch bicycle wheels, there is nothing finer than riding a pair of wheels you designed – along with friendly advice from staff at companies such as Wheelbuilder.com.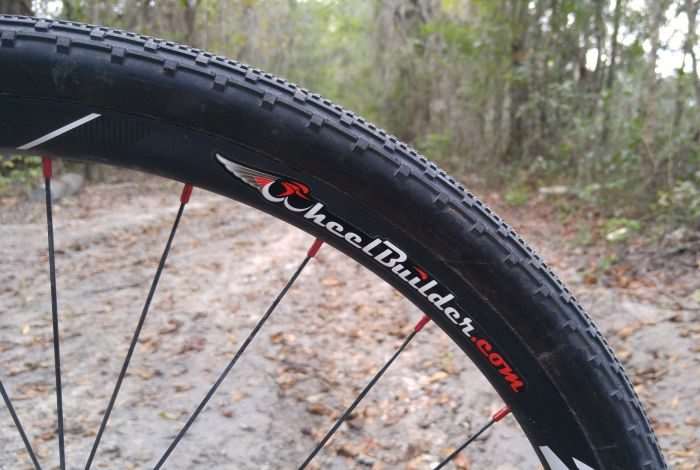 Customer Service and the Build
For this experience, I worked with Esteban of Wheelbuilder.com on designing a custom gravel specific wheelset. While I don't expect helium light wheels, I do expect strength, durability and serviceability. Thus, I eschew low spoke count wheels that feature proprietary spokes and nipples. What good are these high zoot items should you break a spoke in the middle of nowhere, and the local shop only carries J-bend round spokes?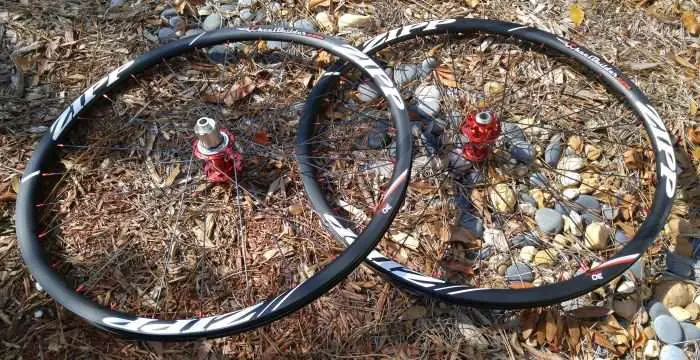 My requirements were as follows:
Minimum 28 spokes front and rear.
Disc brake hubs with support for 15mm thru-axle on the front, 142mm x 12mm on the rear.
Tubeless compatible rims with a wide rim bed that aren't too heavy – aluminium preferred.
Option for colored aluminium spoke nipples – these wheels have to look good!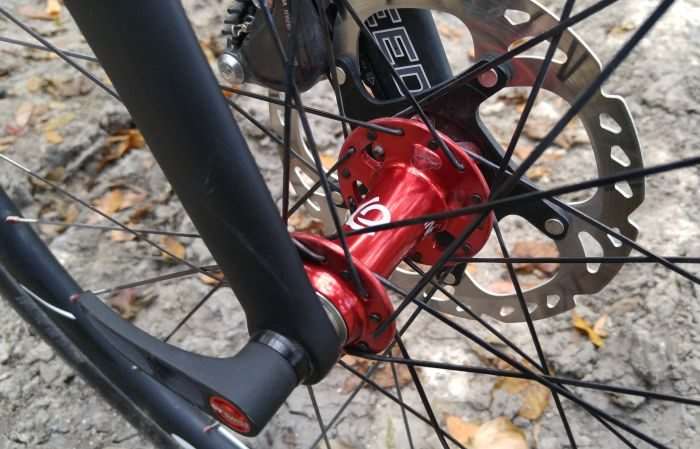 After a couple of back and forth emails and one telephone conversation, Esteban and I agreed on the following build:
Rims: Zipp 30 Course 28 / 28 clinchers – these rims are tubeless compatible and exclusive to Wheelbuilder.com – they are the only company with access to just the rims.
Hubs: Industry Nine Torch ISO hubs (ISO = 6 bolt disc brake rotors), red, with support for 15mm thru-axle front, and 142 x 12mm on the rear. The cassette body is Shimano / SRAM 10 / 11 speed compatible.
Black DT Aerolite bladed spokes.
Wheelbuilder.com aluminium spoke nipples in red.
Wheelbuilder.com tubeless valve stems.
Customer service was exceptional; Esteban was friendly and offered good advice. This is especially important if one is new to  cycling, no matter the genre. So many companies are all about making the sale with little regard for the customer's real needs.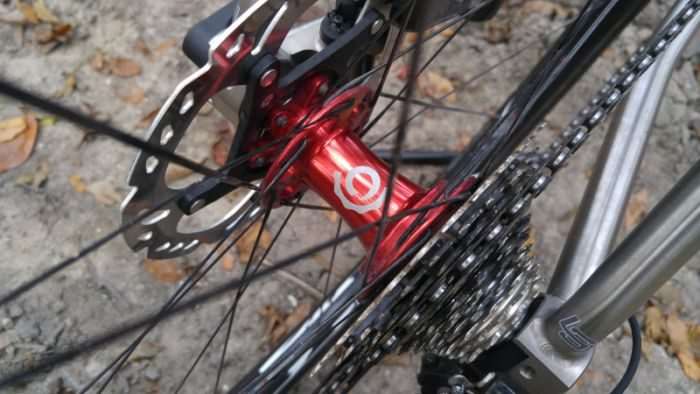 Wheel Weights and More Tech Specs
With rim tape and Wheelbuilder.com valve stem / core installed (a paltry four grams each stem) – front wheel weight is 777 grams and rear wheel is 906 grams, making for a total of 1,683 grams. Not the lightest wheelset by any stretch of the imagination, but all they need are tyres to roll – most other wheelsets are weighed sans rim strips and valve stems.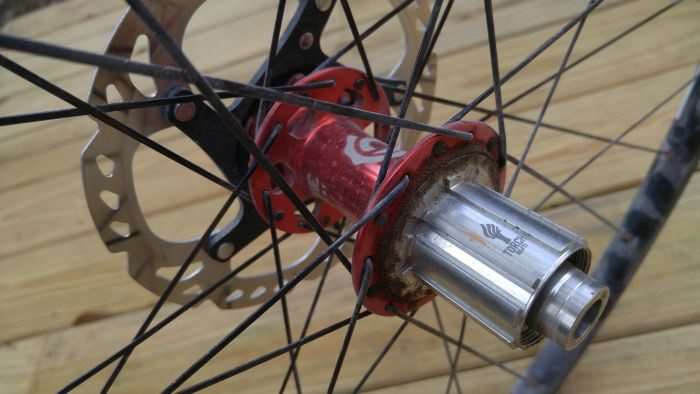 "Featuring all of the advantages of the Torch freehub -low drag, low weight, and the ultimate in freehub compatibility- tied into a traditional, "Classic" hub.

The Torch road hubs use the same drivering and pawls as the mountain hubs. However, we reduced the pawl count to 3 instead of 6 for lower drag and weight while still achieving an industry leading (for road hubs) 6 degree engagement.  Relocated bearings, and a new freehub seal reduce freehub drag while coasting.

The Torch road hubs now feature custom Teflon contact seals for the endcaps, which we manufacture in-house. They fully seal the hubs from mud and water – tight enough for a muddy CX season, but smooth enough for drag-free road miles.

Available in 11 different colors and multiple drilling options." – Industry Nine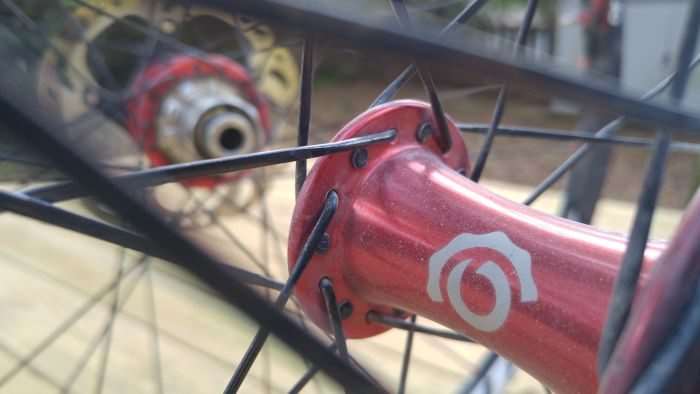 Front hub weight – 110 grams depending on axle and bearing specification.
Rear hub weight – 245 grams – weight varies depending on bearing, endcap, and freehub specification (9/10/11 speed Shimano / SRAM, Campagnolo or SRAM XD-R available). 60 point – 6 degree engagement – 3 pawl freehub.
Hybrid ceramic bearings are an option on both hubs – I chose regular bearings.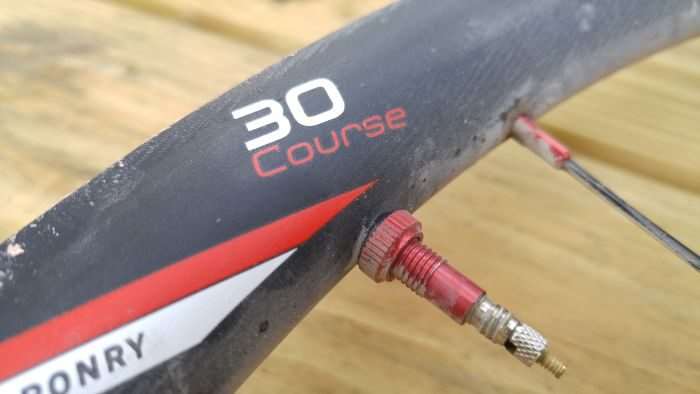 The 30 Course rim is Zipp's first rim to be tubeless-ready, providing the ability to run lower tire pressures without risk of pinch flats. The 30 Course disc brake rim has an external rim width of 25mm, an internal width of 21mm and a depth of 26mm. Zipp has taken design cues from their 202 Firecrest Carbon Clincher rim profile, touting low aerodynamic drag, greater stability and predictability in crosswinds.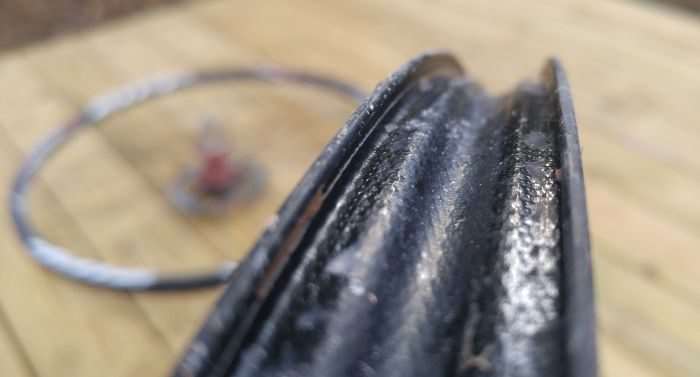 It is pretty well known that a wider rim platform allows for increased air volume, and helps to spread the tyre casing. That also helps increase the contact patch with the ground. Other benefits are improvements in cornering grip and increased overall comfort.
Disc Rotor and Tyre Installation
The Industry Nine Torch hubs are available for center lock rotors or the venerable 6-bolt standard. The 6-bolt type is well proven, but if you're a home mechanic type – or work as a professional bicycle mechanic – you will appreciate the ease and convenience of center lock. With the appropriate tool, it takes just a few seconds to loosen the lockring, swap rotors, and re-install the lockring.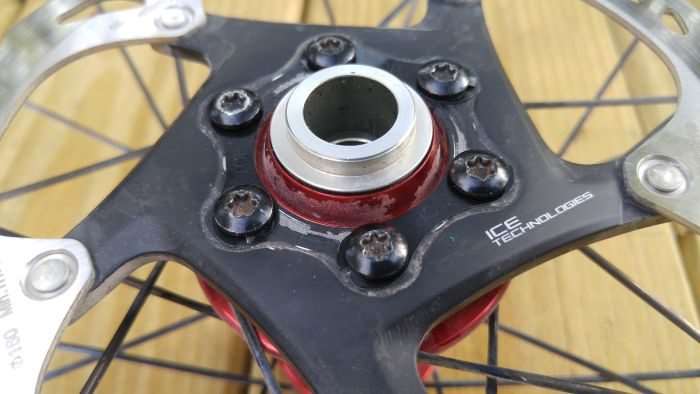 In the case of the review wheels, hubs were of the 6-bolt type, which I fitted with a set of Shimano 160mm Icetech rotors. I had no need to swap rotors in and out, so it was a case of set and forget.
For the duration of the review, I mounted and ran two different tubeless gravel tyres with the review wheels – the Panaracer Gravelking SK in 700c x 35mm and the Maxxis Rambler in 700c x 40mm, both paired with Orange Seal Endurance formula sealant. In both cases, the tyres were easy to fit to the wheels; no struggles with a tight fit and no tyre levers were required. The Gravelking SK inflated effortlessly using the Topeak Joe Blow Booster pump, but I had to resort to a compressor for the Maxxis Rambler – the Rambler is easy to mount but in my experience, a compressor is the only way to do so.
The Ride
At a little under 1,700 grams, these Wheelbuilder.com handbuilt specials aren't the fastest during acceleration. Snappy wheels are really nice for road riding and racing, but for the most part, gravel cycling is about the long haul. Once the wheels are up to speed, the wheels hold that speed nicely and stay there – although staying there is going to be dependent on what nasty road you may be riding over at the time. The wheel's DT Aerolite bladed spokes look sharp and feel fast, and feeling fast is a great placebo which is what it's all about. I absolutely loved how these wheels look as they rolled along beneath my bike, and the red hubs and Zipp decals certainly draw some attention.
Hub engagement on the Industry Nine Torch hubs is fast with 60 points of engagement, which translates to six degrees of movement before the driving mechanism is engaged. That may be overkill for gravel, but navigating sand or mud at slower speeds requires a certain amount of finesse – a fast engaging wheel is very handy for situations like this. Then there is the sound of the hub as it freewheels. Not as loud as some other freewheels I've heard, it may draw a little attention, but mostly of the favorable kind. Personally, I love the tune these hubs sung!
I haven't seen too many deeper profile carbon or aluminium rims appearing on gravel bikes – yet – but due to the shallower rim profile of the wheelset, I experienced no issues with side or crosswinds. Winds like this can be a real issue and a legitimate handling and safety concern for lighter weight riders.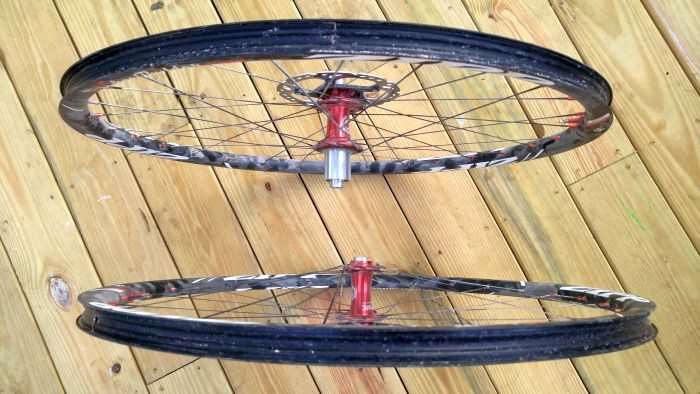 These handbuilt specials are stiff – I was unable to noticeably flex the wheels during out of the saddle efforts. Mind you, I am no powerhouse rider, tipping the scales at around 153lbs / 69kg. but I am pretty confident most riders below 200lbs / 91kg won't be able to budge them either. I love thru-axles for disc brakes – they are super convenient for ensuring consistent pressure as you tighten them down, which translates to alignment with the disc brake rotor and thus no rotor rub when swapping the wheels in and out of the same frame – this has been a problem for me in the past with regular quick release type wheels. Because the thru-axle interface is inherently stiffer, that also means no side to side rotor rub either, as you rock the bike side to side out of the saddle.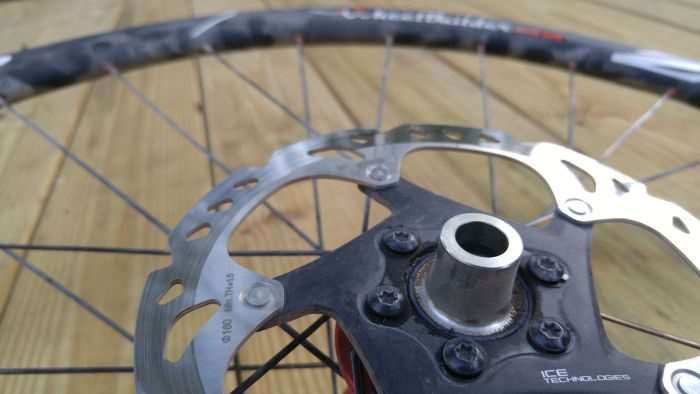 I was very pleased about the ride quality of these wheels. I was expecting a harsher ride due to their stiff nature, yet they offered a comfy ride on all surfaces but the worst of washboard, potholed roads, etc. Not much you you can do about that, except ride HUGE tyres at low pressure on a Fat bike. I typically inflate most gravel wheels shod with 35mm – 40mm wide tyres to about 35psi front and 38psi rear. Set at this pressure and regardless of the tyre combination I was rolling at the time, the wheels and wheels did a nice job of eating up small bumps. Remember – tyre pressure is one of the biggest factors to rider comfort on a bike – keep that in mind if 50psi in each tyre feels a tad harsh!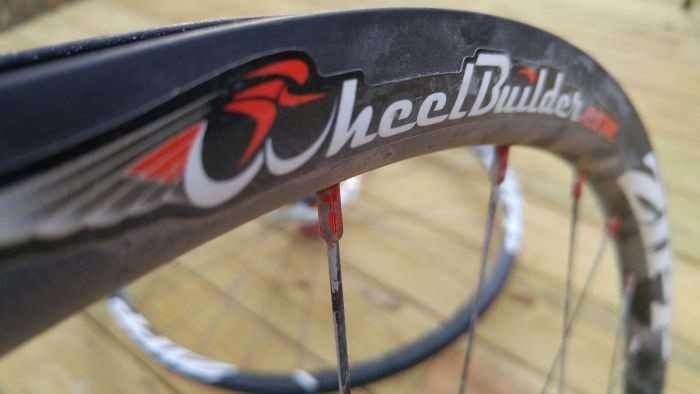 Thanks to the wider Zipp 30 Course rims, you effectively gain 2mm of free tyre width when any tyre is installed – that provides an extra measure of cornering confidence knowing there is a little more rubber helping to maintain grip on the road. There were no issues during cornering on the Wheelbuilder.com handbuilt specials – and, no burping from the Zipp rims either. Burping is best left after a sip of some good beer

Braking
I won't explain the virtues of disc brakes too much – in all conditions, the hydraulic variants are simply so much better and offer more power and modulation than a comparable cantilever rim brake. My test bike, the lovely Litespeed T5G gravel review bike, is kitted out with Shimano's hydraulic Di2 RS-785 system and BR-785 calipers. Paired to Shimano's rotors with "Ice Technology", the bike stopped effortlessly every time, with a bare minimum of effort involving only one or two fingers. As a side effect, these review wheels benefited greatly this fabulous braking system.
Summary
In a nutshell, the Wheelbuilder.com handbuilt gravel wheelset is an extremely solid and reliable package that is perfect for gravel – or pavement use as well. The Zipp 30 Course rims can be setup with tubes, but honestly, exploit the virtues of tubeless tyres – it is all I ride on gravel and I've begun shifting my road bikes to tubeless as well.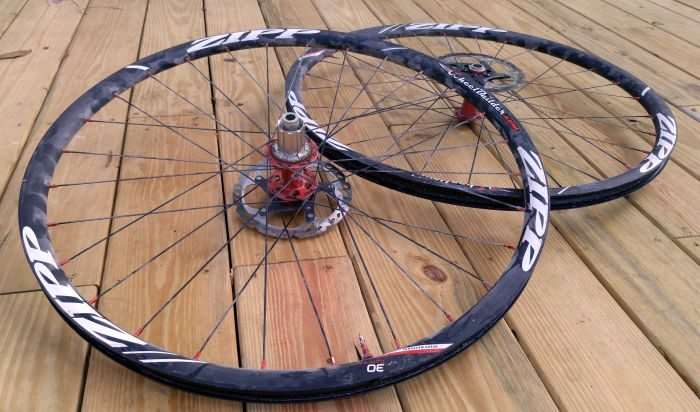 The wheelset uses non-proprietary spokes – they may be bladed, but they don't require the old practice of hub slotting – and they are regular J-bend. Break a spoke? In a jam, most local bike shops can replace the spoke with the same, or substitute for a round spoke.
During the period of my review the Wheelbuilder.com gravel wheels remained as true as the day they were received, sans any annoying ticking or clicking noises that sometimes develop in wheelsets. They rolled fast and the 28 bladed spokes at each wheel certainly make the wheels look and feel faster. If you're trudging along at 12mph into a brutal headwind, a nice distraction is to look down and see those sweet Zipp rims and Industry Nine hubs in red, rolling along.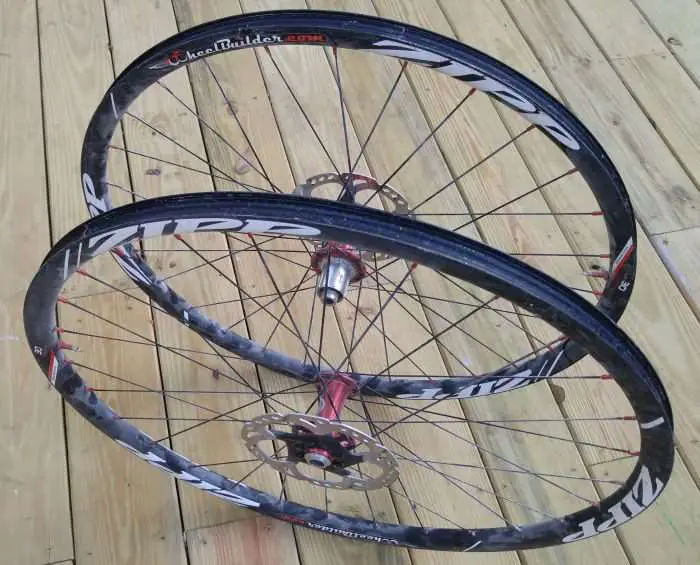 If you haven't figured it out already, I am a believer of the placebo effect. Reliable, fast equipment translates into a rider who is happy, and who rides stronger and longer – the Wheelbuilder.com Zipp 30 Course / Industry Nine wheelset certainly made me happy. But it is a wheelset I am not happy to return!
Pricing
Approximately $US 518.00 for the front wheel and $US 713.00 for the rear wheel with the options as pictured above, making $US 1,231.00 for the pair. Considering the premium nature of this wheelset, it is very well priced and completely customizable. The wheelset is expertly built by the staff at Wheelbuilder.com – they have a long standing reputation, stand by their work and offer awesome customer service.
Did I mention I really don't want to return these wheels?