"Founded in Turin in 1961 as Tecno Tubo Torino (Turin Tube Technology), 3T has always been renowned for the quality, simplicity, and beauty of its products. 3T has a track record of being 'first': first to introduce many modern alloys to cycling, first to produce a dedicated aerobar, first to win the ID design award, first to introduce dedicated gravel wheels and first to introduce an aero gravel frame. Passionate about staying first, 3T continues to invest human and financial capital in exploring new ways of making products that excel in quality, simplicity, beauty and sustainability, under the stewardship of co-owners René Wiertz and Gerard Vroomen." – 3T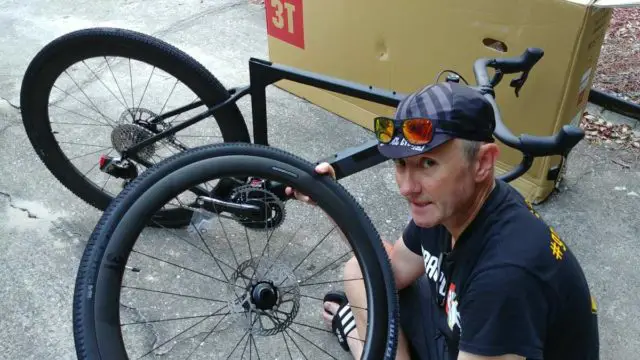 The 3T Exploro is the aero gravel frame alluded to above and is the latest review bike arrive at Gravel Cyclist HQ. In this video, JOM of the Gravel Cyclist crew unboxes the 3T Exploro LTD (fitted with SRAM Red eTap AXS), and runs through the features of the bike. Review coming later!
Don't forget to Like the Gravel Cyclist Facebook page, follow G.C. on Instagram and subscribe to our Youtube Channel. We are also on Twitter!