About the Honey Bee Stinger 100K
The Honey Bee Stinger 100K (just a little over 100 kilometres) is an off-road endurance cycling event held in Hahira, Georgia (I'm told the town's name is pronounced "Hay-Hi-Ra"). Now in its second year, event organiser Mike Meeks outdid himself with improvements over last year's course, and doubling up on rider attendance. Admission remains the same at free – really – free. The 2016 event was held on February 6, 2016, three months earlier than the 2015 edition. It was no surprise that things were a little cooler…
It's Cold for South Georgia
Four of the Gravel Cyclist crew made the trip from Gainesville, Florida, to Hahira, Georgia for the ride; Jimbo, Pfaff Daddy, Dr. Pain and yours truly, JOM. Waking at 5:15am is never much fun in anyone's book, but with a reasonably short drive, it made sense.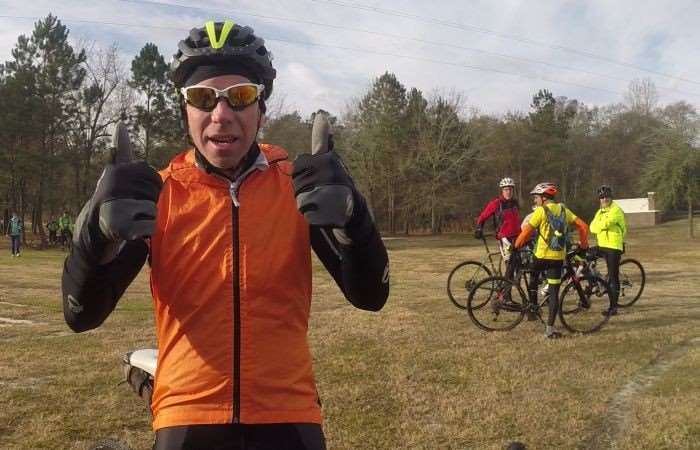 Much of the Continental United States is dealing with snow and frigid temperatures at the moment, with the cold extending to Southern Georgia and Northern Florida. By a Northerner's reckoning, the start line temperature of 39 degrees Fahrehneit (3.8 degrees Celcius) was balmy, but to a bloke who just returned from the warmth of a Southern Hemisphere summer in Australia, it was bloody cold! But with a good event at hand, I kitted up alongside my Gravel Cyclist teammates around the perimeter of Dr. Pain's Momma-mobile (minivan), for a 9am start.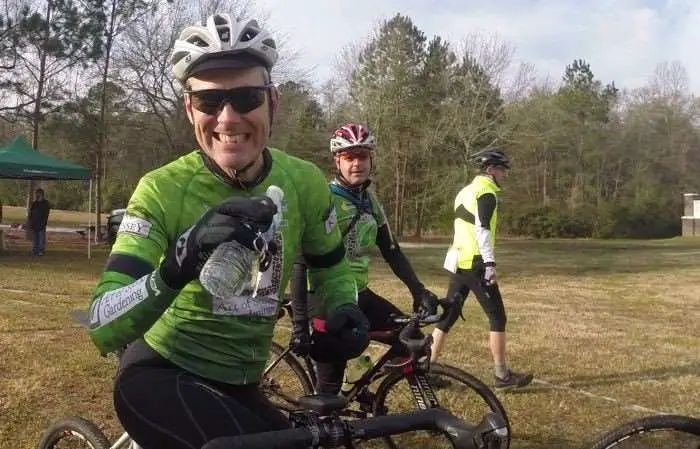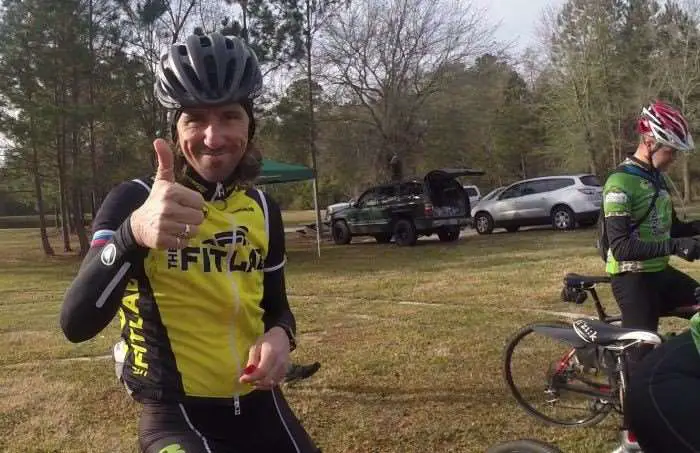 52 cyclists rolled to the start, most of whom were signed up for the Full Monty, 100+ kilometre route – also on offer was a shorter 21 mile ride option. The ride started off as a casual affair. There was conversation and pleasantries exchanged as bodies warmed beneath layers of lycra.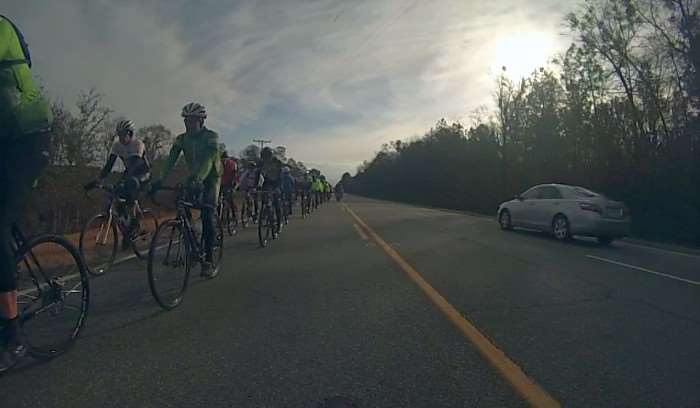 While pleasantries certainly are nice, some weren't having it – anytime a group of cyclists congregate for a ride, the pace invariably lifts, and an unofficial race breaks out. Cue the first sector of dirt and gravel roads, and that is exactly what happened.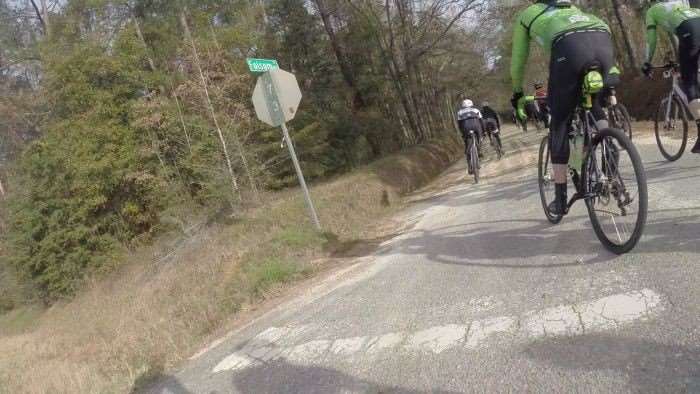 I don't recall the exact sequence of events – I'd have to consult my video archive of the ride for that – video coming soon! – but it didn't take long on the first sector, before the group of approximately 50 riders whittled down to eight. The pace of the group was the biggest factor, but another sticking point (pardon the pun), was the heavy conditions of the dirt and gravel roads.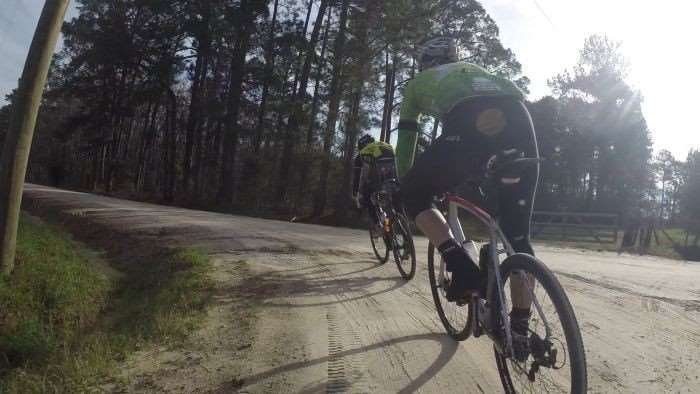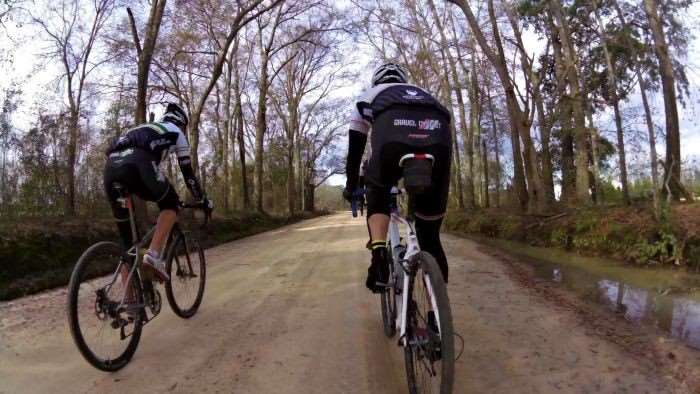 Heavy rains in the days leading to the event had doused the course, turning portions of the dirt and gravel roads into a soggy and sticky mess. Then there was the harsh pounding dished out from by potholes and torn up road surface.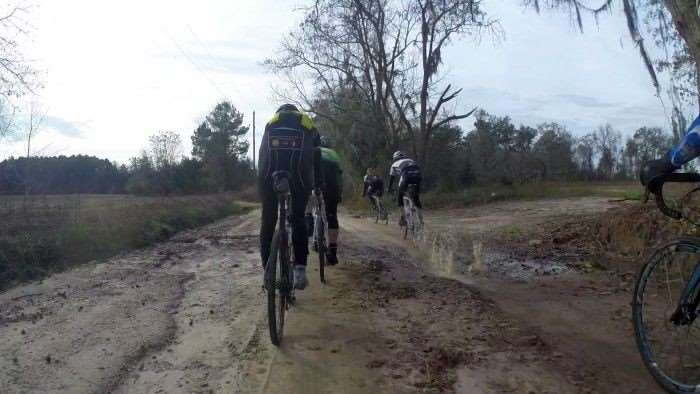 Promoter Mike Meeks had warned riders to drop their tyre pressure by a few psi or two; anyone not heeding this advice was in for a rough time, and a rough ride.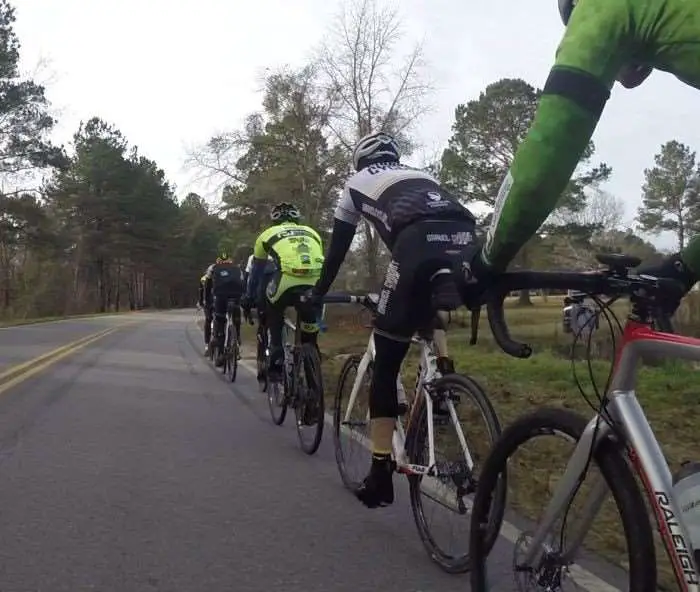 Pictured above is the leading group of eight riders after the initial sectors of dirt and gravel – all of the Gravel Cyclist crew, Tic Bowen, two of the Art of Stone Gardening crew and Larry Williams, aka Mineral Man (dude in the fluoro kit).
The One Man Wrecking Crew
With the ride now represented by all of the strong riders and teams – remember, this isn't a race, but it sort of turned into one – the pace was rolling fast with everyone contributing to the workload. Speeds were hanging between 20 – 25mph (32 – 40km/r) on the dirt and gravel roads, which took considerably more effort than usual, due to the sticky and challenging conditions referred to earlier. But the driving factor in the front group was Mr Tic Bowen. Tic is power, class and a really nice bloke. If you've viewed our 2015 video about the Claymont 100 ride, you'll see Tic was prominent there as well.
Approximately 15 miles into the ride, cracks began to form in the front group. An extremely sandy and sludgy section that required power, skills, finesse or big tyres demonstrated this amply. With Tic on the front drilling the pace and Jimbo, JOM, Dr. Pain and everyone else behind, the bunch of eight was placed into serious duress. Tic was the man on form, and he had the skills to back it up. If you didn't have the power to follow, you were dropped. If you had the power but were rolling narrow tyres, the sand took considerable effort and a toll on one's legs. For once, I was pleased about my bike choice – my Lynskey Monster CX rig was the perfect machine for the day's conditions.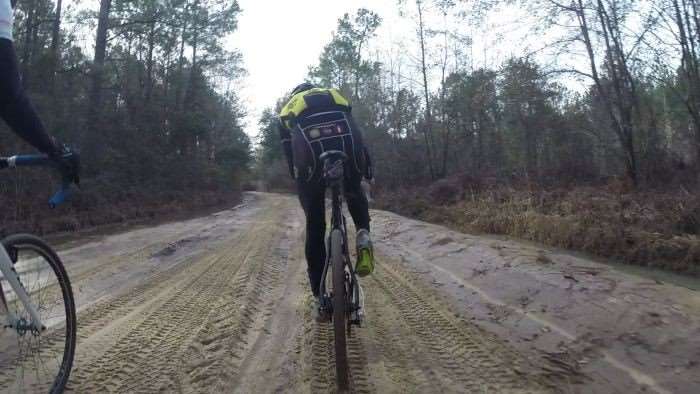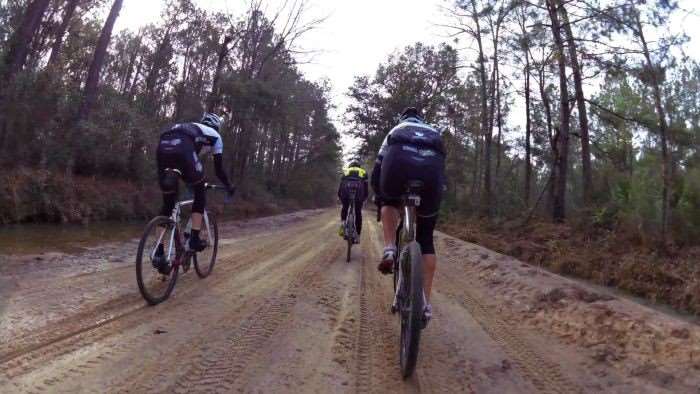 At the end of the sector, the group was down to five, with Lee from the Art of Stone Gardening team off the back, his teammate Craig dangling just behind the group, accompanied by the Mineral Man. The Gravel Cyclist crew were all present, but in no way were their legs fresh.
Continuing the hard tempo onto the pavement, the One Man Wrecking Crew of Tic and four Gravel Cyclists pressed ahead. The chasing duo of Craig and Mineral Man were close behind, but it would be a tough chase. Luckily for them, they caught back on as the leading group of five waited for a car to pass at a left-turn intersection.
It wasn't long before the group turned onto the next dirt and gravel road. If memory serves me well, this road began with a moderately shallow hill – think rolling terrain – which put half of the group into great difficulty. Not only is Tic a powerhouse on the flat roads, he is a real powerhouse on anything resembling an elevation change. People reading this may think – Ha! Southern Georgia – that place is as flat as a pancake! But, they would be wrong. While these rolling hills aren't leg-breakingly difficult, they are when the day's road surfaces, headwind and frenetic pace came into account.
Tic and Pfaff Daddy of the Gravel Cyclist crew crested first, with yours truly just behind, and everyone else gapped off. A regrouping would happen shortly after, but the speed never dropped, allowing for no recovery.
Considering how I felt on last Tuesday evening's training ride, I was pleased to be riding with more zest. While my high end fitness was not optimal, my hours of solo riding in Australia had prepared me well for the endurance factor of this ride.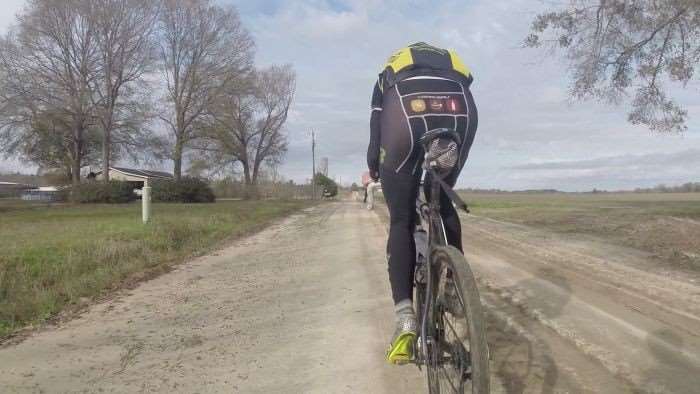 About this time, I glanced down at my Garmin navigation computer to see how many miles had passed. Sadly, the Garmin indicated 22 miles of 68 miles had rolled beneath my wheels. With many miles still remaining, I wondered if I could not only contribute to the workload, but hang with the group. Part of that question was answered moments later, when I noticed the lack of anyone on my wheel – Dr. Pain, Jimbo, Craig and the Mineral Man had all been dropped.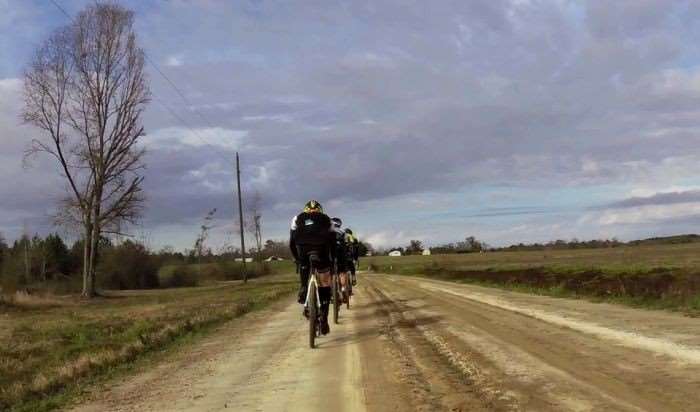 On the one hand I was pleased to make the cut with Tic and teammate, Pfaff Daddy, but on the other hand, things just got a lot harder.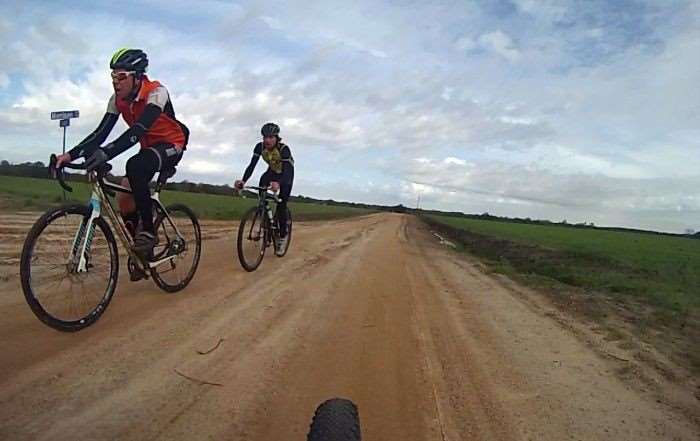 My legs weren't feeling great – on the flat and rough roads, no worries. On the rolling hills, not so much. Riding MY tempo on the hills, I was able to remain in my comfort zone, or at least bluff it. Tic's hill climbing tempo was about a mile an hour harder than my legs were interested in tolerating, and it would only be a matter of time before I too was forced to sit up – or drop, if you prefer.
Approximately 28 miles / 45 kilometres into the ride, that is precisely what happened. I willingly backed off, allowing the wheels of Tic and Pfaff Daddy to drift away and out of sight.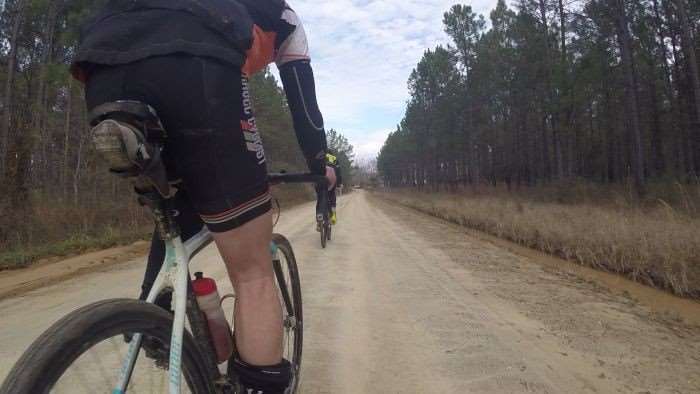 But all was not lost. After a minute of rolling a little easier to recover, I remembered I was holding 3rd position on the course. Riding at my tempo, my legs and lungs felt good. I made the decision to keep riding towards the finish as hard as possible, rather than waiting up for those behind me. It was a tough ask to hold 3rd place all the way to the finish line – not that the Honey Bee Stinger was a race…
The 40 Mile Dirt and Gravel Time Trial
In order to hold off those riders behind me, I could not at any time sit up or relax. Anytime I rolled down a long and straight road, I would resist the temptation to look behind me until just before I turned the next corner. Out of sight is out of mind, and I knew if the riders behind never caught sight of me, that may slow down their chase. By the same token, if they did spot me, particularly if I they caught me looking backwards, they would certainly know I was in trouble and make for an easy catch. But by far my biggest helper was my Garmin navigation device. At any time I could see the course map, and how many kilometres were remaining to the finish and to the next turn. Using those metrics as a guide for measuring my effort, I was able to keep myself motivated to keep pushing hard.
On the way home, it rained a little…
A creek was crossed…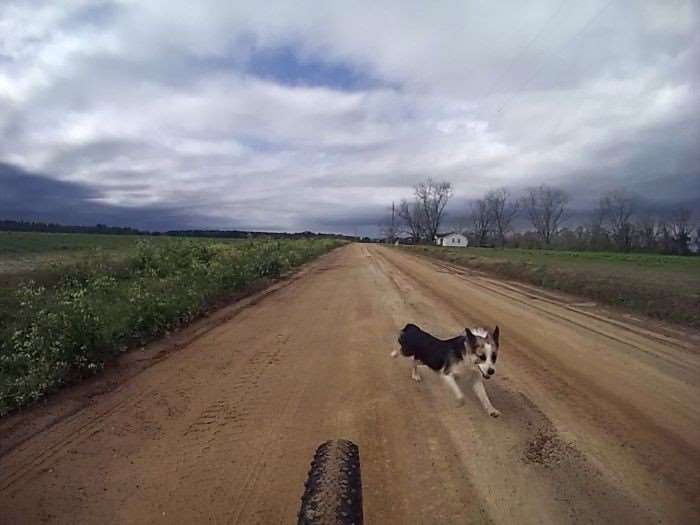 And my legs hurt…
But no matter the outcome – hard riding, great roads and knowing there would be stories swapped at the end between my fellow ciclistas – this was another perfect day.
Eventually, after three hours and forty something minutes of hard riding, the start location of North Lowndes Park in Hahira, Georgia came into view. As I rolled into the park proper, my only company was a grass field lined with empty motor vehicles. Had Tic and Pfaff Daddy gone out for some extra miles, or was everyone in hiding?
Not long after, Craig Bailey of the Art of Stone Gardening crew arrived on the scene. He too was equally perplexed, but like me, figured the leading duo was out for extra miles.
It wasn't long before our questions were answered. Tic and Pfaff Daddy rolled in together, victims of a Garmin malfunction, or confusion near the right hand turn at the gas station at mile 59. The lads had gone off course, and logged extra miles! A bummer, but they had a great ride nonetheless.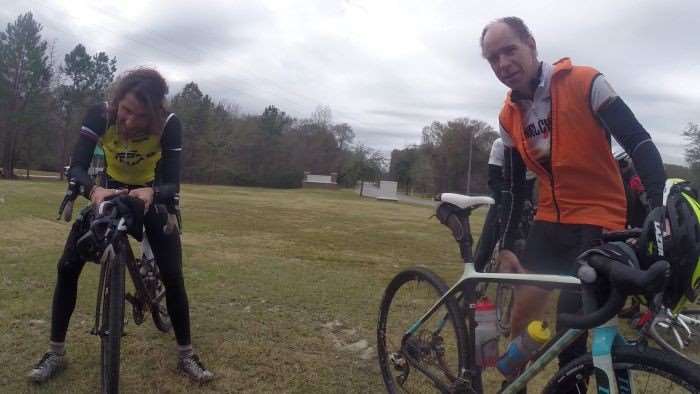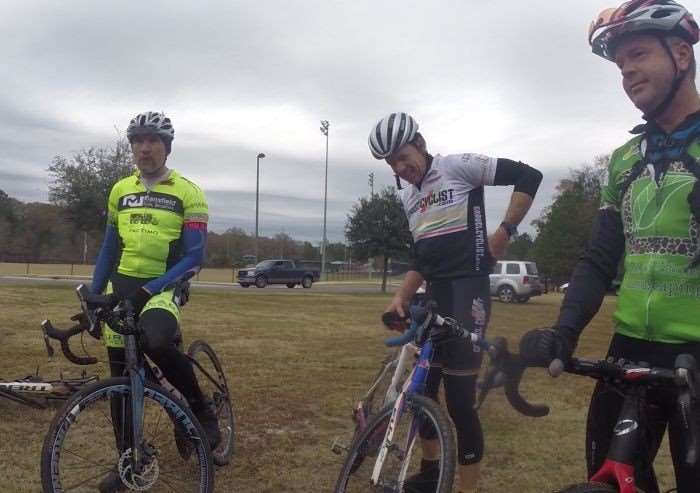 Strava Ride Data
For those inclined, you can see just how much I suffered HERE. Average Heart Rate of 168bpm – Ouch.
Thank You
To Mike Meeks and his family for organizing this fun and challenging ride.
My fellow cyclists – the ride and social hangout afterwards made for a great day.
My mum and dad – for making it possible for me to be on planet Earth 🙂
The Gravel Cyclist crew and I are already looking forward to the 2016 edition of the Honey Bee Stinger 100K!
Ride Video Coming Soon – Watch this Space!
Don't forget to LIKE our Facebook Page, Follow us on Instagram and Twitter, and Subscribe to us on YouTube!