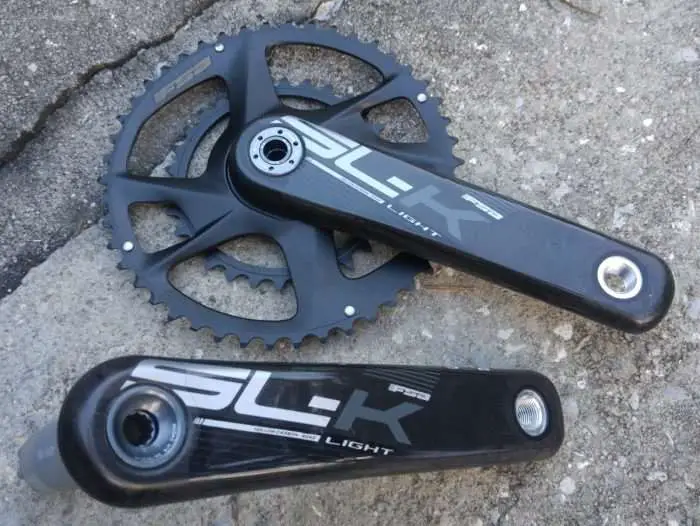 About Full Speed Ahead
"Full Speed Ahead (FSA) produces world-class bicycle components for road cycling and mountain biking and we support many of the world's leading road and mountain bike teams." This is according to the FSA's company page, which doesn't read into the company's beginnings and later history. But, one thing is for certain, FSA has been manufacturing top-notch bicycle components for many years.
FSA SL-K Modular Adventure BB386EVO Crankset with Subcompact Chainrings
The inspiration for this crank belongs to 3T's Dave Koesel. In brief, Dave and later FSA realized that a 50 x 11 gear is something the vast majority of all riders will use for less than one percent of their riding. In the case of gravel cycling, even less. Sugino has had a crankset on the market for some time with 46 / 30 chainrings (see our review of that crankset here), but most people in the bicycle industry hadn't figured out the massive possibilities between lower gears and gravel / adventure cycling.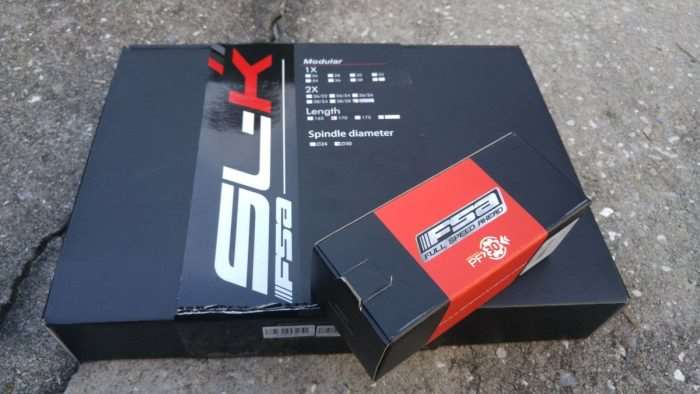 Dave Koesel, while still the road product manager at Felt, approached FSA and others to see if they'd produce a subcompact crankset in carbon. It took FSA to realize the potential of smaller gears.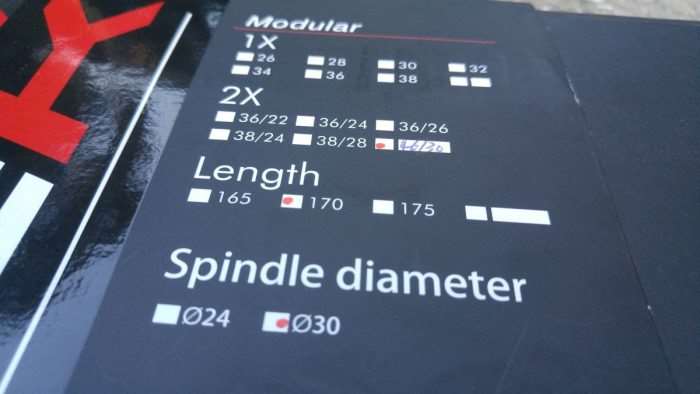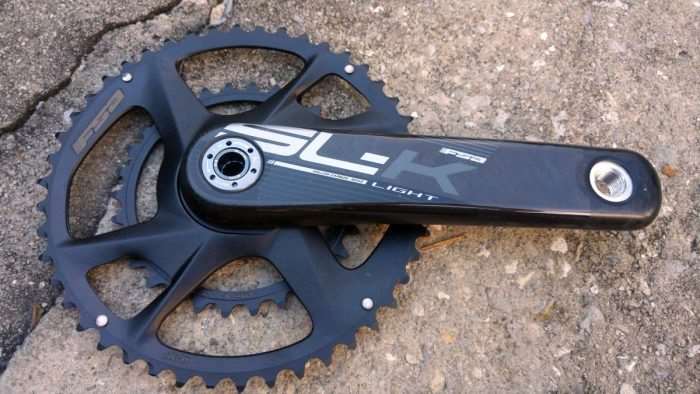 "SL-K modular BB386EVO is the latest FSA crankset for gravel, adventure or road use. Thanks to the adaptable BB386 EVO 30mm spindle, this modular system will fit a wide variety of frames with a range of BB standards; 52/36 50/34, 48/32 or 46/30 are the offered ring combinations."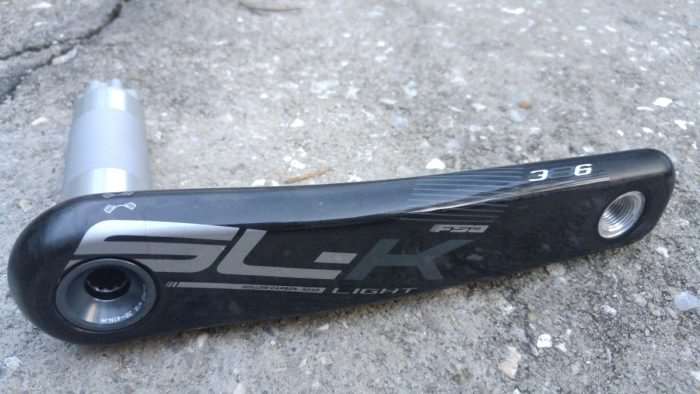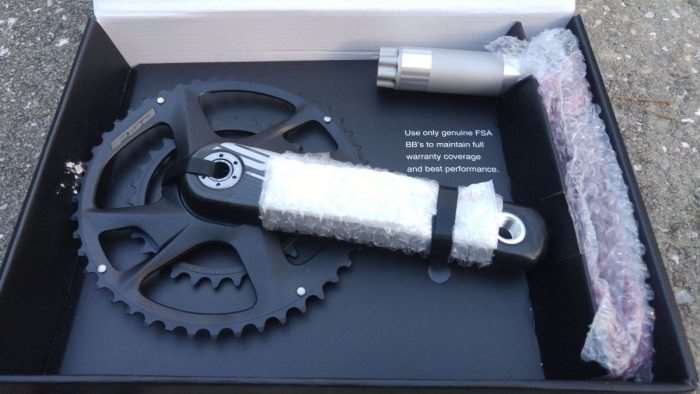 This review centers around the 46 / 30 chainring pairing with 170mm arms, and FSA's BB386EVO English thread bottom bracket.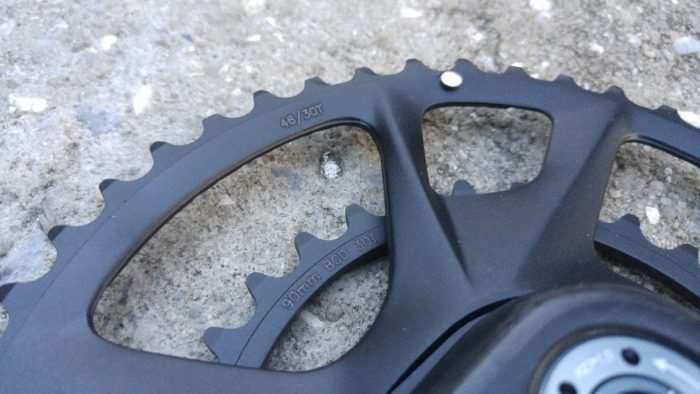 Features of the FSA SL-K Modular Adventure BB386EVO crankset include:
Hollow carbon fiber arms with UD finish.
Forged AL7050 BB386EVO spindle.
Direct mount outer chainring and 90 BCD (bolt circle diameter) inner chainrings.
Chromoly chainring bolts.
Fits Shimano and SRAM 10-11 speed systems.
Q-Factor of 146mm.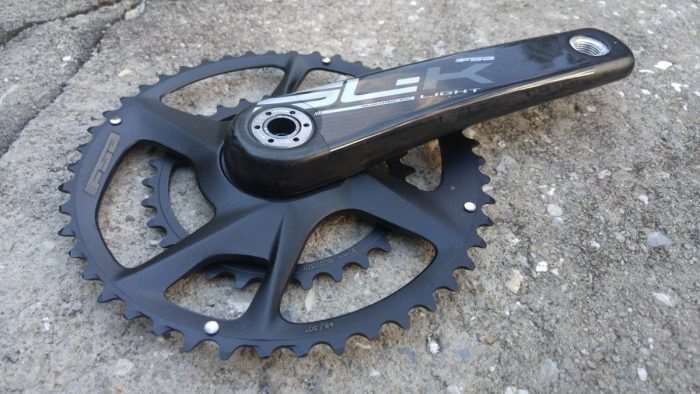 This crank is a little different from the norm, being a four-arm design. Shimano and Campagnolo have both switched to four-arm crank designs, but those companies still rely on the traditional method of chainring mounting – meaning, the chainrings mount to the arms of the crankset.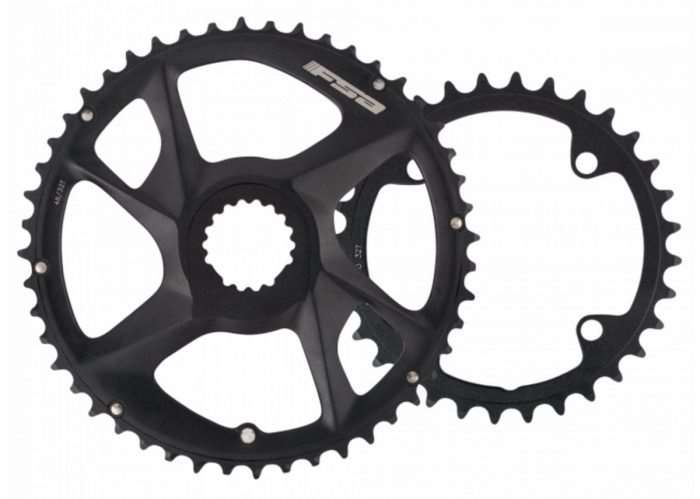 With an FSA direct-mount crankset, and this applies to a single or double chainring setup, the largest chainring mounts directly to the crank using a spline type interface.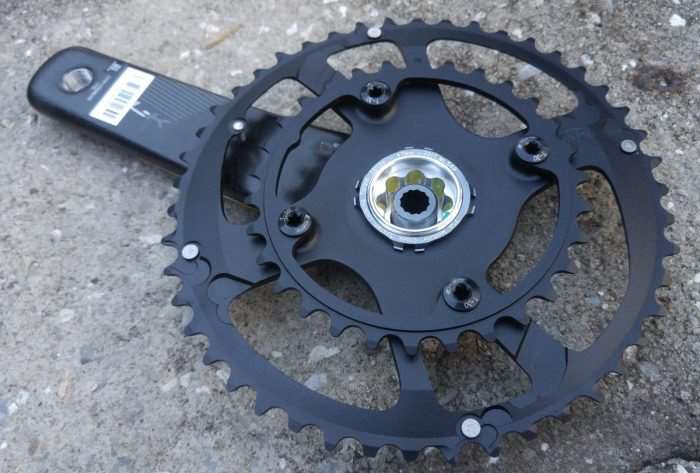 In the case of FSA's double chainring configurations, the smaller chainring mounts directly to the rear of the bigger chainring. Pictured above, you can see the FSA 30 tooth small chainring attached directly to the 46 tooth big chainring.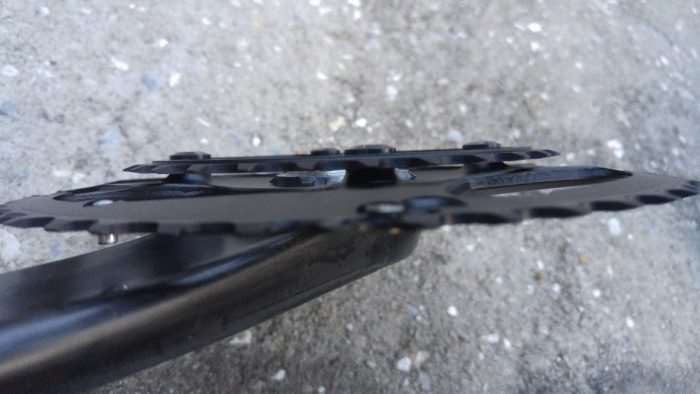 FSA's direct mount design isn't the first of its kind, but it effectively eliminates all of the compatibility issues with BCD's (aka bolt circle diameters), and thus provides previously unattainable possibilities for smaller inner chainrings.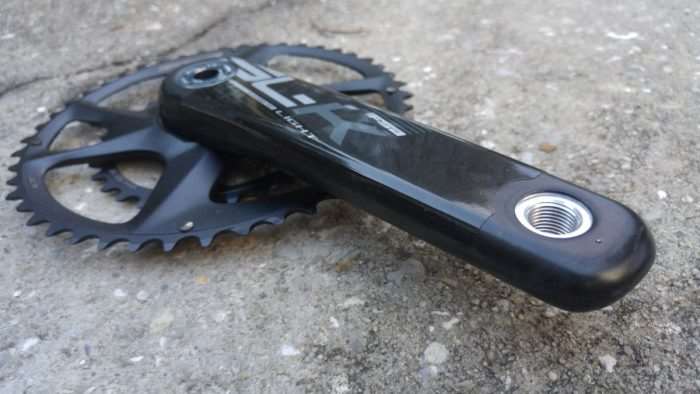 The larger of the two chainrings is relatively simple to remove and substitute for another size, provided you possess FSA's E0611 tool, a 10mm hex wrench and an appropriate torque wrench. FSA has kindly produced this video which demonstrates that process.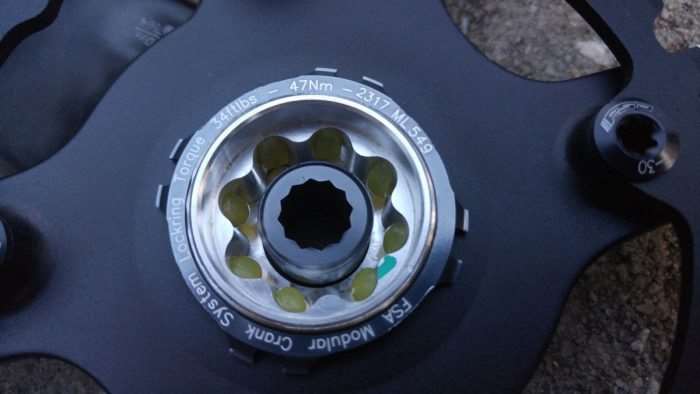 With this said, this particular crankset is optimized for two chainrings, and thus I did not test it in a single chainring configuration.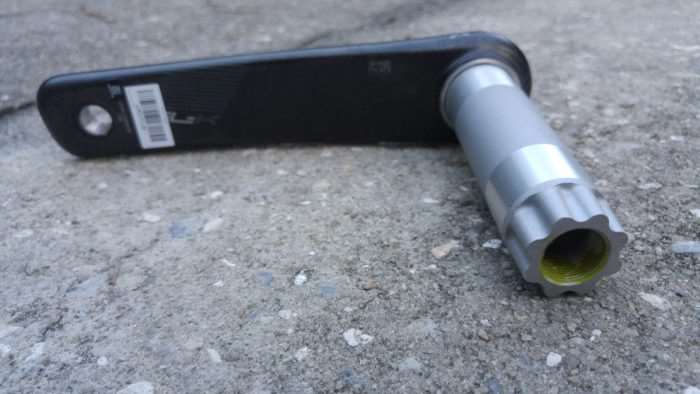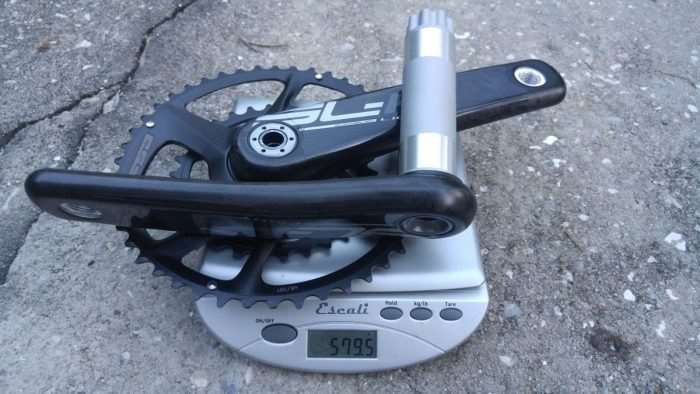 Manufacturers are renown for telling fibs about component weights, usually with a plus or minus two percent fudge factor. But, FSA is spot on and under their listed production weight of 617 grams. My decently accurate gram scales read 579.5 for both crankarms, including all fixing bolts – no tricks. Chapeau FSA!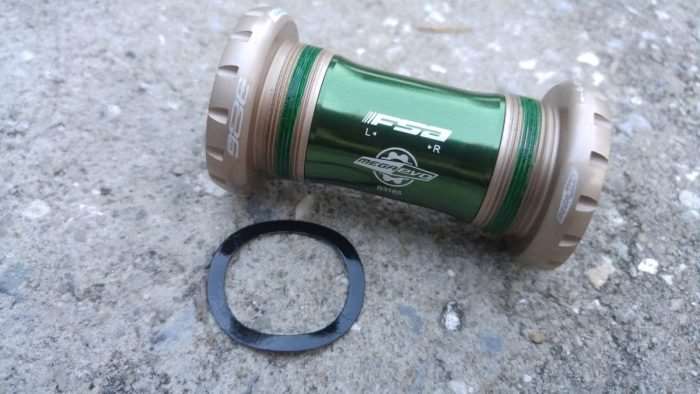 The bottom bracket paired with the FSA crankset is the company's BB386 crank to BSA frame model, with stainless steel bearings. BSA = English thread / 68mm. For those so inclined, FSA also manufactures a high zoot ceramic bearing version of this bottom bracket.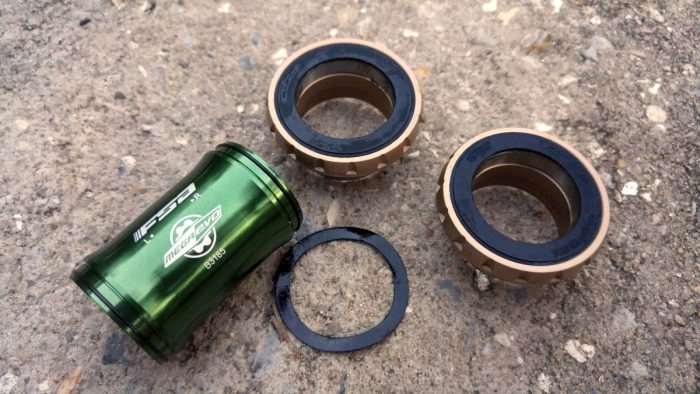 Featuring a titanium anodized finish on the bottom bracket cups, the uber-lightweight center sleeve of the bottom bracket is designed with Di2 electronic shifting in mind. Internal Di2 cables pass neatly over the top of the bottom bracket shell, with room to move sans interference with the crank axle.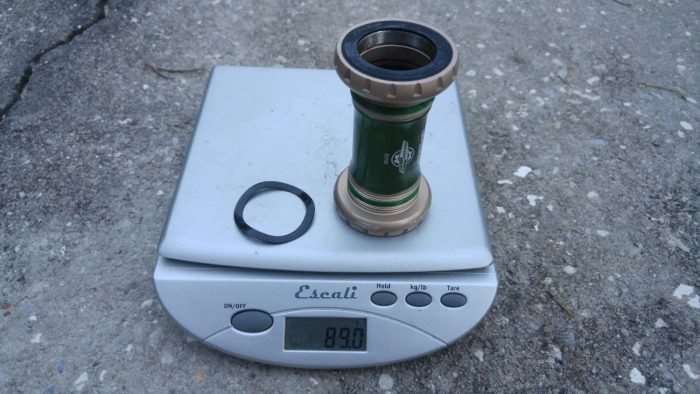 FSA list a claimed weight of 50 grams for the bottom bracket, but I suspect this may be an error, and possibly for a different model. The review sample weighed in at 89 grams with the included wave washer. This weight is on-par with similar bottom bracket designs.
Bottom Bracket and Crankset Installation
To install this variant of FSA's bottom bracket, you will need FSA's Mega EVO BB Cup Tool. If you're a cyclist who does their own wrenching, add another bottom bracket tool to your collection – I own at least five bottom bracket tools.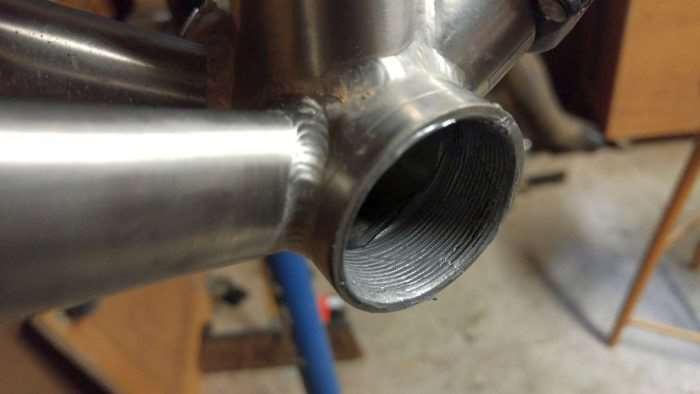 It always pays to start with a clean bottom bracket shell. The one pictured above belongs to my Ritchey Breakaway Gravel Travel Bike (Generation 1). This bike is equipped with SRAM's eTap system, so no worries about routing wires across the top of the bottom bracket.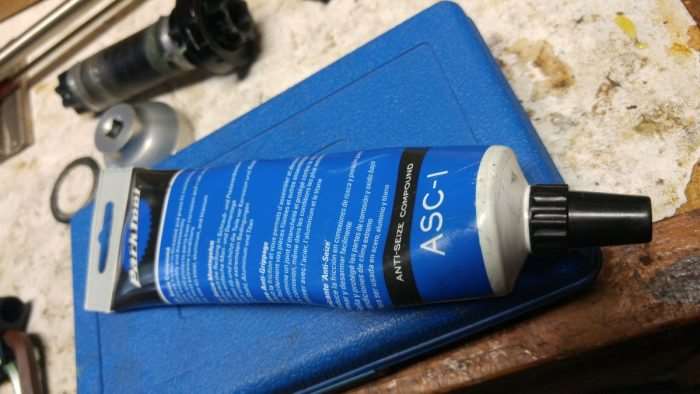 In case you were wondering, a liberal coating of Park Tool's ASC-1 anti-seize compound was applied to the threads of the frame's titanium bottom bracket shell.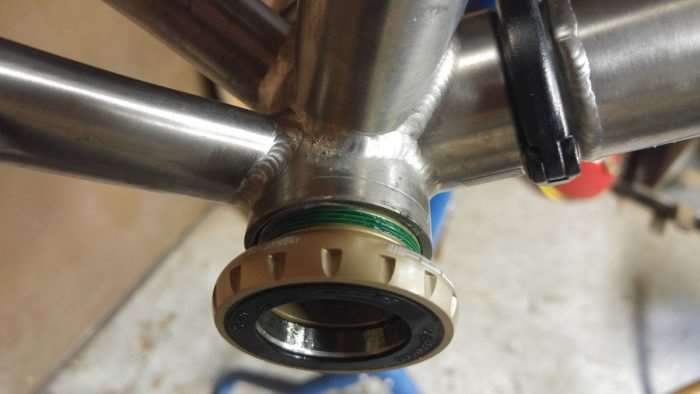 Next, thread the bottom bracket cups into the shell and torque to spec using the FSA BB cup tool.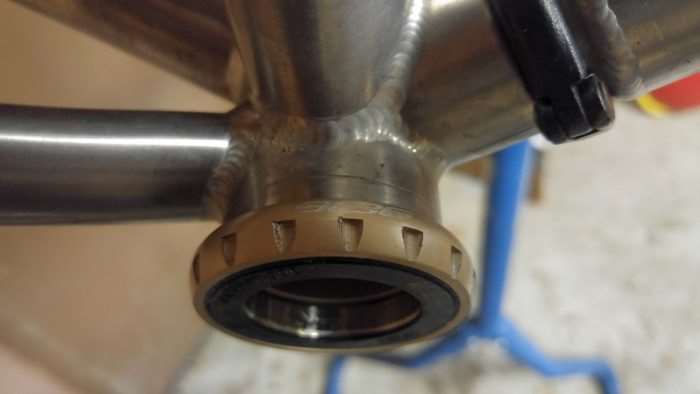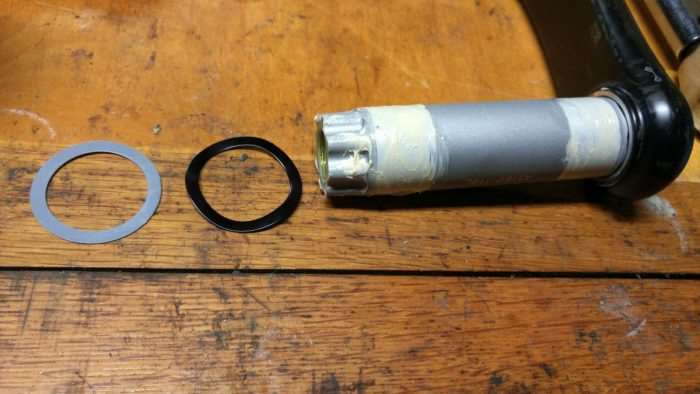 Apply grease to the contact points on the crank's axle. These contact points are where the axle touches the inside of the bottom bracket cups, and where the driveside crank is affixed.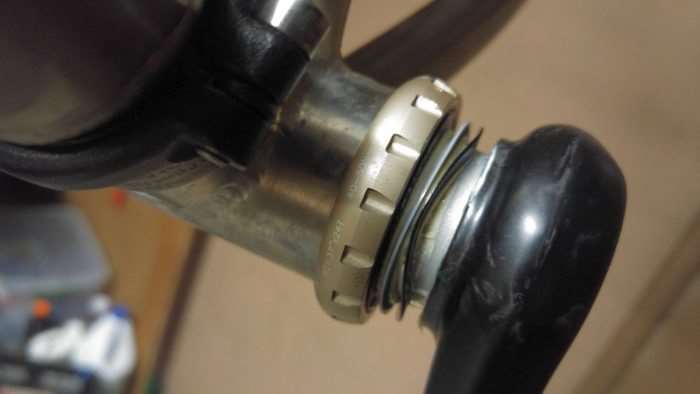 According to FSA's documentation, one installs the supplied wave washer between the non-drive side crank and the plastic bearing cover of the bottom bracket. However, the review sample came with an additional plastic spacer (see above), which we sandwiched between the wave washer and bearing cover. When I say "we", I'm referring to my friend Dr. Pain. He assisted with the installation and happens to own his own copy of this crankset. I followed his lead on this – sometimes you have to improvise – crank function has not been affected.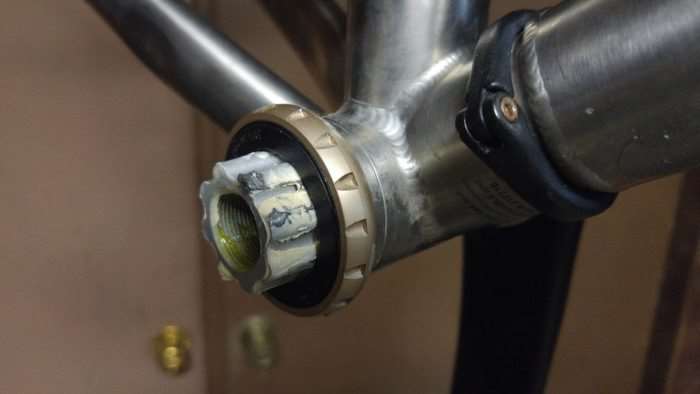 Above, note the liberal application of grease on the axle's connection points.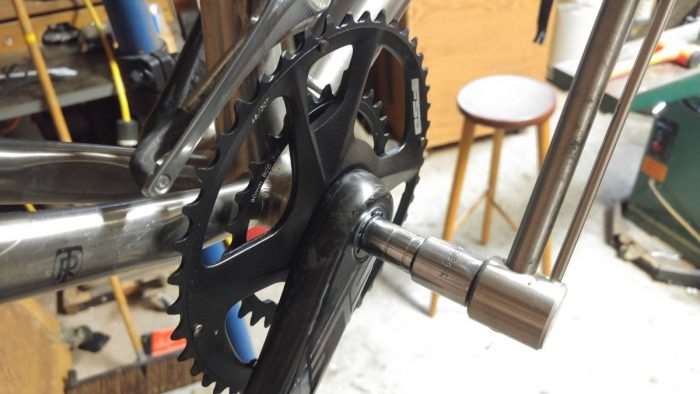 Finally, tighten the 10mm fixing bolt of the crank's drive side using an appropriate torque wrench.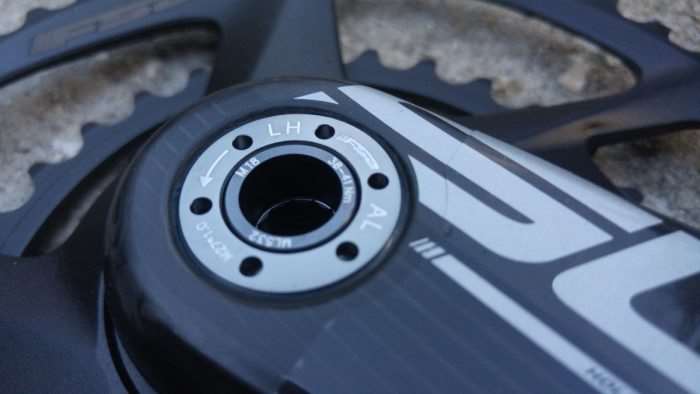 How does the FSA SL-K Modular BB386EVO Adventure crankset perform?
Cranksets can be difficult to review. You install them on your bicycle and they perform an important part of your drivetrain – transmitting the power of your legs into the chain. Most people give them no thought until they upgrade, or fail. Definitely the unsung heroes of your bicycle's drivetrain.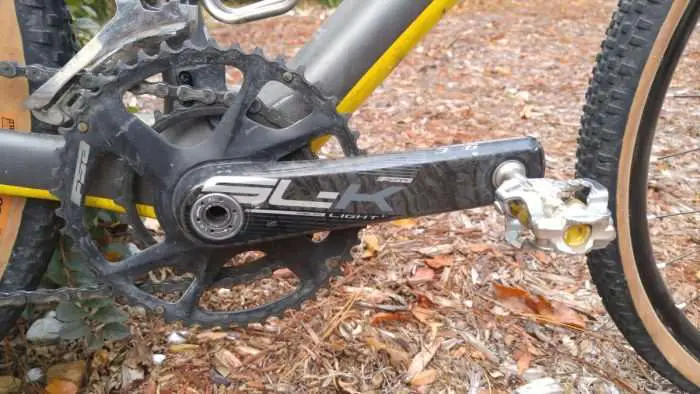 For this review, I was fortunate in that I had two FSA SL-K Modular BB386EVO Adventure cranksets at my disposal. The Orbea Terra gravel bike, one I put through the wringer for several months, came fitted as original equipment with the same FSA crank and 46 / 30 chainrings.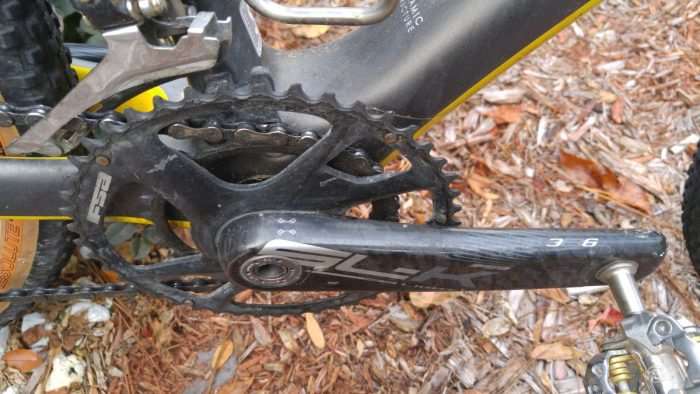 The Orbea and its FSA crankset saw some extra heavy use. Most notably, they were part of my equipment for the 2017 Dirty Kanza 200. Additionally, the cranks and bike racked up some serious miles / kilometres in training.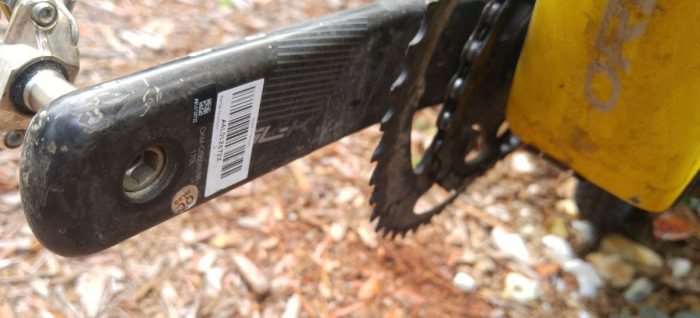 When Shimano's Di2 system is adjusted properly, it shifts perfectly, every time. But the key to good shifting on a double chainring setup is pins and shifting ramps, which when appropriately machined make for fast and repeatable shifts in both directions – on mechanical or electronic front derailleurs.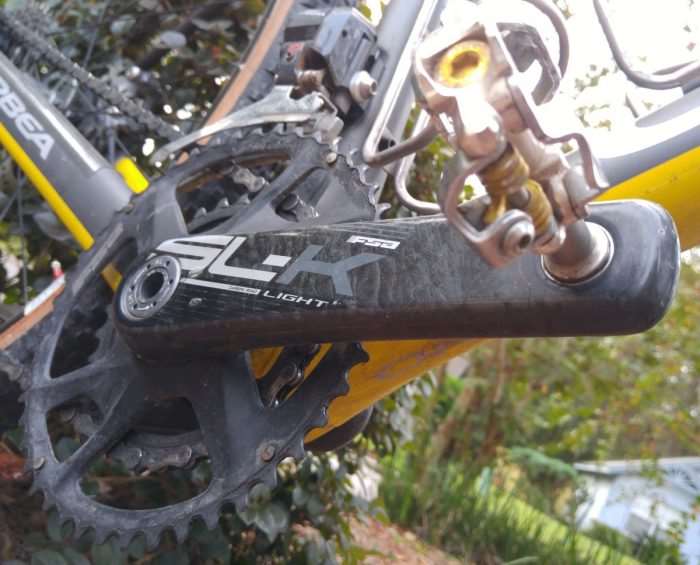 The FSA chainrings shifted flawlessly, even in trying conditions. Gravel rides and races are not kind on equipment; mud, crud, sludge, water and grime hammer the drivetrain, and one's chainrings have to weather all of this abuse.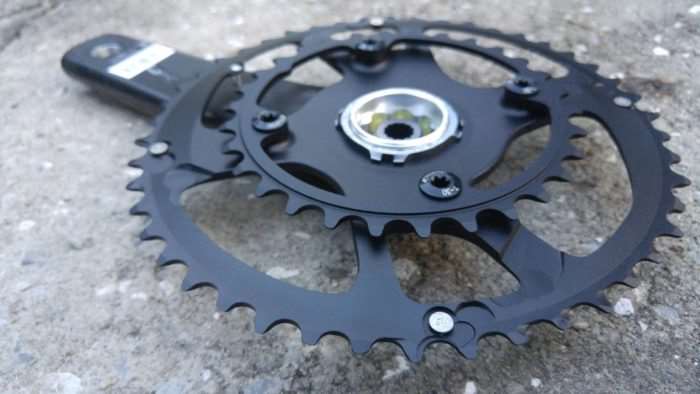 I don't advise this, but under load, shifts from the small to the big chainring were perfect, and shifts in the opposite direction, equally as flawless. Note, I always soft pedal when dropping from the big chainring to the small chainring.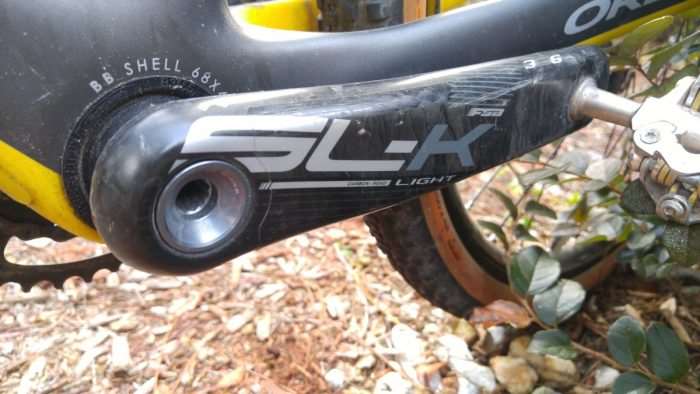 In my opinion, subcompact chainring pairing is the epitome of perfection if your gravel ride or race features a lot of steep climbs. Or, if you're like me, you favor a higher cadence for climbing. Paired with an 11-32 cassette, you can scale virtually any climb, seated, sans the large gaps often associated with a cassette designed for a 1x drivetrain.
FSA has really nailed it with this crankset.
There were at least two occasions at the 2017 Dirty Kanza 200 when I was glad to have a 30 x 32 low gear at my disposal.
When I scaled the tough, brick climb into Madison, Kansas. Remember, conserve. With about 50 miles under your belt, there is still a long way to go!
When I scaled the "Beeyotch climb", which is steep, somewhere around 20% at its worst. As others walked, I rode on by.
Additionally, the crankset was quiet. No annoying clicking or ticking sounds over time.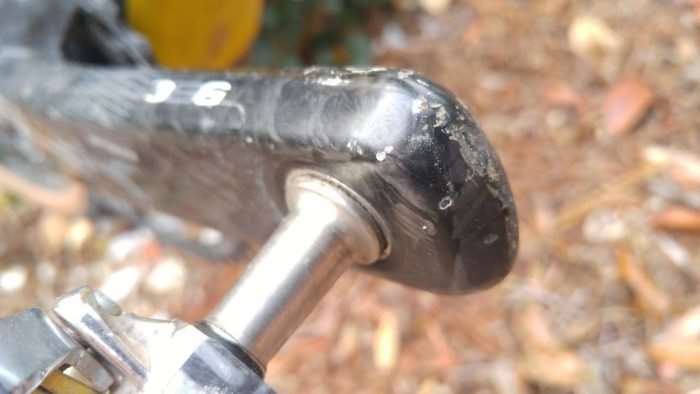 FSA wisely cover much of this crank in a clear plastic mylar type material, which offers a good measure of protection from rock strikes. However, they don't cover the ends of the crank arms, which is the one location that takes a thorough beating. The driveside crankarm on this particular pair has a few beauty scars. A minor quibble, but worthy of mention.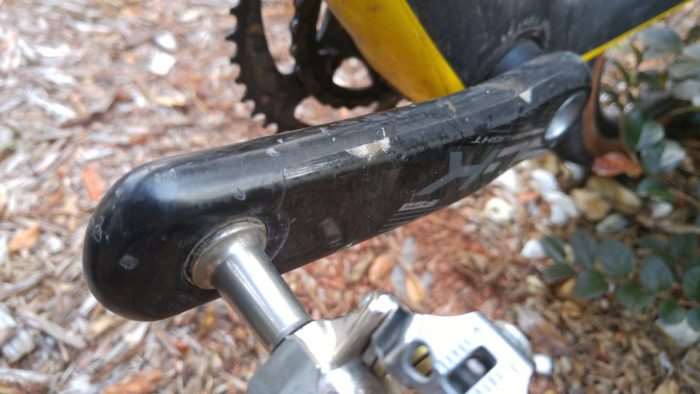 Considering I rode the pants off this crankset and the one fitted to my Gravel Travel Bike, they have held up well over the space of approximately five months. That includes the bottom bracket. Absolutely zero issues from FSA's BSA BB386EVO unit, even after a few dunkings in creek crossings.
Summary
If you are looking for a carbon crankset that caters to low gears / multiple chainring options using just one crankset, the FSA SL-K Modular Adventure BB386EVO crankset should be on your purchase list. The crank is well made, durable and I think, aesthetically pleasing. The Q-factor is not wide at 146mm, which aligns with some of Shimano's offerings.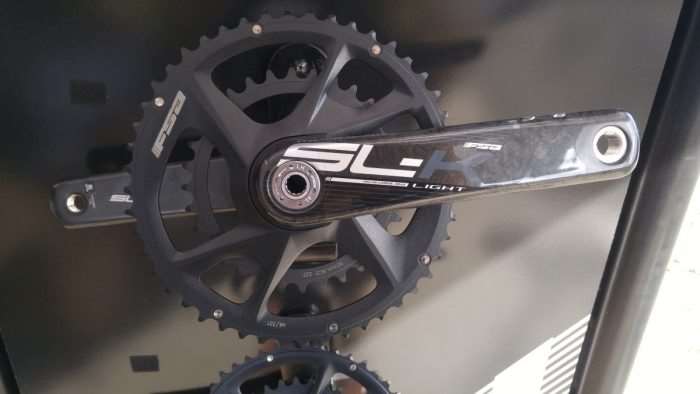 My only concern is the future availability of chainrings, but FSA has always done a marvelous job of making spare parts available. In fact, I plan to purchase a 36 tooth inner chainring soon, for those rides and events that don't demand the low ratio of a 30 tooth inner chainring.
At $US 400.00+ for the crankset and chainrings, and $US 54.99 for a bottom bracket, this combination isn't cheap, but when you consider the crank's versatility, durability, sublime shifting and low weight, I'm of the opinion it is well priced.
Finally, be sure to view our article on FSA's electronic WE shifting system.