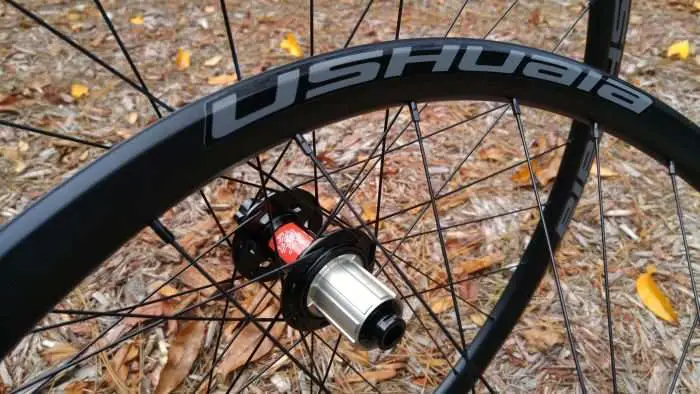 "In cycling, the name CLEMENT is as legendary as the many champions who logged time and wins on our classic silks. Names like Eddy Merckx, Jacques Anquetil, Felice Gimondi, and Ole Ritter to name a very few. Ours were bicycle tires known and coveted for their speed, comfort, and performance; with names like the CLEMENT Paris Roubaix and CLEMENT Criterium Seta."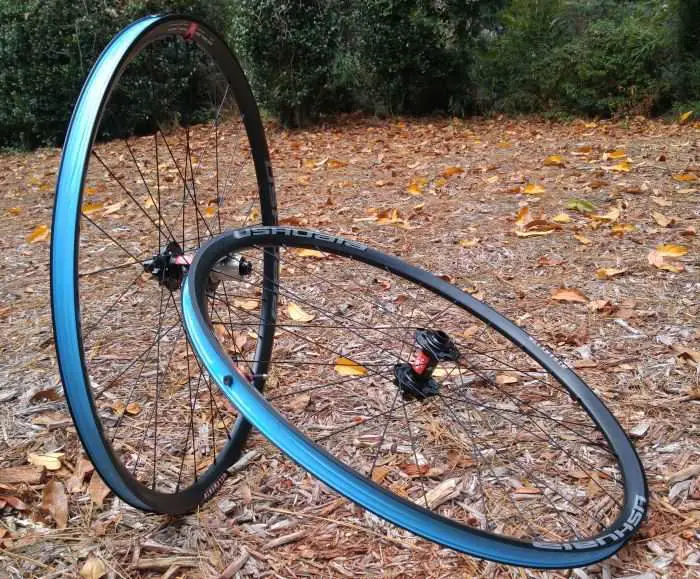 For many years, Clément has specialized in the manufacture of cyclocross and gravel tyres. Late in 2016, the company created a set of gravel specific tubeless wheels featuring, solid, no nonsense construction centered around high quality hubs and rims; the Clement Ushuaia.
Interesting fact: USH is the airport code for Ushuaia on the island of Tierra del Fuego, Argentina. Ushuaia is a resort town on the Tierra del Fuego archipelago, the southernmost tip of South America and is nicknamed the "End of the World". The windswept town, perched on a steep hill, is surrounded by the Martial Mountains and the Beagle Channel. It's the gateway to Antarctica cruises and tours to nearby Isla Yécapasela, known as "Penguin Island" for its penguin colonies – Source, Wikipedia.org
Ushuaia also happens to be the southernmost city in the world.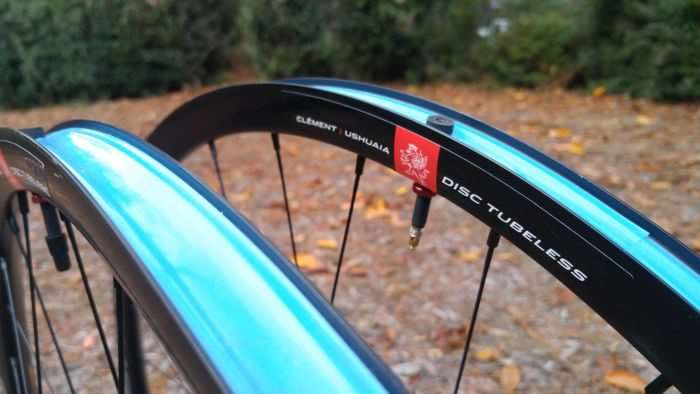 A wider rim allows for increased air volume, and helps to spread the tyre casing. That also helps increase the tyre's contact patch with the ground. Other benefits are improvements in cornering grip and increased overall comfort.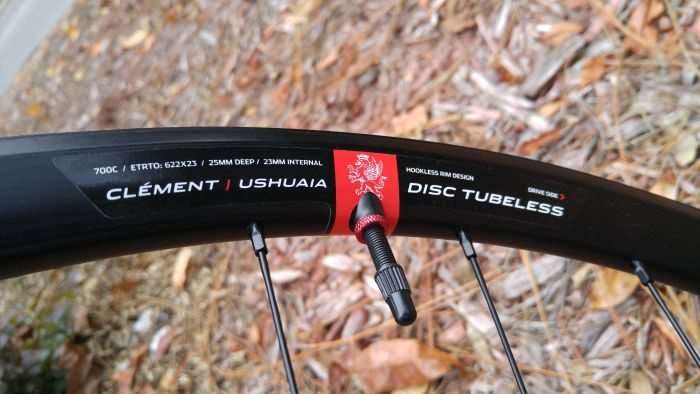 The 25mm deep Ushuaia rim is a hookless, tubeless rim design, which Clement claims can fit tyres ranging in width from 28mm to 50mm wide. To prevent burping (the loss of air), the rim bed has a small lip to keep the tyre pressed up against the rim.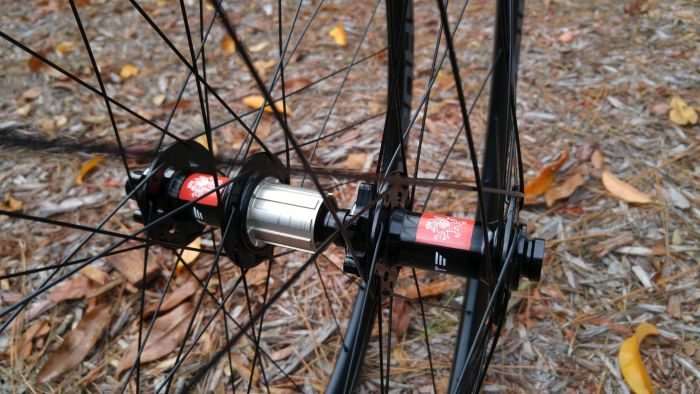 Keeping with trend set by the Ushuaia's stout rims, the wheelset is built with 28 double butted J-bend spokes front and rear, brass nipples, and hub flanges angled in line with the spokes to help reduce stress.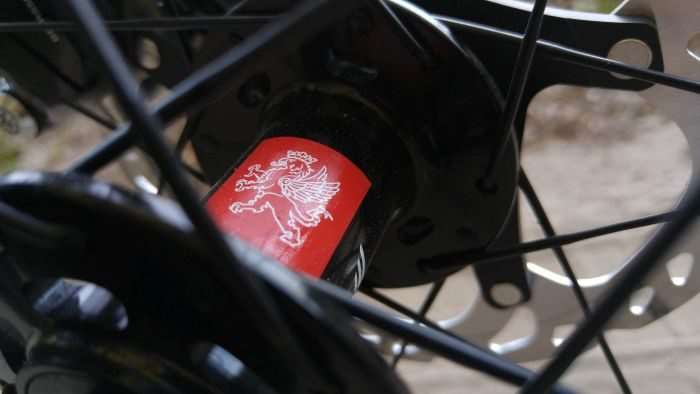 The hubs are designed with maximum frame and fork compatibility in mind. They support quick release and thru-axle; 12mm front, 15mm front and 142mm x 12mm rear. You will need to choose your preferred brake rotor standard when buying these wheels – center lock or 6-bolt.
Wheel Weights and More Tech Specs
With rim tape and the supplied valve stems / cores installed, the wheelset tipped the scales at 1,614 grams, six grams below the manufacturer's specified weight. Typically, manufacturers weigh wheels sans rim tape or valves, so this was a nice little bonus. Well done Clement!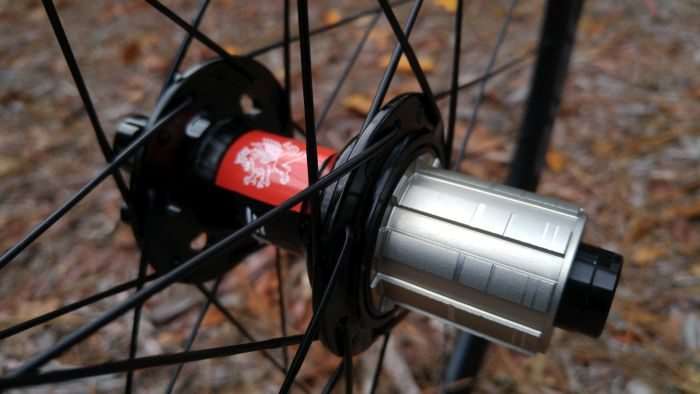 The rear hub features 36 points of engagement, a Shimano / SRAM 10 / 11 speed freehub cassette body or SRAM XD.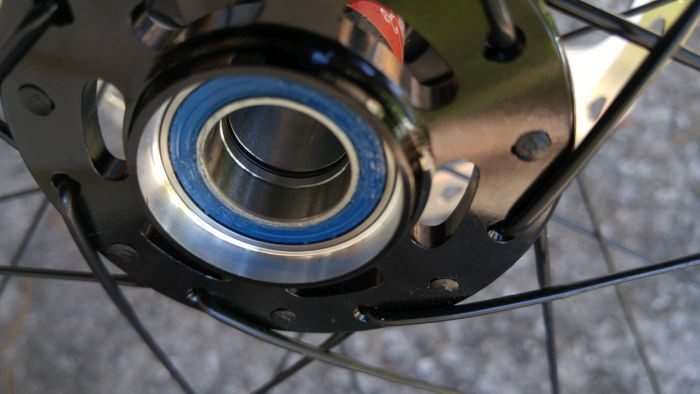 The hubs feature sealed cartridge bearings that can be easily replaced when the time comes.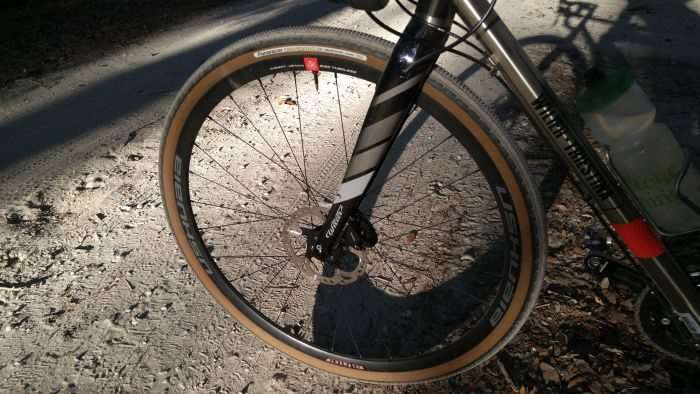 I decided to pair the Ushuaia wheelset with another bike I have in for review at the moment, the Wilier Triestina Jaroon (a steel gravel bike). Without giving too much away about that future review, the Jaroon benefited greatly from this wheel upgrade.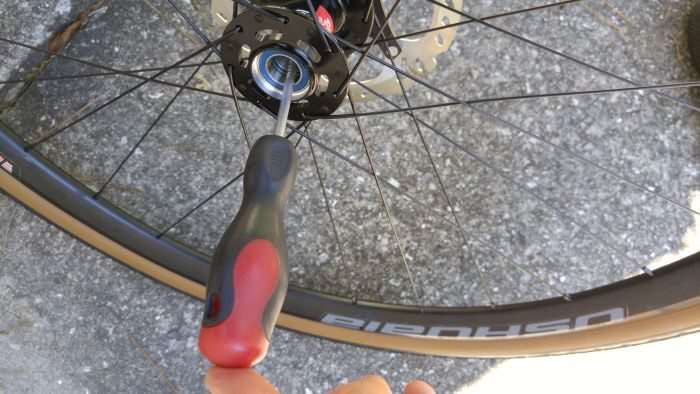 The Wilier Triestina Jaroon features 12mm thru-axles front and rear, but the Ushuaia wheelset arrived setup for 15mm on the front wheel. Thankfully, the wheelset's system of end caps caters to all axle standards. I used a flat bladed screwdriver to gently tap out each end cap. Just be careful not to tap out the bearing.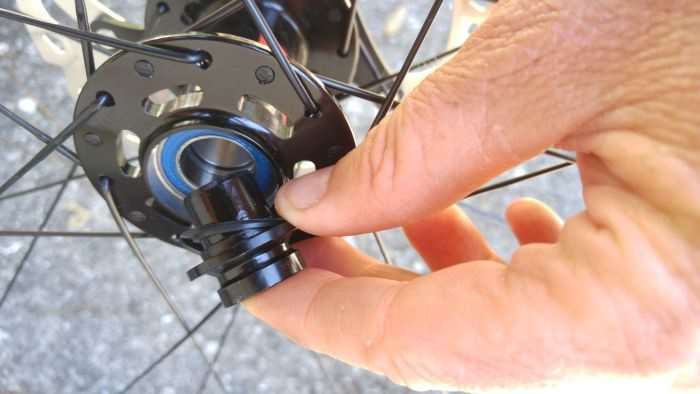 In the photo above, I'm about to insert the 12mm thru-axle end cap. In all, the process to convert between axle types took about two minutes.
Disc Rotor and Tyre Installation
As alluded to earlier, the Ushuaia's hubs are available for center lock rotors or the older 6-bolt standard. There are advantages to both, but the big advantage for center lock is speed and ease of installation. This is especially handy if you're a gravel bicycle / components reviewer!, professional mechanic, and to a lesser degree, a home mechanic. If you find yourself frequently swapping brake rotors, with the appropriate tool, it takes just a few seconds to loosen the lockring, swap rotors, and re-install the lockring.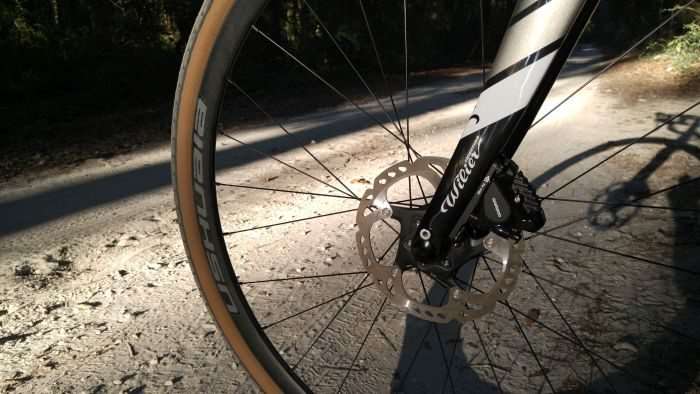 The Ushuaia review wheels in my possession were compatible with 6-bolt rotors, which I fitted with a set of Shimano 160mm Icetech rotors. For this review, I had no requirement to swap rotors, so it set and forget.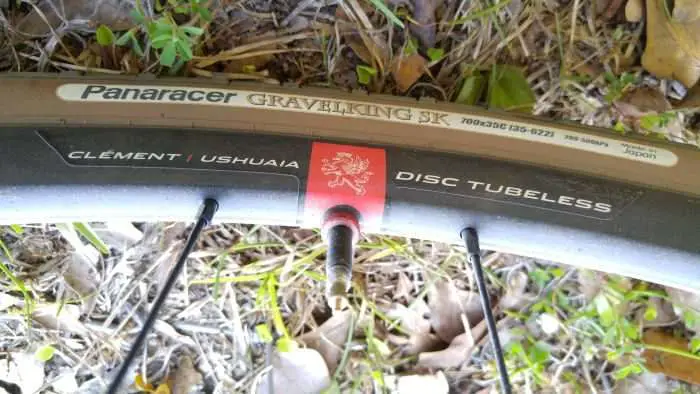 For the duration of the review, I mounted and ran two different tubeless gravel tyres with the review wheels. The Panaracer Gravelking SK in 700c x 35mm and the Maxxis Ravager in 700c x 40mm, both paired with Orange Seal Endurance formula sealant. Both tyres mounted easily to the wheels, sans struggling with a tight fit or the need to use tyre levers. The tyres aired up nicely with Bontrager's TLR Flash Charger pump (review on that product coming soon), but I'd expect the Topeak Joe Blow Booster pump would have no troubles either – or there is always the venerable air compressor.
The Ride
Weighing just over 1,600 grams, the Clement Ushuaia's are light enough that they accelerate well, but don't expect performance to be on par with a wheelset that weighs 200 grams less. Remember, gravel cycling / racing is all about endurance – chugging along, riding at a steady speed. Once the Ushuaia's are up to speed, they hold that speed nicely and stay there. The wheel's unbranded double butted steel spokes aren't fancy, but are spot on for the job, and if you like the stealth look of a wheelset with subtle logos / decals, you'll enjoy the overall look of the Ushuaia wheelset.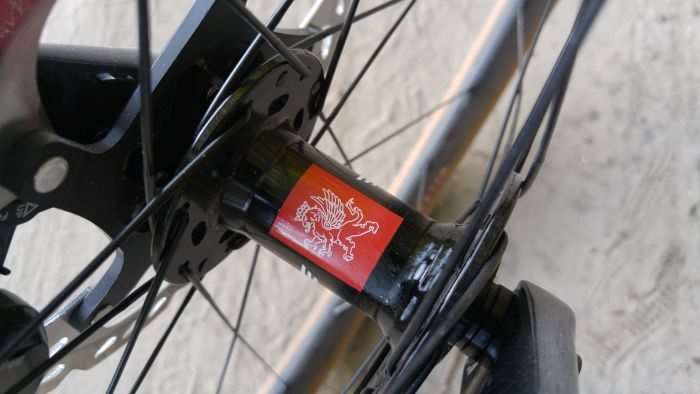 In this day and age of hubs with an ever growing number of engagement points, I was very happy with the Ushuaia's hubs and their 36 points of engagement. In a nutshell, that means at worst case scenario, 10 degrees of movement in the hub has to occur before the forward driving mechanism is engaged.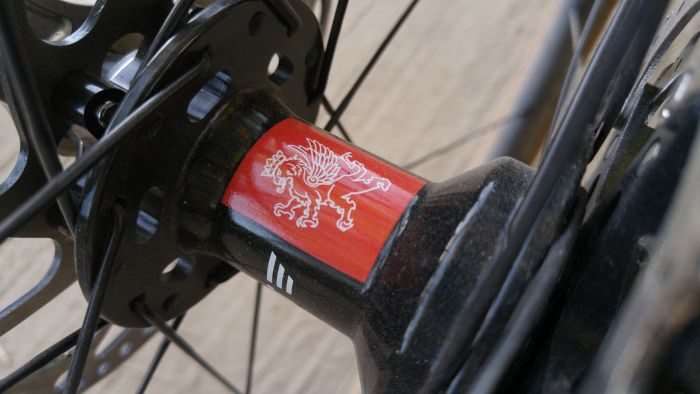 I've ridden hubs that feature 60 points of engagement which are borderline overkill for gravel, but I can appreciate a fast engaging hub, especially if one is carefully finessing one's bike through a tricky patch of sand, gravel or mud at slow speed. Freewheel operation is relatively quiet, just how I like it.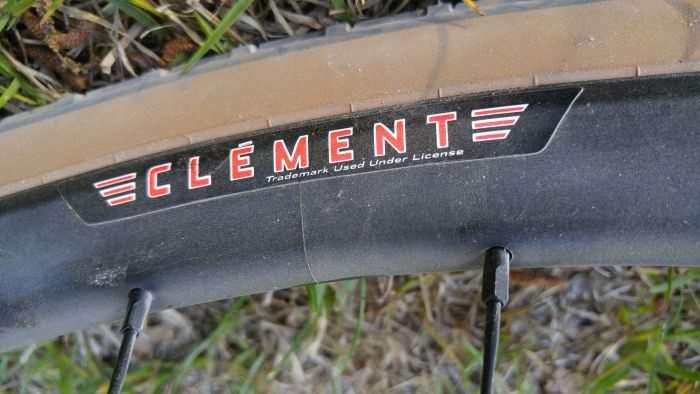 Due to the Ushuaia's relatively shallow rim profile of 25mm, you can expect almost no issues from cross and side winds.
The Ushuaia's are decently stiff, but not stiff enough that they're going to contribute to the overall pounding you can take riding gravel roads. I didn't notice any side to side flex from the wheels during hard, out of the saddle efforts but with said, I am not a powerhouse rider, and tip the scales anywhere from 153lbs / 69kg to 158lbs / 71kg. I wasn't exactly kind to these wheels, but that's part and parcel of riding your bicycle down a gravel road; it isn't always smooth sailing. After regular use over the period of about two months, the Ushuaia's are true and straight as the day I received them.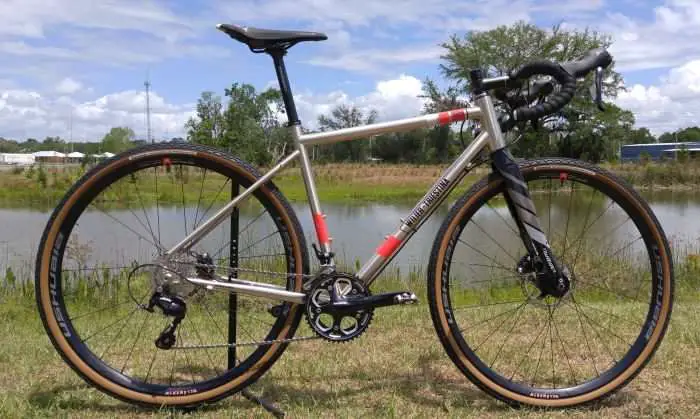 Ride quality of these wheels is excellent, especially when you get your tyre pressure dialed in right. At all times, I generally run 35psi on the front wheel and 38psi on the rear wheel, for a tyre sized between 35mm and 40mm wide. Tyre pressure is one of the most important and sometimes overlooked factors regarding overall comfort on a gravel bike. 50psi may feel great on a gravel tyre rolling along on pavement, but don't complain if the ride is bone jarringly hard when you leave the smoothness of the pavement / asphalt / bitumen behind!
The other trait associated with wider rims is the free tyre width you gain once your gravel tyre has been installed. In the case of the Ushuaia's, you'll gain an extra 2mm in tyre width, depending on the tyre.
Braking
What's not to like about hydraulic disc brakes? Paired with Shimano's 105 level hydraulic calipers, my test bike, the Wilier Jaroon stopped on a dime every time I pulled the bike up hard. None of this is attributed to the wheels themselves, but disc brakes just make the Ushuaia wheelset that much better.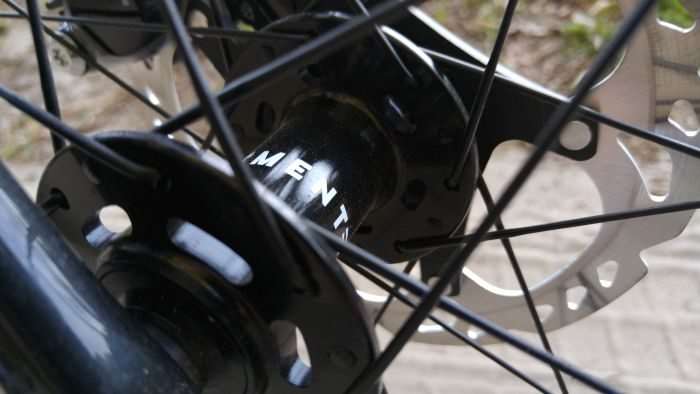 Summary
The Clement Ushuaia gravel wheelset is a well-built, solid and reliable package that is perfect for gravel cycling, and would double nicely on a disc brake equipped road bike. The Ushuaia's rims are designed to be tubeless, but can run tubes as well. However, once you've made the tubeless switch, there is no going back! Tubeless tyres are all I ride on gravel roads, and most of my personal road bikes are now shod with tubeless road tyres. Get on board with the technology!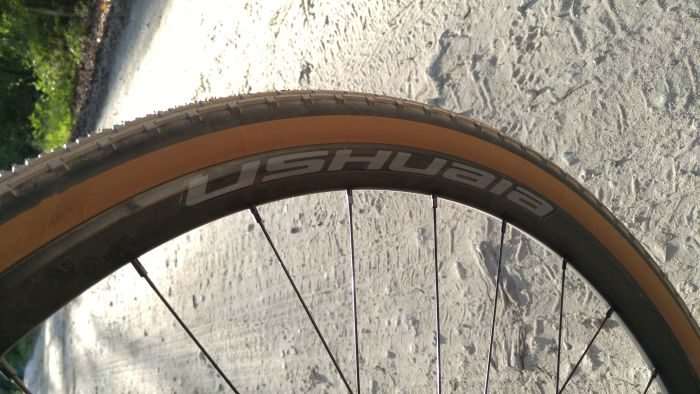 The wheelset uses non-proprietary J-bend spokes that are easily sourced from any good local bike shop. You cannot put a price on a wheelset that can be repaired and serviced easily. Not every bike shop in the middle of nowhere carries replacement spokes for a proprietary spoke system.
Pricing
The Clement Ushuaia wheelset is a great buy at $US 650.00 for the pair. That price includes pre-installed rim tape, valves and end caps to make the wheels work with your bike.
Since taking collection of these wheels, Clement has released a second and higher tier variant, the Ushuaia SL. The Ushuaia SL touts lighter weight at approximately 1,500 grams a pair, and features straight pull Sapim spokes and Enduro bearings. That wheelset is priced at $US 850.00 for the pair.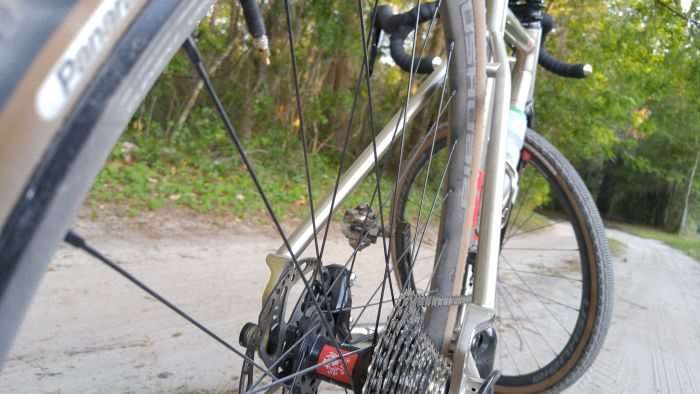 Finally, 650b Ushuaia wheelsets may be in the works?, if the company's new line of 650b tyres is anything to go by… watch this space.