With Dave Lawrence and Nick Legan of Shimano USA
Question 1:
Judging from the Shimano engineers I ran into at the 2017 Almanzo 100, Gravel has been on Shimano's radar for at least two to three years. How long has this concept been in development for?
Dave: We began looking at gravel sometime around 2014. It began with a market study, in fact, the first story I heard was about the Almanzo event from a retailer in Minneapolis. The ride was run purely through social media, there was no support, aside from a stashed cooler that the route would pass at least twice. When I heard about the numbers, six to seven hundred riders coming out, this warranted further investigation.
Later, I linked up with a colleague from Shimano Japan for a trip to Colorado to ride cyclocross bikes, generally to ascertain a feel of what the riding was like. However, it was the retailers who were telling us they were selling a lot more cyclocross bikes for people to get themselves off the paved roads. This riding was having an effect on what they were stocking inside their stores. They were selling less mid-level road bikes and more cyclocross bikes. A few manufacturers at the time were trying different things with geometry resembling a modern gravel bike, but I think hydraulic disc brakes is what got things rolling along.
We did a deep dive with some riding in Kansas in 2016 with our Shimano Global Team. People such as the gentleman in charge of Road Development, a Designer, a couple of guys from Research and Development, and a representative from Shimano Europe. We traveled around through Kansas through Lawrence, Emporia, checked part of the Dirty Kanza 200 course, culminating our appearance at a race known as Cool Hand Luke. That was a cool experience and we noticed a fundamental shift in road riding which pushed us deeper into the category of gravel cycling.
We saw that hydraulic disc brakes enabled endurance road bikes to be used on dirt because of the increased tire clearance. During the 2017 Almanzo where I met you, I was actually riding an Endurance road bike that could fit 700c x 35mm tires.
Our experience in April of 2016 at the Cool Hand Luke was amazing. We sat on a patio post-race, thinking to ourselves that gravel cycling is just fantastic. Then, one year later at the 2017 Almanzo, the weather the week before the race was in the 80's Fahrenheit and quite pleasant.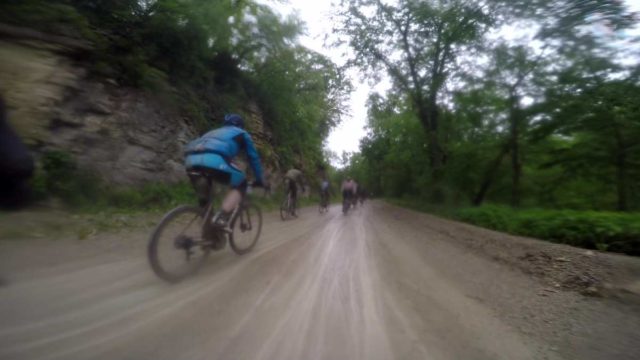 But come race day, well, you know what happened (link to our race report and video from 2017 Almanzo 100)… which is all part of gravel, being that it is completely unpredictable. You have to plan, you have to be ready, which is why we have so many options in this new groupset. We've traveled all over the USA, the riding and weather is so diverse, that you need a lot of tools in your toolbox for different events.
JOM: Nick knows all about it, he wrote a book on the subject! – Gravel Cycling.
Question 2:
Everyone's going to ask, what does the acronym GRX stand for? Gravel X? Gravel 10? Is the name open to interpretation? In Gainesville, Florida when we first started this madness back in 2006, we came up with the name GCX which meant Gravel Cyclocross.
Dave: It is open to interpretation definitely not an acronym, but we were trying to separate it from pure road racing. The RX has appeared before, for example, on the RX-titled rear derailleurs (aka chain stabilizer aka clutch) that were released in 2018. Then you have Vitamin G.
JOM: Brilliant, Vitamin G for gravel. With the RX meaning prescription… a prescription for gravel! Note, the Symbol "Rx" is usually said to stand for the Latin word "recipe" meaning to take. It is customarily part of the heading of a prescription, at least in the US of A.
Question 3:
With the GRX 800 series being the flagship model, I'm curious why you didn't offer a 46/30 chainring option on the RX810 crankset. The 48-31 is excellent, but some folks do appreciate their gears a smidge smaller. This question also ties into this one – will you be offering a 38T ring for the 1x option later?
Dave: It has to do with total capacity, we're bringing so much to the market at the same time. We really have to pick and choose. Our feedback indicated a lot of customers will purchase the Premium line of product, who are more performance-oriented looking for a wider gear range, but at the same time not spin out.
Nick: The good news there is you could purchase the 600-series crankset with its 46/30 chainrings for installing onto a bike that is otherwise equipped with 800-series components.
Dave: We hope to see more gearing options in the future. We'll watch to see how the first generation plays out. We're already hearing that a 38T option for 1x would be good to produce. The 1x group, in particular, plays well in cyclocross and 38T chainrings are a popular choice there. Additionally, I'd like to see the 46/30 chainrings later on in the 800 series.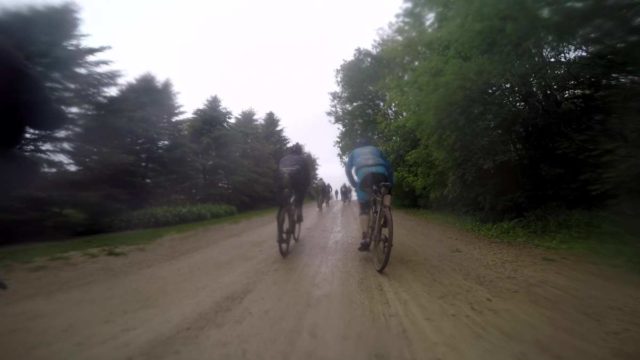 Question 4:
Does the GRX series of cranks use the same 4-bolt chainring pattern as Dura-Ace 9050/9150 and Ultegra 8000/8050 series?
Dave: It is the same bolt pattern, but because of how the bigger chainrings are generally designed, they won't physically match up to look pleasing aesthetically. However, the smaller chainrings being smaller (31T option etc), did require a differ BCD (bolt circle diameter) of 80mm to make everything work.
Question 5:
Will the increased +2.5mm chainline have an effect on pedaling Q-factor?
Dave: Our traditional road cranks have a Q-factor of 146mm, so the GRX line up will increase to 2.5mm on each side, bringing Q-factor to 151mm. However, we make a new XTR pedal that features a -3mm spindle on each side, so you could narrow the gap back to your road setup.
Note from JOM: Shimano's part code for the XTR 9000 Race series short-axle pedal is IPDM9100S1.
Nick: This is an excellent pedal for people who are more road-focused and occasionally ride on gravel or a mountain bike.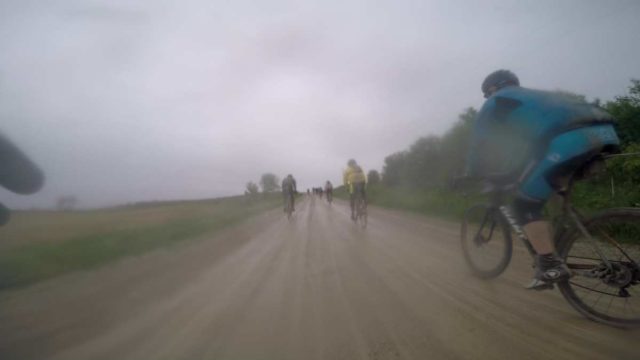 Question 6:
Regarding the front derailleurs, I presume there has been a change in the cage design to accommodate the potential 17T jump between chainrings?
Dave: In a nutshell, we designed the front derailleurs to accommodate smaller chainrings. Our traditional road front derailleurs such as a Dura-Ace model can handle up to a 55T chainring whereas Ultegra and 105 are designed to handle up to a 53T chainring. With the GRX, there was no need for those sorts of chainrings so we were able to optimize the cage around a 50T chainring or smaller.
Question 7:
The rear derailleurs, Di2 and mechanical, continue to have a clutch aka chain stabilizer system, just like the RX model. I've had one review bike fitted with a Di2 RX derailleur but didn't have a chance to tinker with it too much. How simple is it to adjust the tension? Do the short and long cage derailleurs play nicely with the 1x drivetrain option?
Nick: On the fly, etc, GRX is just like the RX derailleur in that you can turn the system on and off, no tools required. If you're talking about diving into the internals and adjusting the amount of tension, that's a little more involved and will require the bike on a workstand, etc. As for the 1x options with the narrow ratio derailleur (shorter cage), the most you can shift will be an 11-34.
Dave: I could see people running a 2x for gravel, then, removing the front derailleur, installing a 1x chainring to go race cyclocross with an 11-34 cassette. There could be a cost saving there for people looking to buy only one derailleur. Moving forward, this is very much our cyclocross groupset as well.
JOM: It pleases me to see your new derailleurs work with existing cassettes, wide-range or otherwise. This indicates Shimano believes that gravel cyclists need options for lower than a 1 to 1 ratio, unlike what I've seen from other component manufacturers. Clearly, you guys have actually been riding the steep stuff (Nick has for sure).
Nick: A 1 to 1 gear ratio, unless you're an Elite level rider, is simply not low enough.
JOM: And as you know Nick, bigger tires negate lower gears due to their increased casing height.
Nick: Exactly.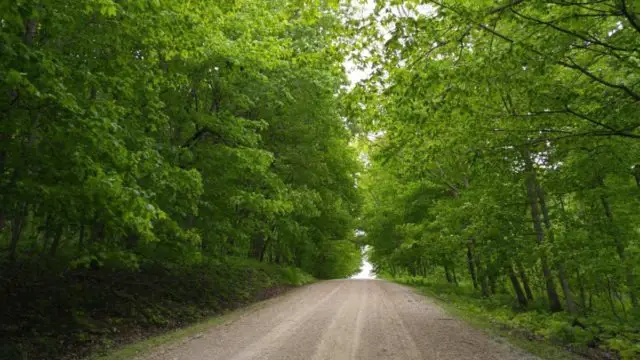 Question 8:
You've done your homework with hand positioning for the GRX mechanical and Di2 shifters – I'm assuming they're optimized mostly for flared handlebars? Or do they work well with regular non-flared bars?
Nick: It doesn't really matter, they could certainly be ridden on our Pro Discover line, they also work really well on a traditional, squared drop handlebar as well. Let's cover the ergonomics for a moment.
The GRX Di2 lever is a ground-up design, there's nothing borrowed from Dura-Ace or Ultegra Di2. The lever shape, the body shape, the height of the hook at the front of the hood is more pronounced, a larger dimension to encourage comfortable riding from the tops of the brake levers. We received feedback from some people who running Di2 hydraulic for road (Shimano's gold standard for road ergonomics), who got the impression their hand could launch off the front of the lever on really rough terrain – if they were riding on the hoods.
JOM: I've experienced this phenomenon you speak of, which left me crashed on my arse, after a double pothole hit launched my hands from the hoods. Thankfully I rode away mostly injury free.
Nick: Right… so, the GRX levers have a slightly taller front to that hood, preventing you physically from your hands coming off the front of the hoods. The other thing with the GRX Di2 lever is the brake lever pivot point is 18mm higher, which gives greater leverage if you were braking from the hoods. The brake lever blade features an indent that can be felt from the hoods, which lends itself to a better feeling of modulation braking from the hoods. Additionally, the entire lever blade receives a surface treatment, a texture if you will, that feels really good when the lever is wet or muddy.
On the mechanical version of the GRX lever, the hood and main body are the same as our current hydraulic / mechanical lever design, because it already has that larger knob at the top of the hood. We never received any negative feedback about riders' hands falling forward off the hood. As for the brake lever blades, it has the same indent and texture as the Di2 version.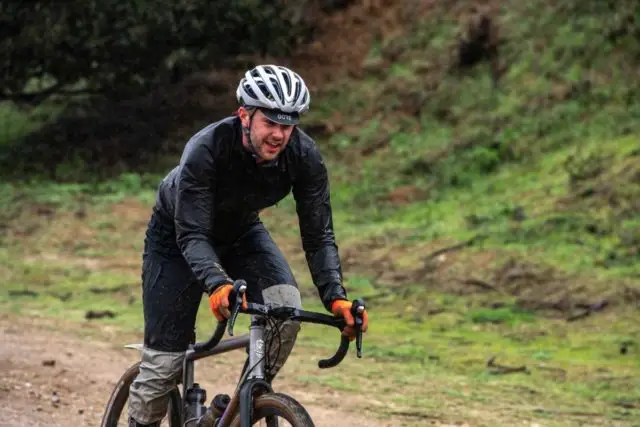 Question 9:
I'm stoked to see a hydraulic sub-brake lever for the handlebar tops! I've been waiting for many years for this to come to fruition. Without going too technical, I assume this in-line brake lever will be available individually or pairs?, and will work with all existing Di2/mechanical road brake levers and the new GRX models?

Nick: Yes, it will be available individually or in pairs. I see it as a great option for those riders blurring the lines between mountain biking and gravel, who may be riding with very wide flared handlebars. If you have a Di2 bike, you can easily fit an accessory shifter button right near the brake lever for ease of use – braking and shifting from the tops.
Question 10:
Dropper post support. You're dedicating a left side shifter mechanical solution, will there be a Di2 drop-bar solution for compatible posts?
Nick: If you're running a dropper seatpost, the only lever we're offering to actuate / control that dropper is left-side mechanical which essentially means you have to run a 1x drivetrain. You could always run a Di2 lever on the right, but at this time, we don't have a Di2 dropper option for the left. If you want both of your levers to match, you will have to run a mechanical 1x configuration.
Question 11:
Branding aside, are there differences between the GRX hydraulic calipers and those from the Ultegra lineup?
Dave: No, it is just branding. The caliper is a proven performer, there is nothing "gravel specific" about it. We didn't want to make a change for the sake of change. We were more interested in a uniform look across the group with the GRX moniker. As it is, the brake pads, etc are uniformly compatible from GRX to Ultegra, 105, etc.
Nick: The 400 series brake caliper is essentially a Tiagra level component.
JOM: I assume brake pads out of the box will be the resin / organic material?
Dave: Yes, but customers have the option of swapping in our metal pads.
Nick: This will also depend on OEM bike customers, who sometimes modify the stock pad configuration for their bicycle lineup.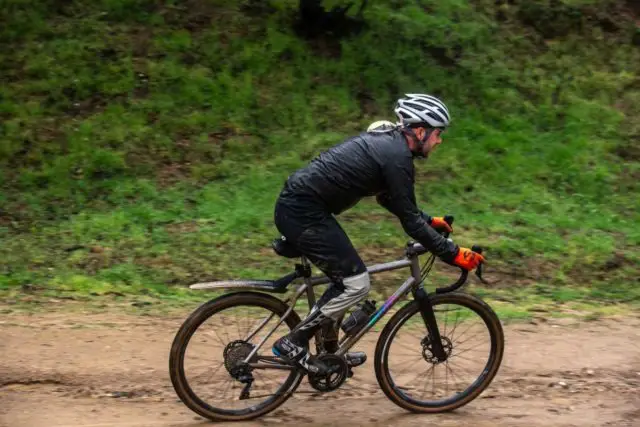 Question 12:
GRX Wheelsets – What are the approximate weights? I assume centerlock compatible?
Dave: We don't have everything quite nailed down, but the target weights are 1,600 grams for 650b and 1,650 grams for 700c. To put that into perspective, those wheels retail for $US 419.00. They are exceptionally affordable; as for centerlock compatible only, affirmative.
Question 13:
Will we see 12-speed in the future on gravel or otherwise from Shimano, referring to 2 x 12 and not the XTR 12-speed?
Dave and Nick: Shimano is always working on new technology!
Question 14:
Final question. here does Shimano see the future of gravel cycling? Do you see it being a bigger market force than Road or MTB down the road?
Dave: I think it's going to be a variation because the lines are quite blurred. For example, at Almanzo where we met, I was aboard an Endurance road bike, a Trek Domaine with 700c x 32mm tires and plenty of clearance. You have bikes that are super capable, I think that's what we'll see more of… road style riding has definitely made a shift, much of which has been facilitated by disc brakes, wider gear range, etc.
We'll likely see a continued blurring of lines as in what is considered to be a traditional road bike and a pure gravel bike. I think as the market starts to mature, we'll see a diversification of gravel. We're already seeing ProTour guys starting to show up at gravel events, and we're already seeing people who want to promote pure gravel races, not just a ride, they want it to be more about racing. We've already seen this happen in mountain biking, it's a natural evolution.
For us at Shimano, it's about continuing to build in that capability, the versatility; people are going to continue looking for more versatile drop handlebar experiences. We'll keep watching that to see if it stabilizes, does it keep going in one direction, and so on. But I don't think anyone is going back to smaller gears, narrower tires, etc. I don't necessarily think gravel will become a bigger market than road or mountain, I see it becoming a viable third option that is welcoming of both of those markets.
For example, we're seeing gravel bikes whose DNA is founded on the road, and others who are founded in mountain bikes.
Nick: I think it's cool that we're seeing the segmentation of the gravel scene as Dave mentioned and I expect it to continue, at least in the near future.
Dave: We'll see gravel bikes being used as road bikes and vice versa. It boils down to the experience that people are looking for. They'll find the right tool and for us, that means we have to provide the options. We quickly figured that gravel wasn't going to be a narrow-focused, 2x only solution, because that's not what everybody wants.
JOM: Superb, thanks for your time today!
Miss the Shimano GRX press release with the goodies? Check it out here!
---
If you're interested in hearing what Gerard Vroomen has to say about the future of gravel bikes, please follow this link to a video interview. Gerard was the co-founder of Cervelo Bikes, and nowadays is co-owner of 3T and designer of the 3T Exploro and Strada, and co-founder of Open Cycles and designer of the Open U.P., U.P.P.E.R., etc.