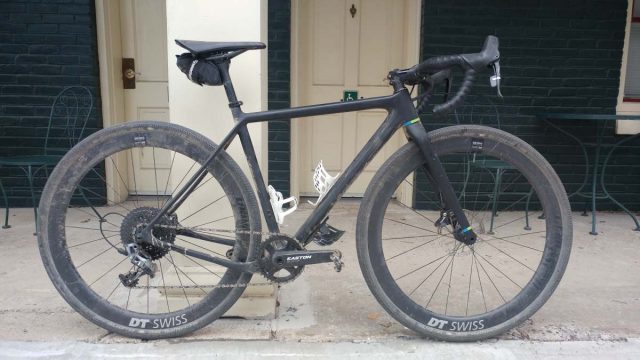 "At OPEN, our motto is "working hard to stay small". We've done the "big company" thing, and it was time for something different. So we design the bike we want to ride ourselves, we produce them, sell them to like-minded people and that's it."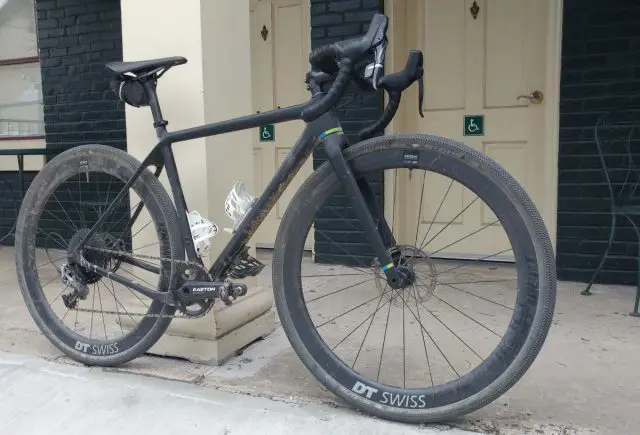 "Staying small forces us to focus on what matters: Product development, taking care of customers (shops and consumers), and not much else. No sponsorships, no marketing, no complete bikes, no flashy offices or employees; we simply don't have the time for any of that."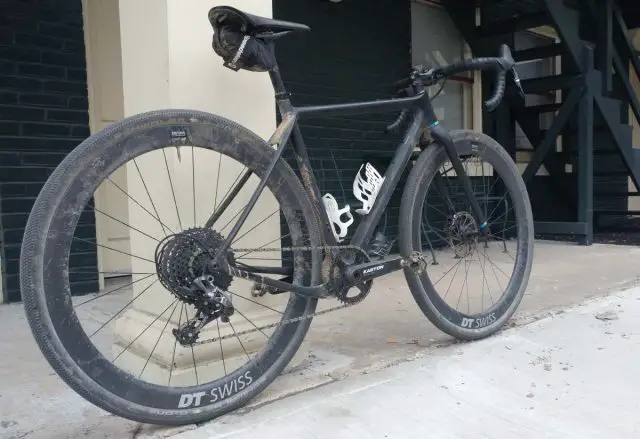 "So if the simplicity of nice bikes, nice rides, nice company and nothing else are what you're after too, join us at OPEN."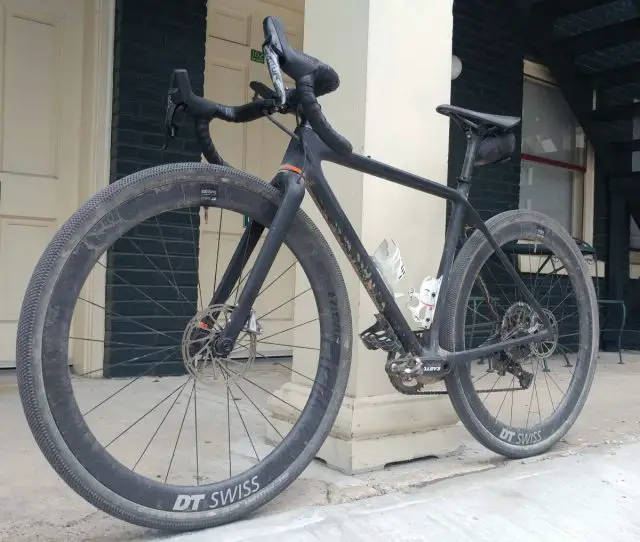 With that said, let's dive into Open Cycle's flagship bike, the U.P.P.E.R. – Open Cycle introduced the original "Classic U.P." a few years ago, in a design that incorporated a road cycling position but with frame clearance for mountain bike tyres. Wild stuff.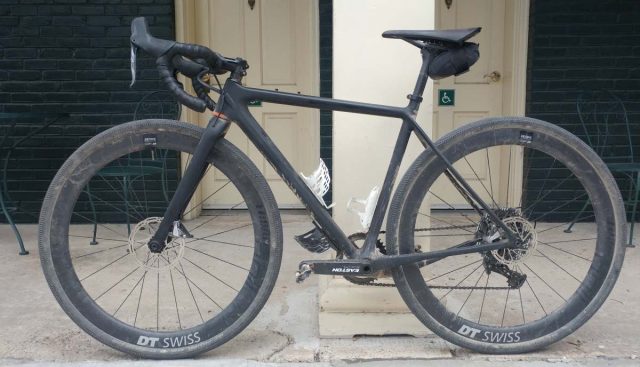 "Get out of town on asphalt, hit the gravel roads or switch to singletrack. Your position gets you there fast; the big tires make you unstoppable."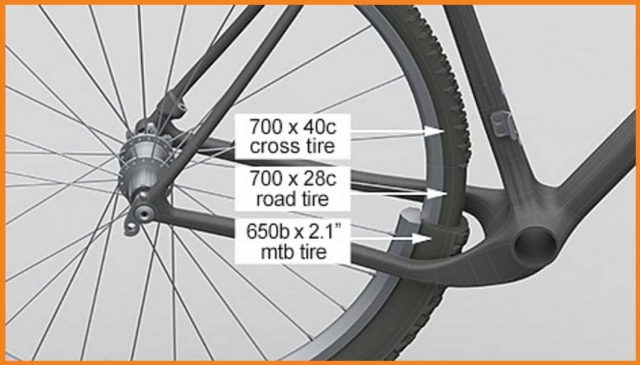 The most noticeable traits with the original Open "Classic U.P." was a design that could accept 650b or 700c wheels, and its unique drop-down driveside chainstay design. This design wasn't new at the time, but the boffins at Open Cycle (boffin meaning a very smart bloke), realized how good it was, and tweaked it for use on an all-terrain carbon frame with 21st-century technology. Arguably, these design features made the Open Cycle U.P. an overnight hit.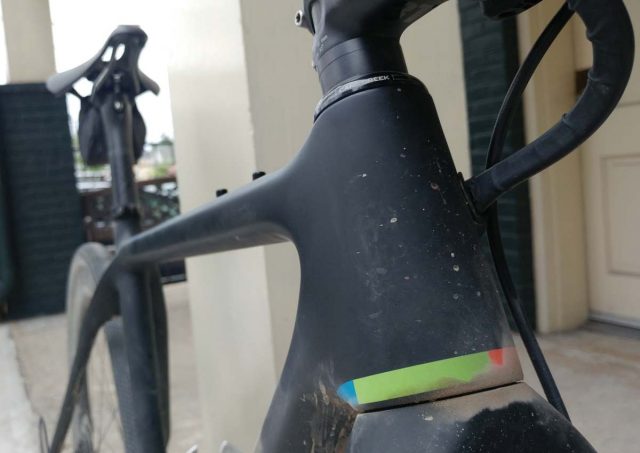 The lads (Gerard and Andy) at Open Cycle aren't complacent, and have introduced two new Open Cycle U.P models since the introduction of the "Classic U.P.", namely the "New U.P." and the "U.P.P.E.R."
The bike featured in this article is the top-tier, superlight U.P.P.E.R. which features the Open "U-Turn" fork and flat-mount disc brakes. Its owner is none other than Selene Yeager, otherwise known as "The Fit Chick" (link to her website).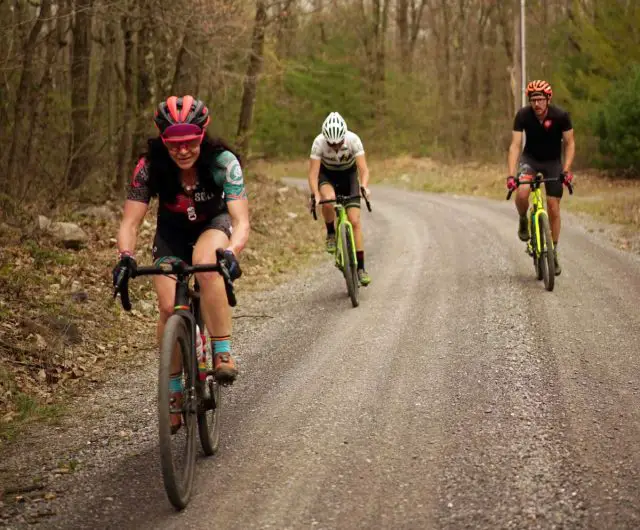 Selene has been a long time writer at Bicycling Magazine, and is the author / co-author of more than 20 books. Additionally, Selene is a very talented cyclist, one who has personally dropped me on multiple occasions. Being dropped is part and parcel of being an average bloke on a bicycle, but to be dropped by Selene, that's quite the honour!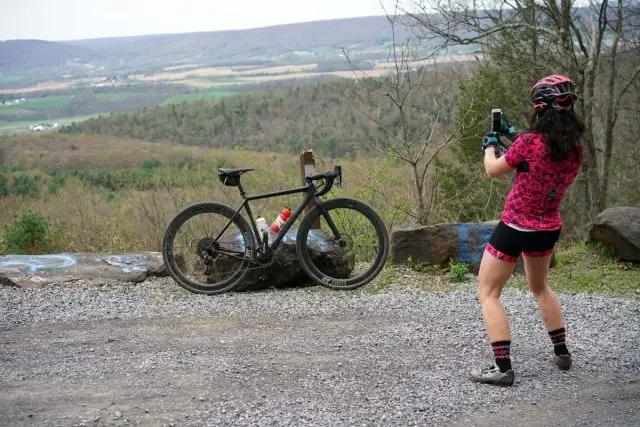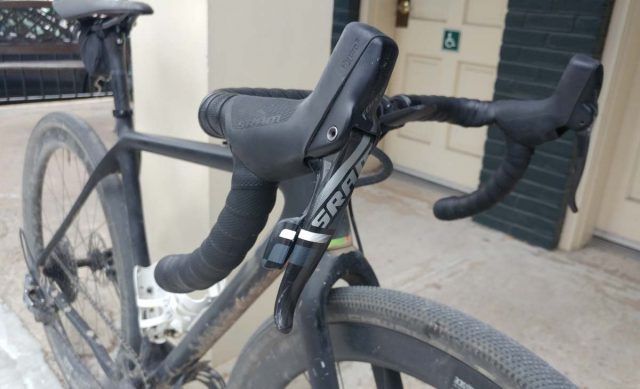 Starting at the front end of the bike, Selene's U.P.P.E.R. is kitted out with SRAM's Force 1x / single chainring drivetrain. The shift levers feature a pronounced extension, which doubles as a comfy place to perch one's hands on the levers, and where SRAM hides the hydraulic braking goodness. This article isn't a product review, but SRAM's hydro shifter levers are a marvelous bit of kit with great braking feel, power and modulation. The shifting's pretty good too.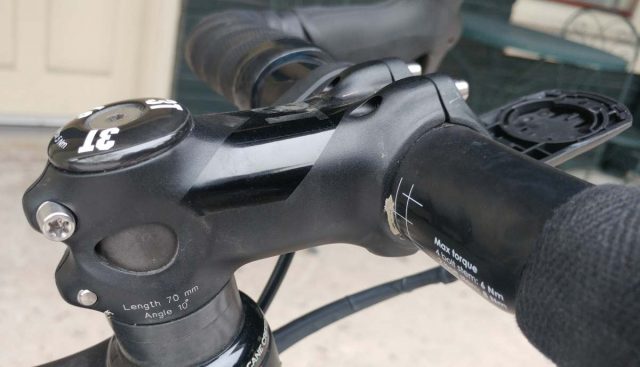 Selene rides a size Small U.P.P.E.R., fitted with an appropriately sized 70mm 3T  stem. Torx bolts are the fastener of choice, a marked improvement over allen key bolt heads that can round out… 'tis never pleasant.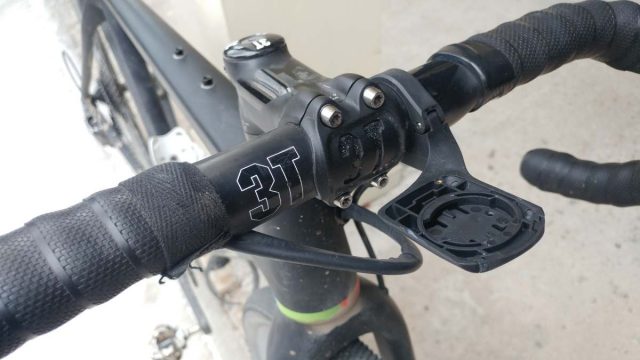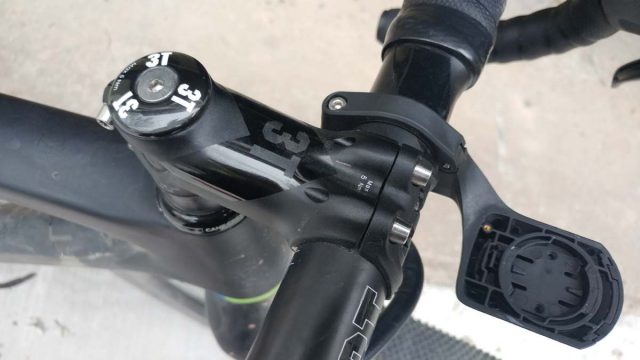 Selene's computer mount is typical of current out-front designs, although the Wahoo Element Bolt mount and computer itself are designed with aerodynamics in mind. One could question the aero benefit of a svelte computer on a gravel bike, but I digress…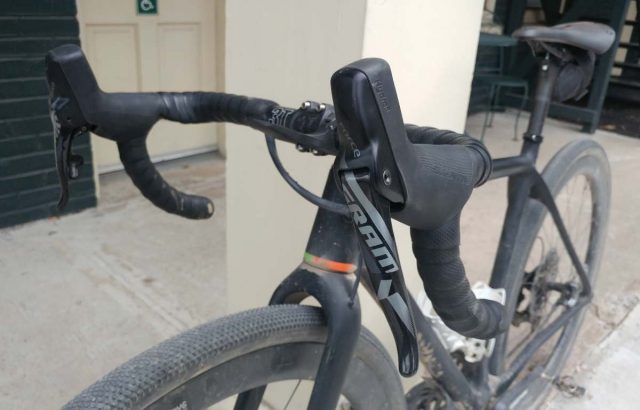 Above, the left side SRAM Force brake lever is devoid of a mechanism for shifting a front derailleur, brakes only.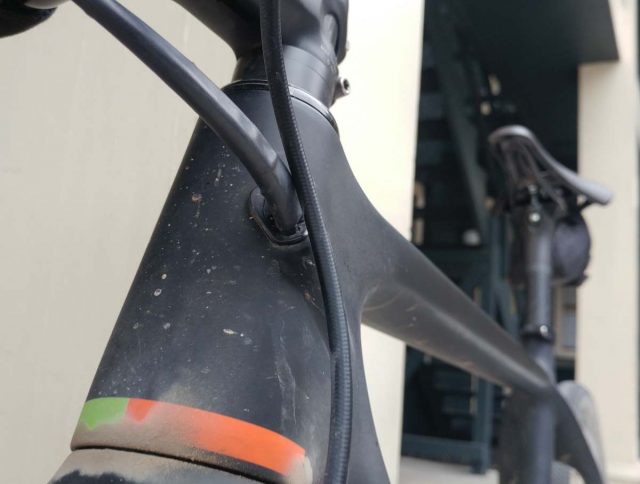 The hydraulic rear brake housing and solitary derailleur cable housing receive the pro treatment. Heat-shrinked to enter the Open U.P.P.E.R. frame as one unit, this common trick used on race bikes in the World Tour circuit keeps cables looking neat and tidy, and probably saves about .0000001% of aerodynamic drag.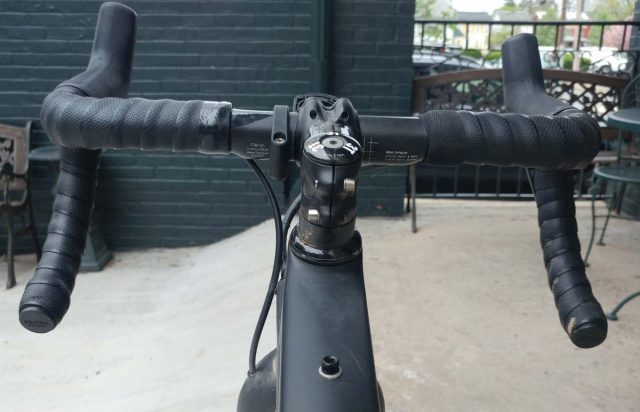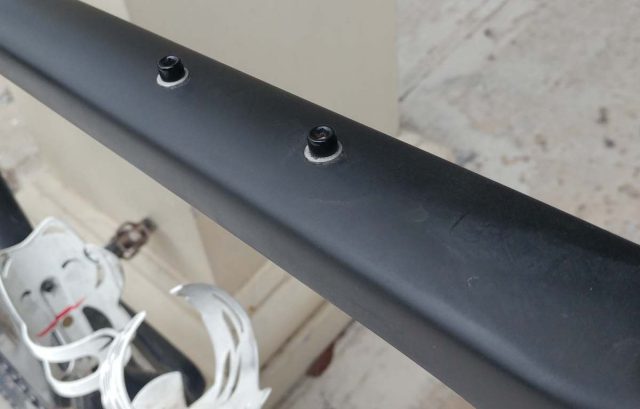 Above, these bolts negate the archaic practice of lashing down a top tube bag to the frame, provided you have a compatible bag / storage box.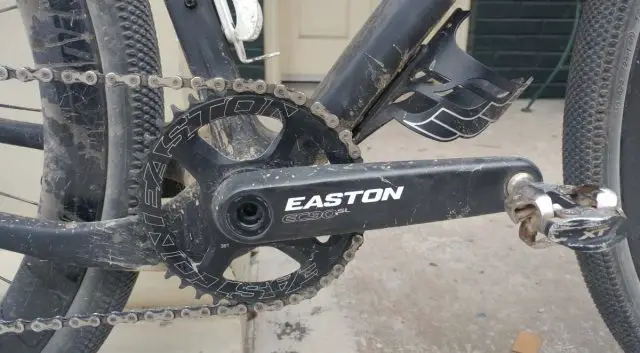 The Easton EC90 SL crankset can be switched between a 1x or 2x configuration in a matter of minutes, thanks to its clever direct mount chainring design. Easton also makes some neat 2x gravel chainrings. For the record, Selene turns over a 38 tooth chainring.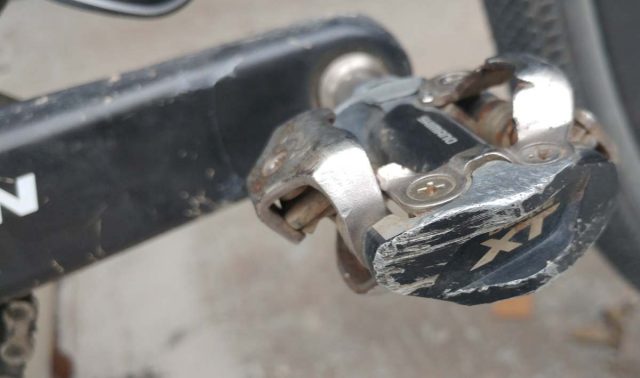 A well-used pair of Shimano's XT MTB pedals transfer Selene's power into the drivetrain.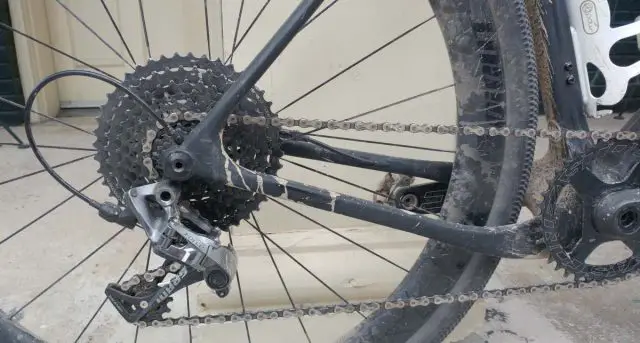 The SRAM Force 1x clutch derailleur is a capable unit, but it has a lot of ground to cover with Selene's bike.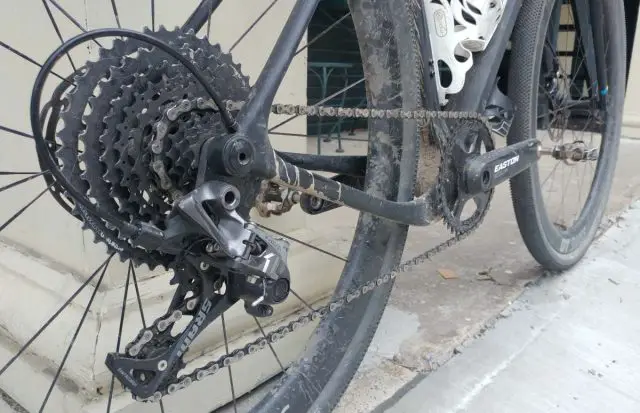 SRAM's biggest cassette for the gravel application is a 10-42, but the e*thirteen TRSr 11-speed cassette on Selene's bike ups the ante to a 9-46. You read that correctly, 9-46. Wow.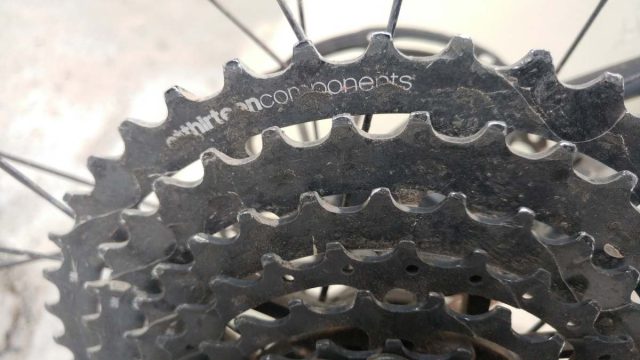 Constructed from aluminium and a single piece of milled, heat-treated cromoly steel, the cassette weighs about 303 grams.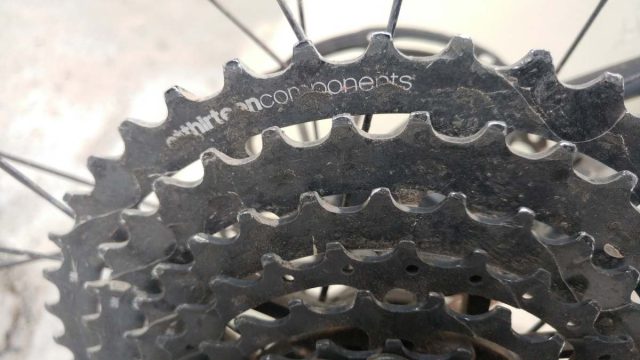 The cogs are spaced as follows: 9-10-12-14-17-20-24-28-33-39-46
Devotees of 1x / single chainring drivetrains may love this cassette, but its massive six and seven teeth! gaps on the bottom end of the gear spectrum will draw ire from the 2x / double chainring crowd. Don't you hate these first-world problems?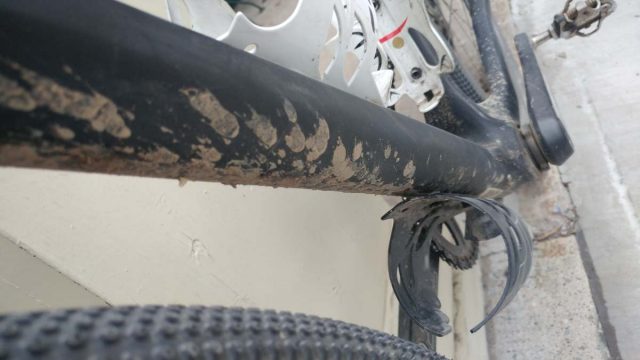 The Open U.P.P.E.R.'s downtube has provision for a 3rd bottle cage, although chances are, it may become a wee bit muddy at times.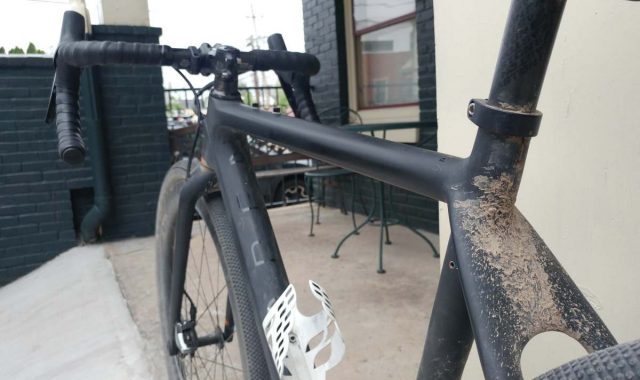 Above, a relatively light dousing of mud after this ride, part of the event preview for unPAved!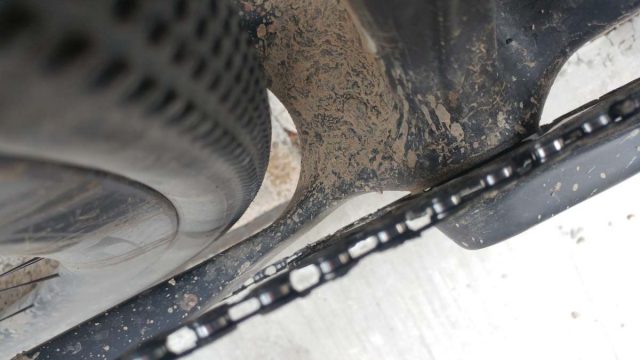 Above, plenty of clearance around the Schwalbe G-One in 700c x 38mm, which likely measures 700c x 40mm mounted to the DT wheelset on this bike.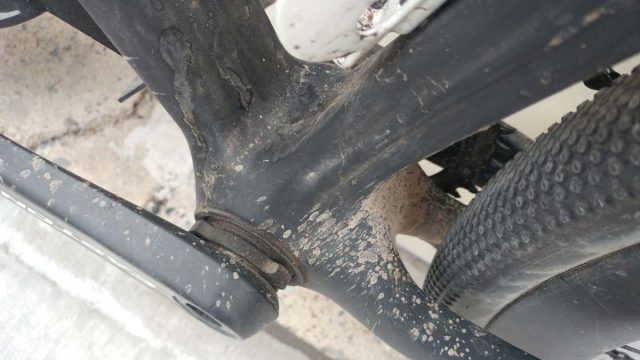 The Open U.P.P.E.R. uses the 386 EVO bottom bracket standard. "The wide (86mm) BB shell is perfect to attach the dropped drive-side chainstay to. Furthermore, it fits most of the cranks on the market, from Shimano and SRAM but also smaller brands like THM and Rotor."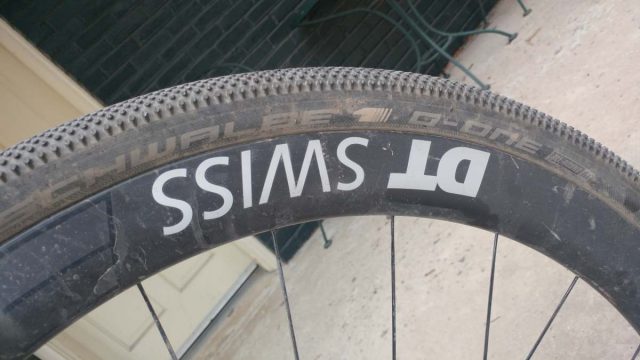 Above, Schwalbe G-One mounted to the DT Swiss ERC 1100 Dicut 47 carbon wheelset.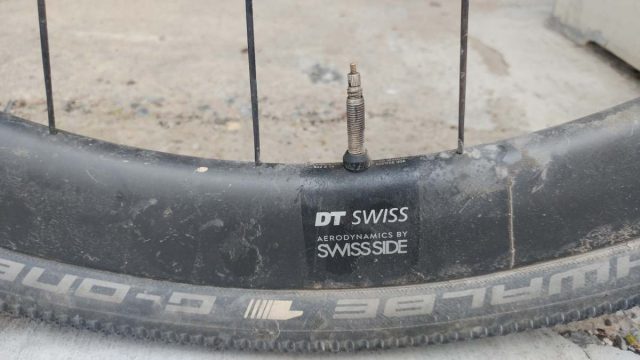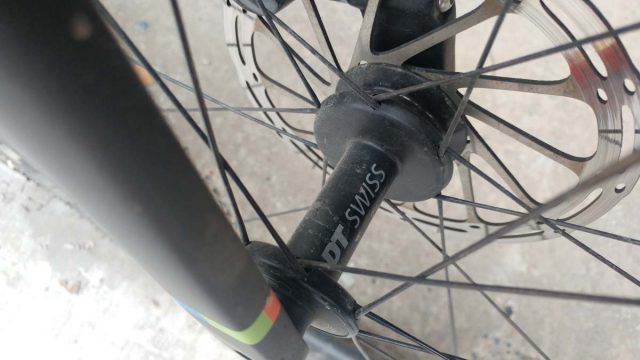 DT's venerable 240 hub internals are at the center of this wheelset, along with 12mm thru-axle on the front wheel, DT aerolite straight pull spokes front and rear and center lock mounting for the brake rotors.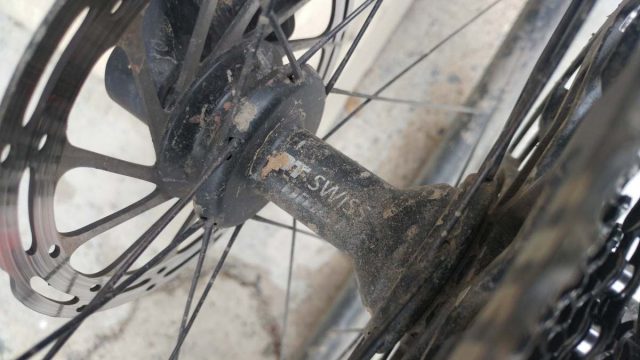 Thru-axle on the rear wheel, this time 142mm x 12mm. DT Swiss tout this wheelset as featuring the company's AERO+ technology, but one has to question, how aero is a wheel once you've got a 700c x 35mm tyre or greater mounted? Someone should probably do a wind tunnel test… Gravel Cyclist doesn't have the funds available, sorry trendsetters!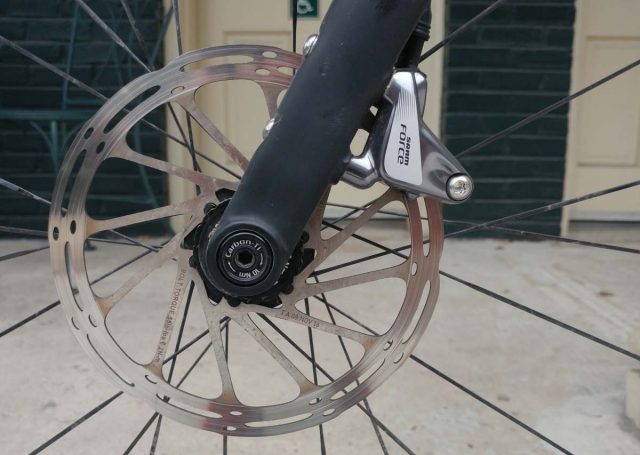 Above, SRAM's excellent Force hydraulic brake calipers (flat-mount to the Open U-Turn carbon fork), paired with the company's Centerline steel brake rotors in 160mm. Weight weenies will note the Carbon-Ti thru-bolt. These are light and expensive, but far superior to traditional quick-release thru-bolt designs.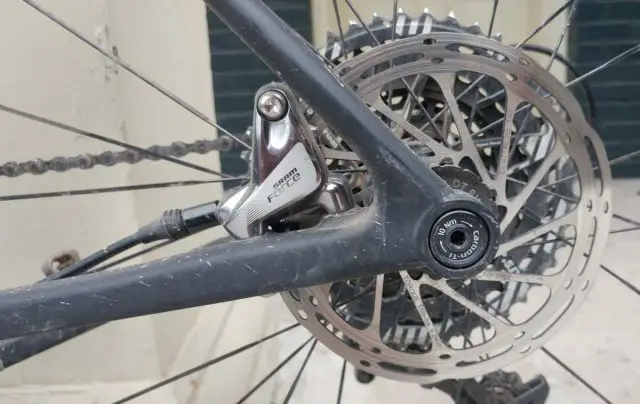 Flat-mount for the rear SRAM Force hydraulic brake caliper, 160mm Centerline center lock SRAM disc brake rotor, and another dosing of weight weenie goodness with the Carbon-Ti thru-bolt.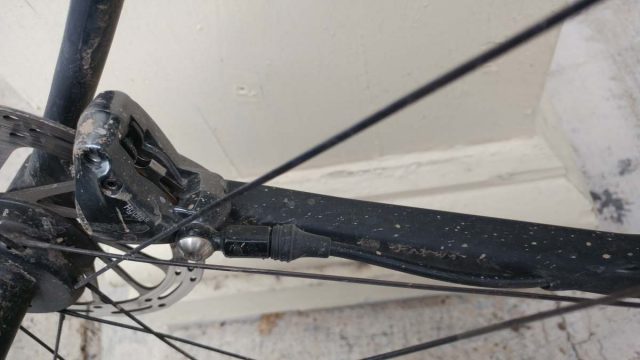 The well-executed internalized rear brake housing follows a very clean path directly to the rear brake caliper. No kinks or bends.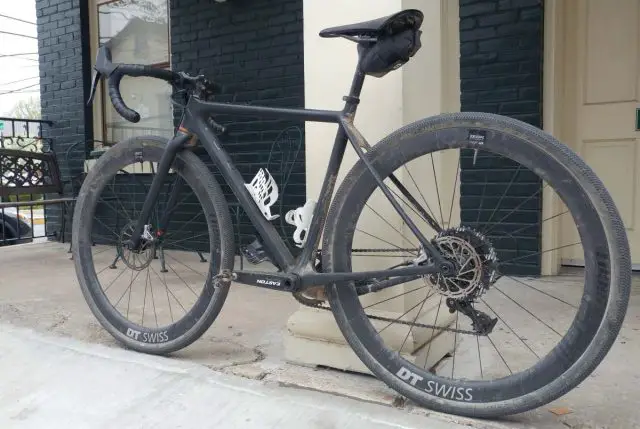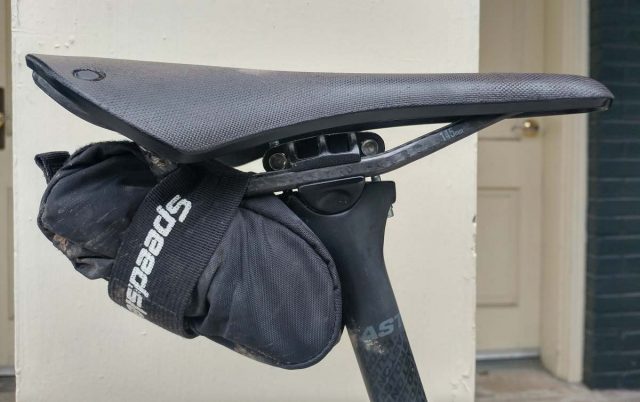 The Brooks Cambium C13 saddle is a huge departure from the traditional line up of Brooks saddles. Easton's lightweight EC70 zero-setback carbon seatpost keeps Selene's saddle firmly in place.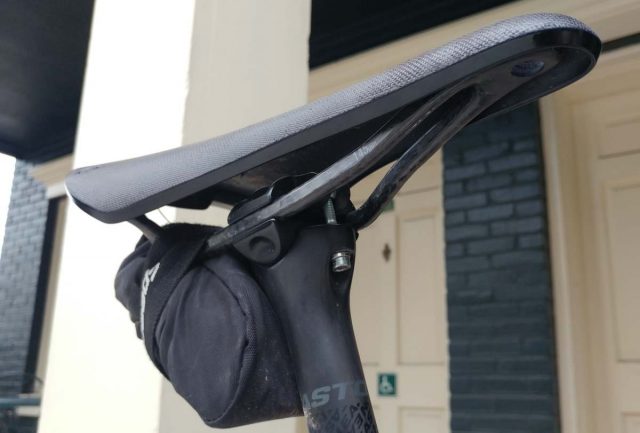 "Cambium saddles are made from a vulcanised natural rubber top that follows the movements of the rider for responsive control and all-day comfort. Suspended over a one-piece braided carbon frame."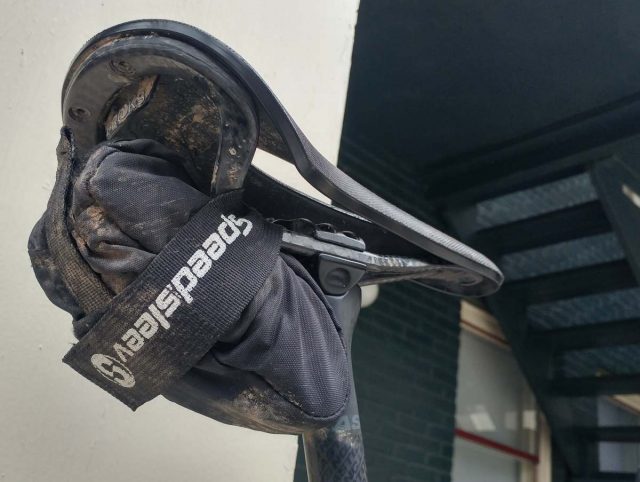 All of Selene's spare gravel cycling essentials as they relate to her bike, are contained in Speedsleev's Ranger. This neat unit can hold 2 x road tubes, 1 x mountain tube, 2 x 16-20 gram Co2 cartridges, 2 x tyre levers, 1 x inflator and 1 x multi-tool.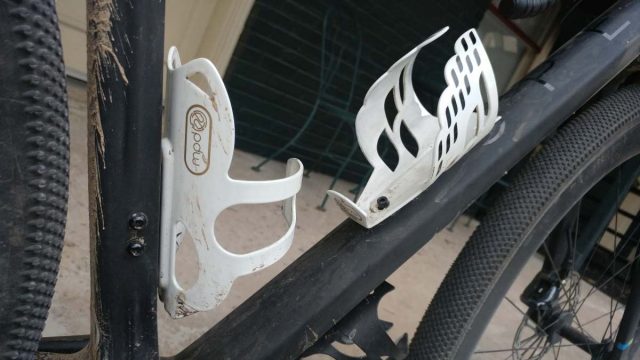 Selene has chosen PDW bottle cages, namely the Lucky Cat Cage (rear) and the Owl Cage (downtube and beneath).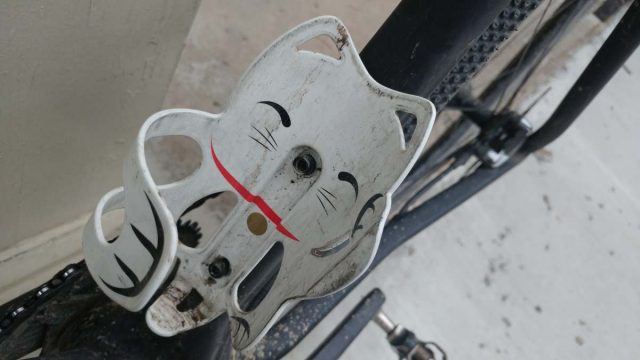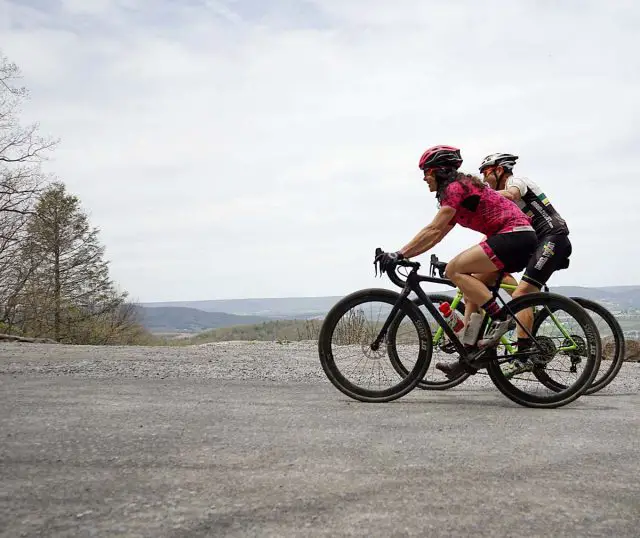 Selene Yeager's Open U.P.P.E.R. Carbon Gravel Bike:
Frame: Open U.P.P.E.R. Carbon, size Small.
Fork: Open U-Turn.
Headset: Cane Creek.
Stem: 3T 70mm.
Handlebar: 3T Ernova Team Stealth carbon.
Bar Tape: Unknown.
Brakes: SRAM Force Hydraulic.
Brake Rotors: SRAM Centerline 160mm, center lock.
Brake / Shift Levers: SRAM Force 1x 11-speed.
Front Derailleur: N/A.
Rear Derailleur: SRAM Force 1x 11-speed with clutch mechanism.
Cassette: e*thirteen TRSr 11-speed 9-46.
Chain: SRAM PC-1170 11-speed.
Crankset: Easton EC90 SL with 38 tooth chainring.
Bottom Bracket: 386 EVO, unknown brand.
Pedals: Shimano XT.
Wheelset: DT Swiss ERC 1100 Dicut 47 carbon.
Tires: Schwalbe G-One 700c x 38mm.
Saddle: Brooks Cambium C13.
Seatpost: Easton EC70 carbon 27.2mm.
Bottle Cages: PDW Lucky Cat and Owl.