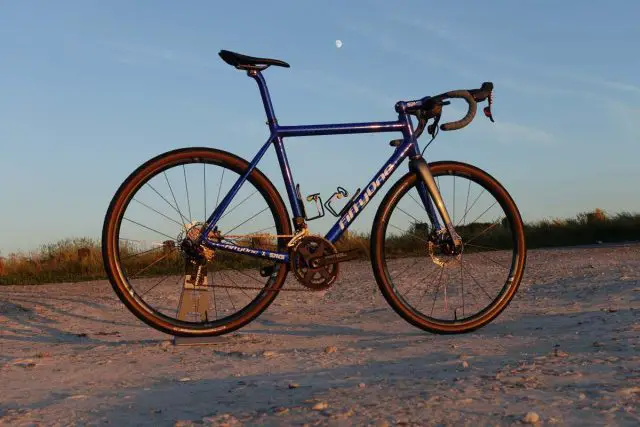 About FiftyOne Bikes – Aidan Duff – Founder and CEO
"In 1995, as an aspiring pro cyclist, Aidan Duff moved to France without a word of the language or a penny to his name. He stayed for six years, riding principally for Jean-René Bernaudeau's legendary Vendée U squad. He raced all over the world, and won stages of the Tour de Bretagne and Australia's Herald Sun Tour. He was a regular fixture in the Irish national team, and took multiple Irish national titles." – FiftyOne Bikes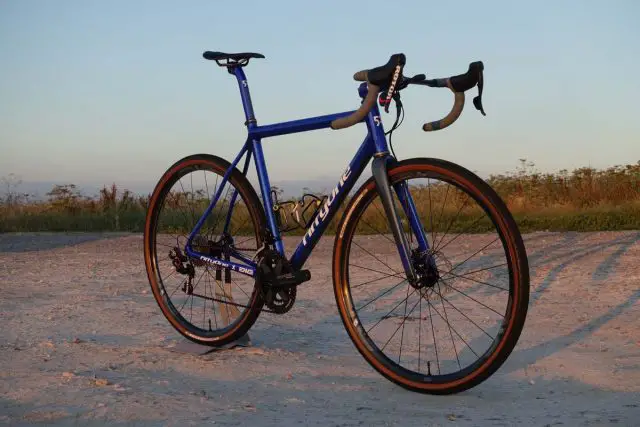 Why "FiftyOne"?
"Cycling is a unique sport, where it's teams that compete, but individuals who win and lose. Every team has its designated winner. And the only way for the team to win is for every other member to sacrifice himself in the service of the one. So, when the team members receive their dossards, the leader's always carries a number ending in '1' – '11', '21, '31' – a subtle sign to make him stand out from his team mates. First, but not among equals."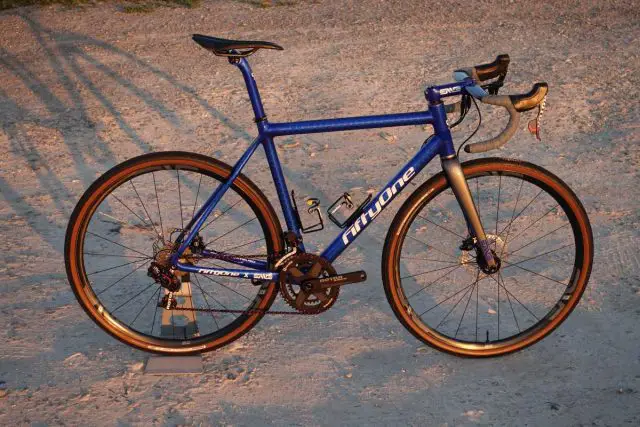 "For over six decades of Tour de France history, dossard number '1' – worn by the defending champion – was the most prized, and by far the most successful. But then, four times in nine years, the Tour de France was won by the rider wearing dossard number 51. And these were no ordinary Tours. Eddy Merckx rode to his first win, in his first Tour, in 1969. Merckx was absent in 1973 when outsider Luis Ocaña crushed the competition in both the mountains and the time trials, winning by over 15 minutes. Bernard Thévenet effectively ended the Merckx era, and took the Tour, with a dramatic attack on the Col d'Izoard on Bastille Day 1975."
"1978 saw the arrival of a new era, as Bernard Hinault took the first of what would become five yellow jerseys. Four of the greatest stories, and the greatest champions, in Tour history."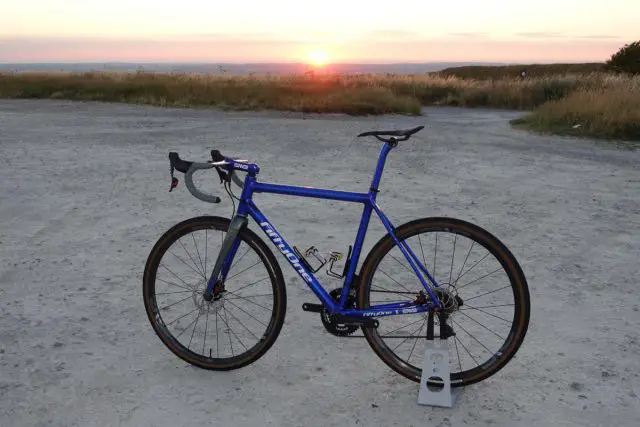 "Ever since, race number 51 has had a special mystique that sets its bearer apart. Awarding dossard 51 is a way for any race's organiser to honour a special rider, a subtle sign to make him stand out from his colleagues."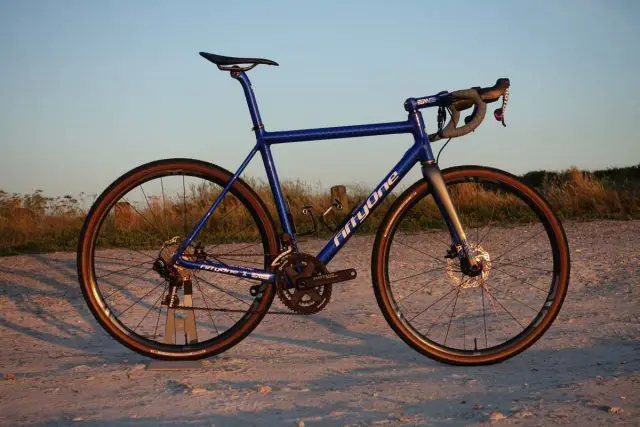 To mark the launch of the G Series wheels, ENVE collaborated with old friends FiftyOne to create the Steinès, a gravel racer for the mountains. Led out by this show bike (debuted at Eurobike), the Steinès will be a run of 10 bespoke bikes combining gravel geometry and 40mm tyre clearance with the lightness and performance for which FiftyOne is known.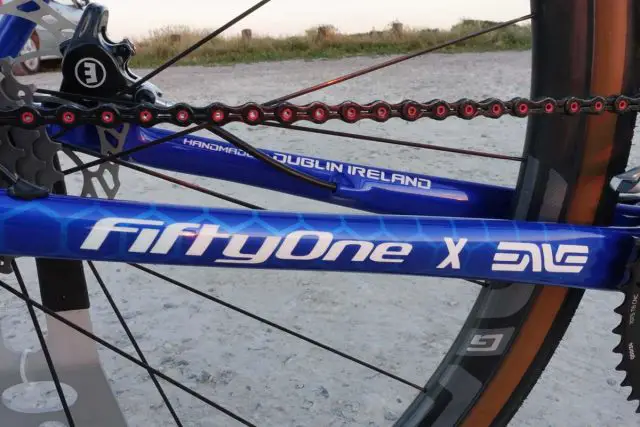 The bike is inspired by the story of Alphonse Steinès, assistant director of early Tours de France. Two months before the 1910 Tour, he made a trip to recce the Pyrenees, and in particular the Col du Tourmalet, the highest pass and at that time a gravel road.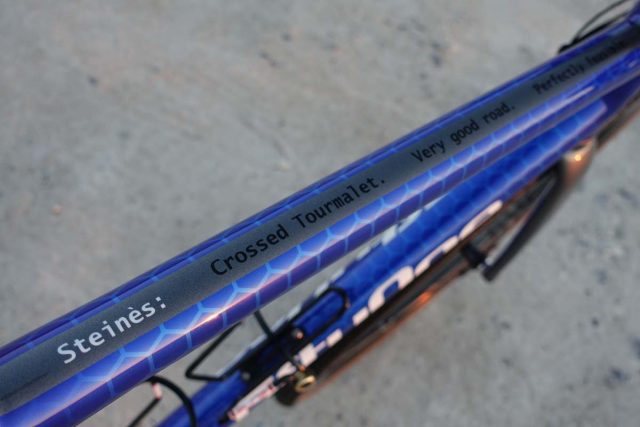 His car struggled and became stuck. He continued on foot, got lost in the dark, fell off the mountain into a snow drift, nearly died in the cold, and was lucky to be rescued by a search party at 3am. He immediately sent a telegram back to Henri Desgrange (translated from French):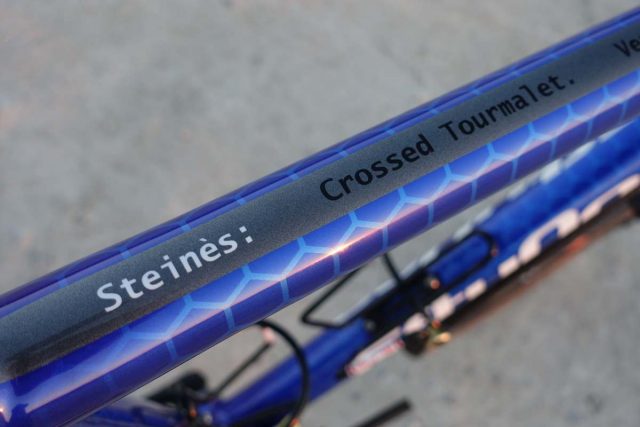 "Crossed Tourmalet."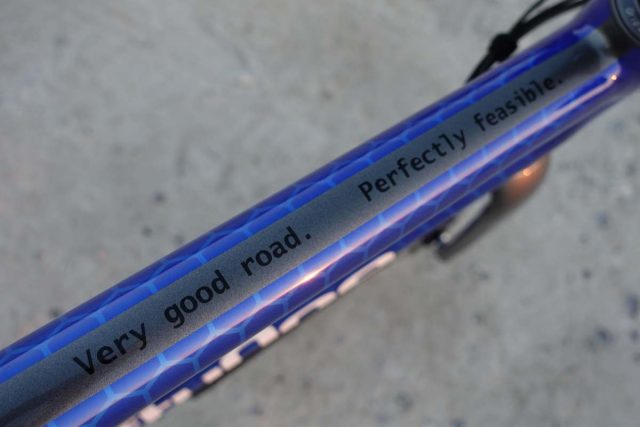 "Very good road."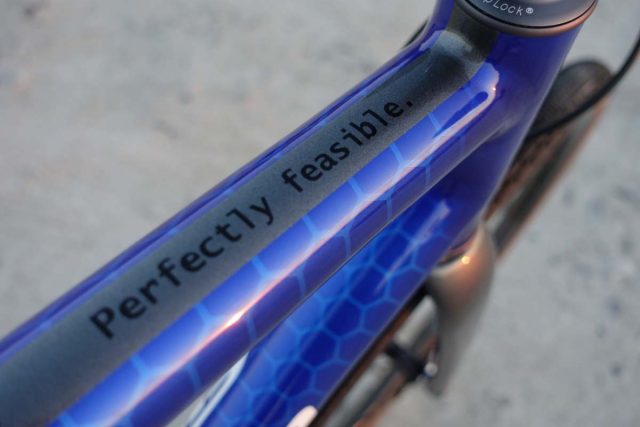 "Perfectly feasible."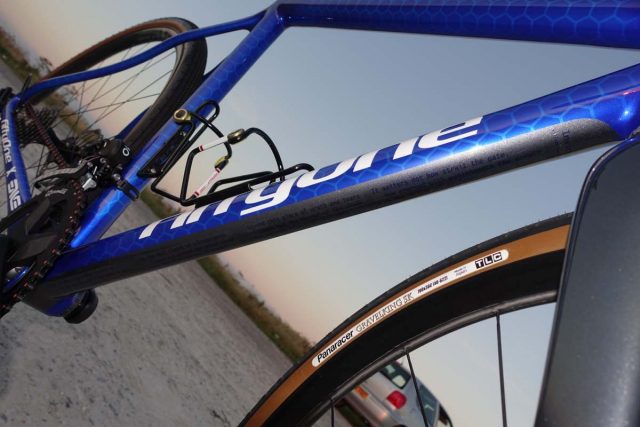 Fans of the Tour de France think of the summit of the Tourmalet as being the road's 2,115m high point, to the north is a gravel track that climbs beyond 2,600m. With the right bike, it becomes "perfectly feasible".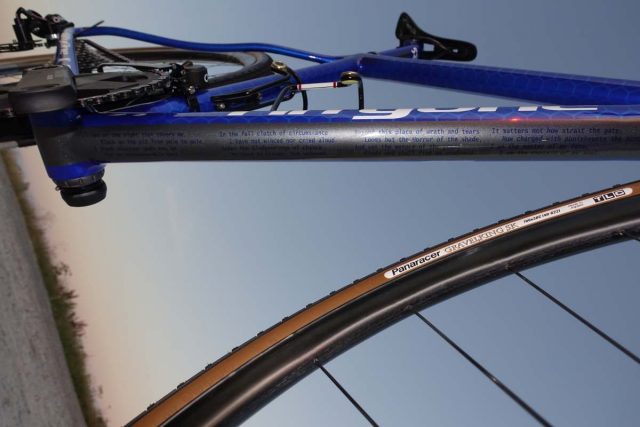 The first rider over the Tourmalet in 1910 was Octave Lapize, walking. Famously, he screamed at the officials "You are assassins!". Imagine riding a heavy, single speed bike across 326km with seven mountain passes. Lapize went on to win that stage and the 1910 Tour, and there is a large monument to him atop the Tourmalet. There is no such tribute to Steinès, thus, this bike carries his name.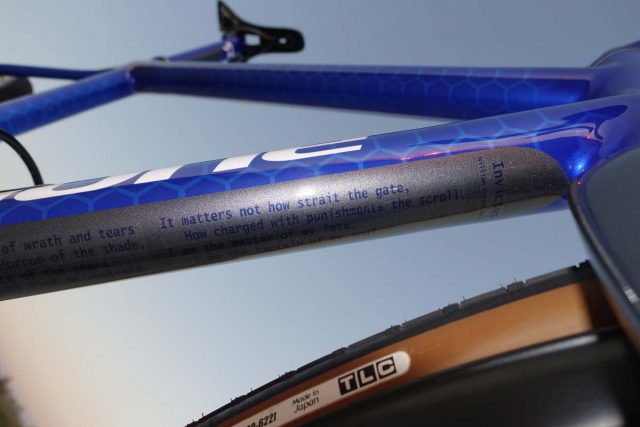 Out of empathy to Lapize, the downtube features the poem Invictus, by William Ernest Henley (see photos above and below). It's about fortitude in adversity. Henley wrote it from a hospital bed with tuberculosis, but it's relatable for any cyclist on those days when you're getting your head kicked in, be it by rivals or the terrain.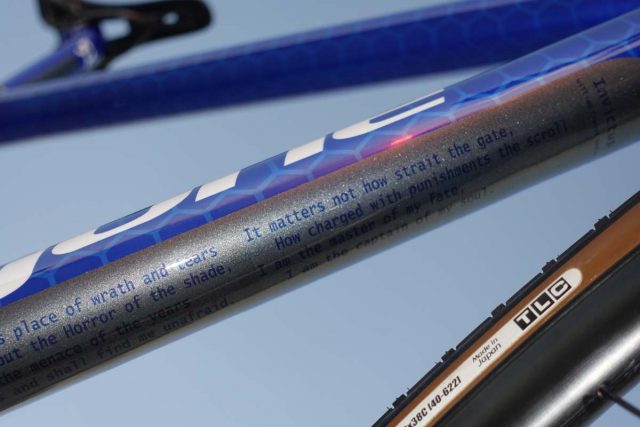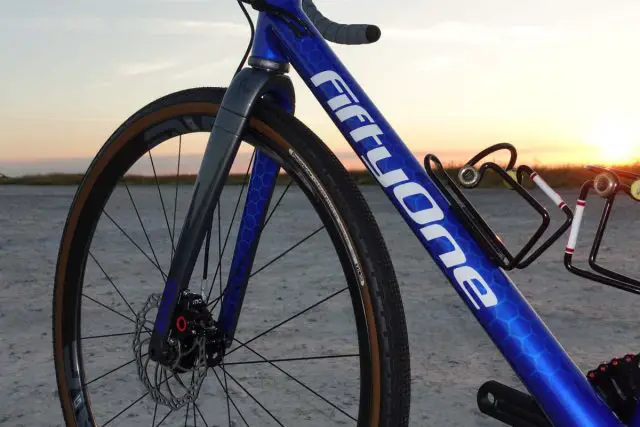 The frame's livery features a honeycomb visual texture which, along with the matching Fabric Hex bar tape, also pays tribute to the Tour de France – "L'Hexagone" is a nickname the French use for their country, after its shape. The grey stripe represents the gravel road ahead.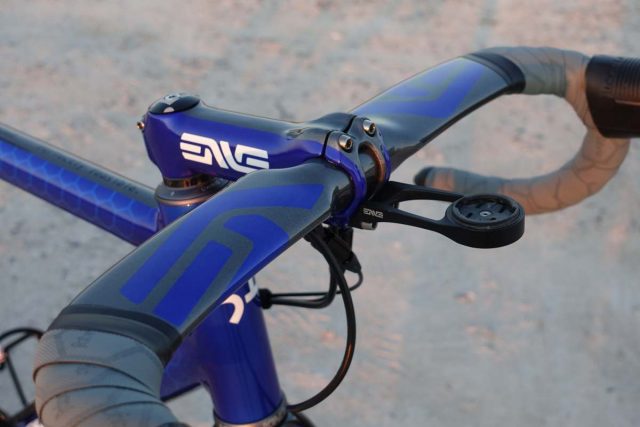 ENVE's collaboration with this bike doesn't stop at the G23 wheelset. They also supplied the fork and cockpit parts; handlebars, stem, seatpost and integrated computer mount.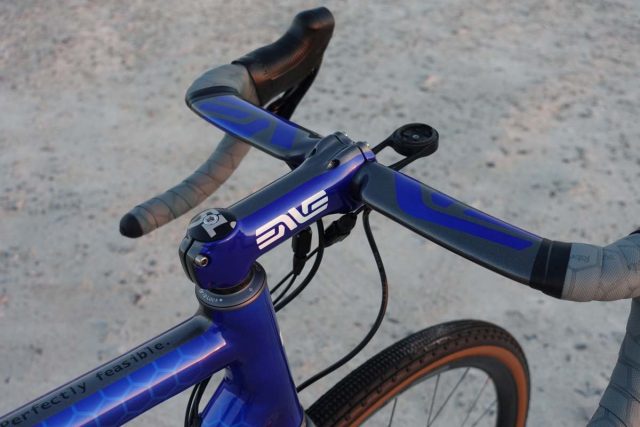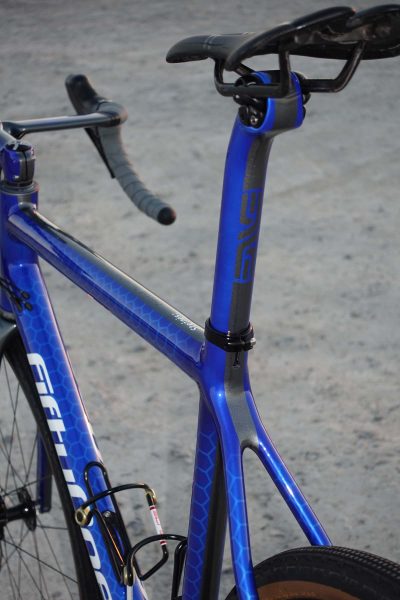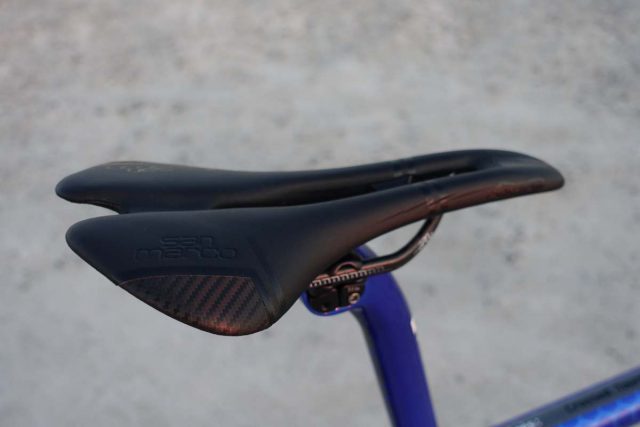 Perched above the ENVE seatpost, a Selle San Marco Aspide Carbon FX saddle.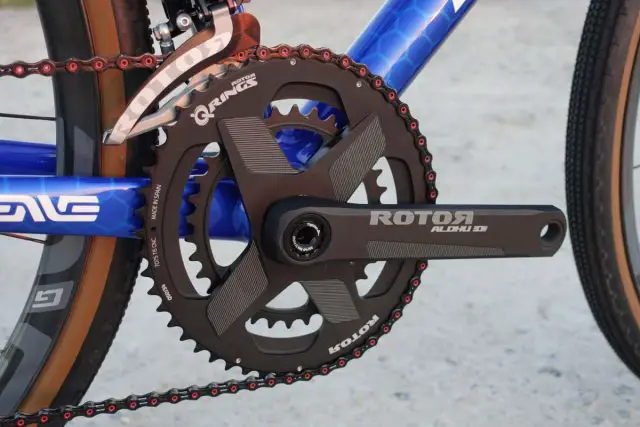 Rotor supply the groupset on this bike, which differs greatly from every other offering on the market today. Think hydraulic braking AND shifting for the front and rear derailleur. On paper, this groupset is a natural fit for gravel. There are no batteries to worry about or cables to contaminate with dirt. Be sure to check out our comprehensive review of the Rotor Uno Groupset!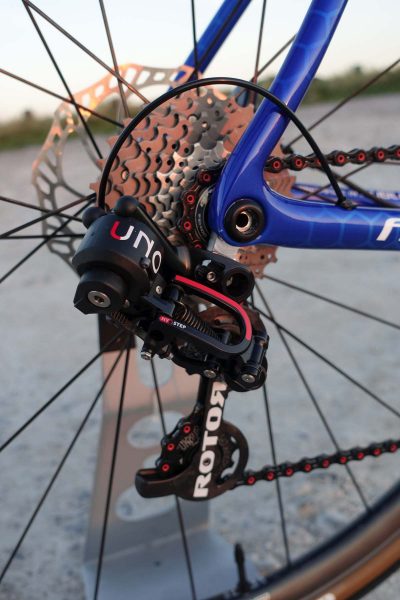 Above, the Rotor Uno rear derailleur can shift up to a 30 tooth cog (manufacturer spec).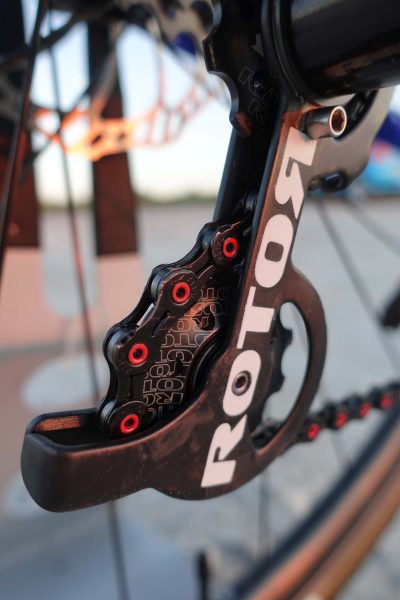 The Rotor Uno rear derailleur is a mix of aluminium and carbon, and needs to be seen in person to be appreciated.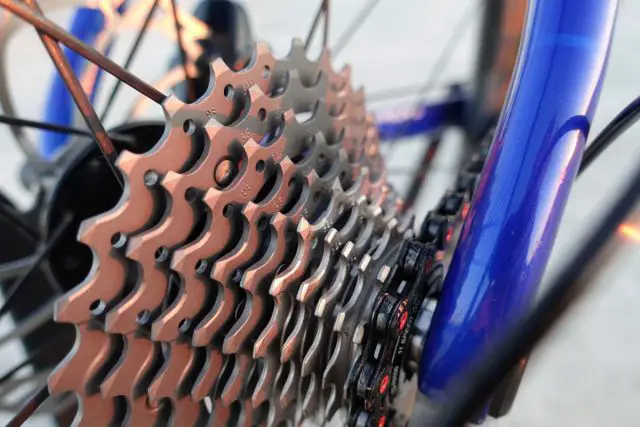 Rotor produce their own cassettes from superlight aluminium, but for durability, you cannot go past a Shimano 11-speed cassette. In this instance, a Shimano Dura-Ace model in the 11-30 ratio.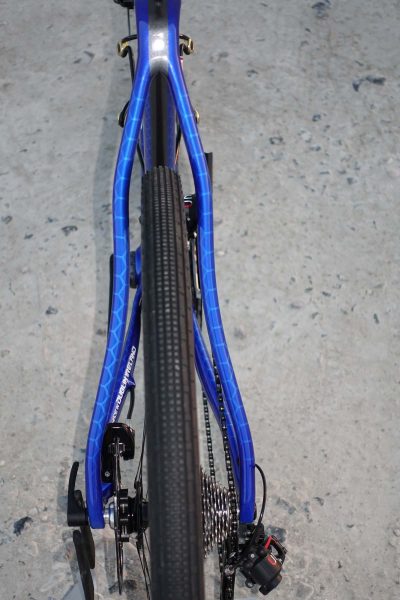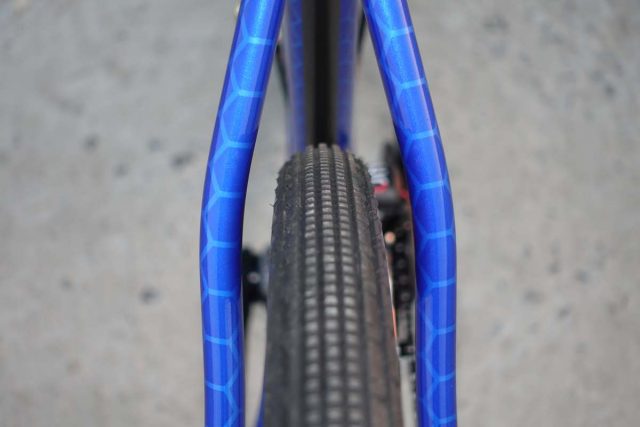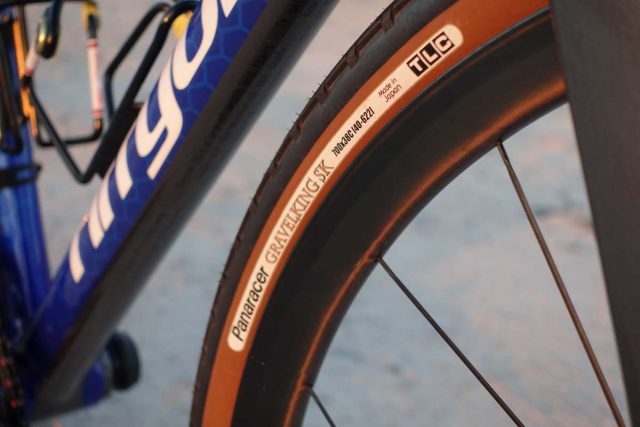 The Panaracer Gravelking SK (see our review here) is the 700c x 38mm model, and the near-perfect tyre for endurance gravel events such as Dirty Kanza 200. It has been the tyre of choice for JOM of Gravel Cyclist for all three of his Dirty Kanza 200 finishes – and many other rides and races.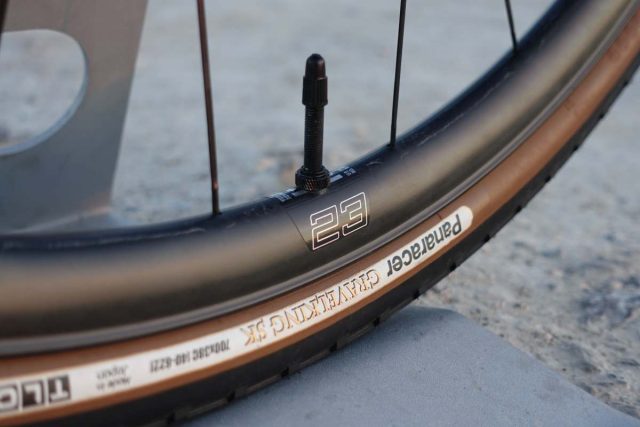 The ENVE G23 wheels are "mountain-strong and road-light" (1,342g on Chris King R45D CL hubs) – (1,298g on Gravel Cyclist's review pair on DT240 Swiss Hubs) and are the wheels used by JOM at this year's Dirty Kanza 200 gravel race. Watch this space for a video review of these wheels!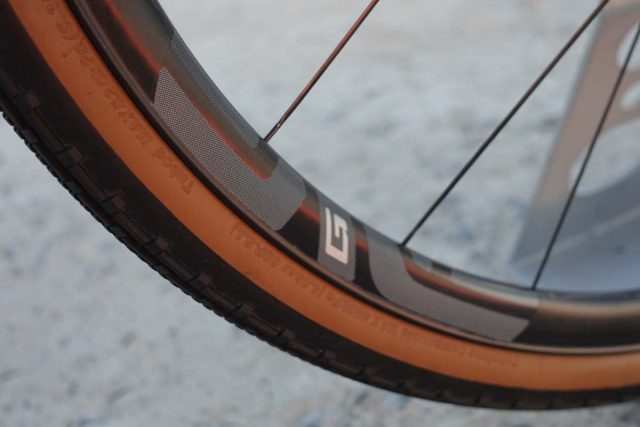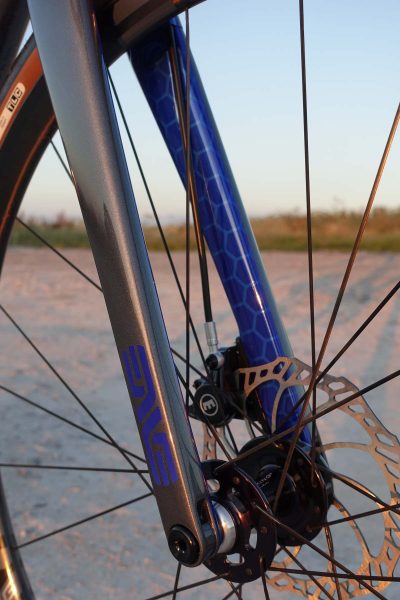 Above, the ENVE GRD fork, Chris King R45D CL hubs and flat-mount disc brake calipers by Rotor (rebadged Magura units), paired to the company's 160mm brake rotors, front and rear.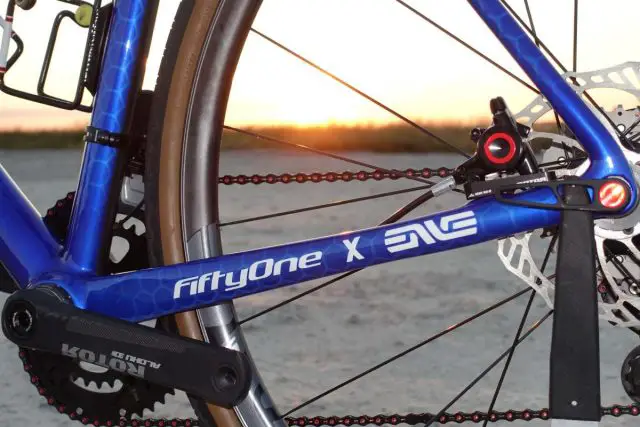 Every example of FiftyOne's gravel bike features 12mm thru-axles at both ends of the bike.
The price of this bespoke bike may cause you to balk a little. Approximately £12,500k in all ($US 16,400), with the custom carbon frame priced at £5,800 ($US 7,600).
FiftyOne X ENVE Steinès Limited Edition Gravel Bike
Frame: FiftyOne X Carbon Bespoke Gravel.
Fork: ENVE GRD.
Headset: Chris King.
Stem: ENVE Road.
Handlebar: ENVE Aero Road.
Bar Tape: Fabric Hex.
Brakes: Rotor Uno Hydraulic (rebadged Magura).
Brake Rotors: Rotor Uno 160mm front and rear.
Brake / Shift Levers: Rotor Uno Hydraulic 2 x 11-speed.
Front Derailleur: Rotor Uno Hydraulic 2 x 11-speed.
Rear Derailleur: Rotor Uno Hydraulic 2 x 11-speed.
Cassette: Shimano Dura-Ace 11-30 11-speed.
Chain: KMC.
Crankset: Rotor Aldhu, 175mm, 50/34 Q-rings.
Bottom Bracket: Chris King T47.
Pedals: N/A at the time of writing.
Wheelset: ENVE G23 rims with Chris King R45D CL hubs.
Saddle: Selle San Marco Aspide Carbon FX.
Seatpost: ENVE carbon setback.
Bottle Cages: Elite, custom painted.
A huge thank you to Jamie Wilkins of ENVE for this superb contribution!