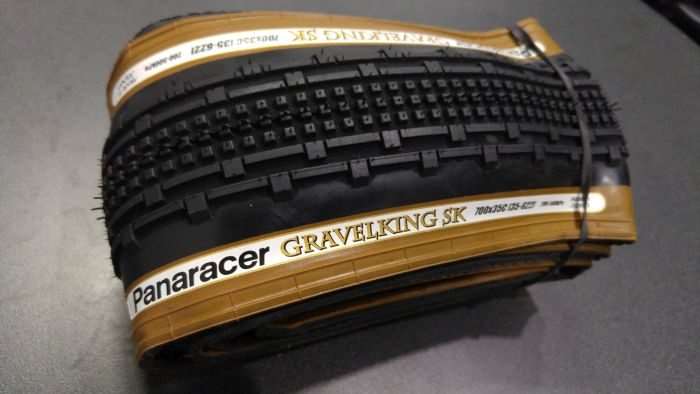 There were plenty of new tyre options at 2016 Interbike, along with a rehash or two of some old favorites. So, without further ado, let's get the ball rolling!
Pictured above is Panaracer's venerable Gravelking SK in 700c x 35mm in the brown / tan sidewall. The 700c x 40mm version of the tyre is also available in this new flavor. We at Gravel Cyclist love this tyre, you can check out our long-term review here. This tyre is available from retailers now.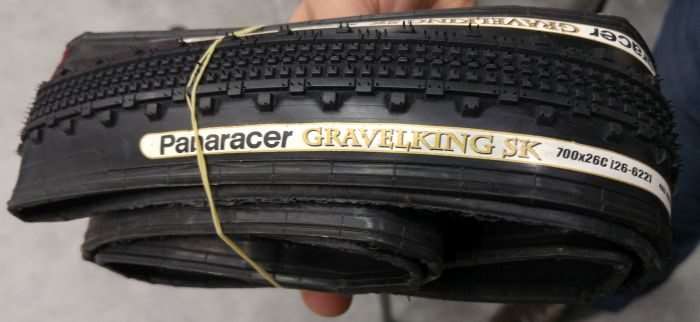 The Gravelking SK is now available in the 700c x 26mm size, which is a good choice for Roubaix type events where a road bike is optimal. These tyres are indicated as being of the tubed variety.
The Gravelking and Gravelking SK (tubed) and Gravelking SK (tubeless) are available in a large variety of widths and sizes, including 650B for the Gravelking. For the full range and more details, be sure to check out the Panaracer website.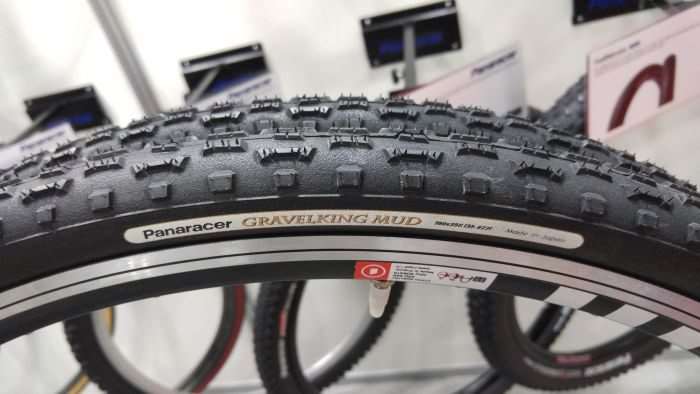 "Built on the same concept as our Gravelking and Gravelking SK models, the Mud version incorporates the same technology on top of a specially designed tread tailored to work best in muddy and sloppy conditions."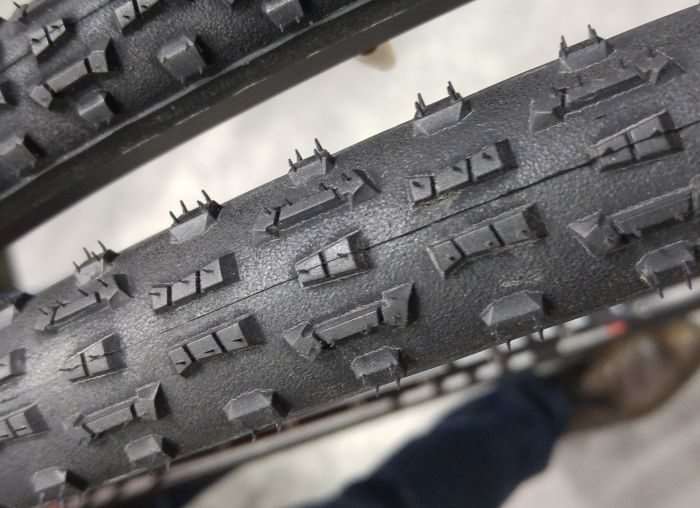 Panaracer were kind enough to send us a sample pair of the 700c x 35mm Gravelking SK Muds for review, but thus far, no rain has fallen and no mud has – thus no tyre testing. Panaracer indicate the Muds are a "tubed" tyre, but we mounted them onto a pair of American Classic Argent disc brake wheels using the Topeak Joe Blow Booster Pump (review here) with great success. Stay tuned..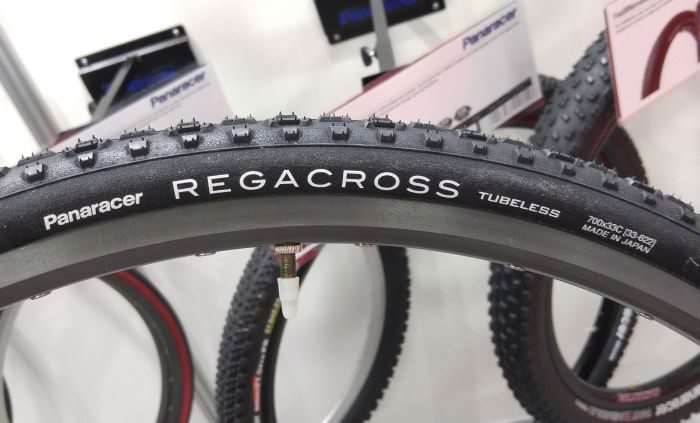 Finally, the Regacross, which is intended for Cyclocross but may find use on gravel.
"Panaracer's unique outer seal tubeless structure reduces the chance of punctures even at low pressures. The outer seal method also reduces the chance of sidewall damage to our proprietary inner construction. Specifically constructed long vertical knobs and a low profile design provide optimal transfer of muck while maintaining the ideal balance of rolling resistance and grip. Specially crafted ZSG Natural compound is used to match the rigors and demands of cyclocross for a perfect balance in performance and durability.And all of this sets on top of our time tested ax-α casing which guaranteed a supple and comfortable ride in any conditions."
Panaracer sent Gravel Cyclist a sample pair of these tyres in 700c x 35mm for future review.
Gravelking SK – Approximately $US 40.00.
Gravelking SK Mud – $TBA.
Graelking Regacross – Approximately $US 55.00
---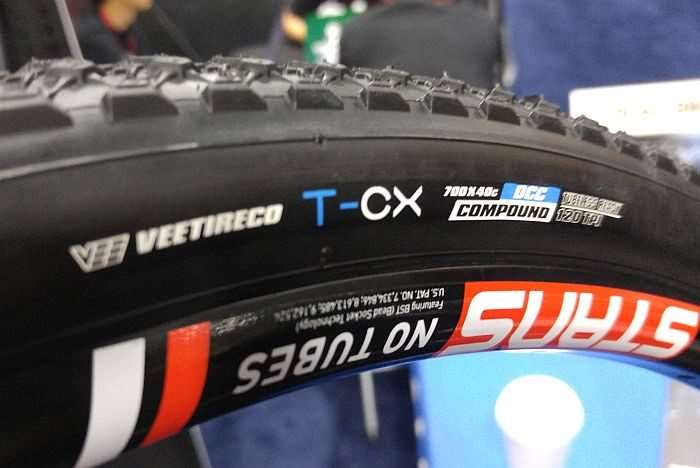 "VEE Tire Co. prides itself on offering affordable, innovative products that enable you to push the boundaries of your ride. With over thirty years in the industry, our engineering advantage has elevated the bicycle experience by providing you with a premium tire you can trust is on the cutting edge."
Relatively unknown by many consumers, VEE Tire Co. featured two new gravel tyre options at 2016 Interbike.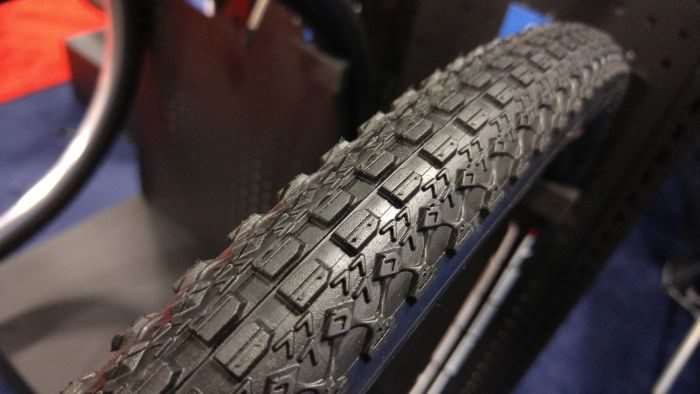 The first is the T-CX – "This tire is ideal for a mixture of conditions but excels in in hard-packed dirt and gravelly conditions. The T-CX uses a smaller version of the well-loved twin block tread pattern which forms a consistent rolling feel while offering a lot of working edges for high levels of traction. The central side-by-side tread blocks are siped, and between those and the angled squared intermediate knobs are three lower V treads. The intermediate and edge treads are connected with small tie-bars to ensure the transition to the edges under hard cornering is a smooth, predictable and enjoyable experience".
The T-CX is tubeless ready and features Vee's "DCC Compound" – "Our Dual Control Compound features two kinds of materials for speed and control. With a hardness of 56 A in the center and a lower 48 A on the sides, this allows our tires to maintain a fast rolling resistance with excellent cornering capabilities.
Available in 700c x 33mm, 700c x 40mm and 650B x 2.1" sizes with 120TPI casing. These tyres are priced from $US 35.00 and are available now.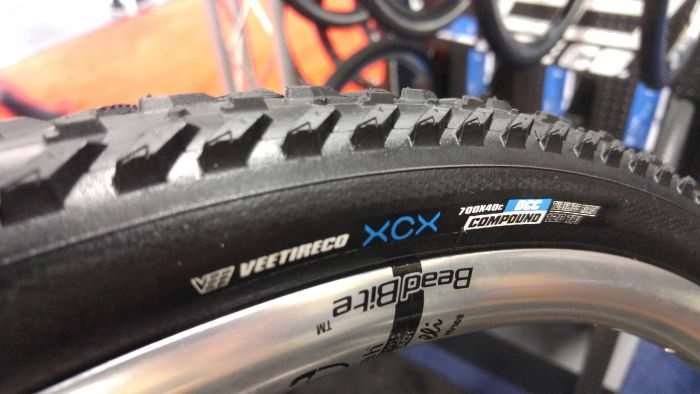 The XCX – "This tire is ideal for a mixture of conditions but excels in soft to medium dirt, as well as gravel. The XCX uses an open tread pattern that promotes self-cleaning, keeping weight low and traction as high as possible. Thanks to the slanted parallelogram shaped center tread, these allow fast running but maximum grip. Intermediate knobs are ramped to ensure a predictable feel and consistent cornering control. The XCX utilizes our 120 TPI Dual Compound construction offering enhanced grip and exceptional durability in the same carcass. The lightweight aramid folding bead ensures overall tire weight is as low as possible. So whether you're exploring the gravel tracks and paths away from the road, or chasing down the competition, the XCX guarantees a thrilling ride."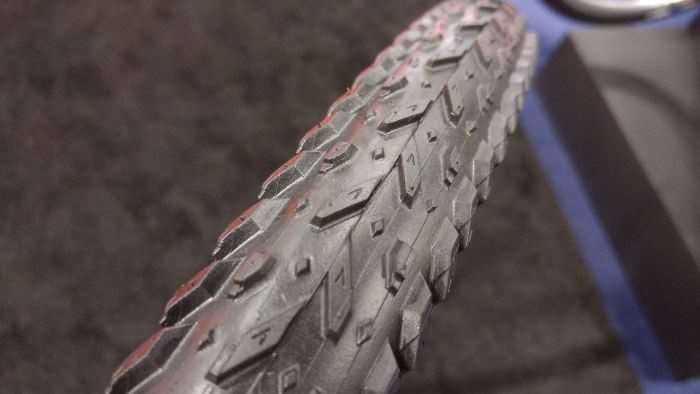 The XCX comes standard with Vee's DCC Compound and "Synthesis" – "specially woven and lightweight layer gives additional puncture and cut protection to your tires. Adapted from road tire technology, Synthesis is lighter than our standard casing, enhances performance and features a high-end aesthetic exterior."
The XCX is tubeless ready and available in 700c x 33mm, 700c x 40mm, 650B x 1.95″, 29'er x 1.75″ and 29'er x 1.95″ sizes with 120TPI casing. Priced from $US 40.00 and available now.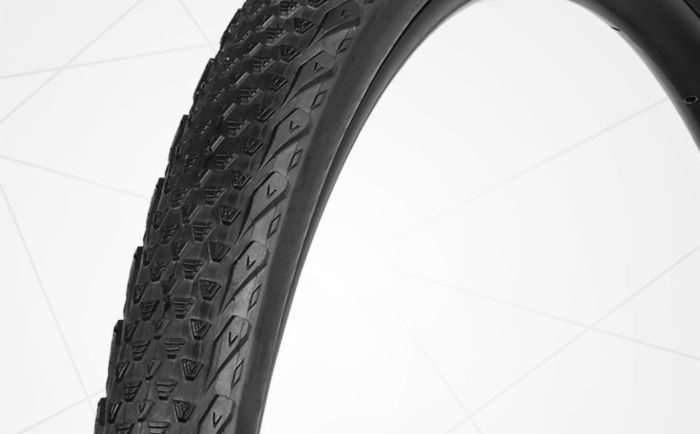 Vee Tire Co. also offer the Rail tyre for the gravel cycling genre, but unfortunately we didn't see it at Interbike. "Everything about the Rail was designed for speed. From the specialty center and transition knobs for lower rolling resistance to the tapered cornering knobs for quick maneuverability, this cross country tire offers a fast ride."
The Rail comes standard with Vee's DCC Compound and Synthesis technology. The Rail is tubeless ready and available in 700c x 40mm with or without "Synthesis" protection, and a 120TPI casing. Prices starting at $35 – available now.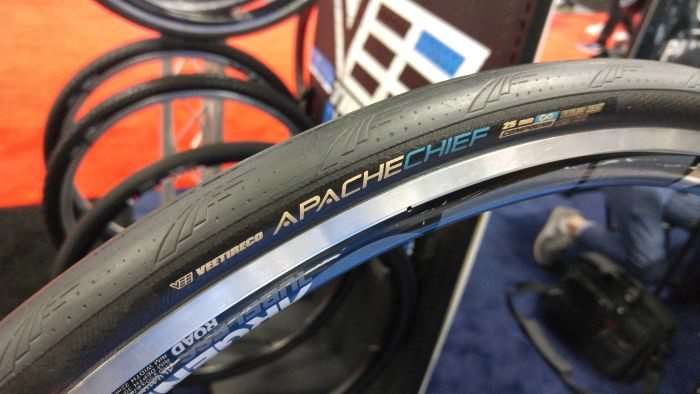 Not a gravel tyre, but a road tubeless specific tyre, great for those riders who indulge in Roubaix type events – see Rouge Roubaix, etc.
"The Apache Chief has taken all of your favorite features from the Apache and combined them with our latest technological advancements. This road tire has even better rolling resistance, control and durability but is now tubeless ready, making it one of the lightest of its kind on the market to date."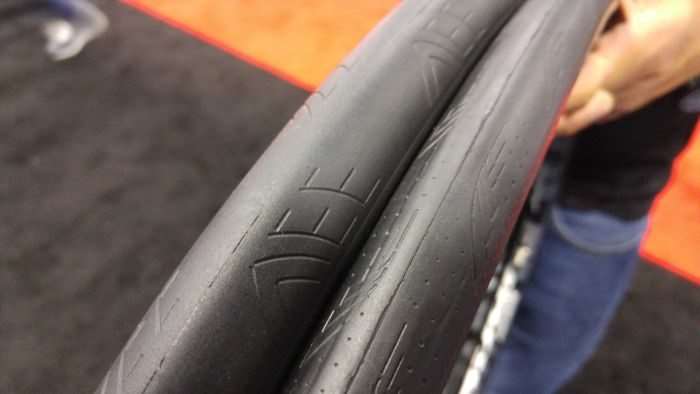 The 120TPI Apache Chief casings feature:
Continuum Compound –  "Continuum Compound is designed to keep our road bike tires as fast as possible. With a hardness of 66 A on our 100 A point scale, this compound offers a high level of durability and low rolling resistance that keeps your tire rolling continuously."
B-Proof Aramid – "Our B-Proof casing features a specialty material that adds extra protection without the weight. Nearly identical to a fabric seal, the casing is paper thin but adds extreme strength."
Synthesis.
Available in 700c x 23mm, 700c x 25mm, 700c x 28mm and 700c x 30mm with 120TPI casing, the Apache Chief offers another alternative to the one or two brands currently offering road tubeless tyres. Priced at $US 55.00, the Apache Chief is available now.
---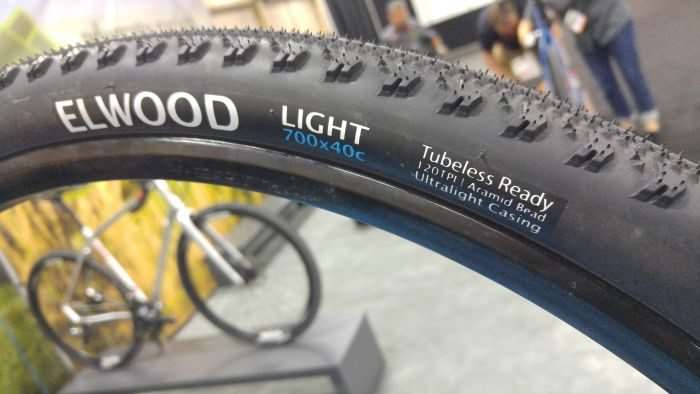 Elwood Tires – "It's all about the ride—it always has been. At Terrene, we put riding at the center of the experience. As riders, we understand what matters most—be it an afternoon on your favorite stretch of singletrack, a long day on an unending dirt road, or an extended tour. From the very beginning of the process until the tread hits the dirt, we mix decades of experience in product development and a passion for riding to create tires that are ready to ride for people that live to."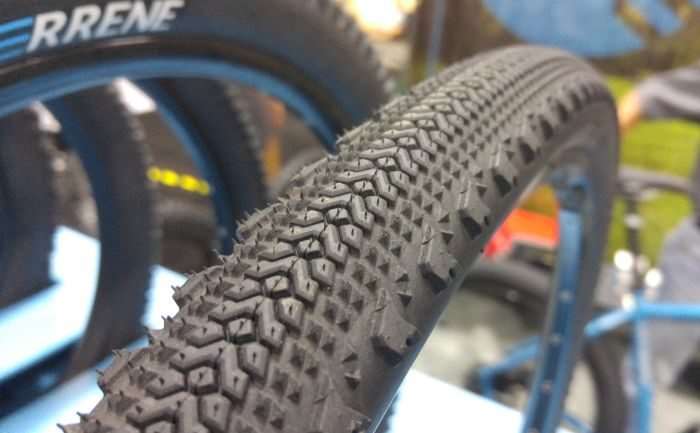 "Elwood is our dirt road tire designed with a fast rolling tread and aggressive side knobs so that you can confidently take any fork in the road and still be in control when things gets rough."
Featuring two casing options and tubeless compatibility, Terrene offer the Elwood Light (120TPI / 430 grams for 700c x 40mm) and Elwood Tough (60TPI / 515 grams for 700c x 40mm), as well as a 650b x 47mm option. Terrene sent Gravel Cyclist pair of the 650B Elwoods which we will be reviewing soon. Stay tuned…
Priced starting at $US 65.00.
---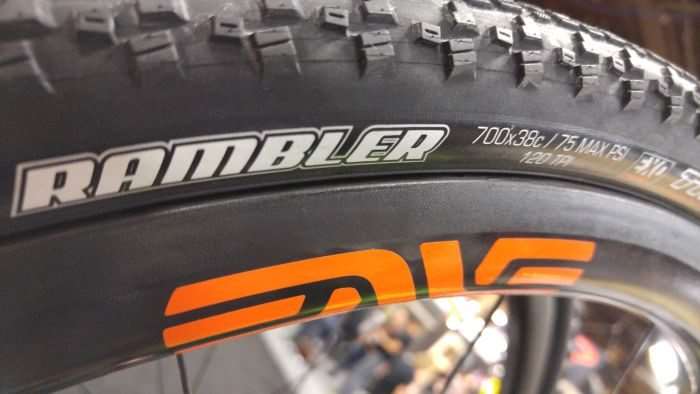 The Maxxis Rambler, no longer a 700c x 40mm tyre, becomes a 700c x 38mm tyre. We're scratching our heads over that one a little. The 700c x 40mm proved to be a fantastic performer, you can see our long-term review over two hemispheres! – HERE.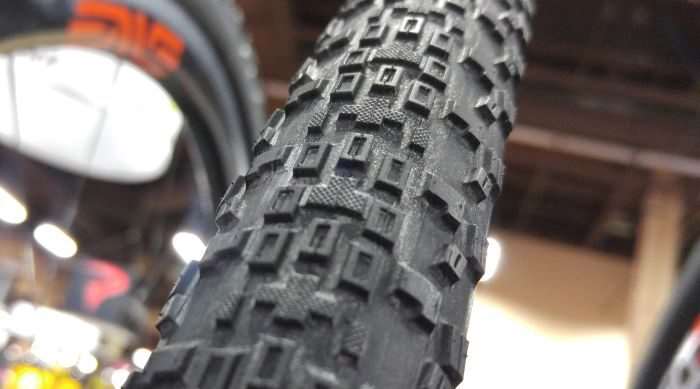 The Rambler's casing may have gotten narrower, but the tread pattern remains the same.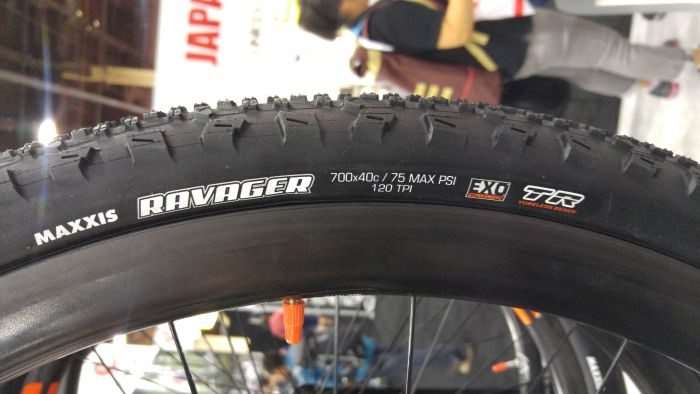 New for 2016 / 2017 is the Maxxis Ravager, a 700c x 40mm gravel tyre – "The Ravager is a gravel tire for the riders out there willing to brave aggressive terrain with only their drop bars and a tiny amount of rubber beneath them. While other tires are designed to let you ride beyond the end of the road, the Ravager opens up new line choices, camping spots, and epic adventures where no road ever existed. Raised square-edged center knobs provide climbing and braking traction on moon dust covered trails, and oversized cornering knobs keep you and your gear out of the dirt to conquer another turn."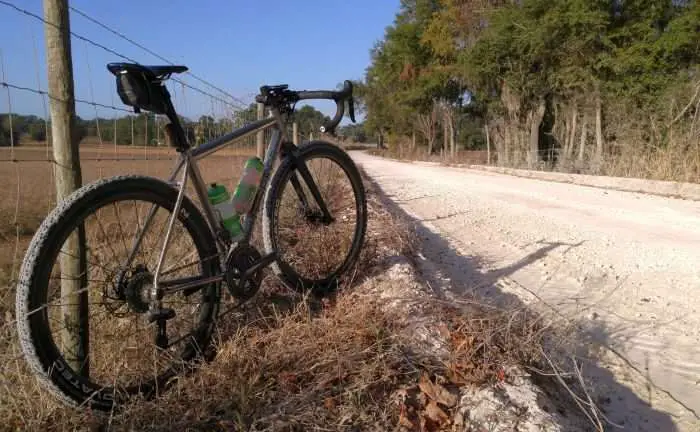 The Ravager features the same puncture protection and tubeless capable options as its brethren, the Rambler. Maxxis sent Gravel Cyclist a pair of the Ravagers for review; the review is almost complete. Pictured above, Litespeed T5G gravel bike fitted with Maxxis Ravager tyres.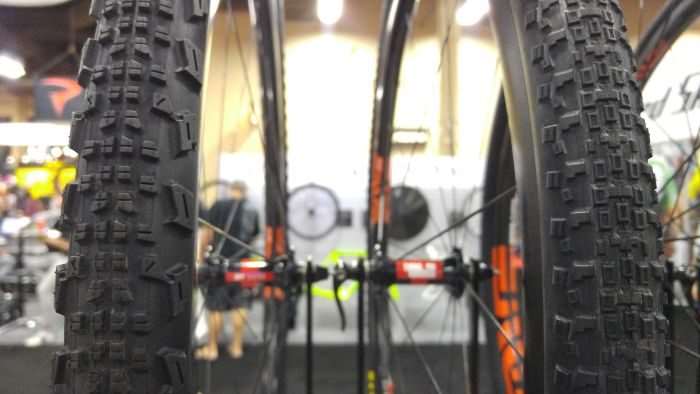 Maxxis Rambler starting at $US 49.99.
Maxxis Ravager $TBA.
---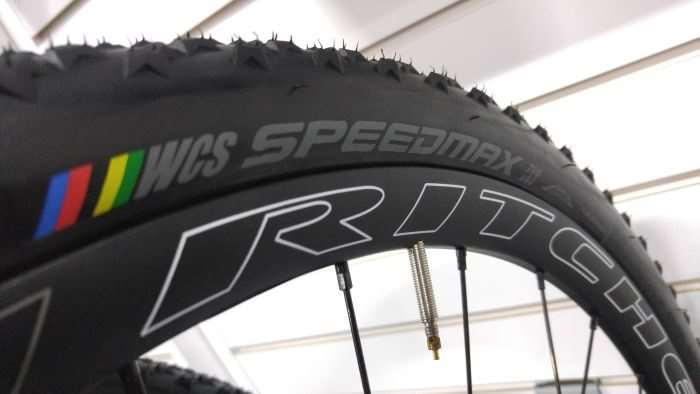 Ritchey WCS Speedmax 700c x 40mm  tyre. Ritchey wasn't forthcoming with information about this tyre when we spoke to them at Interbike, nor have they returned our phone calls. Unfortunately, the internet is devoid of results.
All we know is – the WCS Speedmax is tubeless compatible and probably weighs in the low 400 gram range.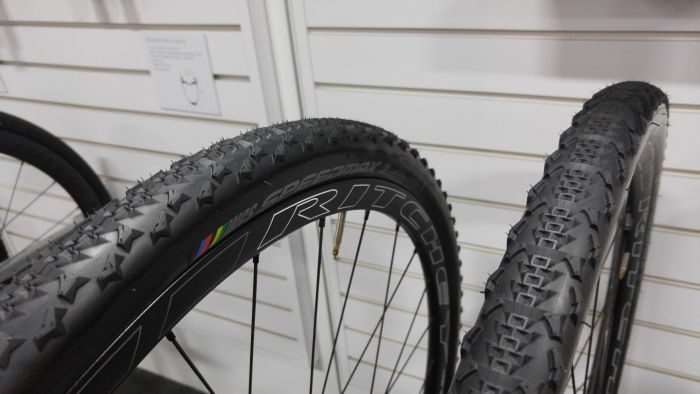 The tread pattern appears to be similar to Ritchey's 700c x 35mm Speedmax Comp Cross tyre, but that is where the similarities end.
Availability, details and pricing to be announced?
---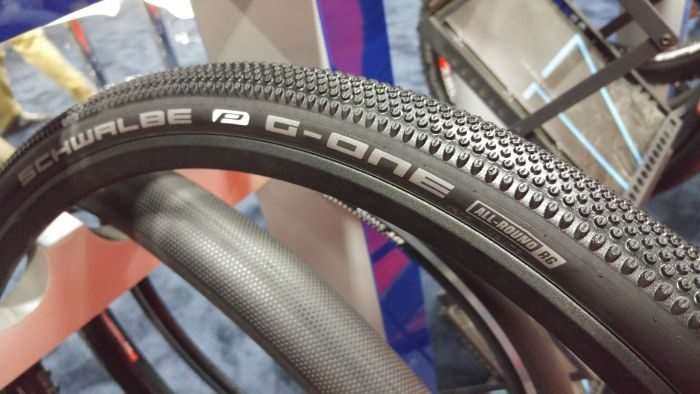 New for 2017 is the Schwalbe G-One All-Round – "The Schwalbe One family provides the right tire for the latest gravel bike trend. The smooth rolling G-One profile and Tubeless Easy technology make it a pleasure to ride over forest paths and rolling fields."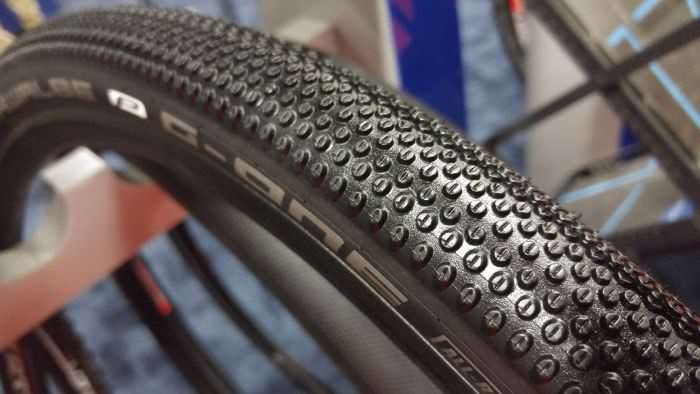 Gravel bike trend? It's more than just a trend! Moving along… unfortunately, we cannot see any determinable differences between the current Schwalbe G-One gravel tyre, but perhaps there is something beneath the surface Schwalbe is not talking about – yet.
Unfortunately, the company's website offers up very little information, only to say the All-Round is a new option for 2017, which appears to be available in 700c x 35mm, 700c x 38mm, 650B x 1.5″ and 650B x 2.8″ sizes.
Prices and available to be determined.
Thanks for reading!