Before the Gravel Cyclist came to be, the crew of JOM, K-Dogg and Dr. Pain were already stretching their travel legs, looking for something to cure the boredom related to the sisyphean existence of road racing in Florida. Rouge Roubaix is a race that will stretch your legs and mind – 100+ miles of some very nasty pavement, questionable gravel roads and some fab scenery through the Tunica Hills of Louisiana – on road bikes.
Rouge Roubaix 2010
It was apparent that after 10 hours of driving, Dr. Pain, JOM and I were in for something completely different at the Rouge Roubaix 100 mile road race. About 20 minutes north of Baton Rouge, Louisiana and just up the hill from the mighty Mississippi river, the race host town of St. Francisville was – like the actual race – a gumbo mix of the good, the bad and the ugly.
The race hotel, the St. Francis on the Lake Quality Inn was so old and seedy you might assume Huey Long lost his virginity there as a teenager. The "lake" was an algae rimmed drainage pond. The room actually had a coat of fresh paint but unfortunately it was all on the carpet. The parking slot in front of our door was a viscous puddle of toxic spooge and cigarette butts (left by the painter) that never dried out despite three days of direct sunlight. At least the hotel was convenient to the race start which was in the hotel parking lot 50 feet from our door. That was the only good part.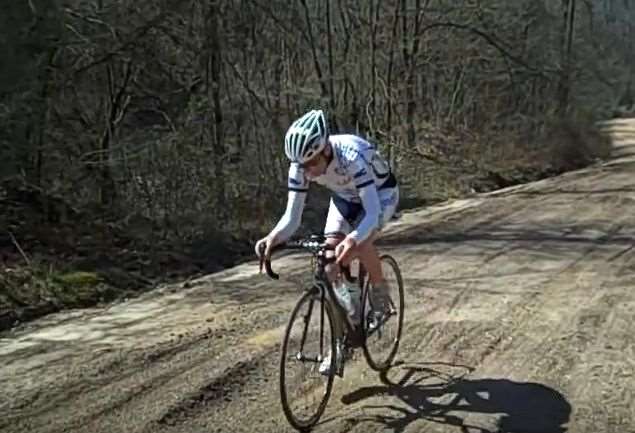 Our dining experience began with, and ended at a "remodeled" Sonny's BBQ and now called "Sonny's Pizza." I had the marquis special "Lent approved Craw fish Pasta" , while JOM and Dr. Pain each ordered a 12″ vegetarian pizza. They actually received and were charged for 16″ pizzas. Vegetarian meant green peppers, onions and olives. Catholics are supposed to give up something for Lent, I should have given up the Crawfish pasta – my stomach went to hell anyway.
After sleeping in and avoiding the still congealed cheese pizza in the fridge and spooge in the parking lot we loaded up the bikes and went for a 100 mile reconnaissance drive of the course. We were glad we did because of the valuable and lucrative "tribal knowledge" we discovered about the scary dirt sections. That night we mulled over our commitment and considered skipping the race and enjoy the more sedate "Grand Fondo" tour ride on the same course.
Sunday morning, after watching JOM worriedly roll toward the back of the choked Pro 1-2-3 field, Dr. Pain and I gathered our courage at the front of the 40+, 50+ and women's 65- person combined field. The promoter took a roll call of the women but didn't bother with us guys. Nice touch, save the bells, men are expendable.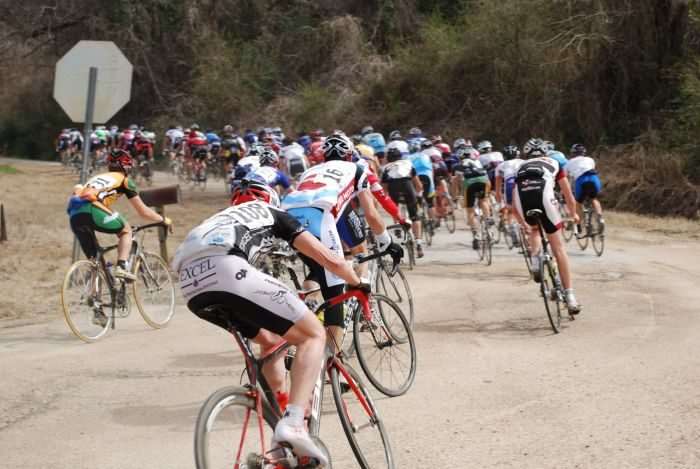 After five miles of controlled escort the Sheriff cut us loose to race. We managed to stay at the front despite a few attacks (many instigated by women) until we hit the first gravel on Woodstock road at mile 25, then all hell broke loose. Dr. Pain and I managed to position ourselves in the front dozen or so as the attacks and churned-up marble/dust surface began to take its toll on the pack. After two miles there were two guys just off the front with me and two other guys chasing.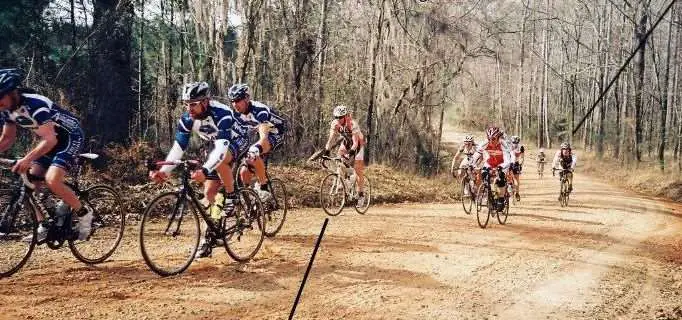 Eventually two strong women joined us with four to five others chasing 100 yards further back. I kept stealing glances back – hoping that Dr. Pain was in this chase group but couldn't see any orange jerseys through the dust clouds so I went to the front occasionally to make it hard for any other competition to rejoin us. It turns out Dr. Pain was there, but he managed to channel his anger at me into legs that finally bridged up. Sorry dude!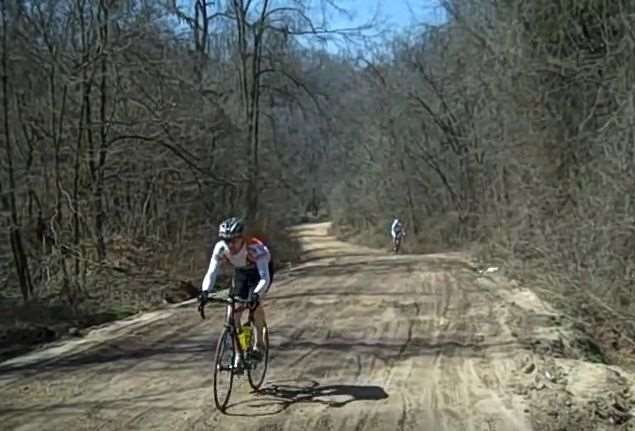 Finally after 8.5 miles of Slip n' Slide, we emerged gratefully from the Forest of Arenburg onto smooth sweet asphalt. We were down to only 10 riders – four women, four men 40+ and two men 50+. An absolute perfect stay-away machine with all three groups represented. For the next 30 miles we just rolled and rotated along carefree up and over rolling hills and past restored antebellum plantation homes. At one point we soft pedaled to allow a woman a quick pee break. She was towed back up by a true southern gentleman driving the wheel truck. How sweet – but not really – because the motorcycle dude lied when he assured us the closest chase was five miles back. Five minutes later 10 more racers bridged up – tired but very pleased with themselves.
Their pleasure was short lived.
Less than a mile later we turned onto the second dirt stretch and every one of the new cling-ons vanished like beggar weeds under a lint brush. This section began with a 12% kilometer long hill and two fiendishly spaced sand traps side to side – Blockhouse Hill. At the very top was a fat guy waving a $100 bill. The first person to grasp it got to keep it. We all wanted it badly – Masters men had no finish money – just a poster and "a really cool trophy!" Dr. Pain and I had managed to hit the hill in the front six which included two very pushy women locked into their own prime pursuit.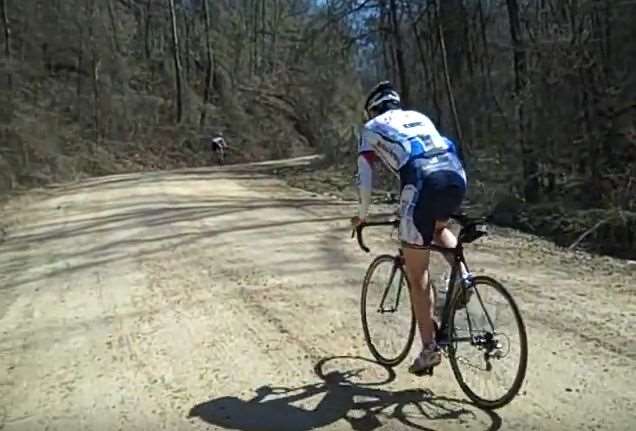 We had climbed this hill three times the day before and knew every square inch. Unfortunately, at the first sand trap three people stopped dead in front of us so everybody was forced to run then remount 50′ up the road. I got through first but was caught and passed by three strong 40+ dudes. I didn't give up because they were weakening as they approached the second and more insidious sand trap. To my joy they went left and fell over hard in a cluster-clump of cursing and rooster tails, while I veered right and pedaled away, giggling in a state somewhere between euphoria and asphyxiation. One hundred feet later I snatched the fat man's Franklin, stuffed it into a sticky Gu pocket, rolled down the other side of two more steep dirt hills and had to sprint up to a few angry guys bent on spitting my grinning ass out the back.
Soon we hit pavement again and were back to the same original rotation minus a few people, including – to my dismay – Dr. Pain. Twelve miles and two major leg cramps later we hit the last and toughest dirt section of the race, six miles of hors-category steep and unrelenting hills – the Tunica Hills.
The first hill knocked everybody down – pro and not so pro alike and forced them to run shoulder to shoulder up a pile of marbles at 45 degrees in shoes that might as well been sheets of ice for all the traction they offered. The equally steep, scary descents were riddled with potholes, creek crossings, and high speed marble-scattered corners that mocked any thoughts of making up time to the escape group that had finally dropped the old guy and forced him into a 20 mile solo time trial to the finish and first place.
At this point Dr. Pain flatted one of his "no-flat" fancy-pants tubular tires, just as he was bridging up to us in the dirt. Dang it! Adding insult to injury his tire change took 15 minutes due to his superior "ain't never coming off" gluing skills and cigar-sized micro- pump. Even after all this he came in a respectable fourth also after a 20 mile solo time trial to the finish. If not for that flat we would have put two jerseys on the podium. After the race he kept mumbling something about clinchers and wheels in the van. NEXT YEAR!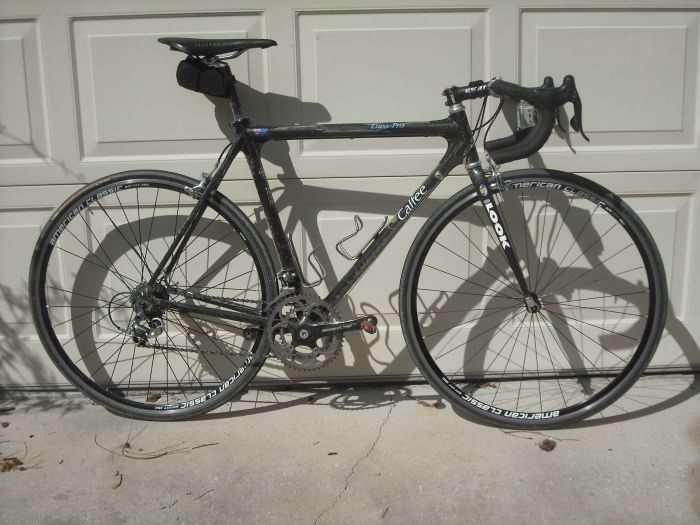 The finish, like the food was anti-climatic. Racers dribbled across the line to a smattering of applause under an arch of Live Oak, Spanish Moss and purple Tulip trees. The hills, the dirt, the dirt hills and 100+ miles just wiped everybody out but most were happily chatting about how much fun they had. A few minutes later Dr. Pain rolled in exhausted but grinning about how cool and epic the whole thing was.
JOM reported that the Pro 1-2-3 field shattered like ours on the first dirt section but that he and a few others kept working and he managed to finish 15th… but one spot out of the money. He was mumbling something about being happy he turns 40 next year. Hmm. The mental race for next year has already begun (you can see JOM's first ever race video of the 2011 Rouge Roubaix here… please excuse the helmet cam and crappy editing).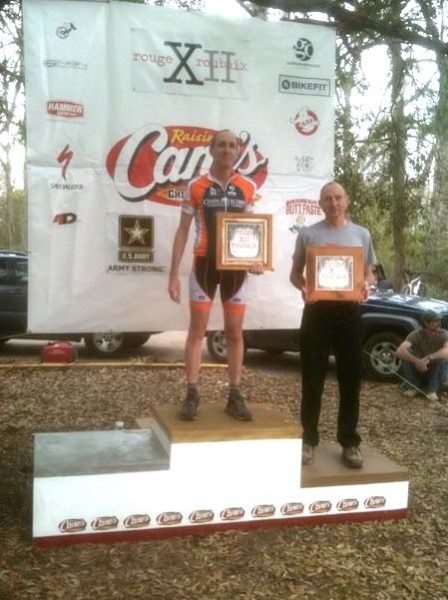 The awards ceremony was on the lawn back at the St. Francis on the Lake Quality Inn hotel. All the free beer and jambalaya you can eat, which we did. Two hours later, for some reason, we were starving again and went back downtown looking for anything but Sonny's Pizza. Everything was closed except for a limited Sunday menu at… yep… Sonny's Pizza!
For our Last Supper our choices were either Vegetarian Pizza or Italian Vegetarian Burritos which consisted of pizza dough formed into pita pockets with green peppers,onions and olives – each made with a brick of chewy cheese that could double for a hotel door wedge. This may also explain the parking lot spooge.
At any rate, we all agreed we just have to do this race again next year. There is just nothing else like it down here, but we will probably bring our own food next time.
K-Dogg