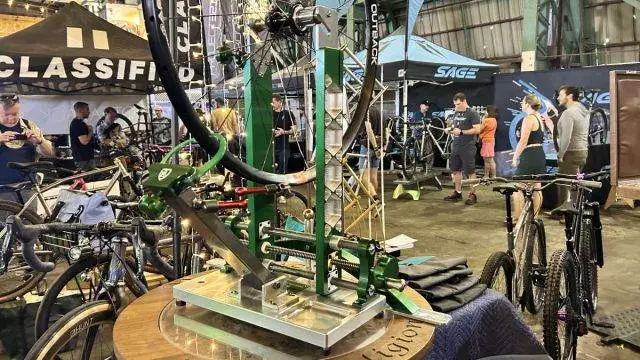 "Tools matter, they build things and are pivotal to the manufacturing and assembly of pretty much everything. Our professional tools help talented craftsmen elevate the bike mechanic trade. A trade that needs elevating." – Jason Quade, Abbey Bike Tools, Owner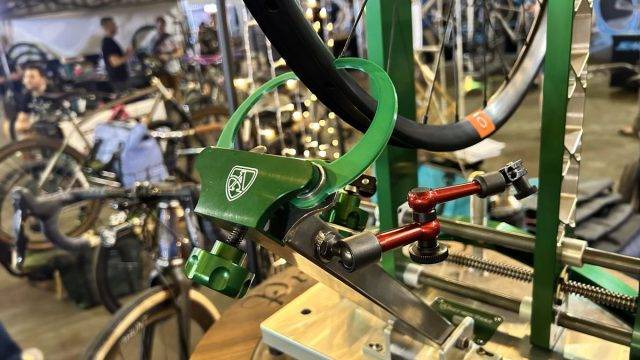 The Truing Stand
"There's a truing stand and then there is The Truing Stand. What's long been a bike shop staple isn't always the most glamorous tool in the shop, in fact it's usually a pretty basic device. But the work that comes off the truing stand is often the thing bike shop hero's are made from, the legendary perfectly built wheel. So what if we revisit the lowly truing stand, approach it like a piece of metrology equipment instead of something that does little more than hold a wheel? There's so many ways to 'hack' a truing stand, if you're going to make a proper tool why not go all out? "
Abbey Bike Tools: The Truing Stand Video
In this video, JOM of the Gravel Cyclist crew meets with Jason at the 2023 MADE Show, founder of Abbey Bike Tools, for a tour of their latest product. Undoubtedly, the Ultimate Truing Stand.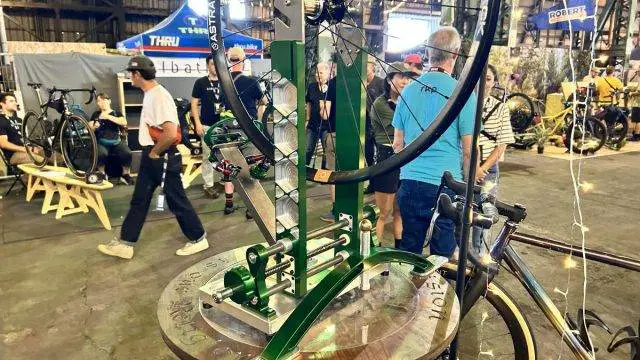 Continued from Above:
"We set out to make a truing stand like no other, something that had a stable base as a foundation for precision and repeatability. We wanted the stand to reliably mirror on a centerline so it would always be in dish regardless of hub or rim width. We needed a good thru axle solution that didn't require adapters. In the disc brake era we wanted to be able to straighten rotors while the wheel was in the stand. We wanted a stand that was equally at home truing wheels for a general tune up as it was building wheels worthy of elite competition. We added the ability to run dial indicators for radial and lateral deviation and you can run one for the rotor if you'd like. Design is all about compromise and we spent nearly 6 years thinking and tinkering this one, the results do not disappoint."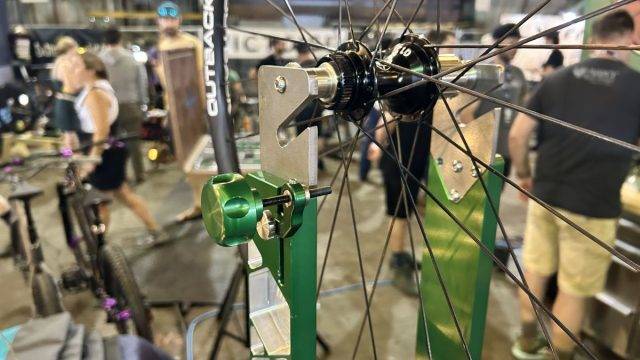 Igus drive components for nearly maintence free operation.
Linear rails for smooth movement of the uprights.
lateral indicators ride on sealed cartridge bearings for smooth operation.
indicators operate on a push pull motion so they are always mirrored from centerline.
The radial indicator can be positioned wherever you like or used for single sided lateral truing if desired.
Compatible with hub widths from 70 to 220 millimeters
Lateral indicators are compatible with rim widths from 15 to 65 millimeters. The single indicator can work with any rim width if additional compatibility is needed.
Rotor indicator can accommodate rotor sizes from 120 to 210 millimeters. Rotor truing mount can also accommodate a dial indicator if desired.
Compatible with traditional QR and bolt on hubs with axle diameters up to 14mm. Wheels can also be bolted into the open dropout plates for added wheel security which is recommended for internally geared hubs and hub based motor systems.
Optional Mitutoyo analog indicators for enhanced accuracy.
Optional Islandix Instruments quantitative truing system.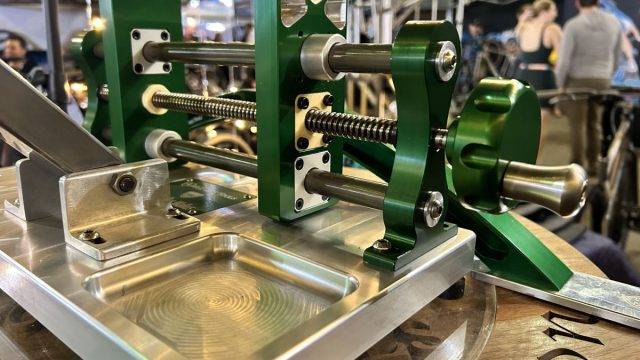 The Islandix System
"With all the tech in our daily lives it's sometimes great to do a simple analog process like working on bicycle wheels. But what if we point that tech at the wheel? Ryan at Islandix Instruments came up with a great analytical approach to truing and tensioning wheels. We were a little skeptical that this would add meaningful value to the process but after testing it we came away impressed by how much smoother it made the process and how it saved time going from good enough to perfect. We've partnered with Islandix to offer their setup as an original equipment option on our stand should you want to add this modern touch to your Truing Stand."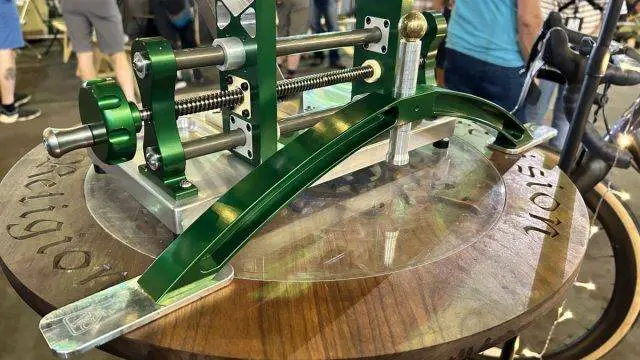 "How does Islandix work? The system turns live measurements into visualizations for wheel work. Visualization overcomes traditional problems with quantitative truing: eliminating the need to zero indicators, remembering alignment around the wheel, and scaling to work quantitatively right from the start or knock out gnarly repairs. Visualization combines data from multiple sensors, helping find the shortest path to perfect alignment. Data supercharges wheel building but respect for the craft remains at its center. Digital functions are controlled by foot pedal so the muscle memory of working with your hands remains the same."
Visit the Abbey Bike Tools Website for more information.
Support Gravel Cyclist:
Buy Me a Coffee – https://www.buymeacoffee.com/gravelcyclist
OR
Patreon – https://www.patreon.com/gravelcyclist
Links of Interest:
Don't forget to Like the Gravel Cyclist Facebook page, follow G.C. on Instagram, and subscribe to our Youtube Channel. We are also on Twitter!