Filmed in and around the North Shore MTB trails of Vancouver, Canada, Andre Perrett assembled tips that riders of gravel and cyclocross bikes will find useful. If you ridden events such as the stage race version of Rebecca's Private Idaho or Fried Clay 200K, events that incorporate MTB trails into the course, or simply enjoy playing around in the woods on drop bar bikes, learning new skills is part of becoming a well-rounded gravel cyclist.
Cross-Road
Thanks to mountain bike technology, cyclocross and gravel bikes are now super capable off-road machines. Absent front suspension, my Brodie Romax is way more dependable and versatile than the original fully rigid hardtail mountain bikes I started riding around UBC in the 1990s.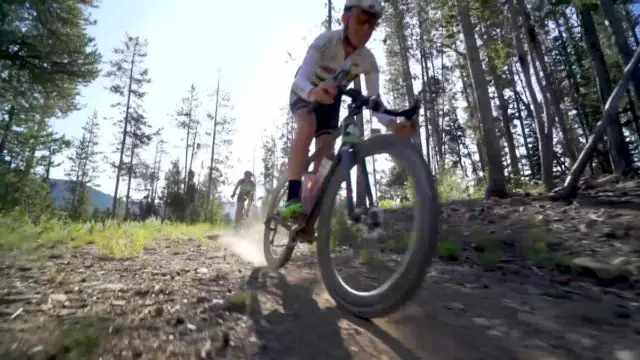 Unfortunately, there is now a massive gap between technology and cross/gravel skills tutorials. I was taken back at the level of misinformation I found in many internet cyclocross-instructional videos that were clearly taught by riders from a road background who spend most of their time sitting and pedaling.
Gravel racing is also booming and there are even fewer tutorials on handling skills on a gravel bike. Gravel Cyclist's, "How to descend on Gravel" video is one of the first. As a reminder, descending gravel fast on tires that measure 35mm to 40mm can still be inherently dangerous and intimidating to a rider. Ride within your comfort zone.
I became obsessed with creating a tutorial that takes what I consider to be key all-mountain MTB skills and adapts them to curly bar bikes. The 'Cross-Road' (Cyclocross + Off-Road) video tutorial is the result of six months of visioning, a few rain-free winter Saturdays, and some prior experience self-filming bike videos. Most of the riding is on gravel trails with huge cross over into gravel road descending.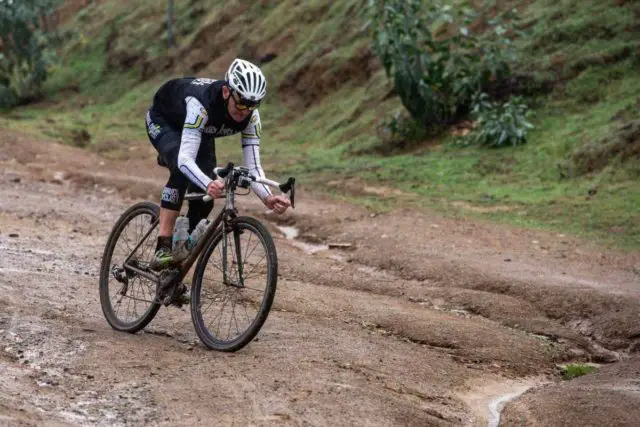 I made Cross-Road for riders who are from a road background and are looking to venture off-road. You can ride faster with these skills, but most importantly, you will ride safer and in more control, especially descending gravel roads at high speeds. Gravel is also the WORST surface for grip, so it demands your attention.
I've boiled down the essential Cross-Road skills into a simple mantra, but it will take you many, many hours of practice to master these skills:
Stand Up
Drop your Heels
Rotate your Wrists 30 Degrees
Drive your Front Tire into the Ground
Lean your Bike, Not Your Body
If you are new to gravel racing, I would advise you to descend in the drops in order to drive your front tire into the ground. Cross-Road assumes you are riding cyclocross or a bit more technical, twisty terrain in the hoods and need that upright position to handle the bike more aggressively.
One of the biggest myths that are out there in road/cross tutorials are that you turn by leaning your body or sticking your knee out. The bike turns when it leans. Simple. What you need to focus on is maximizing your traction when the bike leans. This is best accomplished by keeping as much weight as possible over the tires. This is the essence of leaning the bike, not the body. For gravel descending the simplest thing you can do is put most of your weight on the outside pedal in turns.
Another myth is that the front wheel washes out because you have too much weight on it. This is poppycock! How many road riders on TV have you seen crash in turns because they are sitting down, with most of their weight on the rear wheel, resulting in their front wheel washing out so quick they hit the deck hard? This is also a common crash on gravel. Turning aggressively with anything less than 50% of your weight on the front wheel is a recipe for disaster.
Watch the tutorial below to see these myths addressed. If it changes your off-pavement experience then consider donating to Trips for Kids Vancouver Society – Vancouver's oldest youth bike charity!
Finally – I can't emphasize enough how effective dropping your heels are as a crash-avoidance skill for gravel descending. You will literally move your centre gravity by a foot, both below and behind the bottom bracket. You also move your weight rewards with your legs, not by pushing back with your arms, and allows to more effectively drive the front wheel into the ground in turns for traction. It will feel foreign to you only because if you haven't ridden a BMX or MTB with flat pedals you have never tried it.
Cross-Road comes from racing over 100,000 vertical feet in Vancouver-area enduro races in the last five years on some of the most challenging trails in the world on a lanky frame with a stratospheric centre of gravity not particularly suited to bikes! I have the legs of a 6"6 guy. My centre of gravity is well above the bike frame and I've had to adapt all the top tips from enduro pros in order to feel in control and efficient when racing long stages which can last up to 15 minutes of flat-out descending in the Sea to Sky corridor!
Plenty of credit for the core Cross-Road skills goes to downhill/enduro legend Fabien Barel's excellent youtube tutorials if you want to check those out. One final thing – I do not have an extremely upright position in Cross-Road. My legs are so long the riser curly handlebars you see in the video only allow for a 2" seat-to-hood drop.
Thanks for reading and watching… Andre.