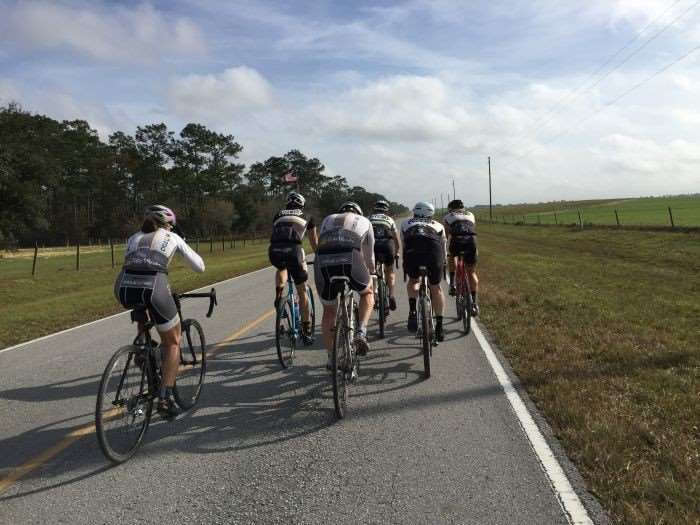 'Twas the ride before X-Mas,
And all down the road,
Were seen Gravel Cyclists a plenty,
Heading away from their abode.
And so set the scene for Thursday's exploratory X-Mas eve'ish ride. On tap was Goethe State Forest, a place the Gravel Cyclist crew has ridden before, but this time around, exploring some new(er) roads.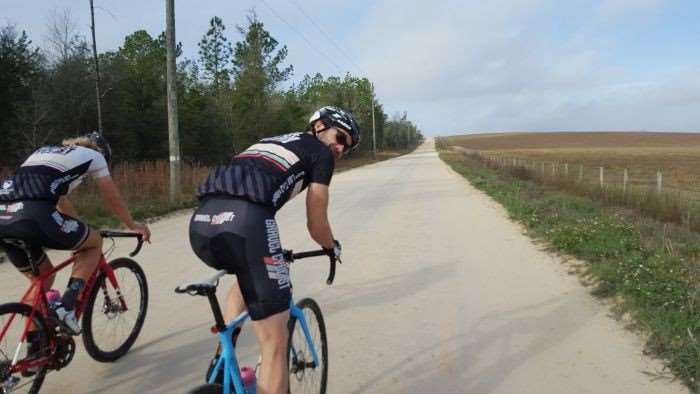 In all, eight riders appeared at the start town of Williston, Florida, including four members of the crew, one ringer member (Rob aka Nature Boy aka #1 Prong), Dazza (aka Darryl), Mrs Dazza (aka Cindy) and New York City transplant, Les. Missing from the ride were regular crew members Pfaff Daddy (working), Jimbo (working) and K-Dogg (under the thumb).
Preparing routes that comprise maximum dirt and gravel, zero vehicular traffic and sweet scenery is JOM's ideal picture of the perfect ride. That means, he spends just a wee bit of time, poring (mostly obsessing) over Google satellite maps and such – cue his route planning tips!
However, Google maps have a tendency to Scroogle even the most experienced of planners, so pre-riding a route solo is highly advised before you unleash it onto friends. But, if those friends decide to blindly follow an Aussie bloke like JOM around the countryside of Florida, they deserve to be led astray.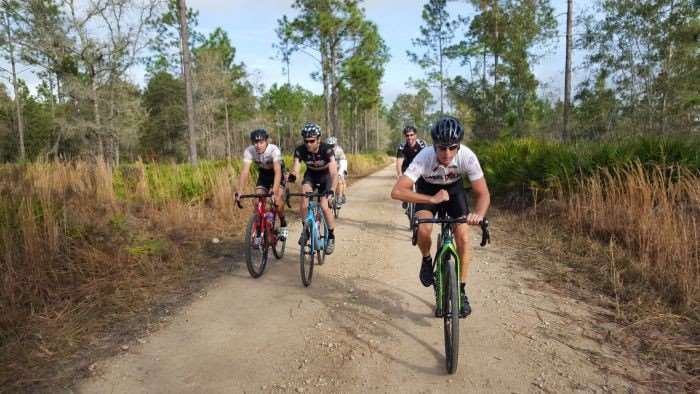 Note: No fences were jumped in the making of this blog post. Although we did end up in some bloke's field – that was sort of planned. As always, blame the GPS.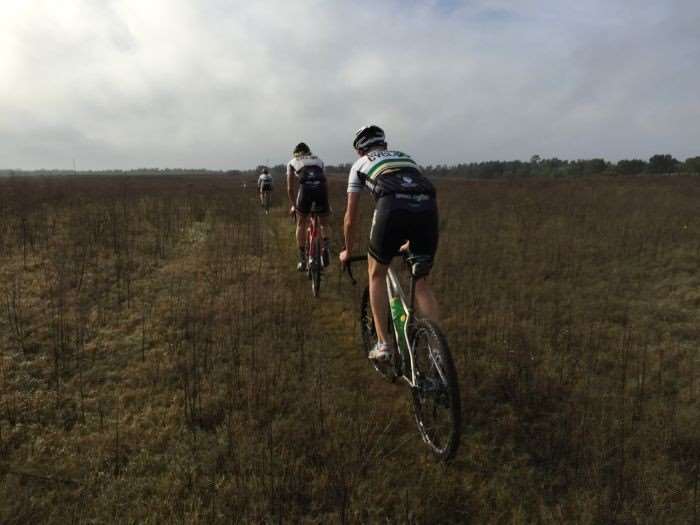 As alluded to earlier, the crew has ridden part of this route in the past. Some of that route involved creative bush bashing, a field crossing, riding parallel to a farm fence-line and a sand road that may have been a driveway. Unfortunately, the field that isn't really a road was now fenced on one side by barbed wire. Evolution. We behave ourselves on rides, so a retreat and on-the-fly route route recalculation were in order. Thankfully, JOM had a contingency plan of sorts ready to go.
Eventually, the group did make it to Goethe State Forest, but not without first having to tip toe past three equines and their riders who greeted us at the entrance. While we have no photographic evidence of our tip toeing, we wisely gave horses and riders a wide berth. Safety first! Be wise – always give horses and their riders plenty of room; both can be a little jumpy and we would hate to see a galloping horse buck a rider!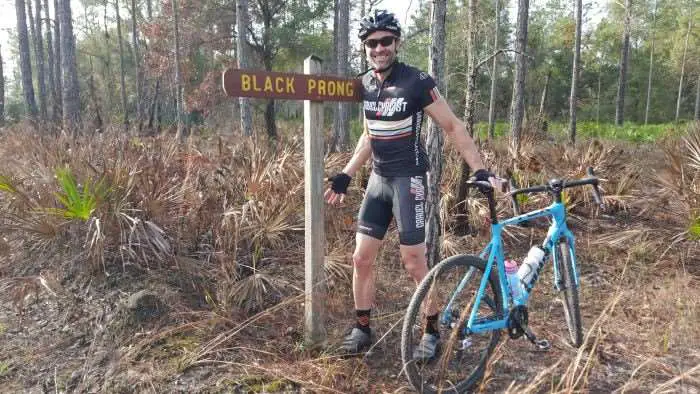 Nestled within the Goethe State Forest is the "Black Prong Equestrian Center – Where Champions Train… and Vacation!" Featuring over 100 miles of trails for equine activities, these trails are shared use with cyclists. Naturally, we thought it appropriate to photograph the #1 Prong at one of the many Black Prong trail heads.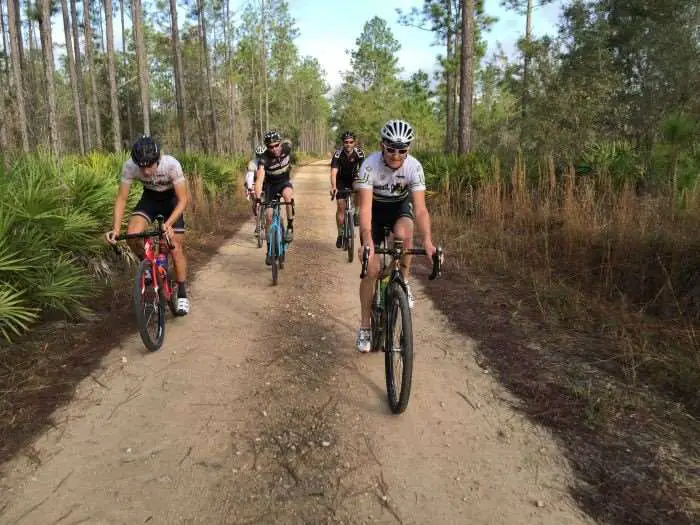 All 11'ish miles of the Goethe State Forest roads were traversed in good time, but not without a bit of separation in the group through the quarter mile section of really beat-up horse trail. Those with larger tires (tyres) – 2″ or so, or those with power, finesse and skills stormed through. Those lacking a little fitness or rolling narrower tyres suffered a bit. Our friend Les, former NYC'er, was riding for the first time in three weeks – and feeling the heat – 84 degrees Fahrenheit with humidity on December 24, 2015 – really?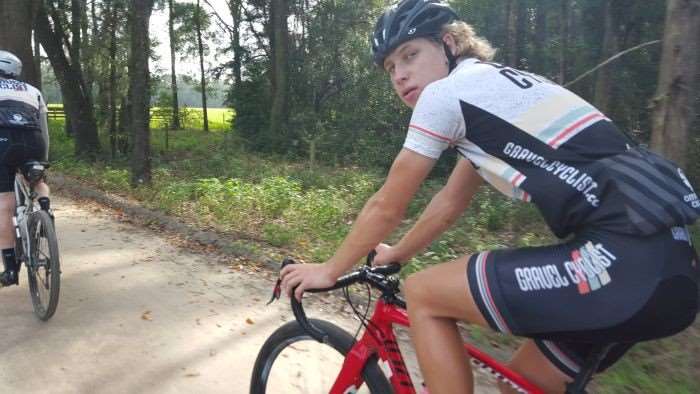 Pfaff Junior made the stunning revelation that bigger tyres are better. This is a fact that JOM and Dr. Pain have known for a long time – cue a link to our sweet bikes from the day – Dr. Pain's Rig – JOM's rig. Junior's 2.1″ tyre on the front of his Specialized Crux just fit, and was crushing any loose stuff while others floundered.
Part of this route is home to the *claimed* Best Grandmother in the World!!!  She didn't wave to us as we rolled by – just sayin'.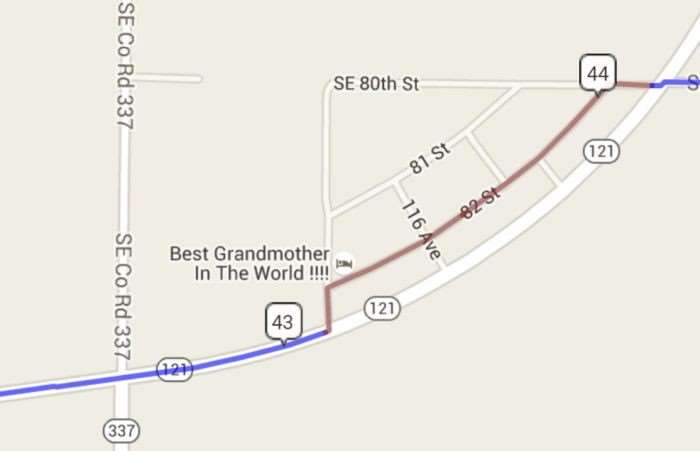 The remainder of the route before the day's one and only store stop in Morriston, Florida, comprised of roads around the tree and peanut farms south of Williston, Florida. It is hard to believe these roads are seldom ridden by anyone, on cyclocross, gravel, road bikes or otherwise.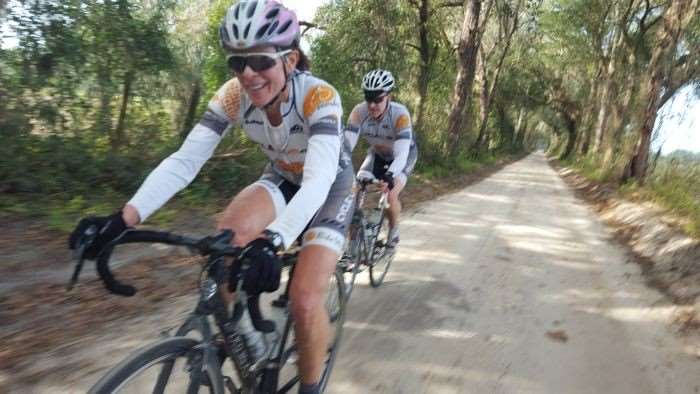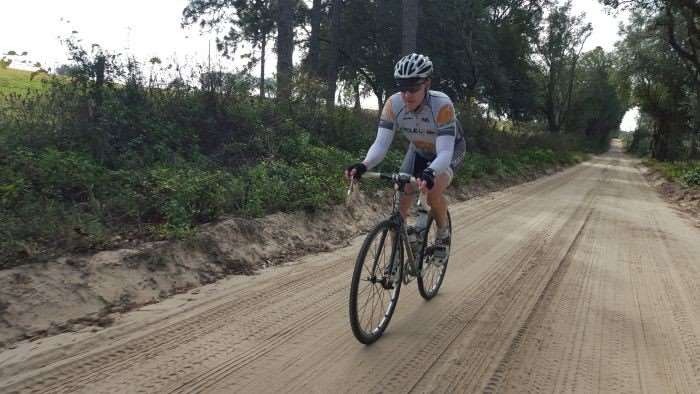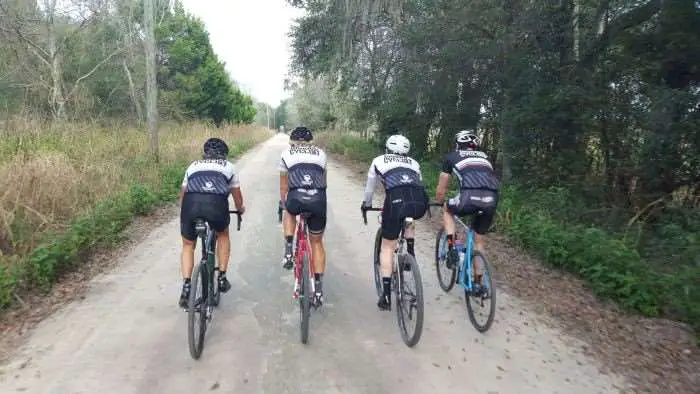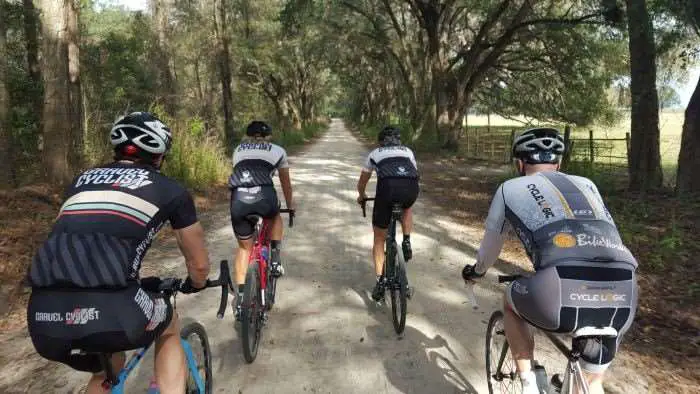 The store stop, which comes with about 11 miles before home – we know, pointless eh, is home to snack items like Jarritos Soda and Tamarind flavored popsicles (aka ice blocks if you're an Aussie). Love this store! Ordinarily, JOM would plan a store stop earlier, but when there are no options anywhere…

Check out JOM's ride data on Strava HERE – you should probably follow him, if you'd like to see what he gets up to on dirt and gravel roads.
Thanks for reading and Merry Xmas to everyone!