Saturday, February 7, 2015, the Gravel Cyclist crew decided to visit the Goethe State Forest.  Unlike the Mount Crawford Forest ride in South Australia which I (JOM) suffered through over a month ago, this forest is pancake flat, with near perfect conditions and a bunch of like minded cyclists for company.
No ride with me encompassing new territory would be complete without some bush bashing (no reference to a former USA President there), or riding alongside the fence line of some bloke's farmland, which is always potentially dodgy.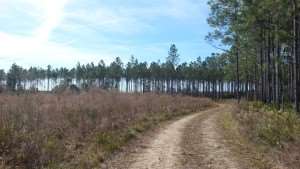 Ten ciclistas including yours truly started and finished the ride, which covered some 103.5kms (64.6 mile) between the town of Williston, Florida and the Forest.
Not to rub it into other residents of the US of A, we rolled along in some pretty tasty weather (we know some of you are freezing your arses off).  Lows in the mid 40's Fahrenheit with a high near 68 Fahrenheit, or 20 degrees Celcius, in glorious sunshine.  Near perfect.
Among the 10 riders accompanying us was relative newcomer Randy Andy the Irishman, and the current Tallahassee World Champion, Pfaff Junior.  Junior's mate Alex, 19 or 20yo of age, was also along for the ride… although he was riding steady tempo or something like that.
The Goethe Forest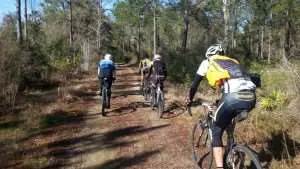 The Goethe Forest, Southwest of Williston, Florida, is popular among hikers and hunters.  While it is perfectly legal to ride bicycles along the relatively smooth primary roads within, it is seldom ridden by anyone on two wheels.
Conditions could best be described as hard packed limerock and dirt, with sections of beat up horse trails, should you happen to accidentally wander off the main roads.  These horse trails are reminiscent of Paris Roubaix, except that beat up horse trails are probably more forgiving than French cobblestones.
Tyre Punctures and Fails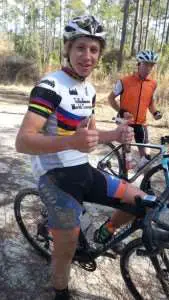 No Gravel Cyclist adventure to new terrain would be complete without a punctured tyre here or there, or someone having a minor prang.  Firstly, our young compatriot Alex, riding the narrowest tyres (Vittoria XG Pros in 30mm) of anyone on the ride, suffered two punctures.  Of course, his spare tube was knackered (puncture #2), so we had to sort that business out, digging through everyone's stash of spares.  Our mate Jimbo also suffered two punctures, although he was better prepared; with age comes wisdom.
Bigger news than this was the minor fail of the current Tallahassee World Champion, Pfaff Junior.  Renowned for his bike handling skills, something went awry as he rode a little too fast into a sludgy right hand corner, and promptly hit the deck.  His fall was cushioned by grass and sludge, but his World Champion jersey was truly covered in shite.  We're hoping his mum can get those stains out…
Pfaff Junior made amends for his dismail fail later in the ride, when he demonstrated his trackstanding and wheelie skills.  In fact, three other blokes on the ride joined in the trackstanding fun, as we waited around for the second of Jimbo's punctures to be sorted.
Summary
In short, this ride was awesome.  A newly discovered forest, heaps of dirt, limerock and gravel roads, almost zero vehicular traffic, and a great bunch of people to ride with.  One of the many reasons why we love riding bicycles.
Gallery – Click a thumbnail image to see full size (hosted by Flickr).
[alpine-phototile-for-flickr src="set" uid="126879102@N04″ sid="72157650302089718″ imgl="flickr" style="gallery" row="15″ grwidth="800″ grheight="600″ size="240″ num="30″ shadow="1″ highlight="1″ curve="1″ align="center" max="100″]