Continuing the theme from the previous Sunday, a few hardy characters plus members of the Gravel Cyclist crew (JOM, Jimbo, Pfaff Daddy and Dr. Pain), decided it was an opportune time to get in some dirt, limerock, sand and gravel miles. When the weather forecast calls for mega heat, 'tis wise to find the routes with the mega shade. Just a shame we cannot do anything about the oppressive humidity this time of year in Gainesville, Florida!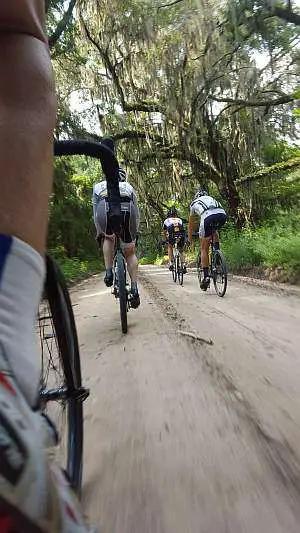 The weekly rainfall had subsided somewhat, meaning there was almost no standing water on the non-paved roads, and only a few damp sandy spots to worry about. Other than that, almost perfect conditions.
In total, seven riders rolled out from the north side of Gainesville – locals Ryan, Shannon and the seldom seen Cabe joined the G.C. crew. Cabe was once one of Gainesville's better known bicycle mechanics, but has since moved onto a corporate gig of sorts. The duo of Mr and Mrs K-Dogg were supposed to join us, but alas, they chose to ride close to their home. Something about K-Dogg not feeling well and being forced to wheelsuck his Mrs for 60+ miles.
The Flappalachians
On tap was 67 miles of cycling bliss, taking in many of the dirty roads featured on past editions of the Heartbreaker Cycling Invitational – the only dirt charity ride of it's kind in Florida! Part of the day's route included the famed Flappalachian mountain range of North Central Florida – twice.
Depending on riding direction, the Flappalachians are three or four steep lumps along a limerock and gravel road, that can cause pain – particularly if someone is blasting them flat out. Granted, the Flappalachians are an in-house joke – and while we don't have true mountains here, there are plenty of hills if you know where to look. Check out Gainesville and Tallahassee sometime!

The pace of the ride was rather stiff from the gun. 20mph – 22mph (32km/hr – 35km/hr) don't sound like much on a road bike, but when you're dealing with the resistance of the road surfaces and the humidity, the pace really begins to hurt the legs. The pace was a little too hard for JOM's liking so early on, but he resisted grumbling. Unfortunately, our friend Shannon turned for home very early into the ride, citing "feeling a bit rough". He was joined a few miles later by G.C. team member, Pfaff Daddy. He is on some kind of secret / scientific training program at the moment, and cannot ride more or less than the miles he is prescribed. Some guys like the discipline, whereas blokes like JOM lack the discipline.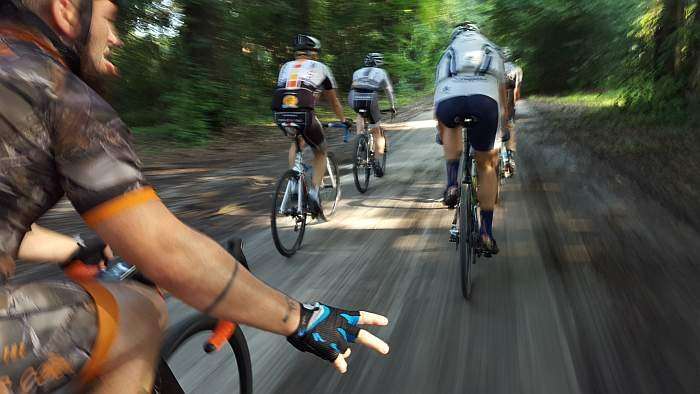 As we traversed quiet dirt roads between the bustling metropoli of Alachua, Florida and High Springs, Florida, we couldn't help but notice our mate Cabe was feeling the pinch a bit. As alluded to earlier, he started a new work gig, which may have impacted his riding hours. Regardless, these sorts of rides aren't the type you can bluff the fitness.
So, what should one do to give the impression one is super fit? Simple – ride on the front along a tough section of the course – in this case, Flappalachian Lump #1, and ramp up the tempo – hard. Taking this advice, Cabe decided this was the best course of action. Unfortunately for him, the Flappalachians are unforgiving to those who disrespect them – he was promptly passed towards the top and dropped. At least he looked good trying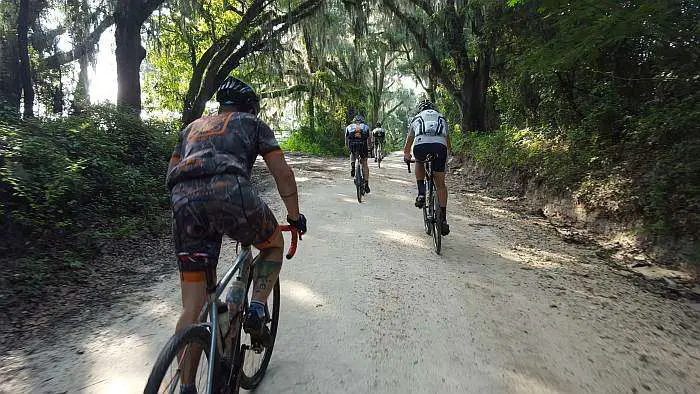 At the next fork in the dirt road, our friend Cabe made the wise decision to call it quits, and ride for home. Still, we thank him for coming out hope to see him again soon!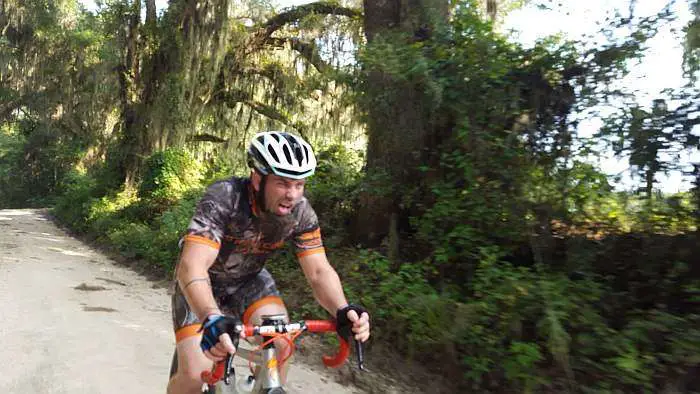 Down to four riders – at this point, we decided we should probably behave ourselves a little bit, and back down the pace a tad. Considering we still had plenty of ground to cover, and the mercury was continuing its rise, it sometimes pays to be wise. The petrol station / convenience store in Traxler, Florida (apparently it's a ghost town) was a welcome sight.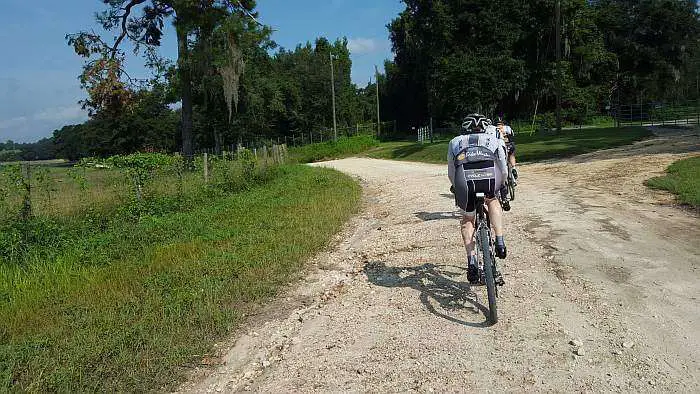 In addition to snapping photos of the ride, JOM was in the early phases of his testing and review of Magellan's 505 bicycle computer – a legitimate rival to similar units made by Garmin. There will be more about that little gadget later, but in the meantime, enjoy a view of JOM's handlebars loaded with GPS computers. Thanks again to Magellan and Shimano for supplying a test unit to review.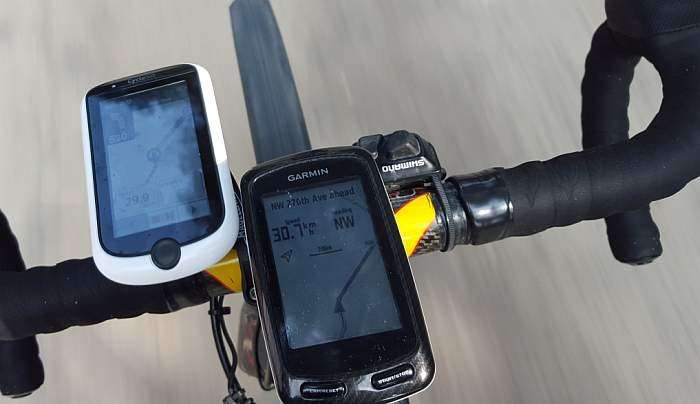 The remainder of the ride, the four lads stuck together, riding a gravel paceline of sorts. We encountered a decent sized flock of adolescent wild turkeys, who decided it was better to run away at maximum velocity long the same road and in the same direction as our travel. After 30 seconds of running, they decided it was best to flap their wings and head for safety. Sadly, JOM's camera was pocketed at this time 🙁  However, Dr. Pain did have his video camera on-board, so it's possible we captured that moment.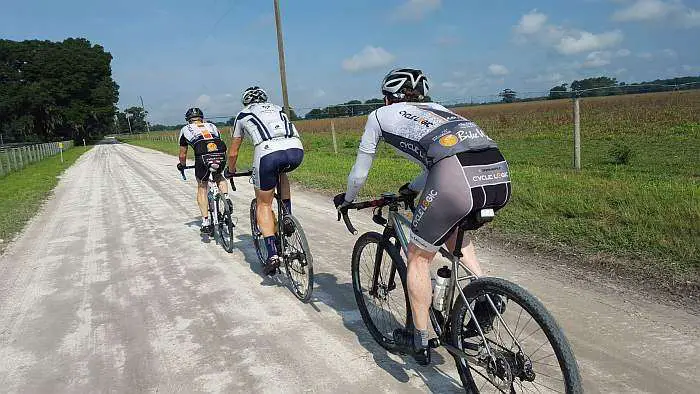 As the heat of the day increased, the pace decreased – sometimes it pays to ride a little more conservatively early on. Within the final 10 miles of the ride, our man Dr. Pain experienced leg cramping, of the type associated with dehydration. Fortunately for him, another petrol station was nearby – he was in such a state it was nigh on impossible (for five minutes) to lift his leg over the saddle to exit. Be careful with the heat – hydrate accordingly! If this can happen to an experienced bloke like Dr. Pain, it can happen to anyone.
Note from JOM – Dr. Pain was the primary party responsible for pushing the pace early on, but paid for it later. JOM did think about attacking him later in the ride as a payback… but thought better of it. Dr. Pain keeps lists and never forgets anything.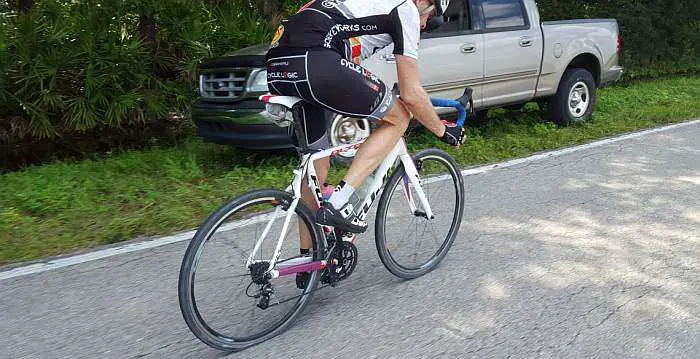 On the positive, another fantastic day of dirt and gravel cycling in the bank. There were a few casualties, including one flat tire (tyre), but it beats the alternative… like doing yard work zzzzzz.
Thanks for reading!