For a good portion of 2015, K-Dogg (did we mention he's 60yo?), Dr. Pain and JOM have been appearing at various events wearing Version 1 of the Gravel Cyclist kit – or, the "Winter" edition, as JOM likes to think of it. Most recently, this trio made the trip to Morgantown, West Virginia, for the uber tough Hilly Billy Roubaix, an absolute pearler of a race.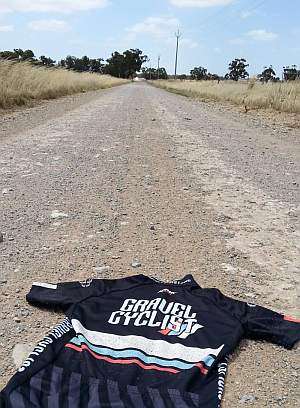 During many of our training rides and more recently at races closer to our home in Gainesville, Florida, the original trio was joined by Jimbo, Pfaff Daddy and our good mate from nearby Ocala, Florida, Rusty Dosh; that is Rusty's real name, no one has come up with a witty nickname just yet 🙂
The idea to form a team around these six friends came together in late May of 2015. The team's focus is fun, camaraderie and living the experience of riding and racing on dirt and gravel roads – and telling the story on GravelCyclist.com.
In a nutshell, we're a bunch of regular guys with jobs having fun on bikes, sans elitist attitudes.
The youngest team member is JOM at 44 years of age. On the other end of the spectrum, we have K-Dogg. In between these two, the other blokes on the team are 50 something – just a number really, as nobody acts their age in this crew.
From time to time, Mrs K-Dogg, esteemed spouse of K-Dogg and she who keeps his life in order, will dip her toe into the world of gravel racing. While not officially on the team just yet, we expect she will commit and join in the fun and madness of the Gravel Cyclist crew!
Gravel Cyclist Team Sponsors:

Most of the Gravel Cyclist crew have been using American Classic wheels long before GravelCyclist.com was founded. We absolutely love the product, and are beyond stoked that Bill, Ellen, Cody and Clay of American Classic have chosen to sponsor us with racing wheels. American Classic is a firm believer that gravel cycling is more than just a flash in the pan.

The go-to wheelset for the crew has been the American Classic Race 29'er, which we reviewed earlier this year. It only makes sense that most of us will be racing on this wheelset, along with the Hurricane Tubeless and Sprint 350 Tubeless wheelsets.

American Classic's wheels feature no gimmicks, no hidden nipples or proprietary spokes. Reliability and serviceability are key attributes in gravel cycling, and American Classic wheels exceed all of our expectations!

Hawk Racing of Bradenton, Florida, is sponsoring the team with discounts on clothing and parts such as their superb bottom brackets - read our Hawk Racing Bottom Bracket review HERE. Sven and Josh have been extremely supportive of Gravel Cyclist, ever since we placed our first kit order in December of 2014 - which was produced in RECORD time.

Hawk Racing offers full custom, high quality cycling kits that will not break the bank on prices. Customer service is top notch and their online ordering system keeps the process simple. They also offer design services if you don't have a graphic designer at your disposal.
The Gravel Cyclist Team Kit:
Designed by Paul Messal of Gainesville, Florida, Version 2 of the Gravel Cyclist kit retains the look of the original, but features a lighter colored top half with gravel texture background. JOM likes to think of this as the "Summer" edition. Sponsor logos are towards the top of the jersey and across the rear pockets. Matching shorts compliment the jerseys. Look to see the Gravel Cyclist crew in these kits towards the end of August / early September – and a photo shoot!
Need a killer kit design by a designer who is a cyclist? Paul Messal is available for freelance kit design work – please visit his website here.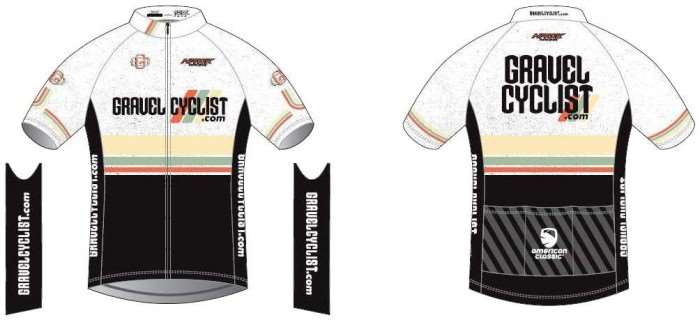 Finally, the kit below is exclusive to JOM, founder of Gravel Cyclist, and pays homage to his Australian heritage. At times, he may wear the regular team kit to confuse everyone, but keep an eye out for his distinctive kit. Don't forget to say hello 🙂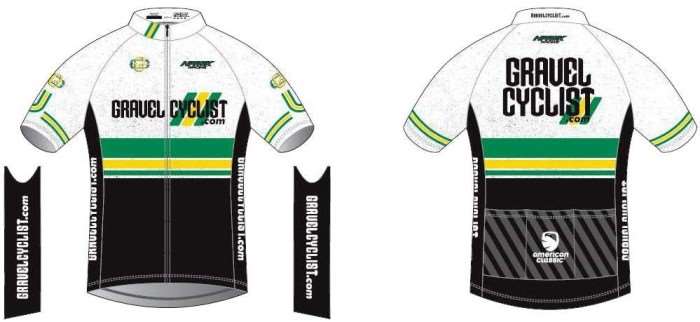 Team Gravel Cyclist would like to thank our sponsors for their generous support.